First off, happy Summer to everyone. I am absolutely loving the time the boys and I have right now before school is back in session. Beaches, pool side, Disneyland, See's Candy and who knows what else we'll be up to, lol. Loving it all.
Ok, for those of you who are newer to Picky Palate, you may not have witnessed my "Ice Cream" desserts feature. These are some of my very favorite recipes and I thought with summer in full swing that I would feature them again…..because they are so darn fun and delicious. Now, when I say "Ice Cream" desserts I mean the ice cream is actually inside the desserts 🙂 The beauty with all of these recipes is you can use your favorite ice cream. Mix it up and have fun! Scroll down and peek at some of my favorites.
Have a beautiful day!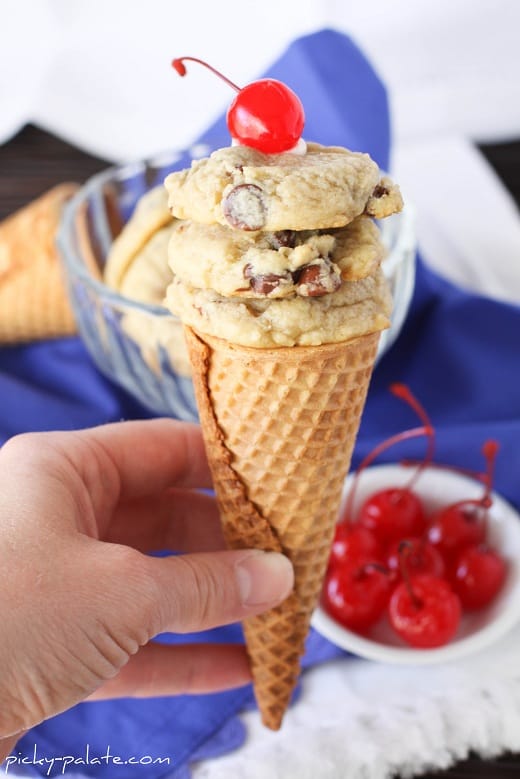 [ziplist]
Ice Cream Chocolate Chip Cookies
2 sticks softened butter
1 Cup granulated sugar
3/4 Cup packed brown sugar
2 large eggs
1 1/2 Tablespoons pure vanilla
Heaping 1/2 Cup vanilla ice cream (frozen from container)
4 Cups all purpose flour
1 1/2 teaspoons baking soda
1 teaspoon salt
1 bag chocolate chips
1. Preheat oven to 350 degrees F. In a stand or electric mixer, cream the butter and sugars until fluffy. Add in eggs and vanilla until well combined. Add in ice cream until combined.
2. Place flour, baking soda and salt into a large bowl; mix. Add to wet ingredients along with the chocolate chips; mix until just combined. With a medium cookie scoop, scoop dough onto a silpat or parchment lined baking sheet. Bake for 9-11 minutes or until cookies are cooked through. Let cool for 5 minutes on baking sheet before transferring to a cooling rack. Serve with a marashino cherry on top
3-4 dozen cookies
_________________________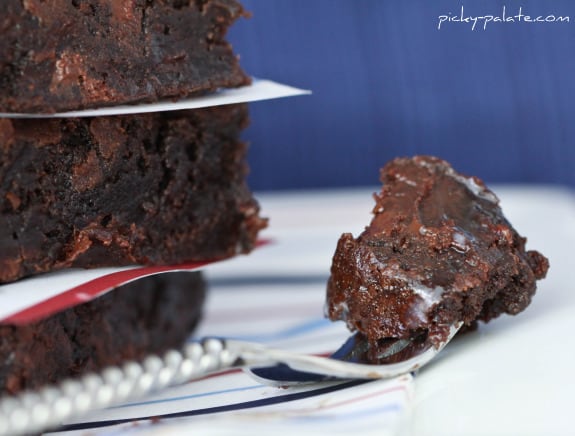 [ziplist]
Ice Cream Sundae Brownies
1 box Brownie Mix
2 eggs
1/2 Cup canola or vegetable oil
Heaping 1/2 Cup of your favorite Ice Cream (I used Ben and Jerry's Phish Food)
1 1/2 Cups chocolate chips
1/4 Cup hot fudge topping (chilled)
1. Preheat oven to 350 degrees F. In a large bowl mix the brownie mix, 2 eggs and oil until combined…and thick. I did NOT add the water. Scoop in ice cream, chocolate chips and hot fudge; mix until combined. Pour into a foil lined 9×13 inch baking dish that's been GENEROUSLY sprayed with cooking spray. More is better here

Bake for 40-50 minutes or until toothpick comes clean from center.
2. Let cool completely. Remove foil from baking dish, cut into squares and serve.
12 brownies
________________________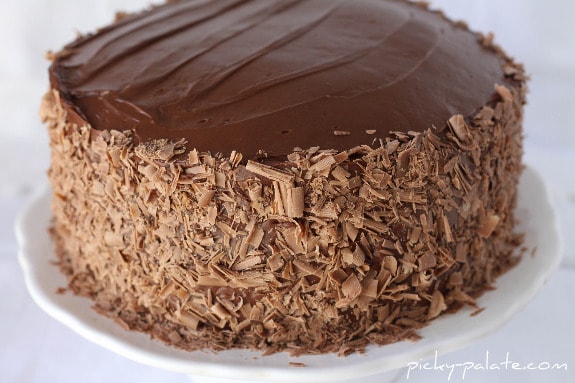 [ziplist]
Ice Cream Sundae 4 Layer Chocolate Cake
1 box Devils Food Cake Mix1 small box instant chocolate pudding mix
4 eggs
1/2 Cup water
1/2 Cup canola or vegetable oil
1 heaping Cup of Vanilla Ice Cream (or whatever ice cream flavor you choose)
1/4 Cup Hot Fudge Sauce
Chocolate Frosting of Choice
1. Preheat oven to 350 degrees F. Place cake mix, pudding, eggs, water oil, ice cream and hot fudge sauce into stand or electric mixer. Beat on low then medium for about 1 minute 30 seconds or until well combined and thick. Divide evenly into 4 (9 inch) cake pans that have been generously sprayed with cooking spray. Bake for 15-20 minutes or until toothpick comes mostly clean from center. Let cool completely, loosen sides with a plastic knife then remove from pans. Place bottom layer onto a cake stand, spread with your favorite chocolate frosting….repeat until 3 layers are frosted leaving 4th layer on top. Frost remaining top and sides of cake with frosting.
2. Take a vegetable peeler and peel chocolate bloc to get curls, about 2 cups worth. Press curls onto sides of cake and serve room temperature or refrigerate to chill.
12 servings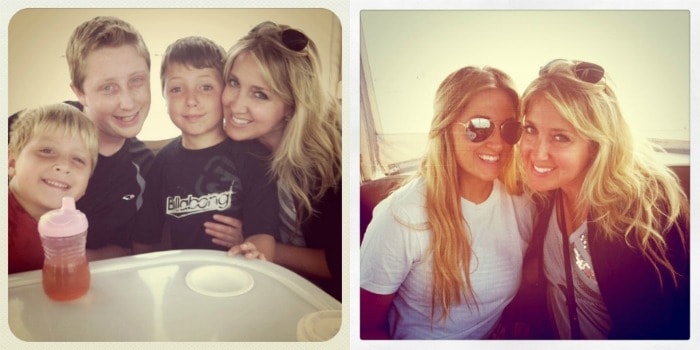 Here are some summer pics of when my sweet family from AZ was visiting a couple weeks ago. Left is me with my 2 little boys and my almost 16 year old brother. He was born when I was a senior in high school. Talk about major reminder for how long I've been graduated 🙂 Right is my beautiful sister Kimberly. She is so talented and runs the cutest little girl clothing boutique called Tot Shop Boutique. You must check it out!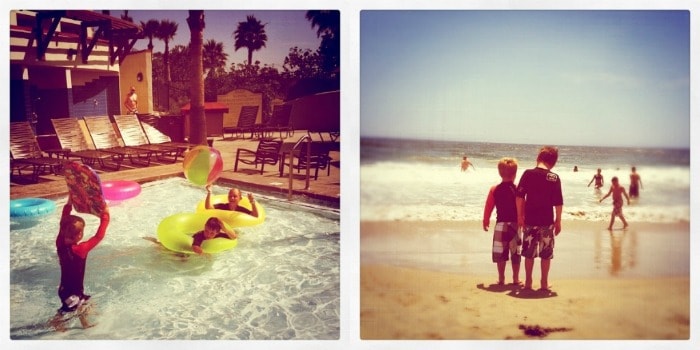 More fun photos from our time this summer. All of these photos are from Instagram on my iPhone. I Love Love Love it. If you also use it, find me @pickypalate, would love to follow you guys!
__________________________
Have a beautiful rest of your week, come back soon….like tomorrow for a fun giveaway 🙂