Sharing Your Guide to the Oogie Boogie Bash at Disney California Adventure Park today! You'll find helpful tips and not to miss shows and activities at the Park!
Oogie Boogie Bash
Oogie Boogie Bash is a separate ticketed event that is held at Disney California Adventure Park and sells out pretty quick.
One of our family traditions has been to go to the Halloween Parties at Disneyland Park for the last 5 years now. It's our favorite event of the year! I was able to attend the first official Oogie Boogie Bash for it's opening night in 2019 and the second Oogie Boogie Bash opening night on September 9th 2021.
Be sure to check out my Disney Hungry Home Page for more Disney tips and copycat recipes! Follow Disney Hungry on Instagram for travel tips and the BEST Eats at Disney Parks.
How Early Can I Enter The Park Before The Party Starts?
Entry to Disney California Adventure Park before the party is included with an Oogie Boogie Bash ticket. The party begins at 6 p.m. PST and guests have the opportunity to play in Disney California Adventure for three hours before the party start.
Tip: There will be a long line to get into the main Disney California Entrance, you can also use the Disney Grand Californian Hotel Entrance. It's likely to have a much shorter line. If you are at the front area of DCA, walk through Downtown Disney District and there's an entrance to the Grand Californian in between Sephora and The Dress Shop. Go through the hotel towards the back of the lobby, pass Storyteller's Cafe and Napa Rose then you'll see the back check and Park entrance right past Napa Rose.
If I'm at DCA For The Day, But Don't Have an Oogie Boogie Bash Ticket, Will I Have To Leave The Park at 6pm?
Yes, at 6pm, there will be Cast Members lining the different areas of the Park asking guests to show their Oogie Boogie Wrist Bands. If you don't have one, you will be pointed to the exit. If you don't have a wristband, you will not be permitted through the different areas of the Park.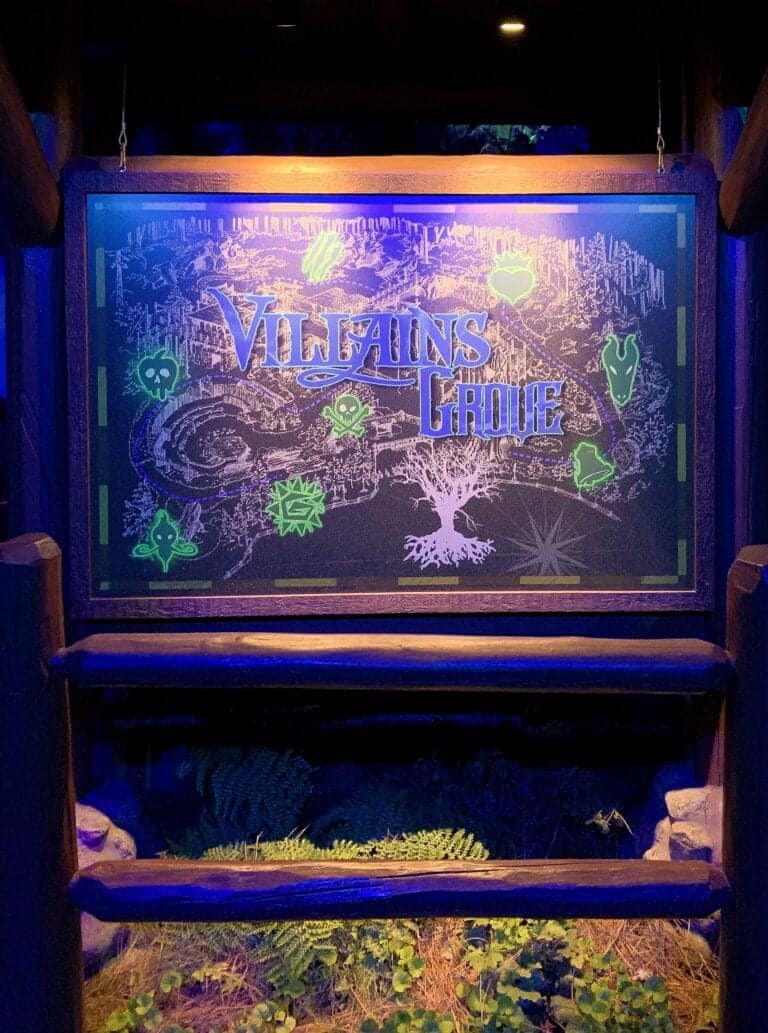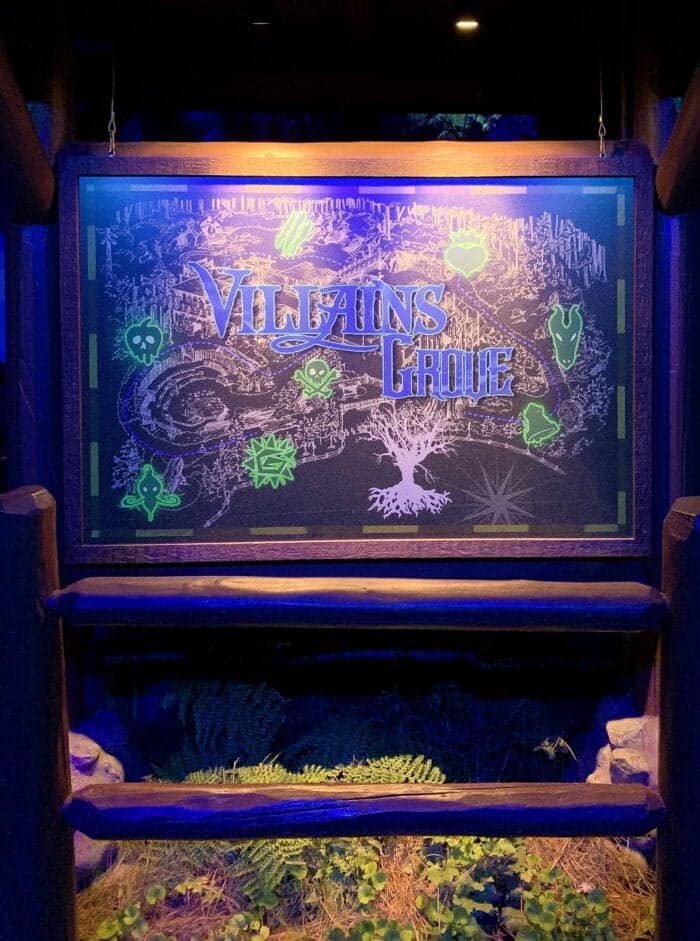 Villains Grove, Redwood Creek Challenge Trail
One of my favorite experiences of the night was Villains Grove! Redwood Creek Challenge Trail was turned into this Halloween Perfect walk through with the most visually stunning areas throughout the entire walk. This new experience unfolds in a series of scenes, each creating a hauntingly beautiful dream-space of color, sound, light and shadow, as stories emerge from the darkest night to create an enchanting world. There are lighting, projections, sounds and special effects, that created a dreamlike environment. You'll go through Frollo's Sanctuary, Maleficent's Will, Queen of Heart's Garden, Scar's Elephant Graveyard, Dr. Facilier's Friends on the Other Side, The Queen's Lightning Forest and even more amazing details.
A few things to note….there are no trick or treating stations in the trail, it's more of a walk through visual experience. There are also no characters or villains. Just good to know before you go. Also, a helpful tip is, if you can wait to see the parade until the 10pm showing, go to Villains Grove during the first parade. The line to get through is much shorter.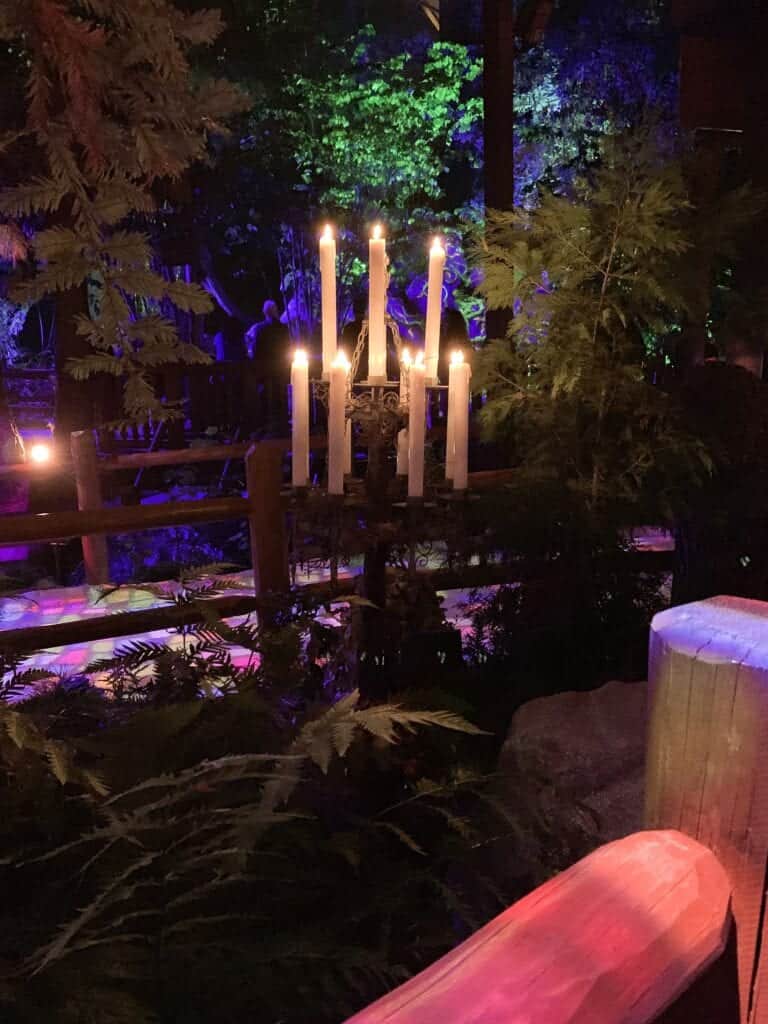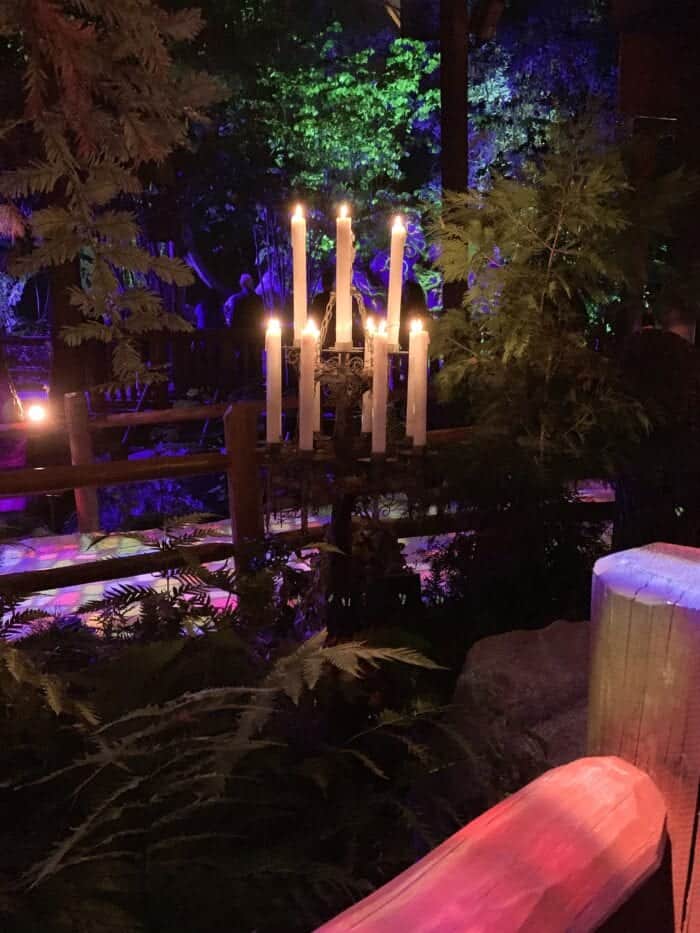 The ambiance, lighting and music was mesmerizing. I didn't want to leave the area! The grove started with Frollo's Sanctuary.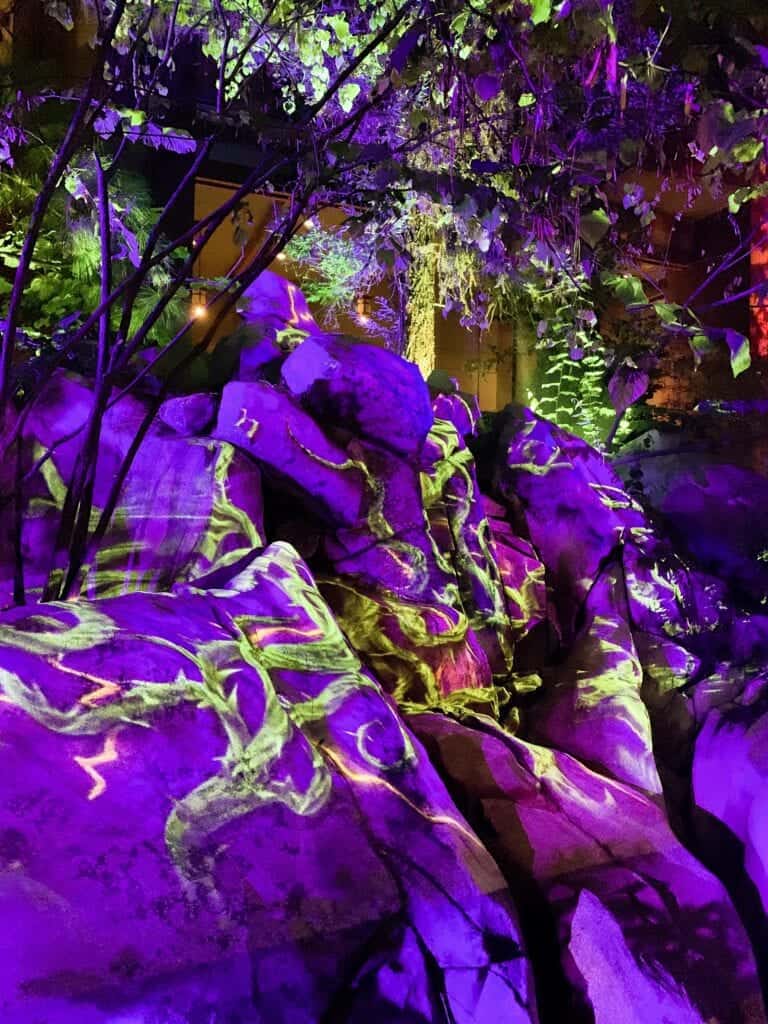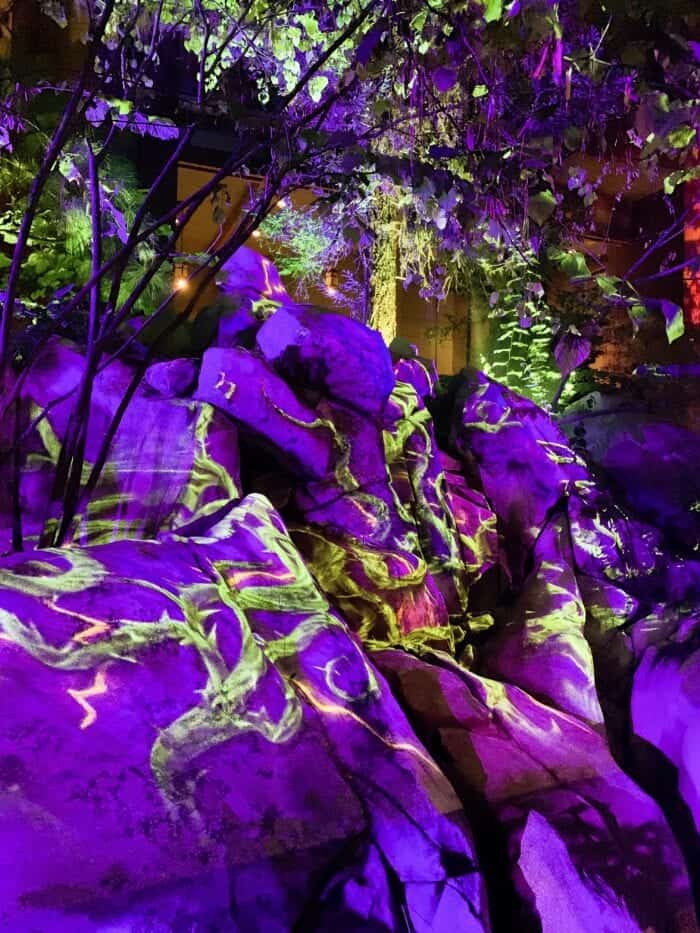 The lighting and projections on this rock area was so fascinating. I couldn't take my eyes off of it as the branches moved in, out and all around. This was Maleficent's area. One of my favorites!
How Long Is The Parade at Oogie Boogie Bash?
The parade is about 20 minutes long. I appreciated the short times so I could do and see as much as possible.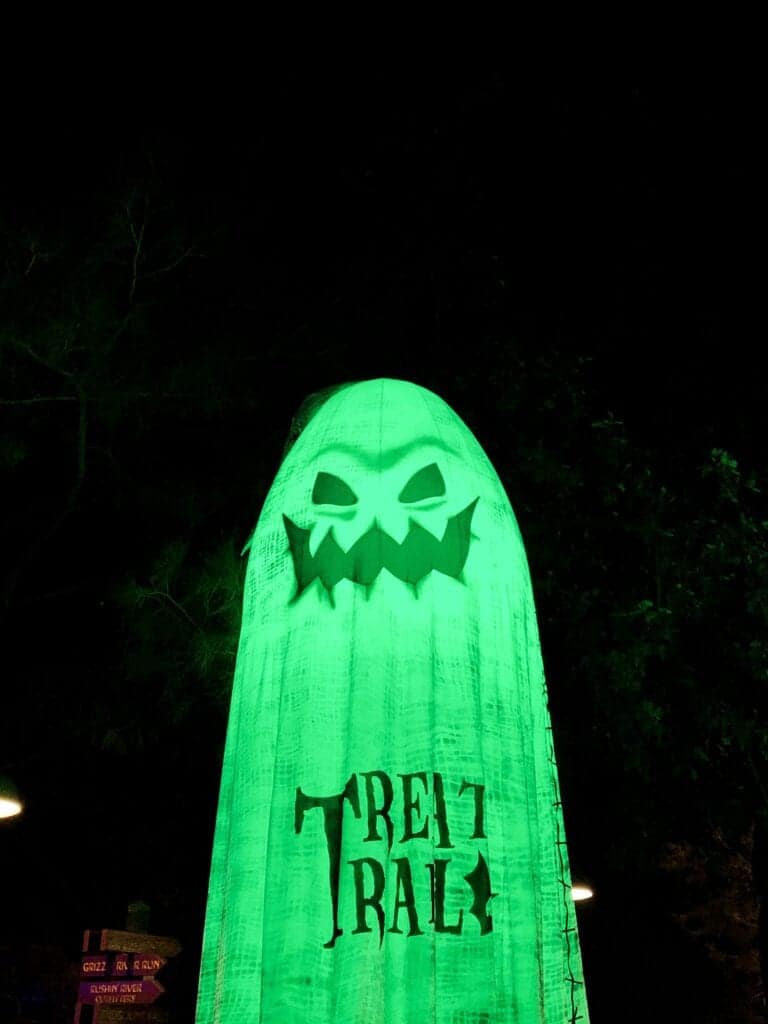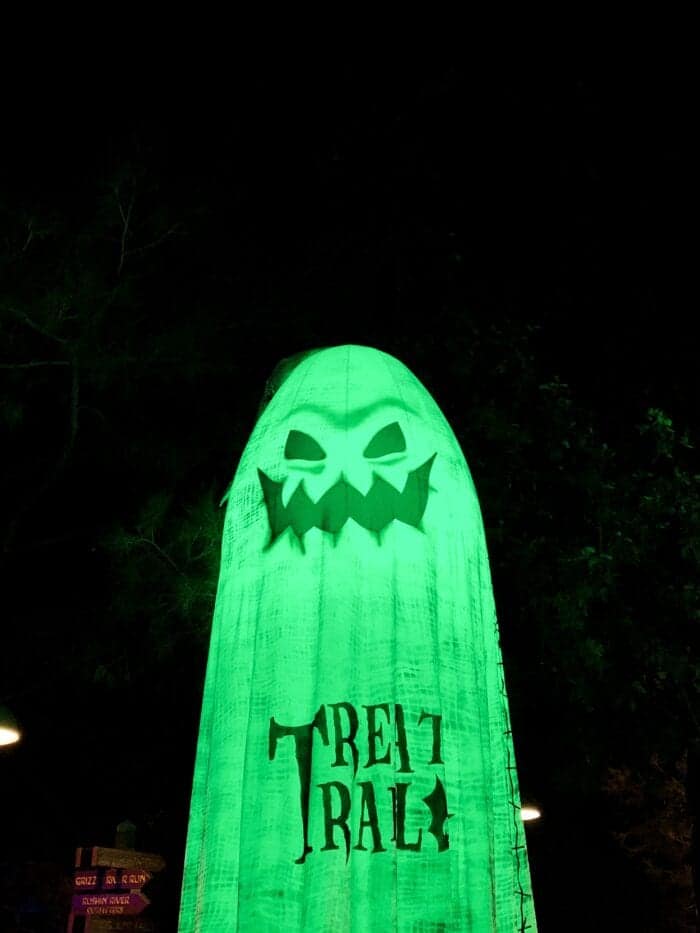 Immersive Trick or Treat Trails, Throughout Park
The treat trails at Disney California Adventure Park are absolutely Spook-tacular. You have this whole Villain Experience through half of the treat trails. Music, lighting, candy….it is pretty amazing. Don't get discouraged if the lines are long. We found that they go pretty quick. Be sure to check your guide map for all of the treat trails throughout Disney California Adventure Park.
There are 10 Treat Trails throughout the Park, 8 of them being immersive! Use your Oogie Boogie Guide Map for all locations.
Absolutely Do NOT MISS The 8 Immersive Treat Trails with the Villains for 2021
Animation Academy with Oogie Boogie
Hollywood Land Stage with Cruella, new for 2021
Hyperion Theater with the Mad Hatter
Avengers Campus with Agatha, new for 2021
Grizzly Peak Treat Trail with The Evil Queen
Next to Carthay Circle with Dr. Facilier
Soarin' Over The World area Treat Trail with Maleficient
Pixar Pier with Sid from Toy Story, new for 2021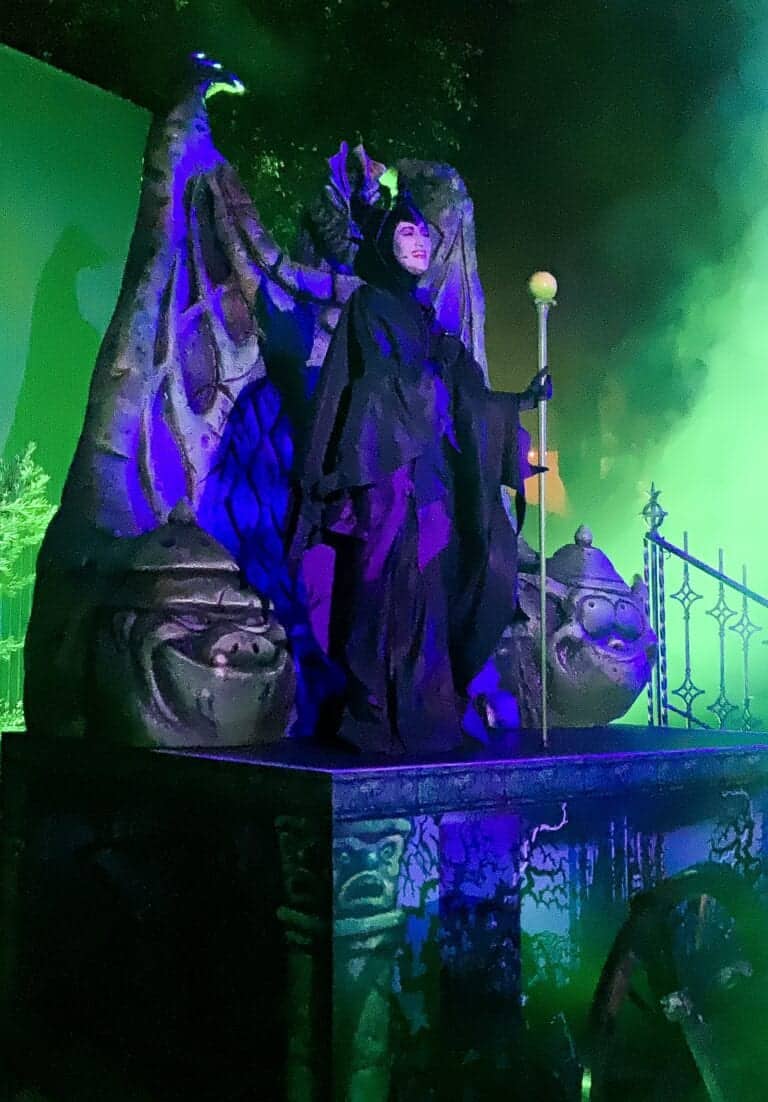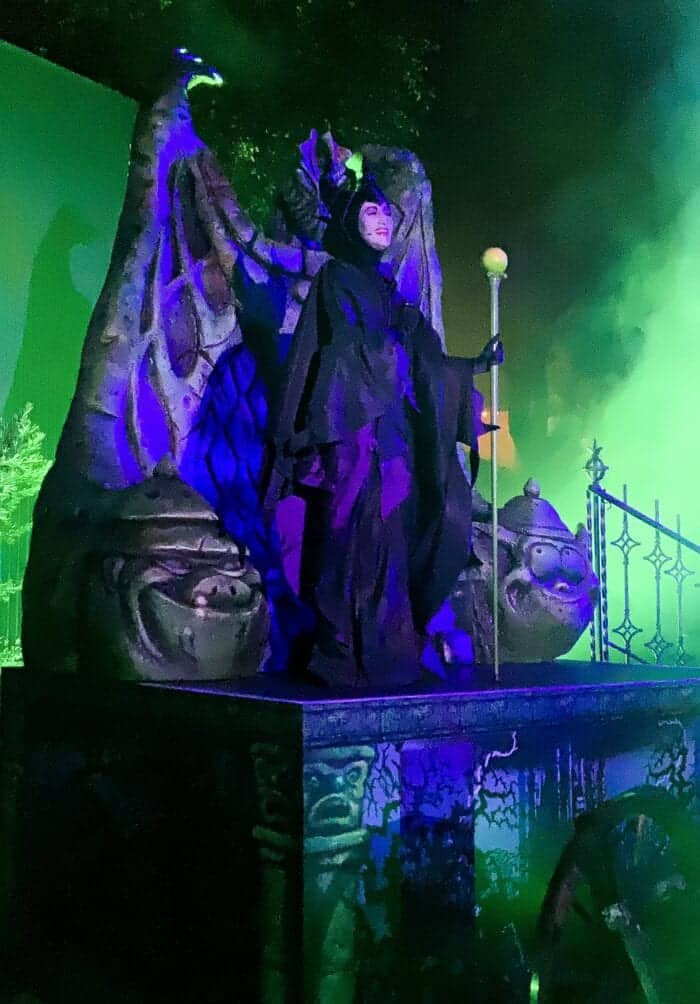 One of my favorite treat trails was with Maleficient. She was stunning and so perfectly in character. The lighting and fog added to the cool experience while you get your candy bags filled up!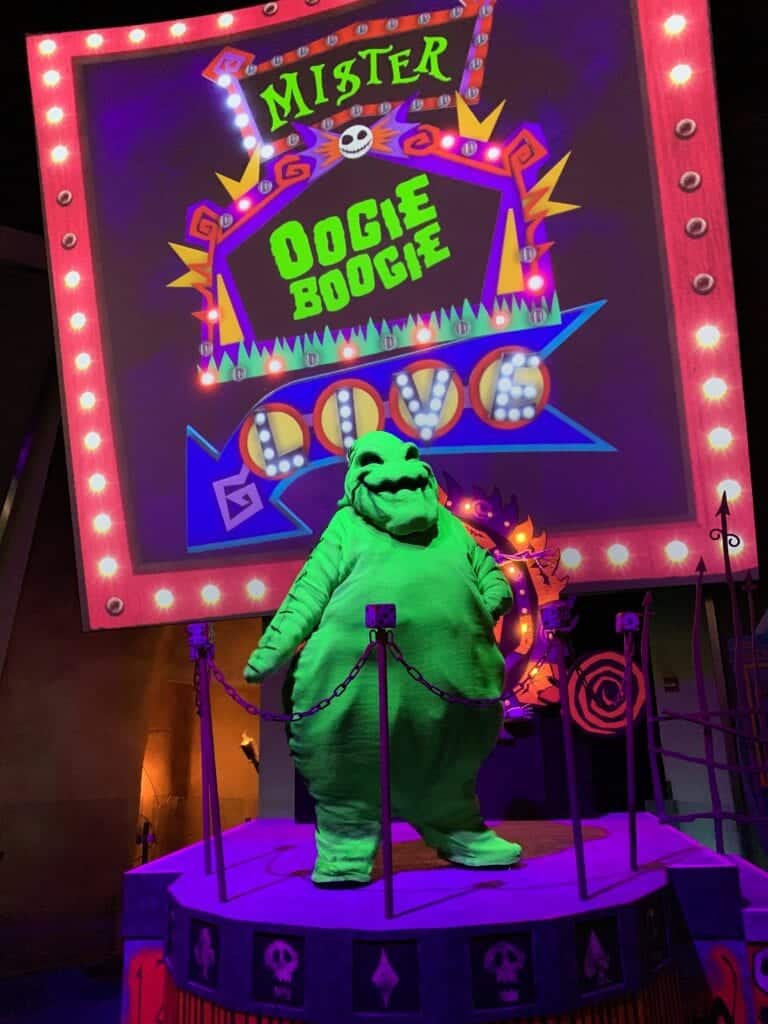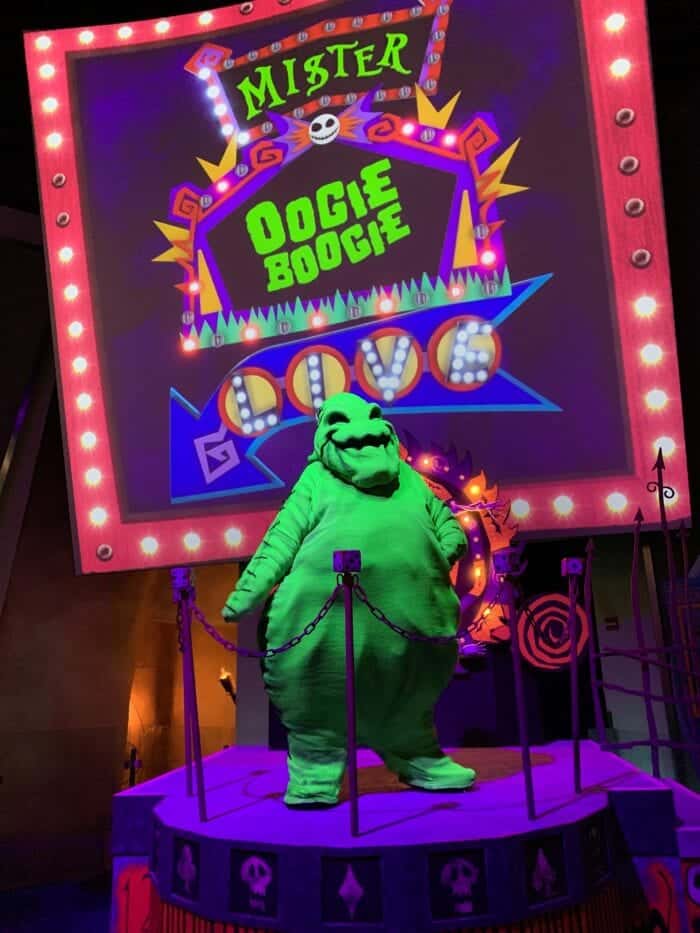 Animation Academy in Hollywood Land turns into a giant Oogie Boogie Party room! This treat trail is a MUST! Oogie Boogie talks and heckles the guests as they pass through. The giant movie screens feature fun Oogie Boogie pieces perfect for your Halloween Party night. Went back a couple times for the fun here.
What Kind Of Candy Do You Get at Oogie Boogie Bash?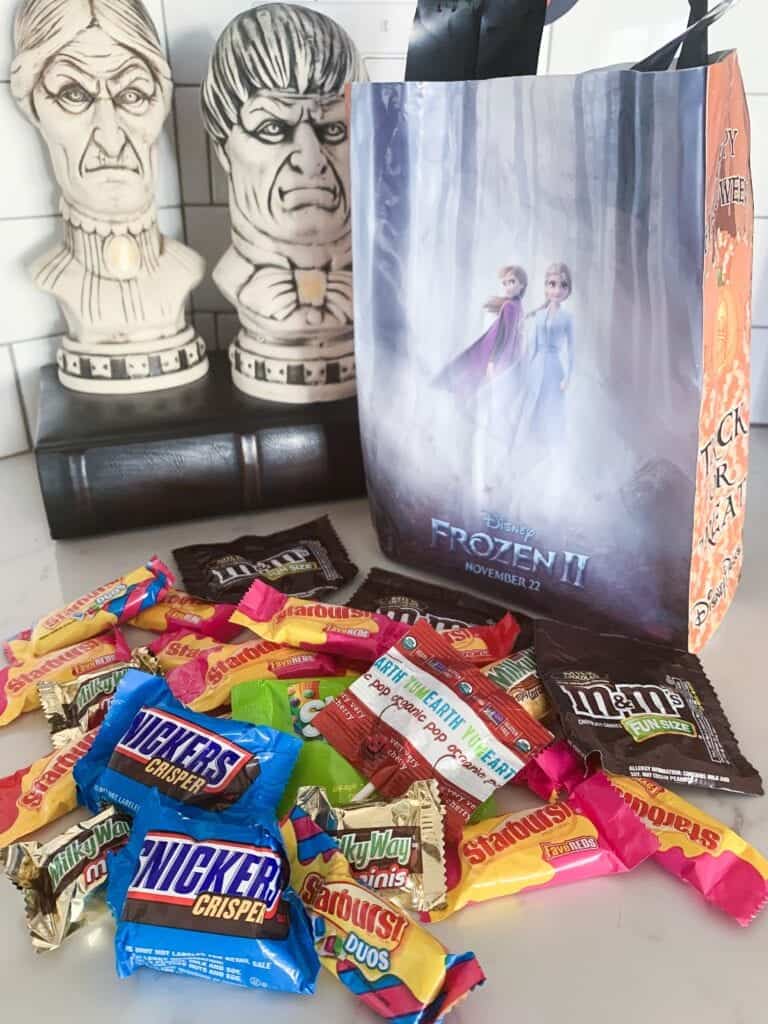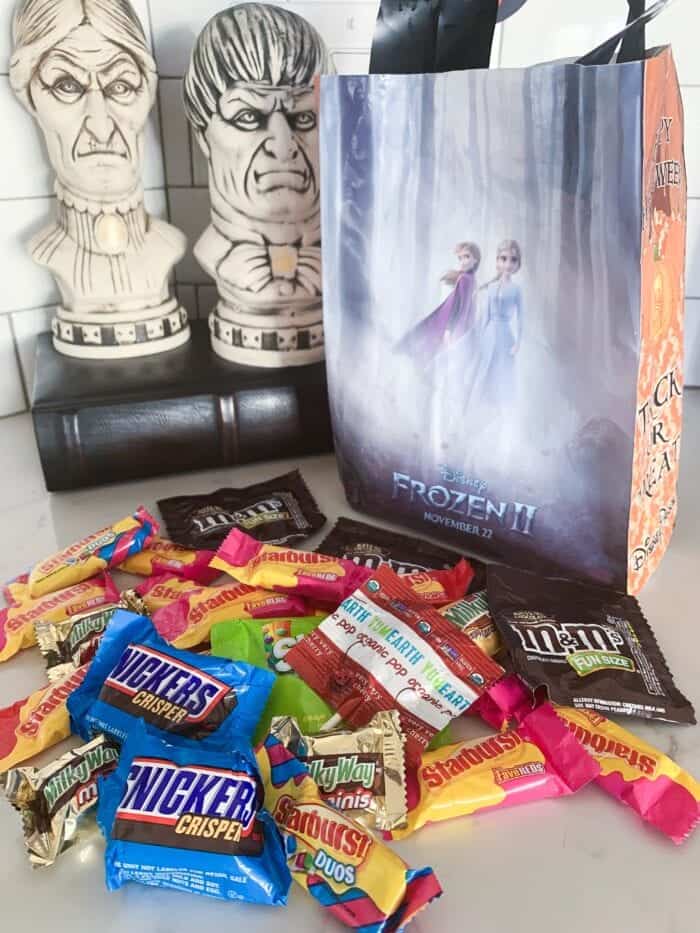 Lots of great candy given at each of the treat trails. You can request healthier options at each station. I picked up an organic lollipop at on of the locations. You can go through the treat trails as many times as you'd like, bring a larger candy bag from home if your goal is to get lots of candy. The Frozen II Bag is the size you get when you enter the Park.
What Kind of Costumes Can My Family Wear To Oogie Boogie Bash?
Costume Guidelines
All Guests may dress as their favorite character, but may not pose for pictures or sign autographs for other Guests.
Costumes must be family-friendly and may not be obstructive, offensive, objectionable or violent.
Your Costume may not contain any items that resemble (or could easily be mistaken for) an actual weapon.
Costumes may not contain sharp/pointed objects or materials that may accidentally strike another Guest.
Layered costumes or costume props that surround the entire body are strongly discouraged and may be subject to additional security screening.
Costumes may not reach or drag on the ground (e.g., full-length Princess dresses).
For Guests Ages 13 and Under
Costumes may be worn as well as some masks, as long as the entire face isn't covered and eyes are visible.
For Guests Ages 14 and Older
Capes may be worn if the length does not go below the waist.
Themed T-shirts, blouses, sweatshirts and hats are permitted.
Acceptable accessories include transparent wings, plastic light sabers, toy swords and tutus.
Headwear may be worn as long as it does not cover the face.
Masks of any kind may not be worn, except for medical purposes.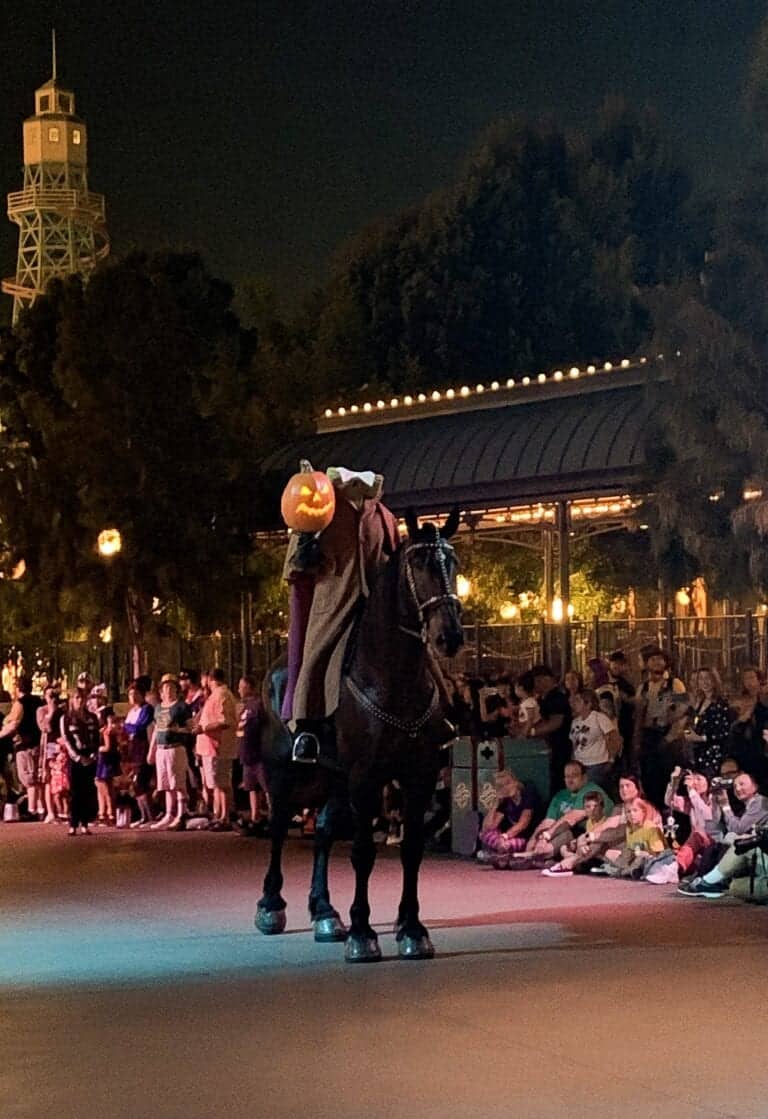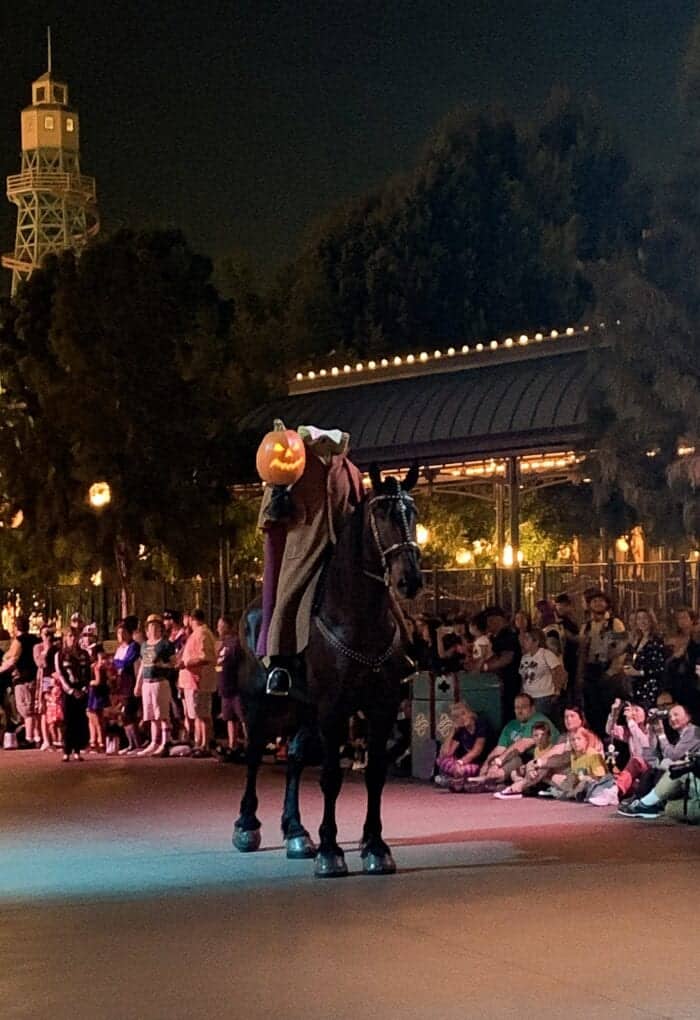 Frightfully Fun Parade
Another highlight for me was watching the Frighfully Fun Parade! Parade starts at 8:10pm with the Headless Horseman riding at 8pm. I've always loved it, over at the Disneyland Park side, so I knew I wanted to see it again this year. It didn't not disappoint. So perfectly spooky magical. The Headless Horseman of Sleepy Hollow arrives on his ghostly black steed just ahead of the parade itself, carrying his flickering jack-o-lantern. He heralds the arrival of Mickey Mouse and Minnie Mouse who lead the cavalcade of characters, including Jack Skellington and many mischievous Disney villains who are ready to stir up some trouble along the parade route.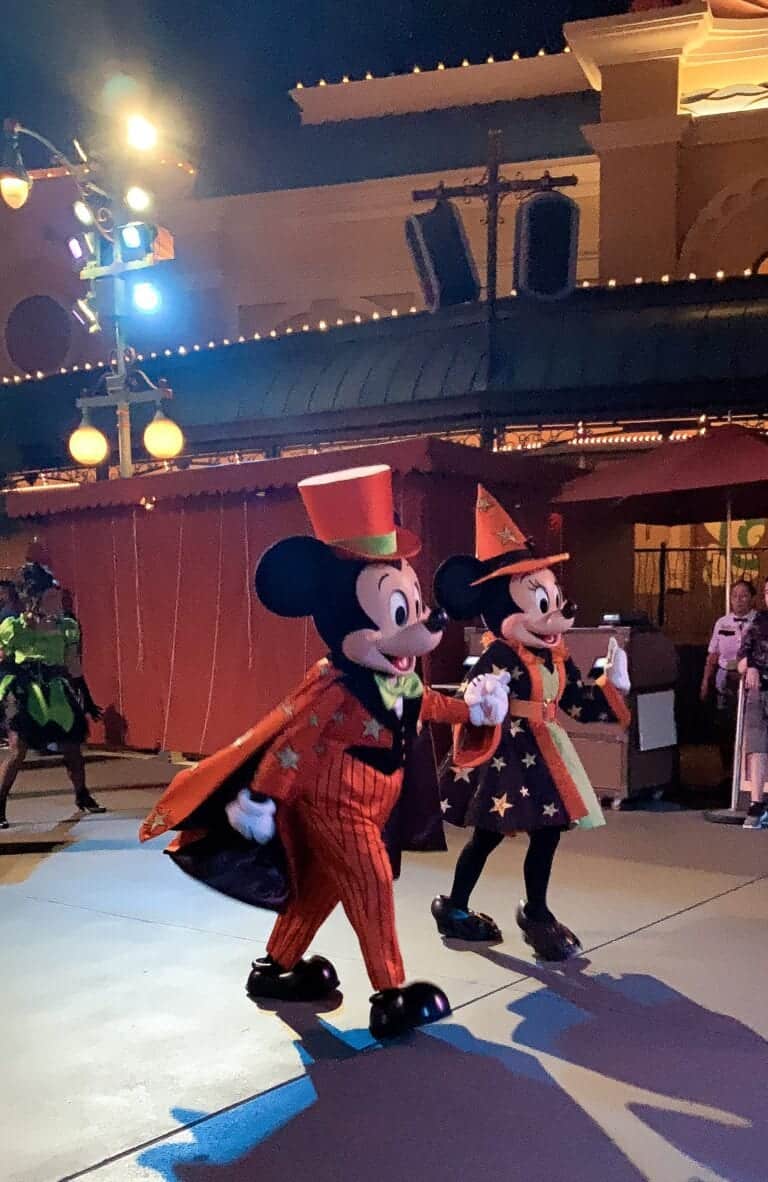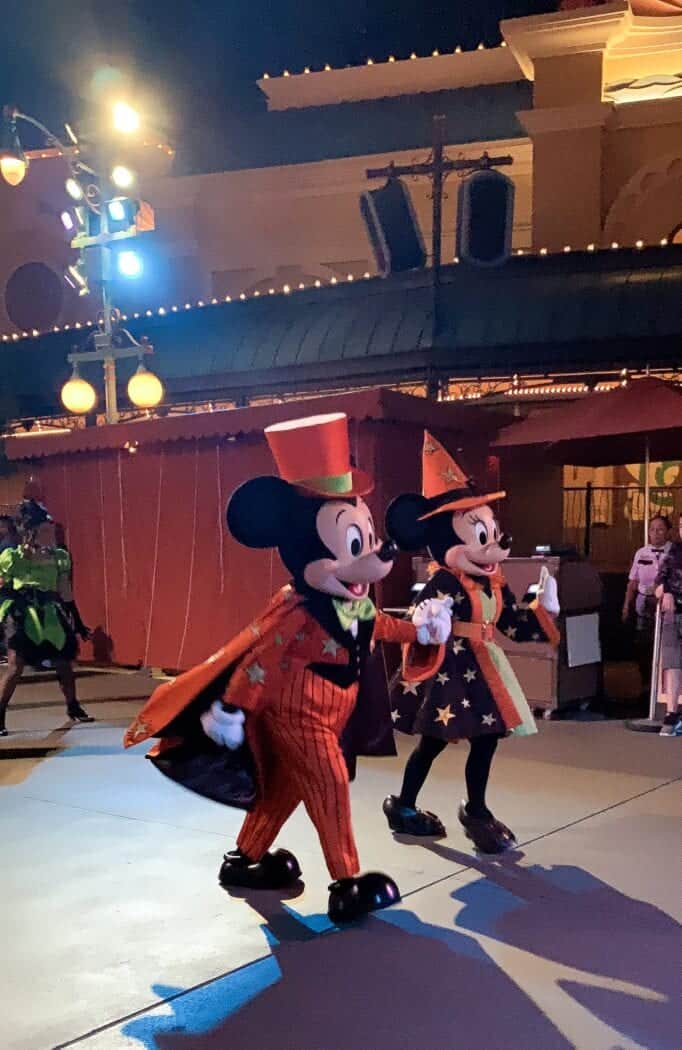 Mickey and Minnie in their festive Halloween Costumes.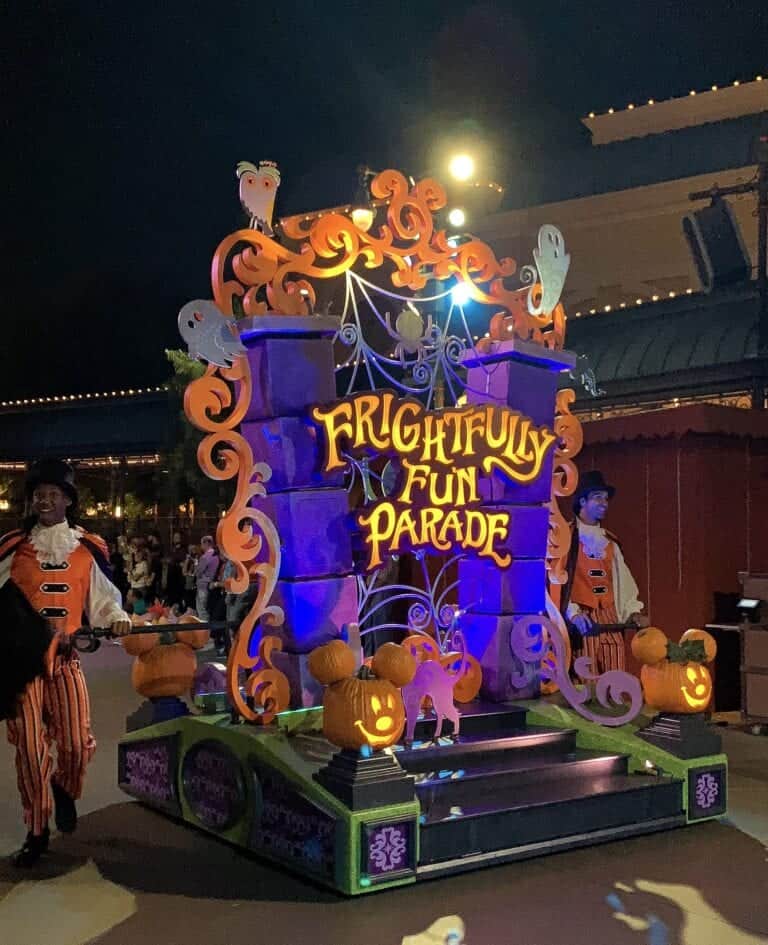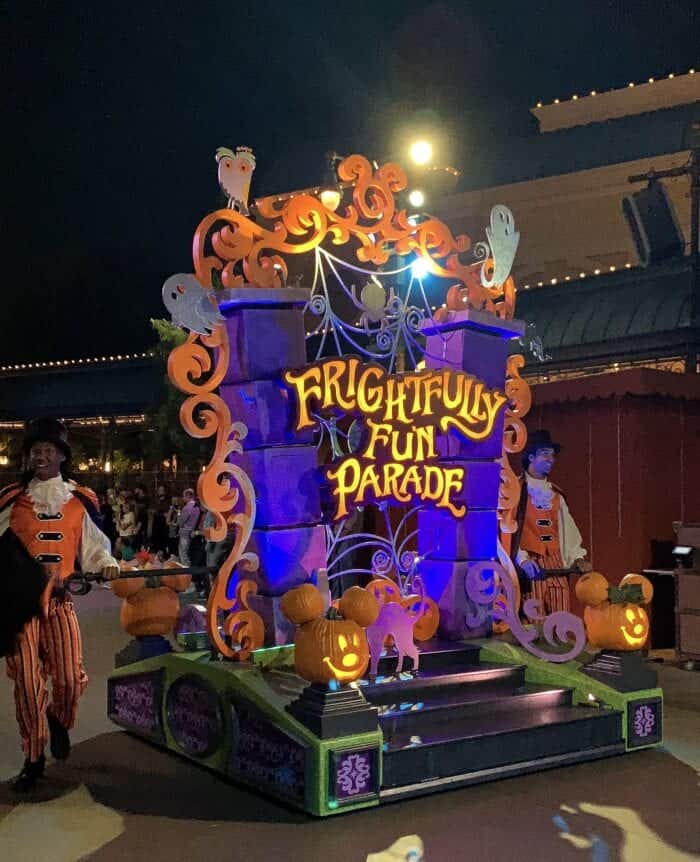 Let the Frightfully Fun Parade Begin!
Jack and Sally are the coolest!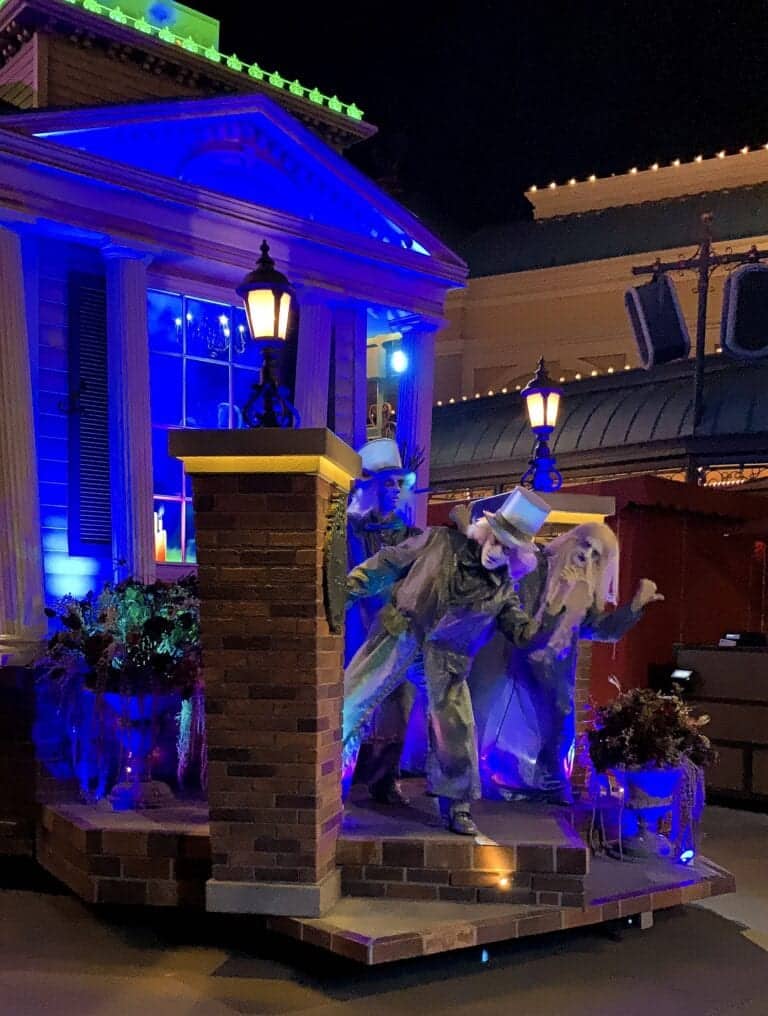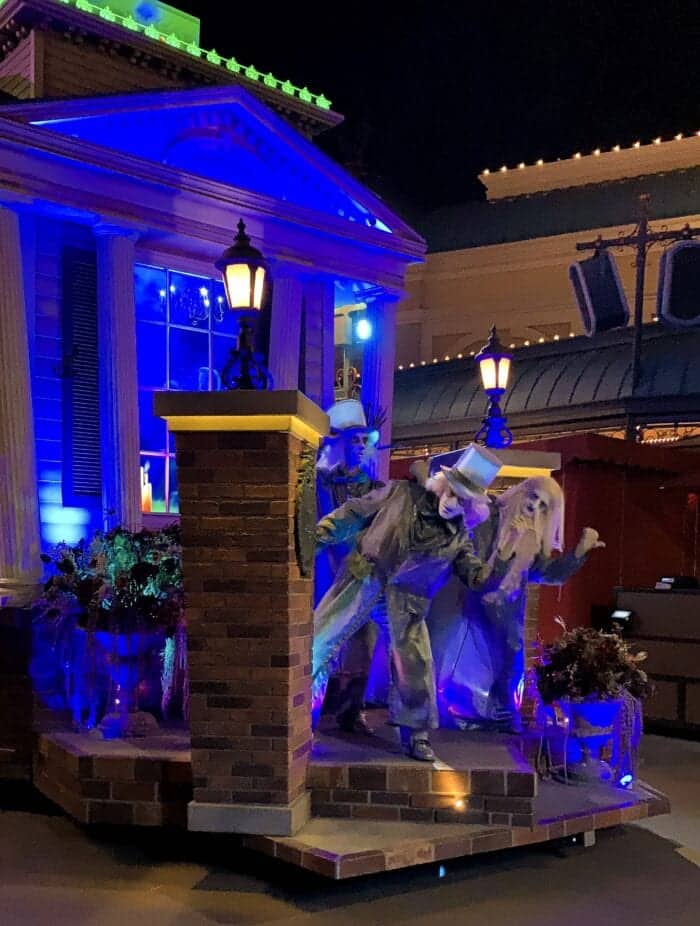 Wait until you see the Hitchhiking Ghosts go by with the Haunted Mansion Float! Love these ghosts!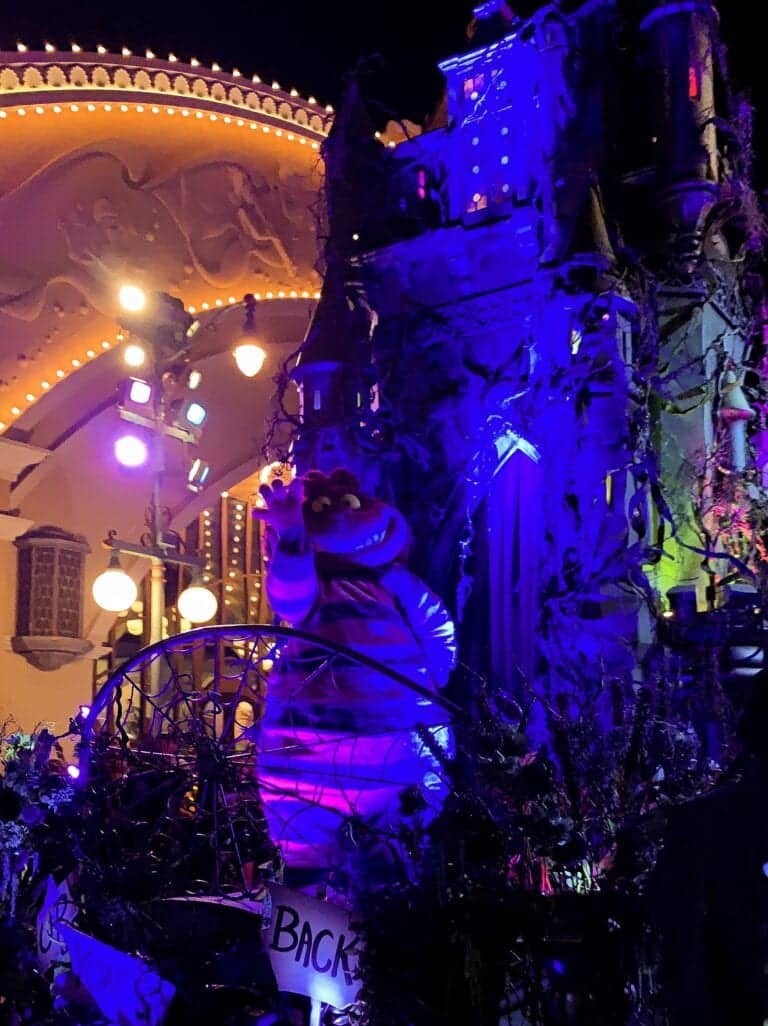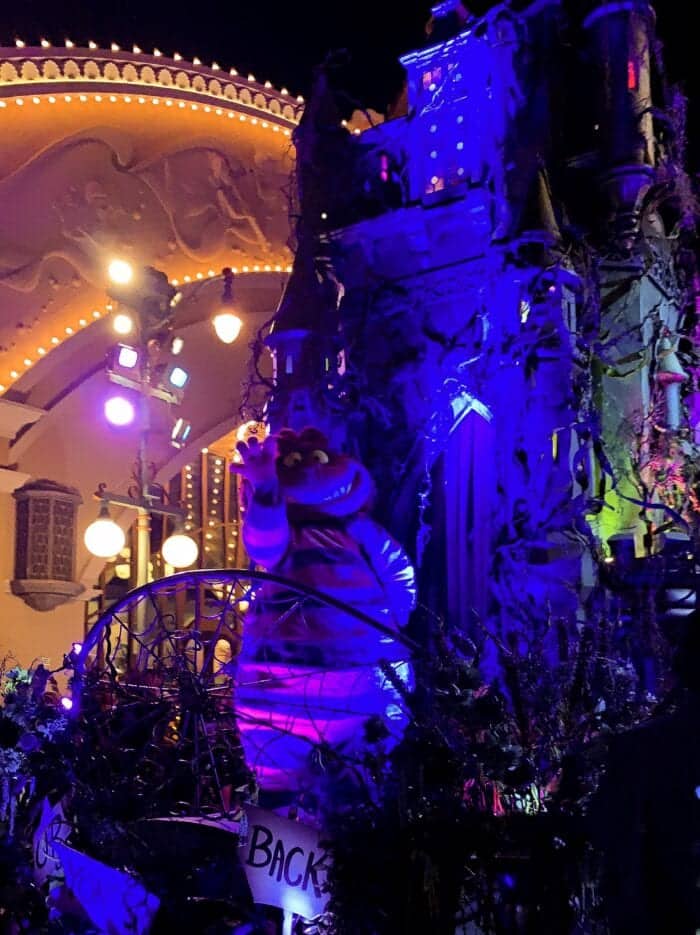 New this year, the ever-curious and whimsical Cheshire Cat joins the parade, mischievously smiling at all the magical mayhem.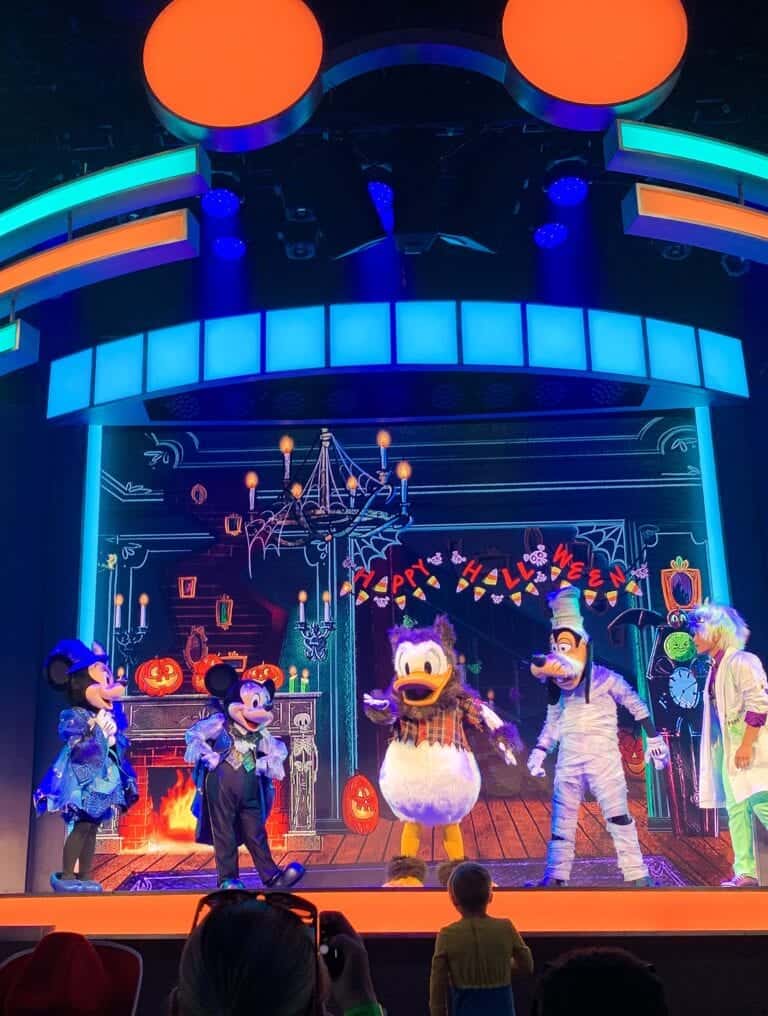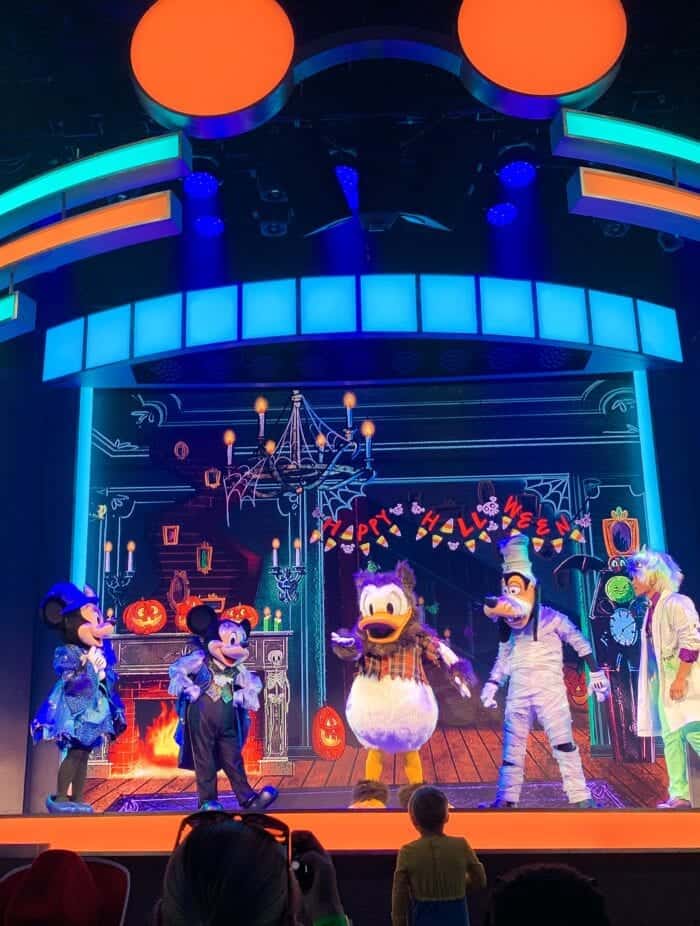 Mickey's Trick and Treat Show
The new "Mickey's Trick and Treat" show, perfect for young guests, at the Disney Theater in Hollywood Land. This new, interactive stage production invites guests of all ages to join Mickey Mouse and his pals as they throw a one-of-a-kind Halloween party that include dancing, not-so-frightening scary-tales, and candy. The show runs for about 12 minutes. Showtimes are 6:26pm, 7:10pm, 7:55pm, 9:25pm, and 10:15pm.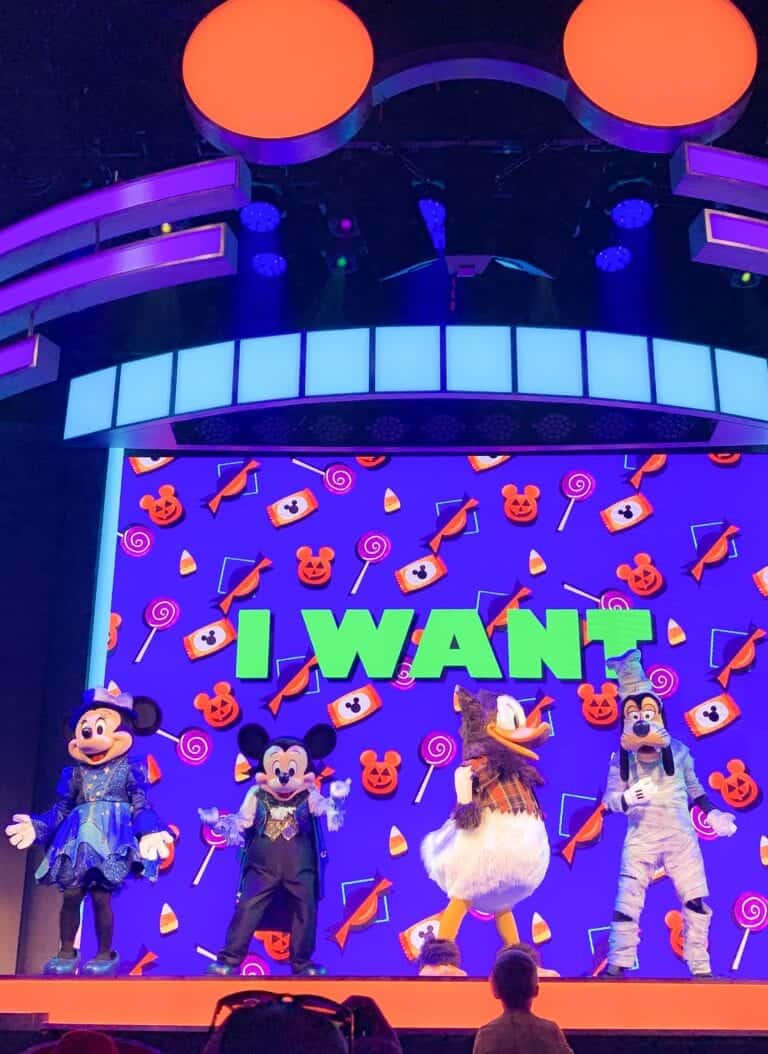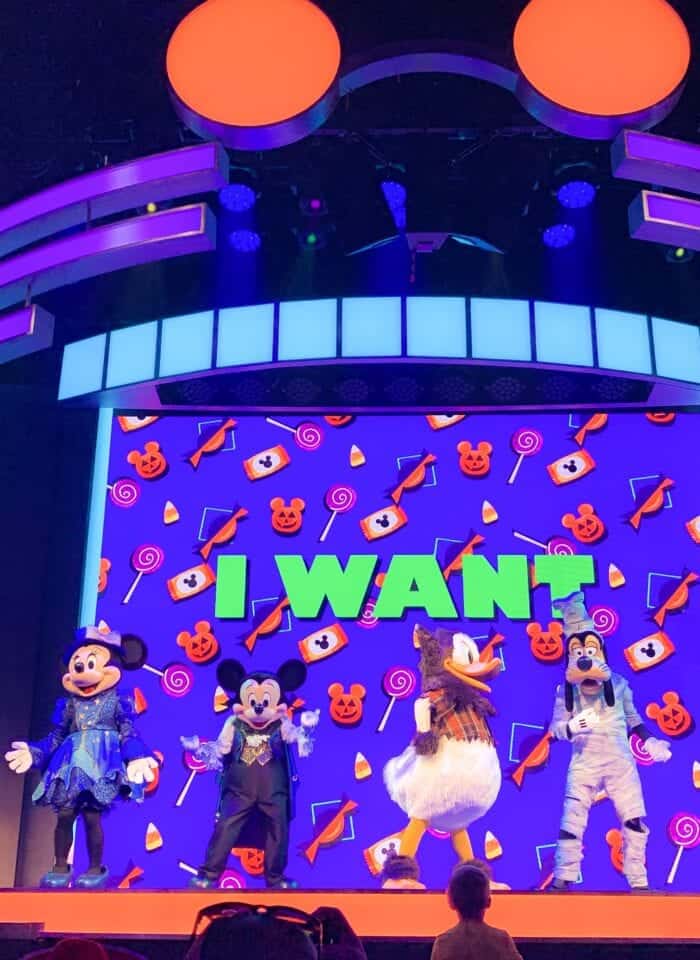 This show was really adorable to see. It's geared for younger children, but I even enjoyed it as an adult. It's short and sweet at 12 minutes long, so there's still plenty of time to do all of the other fun things during the party.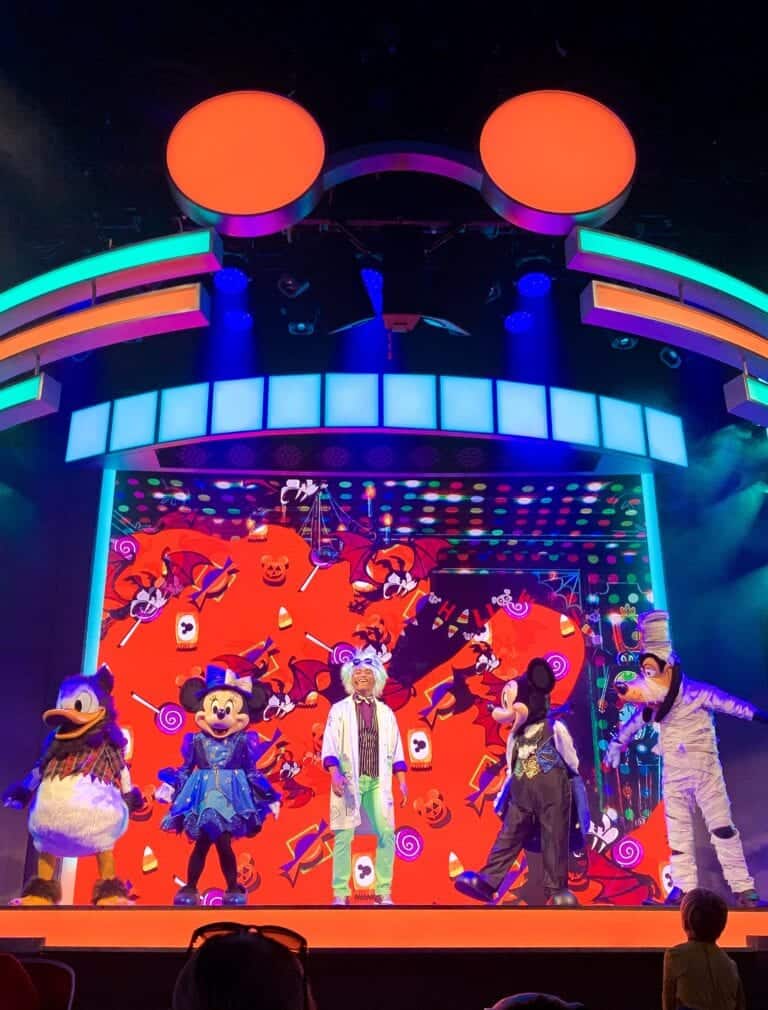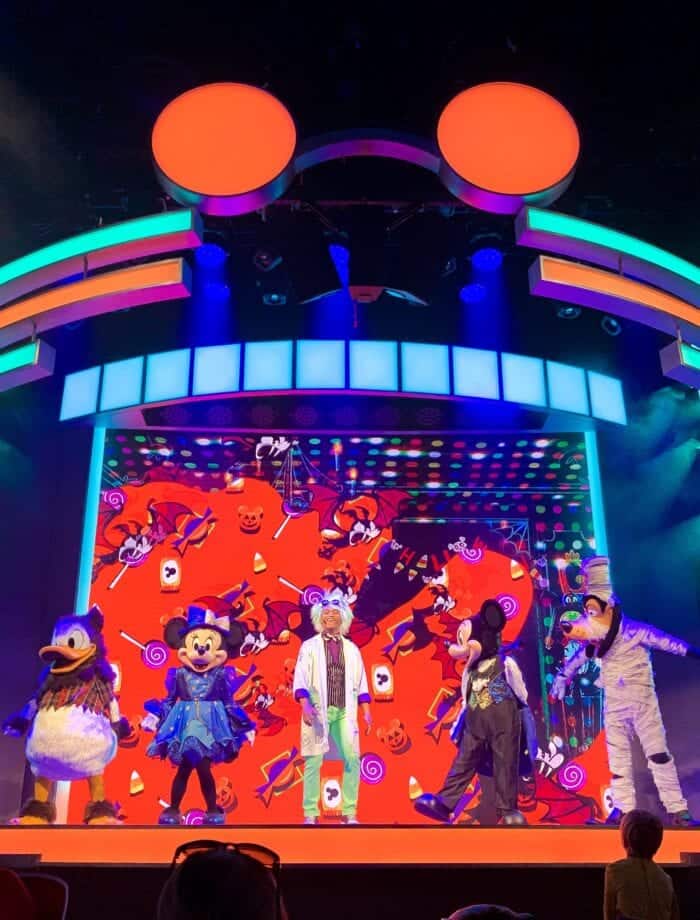 The show runs all night during the party, check your guide map for details.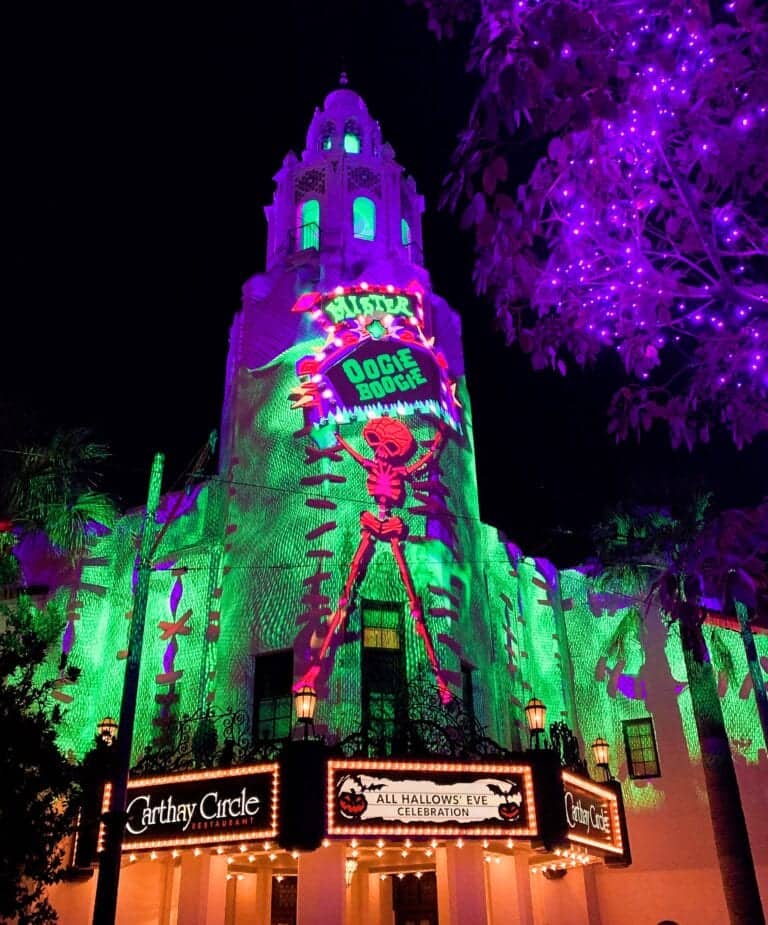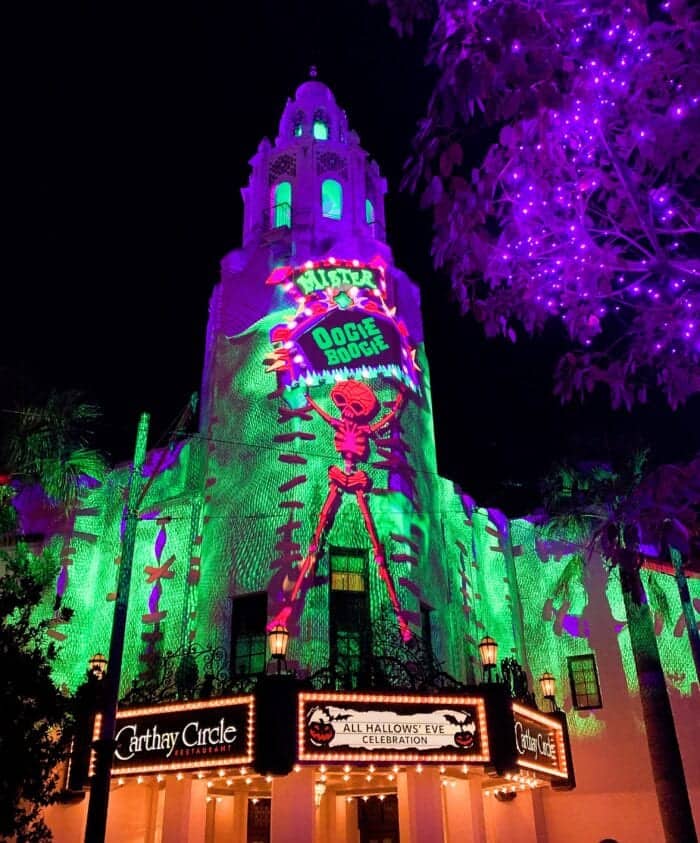 Carthay Circle
New Halloween magic, which appears on the façade of Carthay Circle on Buena Vista Street. Carthay Circle will be enchanted throughout the night as bats swarm, green energy pulses from within and spellbinding moments transform the iconic tower structure.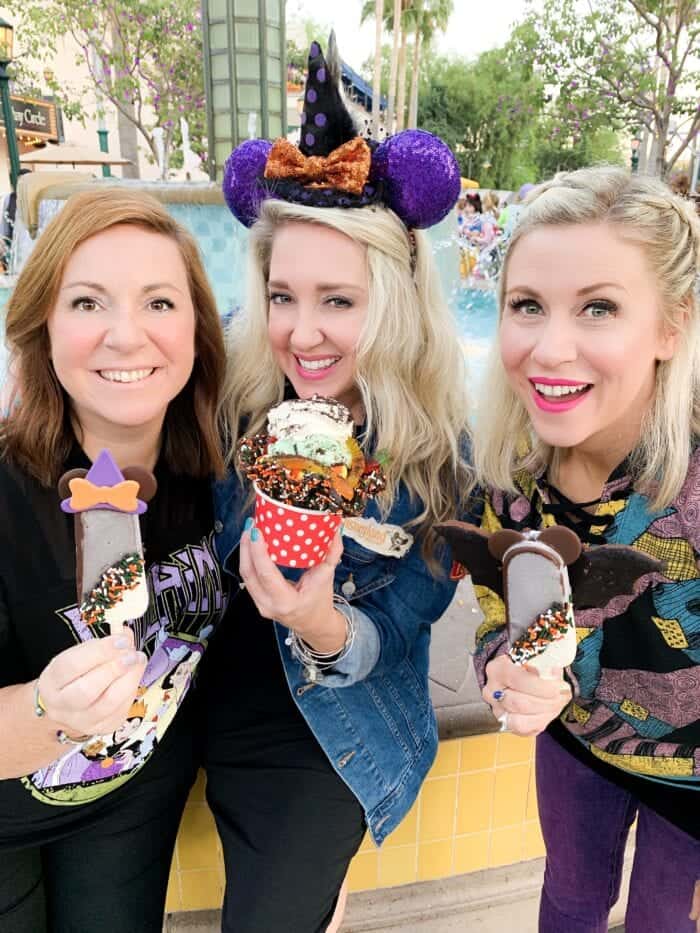 Halloween Time Treats
There are so many delicious Halloween sweets and eats around Disney California Adventure Park! All three of our treats are from Clarabelle's on Buena Vista Street. Don't miss the Mickey Vampire Bat and Minnie Witch Ice Cream Bars. I'm holding the Oogie Boogie Sundae. All so fun! In the photo (left) Tara Gallas from Disney Double Scoop and (right) Ashely Eckstein of Her Universe. Such a pleasure getting enjoy the party with these two talented women I've knows via social media for a number of years. So happy to have them as friends now!
Final Thoughts
The Oogie Boogie Bash Party was even better than I imagined. If you missed getting tickets this year, be sure to get them next year. It is such a special night full of memories not to forget. I felt like it's a little tricky to do EVERYTHING at the party during the time given. I didn't ride any rides for this first party. Be sure to have a list of your "top" experiences you want do at the party with your group. Start with your favorites and fit in the others as your night goes on. I wasn't able to get to all of the treat trails, so luckily I have one more night with my family coming up.
My Do Not Miss Experiences
Frightfully Fun Parade
Villains Grove (Redwood Creek Challenge Trail)
Immersive Trick or Treat Trails
Animation Academy to see Oogie Boogie Live (part of the treat trails, but worth going to a couple times)
Enjoy some Halloween Time Snacks-Horchata Churro (churro cart near Goofy's Sky School), Slow Burnin' Mac 'n' Cheese Cone (Cozy Cone Motel, Cone #3), Coco Cake from Paradise Garden Grill and Spicy Pepper Jack Cheese Stick from Corn Dog Castle
Get at least one Character Photo during the Party!
Ride Guardians "After Dark" plus your other favorite rides if you have time!
Pin To Your Favorite Disney Board