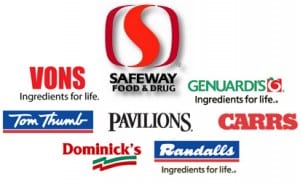 Contest is now over. Congrats to entry #224 Tamara, who was chosen by random.org. I've sent you an email Tamara!!
Random Integer Generator
Here are your random numbers:
224
Timestamp: 2010-09-19 14:43:51 UTC
Hey everyone! As a thank you for helping Picky Palate win that Swanson's Dinner Challenge a few months ago, as promised I am giving away the prize which was a $250 Gift Card to any of the Safeway Family Grocery Stores pictured above!
Here's how to enter:
1. "Like" Picky Palate on Facebook. That's it 🙂 Then leave me a link/URL to your Facebook page in a comment below.
2. For 2 extra entries, Post the following on your Facebook Page: "Like" Picky Palate on Facebook and be entered to win a $250 Grocery Giftcard. Make sure you link my Facebook Page to your post 🙂 Leave 2 separate comments for this.
3. Contest ends Saturday September 18th 8pm PST. Winner will be chosen from Random.org, will be notified by email and must "Like" Picky Palate on Facebook.
_______________________________
Good Luck and THANKS!