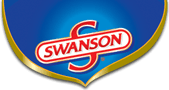 Hi Everyone 🙂 I've got a fun challenge for us today!!
Swanson's is challenging Picky Palate and 4 other great bloggers to a contest to see who can generate the most comments for a chance to win a very cool prize…… read on 🙂

Swanson's Premium Chicken launched a larger size can of chicken at about the same price of it's predecessor. To help spread the word about the great value of the new size of chicken, Swanson has challenged Picky Palate to a $10 Dinner Challenge. Check out my BBQ Chicken Pizza Soup recipe HERE. I love it, it's a great $10 Dinner 🙂
Here are some reasons you will love the new size of Swanson's chicken…
Better Value- You can now get a 12.5 ounce portion of your favorite all white premium chunk chicken (28% more) for about the same price as the 10oz can. This is equivalent to 1.5 cups of cooked chicken.
Convenience– Swanson offers consumers the convenience of fully cooked, all white chicken breast. It saves time and is a great shortcut ingredient for dinner.
Quality Meals– Swanson Chunk Chicken Breast is 100% all white meat, 98% fat free, contains no preservatives and is the only branded canned chicken certified Heart Healthy by the American Heart Association.
So, the giveaway is for 4 coupons for Free Swanson's Chicken AND…..If we generate the most comments out of the other 4 blogs I will win the challenge and the $250 Gift Card!!
Here's How To Enter:
1. Leave comments here telling us, "What are your favorite quick and easy Chicken Dinners?" No need for the entire recipe, titles and or descriptions are just fine. Leave as many dinners as you'd like, just make sure they are in separate comments for more chances to win 🙂
2. For extra entries, Follow Picky Palate on Twitter, Google Reader, "Like" us on Facebook and Subscribe through RSS Feed. Leave separate comments for this.
3. Contest ends Sunday July 18th 10pm PST. Winner will be chosen by Random.org and will be notified by email. Giveaway provided by Swanson.
____________________________________
Remember, leave as many comments as you want….that's how we win 🙂