Sharing my Disneyland tips on how to become a pro using Disneyland's mobile ordering! One of the best Disneyland secrets around! Save yourself from waiting in line and take advantage of Mobile Ordering right from the Disneyland App!
Disneyland Tips
One of my very favorite Disneyland tips is to take advantage of mobile ordering via the Disneyland App. I'm telling you, it saves so much time not having to wait in long lines for food. I'm going to break it down for you and walk you through each step so you can be a Disneyland Pro!
Check out my blog post, Become a Pro Using Disney Max Pass too! Follow Disney Hungry on Instagram for tips and the BEST EATS at Disney Parks!
Download The Disneyland App
First things first, make sure you download the Disneyland App and sign into your account The app looks like the photos above. No account yet? No worries, just takes a few minutes to set up. Do this before you arrive to the Parks.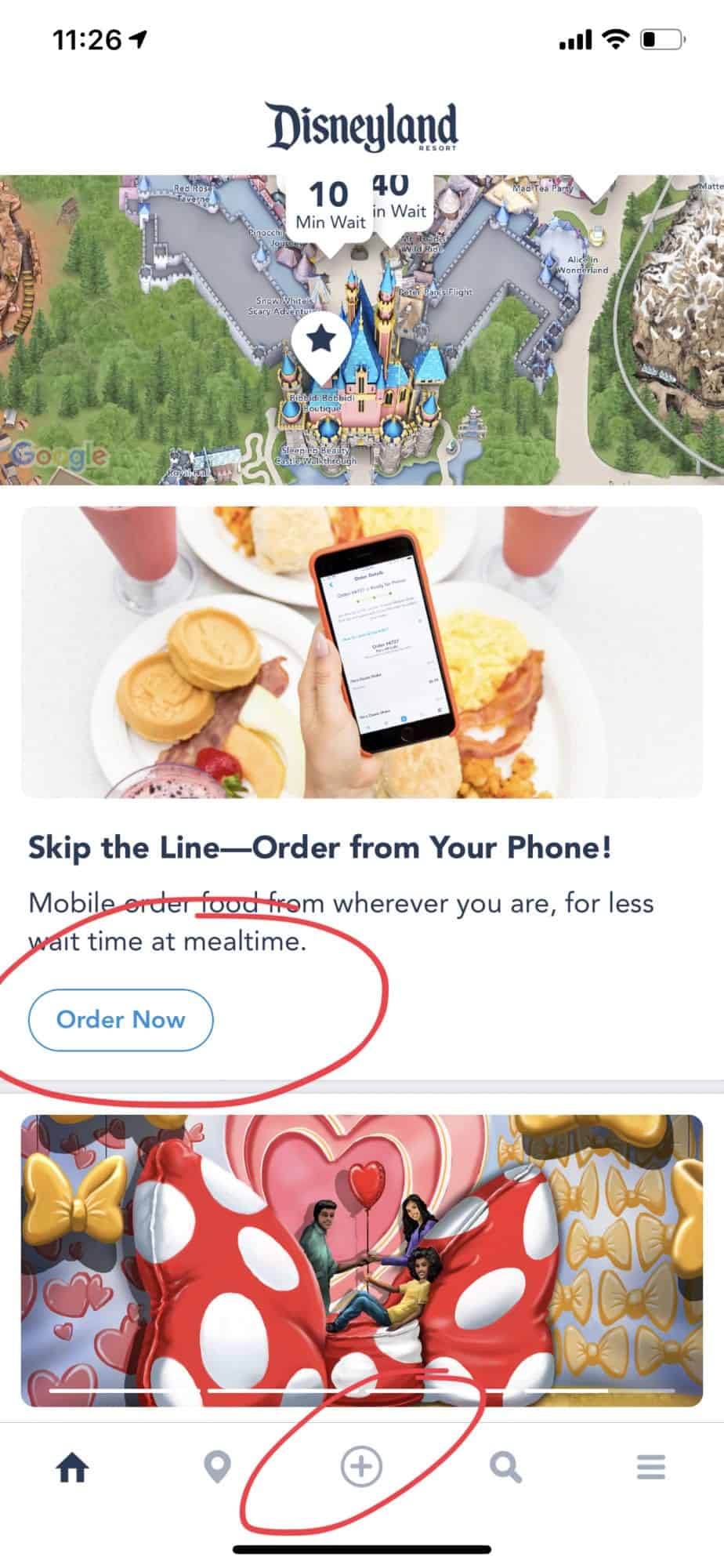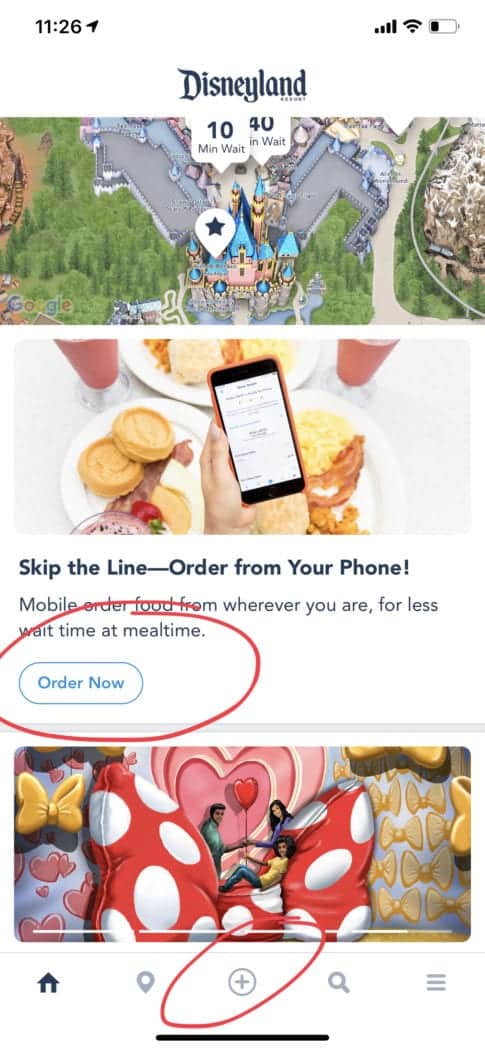 Once you open up the Disneyland App, click on either the plus sign at the bottom of the page or click on "order now" both will take you to the appropriate next step.
Disneyland Mobile Ordering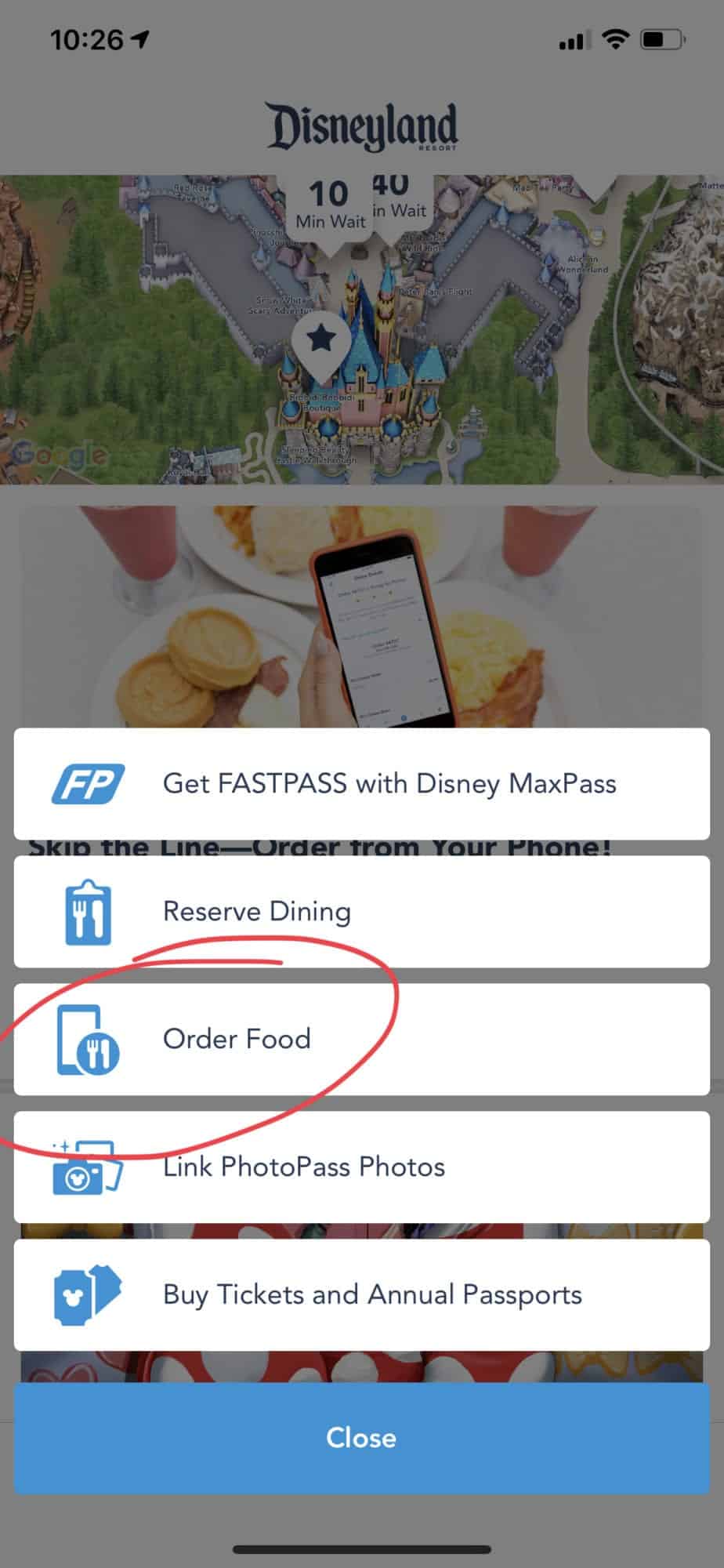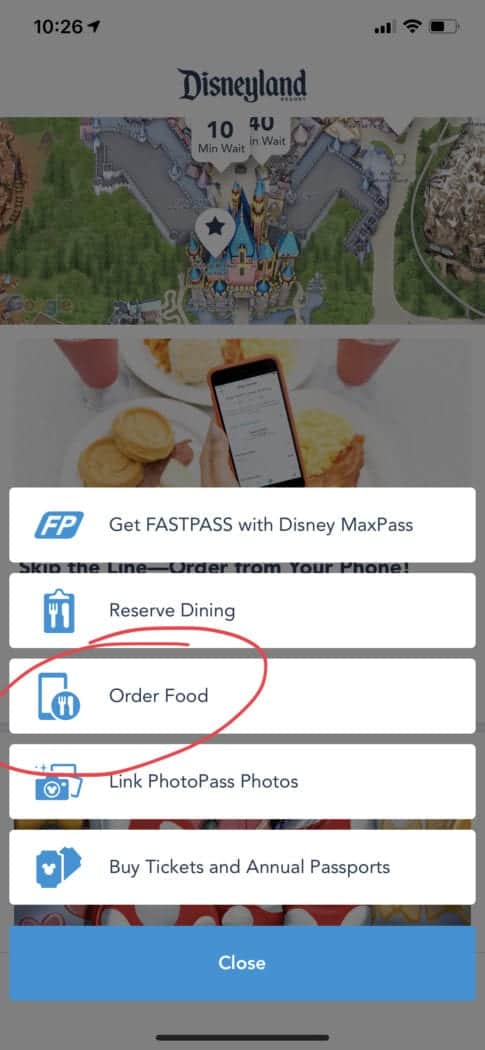 From this window, you'll select Order Food.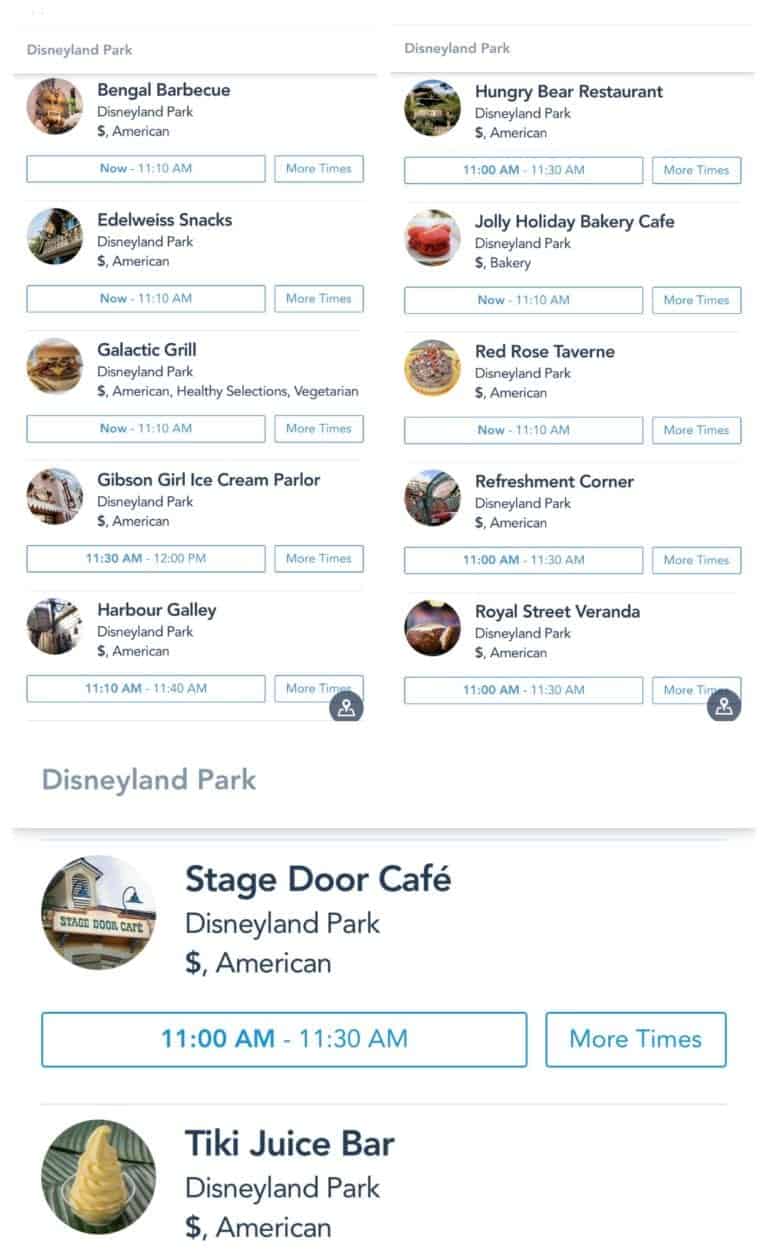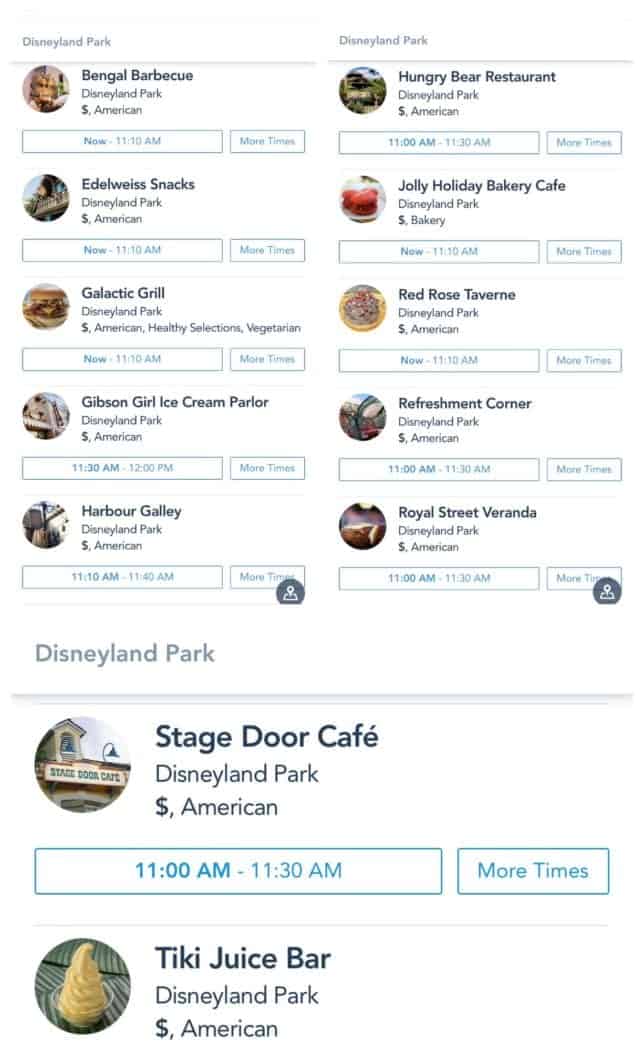 Disneyland Restaurants With Mobile Ordering
The next screen will show you the restaurants that have Mobile Ordering available. The above are the restaurants from Disneyland Park with Mobile Ordering.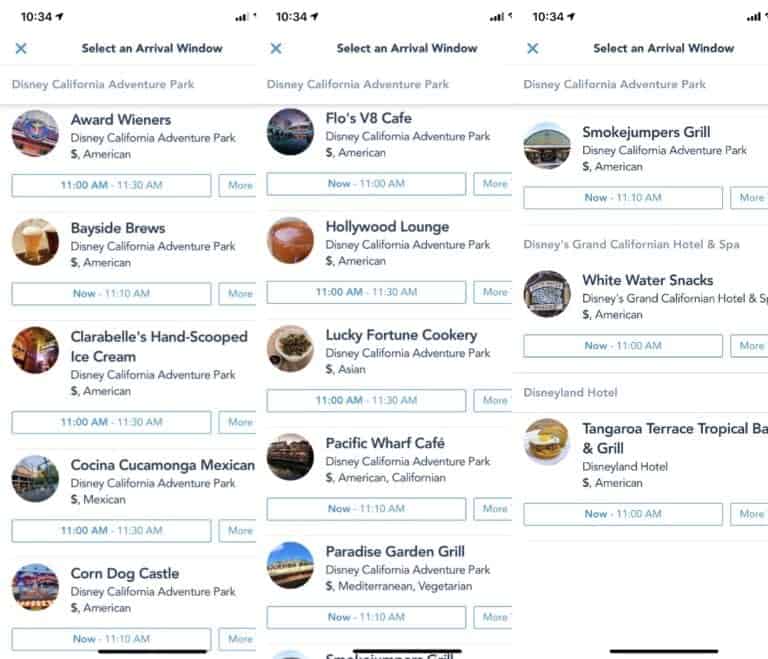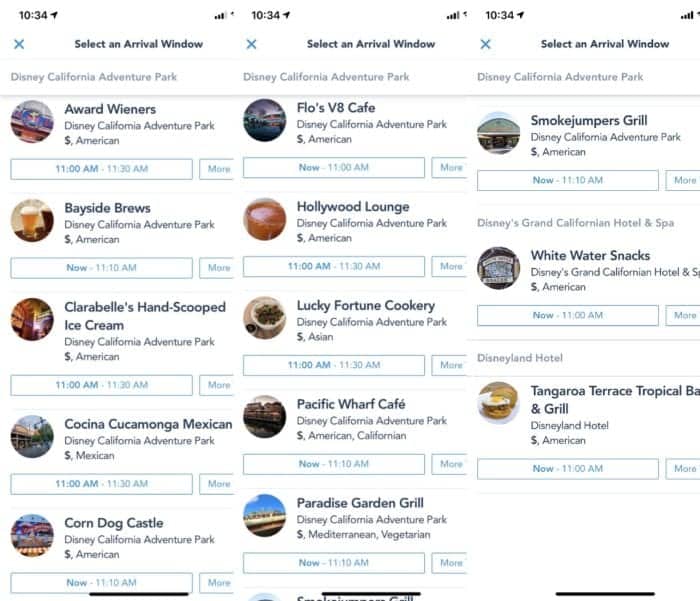 Disney California Adventure Park Restaurants With Mobile Ordering
In the above photo you'll see all of the Disney California Adventure Park restaurants with Mobile Ordering Options.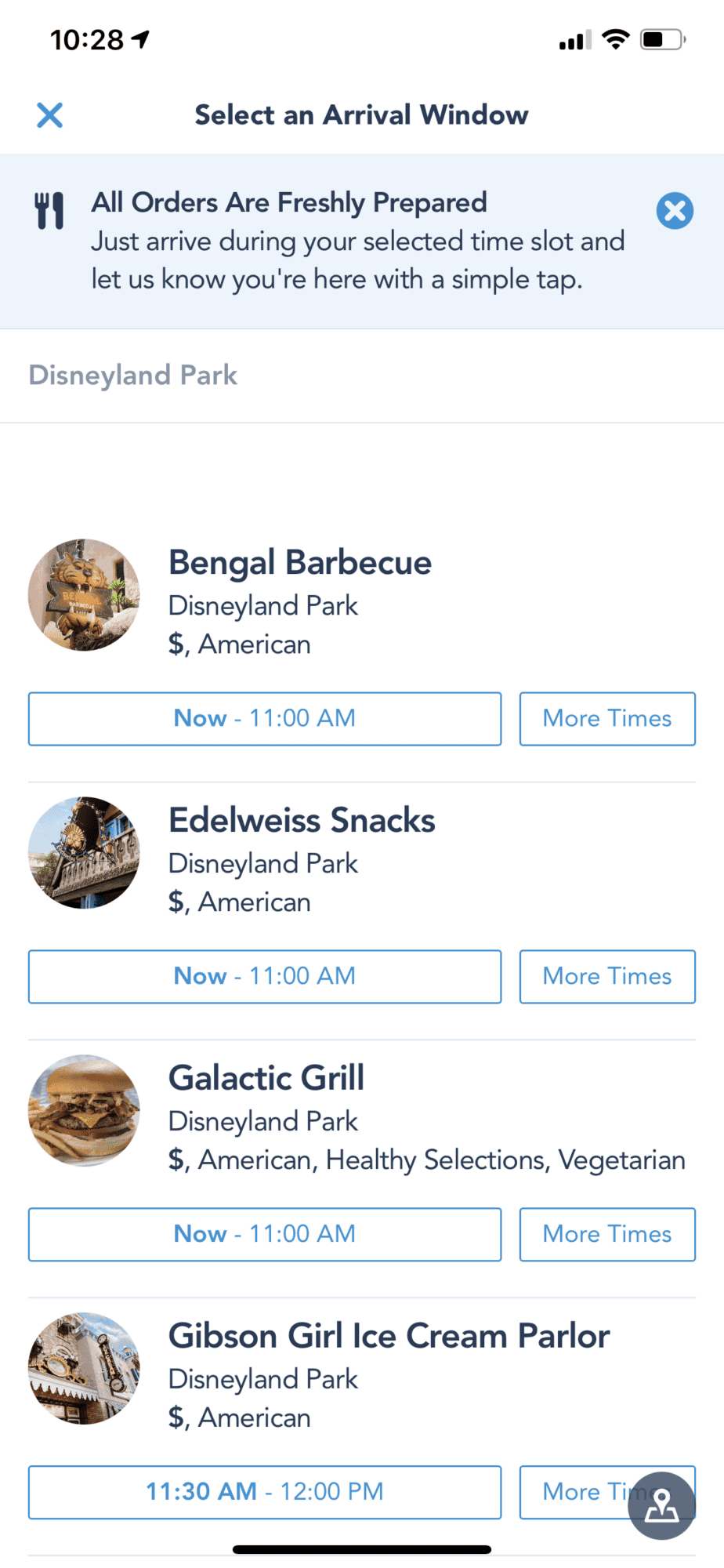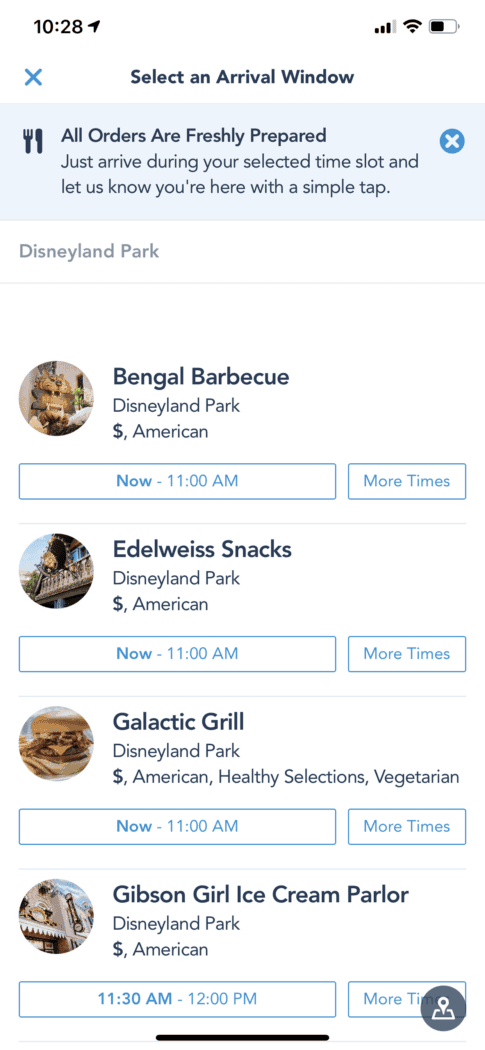 Select Your Restaurant
This is where you'll scroll through the many options and click on the restaurant you want to order food from.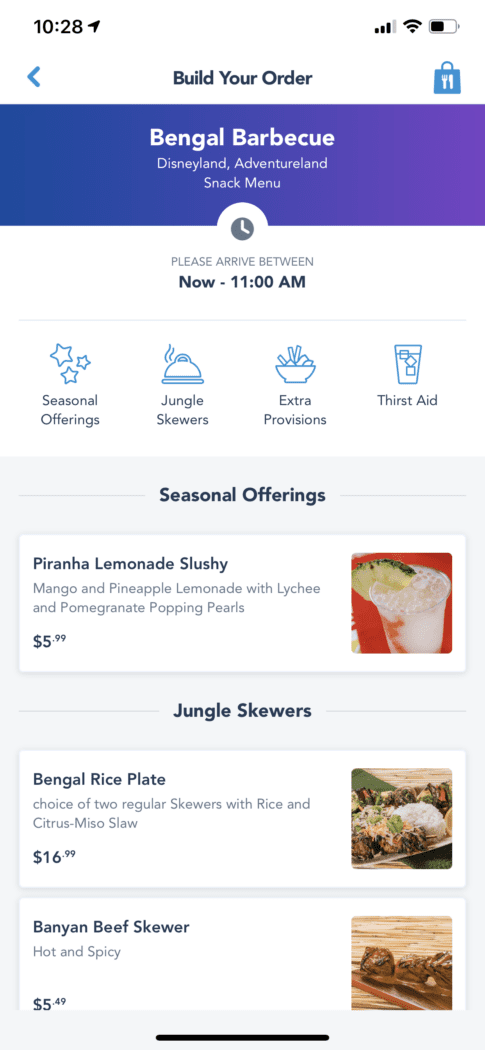 For my demonstration today, I chose Disneyland Park's Bengal Barbecue in Adventureland. One of my very favorites….and the line can get pretty long during lunch and dinner times. The Mobile Ordering has saved me lots of time!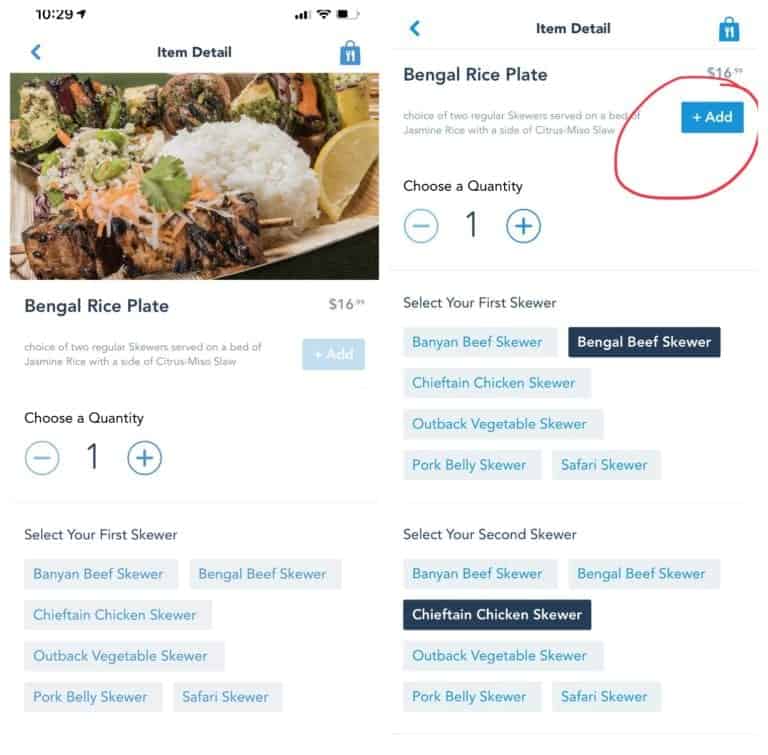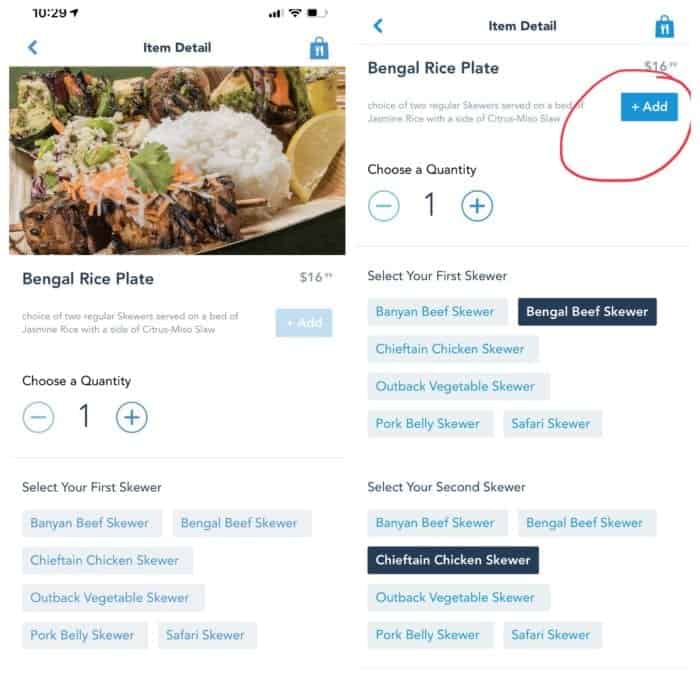 Make Your Selection
Once you've decided on your restaurant, make your selection. Each screen walks you through the steps very simply. Choose your quantity and finish your selections then click on ADD at the top of the screen. See my photo above.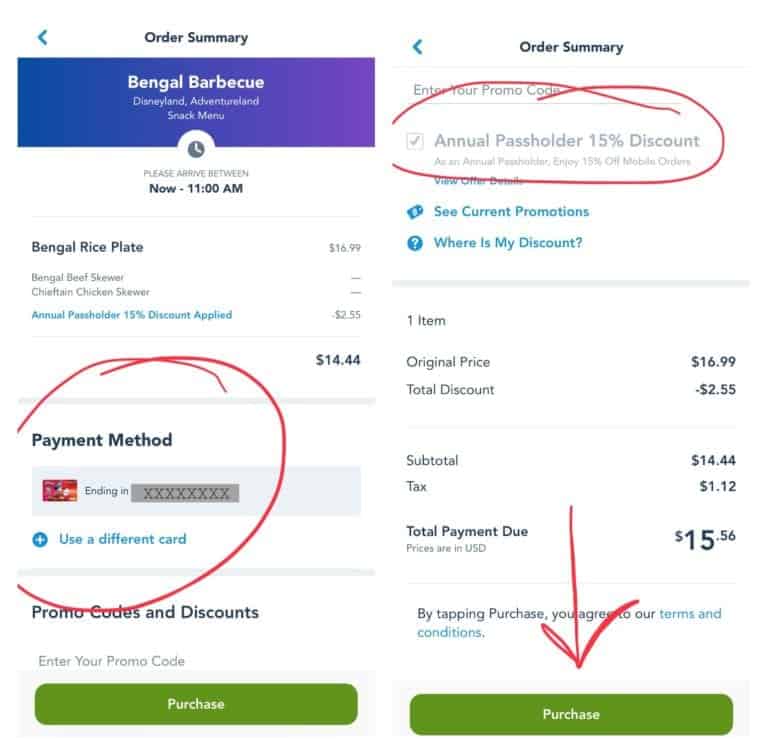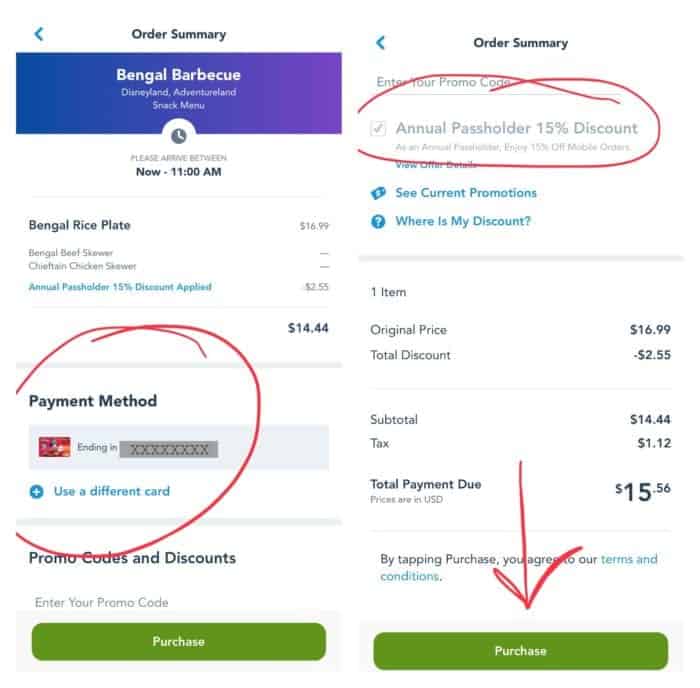 Take Care of Payment
Once you've reviewed your order, you'll be taken to the payment page. If you've got a credit card already linked to your Disney Account, you'll already be set up. If not, enter your credit card payment here. If you are an Annual Passholder your discount will be taken off as well….as long as your AP is linked to your account. When payment information is ready, click on the bottom of the page and Purchase. If you have a Disney Gift Card to use, simply put the card numbers in the promo code area.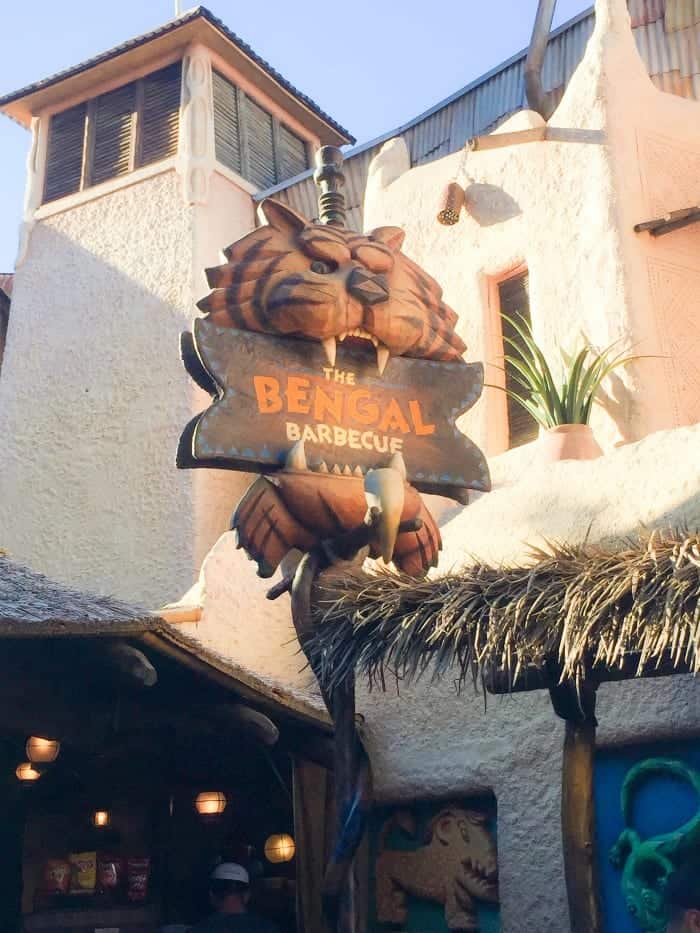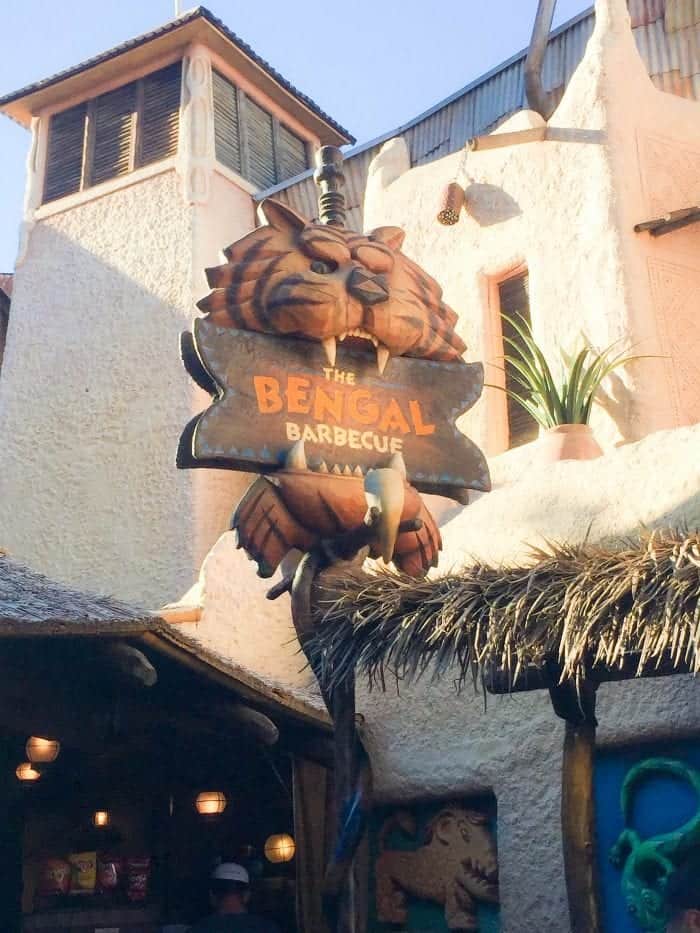 Look For The Separate Mobile Order Pick Up Window
Each location that offers Mobile Ordering has a separate pick up window. Just take a look, you'll see a sign that says Mobile Order Pick Up.
Keep the app open and you'll get a notice when your order is ready for pick up. You can follow along and watch the dots move across a line until it's ready. Once you do it a couple times, you'll get the hang of it in no time!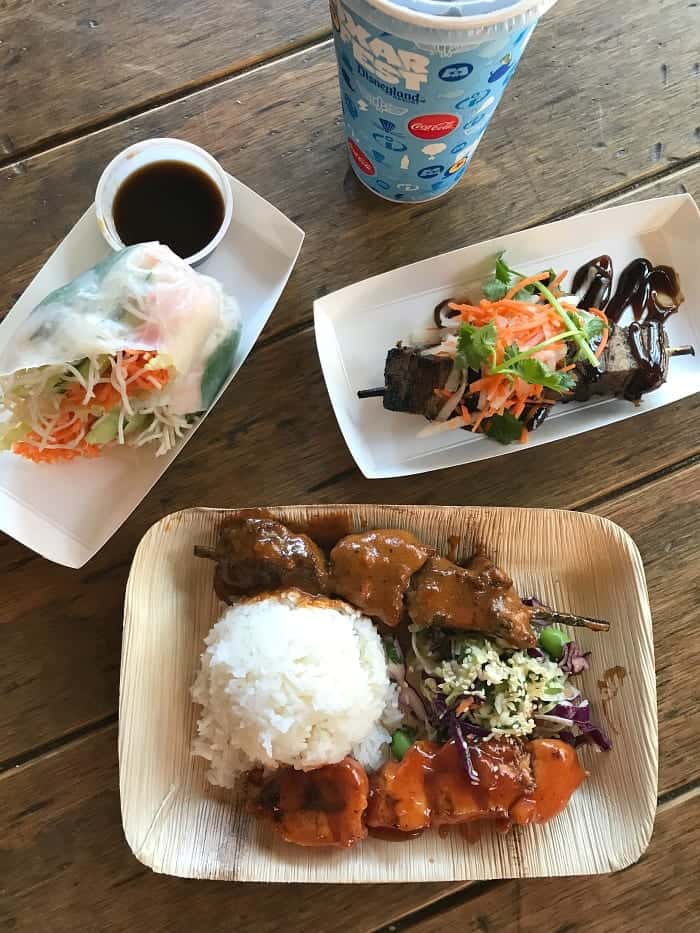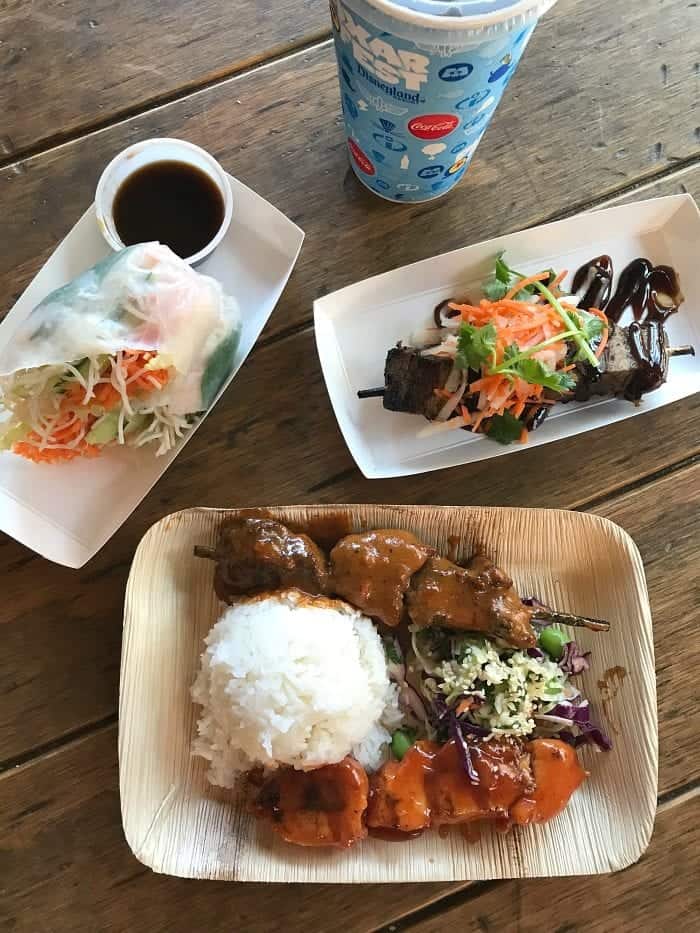 Instead of waiting in a long line, you'll get your food with minimal wait. I'd say each time I've used the Mobile Ordering feature on the app, I've waited less than 5 minutes each time. It's fantastic!!!
Pro Tips Using Mobile Ordering
Download the Disneyland App before your trip and create your account/sign in.
You can order your food ahead of time if you know when you'd like to eat. Just put in the time you'd like. Doesn't have to be done live.
Find Mobile Order Pick Up Window before your order is ready.
Note that SOME of the seasonal menu offerings will not be available via Mobile Ordering. Check in advance to see if your choice is available.
Pin Become A Pro Using Disneyland Mobile Ordering