Sharing my tips on how to become a pro using Disney MaxPass! Everything you need to know to get the most rides out of your visit to Disneyland Resort!
Disney Max Pass
It's literally changed my life! Ok, maybe that's a bit dramatic, but if you've been to Disneyland Resort since summer of 2017, chances are you've heard about Disney MaxPass. It is an absolute MUST when I go to the Parks with my family. I'm going to teach you everything you need to know to become a pro using Disney MaxPass! Be sure to not miss my BIGGEST PRO TIP in bold near the bottom of the post.
Be sure to see my blog post, Become A Pro Using Disneyland Mobile Ordering too! Follow Disney Hungry on Instagram for the best eats and tips for Disney Parks!
What Is Disney MaxPass?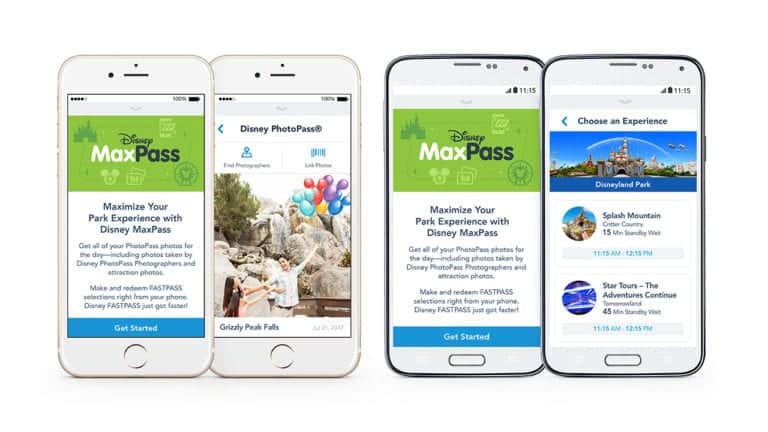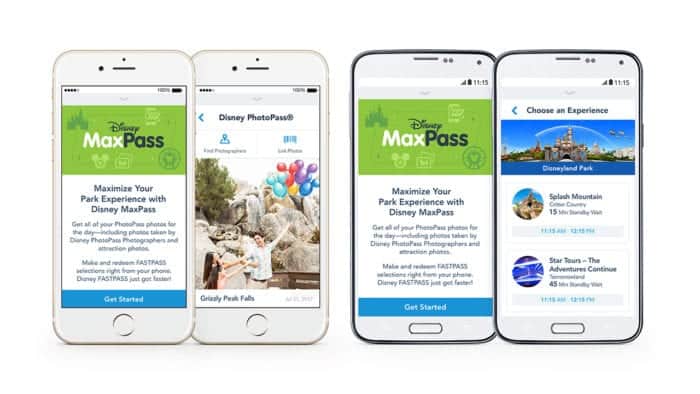 Photo via Disney Parks Blog
Disney MaxPass is a service you can purchase for $20.00 per ticket (price increase as of February 11, 2020.) That allows you to make your Disneyland FASTPASS selections on your smartphone using the Disneyland app while you're in the Parks. Guests with Park Hopper Tickets can make selections for attractions in both Parks on the same day.
You also get Disney PhotoPass photo downloads for the day. Download and share photos from select dining locations, attractions, Character Greetings, Disney PhotoPass Photographers and Magic Shots.
If you are a Signature Plus Annual Passholder or Disney Premier Passholder, Disney MaxPass is included in with your Annual Pass.
For non-Annual Passholders, I have found it easiest to purchase MaxPass the same time as you buy your Park Ticket. Do this via the Disneyland website. You'll notice when you are purchasing your ticket, you have the option to upgrade to the Disney MaxPass as shown in the photo below via the Disneyland website.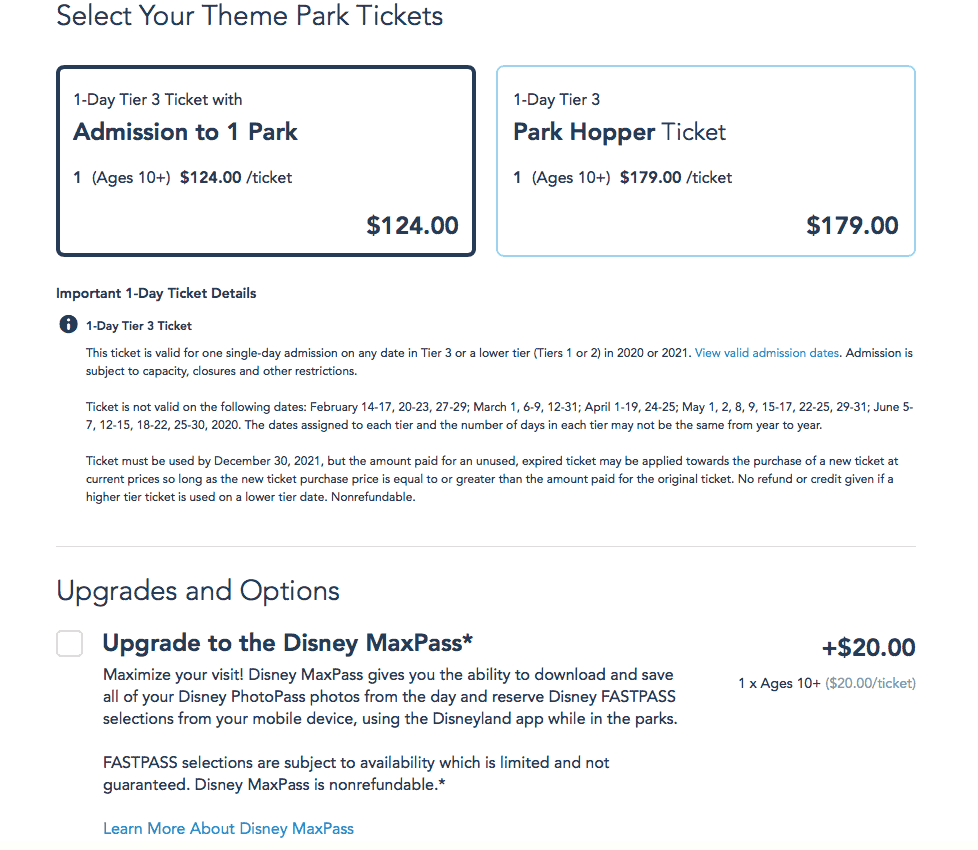 If you've already purchased your tickets, no worries. When you enter the parks, open the Disneyland App and click on Get Disney MaxPass. It will walk you through directions to purchase your MaxPass for the day and link your Park ticket by scanning the barcode. I've done it this way too. It's just fine. Just make sure you do this as early in the morning as possible to get the most out of MaxPass.
Download The Official Disneyland App in the App Store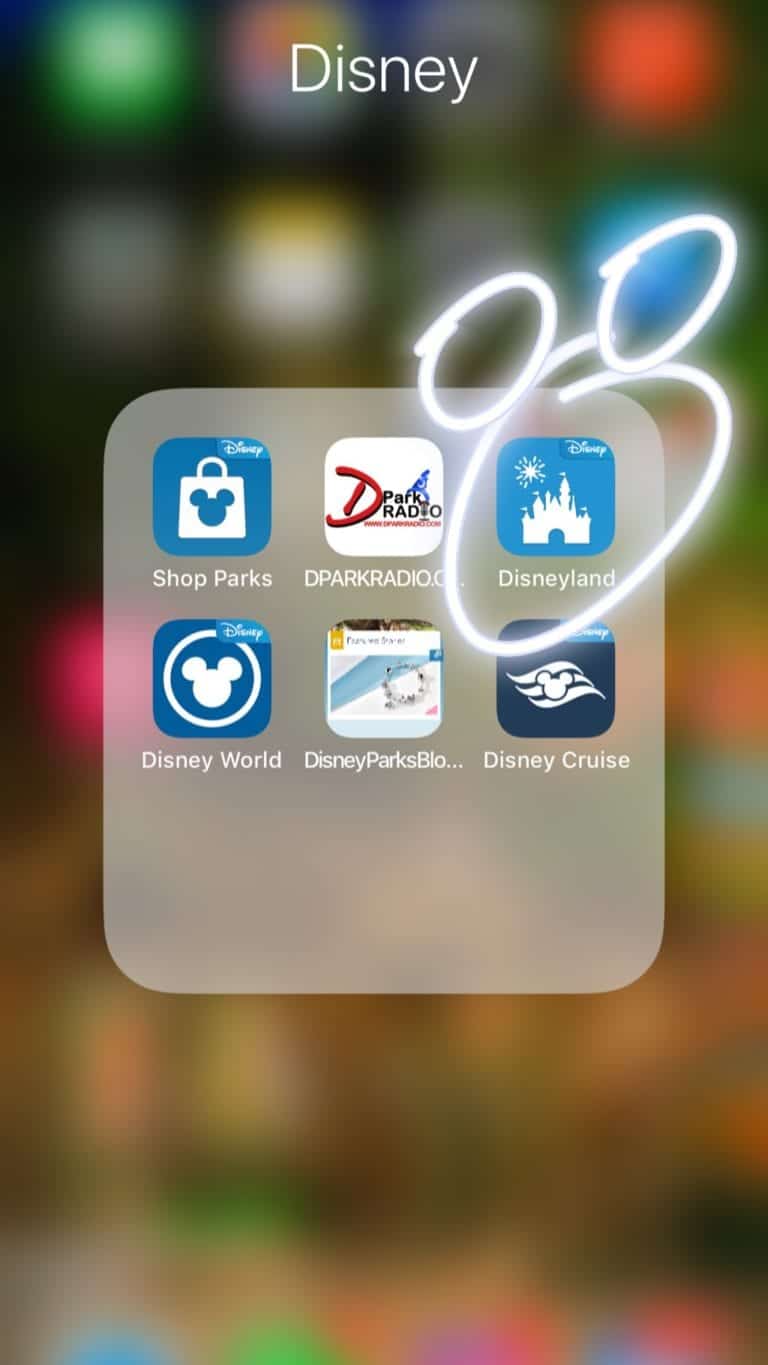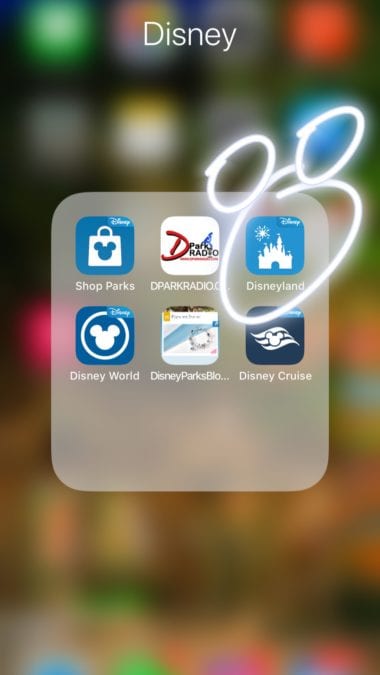 First things first, if you haven't downloaded the official Disneyland App, do that. It's free via the App Store. Once downloaded, sign in, or create an account.
Open Disneyland App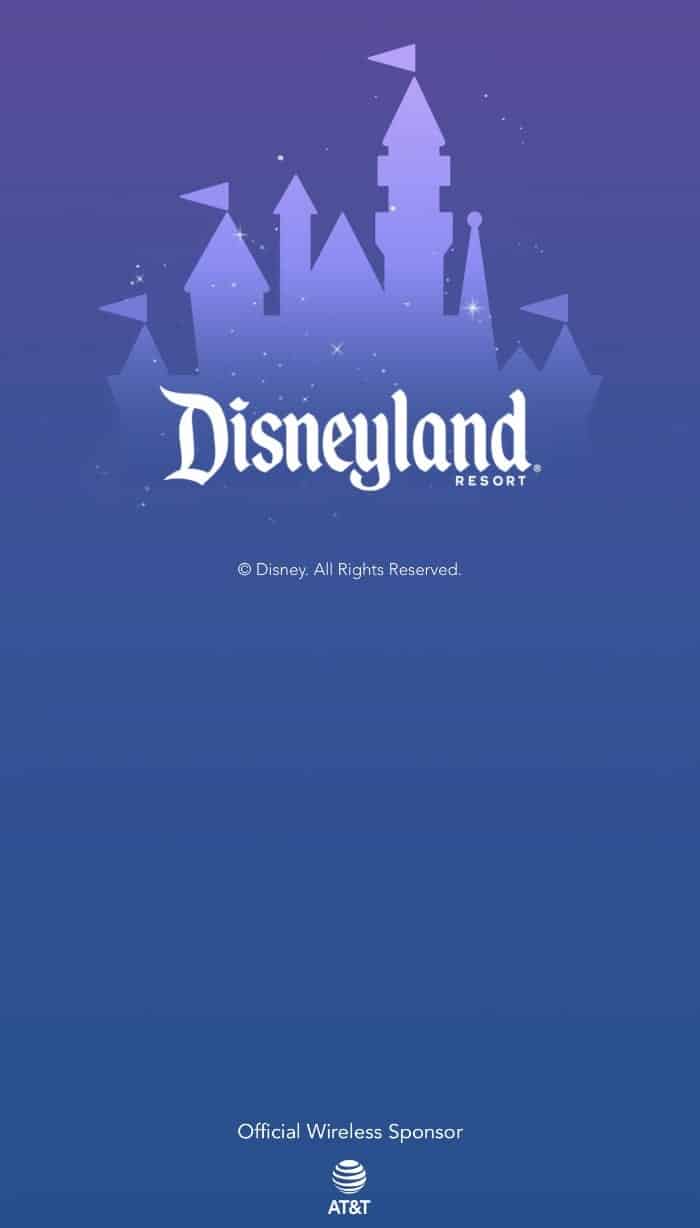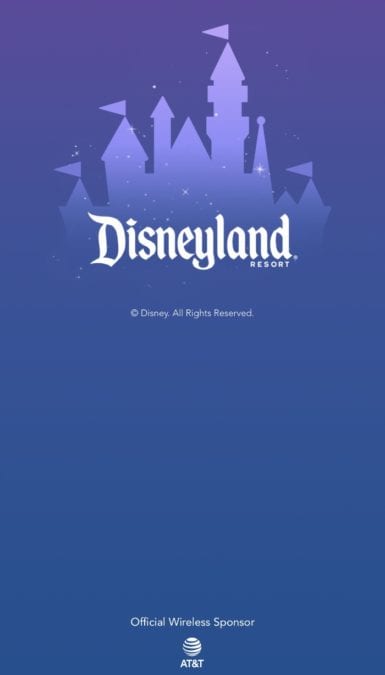 When you click on the Disneyland App from your phone, this screen pops up, you'll see some Mickey Fireworks then it takes you to the Home Page.
How Do I Access Disney MaxPass?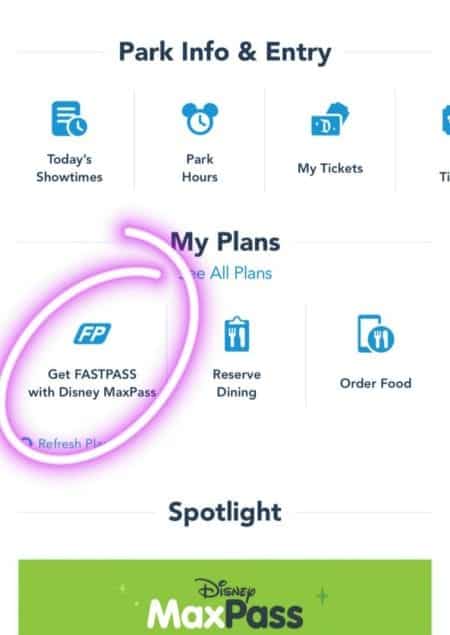 This is what you will see when the App opens up to the homepage. You want to click on Get FASTPASS with Disney MaxPass as I've circled above.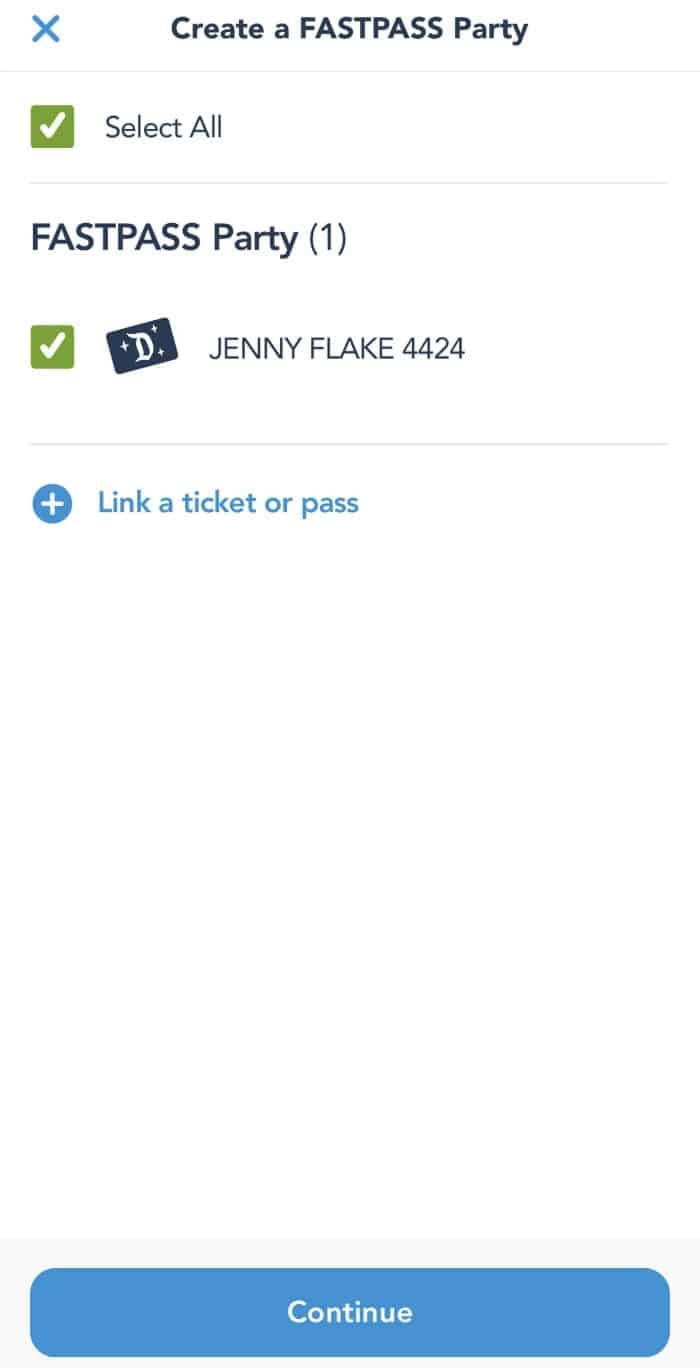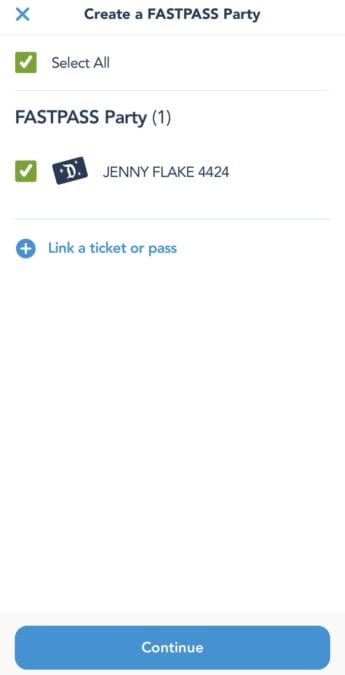 Create a FASTPASS Party up next! This is where you can add all of the members in your group. One HUGE note….everyone has to be into the Park before you can go further than this step. Basically, as soon as your group enters into the Parks, take a moment, pull over to the side and set everything up. Give yourself about 10 minutes. Warn the kids in advance 🙂
You'll notice the plus sign in the photo above that says "link a ticket or pass." This is what you will click to scan each barcode on the back of each card of everyone in your group. You can even add their names as each card is scanned. Makes it nice and easy for you to organize everyone. Once you've scanned everyone's tickets….or you can manually type in the card number, make sure everyone has a check mark next to their name, like my name does above. This means, these are the people in your party for the day that you are setting up MaxPass for. Delegate one member of your party to be in charge of all of the FASTPASSES.
Select a Theme Park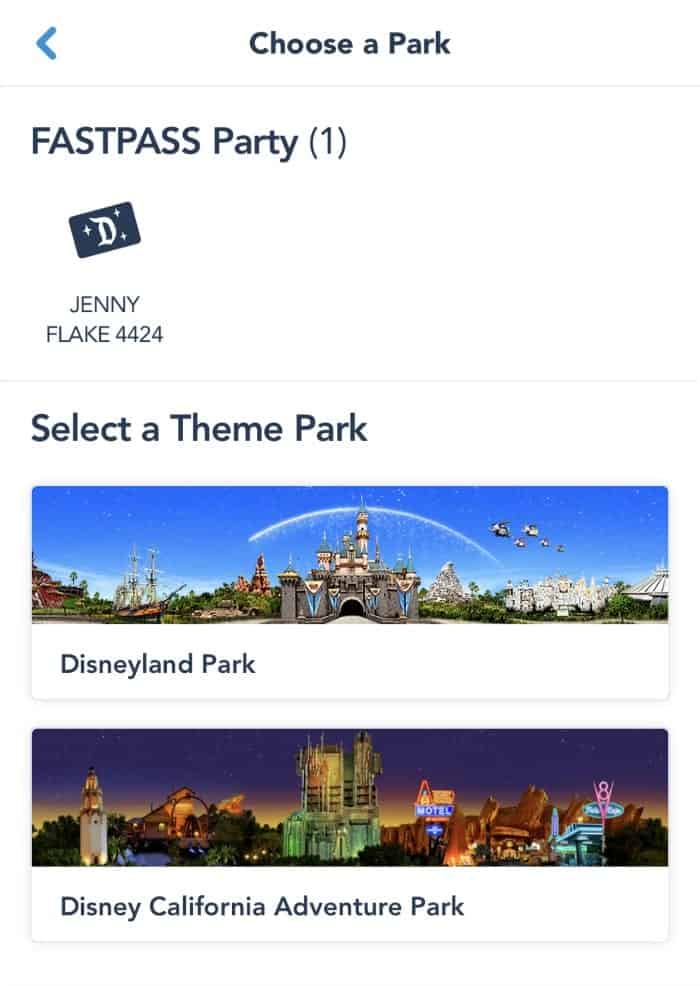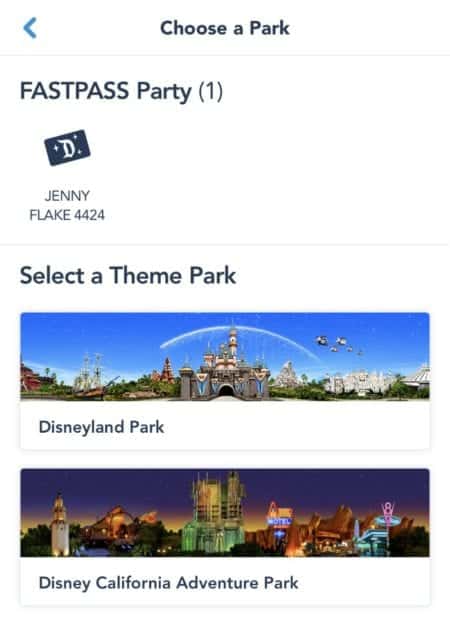 Once all of the members of your FASTPASS Party are selected by check marks and you hit continue, you will be taken to this screen in the above photo. You select the Park you want to start in. When you select a Park, you will be shown ALL of the rides available and what time slots. Scroll to check all of your options and to make your selection.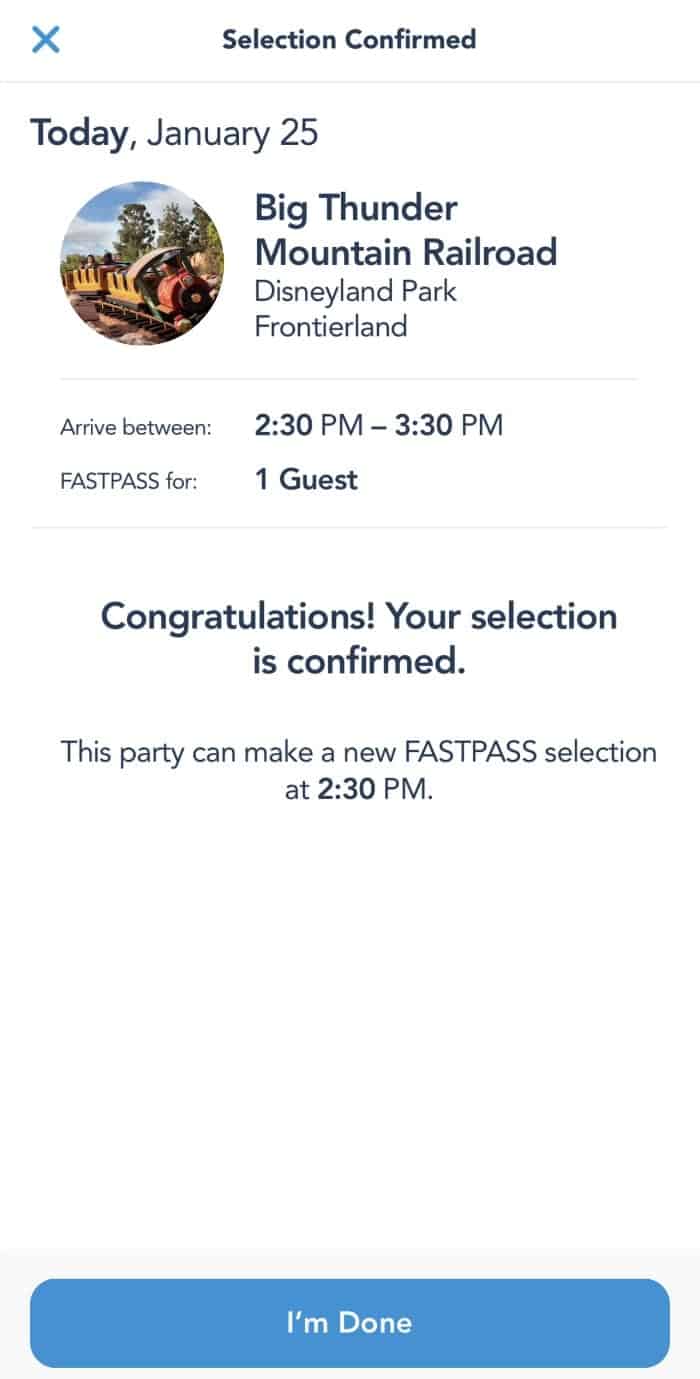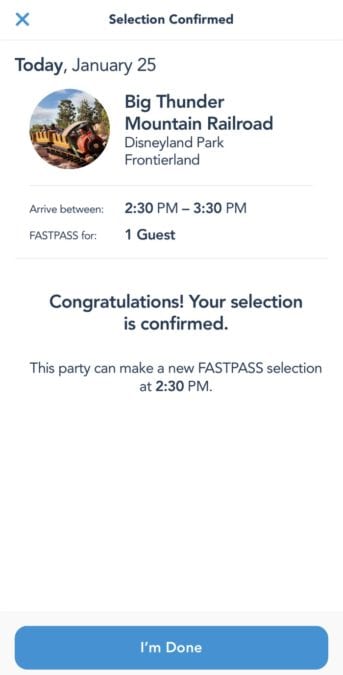 Once you make your selection, you will get this confirmation screen above that confirms your selection. It literally is AMAZING. Having everything organized on the App without having to go to each attraction to get individual FASTPASSES is the BEST.
Check Homepage for "Next FASTPASS"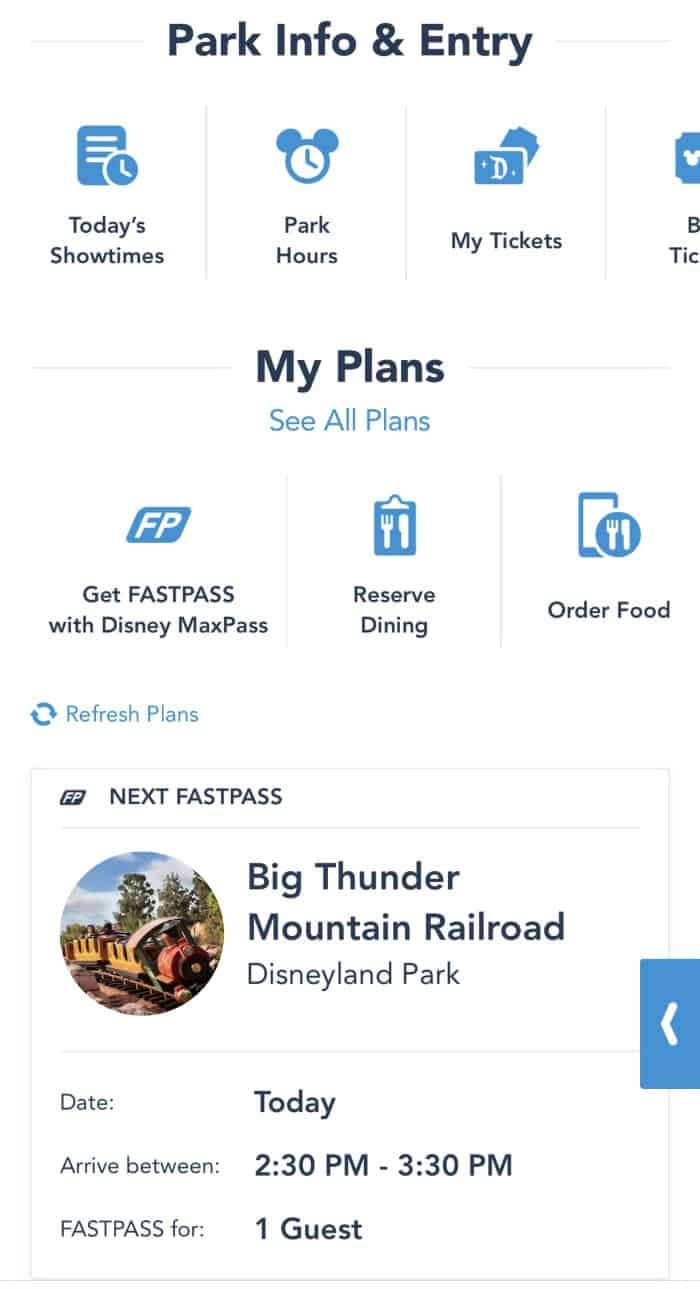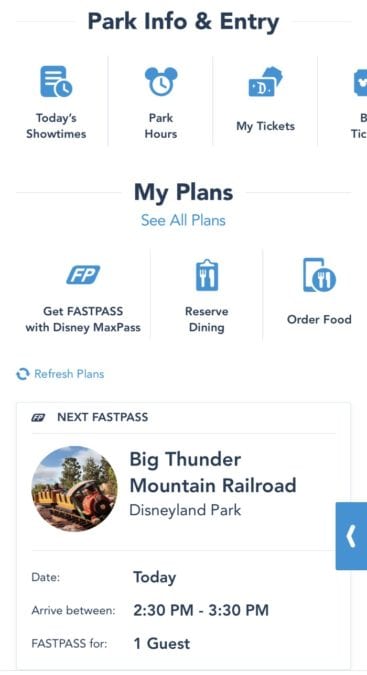 Go back to your home page (it's the little home picture on the bottom left of the screen) and you'll see your "Next FASTPASS," similar to what mine looks like above when I chose Big Thunder Mountain Railroad. This is also where you will check to see when you can get your next FASTPASS Selection.
How Do I Use My FASTPASS on Disney MaxPass?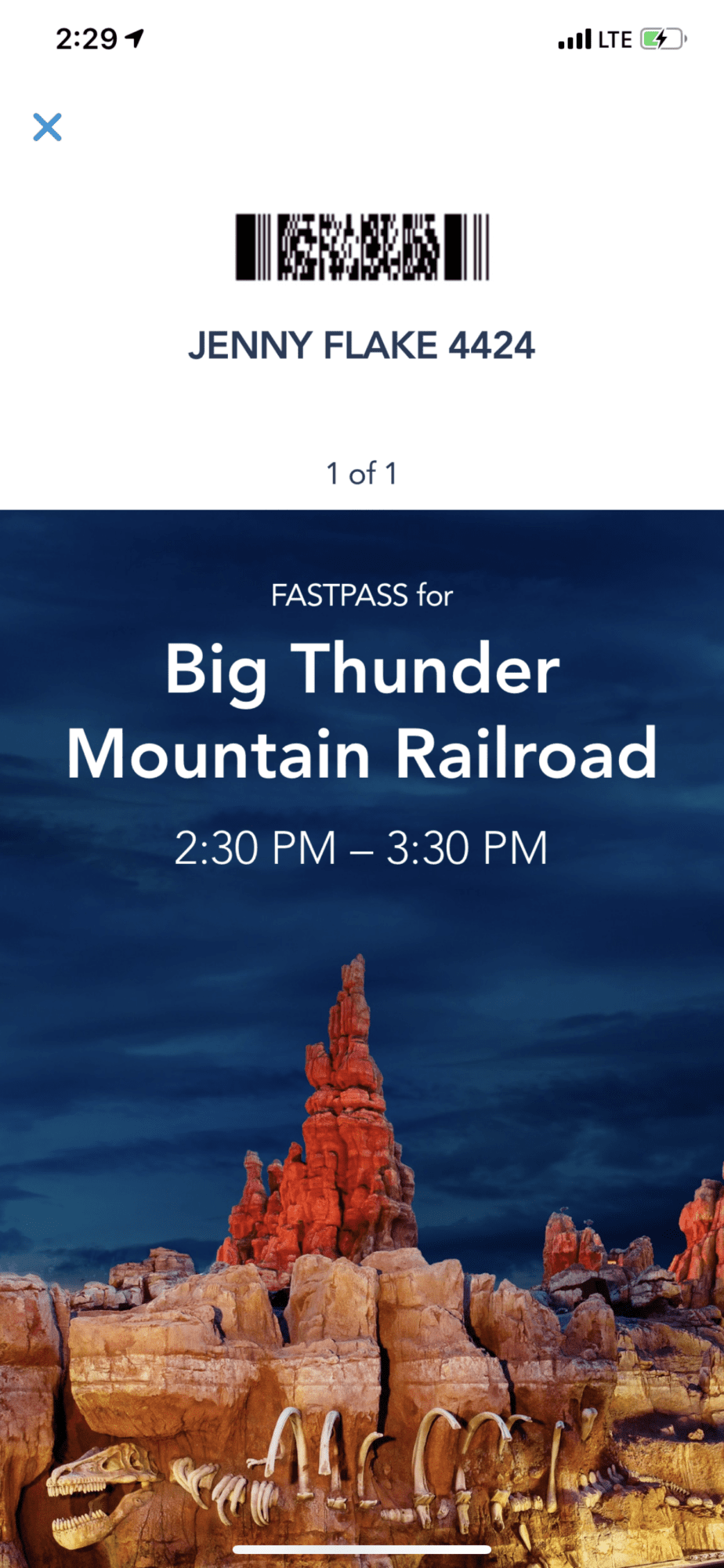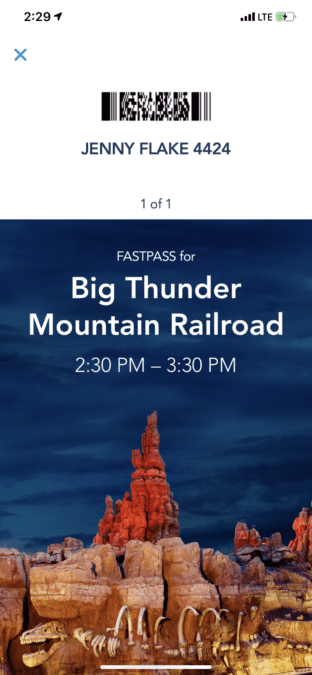 When it's time to use your FASTPASS, open up the Disneyland App and you can click on your FASTPASS from your homepage. Most of the time it will pop right up, like the photo above reminding you it's time to use it, otherwise from the homepage, click on Next FASTPASS. Once you've pulled them up, every member in your party will have a FASTPASS like the one above. You keep scrolling to see them all. Another important note, you have 1 hour to use your FASTPASS from the start time that you reserved the attraction. Don't be more than 5 minutes early or 5 minutes late to your attraction. If you happen to miss your designated time frame, talk to the CM at the attraction, but there's no guarantee.
Scan FASTPASS At Attraction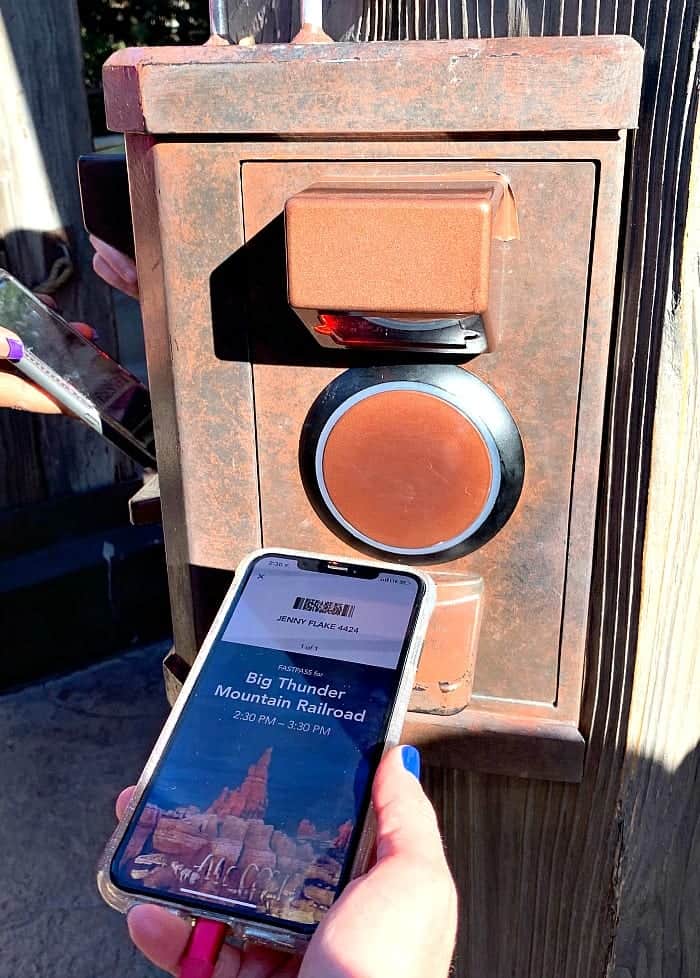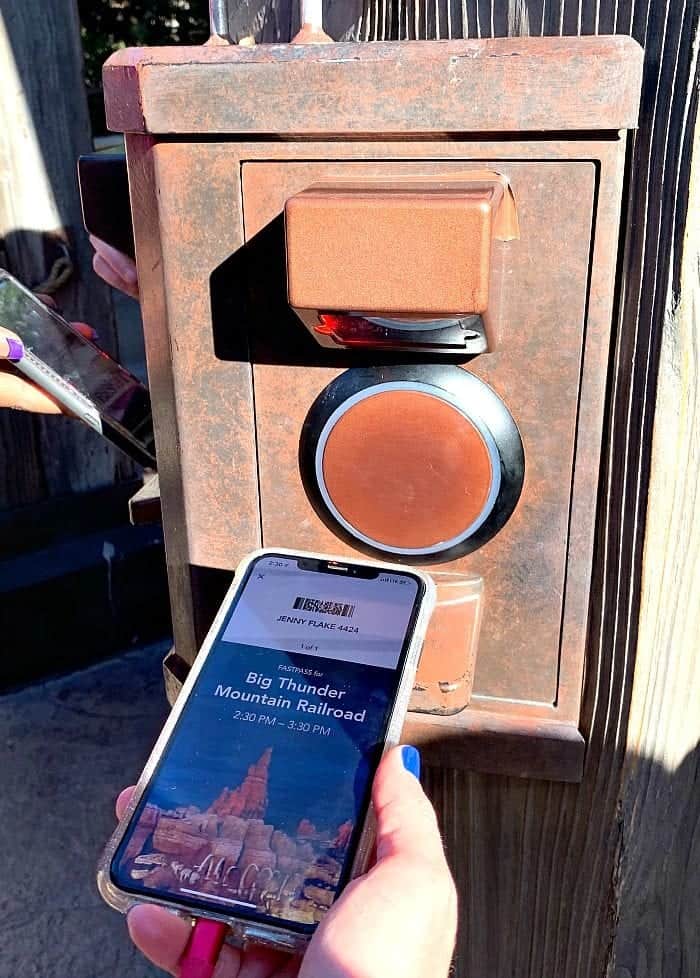 As you approach your upcoming attraction, make sure your App is opened and your FASTPASS is pulled up like the photo above. You don't want to be scrambling when it's your turn to scan each FASTPASS.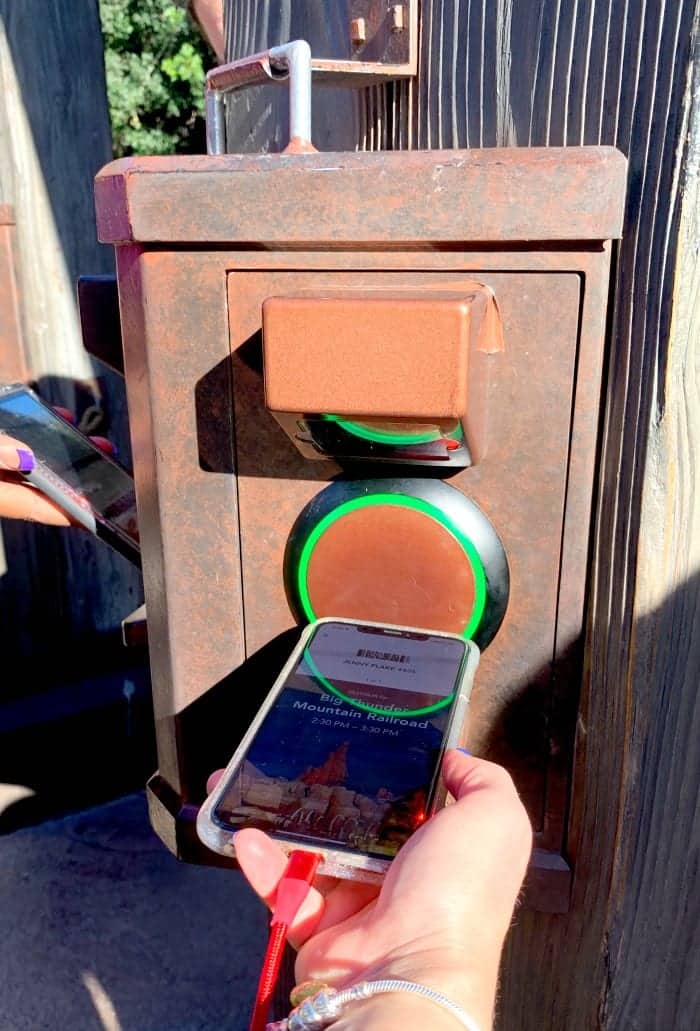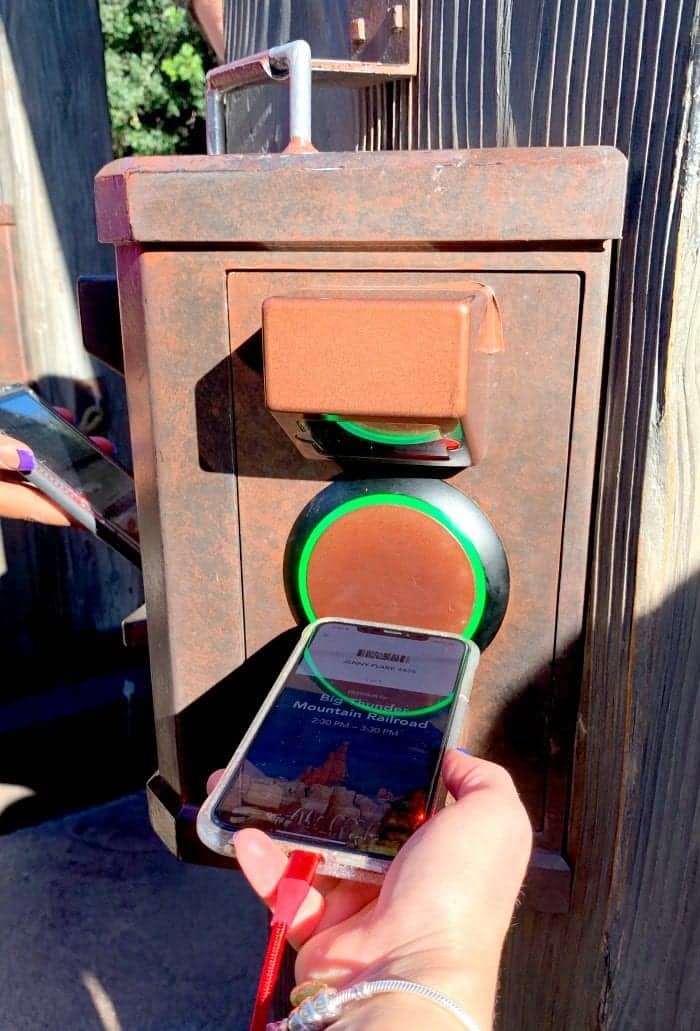 You simply touch your phone to the circle area, placing the code under the scanner and wait for the circle to turn green like so. You'll do this for each member of your party. Just scroll to get to the next FASTPASS of each member of your party. ….and that's it!! Honestly, it takes a few rides to get used to the process. Once you get it…it is something you ALWAYS want to take advantage of, especially busy Park days.
**BIGGEST PRO TIP**
As soon as you reserve a FASTPASS, there will be a time given to get your next FASTPASS, be sure to set a reminder on your phone to make the most of your FASTPASSES. The second you scan/redeem your FASTPASS for your current attraction, get your next FASTPASS….set reminder for your next and so on. This allows you to keep going from attraction to attraction if you plan accordingly. The trick is to start using MaxPass as soon as you get into the Park early in the morning. The second you scan/redeem your current FASTPASS, get your next one. There have been days, we haven't had to wait in any lines. It's so great. Again, takes just a little getting used to the process, but let me tell you, it's life changing when you've mastered it!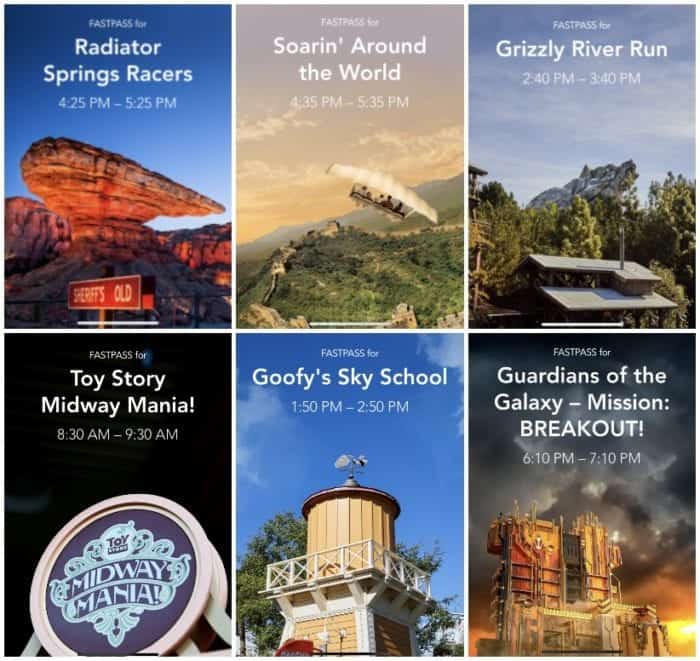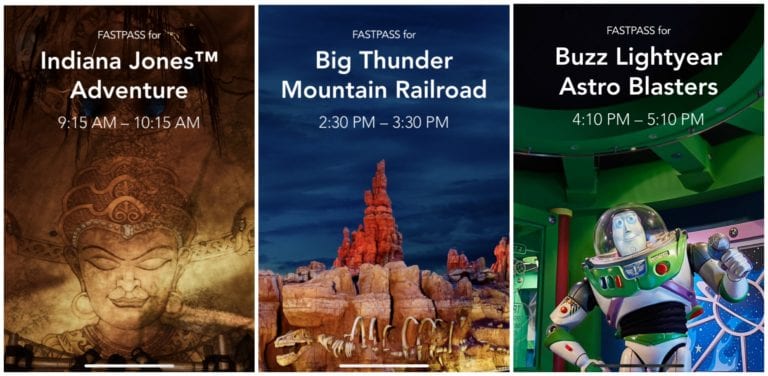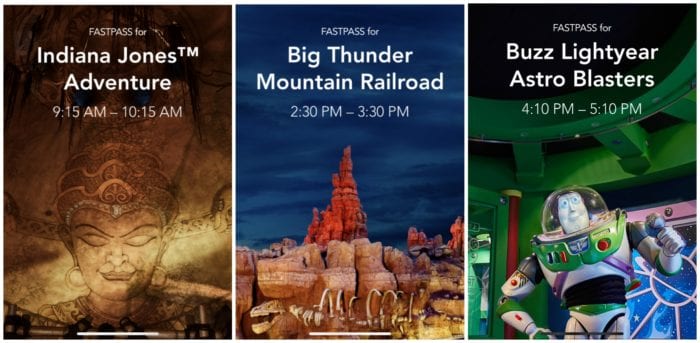 Each of the rides have their own FASTPASS photo that pop up in your Disneyland App, like the ones in my photo collage below. The Disneyland App will tell you when you can get your next FASTPASS selection if you've got some time in between attractions….always remember to get your next FASTPASS the second you scan/redeem your current FASTPASS. (these photos are not from the same day….I saved these over a number of trips)
What Disneyland Resort Rides offer FASTPASSES?
Disneyland Park
Autopia
Big Thunder Mountain Railroad
Buzz Lightyear Astro Blasters
Fantasmic!
Haunted Mansion
Haunted Mansion Holiday
Indiana Jones™ Adventure
"it's a small world"
"it's a small world" Holiday
Matterhorn Bobsleds
Roger Rabbit's Car Toon Spin
Space Mountain
Splash Mountain
Star Tours – The Adventures Continue
Disney California Adventure Park
Goofy's Sky School
Grizzly River Run
Guardians of the Galaxy – Mission: BREAKOUT!
Guardians of the Galaxy – Monsters After Dark
Incredicoaster
Monsters Inc. Mike & Sully to the Rescue!
Radiator Springs Racers
Soarin' Around the World
Toy Story Midway Mania!
World of Color
Nighttime Shows Available For FASTPASS
With these tips, you are on your way to becoming a pro Disney MaxPass user! In my opinion, it is worth the extra $15 per ticket if you don't get to visit the Parks that often. If I was still a local to Southern California, I'd probably pass because we were there weekly. If you are coming from out of town and have limited time, or just don't like waiting in lines, take advantage of this amazing feature! Hope you've enjoyed!
Pin Become a Pro Using Disney MaxPass