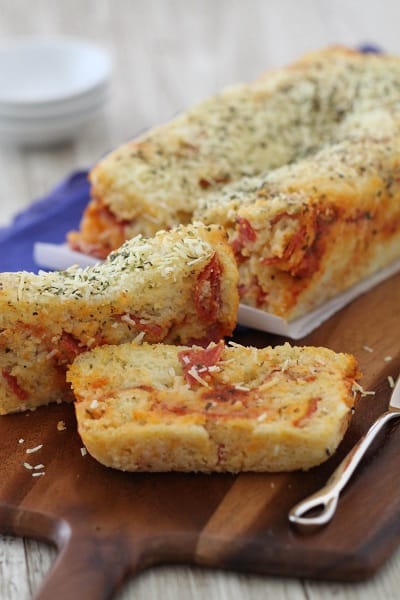 Pizza night is always a happy night in our house and as I was rummaging through the refrigerator a few nights ago I saw a nice bag of pepperoni just begging to be used. Because we make pizza all the time, I was in the mood to mix things up a bit and this fun quick bread was just what I needed to jazz up the pizza we have so often. Now I just need to get my husband off my back about getting "all natural" low- fat pepperonis. 🙂 Baby steps hon.
I was quite shocked after I cut into this pizza bread to find distinct swirls of marinara and bits of pepperoni within the bread. I love the contrasting colors. Slice and serve with a fresh crisp salad. Enjoy!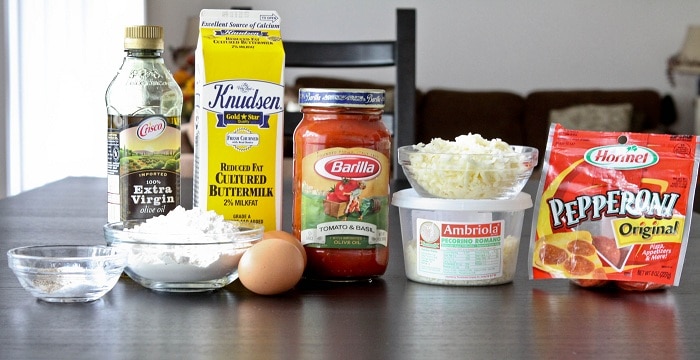 Here's your line-up of ingredients: my mistake, I left out a jar of Italian Seasoning from the above photo 🙂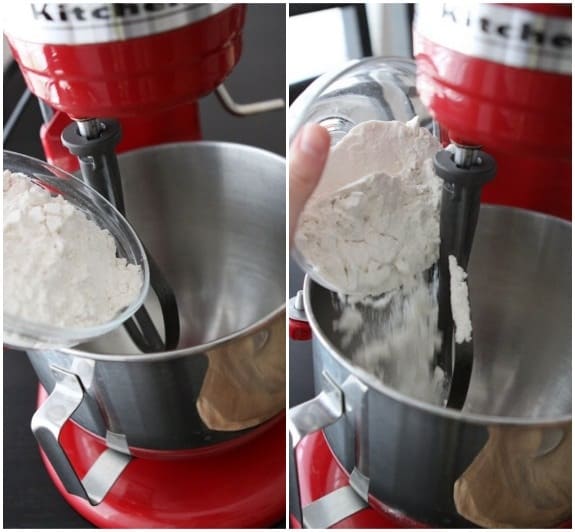 Add all ingredients–except the marinara–into the mixer in no particular order however, I started with the flour.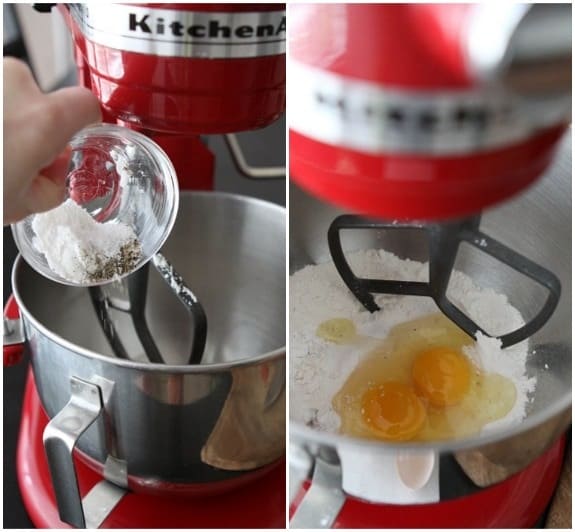 Then the seasonings and eggs.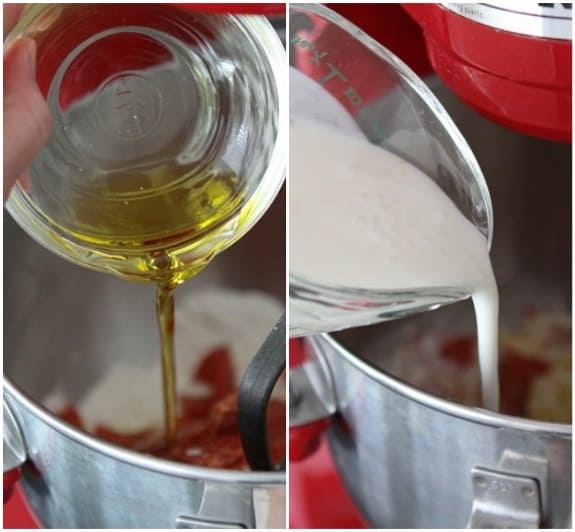 Oil and buttermilk.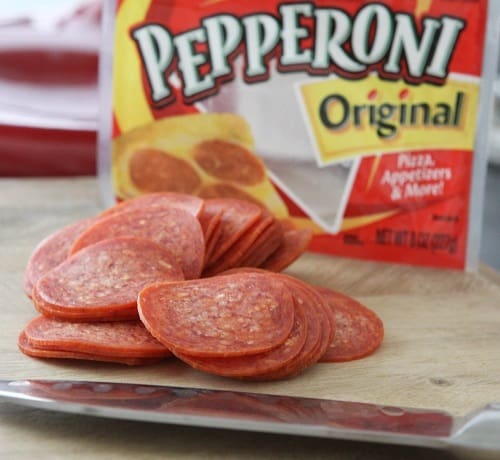 Time for pepperoni!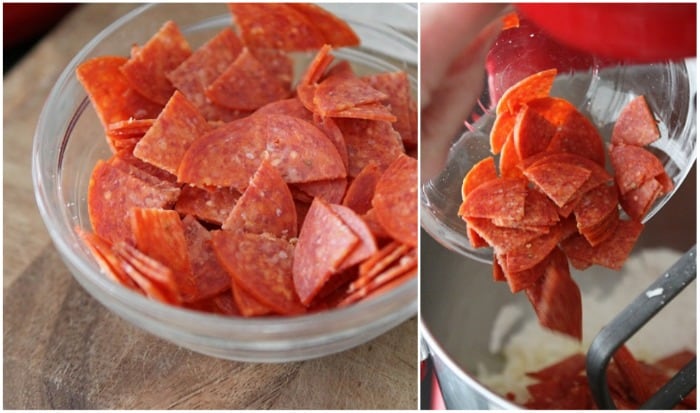 Cut each pepperoni into fourths 🙂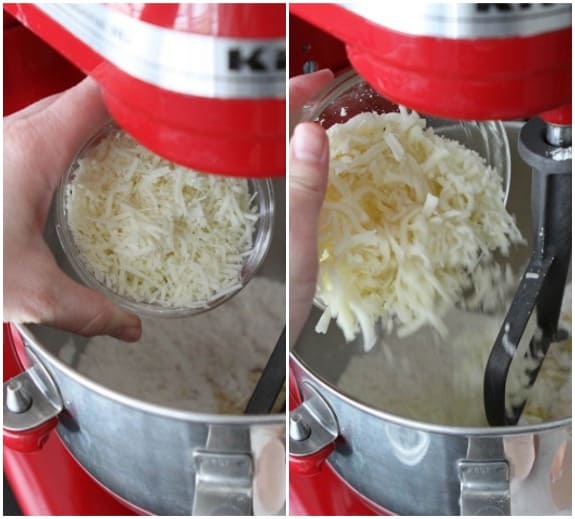 Time for the cheeses!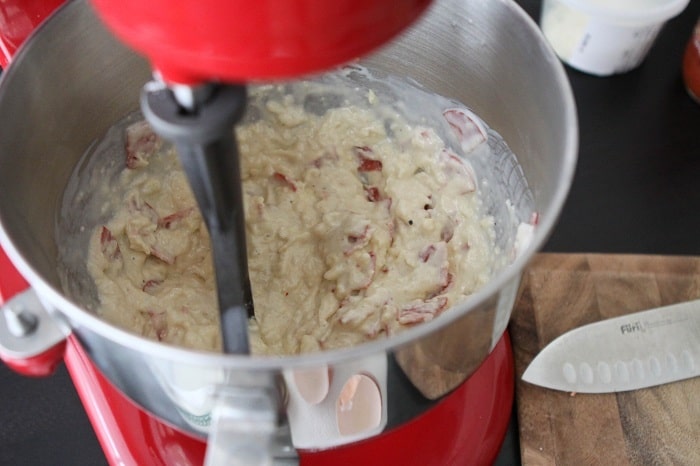 Mix, mix, mix!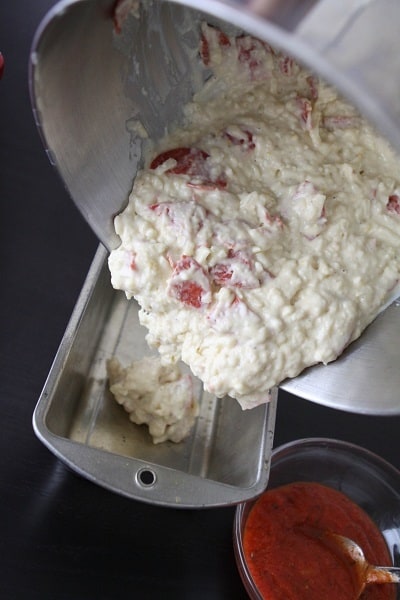 Pour half of the batter into a bread pan. The one I used measures 9x5x2 3/4-inches.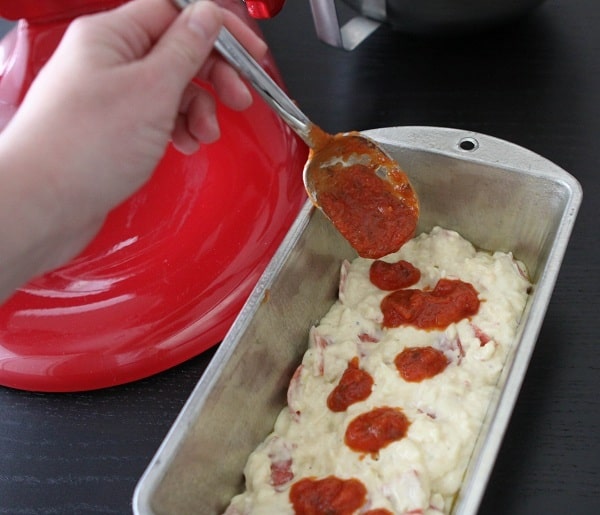 Top evenly with marinara.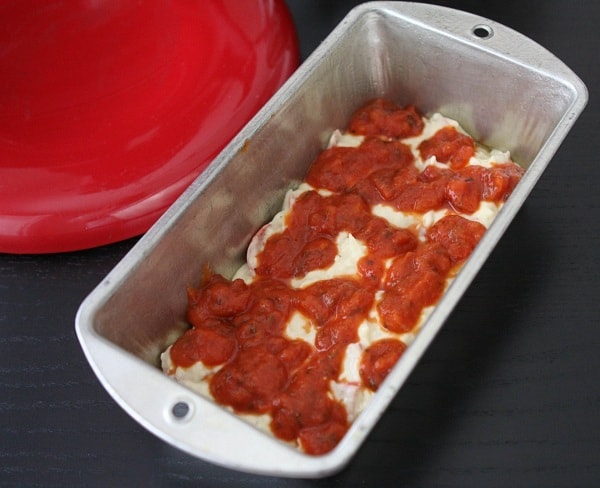 Like so 🙂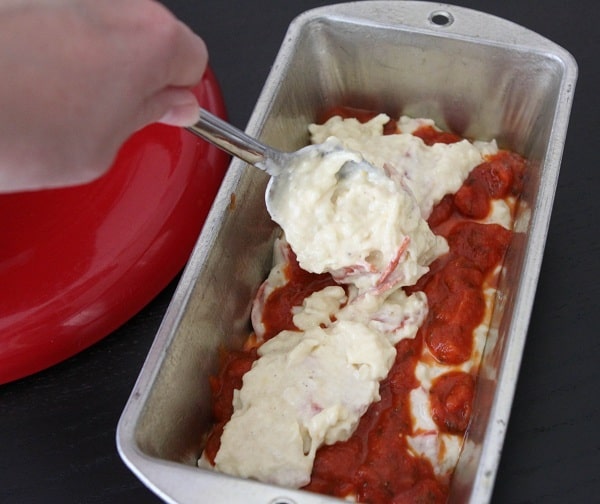 Add the rest of the batter over the marinara.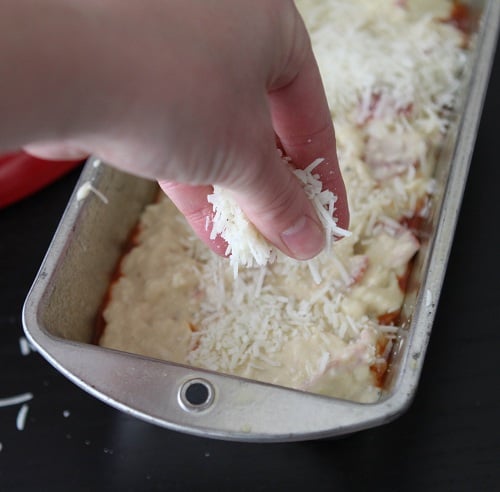 Top with more Parmesan!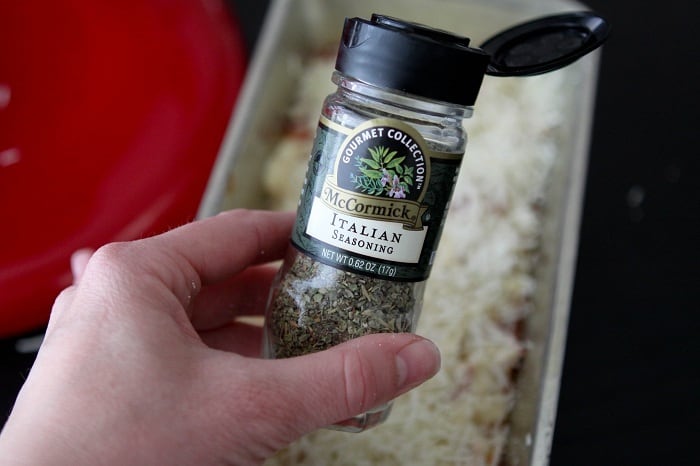 ….and some Italian Seasoning!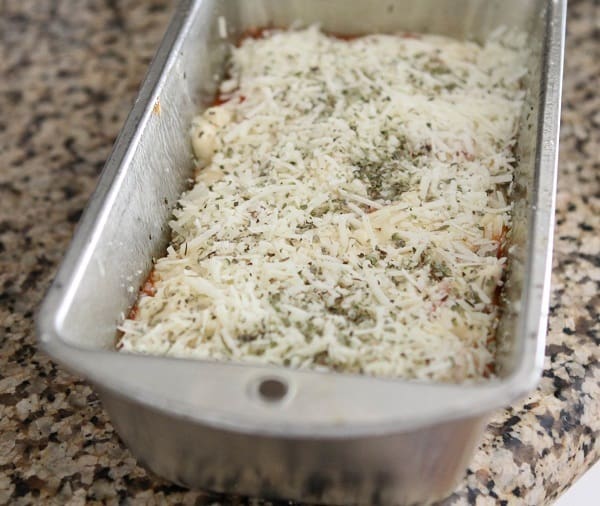 Time to bake, 350 degrees F. 45-55 minutes.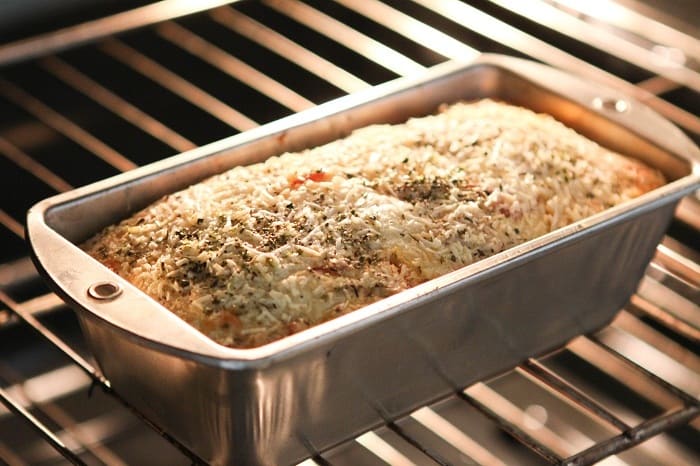 How gorgeous is that?!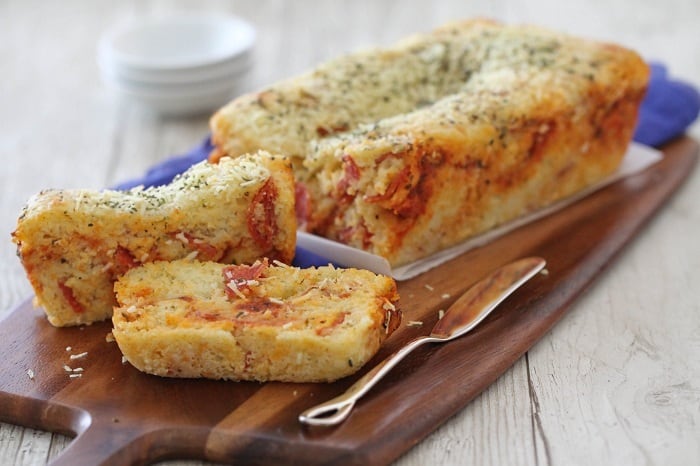 Let cool for 30 minutes, slice and EAT!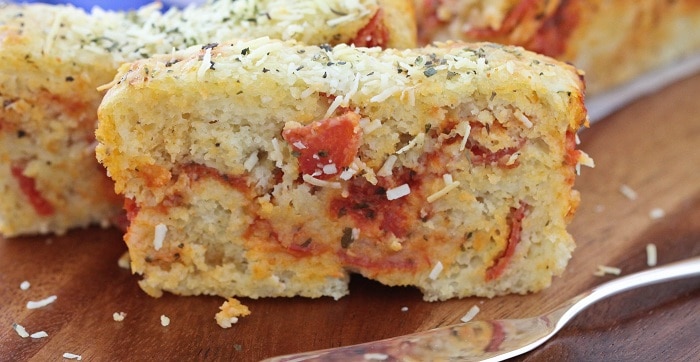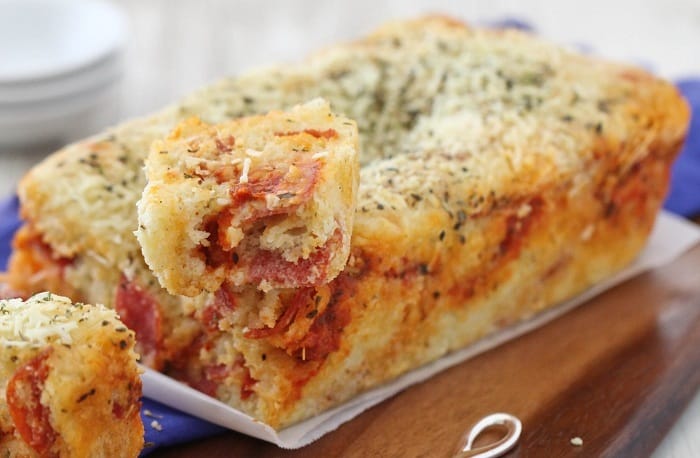 [ziplist]
Cheesy Pepperoni Pizza Quick Bread
1 cup all-purpose flour
1 1/2 teaspoons baking powder
1/4 teaspoon baking soda
1/2 teaspoon kosher salt
1/2 teaspoon freshly ground black pepper
2 large eggs
2 tablespoons extra virgin olive oil
3/4 cup buttermilk
1/4 cup shredded Parmesan cheese
1 1/2 cups shredded Mozzarella cheese
1 cup quartered pepperoni slices, about 32 slices
1/2 cup marinara sauce
1 teaspoon Italian Seasoning
1/4 cup shredded Parmesan Cheese
1. Preheat oven to 350 degrees F. and spray small bread pan with non-stick cooking spray.
2. Place flour, baking powder, baking soda, salt and pepper into the bowl of a stand or electric mixer, mix to combine. Slowly add in eggs, oil, buttermilk, Parmesan, Mozzarella and pepperoni until just combined. Pour half of batter into prepared bread pan that measures 9x5x2 3/4-inches. Top evenly with marinara sauce then pour remaining batter over sauce. Top with Italian seasoning and additional Parmesan cheese. Bake for 45-55 minutes or until toothpick comes clean from center. Let cool for 30 minutes before removing from pan. Slice and serve warm or room temperature.
Makes 8 servings
________________________________
Check it out, I was featured on HotandHealthymom.com!
Have a great week, come back soon!