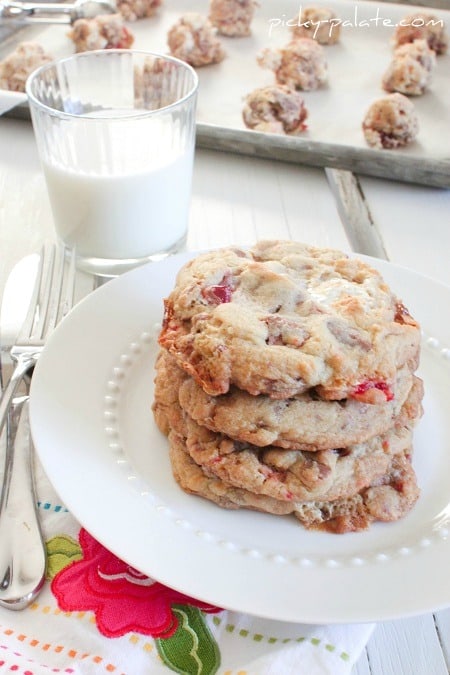 I had so much fun creating these cookies at my Father-in-law's house over Christmas Break. Reed has got the absolute best pantry in the whole world. I am talking treats galore. The first thing the kids do when they get to Grawpa Reed's house is run straight to the pantry to see what they can find.
These cookies are a creation straight from Reed's pantry. I walked inside, grabbed some ingredients I thought would be perfect for a fun new cookie. I had Reed help me make them and they were delicious!
Take a look 🙂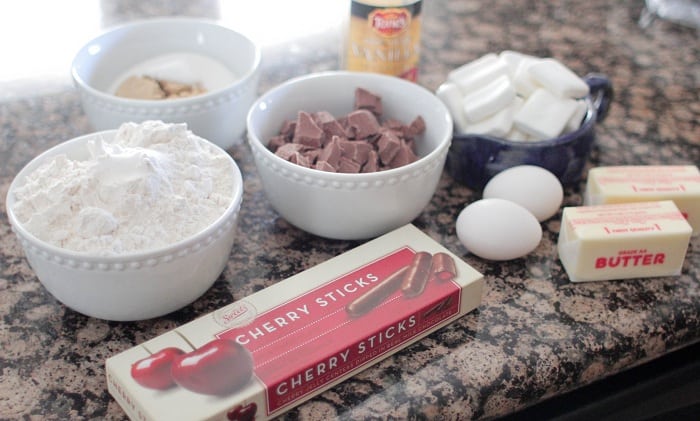 Here is our line up of ingredients. If you can't find the exact cherry sticks that we used, never fear. You can generally find orange sticks or raspberry sticks at about any grocery store. Any flavor would be fabulous!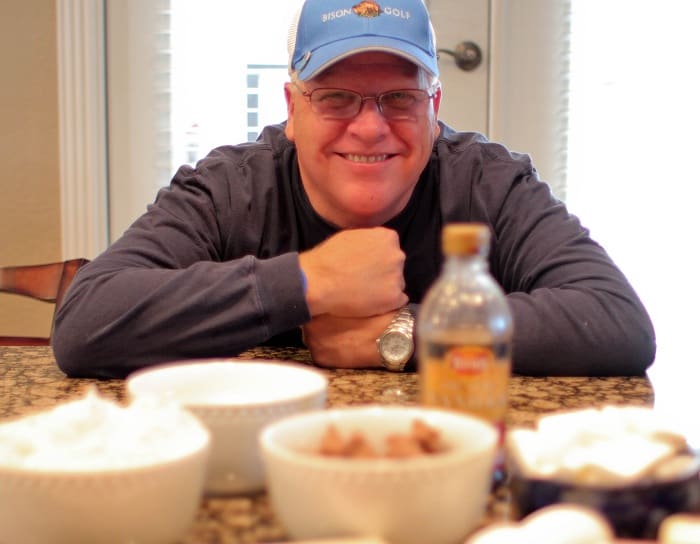 Here is my special helper for the day…..Reed, Reedy, Grawpa Reed, Dorito. Those are just a few of his nicknames 🙂 Reed and I both LOVE chocolate chip cookies, so it was fun baking with him.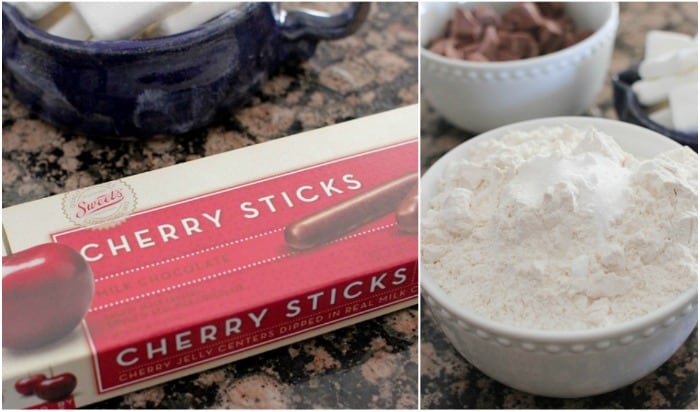 Here are those Cherry Sticks. He picked them up at Sportman's. Also a shot of the dry ingredients 🙂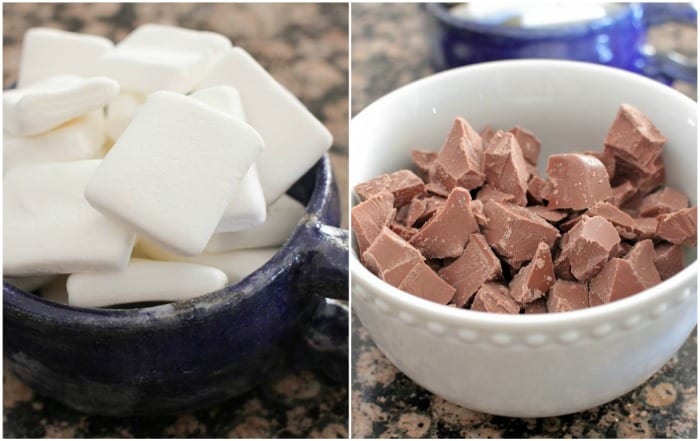 Marshmallows and Milk Chocolate Chunks! Reed gets his bloc of chocolate from Shar's Bosch Kitchen in Gilbert, AZ. It was perfect in these cookies. Any chocolate chips would be a fine substitute if you don't have bloc chocolate.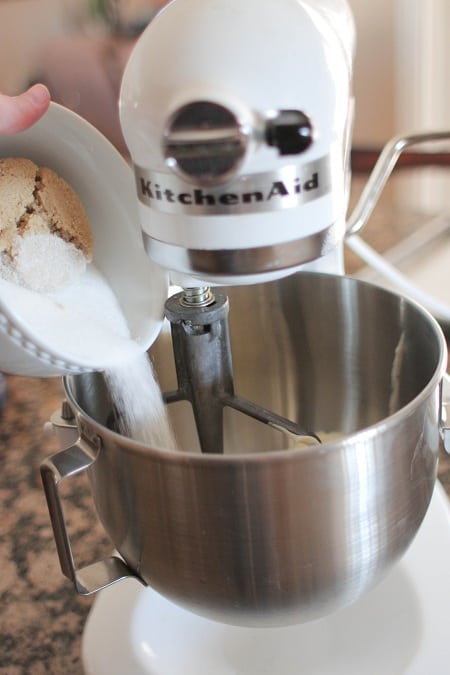 Time to cream the butter and sugars!
Light and fluffy!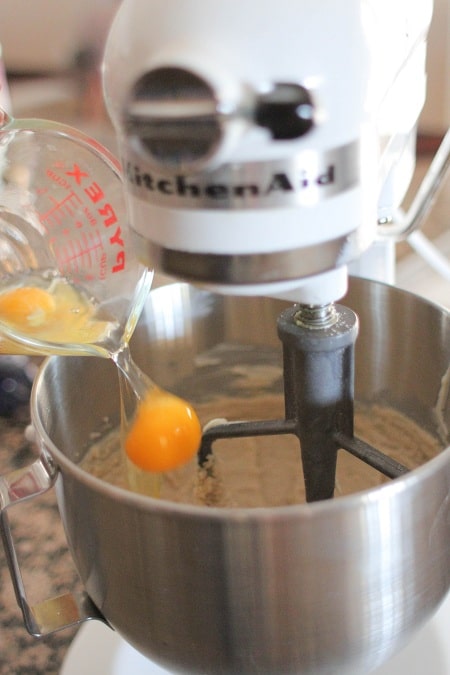 I am kinda obsessed with egg shots 🙂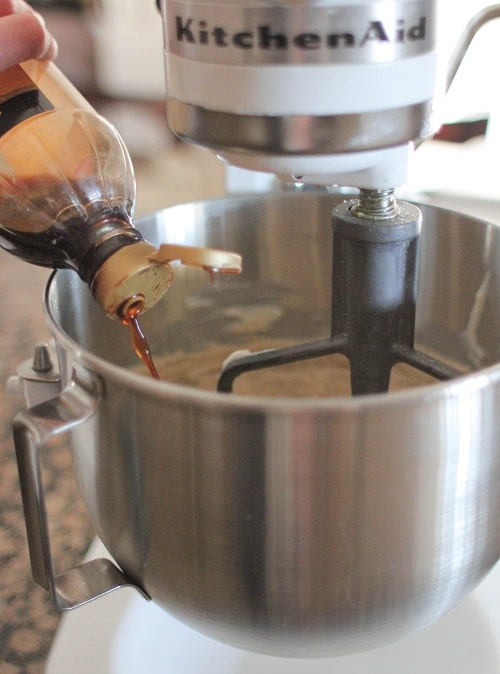 Vanilla 🙂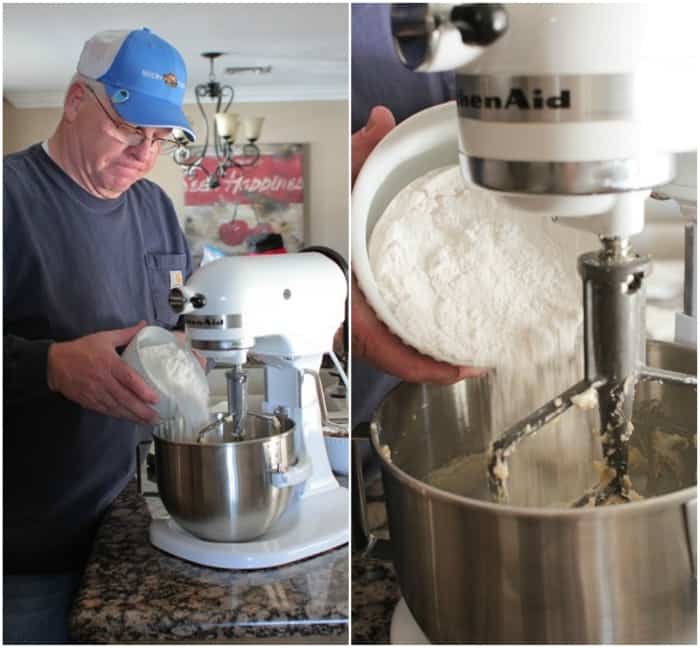 Reed helping with the dry ingredients.
I grabbed these flat marshmallows from Reed's pantry, but any marshmallows will do. Mini or large ones cut up.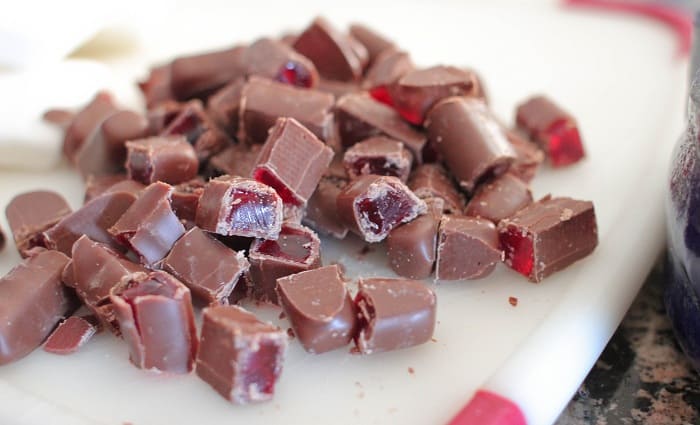 Chop those cherry sticks up 🙂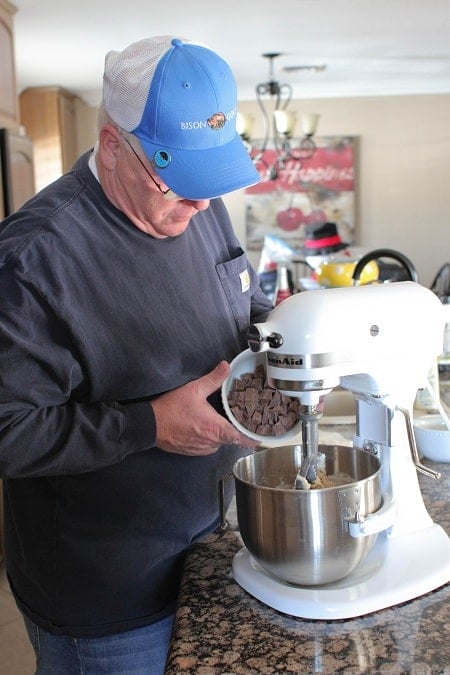 Chocolate chunk time!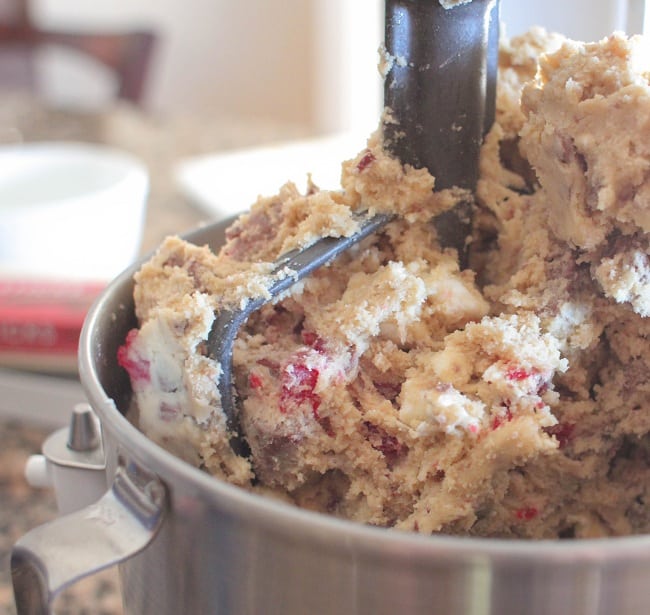 The dough…was….to…die…for 🙂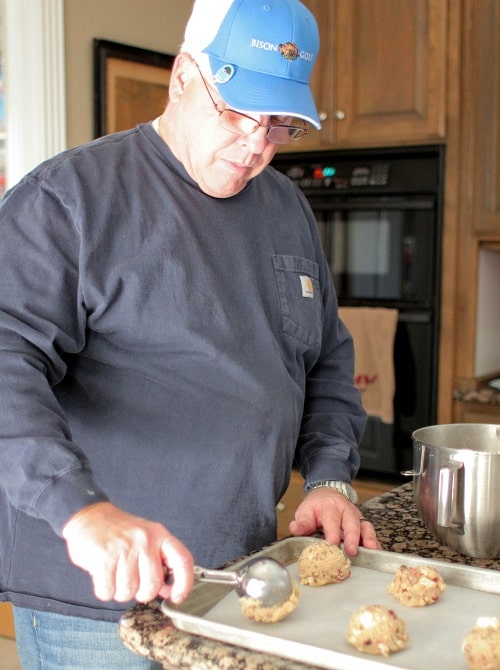 We did a couple batches of giant cookies, and a few smaller cookies. Use whatever cookie scoop you like.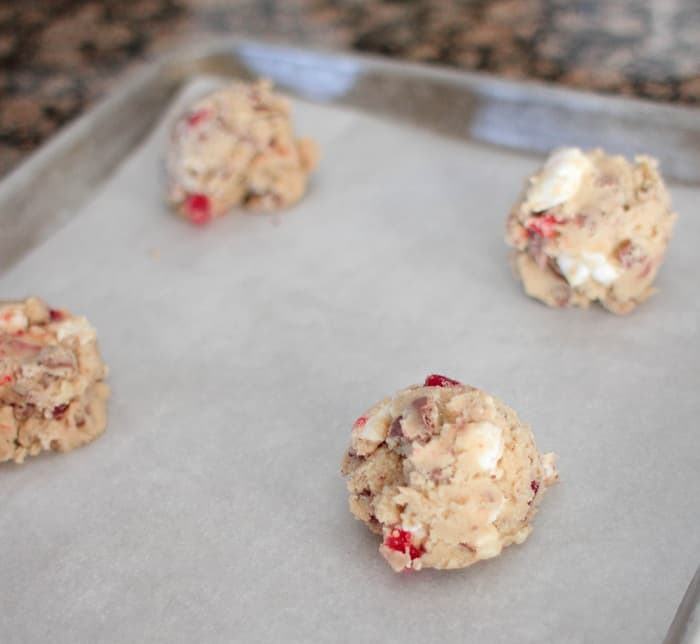 How pretty are those cherry bits sticking out? Love!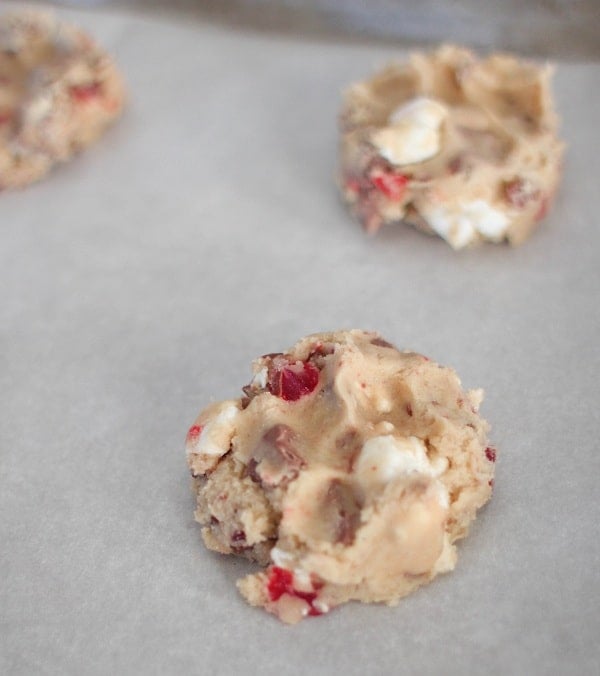 I pressed each cookie down about 1/2 inch so they'd spread nicely.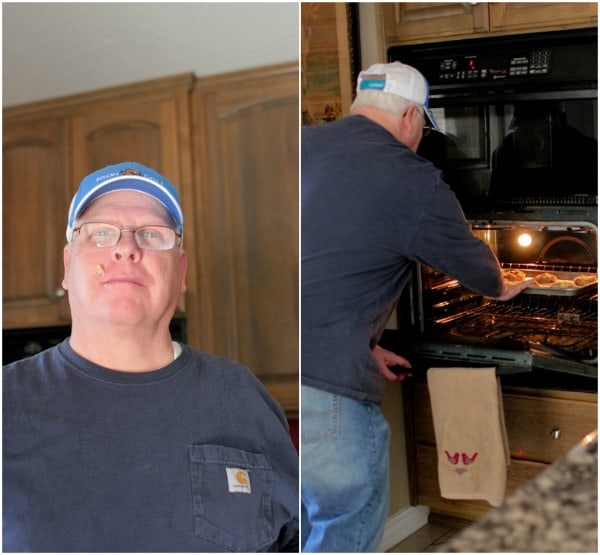 Reed eating cookie dough…missed his mouth apparently 🙂 Let's get those cookies into the oven.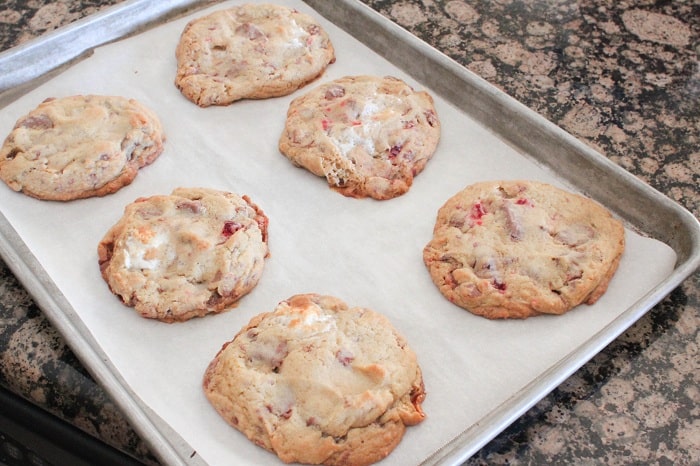 Gorgeous right?! Ok, major tip here. when you pull these directly out of the oven, some of the marshmallows ooze out from the cookies. Quickly take a plastic knife and scrape the oozed marshmallow back around the cookie it oozed from. It sets up perfectly that way. This picture is shot after I scraped the oozing marshmallows back to where they oozed. Make sense? Ok, good.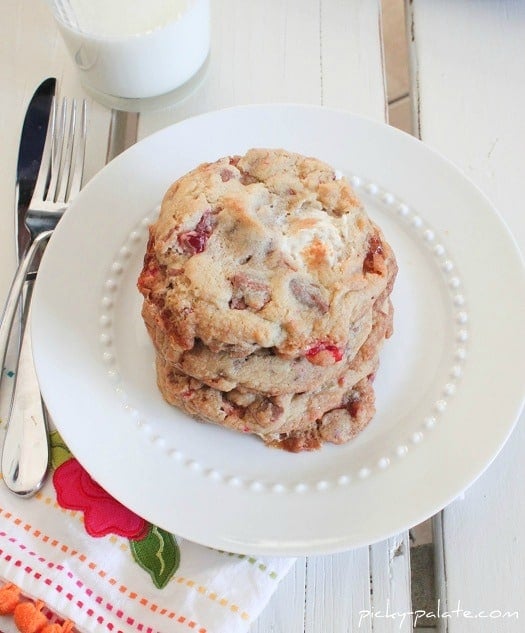 So pretty! I love the texture the melted marshmallow brings and the sweet bits of cherry stick. These are a real treat. Don't forget, any fruit stick flavor will be great if you can't seem to find the cherry ones.
I wish I would have taken a full photo of the adorable kids picnic table I shot my cookies on. My crazy talented sister in law Kacie Flake made it for Reed and his wife Lori for Christmas. Love!
Enjoy!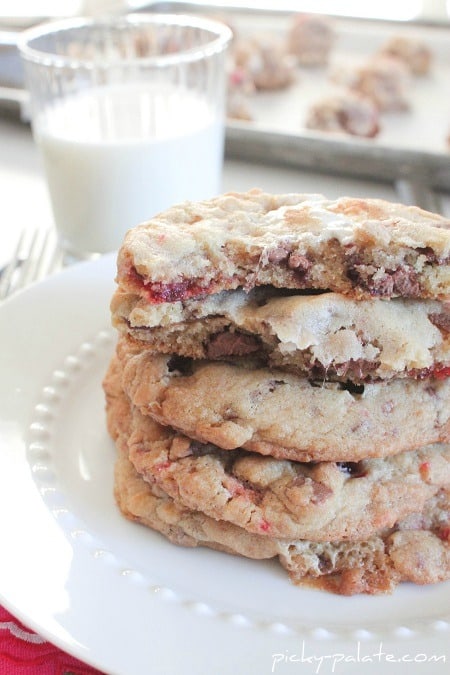 [ziplist]
Cherry, Chocolate Chunk and Marshmallow Cookies
2 sticks softened unsalted butter
3/4 cup granulated sugar
3/4 cup packed light brown sugar
2 large eggs
1 tablespoon pure vanilla extract
3 cups all purpose flour
1 teaspoon baking soda
3/4 teaspoon kosher salt
30-40 cherry sticks, shopped
2 cups chocolate chunks
80 mini marshmallows or 20 flat marshmallows quartered
1. Preheat oven to 350 degrees F. and line a large baking sheet with parchment or a silpat liner.
2. Place butter and sugars in a stand or electric mixer, beating until well combined, light and fluffy…about 2 minutes. Add eggs and vanilla beating until well combined. Slowly add dry ingredients along with cherry sticks, chocolate chunks and marsmallows. Mix until just combined.
3. With a medium cookie scoop, scoop dough onto prepared baking sheet, about 1 inch apart. Bake for 9-12 minutes, until baked to your liking. As soon as cookie comes out of oven, use a plastic knife to push melted marshmallow back around cookie. Let cool for 10 minutes on baking sheet before transferring to cooling rack. Serve and enjoy!
_______________________________
Have a great day! Come back soon!