Chicken Roasted Vegetable Mac and Cheese
My Chicken Roasted Vegetable Mac and Cheese is the ultimate comfort food!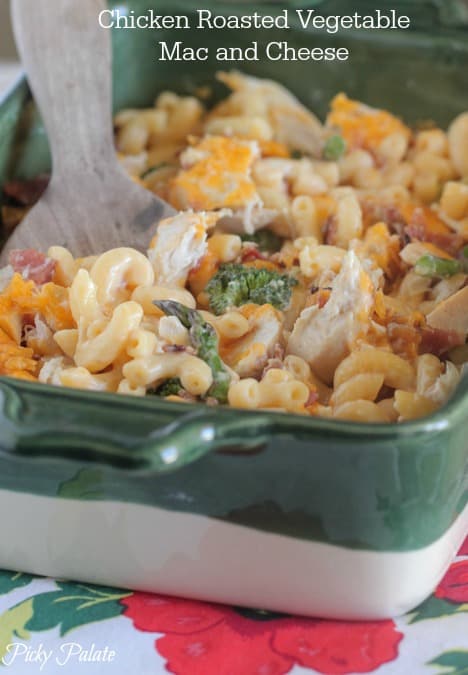 It's such a pleasure partnering with Foster Farms to bring you a new recipe and talk about the importance of family dinner time. This has been so important to me and I am thrilled to share my thoughts with you!
Before I do, can we talk mac and cheese for a second? I absolutely LOVE creating new mac and cheese recipes. This one I have developed for you today uses Foster Farms cooked chicken breast along with roasted broccoli, asparagus, onions and bacon crumbles. Does not get better than this. So perfect for Sunday dinner when you've got lots of hungry mouths to feed 🙂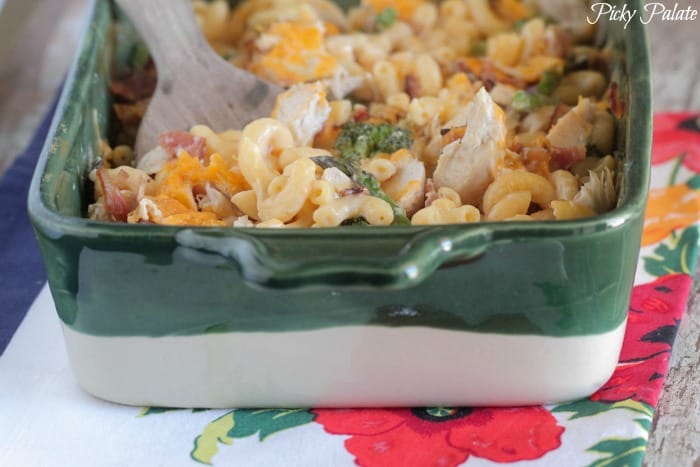 Cheesy goodness! You'll need just a little prep work to get this dish to the table, but it's worth every minute 🙂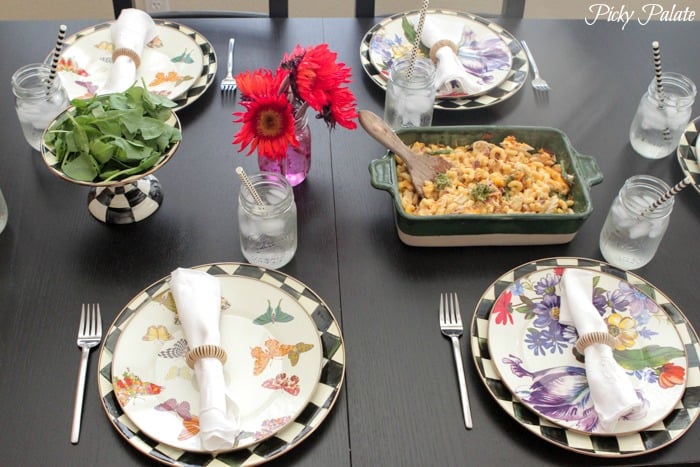 I am LOVING Foster Farm's campaign, Take 75 minutes for dinner to make memories with your family. I am definitely not perfect at getting my family to sit down for dinner every night of the week, but I am making it more of a priority. Do I use my fancy dishes every night? No, but occasionally I'll set the table nicely and it's funny that even my little boys notice and feel special when I put a little more time into dinner.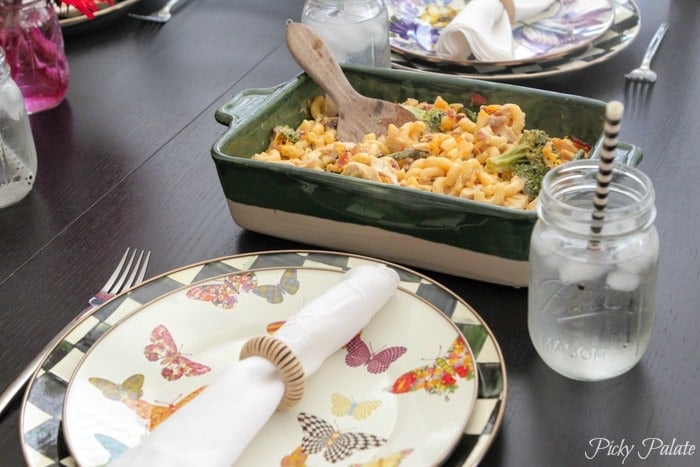 Dinner time is my favorite time of the day to talk with the boys. I feel like they enjoy telling my husband and I all about their day they've had. We hear about little details we wouldn't have heard from just passing through the house. We laugh a lot, watch food fly from my 2 year old in the high chair and enjoy the connections we have as a little family. I've definitely learned that it's ok if dinner is not perfect and the kitchen table isn't set like a restaurant, it's all about the connections and time spent together. That's my goal this year 🙂
Hope you enjoy!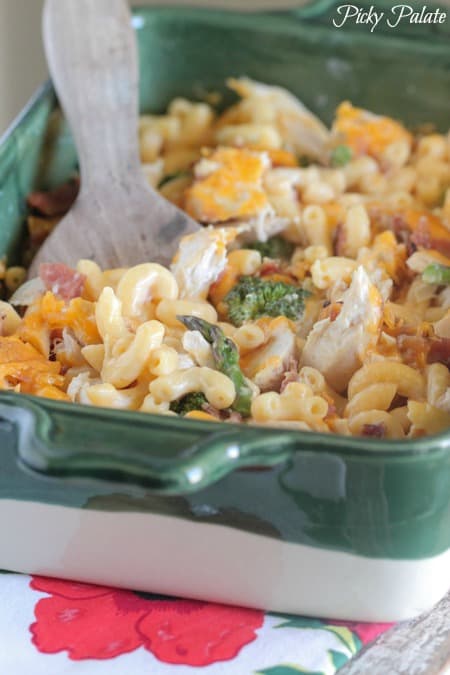 [ziplist]
Chicken and Roasted Vegetable Mac and Cheese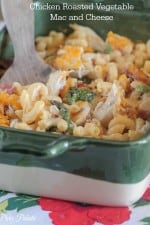 Ingredients
1/2 pound

dry small pasta, I used elbow

1 stick

unsalted butter

1/2 cup

all purpose flour

1 teaspoon

kosher salt

1/2 teaspoon

freshly cracked black pepper

2 cups

milk, I used skim

2 cups

finely shredded mild cheddar cheese

2 cups

cooked, shredded Foster Farms Chicken Breast

2 cups

roasted broccoli florets

1/2 pound

roasted asparagus, cut into 1 inch pieces

1 large

roasted onion, thinly sliced

1 pound

cooked, crumbled bacon

1 cup

shredded cheddar cheese
Directions
Preheat oven to 350 degrees F. and lightly spray a 9×13 inch baking dish with cooking spray.
Cook pasta according to package directions. Drain and set aside for a few minutes.
To prepare roux, melt butter into a medium saucepan over medium heat. Once melted whisk in flour, salt and pepper. Stir and cook for 3-4 minutes until color of roux will gets slightly darker. Slowly whisk in milk, stirring continuously until thickened, about 2 minutes. Reduce heat to a simmer and stir in cheese until melted.
Transfer cooked pasta to large dutch oven or pot over low heat. Pour cheese sauce over top, stirring to combine.
Add chicken, broccoli, asparagus, onion and bacon, stirring to combine.
Transfer mac and cheese to prepared baking dish. Top with additional shredded cheese and bake for 25-30 minutes, until cheese is melted. Serve warm.
Makes 6-8 Servings
This is a sponsored post for Foster Farms however thoughts and opinions are my own.
FOLLOW PICKY PALATE ON INSTAGRAM! Show me what recipes you're making from Picky Palate by using #pickypalate.
Other recipes you may enjoy...
Comments