Happy Friday to you! A little chit chat today!
Halloween is coming, yay! Lots of chili and dressing up next weekend. Can NOT wait 🙂 Need a GOOD chili recipe for your parties? Try THIS ONE, THIS ONE, THIS ONE and THIS ONE. Some of my favorites 🙂
Anyone watching new shows on TV this season?! While I edit my photos and write my posts for Picky Palate I've watched quite a few new shows this week! I started A to Z….totally cute love story based in Orange County. I also started Marry Me and Manhattan Love Story. Hilarious, I think I'll continue watching all of these. I started How to get Away with Murder. Not sure I'll continue with that one. I think Scandal is enough creepy drama for me, lol!
Can I please just say that I am loving the cooler weather….it means I can actually wear THESE. Seriously the cutest sweat pants I've ever owned. I got a couple colors and wear them often. They are cute and not bulky like most sweat pants. Yipee!
Be sure to check out my friend Deborah's new Red Velvet Cookbook HERE. She is amazing!!
Awesome black pen liner to make a fun cat eye that my sister found. It's amazing!
After at least 3 winters I finally decided to get some new riding boots. THESE Sam Edelman ones are on sale. I really love them. They look way cuter on. If you are in the market for new boots, these are worth trying on 🙂
We are getting updated family pictures, tonight actually. I found the CUTEST skirt I think will be super cute for pictures….I hope, lol!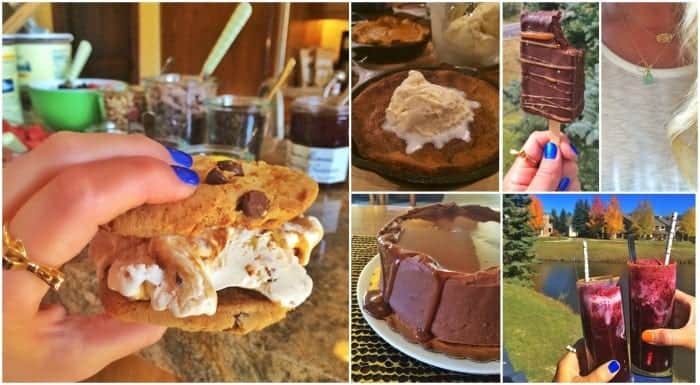 So last weekend I got to spend time with some of my best blogging girlfriends in Park City, UT. If you followed along on Instagram, you probably saw all of this food!! Haha!
PS….the Kate Spade bow ring is on sale right now 🙂
A huge thanks to the sponsors of the Better Blog Retreat, they made our weekend so much fun! Deer Valley Resort, Land O Lakes Saute Express, Blue Diamond, Delallo, Tillamook, President Cheese, Whole Foods, Minted, QSquared, Katie Waltman, The Spa at Stein Erikson Lodge and Riverhorse Restaurant.

We talked for hours, had great sessions on blogging, ate some AMAZING food, did some shopping, went on long walks, went to the spa for massages, did each others hair and make up and just enjoyed the weekend together. Couldn't have asked for a better time. Love these girls.
Two Peas and Their Pod
Foodie Crush
Mountain Mama Cooks
Cookin Canuck
Gimme Some Oven
Kevin and Amanda
Skinny Taste
The Little Kitchen
Love and Olive Oil
Southern Fairytale
Reluctant Entertainer
Cookies and Cups
A Spicy Perspective
Be sure you are signed up to receive Picky Palate emails with all of my latest recipes and don't forget to follow us on Instagram!
Have a great weekend! See you Monday with a new recipe!