So many places to visit Arizona! So excited to share our stay at Four Seasons Resort Scottsdale AZ! Gorgeous views, beautiful resort.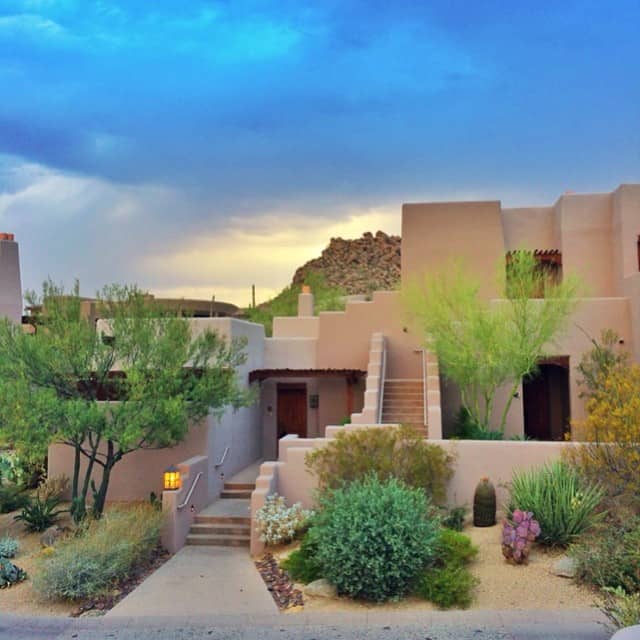 Visit Arizona
I can't say enough about our staycation last weekend at Four Seasons Resort Scottsdale AZ at Troon North. The kids start school in a few weeks so it was the perfect timing to squeeze in one last little getaway as a family. This Four Seasons is tucked away right next to a gorgeous desert mountain. Our entire stay, we saw rabbits, geckos vibrant birds and all kinds of other fun wild life. We spent most of our time hanging by the pool and enjoying the great food at the resort. It was exactly what I needed!
Check out my post on the Enchantment Resort, Sedona Arizona too! Follow Picky Palate on Instagram for daily recipe inspiration and travel tips!
Four Seasons, Troon North Arizona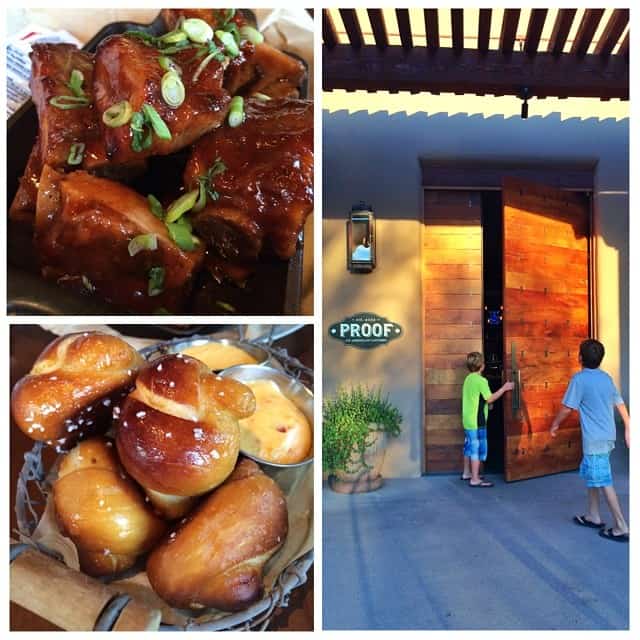 When we arrived, we dropped our bags off at our Casita and scurried over to Proof Restaurant. We had BBQ, hot buttery pretzel buns and so much more. I am going to miss having this restaurant a few steps away 🙂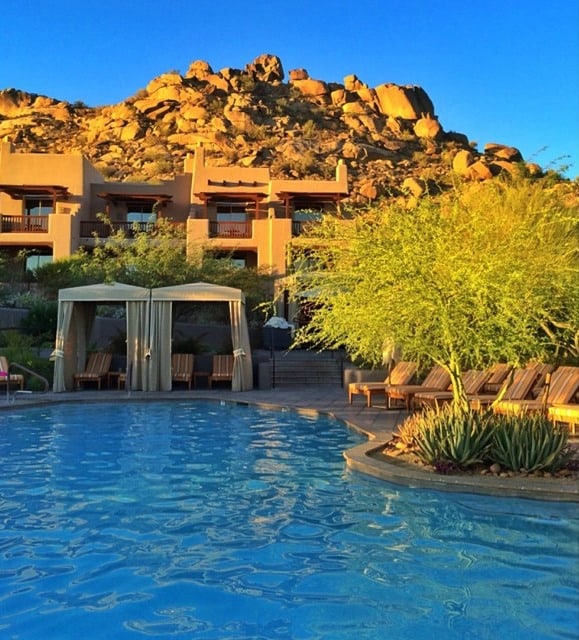 I mean, come on! This was where we spent most of the hours of the day. Heaven.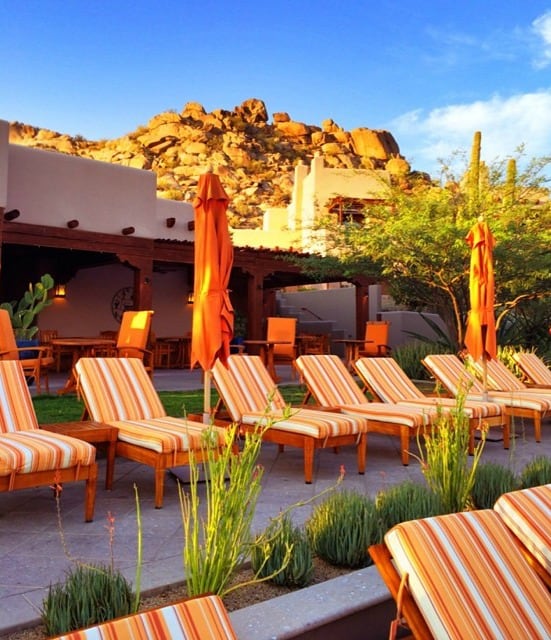 The bright orange striped lounge stairs made me so happy!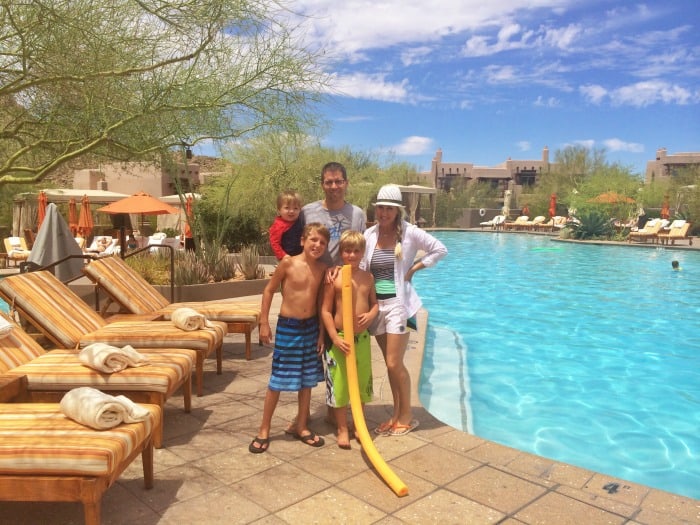 It was so much fun to watch my boys have the time of their lives at the pool.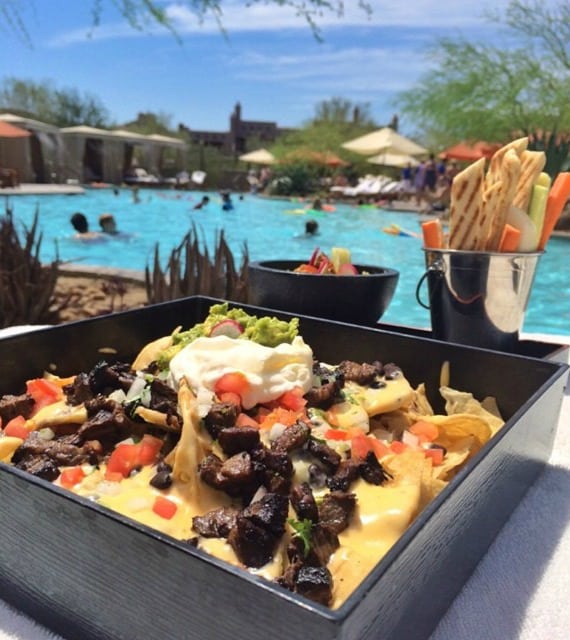 Seriously some of the best Carne Asada Nachos I've ever had were poolside last weekend. We ordered them both days, lol!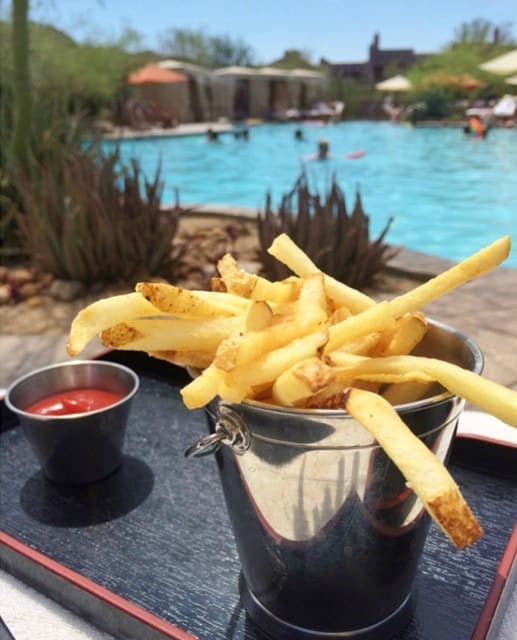 I had to try the French Fries 🙂 They did NOT disappoint.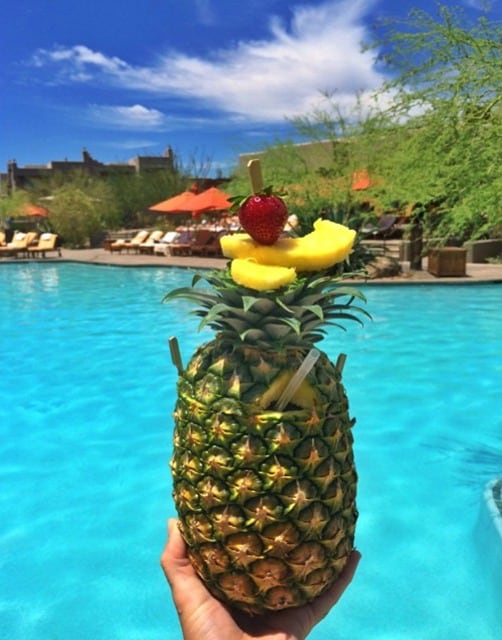 How fun is this drink?! Tropical fabulousness. Virgin Mai Tai – strong drink is not for us 🙂 Shared it with the boys.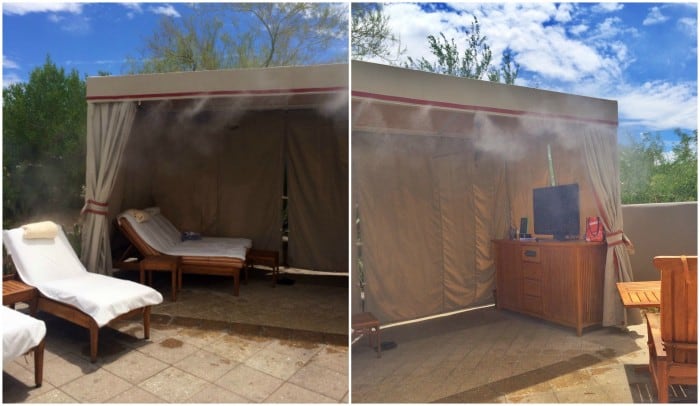 Sunday before we headed home, we spend the entire afternoon in our own personal cabana with misters, ceiling fans, a TV and even a stocked refrigerator. This was a highlight for the boys….and me 🙂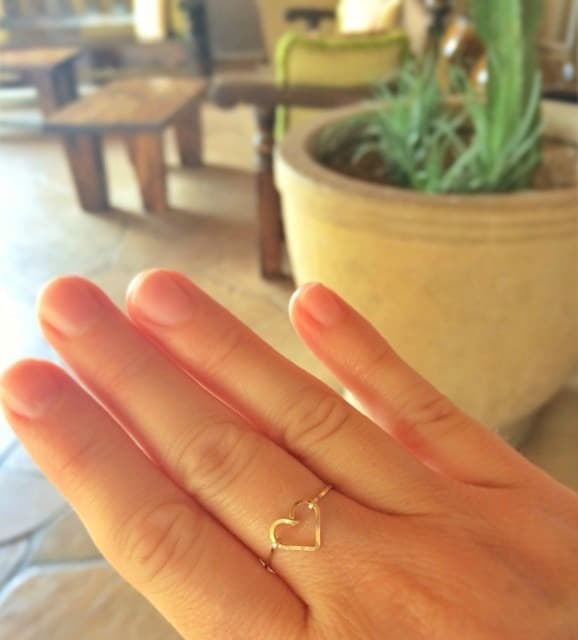 I found this adorable heart ring at the gift shop. Love it!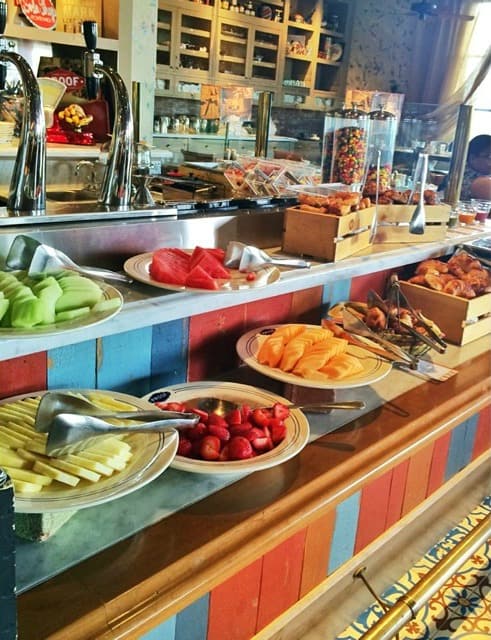 I have to talk about the breakfast at Proof Restaurant. We went both Saturday and Sunday morning. One of the most delicious breakfast bars that I've had. So many fun things to choose from.
My colorful plate! Those chocolate croissants were a dream!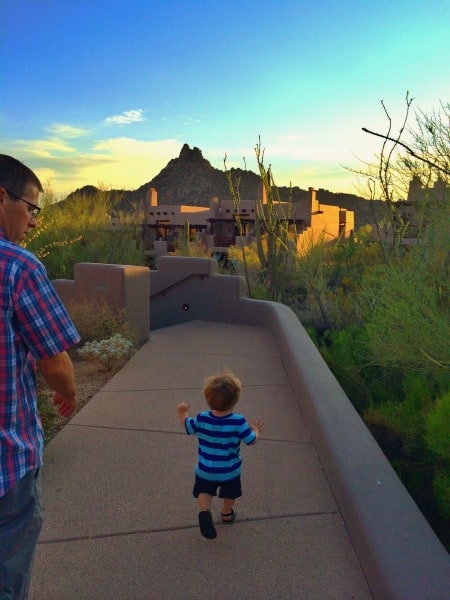 Pax loved running down the sidewalks 🙂
Cullen here – the mountain you see in the background is Pinnacle Peak Park. I can't believe I'm a native of AZ and haven't been on this hike before. It's easier than Camelback Mountain but it seems like it's longer in distance. And the beauty….this is the prettiest desert landscape of the Phoenix metro area. On this hike you can see Camelback and Four Peaks. It's stunning and I'll be sure to return. Four Seasons was smart enough to connect a trail to Pinnacle Peak Park. The total trip is about 4.25 miles to the end of the trail and back. It's a great hike to walk or jog depending on your skill level.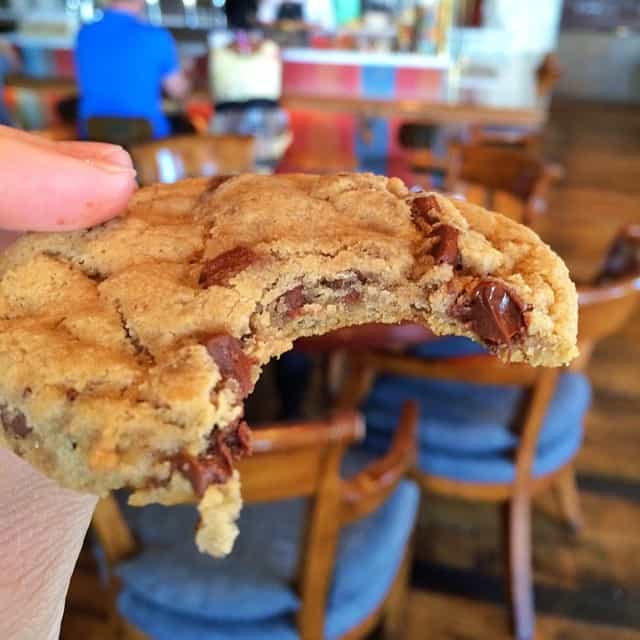 Proof restaurant makes their own desserts in house. Homemade ice cream, pies, and these fabulous cookies. We enjoyed a number of treats during our stay!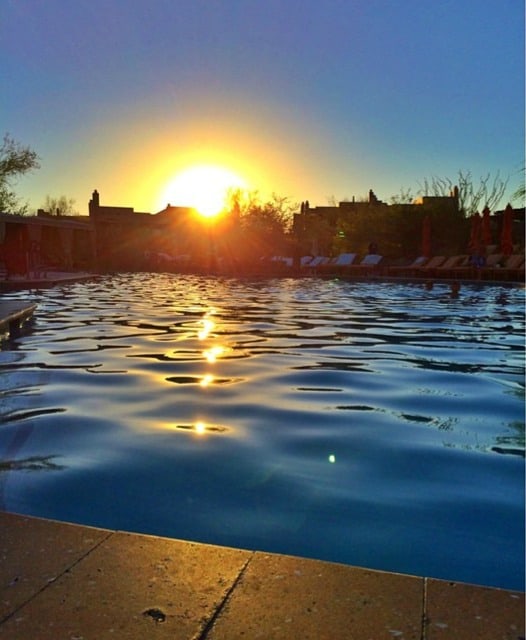 Saturday night, we enjoyed a dive in movie with the boys. Cars 2 poolside was so much fun.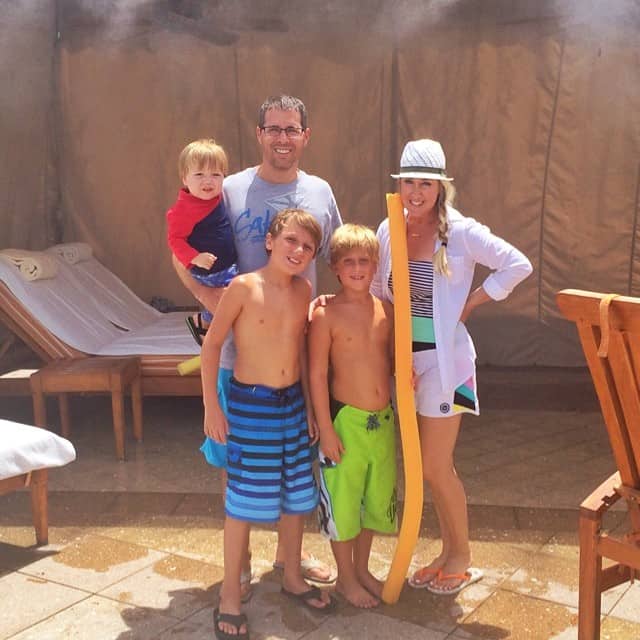 So grateful for this little family of boys of mine. Grateful for this fun weekend we got to spend together. Lots of memories made that we won't forget 🙂
Disclosure: Four Seasons Scottsdale hosted our stay and some meals, however thoughts and opinions are our own. On occasion, we will post about great places to stay. Sometimes we pay our own way, and sometimes we contact the hotel for accommodations.