Sharing Best Food in NYC! New York City Weekend For Foodies! It's no secret that NYC is one of my all-time favorite cities to visit. Everything about it just makes me so happy. The food, the views, the energy. It's contagious. Had a blast putting together my favorite eats over the last few years. Hope you enjoy!
Best Food in NYC
Best Places To Eat in NYC
One of my very favorite places to travel is NYC and today we're talking about the best food in NYC! When I saw these gorgeous Rainbow Bagels on Instagram, I knew I had to hunt them down. Amanda and I took the subway to Brooklyn, found The Bagel Store and enjoyed these colorful gems. So fun to photograph too!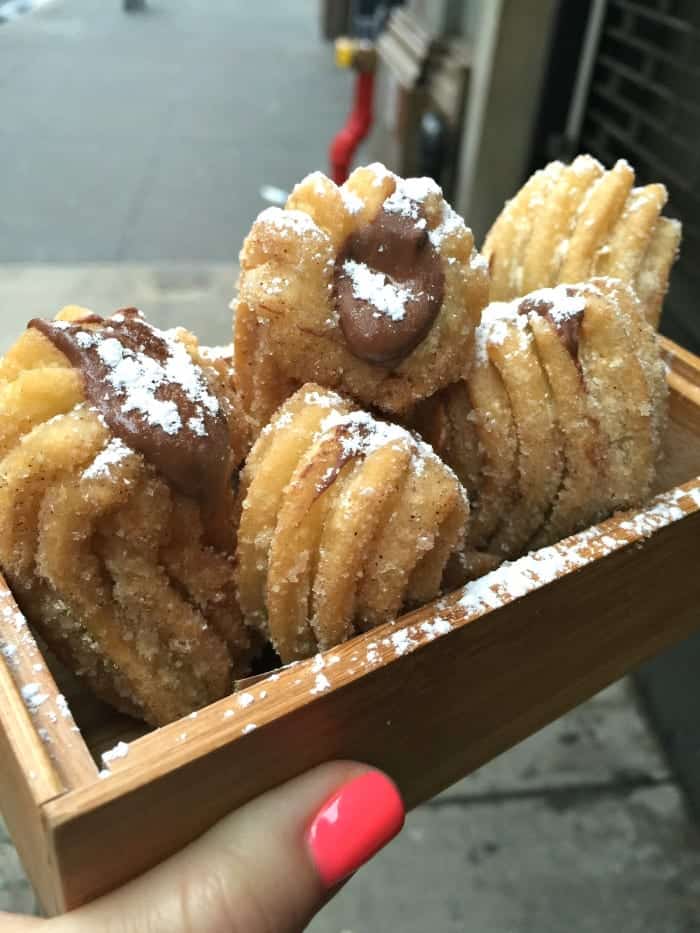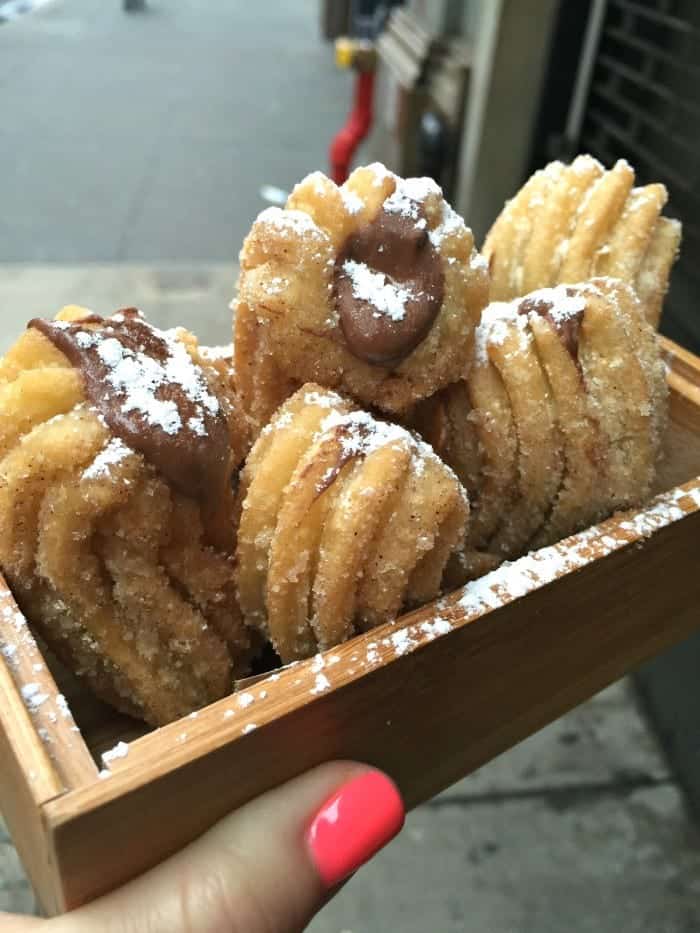 One of my newest discoveries are these Nutella Stuffed Churros from Boqueria. I also spotted these on Instagram and while I was in town with my husband last month hunted the little restaurant down. You should know, Boqueria is a small plates/tapas restaurant, they sell cheese and wine…..and these churros. We only ordered the churros and oh my goodness I am hooked for life!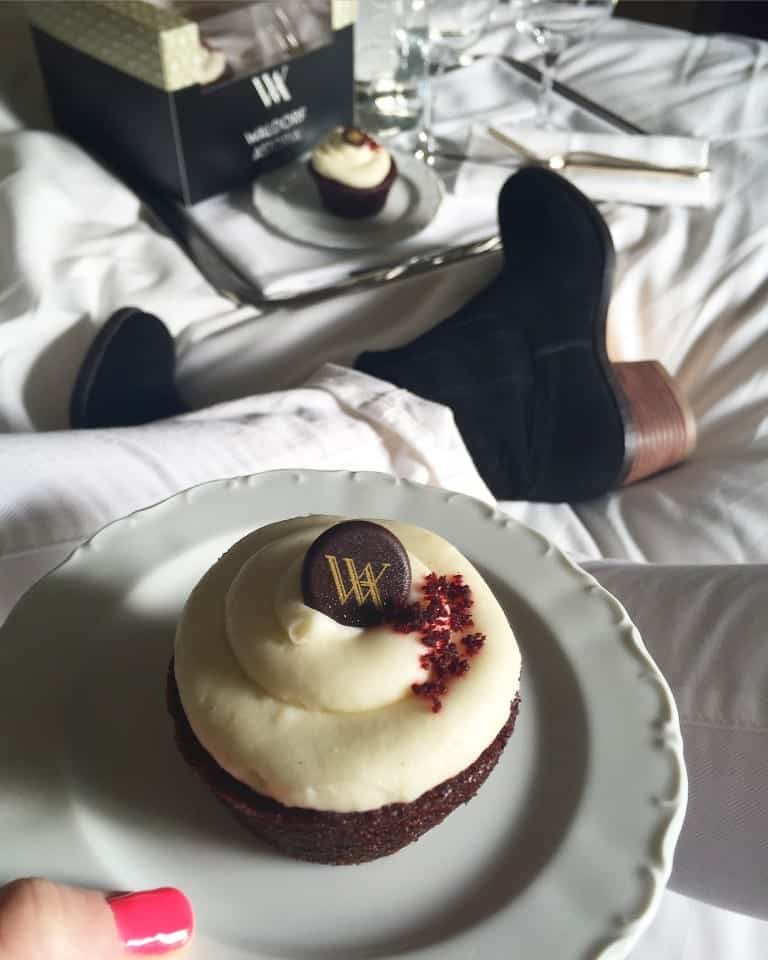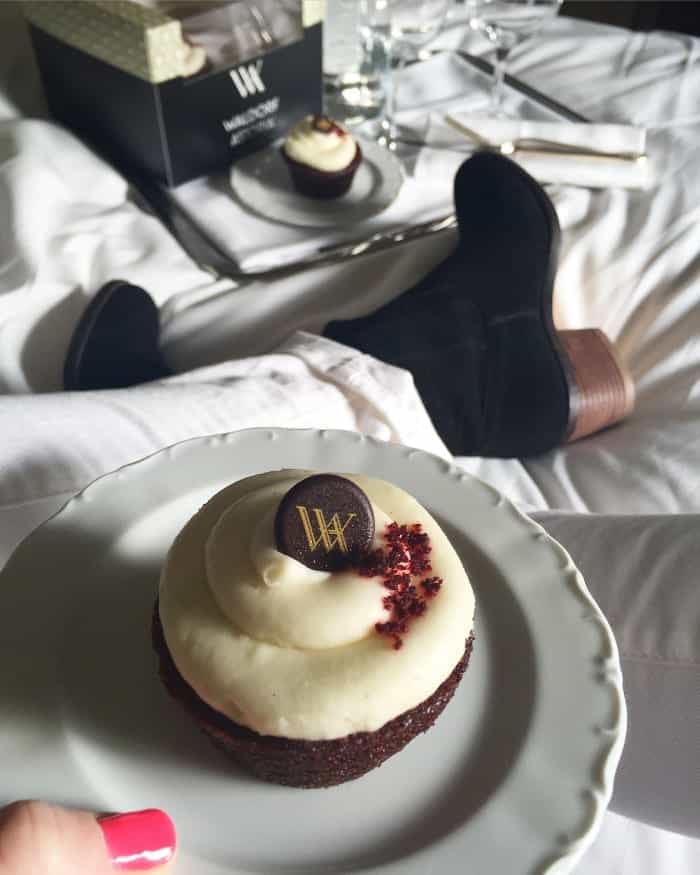 One of my favorite stays in NYC has hands down been Waldorf Astoria Towers. This hotel had so much charm, I could hardly stand it. I enjoyed some of their red velvet cupcakes last month with my husband 🙂 Wait until you see their Sunday Brunch a few pictures down.
Best Food in New York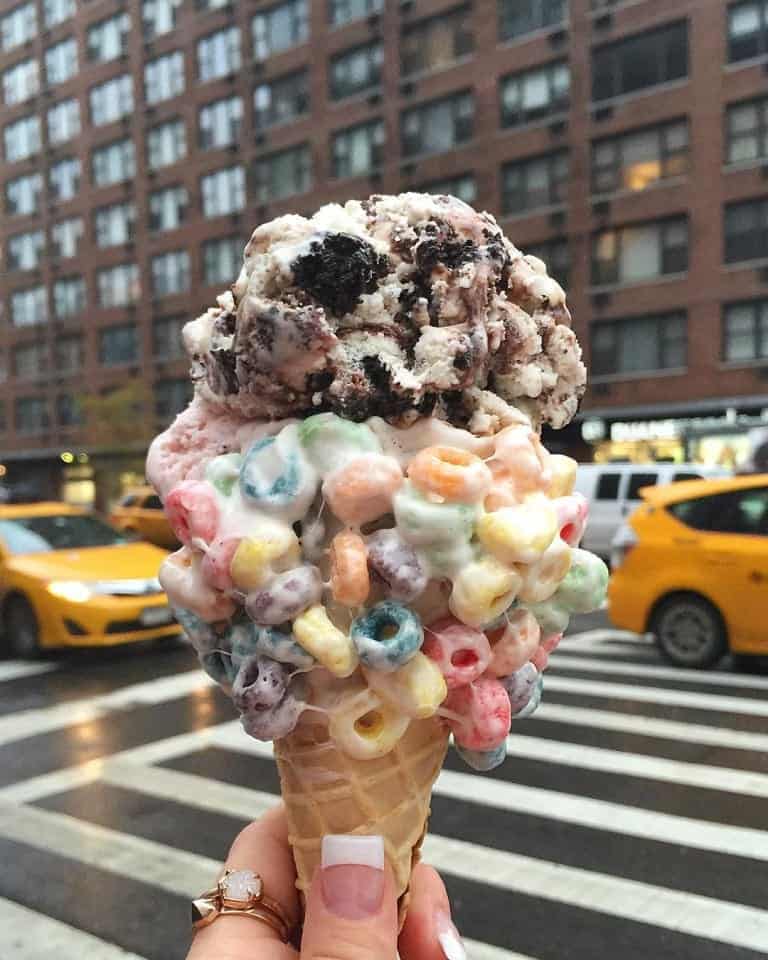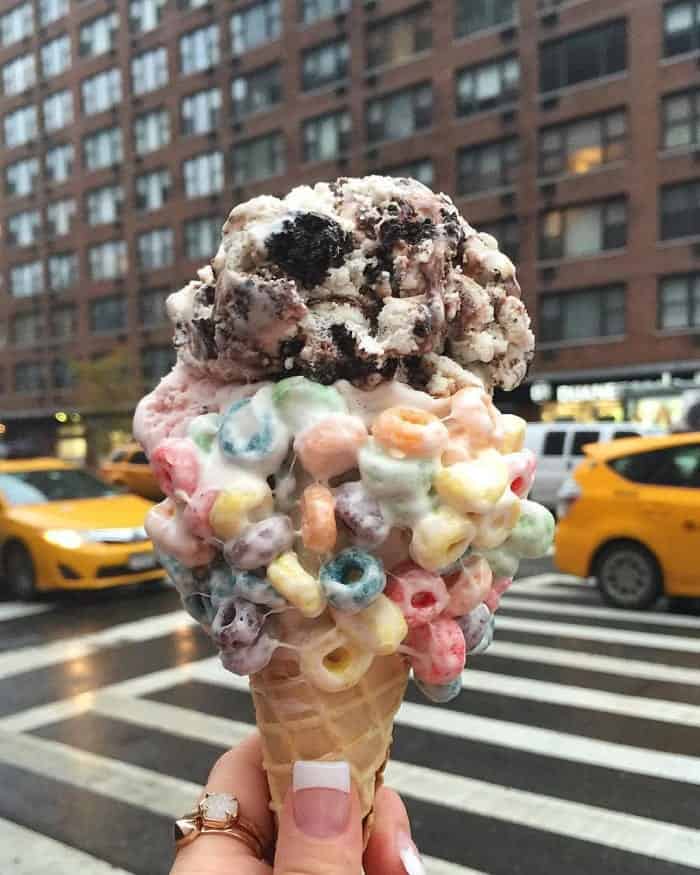 Best Places To Eat in New York
This ice cream cone from Emack and Bolio's is about the coolest cone around. They literally add crispie treats of all kinds to their waffle cones. Plus the ice cream is all homemade and absolutely delicious. I believe I got the S'moreo. Yum!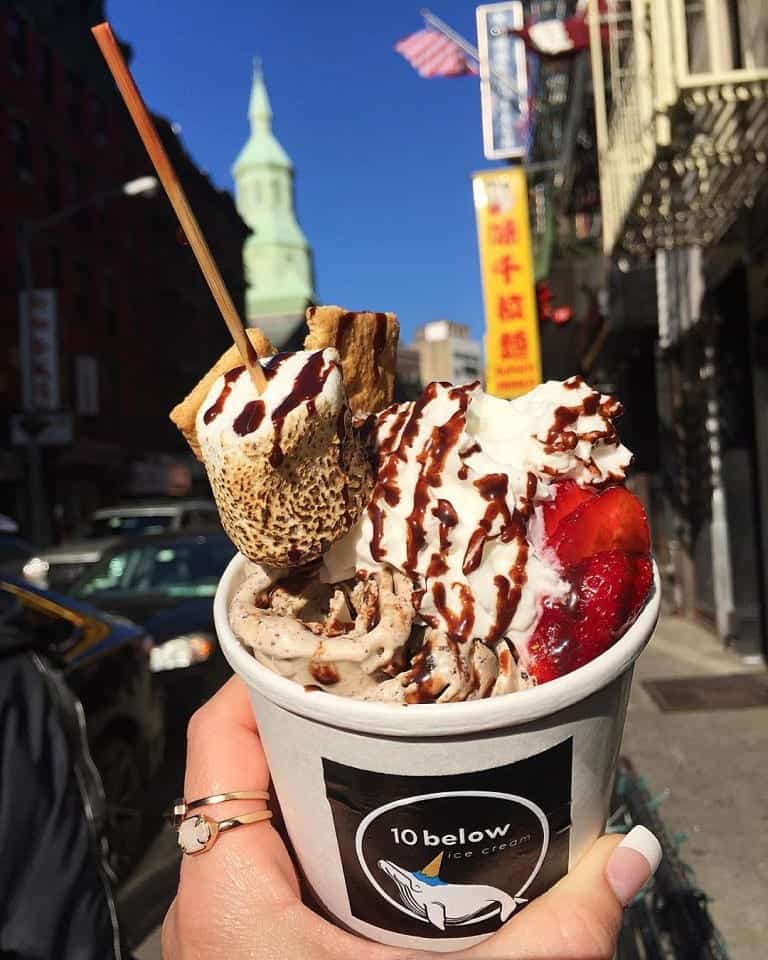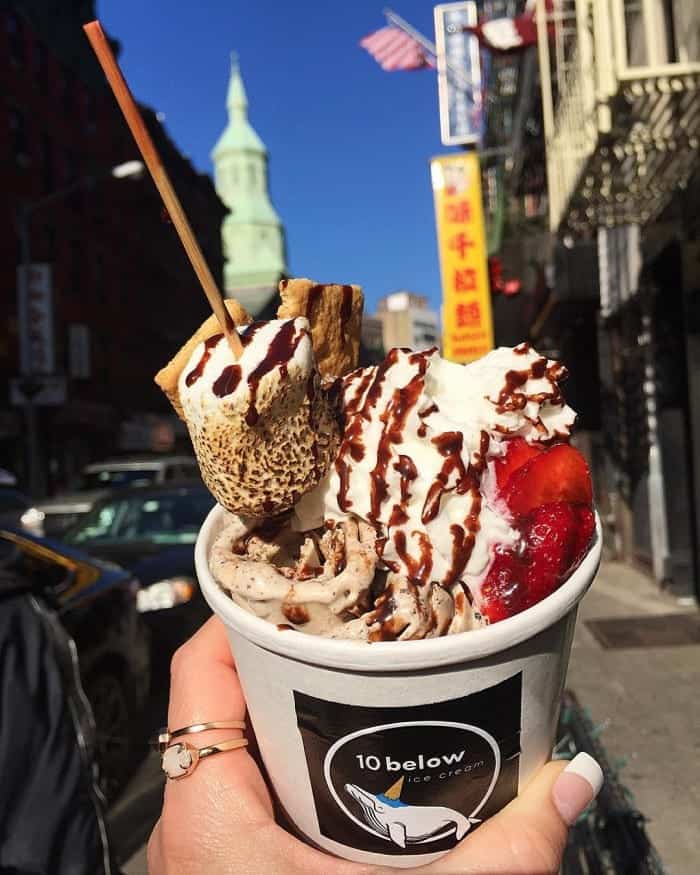 10 Below Ice Cream makes gorgeous rolled ice cream creations as you can see are drop dead gorgeous. You get to watch them prepare your ice cream on a frozen slat and roll it right up. Really enjoyed this one.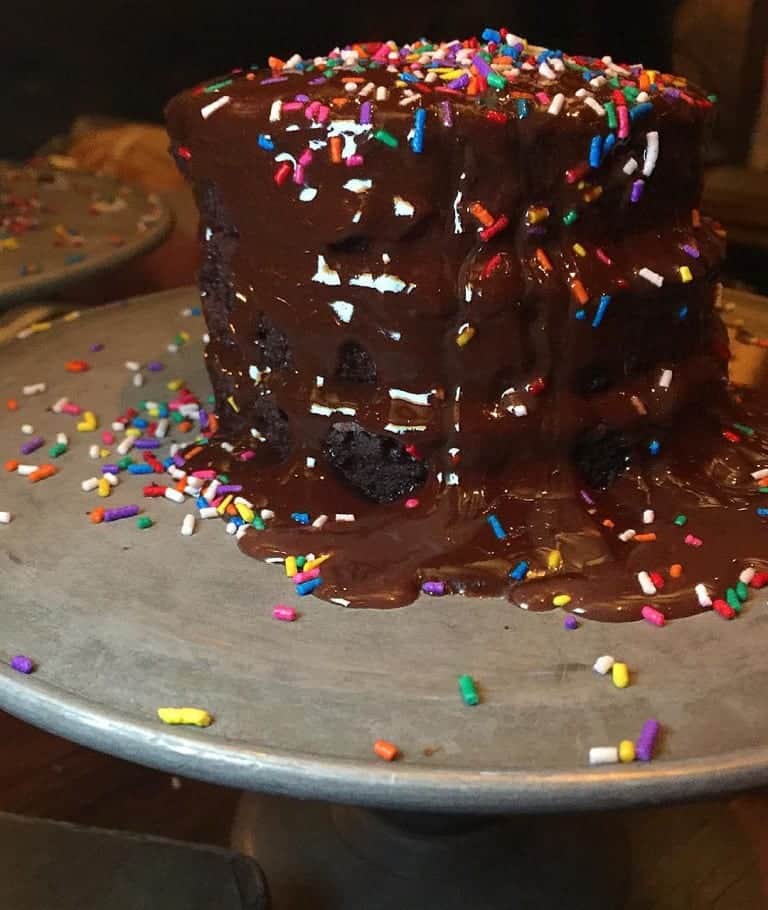 Max Brenner has been a long time favorite. From their crazy waffles, amazing milkshakes to this make your own chocolate layered cake. I always recommend a Max Brenner experience while in NYC. Not photo'd here, but you HAVE to order the 80's milkshake. A homemade magic shell on top….to die for.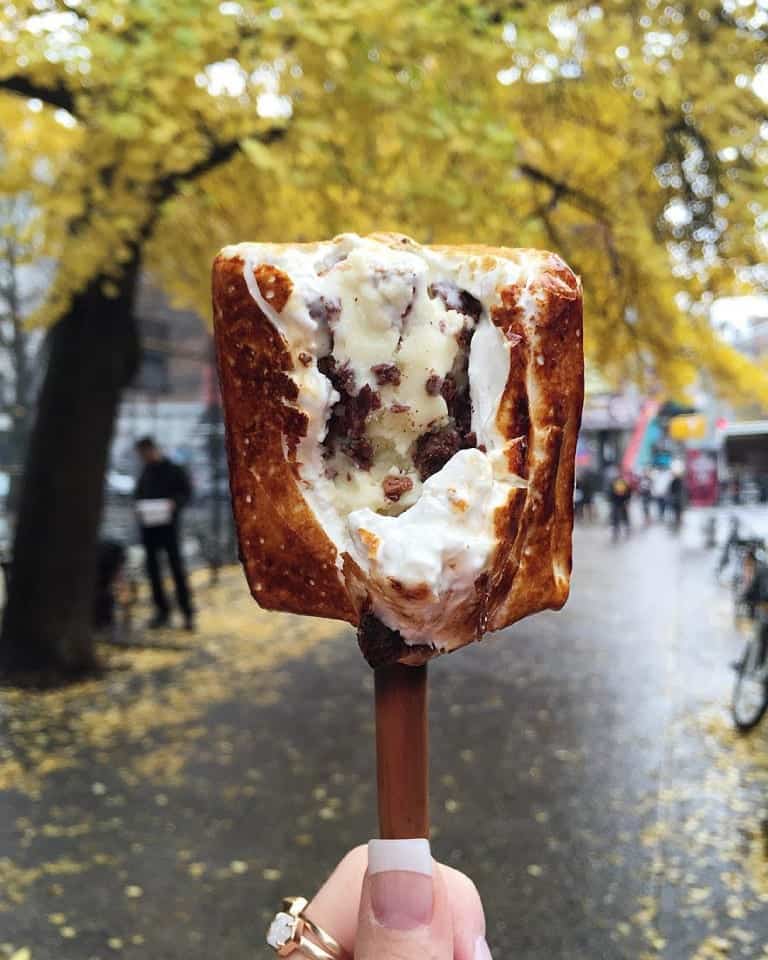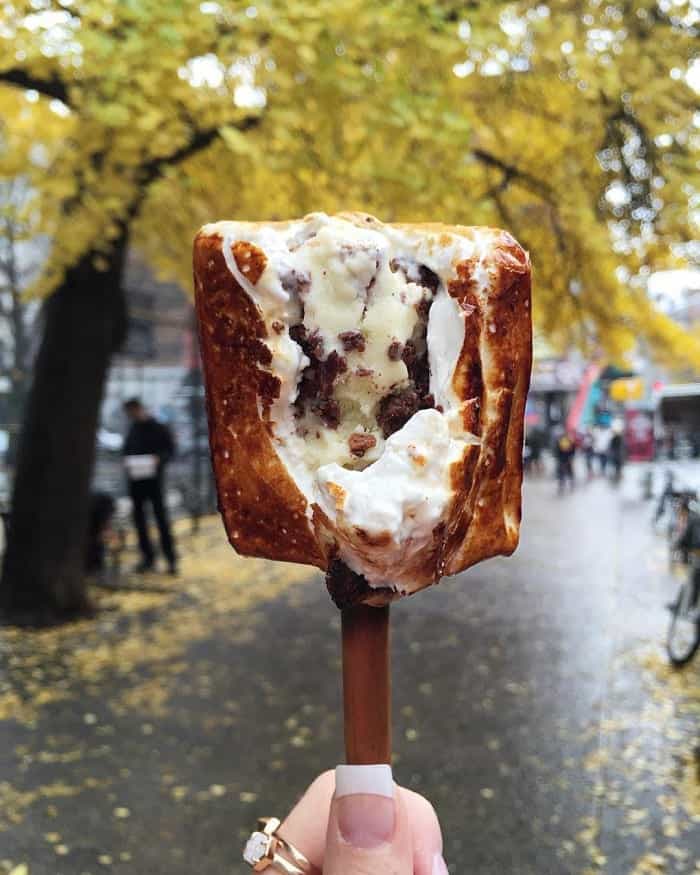 Dominique Ansel Bakery is also a must visit. This Frozen S'more on a stick is so much fun. They also have the famous cookie shots….that I still haven't had yet and they're home of the delicious Cronut! Check em' out.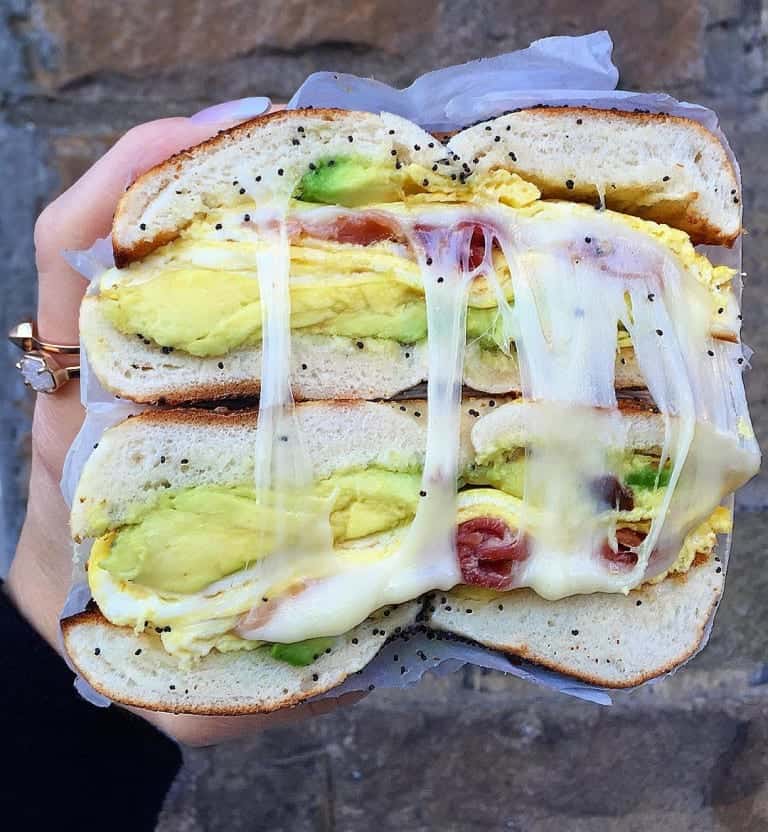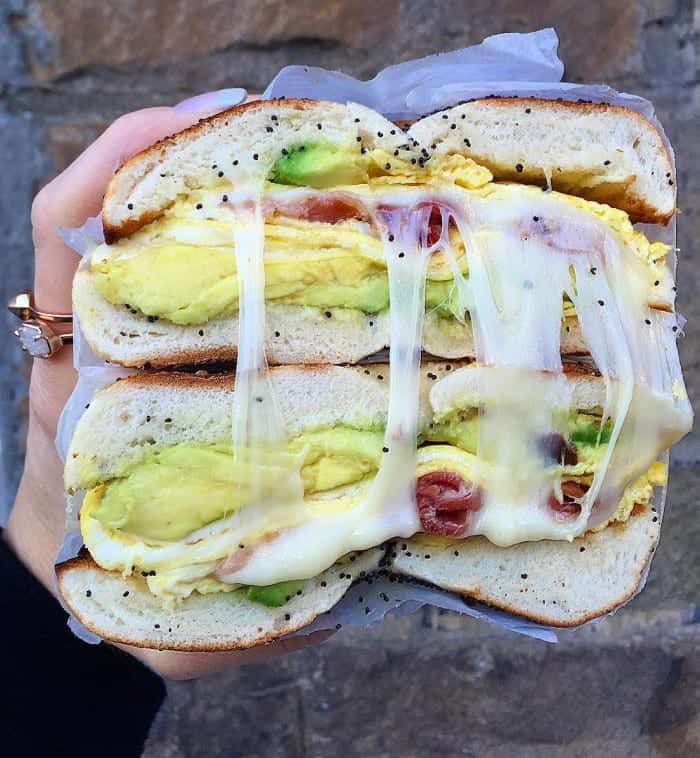 Space Market by NYU has the most amazing bagel sandwiches. It's like a cute little market where you can grocery shop, but they have a sandwich area you can place an order through dinnertime. Amanda and I ordered this egg, cheese, avocado and bacon bagel. Amazing!
Black Tap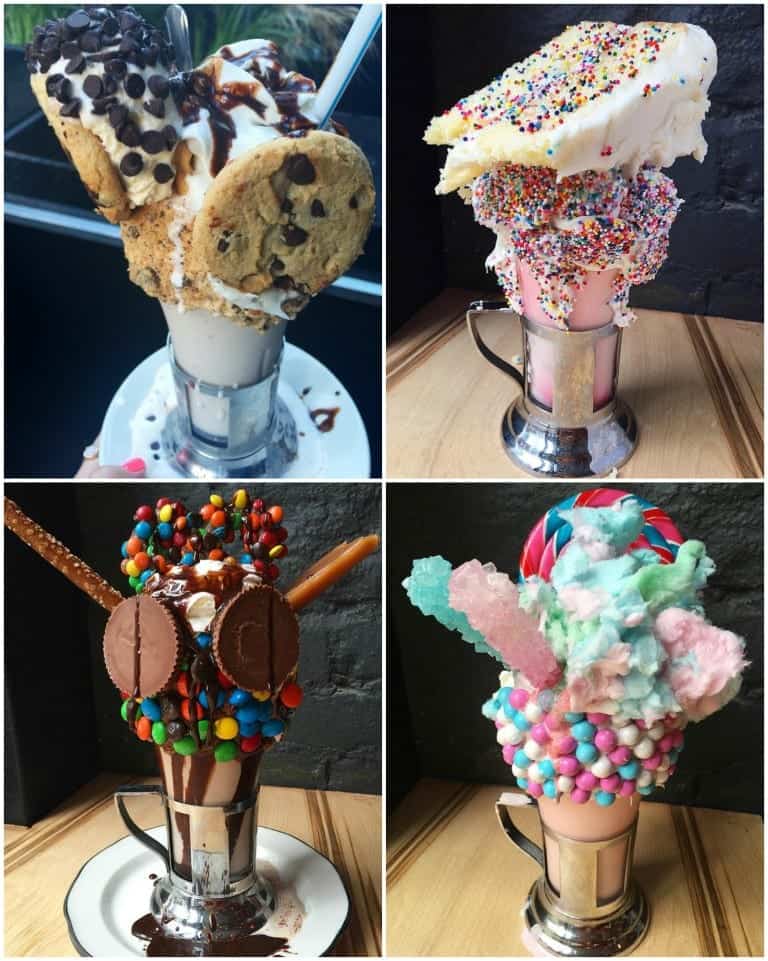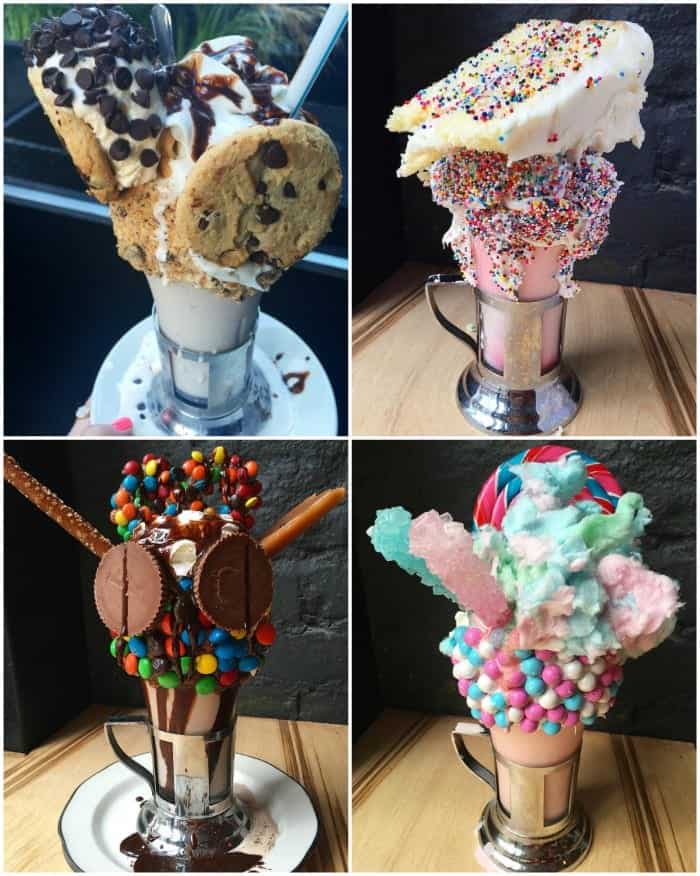 Black Tap has taken the internet by storm with their gorgeous milkshakes. Have you seen anything more beautiful?! We've got their Cookie Milkshake, Birthday Cake, Sweet and Salty and Cotton Candy. Be prepared to have quite a line waiting to get into their restaurant. Line up before they open, that's going to be your best bet. Good luck!!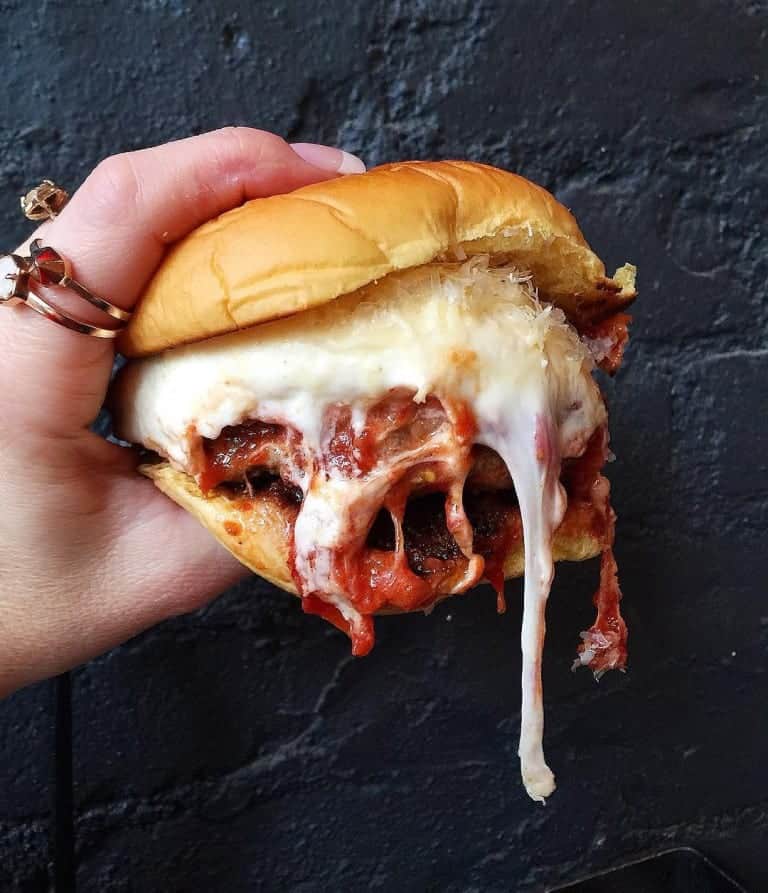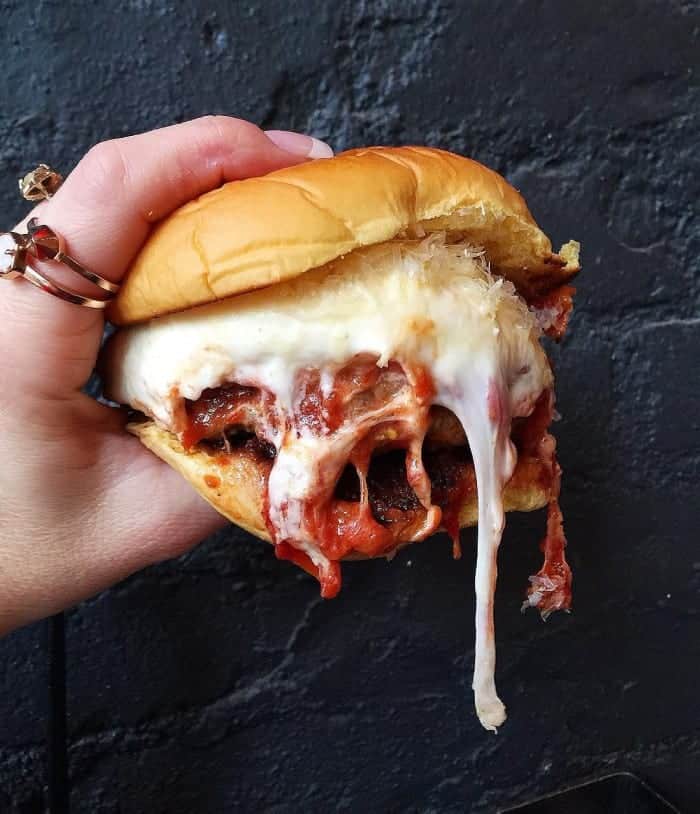 Black Tap also offers some of the best burgers I've ever had. This Pizza Burger had us all drooling!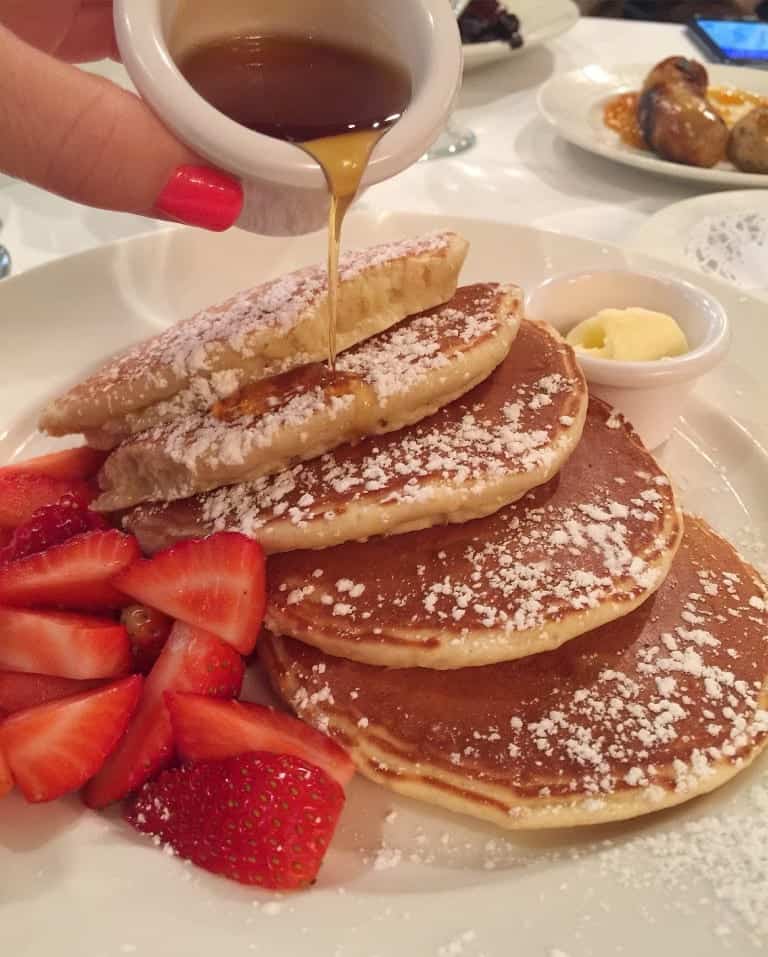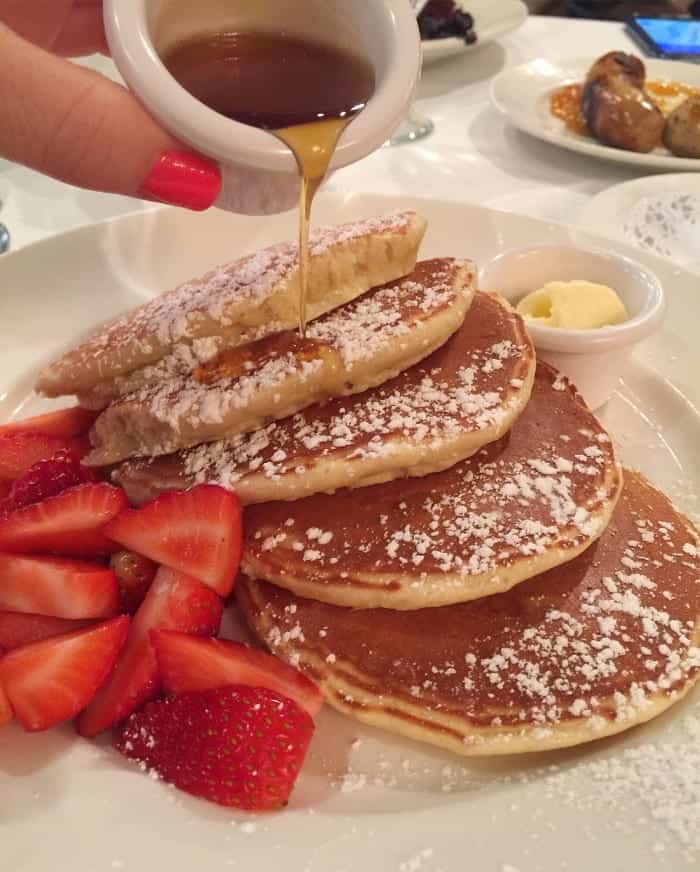 Sarabeth's is a beautiful place to enjoy breakfast. Right across from Central Park, it's quite magical.
Best Food in NYC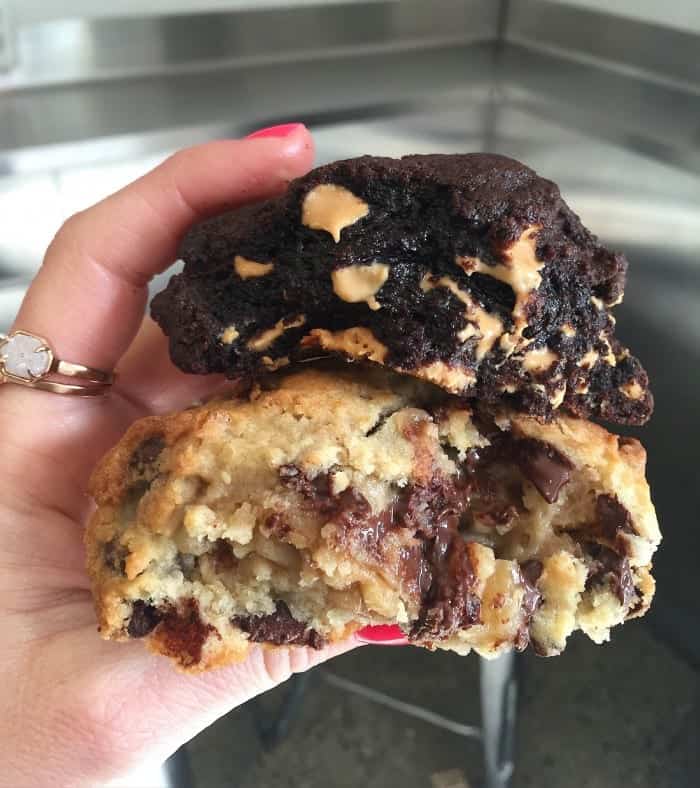 Levain Bakery is one of those places where your cookie dreams come true. Not even kidding. Their chocolate peanut butter chip is the best cookie I've ever had.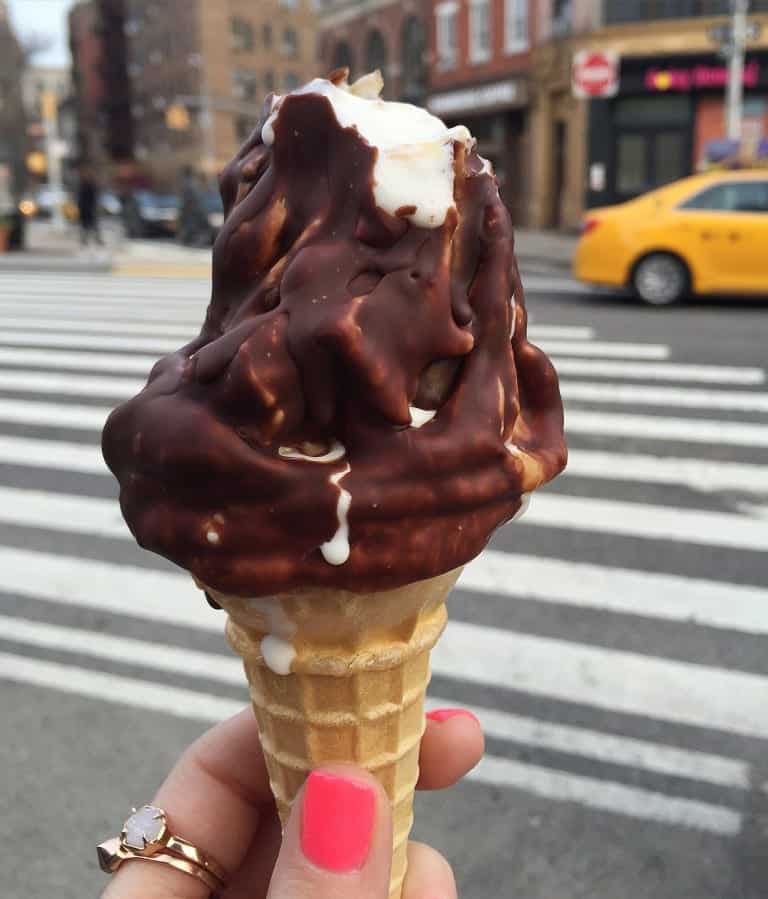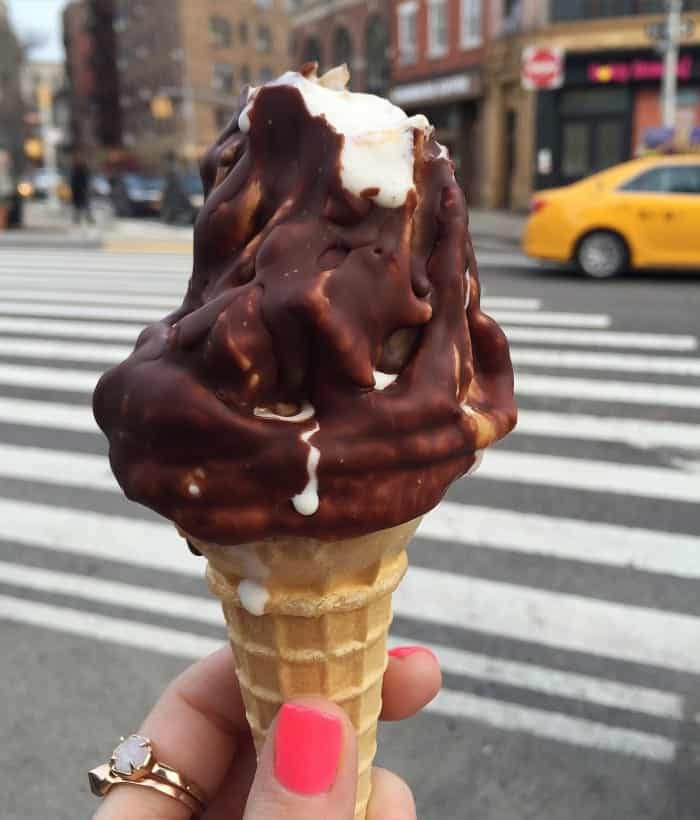 Hands down, best chocolate dipped cone in the city. Plus, it's close to the Friend's building and amazing walking around through Greenwich Village.
Best Food in NYC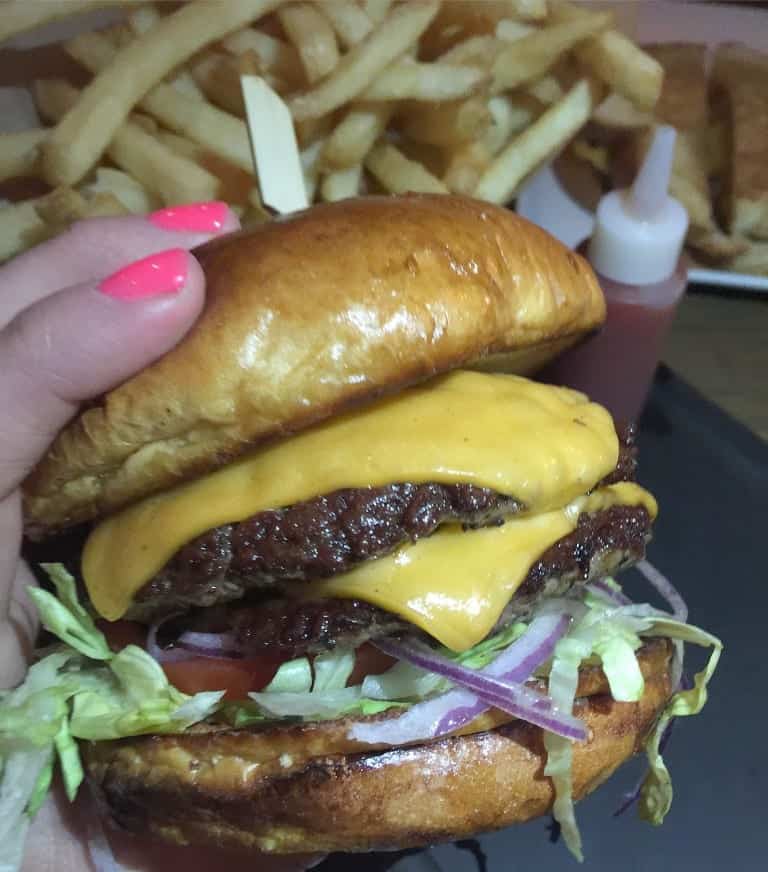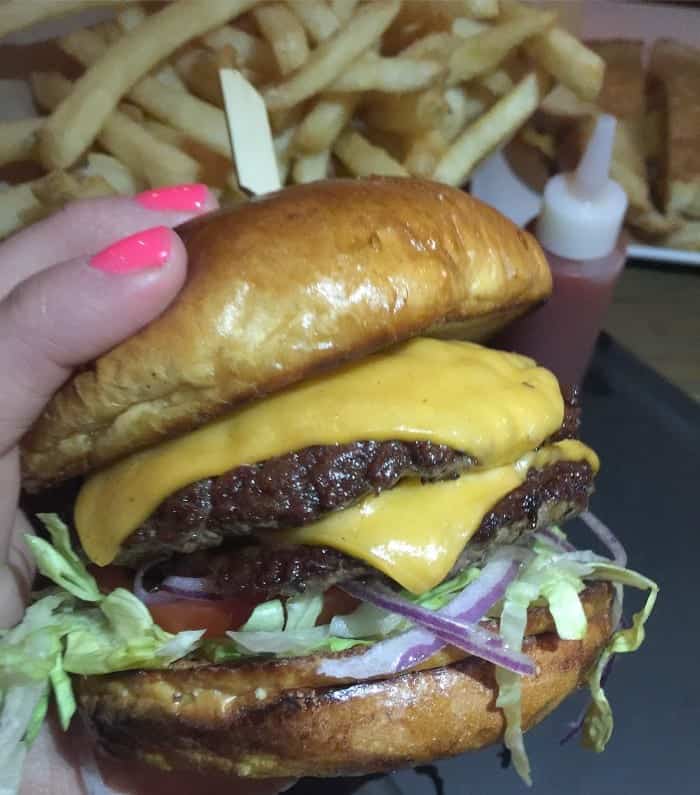 Del Frisco's Grille knocked our socks off with their gorgeous cheeseburger, fries and appetizers. What a fun place, I highly recommend this one!!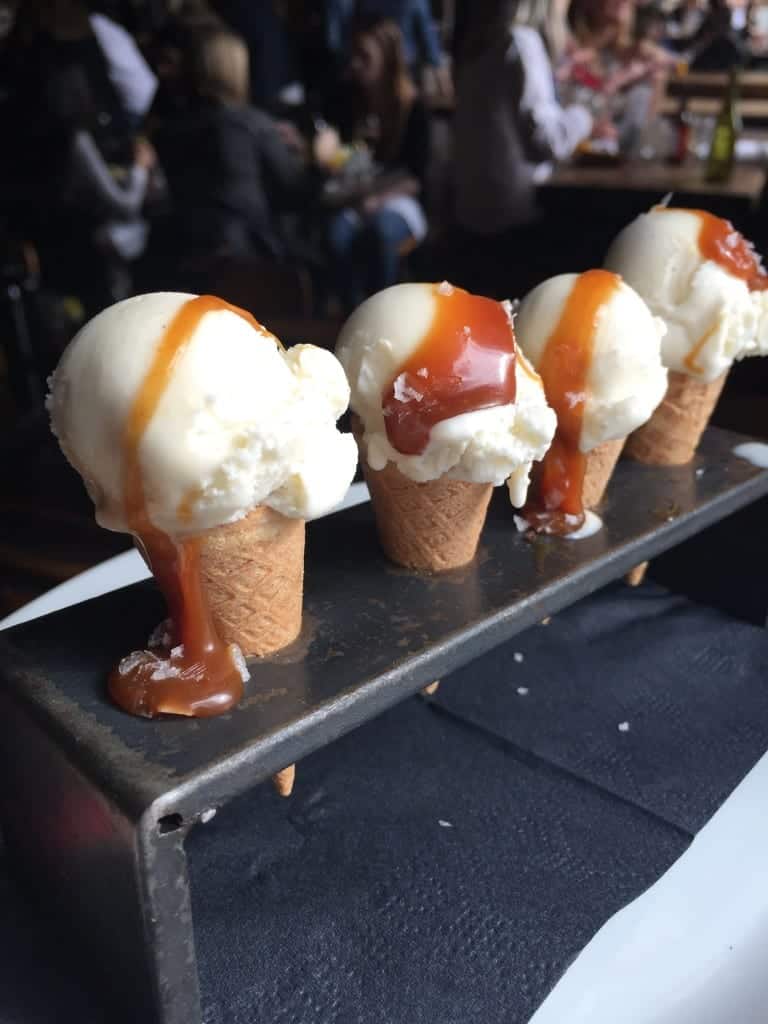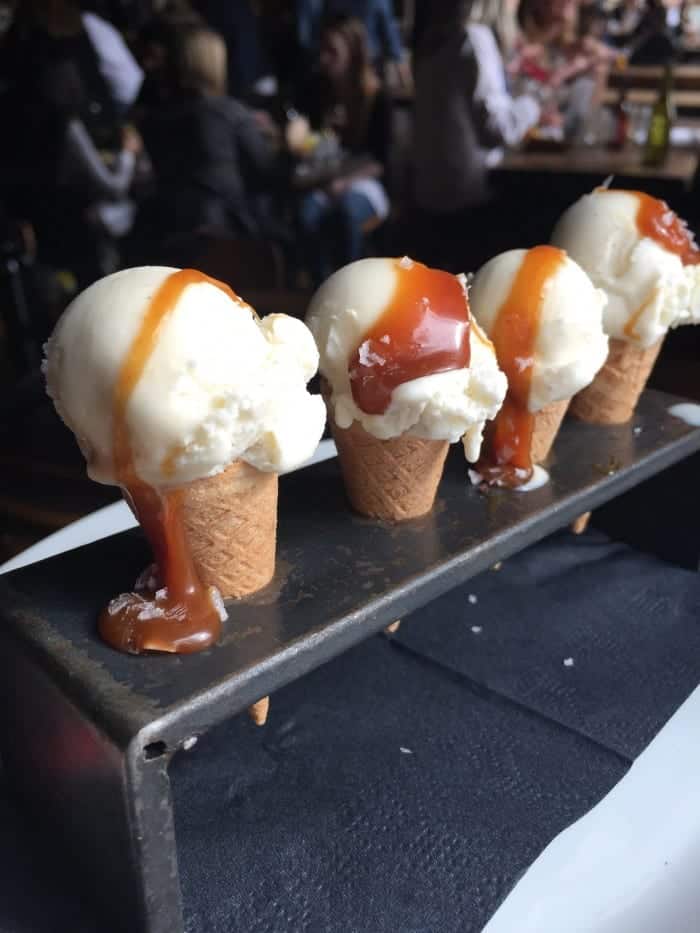 Boulton and Watt is a new to me location that literally blew me away. We went for brunch and stayed for these cutie pie Salted Caramel Ice Cream Cones. To die for!!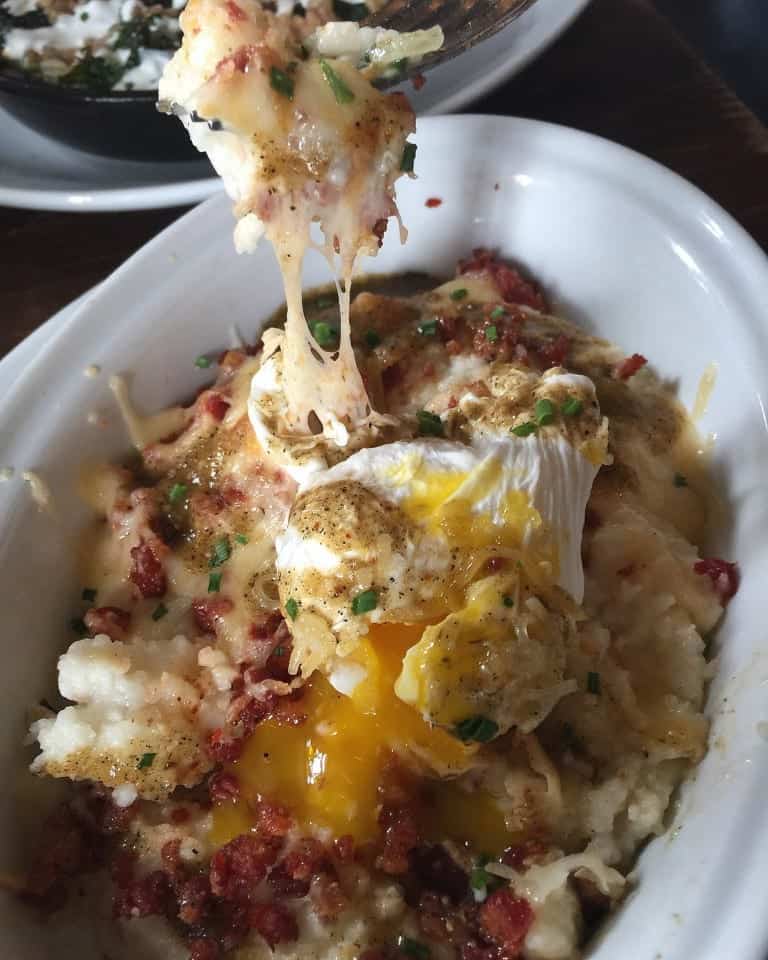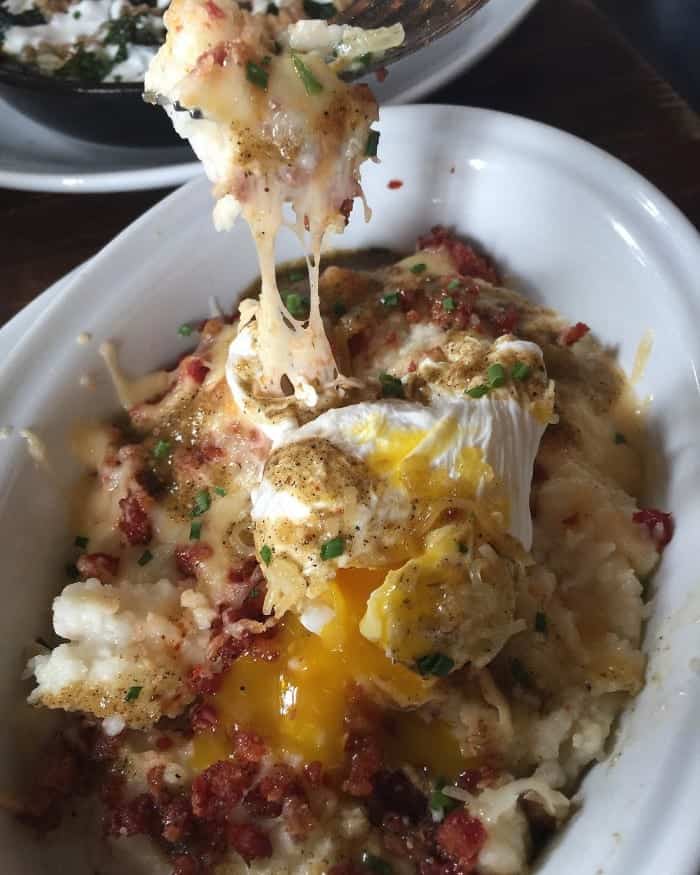 Another Boulton and Watt favorite was this baked grits with chorizo and pouched egg on top. Can't wait to visit here again. Such a great restaurant.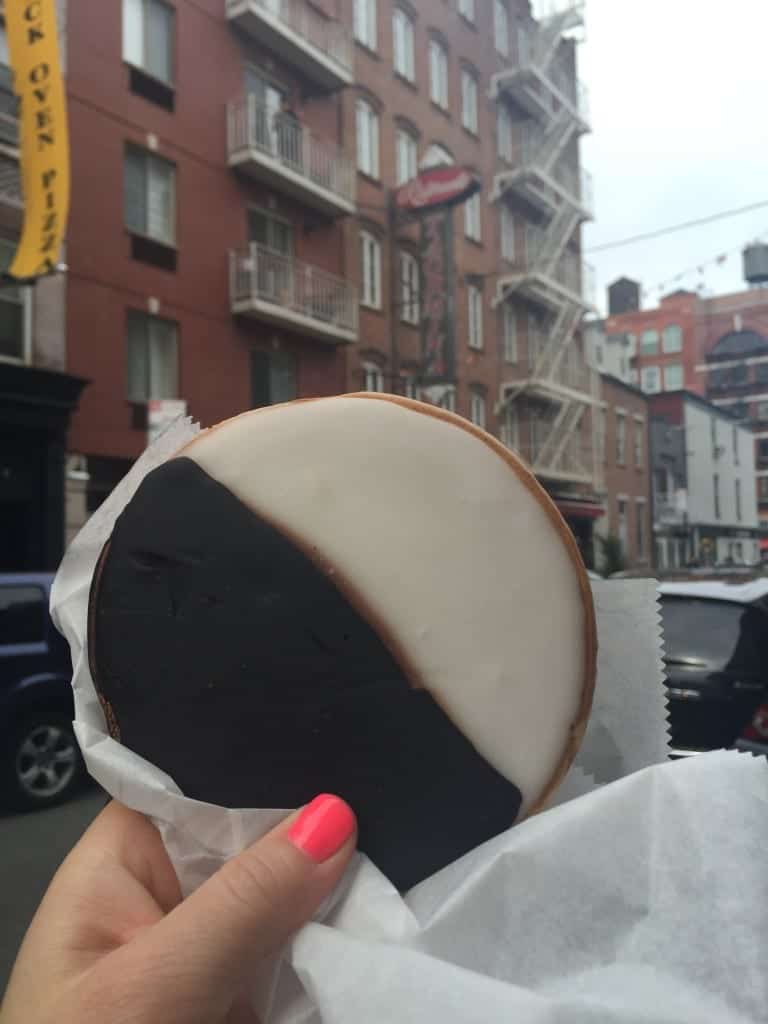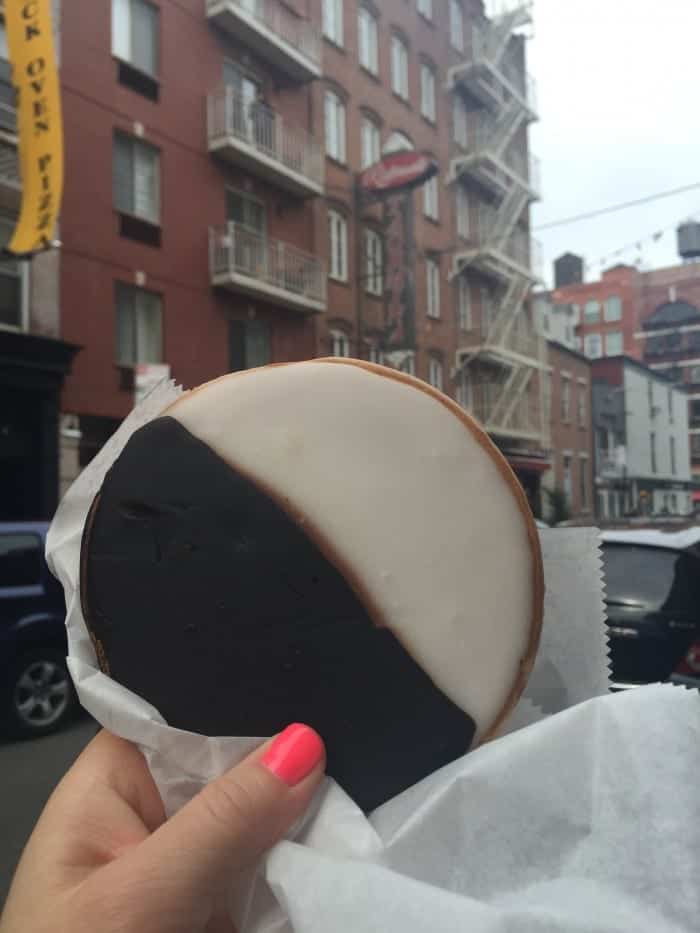 You kind of HAVE to get a NYC black and white cookie. Found this one while walking through China Town 🙂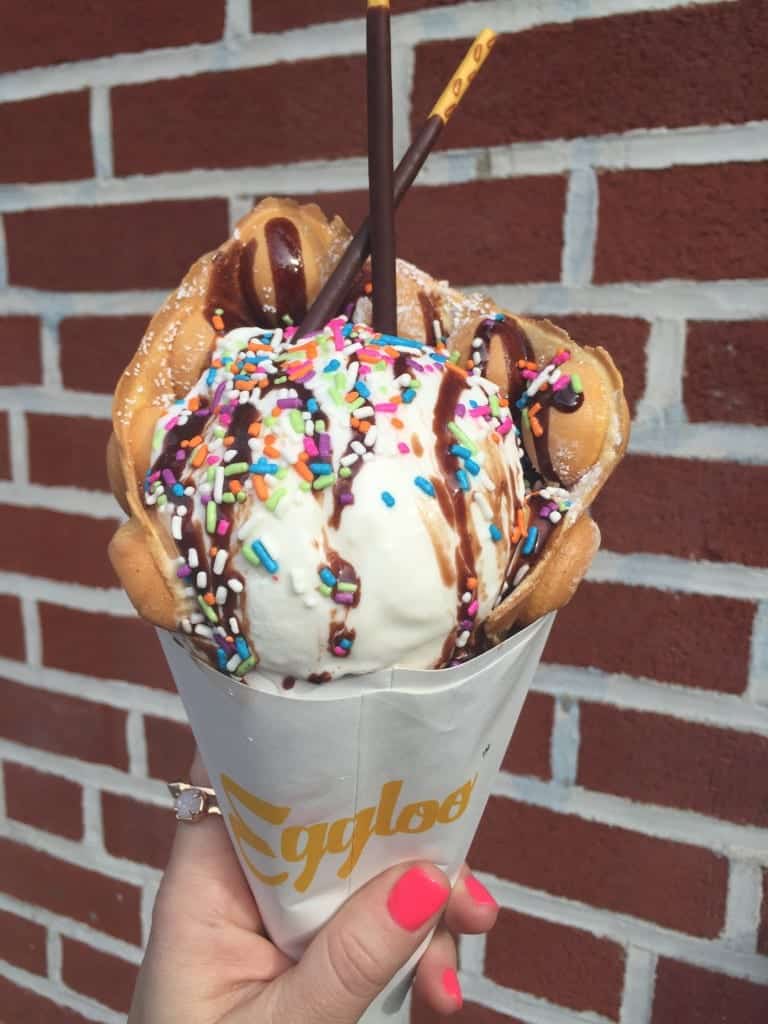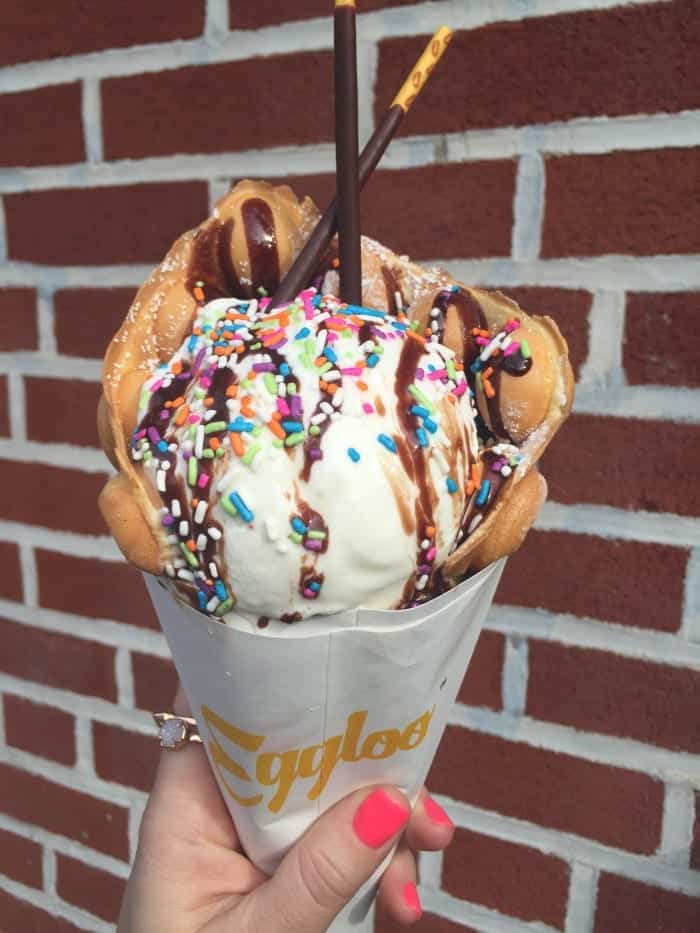 Eggloo is a new ice cream shop that opened up February 2016. I was so happy to get to try it last month. Soft crispy warm waffle cone with your choice of ice cream and toppings. Really fun!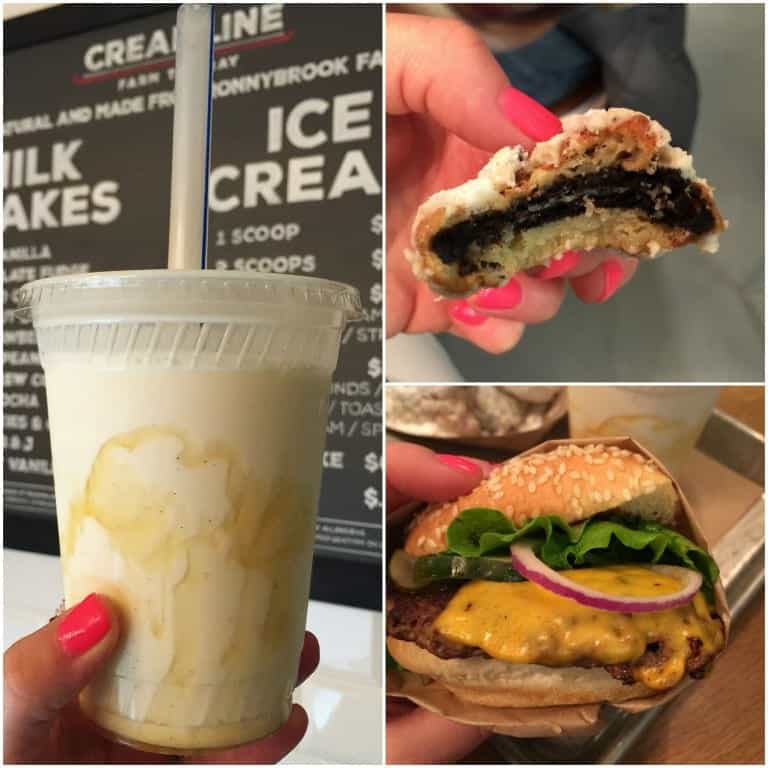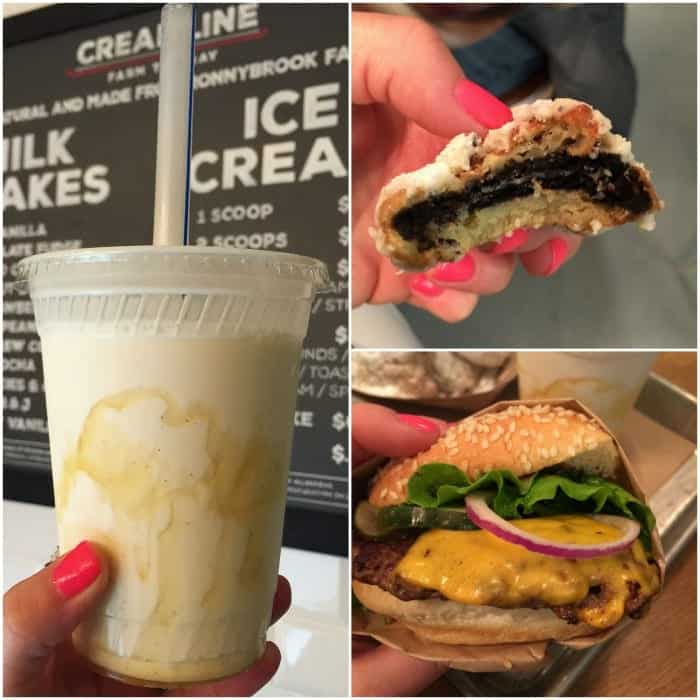 Chelsea Market is home to so many great restaurants. I highly recommend Creamline. Amazing burgers, milkshakes and not even kidding the best fried Oreo's I've ever had. Other things to not miss in Chelsea Market, the street tacos at Los Tacos no 1, Amy's Bread has the best Yellow Cake with Pink Frosting around, Fat Witch Brownies and Eleni's for baked goods. Such a great place to visit, it's a must every time if you ask me 🙂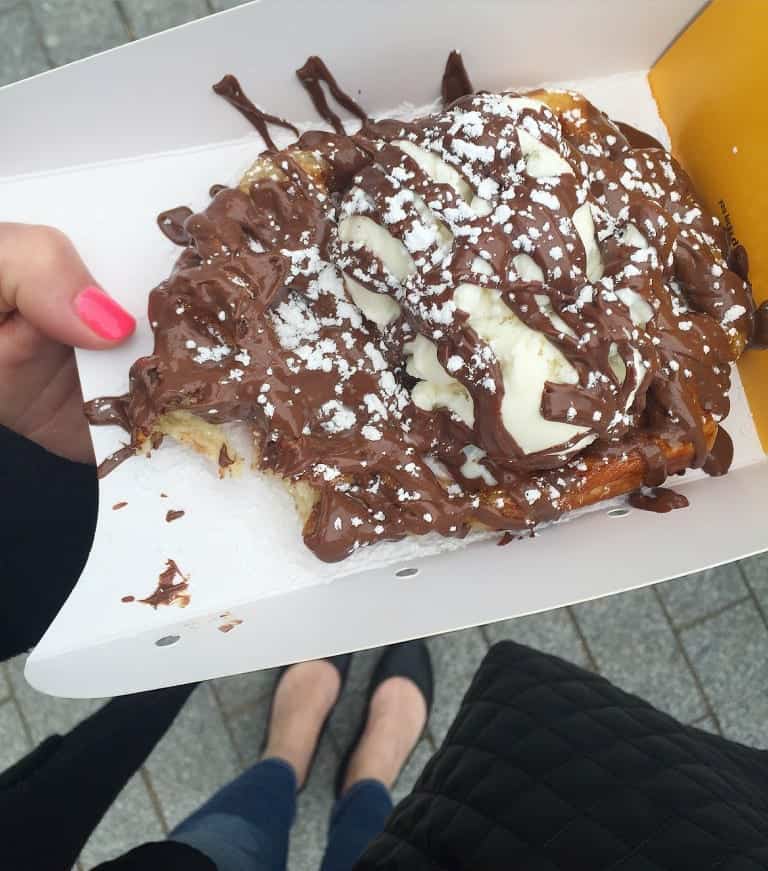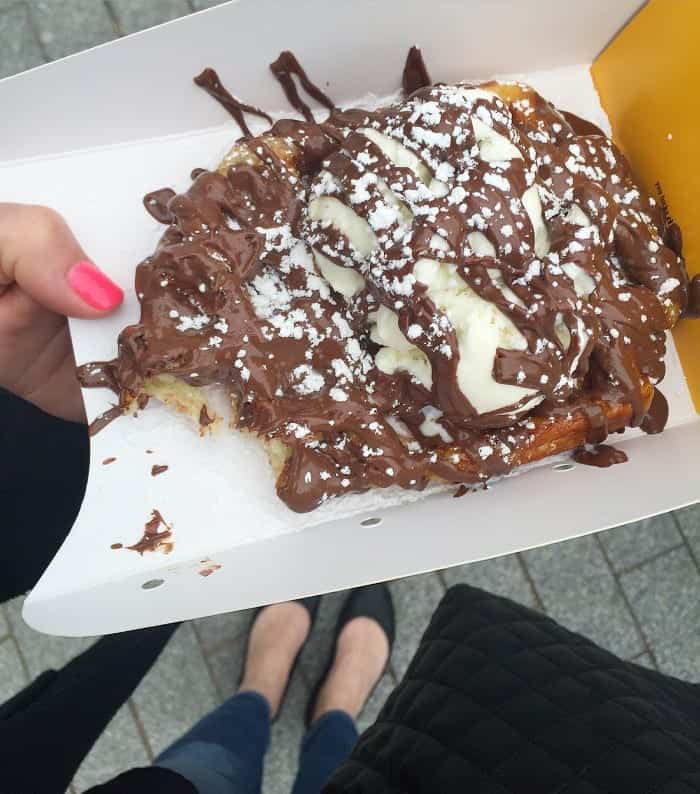 Waffles and Dinges Food Truck is not to be missed. Can't even handle this Nutella and Ice Cream topped Belgian Waffle!!
Waldorf Astoria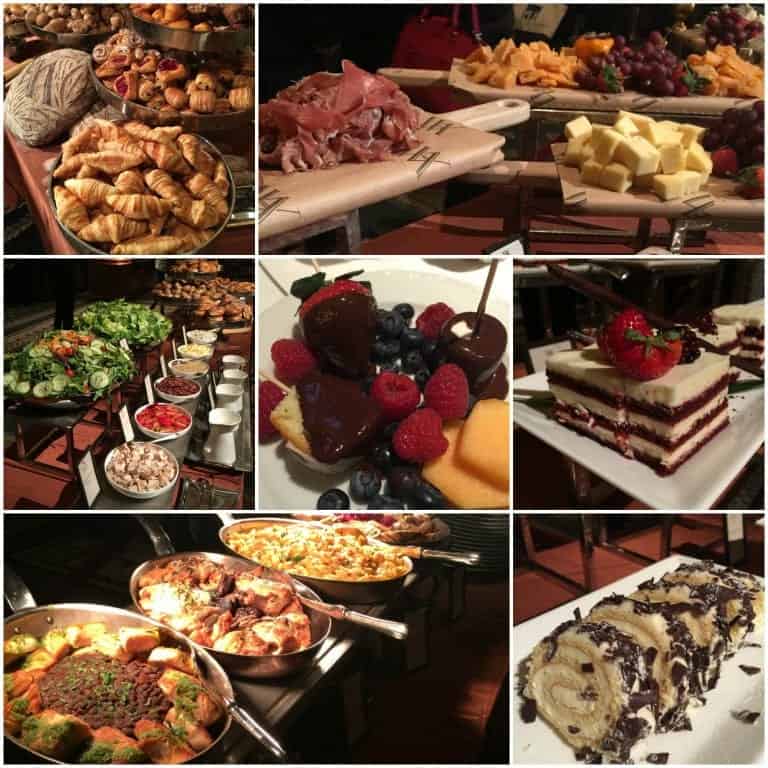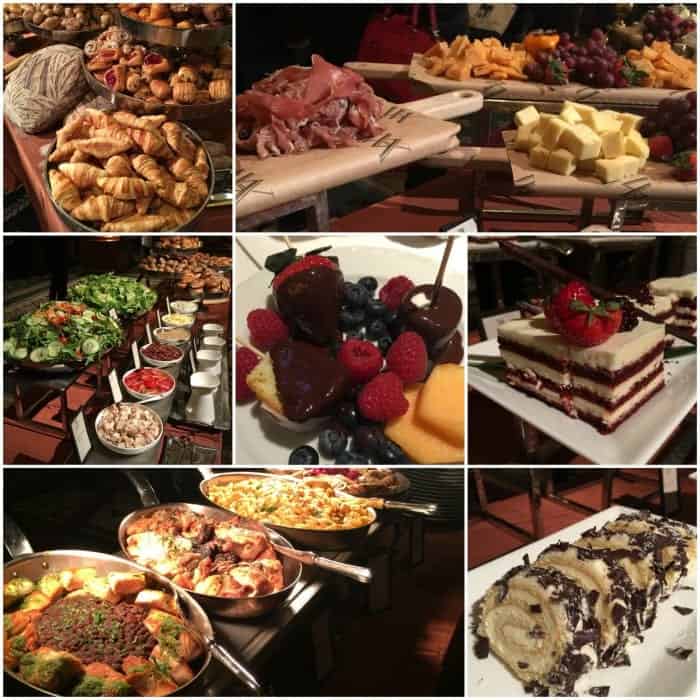 The Waldorf Astoria has the most beautiful Sunday Brunch I have ever experienced. Gorgeous food choices presented and served by the chef's dressed in their whites. This is something you've got to experience at some point. I'll never forget this dining experience and hope to go back.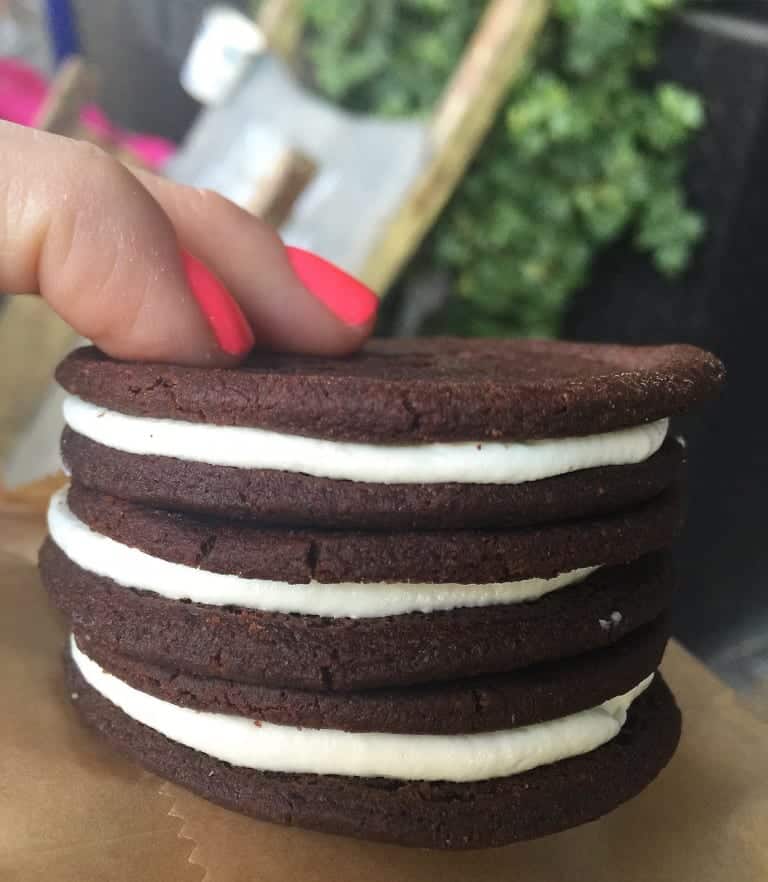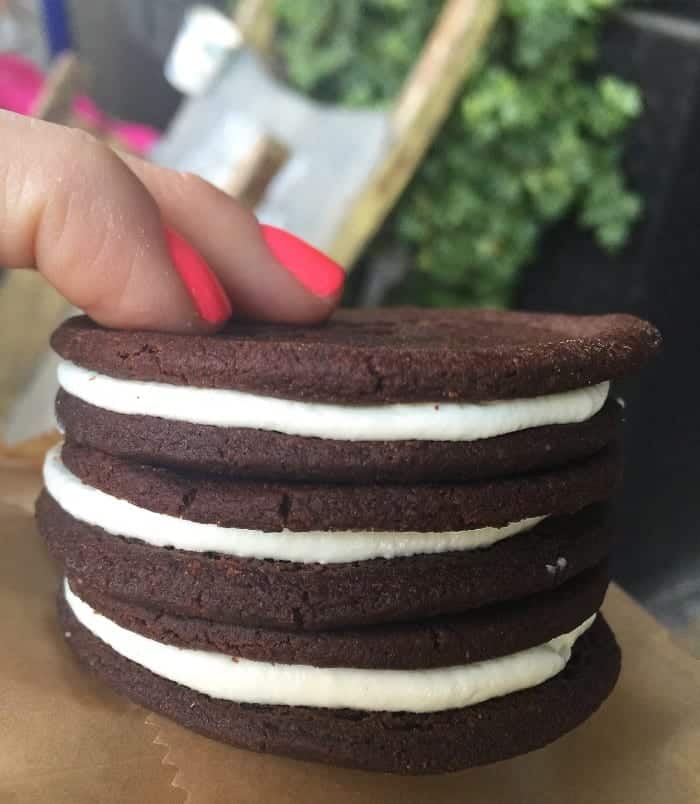 My husband and I were walking through Tribeca and came up on this adorable bakery, cafe called Maman. They've got all kinds of beautiful food choices, but we sampled their homemade Oreo Cookies. So glad we did. These were amazing!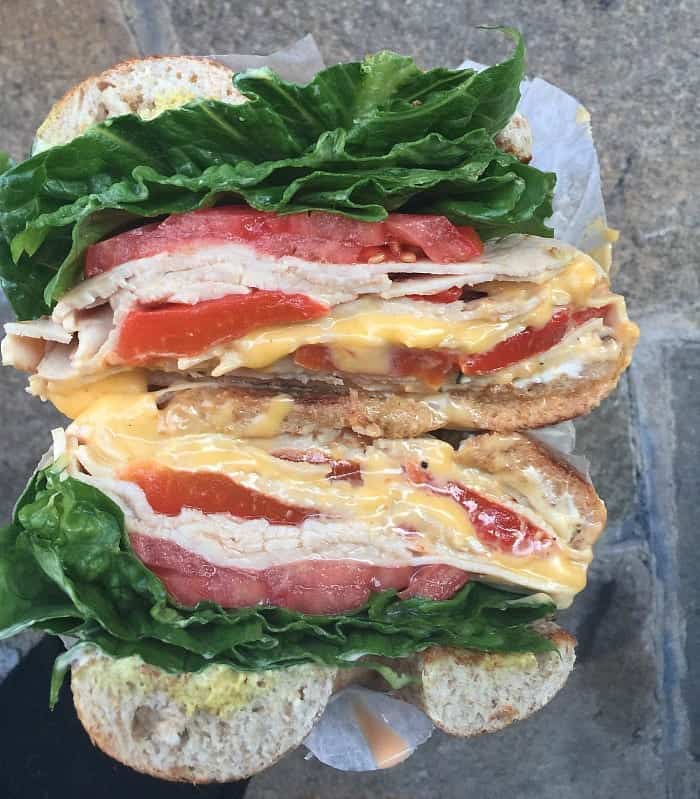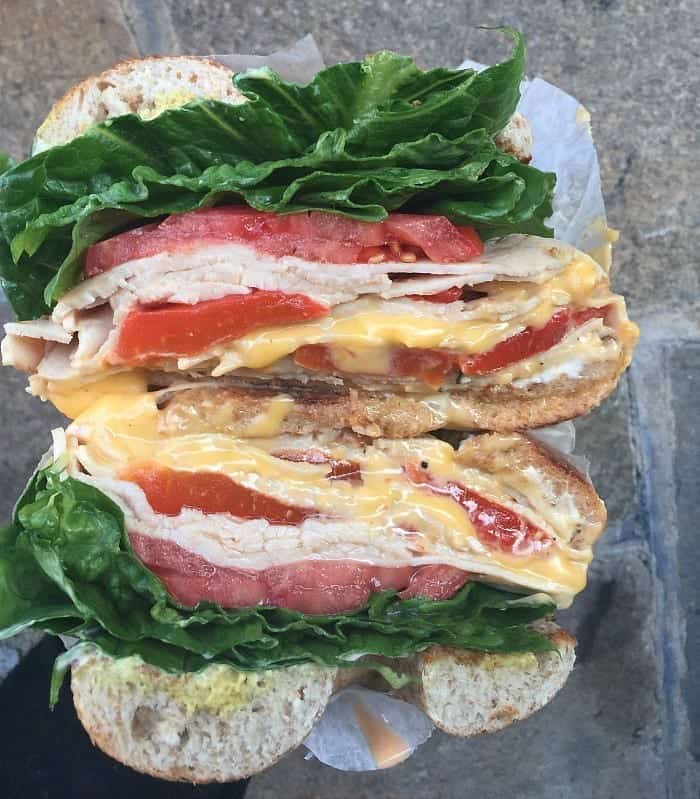 Another beauty from Space Market. Chose a Turkey, cheese, tomato, lettuce and red pepper bagel sandwich. You can't go wrong at Space Market!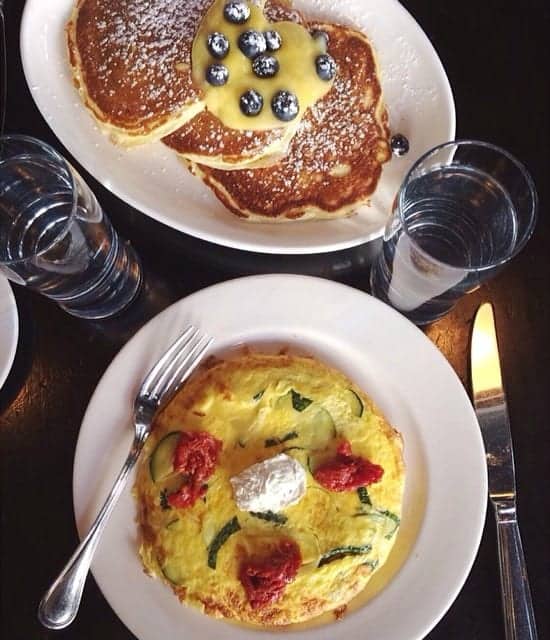 Laconda Verde has a beautiful Brunch. Lemon Ricotta Pancakes and gorgeous goat cheese zucchini fritatta. Great choice for brunch.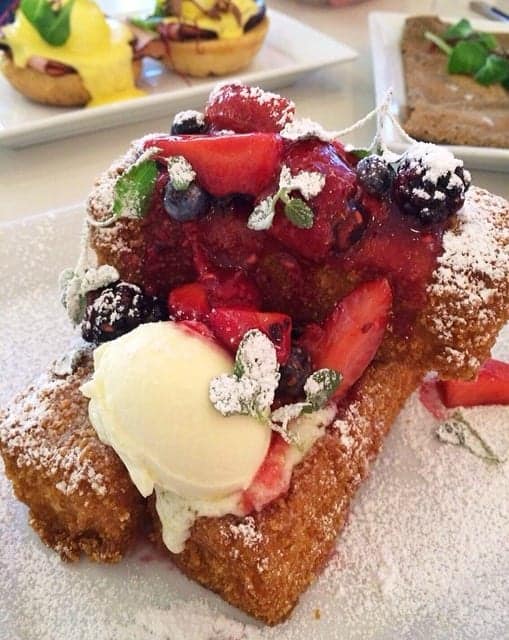 Sugar and Plumm is the most adorable bakery and cafe. This French Toast Stack was a huge hit. Love it here.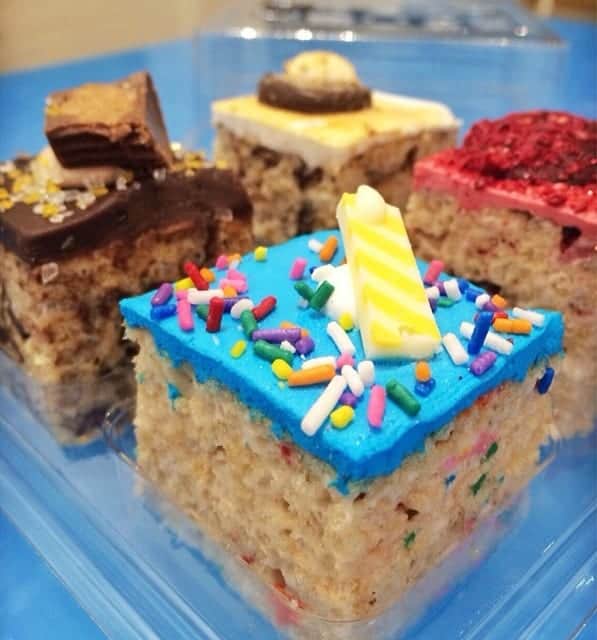 Treat House some adorable rice krispie treats! Such a cute place to visit for some sweet treats.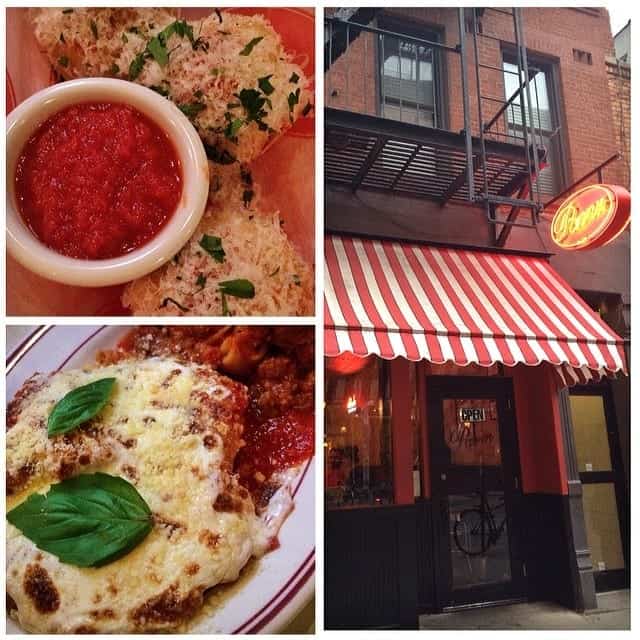 Parm is this adorable little Italian restaurant I visited a few years ago with Amanda. Their Chicken Parmesan was out of this world. Fun place to visit in Little Italy.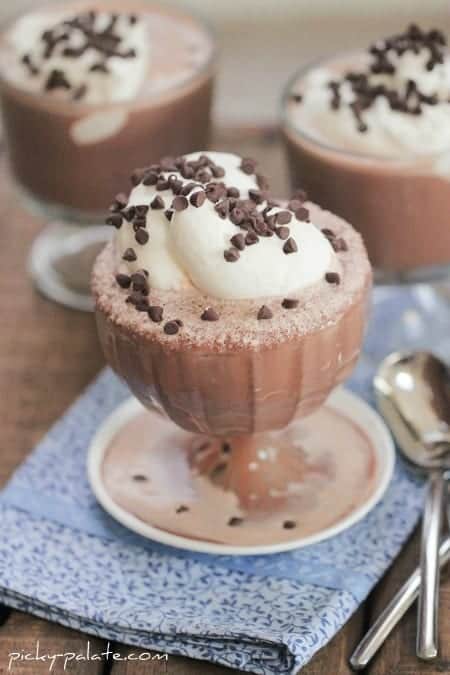 Serendipity 3 is also a must visit. Go for dinner and stay for their favorite Frozen Hot Chocolate! I re-created my own Frozen Hot Chocolate recipe. Click HERE.
Magnolia Bakery is an adorable bakery, fun to visit and sample all of their delicious cupcakes and baked goods.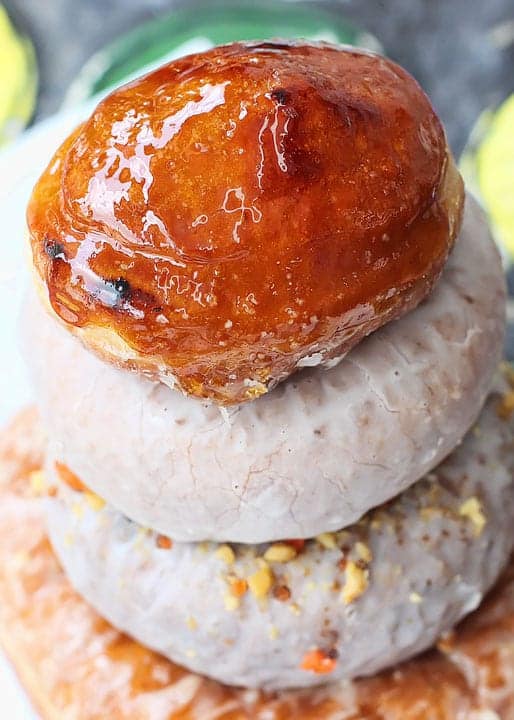 There is no better doughnuts than Doughnut Plant. Don't miss these bad boys. My favorite it the Creme Brûlée.
Pin To Your Favorite Travel Board!