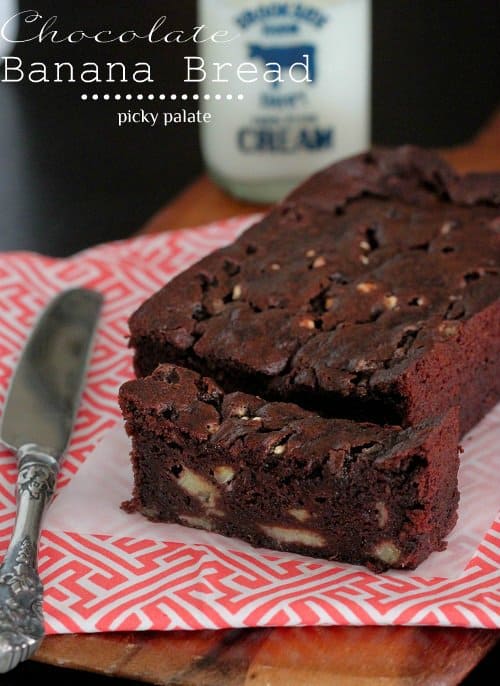 Here is the recipe I teased you with last Sunday on Instagram! Another that I was just playing around with and wasn't planning on sharing, but after one bite I knew I better take some photos. Too delicious not to share!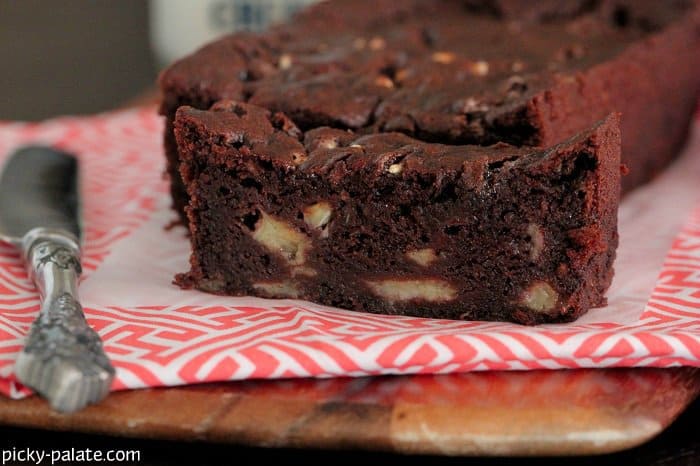 Wait until you see how perfectly fudgy and brownie-like the bread turns out. The boys and I were over the moon, lol! …..and you wanna know the best part?! This is a one-bowl banana bread. No fuss, I promise! Yippee!
If your family loves nuts, add a good handful of your favorite nuts to the batter. That would be a great addition.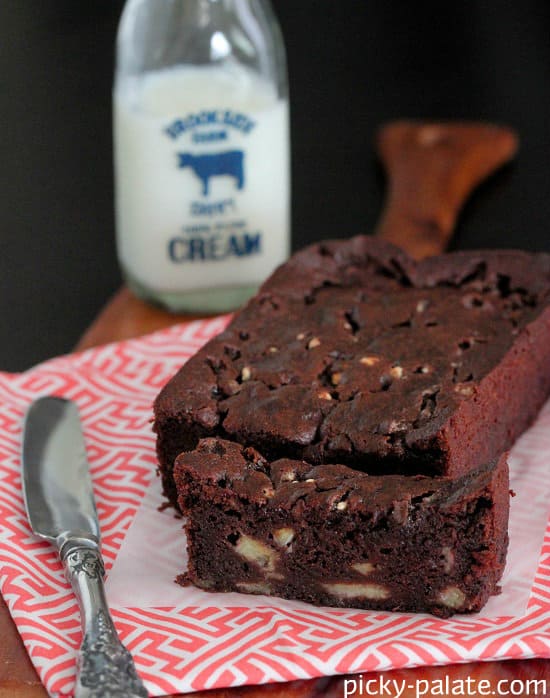 I added a good handful of those fabulous Marshmallow Bits I find at Target. You can leave them out if needed, or….if you can't find them you can order them online HERE.
Hope you'll enjoy this fun treat as much as we did!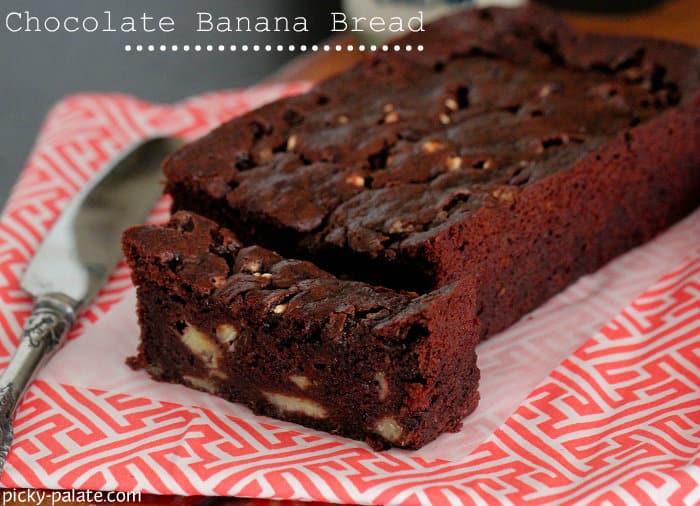 [ziplist]
Chocolate Banana Bread with Marshmallow Bits
***Recipe updated as of August 1st 2012.***
1 1/2 sticks (12 tablespoons) unsalted softened butter
1 cup granulated sugar
2 large eggs
1/2 cup sour cream
1 teaspoon pure vanilla extract
4 medium-large ripe bananas
1 1/2 cups all purpose flour
1/2 cup unsweetened cocoa powder
2 teaspoons baking soda
2 teaspoons baking powder
1/2 teaspoon kosher salt
1/2 cup Marshmallow Bits (optional)
1. Preheat oven to 350 degrees F. and spray 2 bread pans (9×4 or 9×5 inch) with cooking spray.
2. Cream butter and sugar into a large bowl until light and fluffy. Add eggs, sour cream and vanilla mixing to combine. Mash all bananas and add to bowl, mixing to combine. Add flour, cocoa, baking soda, baking powder, salt and marshmallow bits, stirring to combine. Divide between the 2 prepared bread pans, spreading evenly on top. Bake for 55-60 minutes or until baked through. Remove and let cool for 20 minutes before removing from pan. When cool, cut into slices and serve.
Makes 2 loaves
Note: If you want the bread to be dense and almost bread pudding like leave out the baking soda and baking powder and reduce the flour to 1 cup. For a more traditional textured bread pudding follow the recipe as stated 🙂