Chocolate Covered Cookie Peanut Butter Milkshake
This Chocolate Covered Cookie Peanut Butter Milkshake is over the top and so fun to share with your favorite person!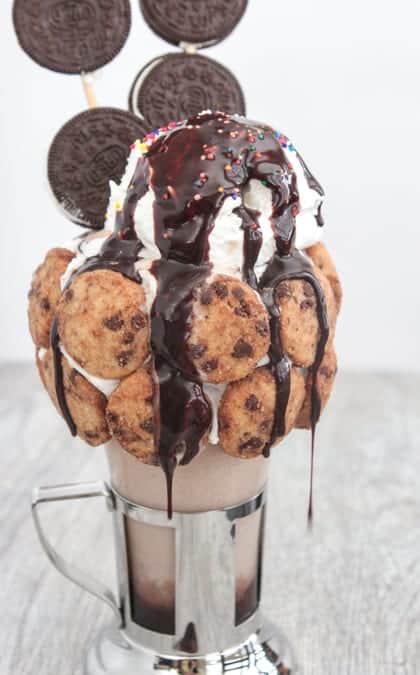 What a pleasure partnering with Hershey's  today to bring you a new recipe.  I thought what better way to use Hershey's Simply 5 Syrup than inside a fun milkshake.  Hershey's Simply 5 Syrup is a sweet and simple take on the Hershey's classic, now made with five simple ingredients. It contains no fructose corn syrup or artificial colors and flavors.
Hershey's brings back such great memories of my childhood.  Takes me back to movie nights with my family and friends while getting comfy on the couch with popcorn and ice cream.  I can vividly remember being in the kitchen giggling with my girlfriends drizzling Hershey's syrup over our ice cream while talking about school, boys and our plans for the evening.

I love sharing fun moments in the kitchen with my boys.  There's something so bonding and wonderful when we're all in the kitchen together preparing a great meal or fun treat.  I can always count on Hershey's Simply 5 Syrup for simple dessert ideas that everyone enjoys.  My boys like to be the ones to drizzle the sauce over our dessert!  It's an easy way to share a sweet and simple moment with your own family.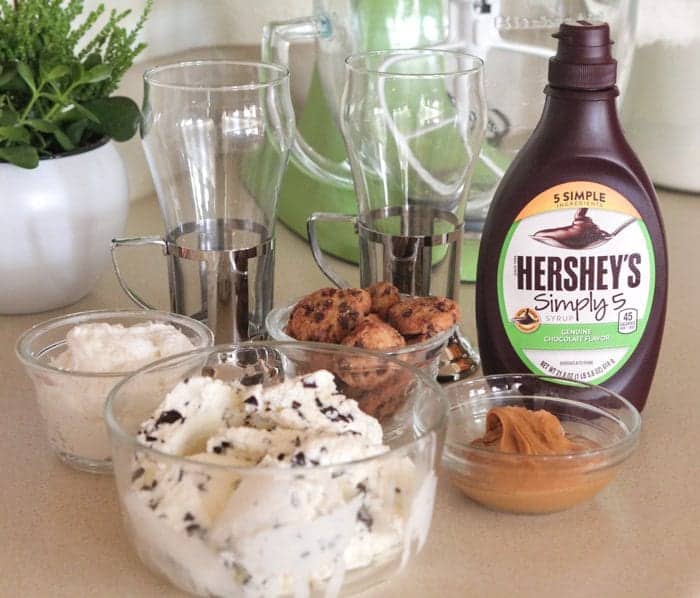 Here's some of the ingredients you'll need for my milkshake.  I also used a little milk, cream filled chocolate cookies and whipped cream for the top not photographed.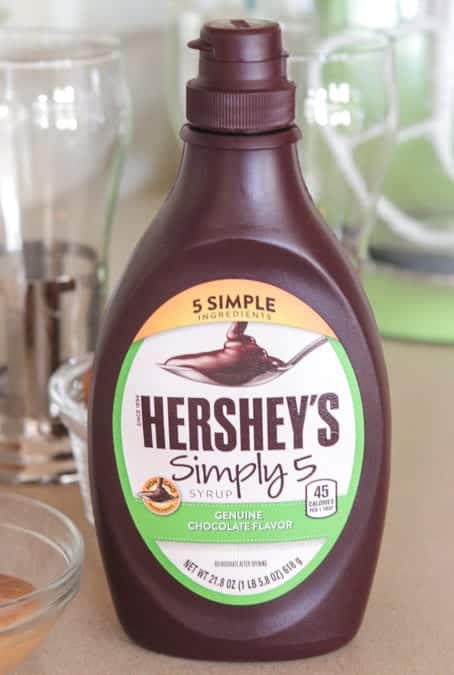 5 things we love using Hershey's Simply 5 Syrup on are as follows:  ice cream, strawberries and bananas, a tall glass of milk and graham crackers spread with peanut butter.  So many fun options!
Be sure to follow Hershey's on Facebook and Twitter!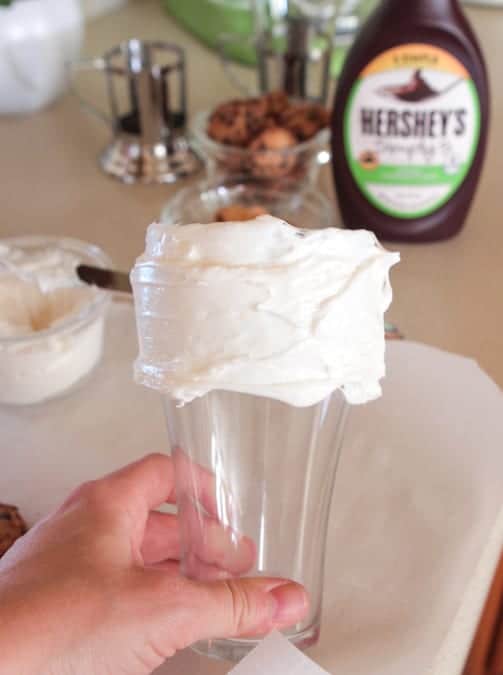 To make my fun milkshake, find some tall milkshake glasses and spread outside top portion with a little bit of white frosting.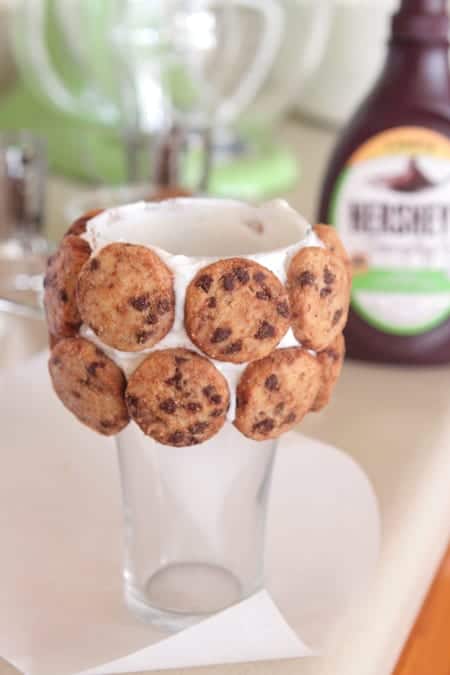 I used some mini chocolate chip cookies to go around my edges.  You could use chocolate chips, mini candy bars, sprinkles and anything else you think would be good.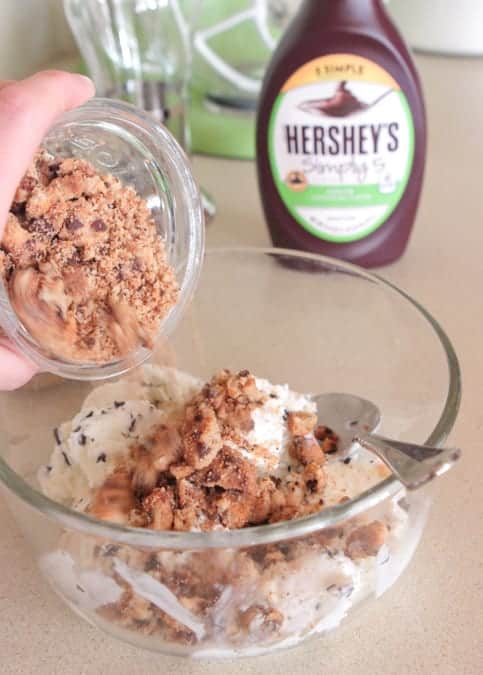 You can make this milkshake in a blender if you'd like, but I prefer mine a bit more chunky so I just stir my ingredients in a mixing bowl.  Whatever your preference works!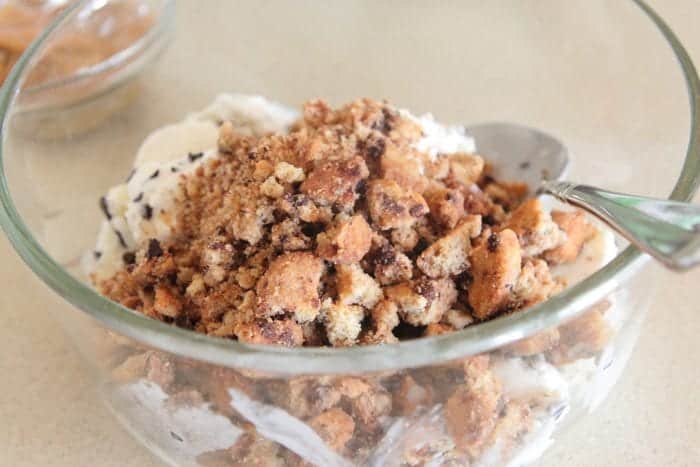 Place your cookies into the ice cream bowl.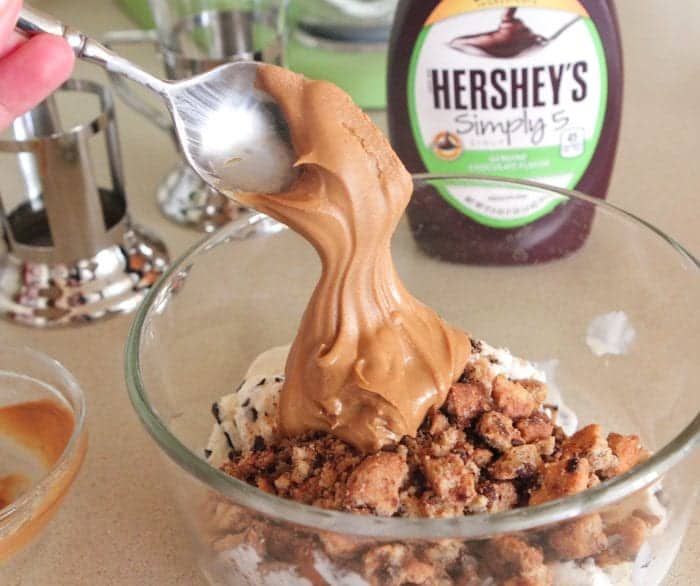 Add some creamy peanut butter.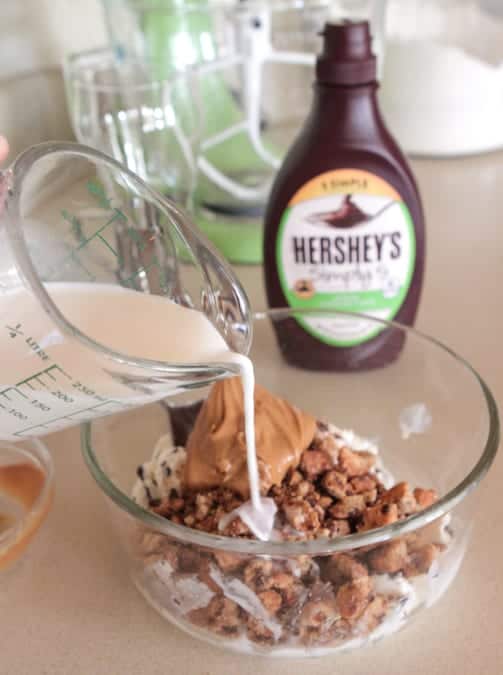 A little milk up next.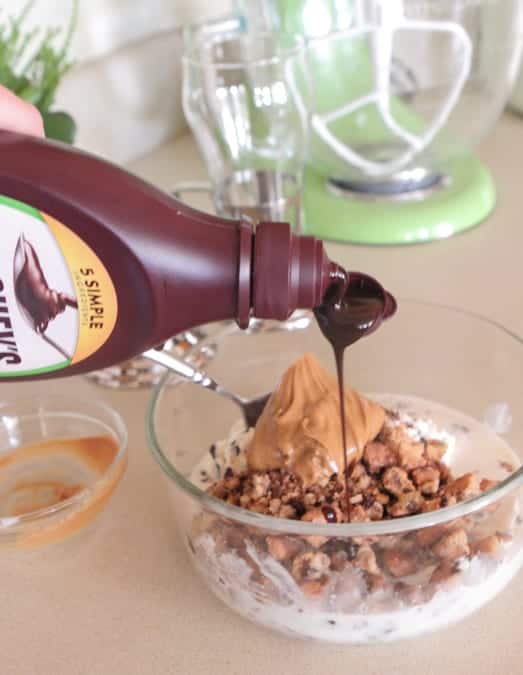 Hershey's Simply 5 Syrup up next!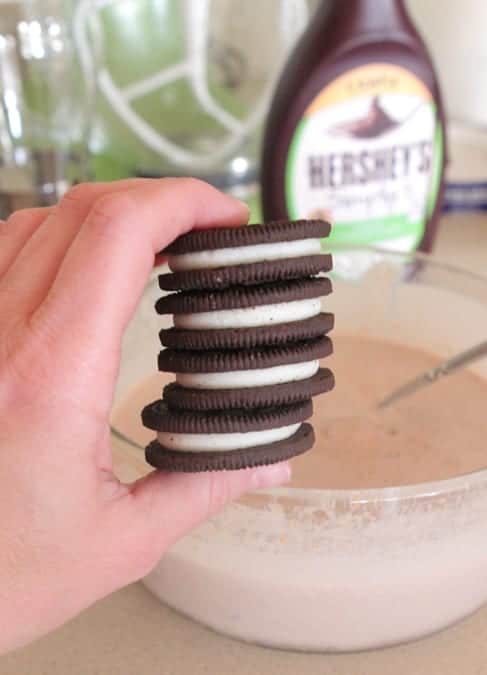 Crush some cream filled chocolate ookies into the bowl and stir.  Transfer your milkshake to your glasses and serve.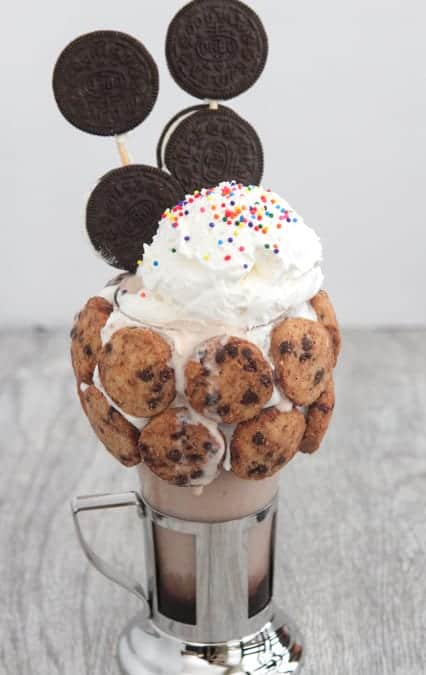 Your guests are going to love this whimsical milkshake.  I placed a couple of cream filled chocolate cookies onto skewers before serving.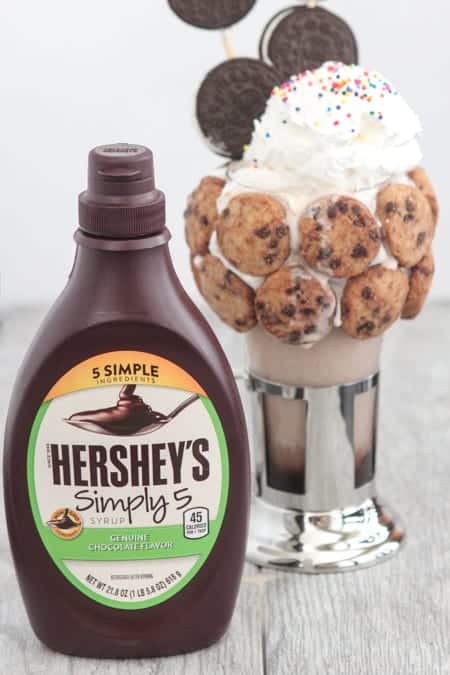 Love!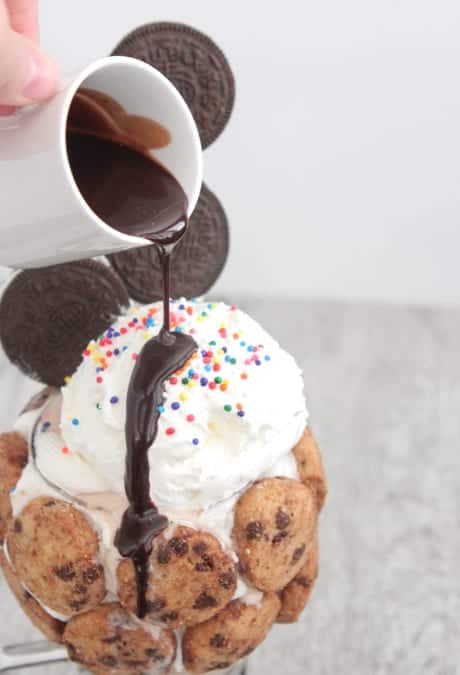 For the "chocolate covered" part of the milkshake, take your Hershey's Simply 5 Syrup and drizzle over top 🙂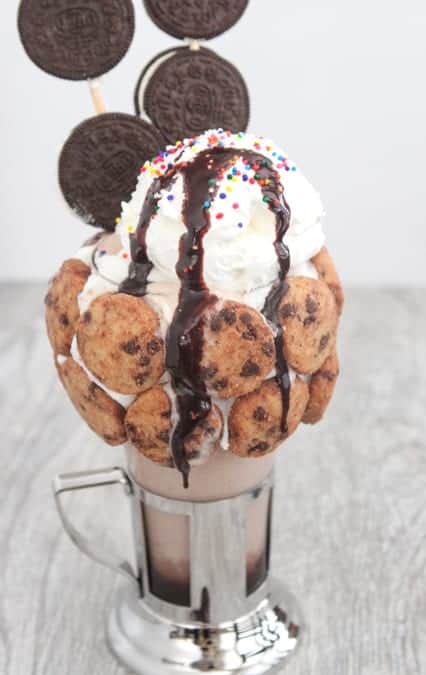 Much better.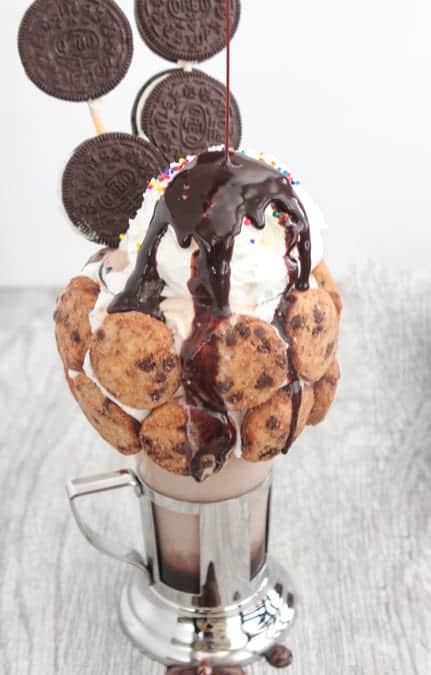 Ok, just a little more.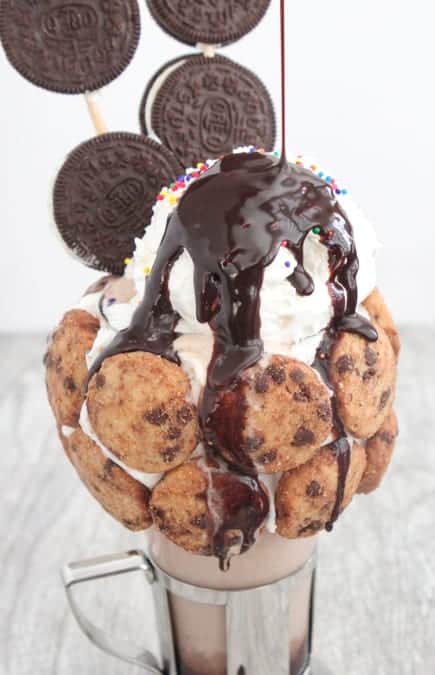 [ziplist]
Chocolate Covered Cookie Peanut Butter Milkshake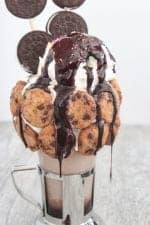 Prep time: 10 min | Cook time: 0 min | Total time: 10 min
Ingredients
1 cup

prepared white frosting (for outside of milkshake glass)

30

mini chocolate chip cookies (for outside of milkshake glass)

6 cups

chocolate chip vanilla ice cream

1/2 cup

milk

1/4 cup

creamy peanut butter

1 cup

coarsely crushed crunchy chocolate chip cookies

1 cup

coarsely crushed cream filled chocolate cookies

2 tablespoons

Hershey's Simply 5 Chocolate Syrup

1 cup

whipped cream for top of milkshake

4 tablespoons

Hershey's Simply 5 Syrup

, for drizzling tops of milkshakes
Directions
Frost top part of milkshake glass with white frosting then arrange chocolate chip cookies over top. Turn upside down and refrigerate to set cookies on frosting.
Place ice cream, milk, peanut butter, cookies and Hershey's Simply 5 Syrup into a mixing bowl. With spoon, stir to combine and transfer to milkshake glasses. Top with a dollop of whipped cream and chocolate sauce if desired. Place cream filled chocolate cookies onto a skewer to place in milkshake for another garnish if desired.
Makes 2 Servings
Disclaimer: This post is in partnership with Hershey's. All thoughts and opinions are 100% my own. Thank you for supporting the brands that make Picky Palate possible.


FOLLOW PICKY PALATE ON INSTAGRAM! Show me what recipes you're making from Picky Palate by using #pickypalate.
Other recipes you may enjoy...
Comments