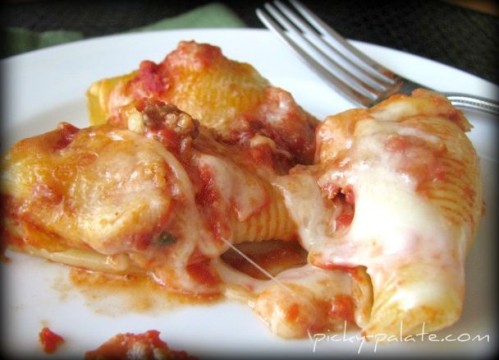 Anyone else feel like their tivo is on major overdrive?! American Idol Finale, The new Bachelorette Season and So You Think You Can Dance coming soon…..phew I hope I can keep up! Those are some of my very favorites, should be fun.
Stuffed shells are one of life's greatest pleasures in my humble opinion. I could eat them all the time if my hips could handle them! This is a killer recipe for shells that my whole family loved. For the boys, I cut the shells up a bowl and they thought it was lasagna. Whatever works, right? This recipe feeds a small army, so freeze one batch for later, you'll be glad you did! Enjoy.
Chorizo and Italian Sausage Stuffed Shells
2 boxes jumbo shells
1 lb Sweet Italian Sausage
1 lb chorizo
1 clove garlic
Pinch of red pepper flakes
2 26 oz cans whole tomatoes (pulsed in food processor until smooth)
1/4 teaspoon salt
1/4 teaspoon fresh ground black pepper
2 Tablespoons extra virgin olive oil
4 Cups fresh baby spinach, chopped
Pinch of salt
2 15 oz containers of Ricotta Cheese
1 Cup grated parmesan cheese
1 Cup shredded mozzarella cheese
1 egg
Pinch of salt and fresh ground pepper
2 Cups shredded mozzarella cheese
1. Preheat oven to 350 degrees F. Cook pasta shells according to package directions. Drain and set aside. I brush mine with olive oil to keep them from sticking.
2. Place chorizo and sausage into a large skillet over medium heat. Cook until browned and crumbled. Drain and return back to skillet. Stir in garlic over medium heat for 1 minute then add in red pepper flakes, tomatoes, salt and pepper. Reduce heat to low and simmer.
3. Place olive oil into a medium skillet over medium heat. Add in spinach and garlic; cook until wilted down. Transfer to a large mixing bowl. Stir in Ricotta, Parmesan, Mozzarella, egg, salt and pepper; mix well.
4. Spoon about 1/2 Cup pasta sauce into bottom of 2 9×13 inch baking dishes. Spoon ricotta filling (about 2 Tablespoons) into each cooked shell then place shells seam side down into baking dishes. I think I filled 2 9×13 inch baking dishes plus a 7×11 inch with this recipe. Top shells evenly with sauce then shredded cheese. Bake for 25-30 minutes or until bubbly and hot. *The shells make great freezer meals*
______________________________
Up next are some cookies that will knock your socks off! Come back soon, have a great week!