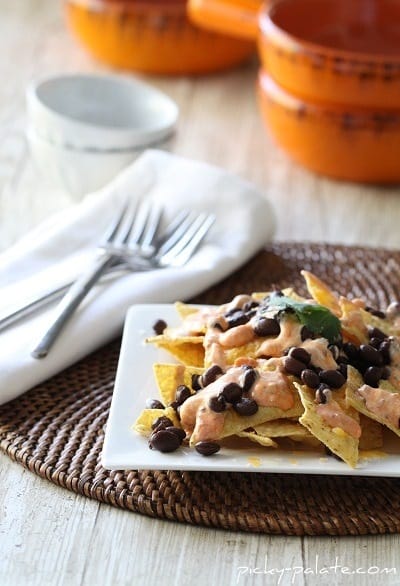 This is a compensated review by BlogHer and Kraft.
With Cinco de Mayo right around the corner, these Creamy Salsa and Black Bean Nachos are perfect to add to your fiesta!
Appetizers are some of my favorite recipes to develop. They are generally quick and easy not to mention absolutely delicious. I've used Philadelphia Cream Cheese in my speedy nachos that I mix with mild prepared salsa for an incredible creamy topping. I top the tortillas with black beans and cheddar cheese which makes for a delightful creamy Mexican style plate of nachos.
The Real Women of Philadelphia are looking for your best appetizers this week that use Philadelphia Cream Cheese. Four $25,000 winners will be chosen!
The winners will also:
Contribute to a Cookbook
Star in their very own Cooking Videos
Make Publicity Appearances
A chance to become a Guest Contributor to national food magazines
And become $25,000 richer!
Sweepstake runs from April 19 to May 9th.
Visit the Official Site HERE and Visit the BlogHer Round Up Page HERE
While you are dreaming up appetizer recipes, use my simple creamy nachos for some inspiration 🙂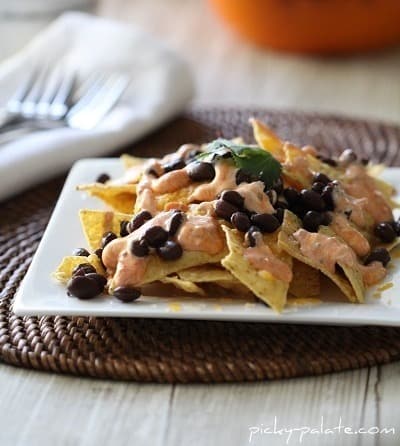 [ziplist]
Creamy Salsa and Black Bean Nachos
One small bag of Tortilla Chips
2 cups shredded cheddar cheese
One 15-ounce can black beans, drained and rinsed
3-ounces Philadelphia Cream Cheese
2 cups prepared mild salsa
Sprig of cilantro for garnishing
1. In batches, place tortilla chips onto microwave safe plates. Sprinkle with cheese and black beans. Microwave until cheese is melted, about 60-80 seconds.
2. Place cream cheese and salsa into a small bowl and mix to combine. Place dollops over nachos and serve warm.
Makes 8 to 10 servings
___________________________