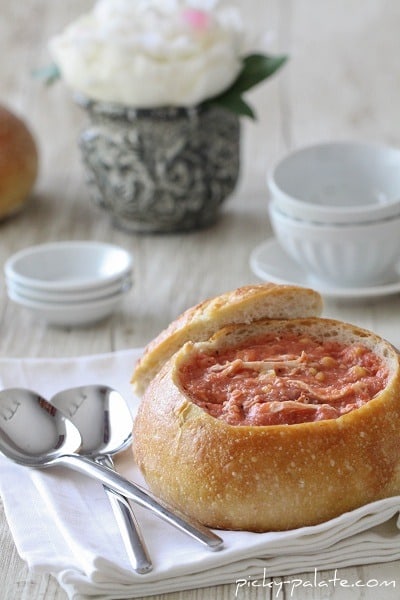 Creamy soup without the guilt, yes you heard me correctly 🙂 Have you ever used buttermilk in place of heavy cream for cream soups? Well, it works beautifully and really cuts down on fat and calories, woohoo!
I will be the first to admit that I don't use it all the time, heaven knows I love my heavy cream, but sometimes it is a great option….like in this speedy tomato soup that's done in about 15 minutes.
I love picking up some nice bread bowls from the grocery store to serve homemade soup in. Feels kinda like you are eating at a restaurant, you know? I added a small can of Mexicorn from Green Giant that has some red and green peppers mixed in. If you can't find it at your grocery store, just a normal can of corn is fine 🙂
Hope you all enjoy!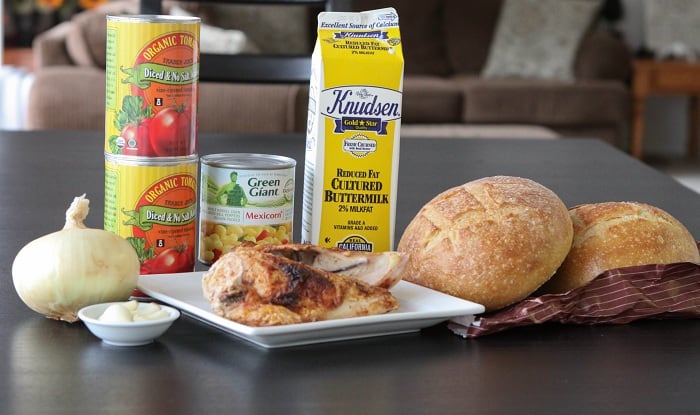 Here's your simple line-up. Nothing too crazy 🙂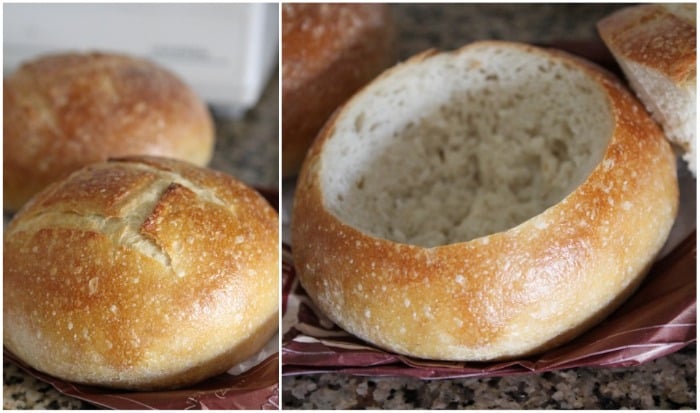 Mmmm, bread bowl! Cut out the centers and you are ready to go.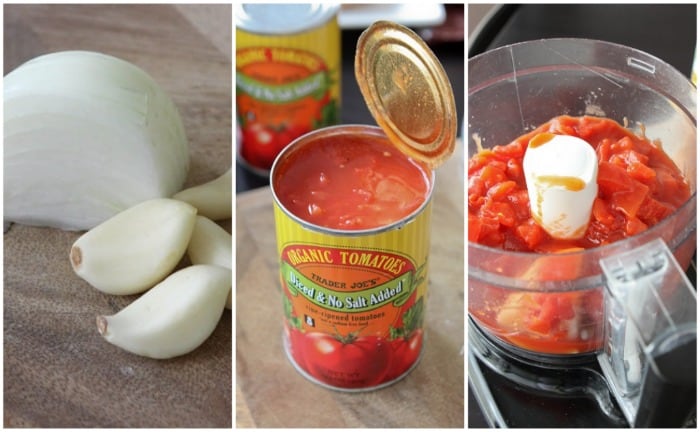 A little onion, garlic and two cans of diced tomatoes 🙂 Place them all into the food processor, mixing until smooth.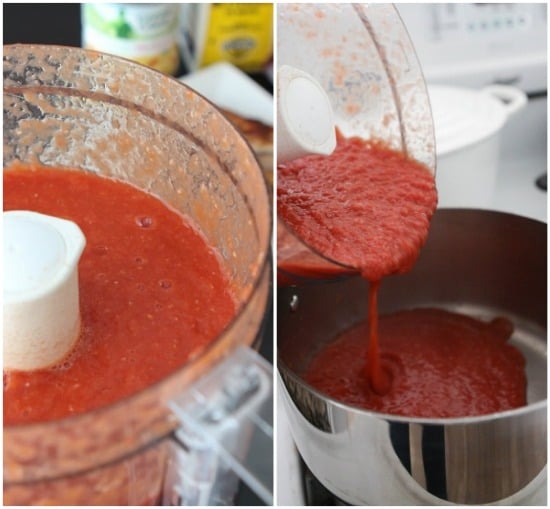 They'll be nice and pureed like so.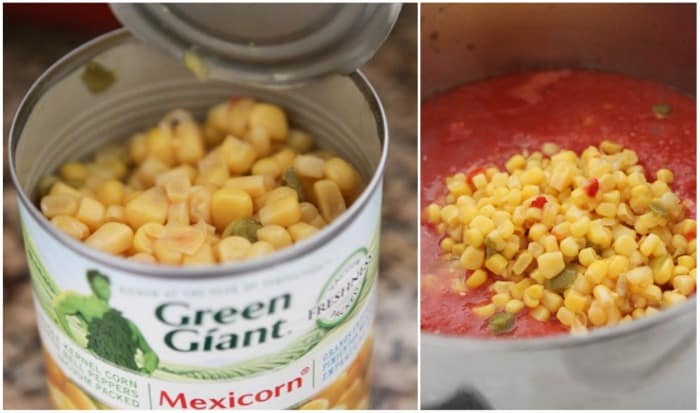 Add your corn.

…and your seasonings.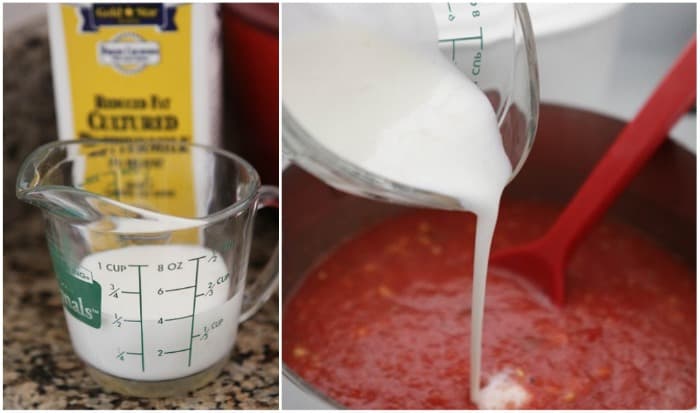 Time for the buttermilk.

Add your shredded chicken and bacon….and it's time to eat!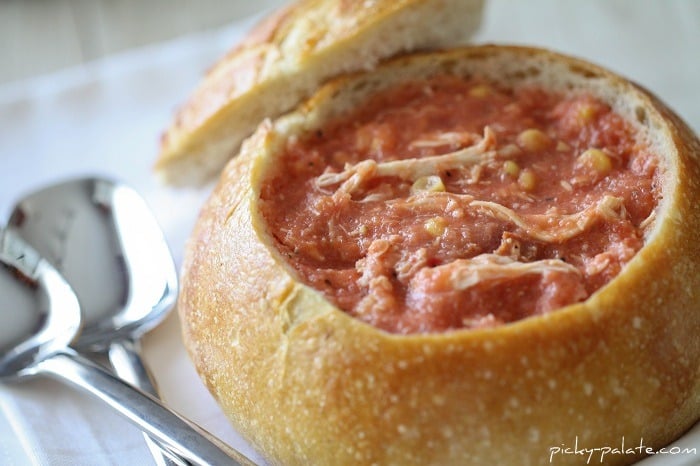 Place soup inside your bread bowl, mmmmm!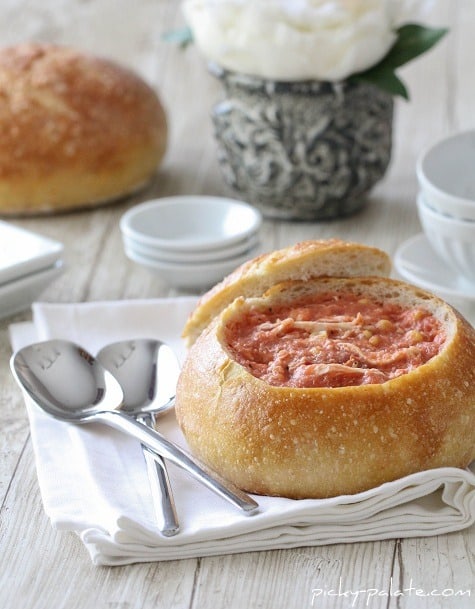 [ziplist]
Creamy Tomato Soup with Corn, Chicken and Bacon
1/4 cup white onion
4 cloves garlic
Two 15-ounce cans diced tomatoes
One 8-ounce can Mexicorn (a blend of corn with red and green bell peppers)
1 teaspoon kosher salt
1/2 teaspoon freshly ground black pepper
1 teaspoon ground cumin
1/2 cup buttermilk
1 cup chicken broth
2 1/2 cups cooked shredded chicken breast (I used a rotisserie chicken and shred it)
1 cup cooked crumbled bacon
Bread bowls if desired
1. Place onion, garlic and tomatoes into a food processor or blender. Pulse until smooth. Transfer to a large saucepan over medium-low heat. Add corn, stirring to combine then add salt, pepper and cumin, stirring again to combine. Stir in buttermilk, chicken broth, chicken and bacon pieces until combined. Reduce heat to low until ready to serve. Serve inside hollowed out bread bowls if desired.
Makes 6 servings
_______________________
Come see me talk about Living my Dream Job over at Daily Dose of Sugar Mama!!
Have a great rest of your week, come back soon!!