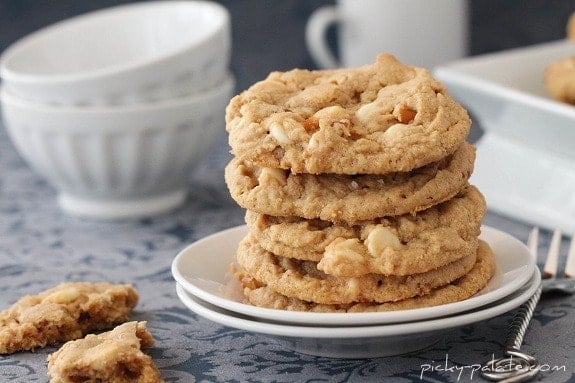 Not sure what my infatuation is with peanut butter cookies lately, can NOT get enough. This recipe was inspired by another little jar of famous peanut butter from Spread Restaurant called….White Chocolate Pretzel Peanut Butter. Needless to say I ate the whole jar with nothing but a spoon in a few short days. After it was gone I knew I had to create a cookie with the same flavors.
My Pretzel M&M Brownie Bark recipe is posted today on Smithfield.com, do make sure you come take a peek!!
Here you have my newest love….Double White Chocolate and Pretzel Peanut Butter Cookies with Sea Salt. Don't try to say that 3 times fast 🙂 Enjoy!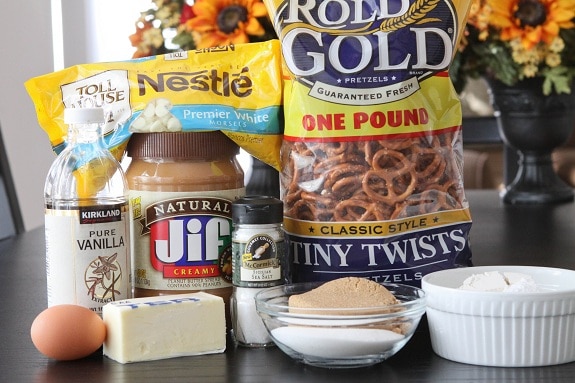 Here's your line up.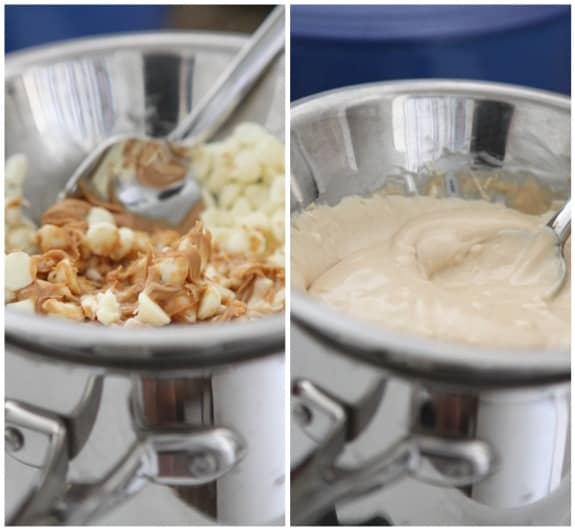 Break out a small saucepan full of lightly boiling water and place a heat proof bowl over it. Add your white chips and 2 tablespoons of peanut butter and melt until smooth. This will be added to your dough, mmmm!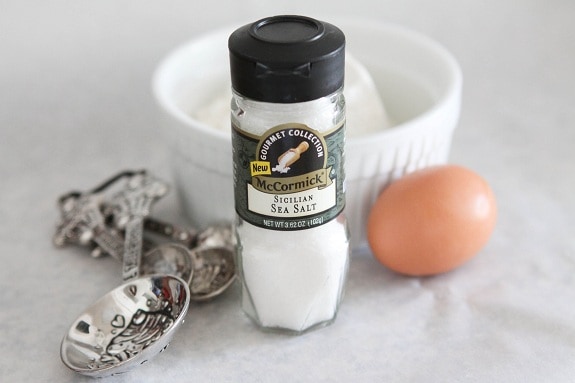 Here's my secret ingredient….McCormick Gourmet Sicilian Sea Salt sprinkled on top of each cookie before baking. Brace your taste buds for that sweet and salty combo, it's incredible here!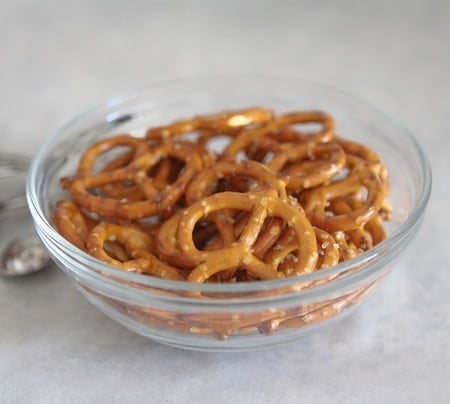 Take your pretty pretzels and crush them into pieces. The kids will love to help with this 🙂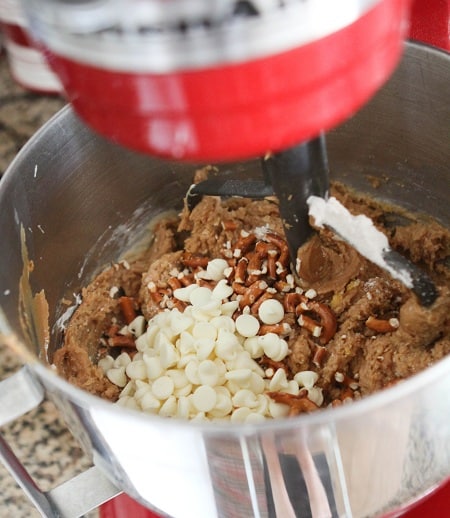 So, you've added your white chocolate and creamy peanut butter to the dough, now you add your dry ingredients along with the white chips and pretzels pieces. Give her a good mix!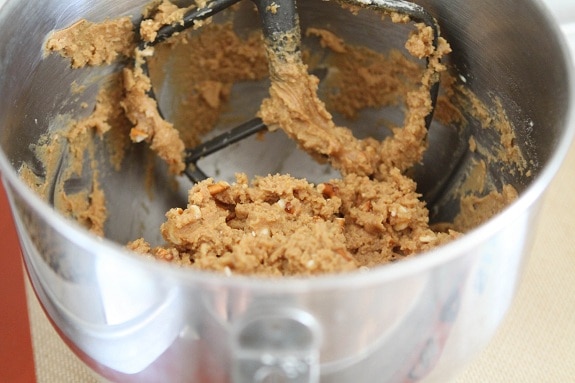 You'll get something like this.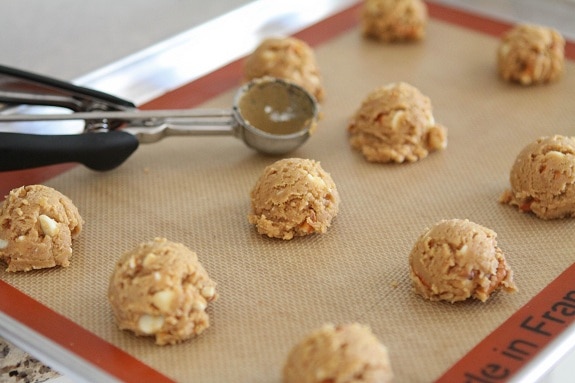 Scoop onto your favorite silpat or parchment lined baking sheet and press down to about 1/2 inch thick. This way they bake better.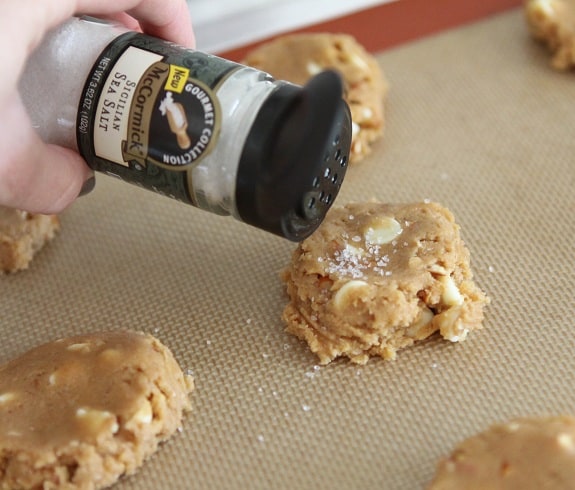 Mmmmm, sprinkle on a touch of McCormick Gourmet Sicilian Sea Salt.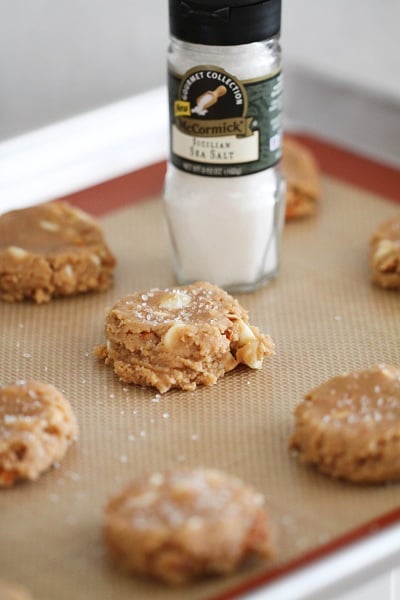 Mmmm 🙂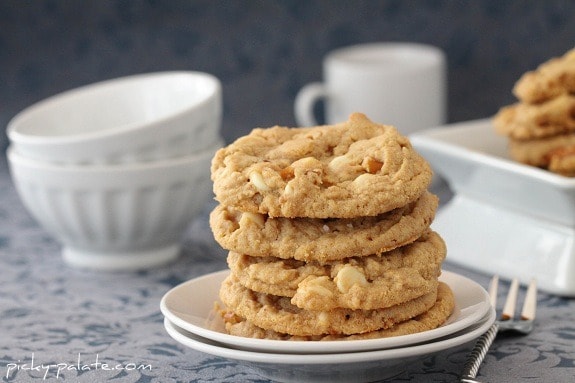 Ta'da! These are right up there in my top 5 cookies. Love them to pieces! Hope you enjoy.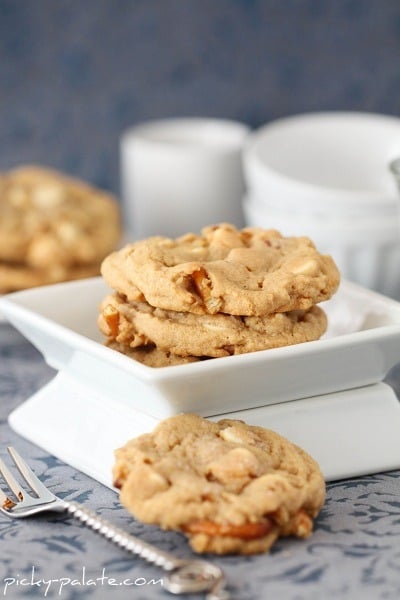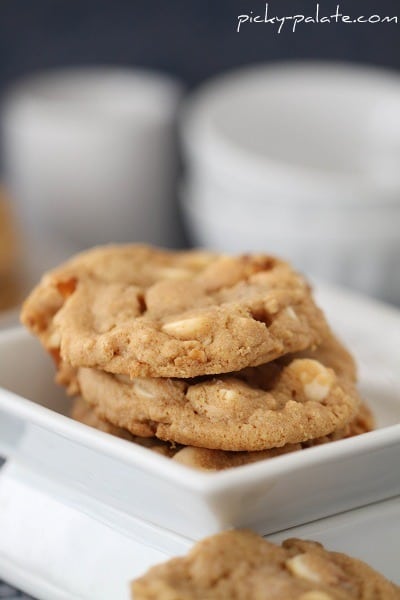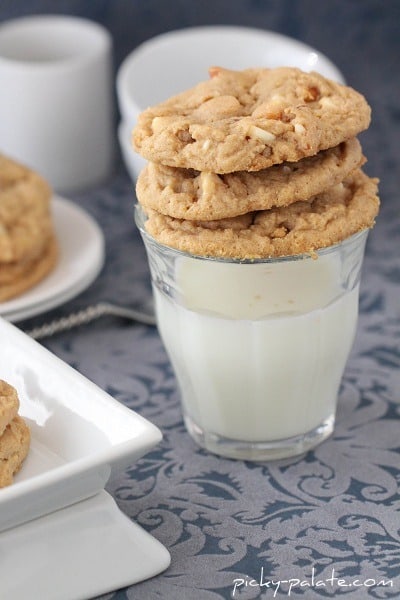 [ziplist]
Double White Chocolate and Pretzel Peanut Butter Cookies…with Sea Salt
1 stick softened butter, 8 tablespoons
1/2 cup granulated sugar
1/2 cup packed light brown sugar
1 cup white chocolate chips, to melt
1 1/4 cups creamy peanut butter (reserve 2 tablespoons to add to melting white chips)
1 large egg
2 teaspoons vanilla
1 1/4 cups all purpose flour
1/2 teaspoon baking soda
1/4 teaspoon kosher salt
1 cup broken pretzel pieces
1 Cup additional white chocolate chips
1. Preheat oven to 350 degrees F. Cream butter and sugars until light and fluffy. Melt white chocolate chips and 2 Tablespoons peanut butter over a double boiler until melted. Add melted chocolate chips and remaining peanut butter to beaten butter and sugars. Beat in egg and vanilla.
2. Place flour, baking soda and salt in bowl; mix to combine. Add to wet ingredients until just combined then pour in pretzels and additional white chocolate chips. With a cookie scoop, scoop dough onto a silpat or parchment lined baking sheet. With the palms of your hand, gently press down each cookie to about 1/2 inch in thickness. Sprinkle each cookie with a touch of sea salt. Bake for 12-15 minutes or until edges become golden and slightly crisp. Let cool for 10 minutes on baking sheet before removing.
3 dozen cookies
______________________________
*Disclaimer: I am part of the McCormick Real Gourmet Blogger Program and am being
compensated however the thoughts and recipe are my very own.
Happy Baking, come back soon!