Sharing all about the Droid Depot Experience, Star Wars Galaxy's Edge! We had so much fun building our own droid, we'll be showing you each step we went through at the Droid Depot.
Droid Depot
The Droid Depot is one of many things you can do at Star Wars Galaxy's Edge that opened May 31, 2019 at Disneyland Park. These little personalized droids are so much fun to play with. My boys have had a blast rolling him throughout the house with the remote control.
Check out my post, The Ultimate Guide To Star Wars Galaxy's Edge for more helpful information. Follow Disney Hungry on Instagram for travel tips and the Best eats at Disneyland Park!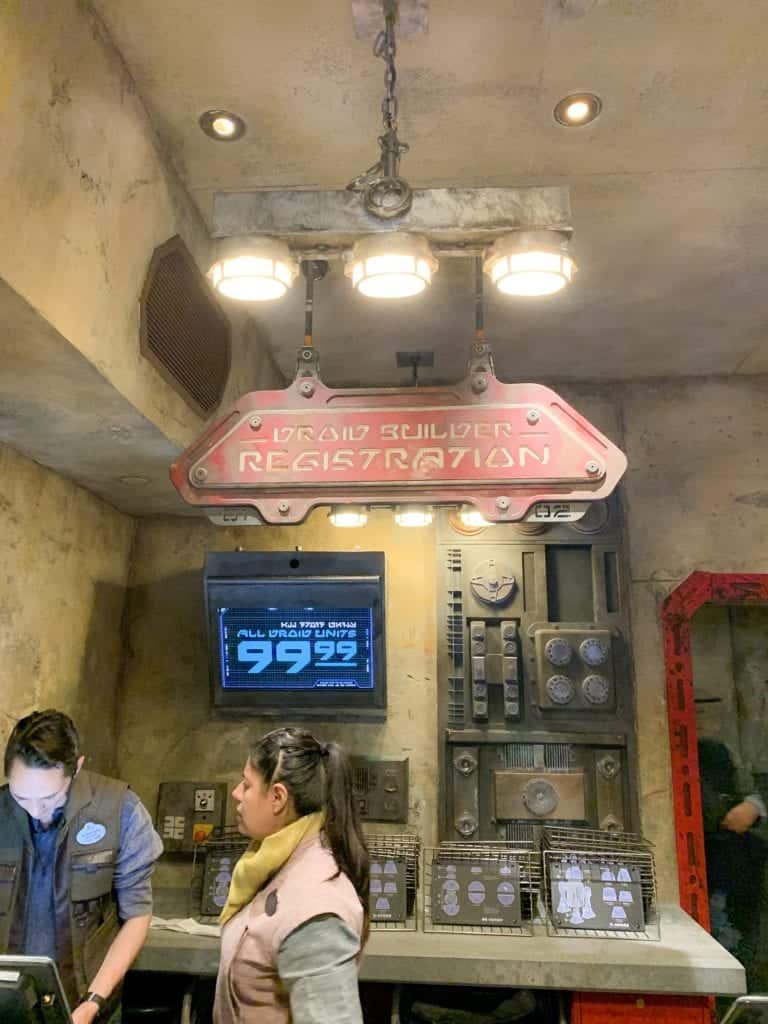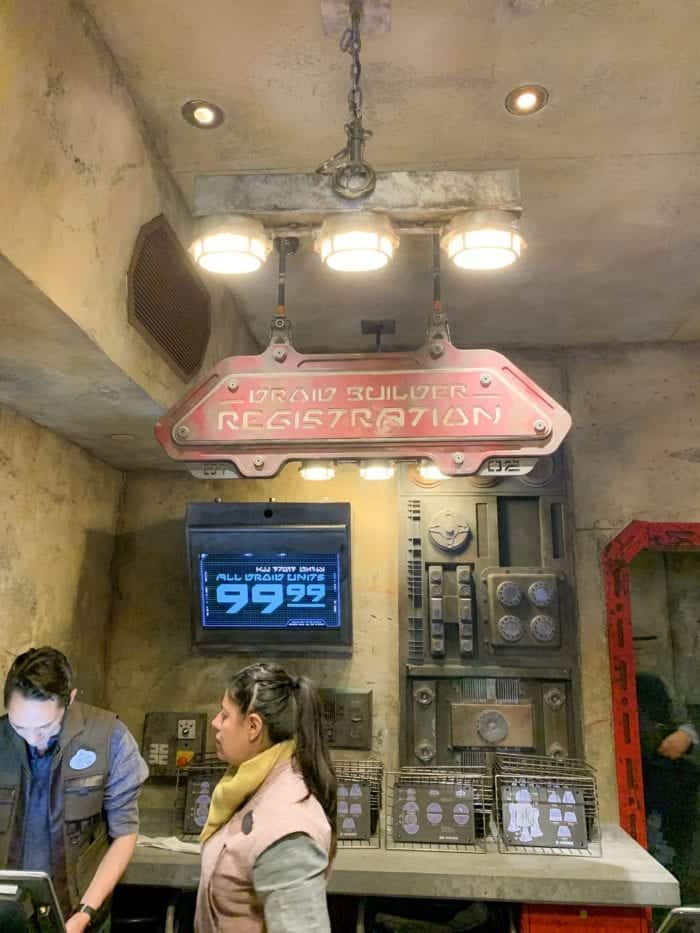 Where Is Droid Depot Located?
You can find Droid Depot next to Savi's Workshop Handbuilt Lightsabers and behind the Milk Stand in Galaxy's Edge. Once you reach the register area shown in the photo above, you pay for your droid then build.
How Much Does It Cost To Build A Droid?
The droids start at $99 to build. We built the basic $99 droid and he's awesome as is.
$99.99 per astromech droid unit, plus tax
Carry box and instructions included
Various personality-affiliation chips and other accessories are available for an additional charge
Age Recommendation: 3+
The experience area is limited to the builder and one Guest—at least one person in the party must be age 14 or older
Custom astromech droid units are nonrefundable and are not eligible for Annual Passholder or other discounts
Can I Make A Reservation to Droid Depot?
Currently there are no reservations available to the Droid Depot. There is line area outside the shop for guests to line up. We waited about 20-30 minutes to get up to the register to get started. I am guessing there will be reservations once Galaxy's Edge is open to the public. More to come as I find out more information.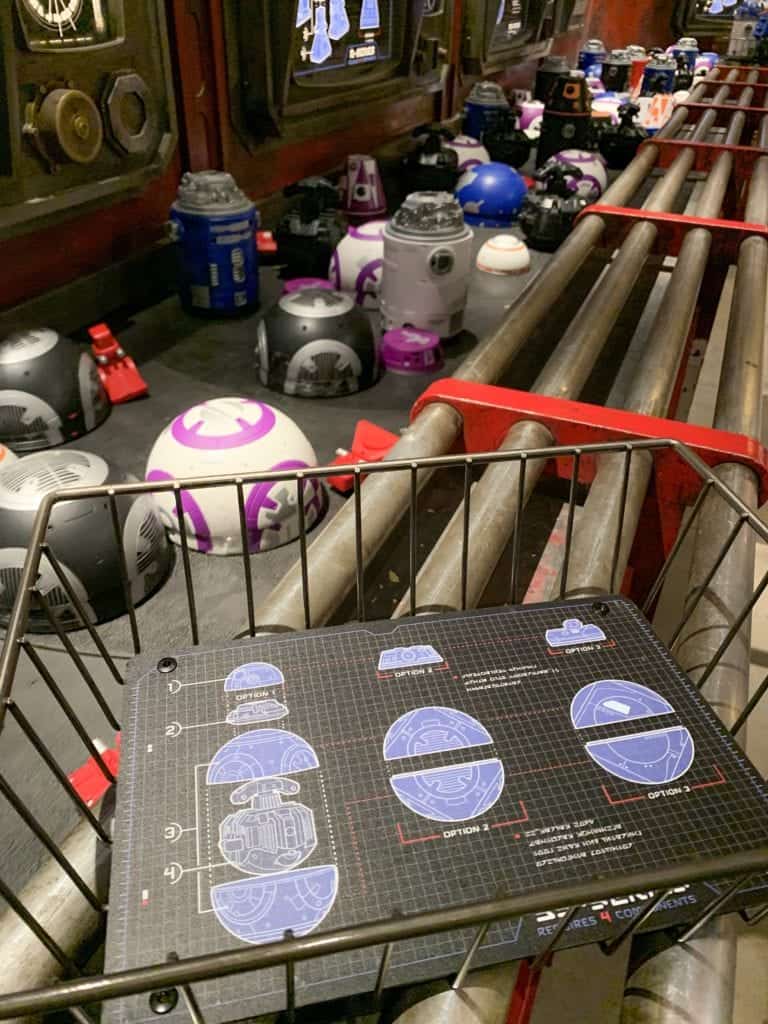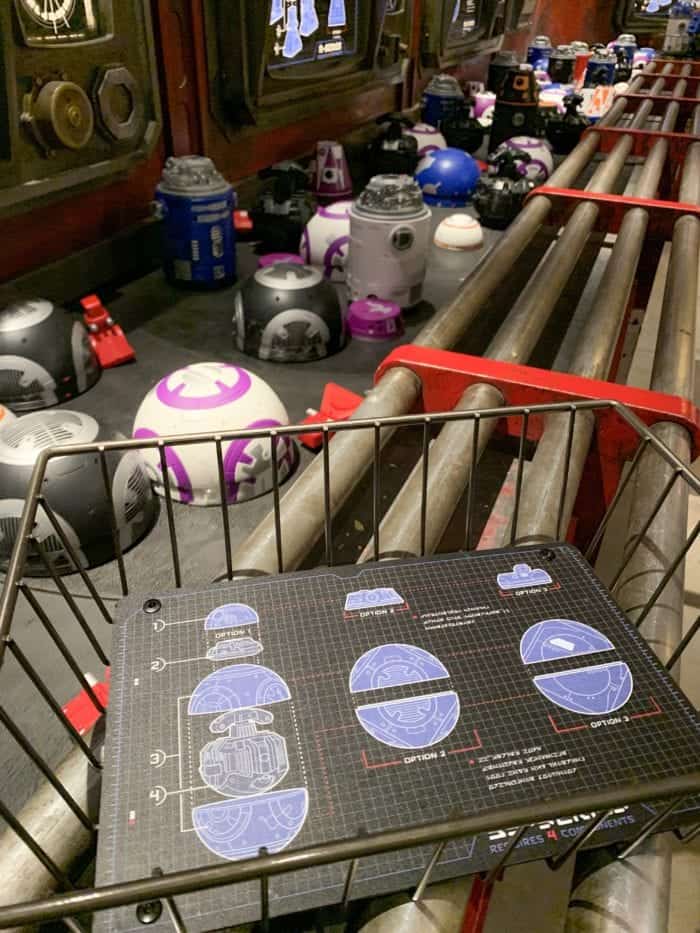 What Kind of Droid Can I Build?
Select from a colorful variety of components to customize your droid as they roll by on the shop's conveyor belt:
BB-Series
Dome
Dome Connection Plate
Body Sphere
Motivator
R-Series
Dome
Body
Center Leg
Set of Side-Legs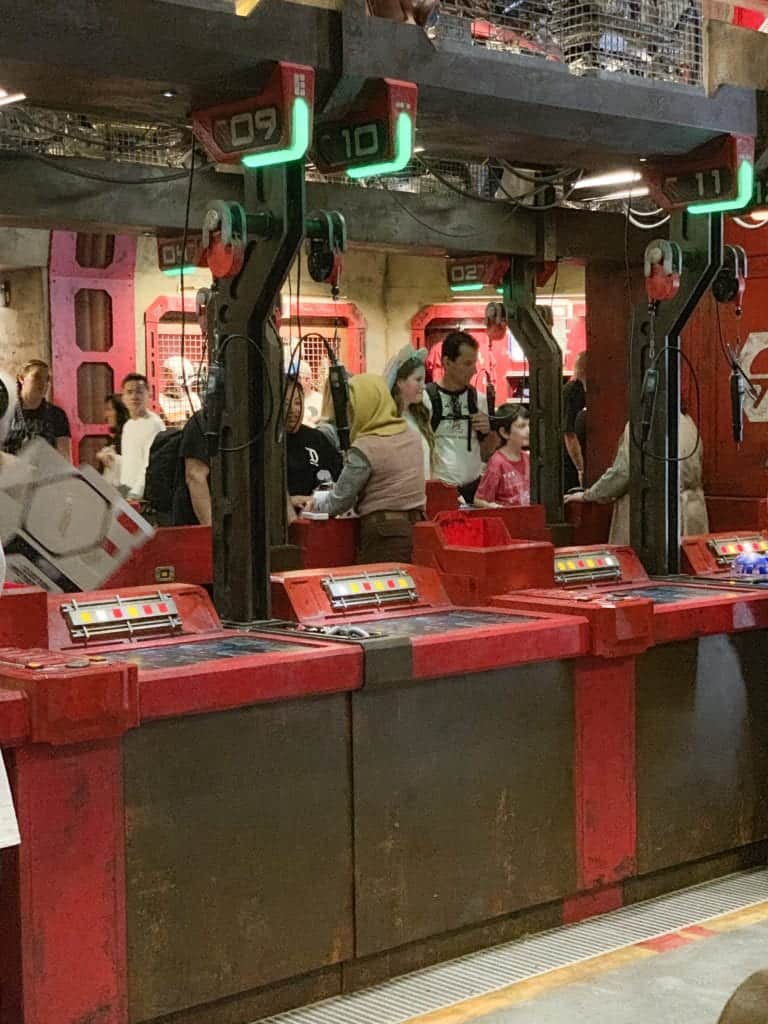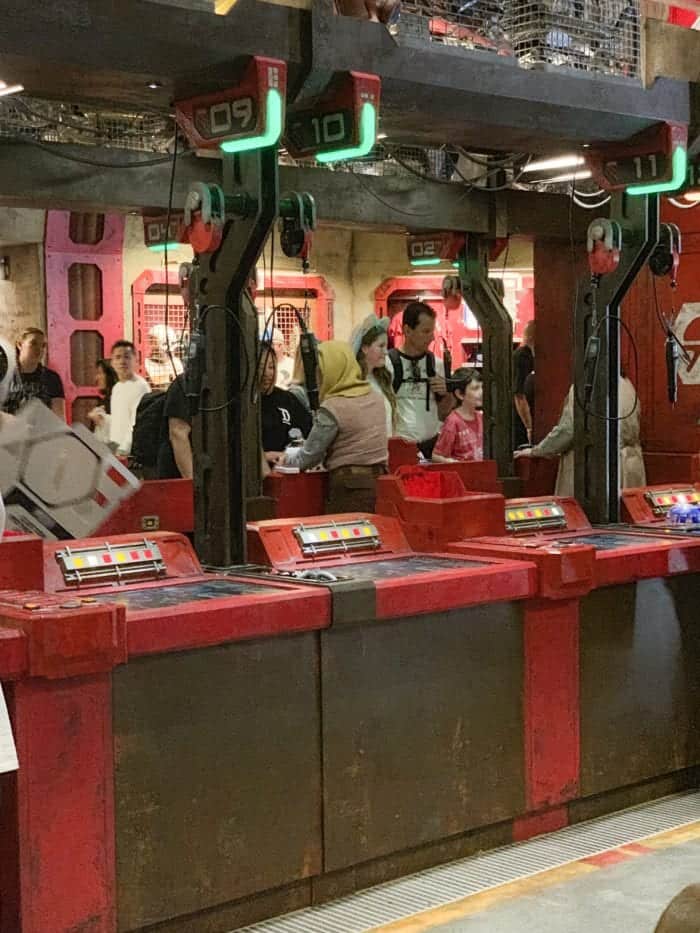 Building Station
Here you'll follow simple "placemat" instructions or graphic monitor displays to assemble your droid in the proper sequence. Once complete, your droid will be paired with a remote control and activated as you watch it come to life!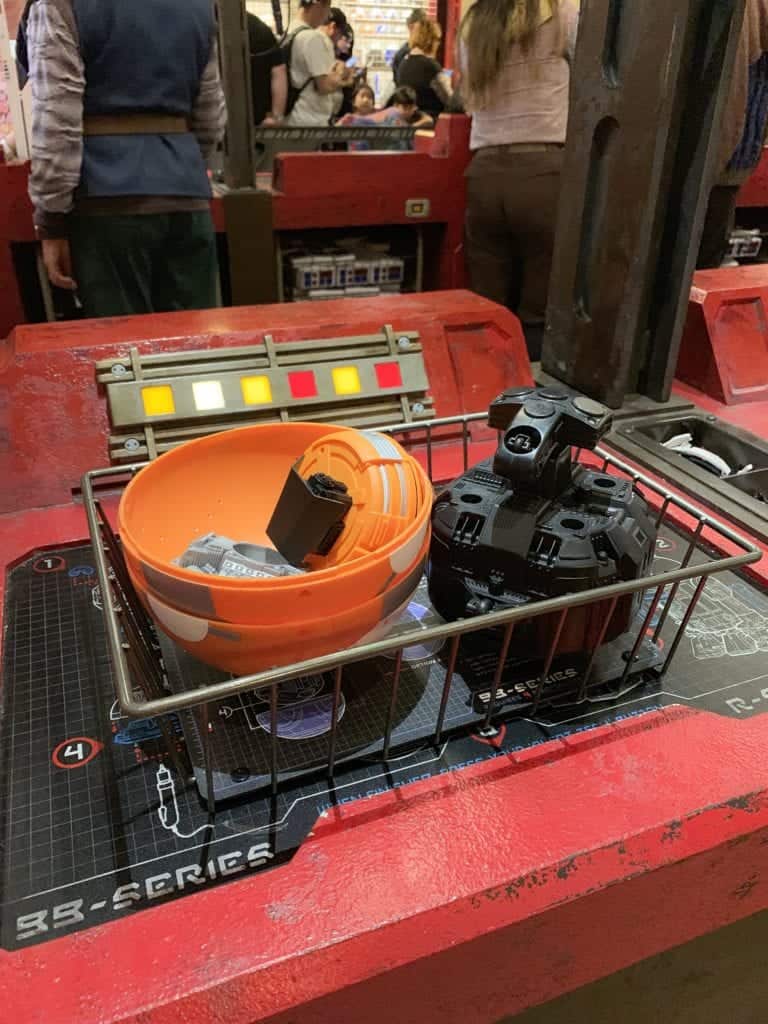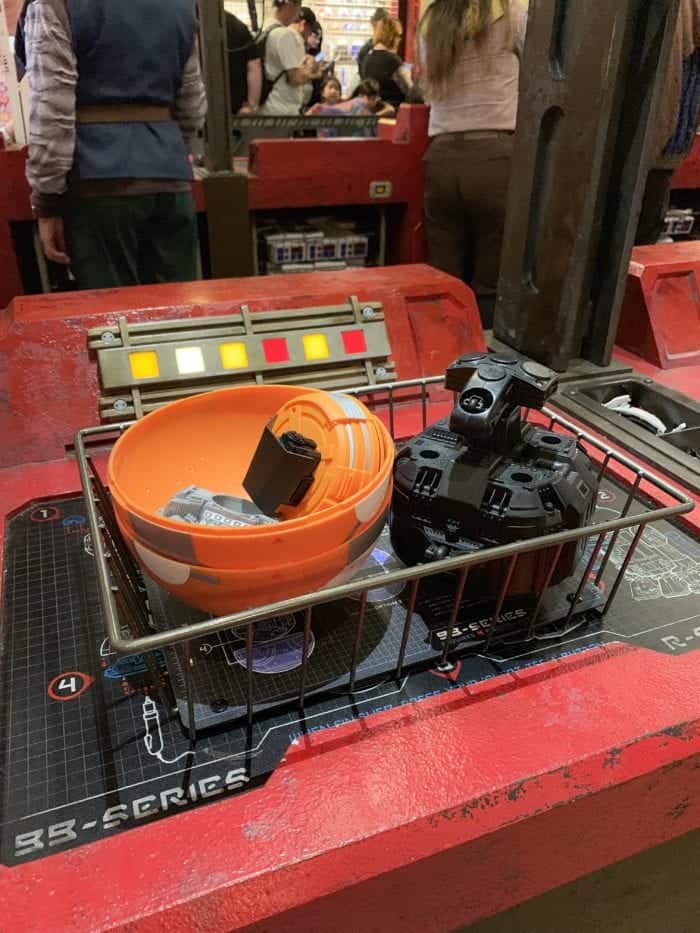 Here is where you place your chosen droid parts to the building station. There are lots of Cast Members here to help you assemble your droid.
How Long Does It Take To Build Your Droid?
Once we got to the register, our whole experience was 30-40 minutes by the time we left. About 1 hour total if you include waiting in line to get started. This will vary from guest to guest, but this gives you an idea of our experience.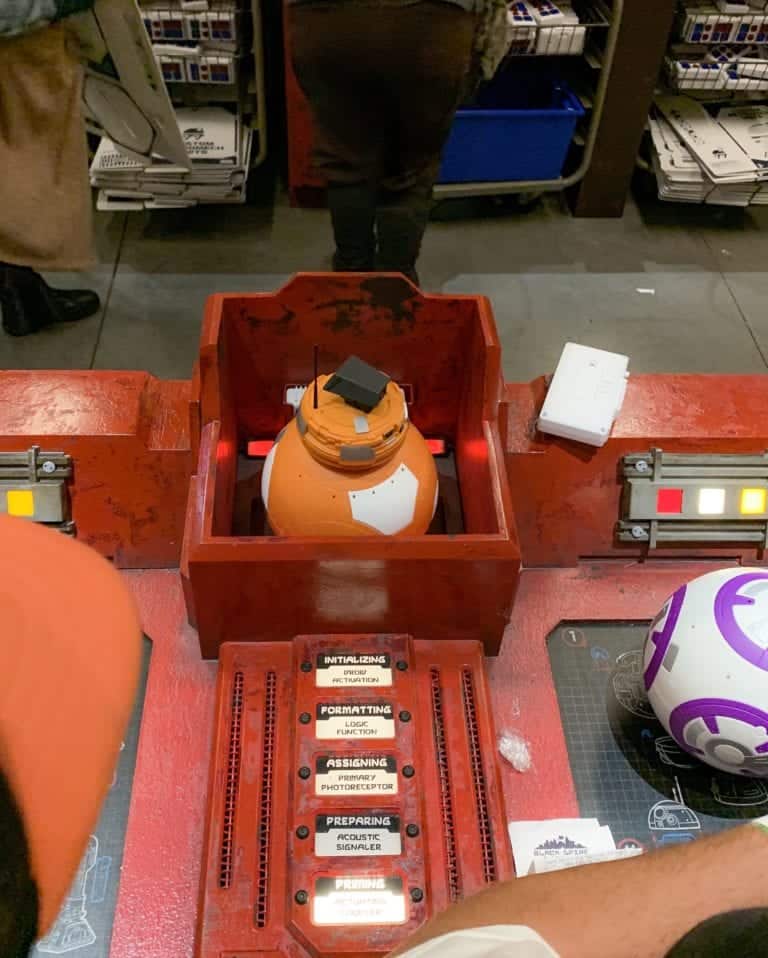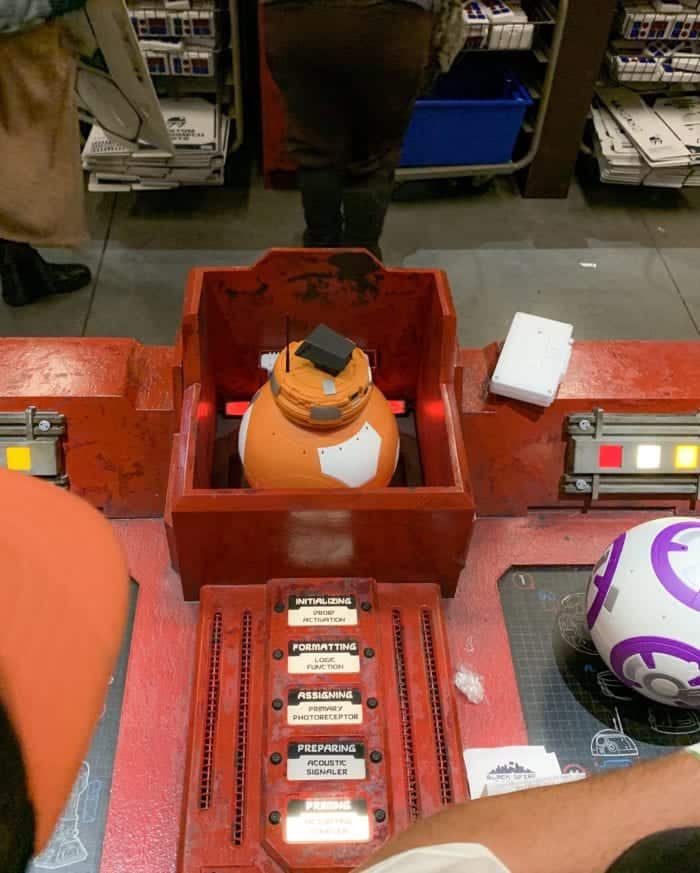 Once you've helped put your droid together, you place it in this little box and hit the "Activate" button.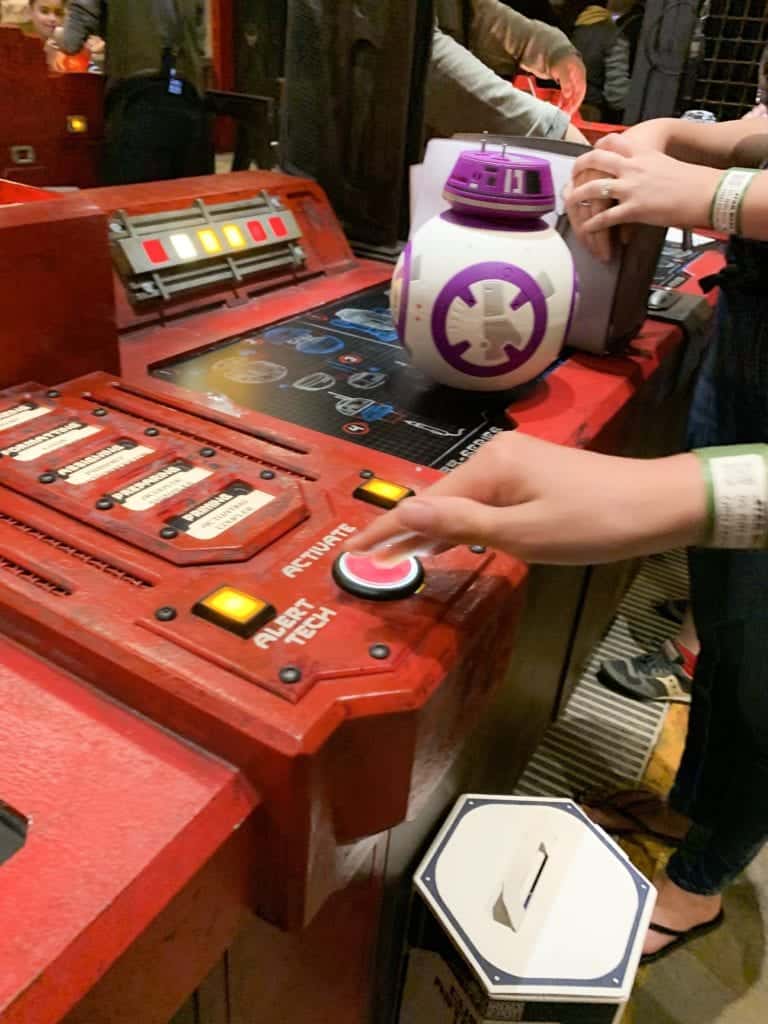 Once you've activated your droid, it's time to get some instructions on your remote control.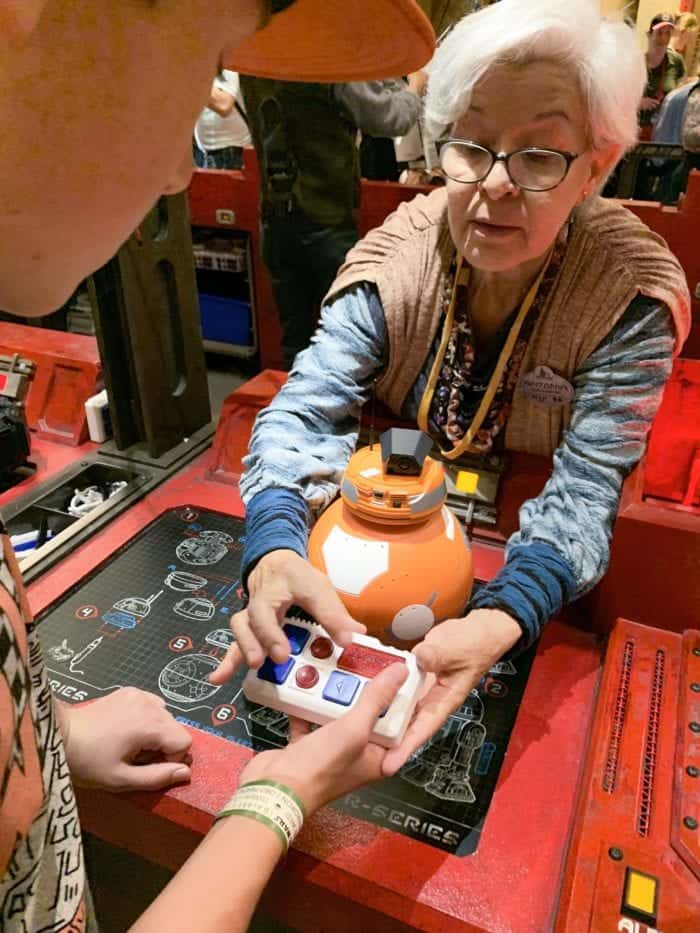 The Cast Members give you some instructions on how to work your droid's remote control. You get to practice right here on the building station to make sure your droid works great!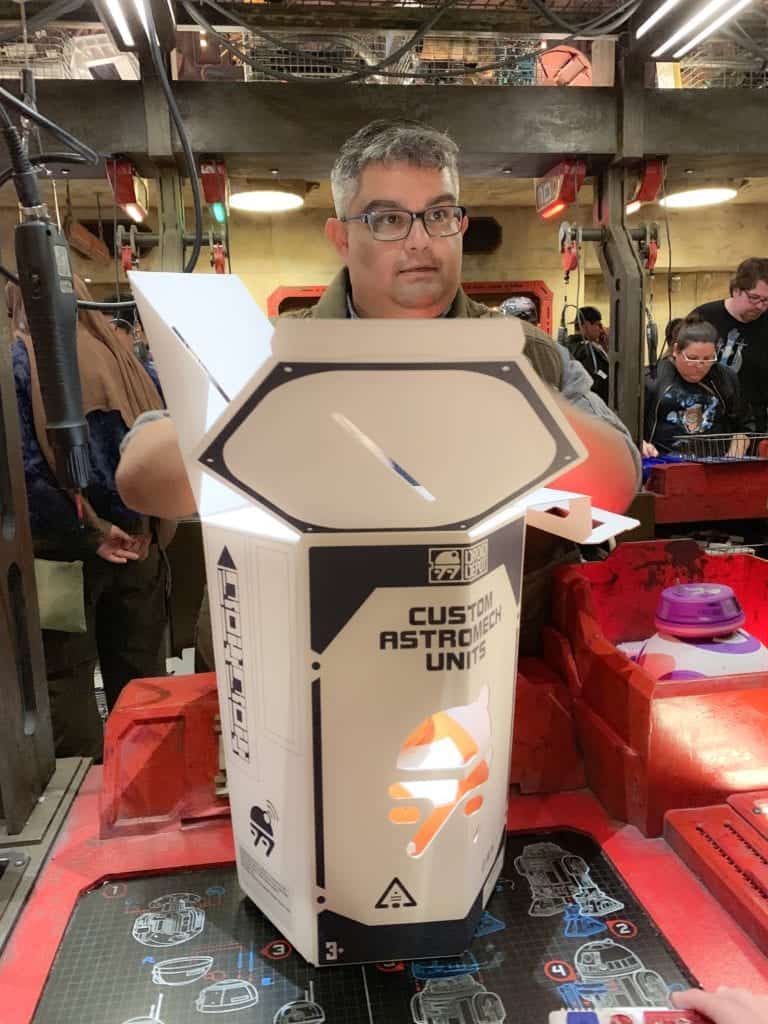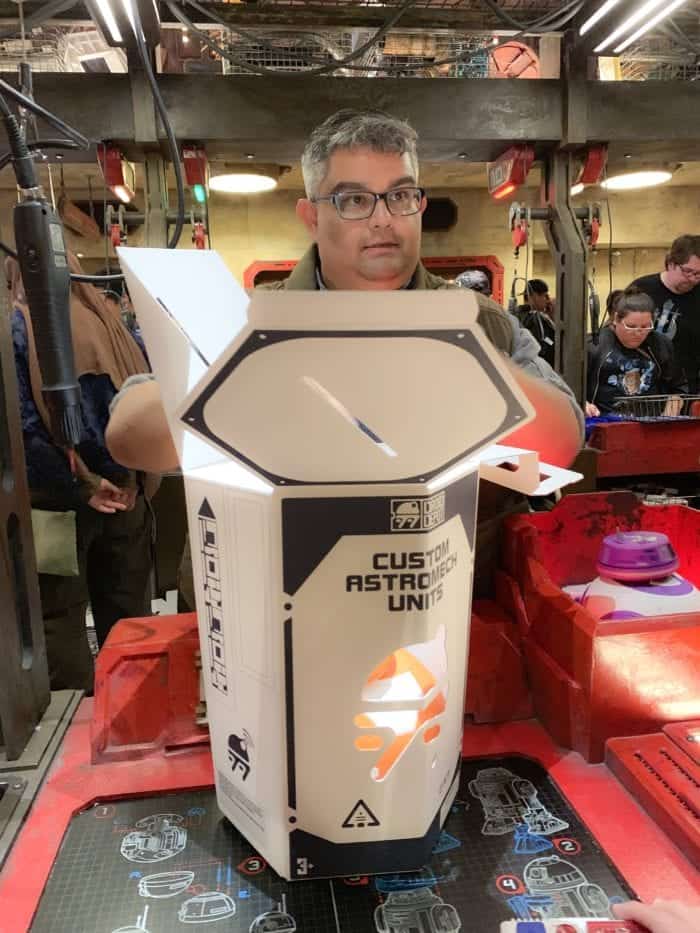 Once you've tested out your droid, a Cast Member puts him away in this special carrying box. There is a backpack designed for the droids you can purchase for $40 if you want to carry your droid around. The backpack folds down on the top so the droid is exposed and can interact while you walk around. We were considering purchasing this, but it ended up selling out while we were building.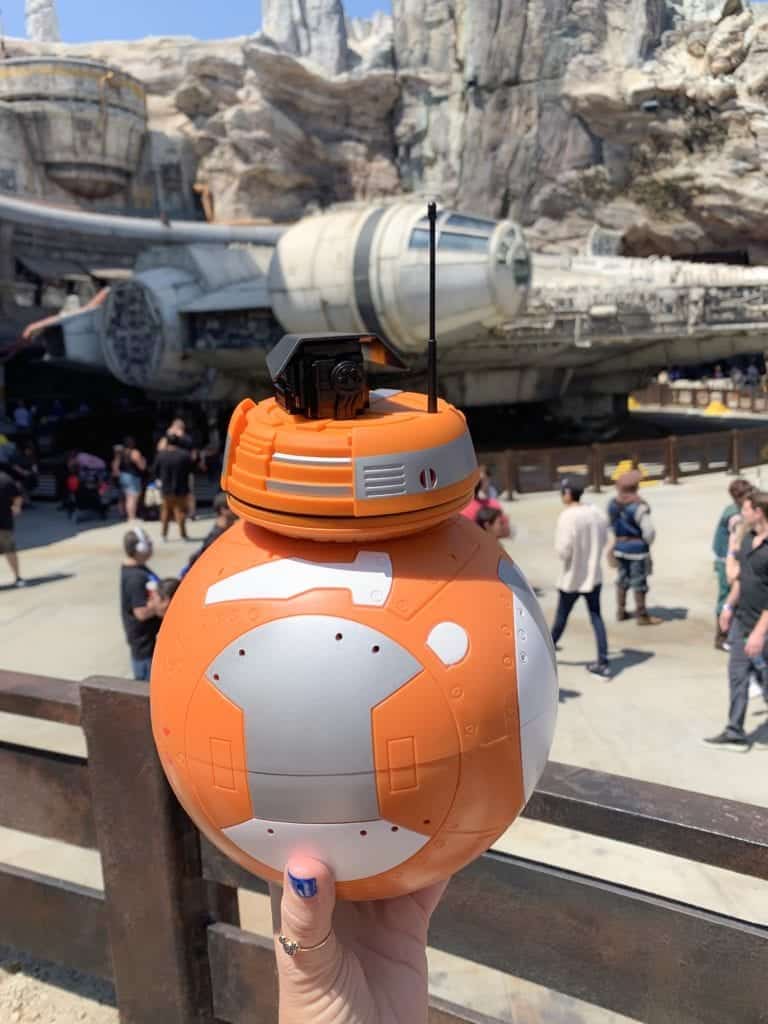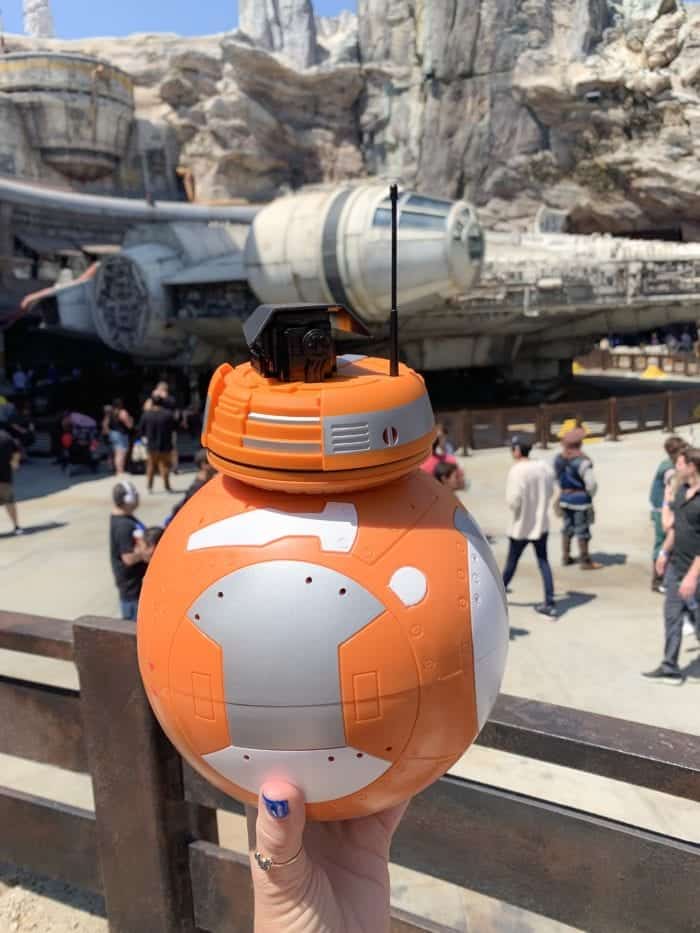 The Cast Members ask that you don't use your droids in Galaxy's Edge for obvious safety issues of guests tripping over them etc. We got a fun photo of our droid by the Millennium Falcon and have gotten lots of play time at home.
Is Building a Droid Worth It at Galaxy's Edge?
This will be different for everyone, but if you ask me it was a really cool experience and the droid is a blast. Yes, it's expensive but a pretty awesome souvenir from Galaxy's Edge to enjoy for a long time. Also, while the Age recommendation was 3+ from the Disneyland website, I would say more like 5+. My 6 year old can work it, but gets frustrated at times at it, ha! I can't imagine much younger than 5 years old operating an expensive droid. It will depend on your child for sure. Just something I noticed with my 6 year old.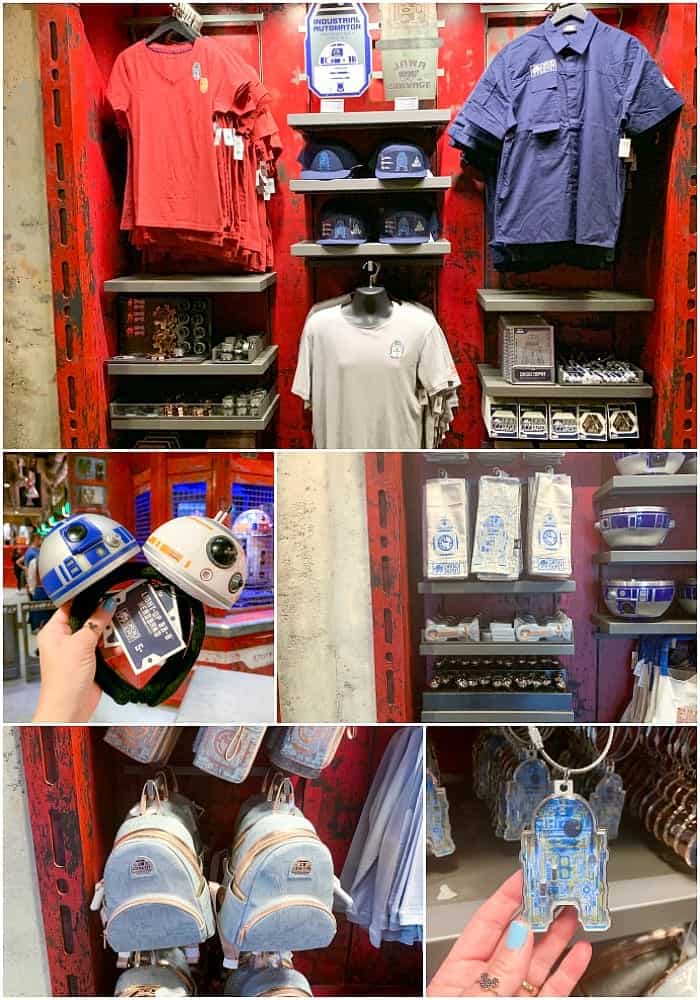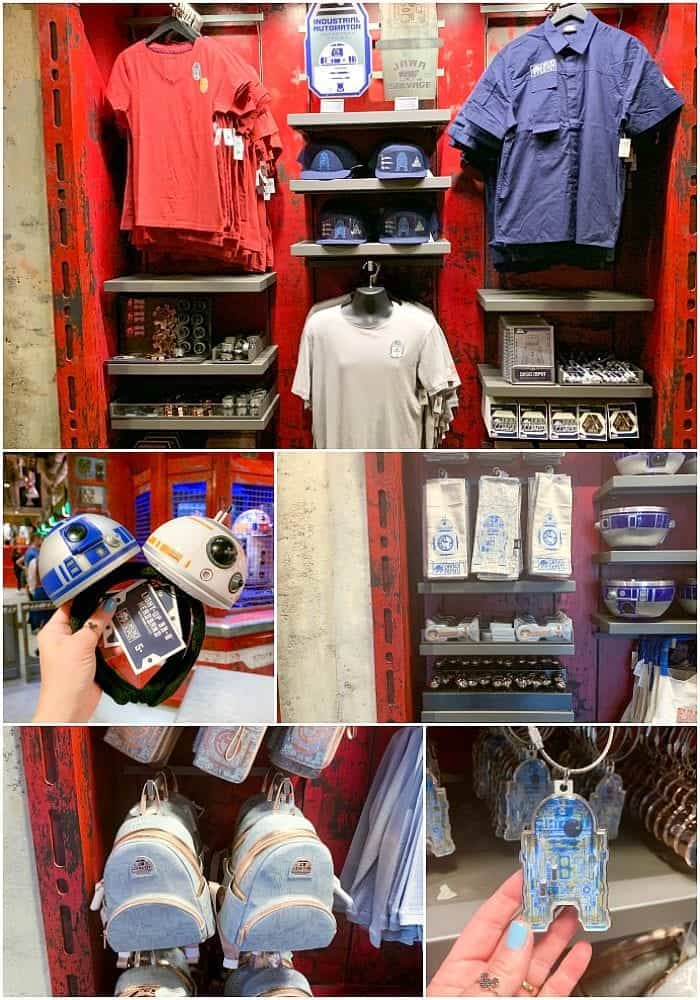 Don't Forget To Check Out The Merchandise at Droid Depot
Droid Depot isn't just for building droids, it also had some of my favorite merchandise in all of Galaxy's Edge. It's where you can get the cute BB8 and R2D2 Headbands and hundreds of other tempting souvenirs. I've got to get the R2D2 mixing bowl one of these trips. So fun…and 100% needs to be in my kitchen!
Pin To Your Favorite Disney Board!