Sharing the ultimate guide to Star Wars Galaxy's Edge today! Answering all of your questions, what to do first, where to eat….all of it! Let's get started!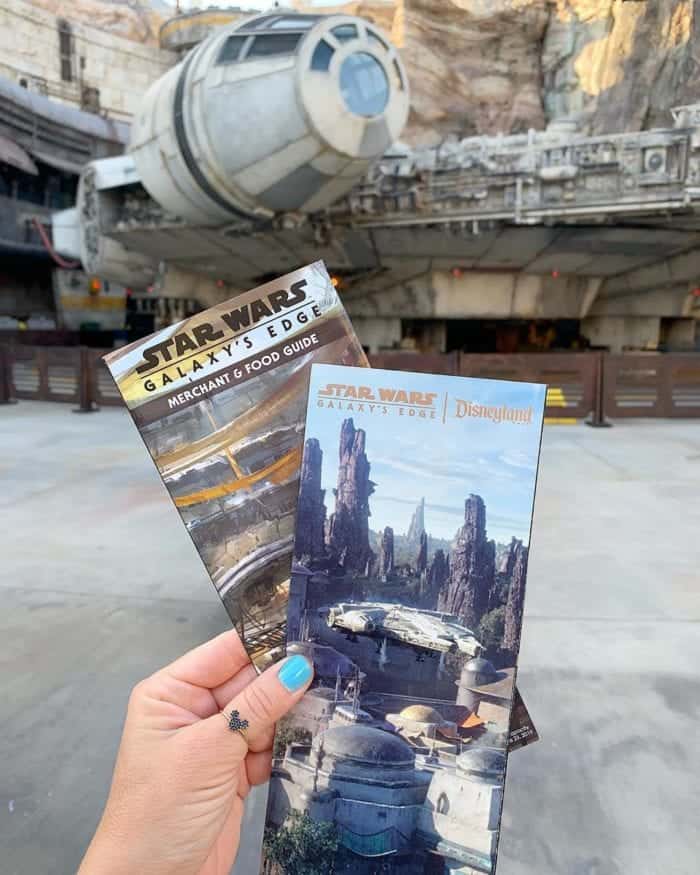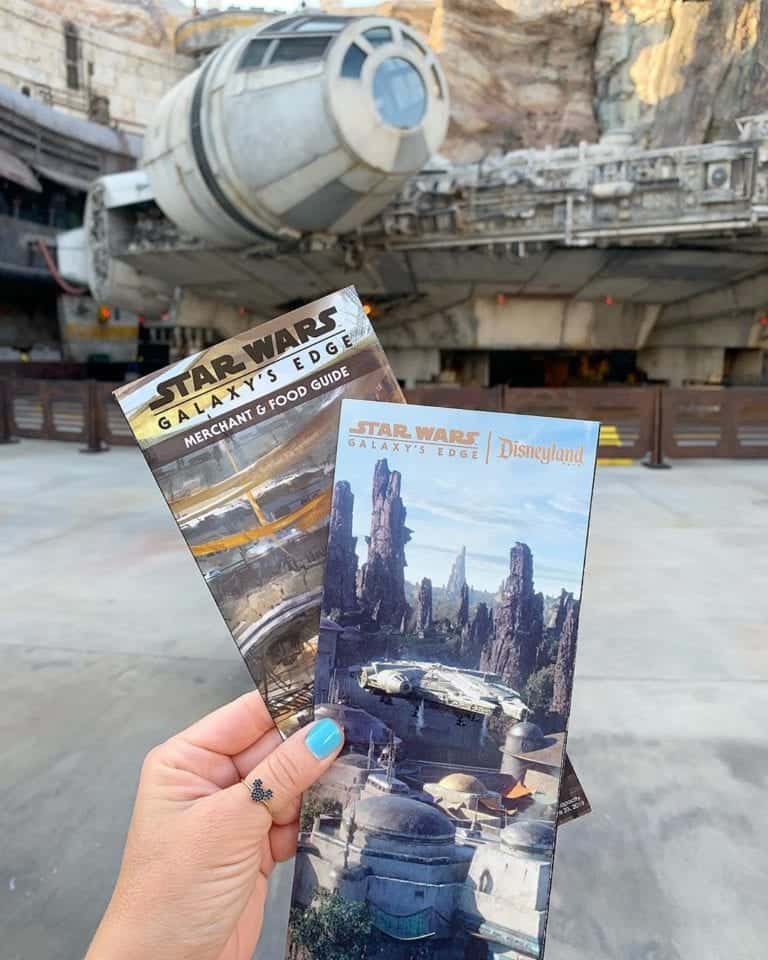 Now that I've been to Galaxy's Edge a couple times let's talk about the best things to do, eat, ride and shop for during your time at Galaxy's Edge. Be sure to check out my post, Best Food at Galaxy's Edge. Follow Disney Hungry on Instagram for Disneyland travel tips and the BEST eats at the Parks!
What To Expect When Galaxy's Edge Is Open To All Guests
Disneyland Resort will implement a virtual queueing system to visit the new land so guests can enjoy the rest of the resort while waiting to visit Batuu. The Disneyland app will have a dedicated module, Star Wars: Galaxy's Edge – Status and Access, available from the main page, on which guests can request to join a boarding group to visit the land, once they have entered the park. Boarding groups will be sent a push notification when it is their turn to enter the land and they can monitor status of boarding groups from the app.
What Do I Do If I'm Not Using The App?
There will also be the ability to join a boarding group from select locations inside Disneyland Park, if a guest is not using the app. The boarding group is tied to admission media that will be scanned upon entry into the land. Signage throughout the park will also display boarding group status. Admission into Star Wars: Galaxy's Edge will be subject to capacity, and having an assigned boarding group will not guarantee entrance to the land.
In Basic Terms
If you want to be among the first in Star Wars Galaxy's Edge star lining up at the Park entrance about 6:30-7am when Disneyland opens at 8am. They'll let you in to line up at the entrances of Star Wars Galaxy's Edge before 8am, so if you get into the Parks first, you will likely be able to head straight to Galaxy's Edge without having to get a Boarding Group.
If you don't plan on getting to the Parks that early, no worries. When you enter Disneyland Park go to the Disneyland App and follow the prompts from the home page as shown in my photo below. Note, you must be through the entrance before you can get a boarding group. Once you get a boarding group, it's best to turn on your notifications. You'll get a notification that it's time to enter with your boarding group. Once you get that notification, you'll have 2 hours to enter. You can check to see when your boarding time expires by clicking on "important messages located at the bottom of the Galaxy's Edge info screen.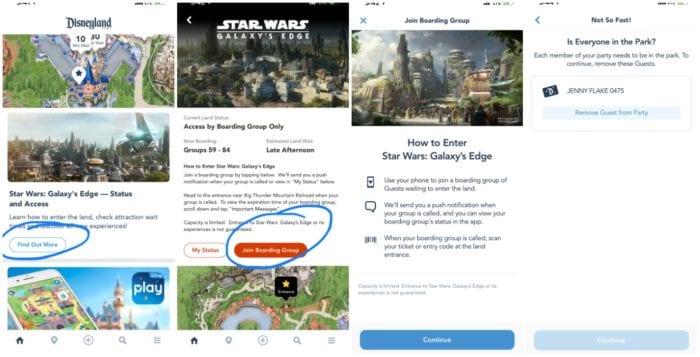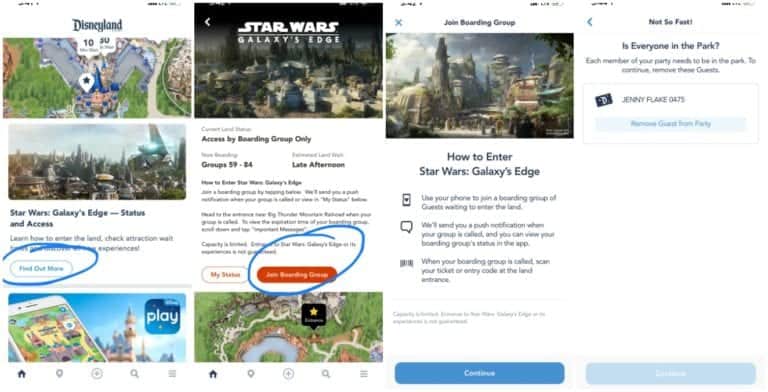 Information About Virtual Queue From Disney Parks Blog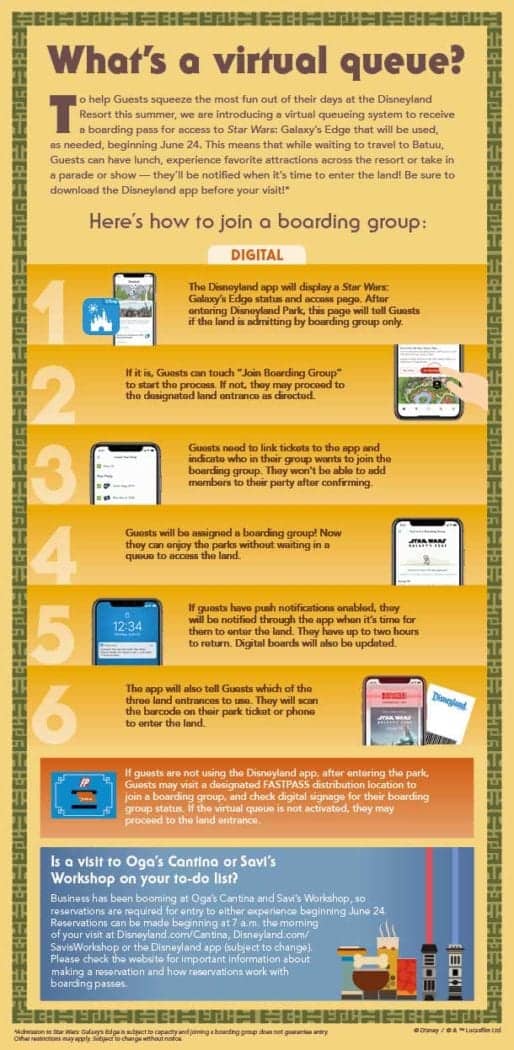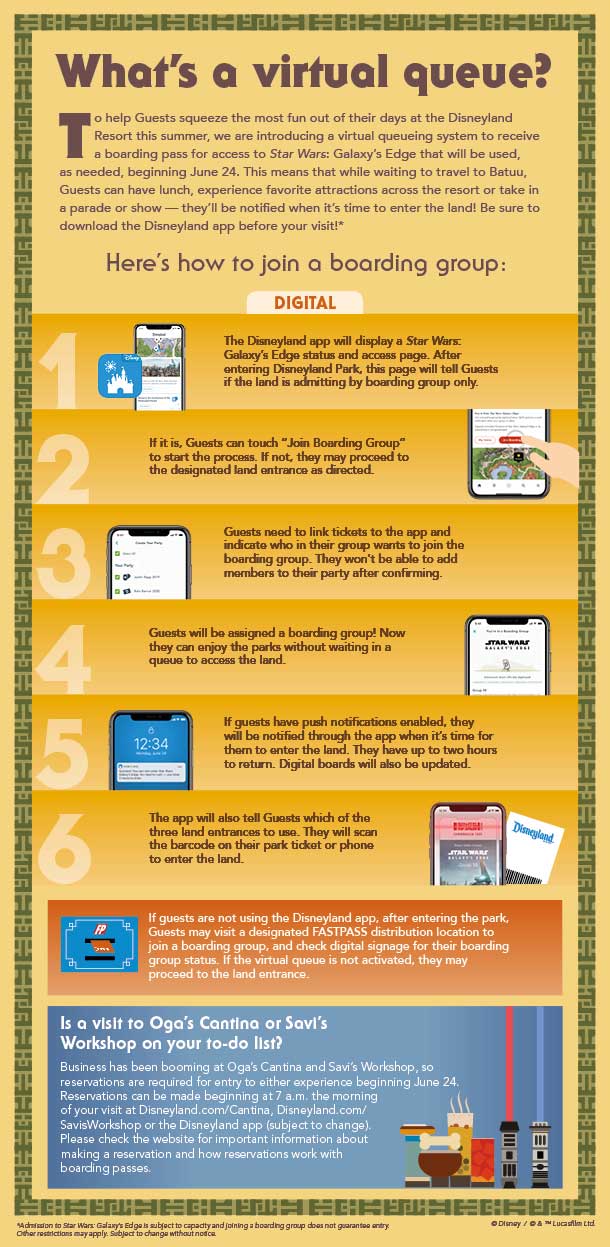 Reservations Available For Oga's Cantina and Savi's Workshop-Handbuilt Lightsabers
As of June 24th 2019 guests can get reservations to Oga's Cantina and Savi's Workshop the same day as their Park visit at 7am. If you are able to get these reservations you Do NOT need a boarding group number. This counts as your pass to get into the Land, one hour before your reservation. It's been recommended to get online before 7am and they put you in a virtual queue so once 7am hits, you're already in line to get your reservation for the day. Also, if it fills up early in the day, try again later, more reservations open up. When you get to the Disneyland App click on the search bar and type in Oga's Cantina Reservations or Savi's Workshop Reservations. See my photos below and you just follow the steps. Very easy to do from the App.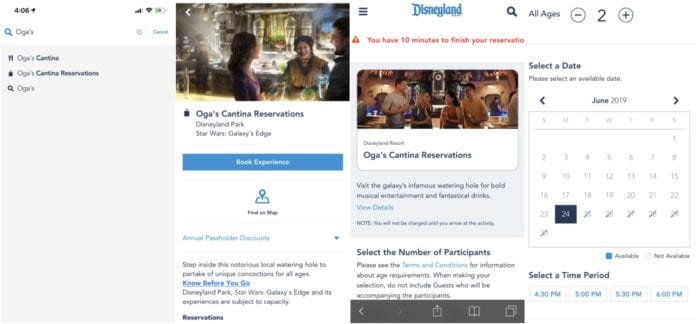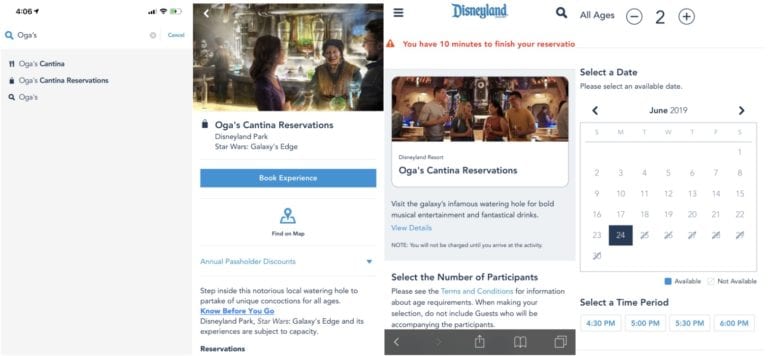 What Is There To Do at Star Wars Galaxy's Edge?
To ensure you have the best experience at Star Wars Galaxy's Edge, it's going to be important for you to know what Galaxy's Edge has to offer before you go to make the most of your visit. Let's talk about it.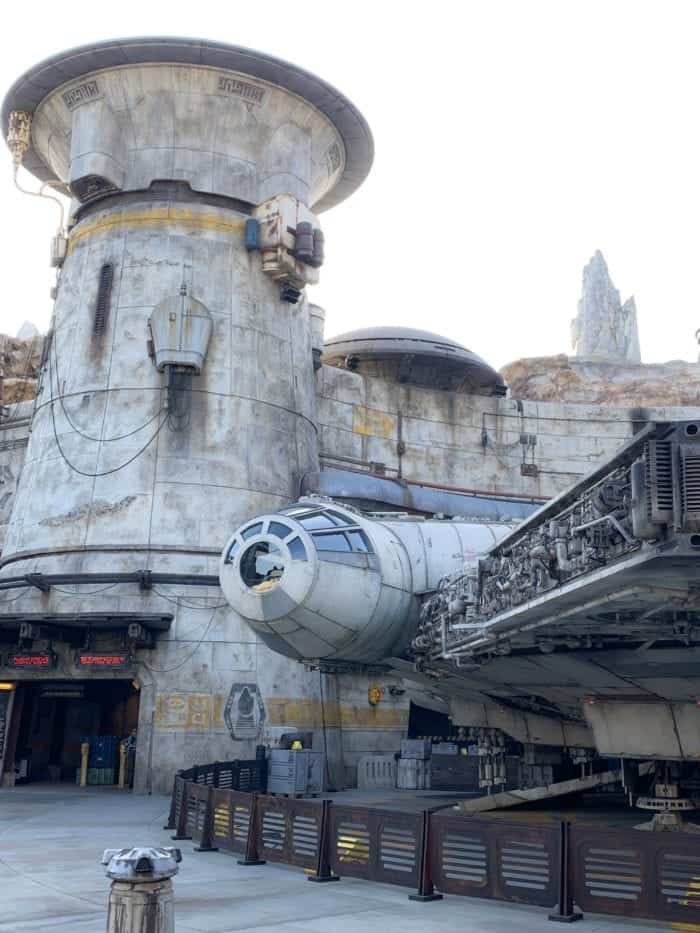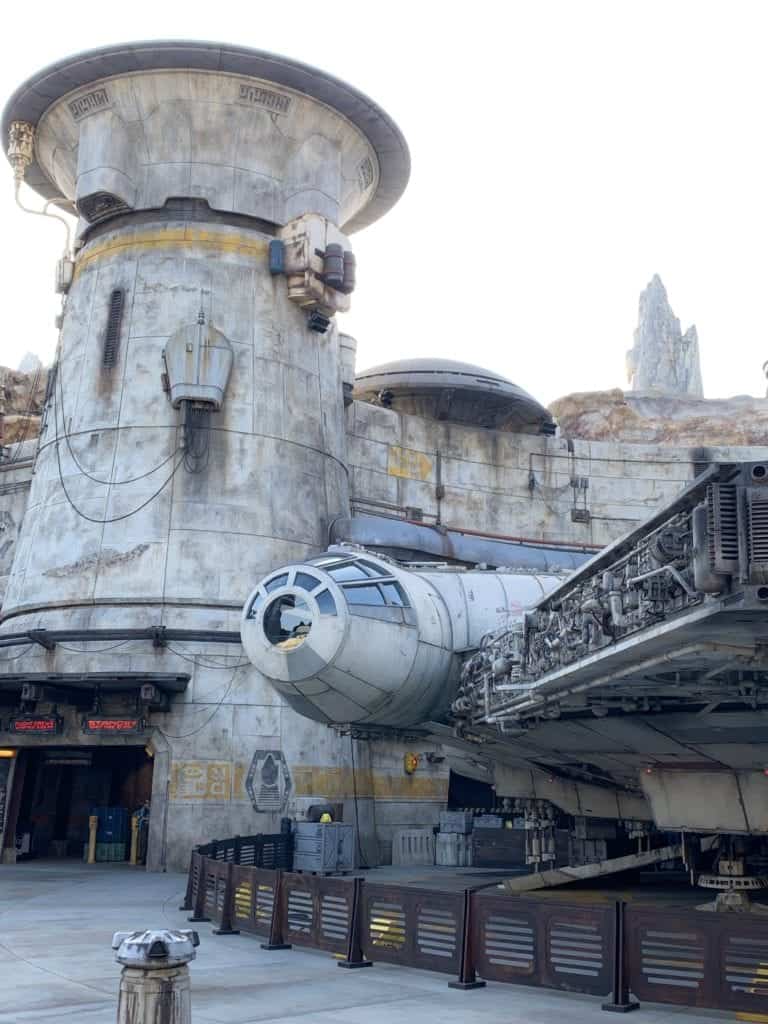 How Many Attractions Are In Star Wars Galaxy's Edge?
Millennium Falcon: Smuggler's Run is open now….and it's fantastic. See my post, What To Expect Riding Millennium Falcon. Gives you all of the details to know before riding. By the end of the year there will be two attractions inside Galaxy's Edge. The Rise of The Resistance will open later 2019.
Will I Get Motion Sickness Riding The Millennium Falcon?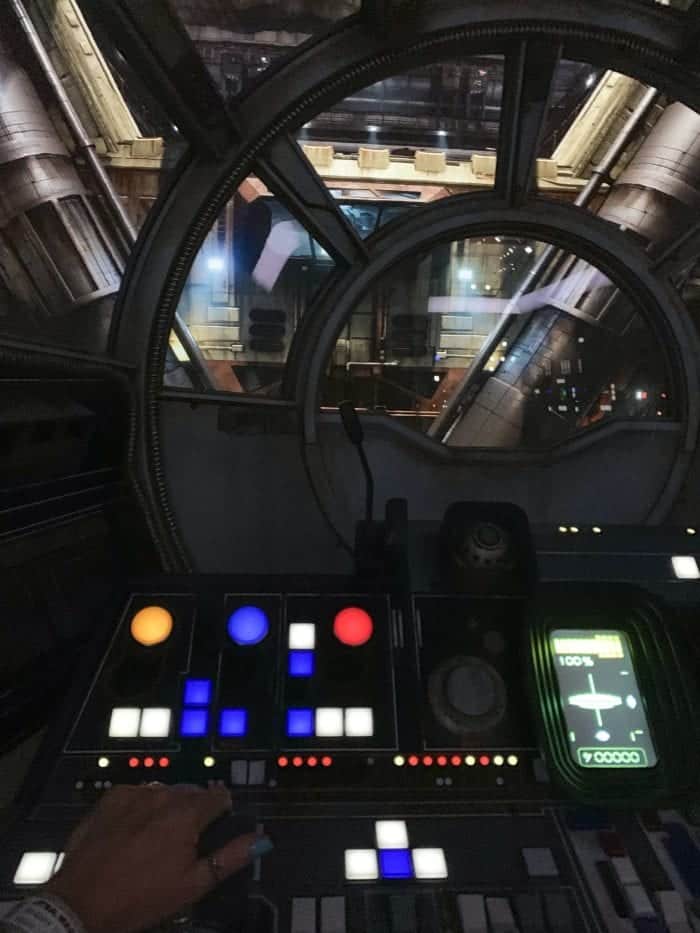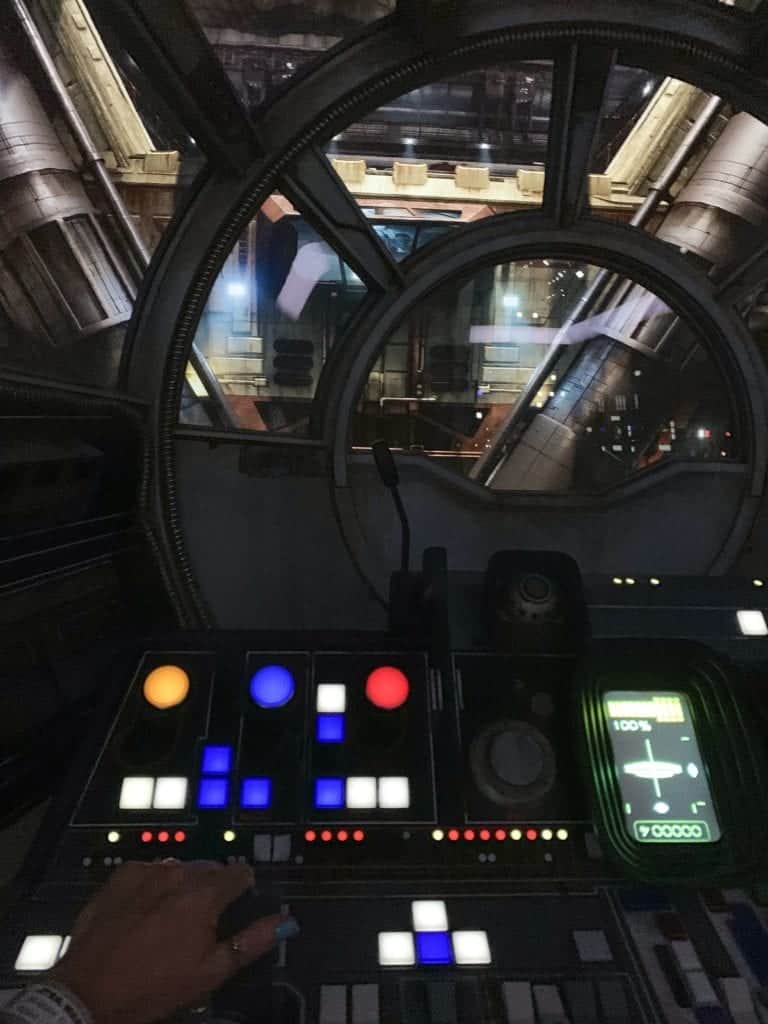 Chances are, if you have a hard time riding Star Tours in Tomorrowland, you might have a similar response to the Millennium Falcon. You have that flying sensation, but in a smaller ride space than Star Tours. I don't have any trouble with motion sickness, but Star Tours is a good comparison.
Will Millennium Falcon Have FASTPASS Available?
No official announcement has been made regarding FASTPASS for the Millennium Falcon. We'll know more after June 24th.
What Is The Height Requirement For Millennium Falcon: Smuggler's Run?
You must be at least 38′ tall to ride.
Millennium Falcon Lines and Passes Available.
There is a single rider line. You can use the Switch Rider pass and DAS Pass.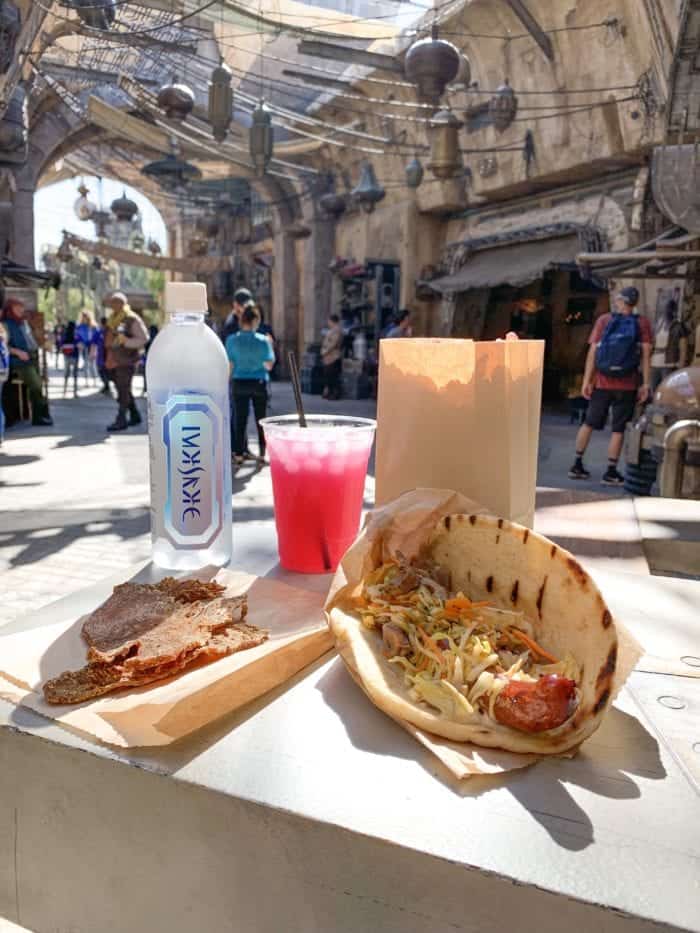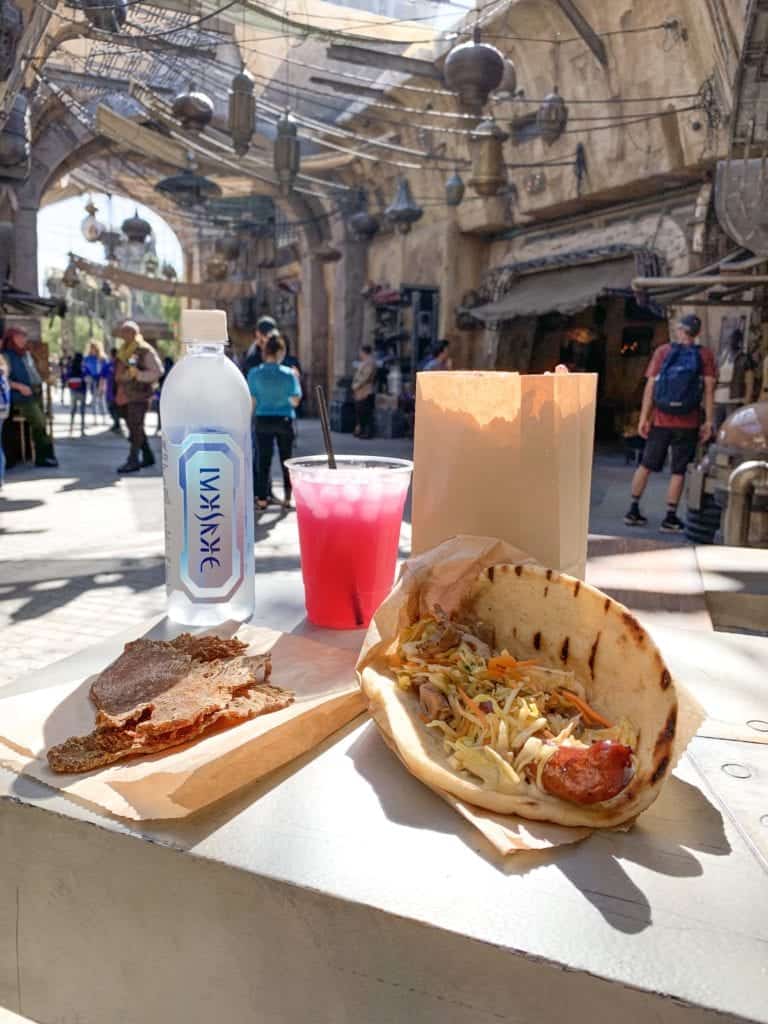 Star Wars Galaxy's Edge Food
So many delicious places to eat/get snacks and drinks inside Galaxy's Edge. Here are all of the food and snack options at Galaxy's edge. Each food location is linked to detailed blog posts with my reviews!
Galaxy's Edge Experiences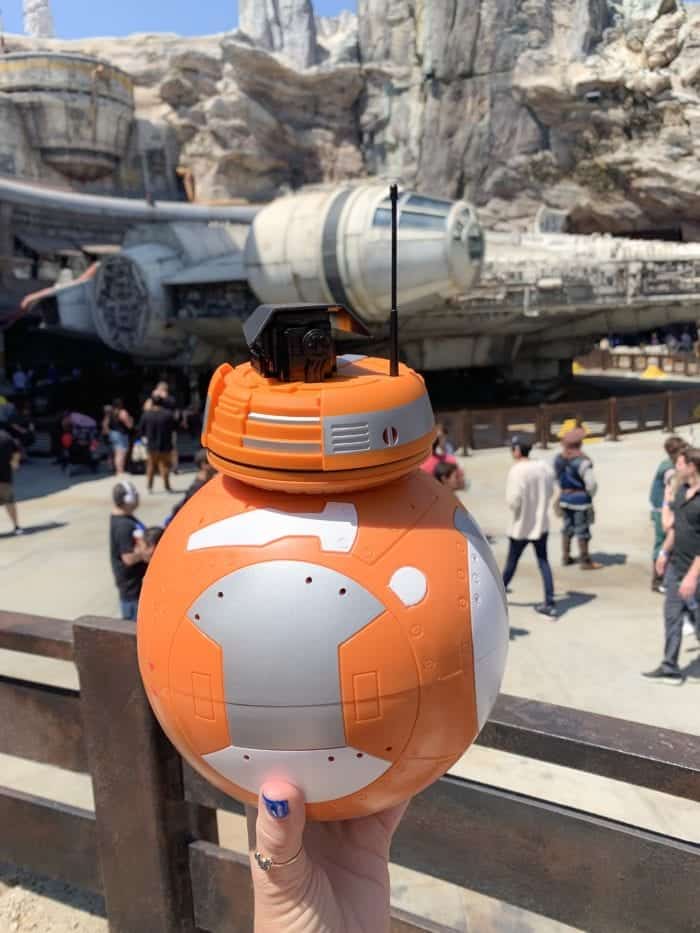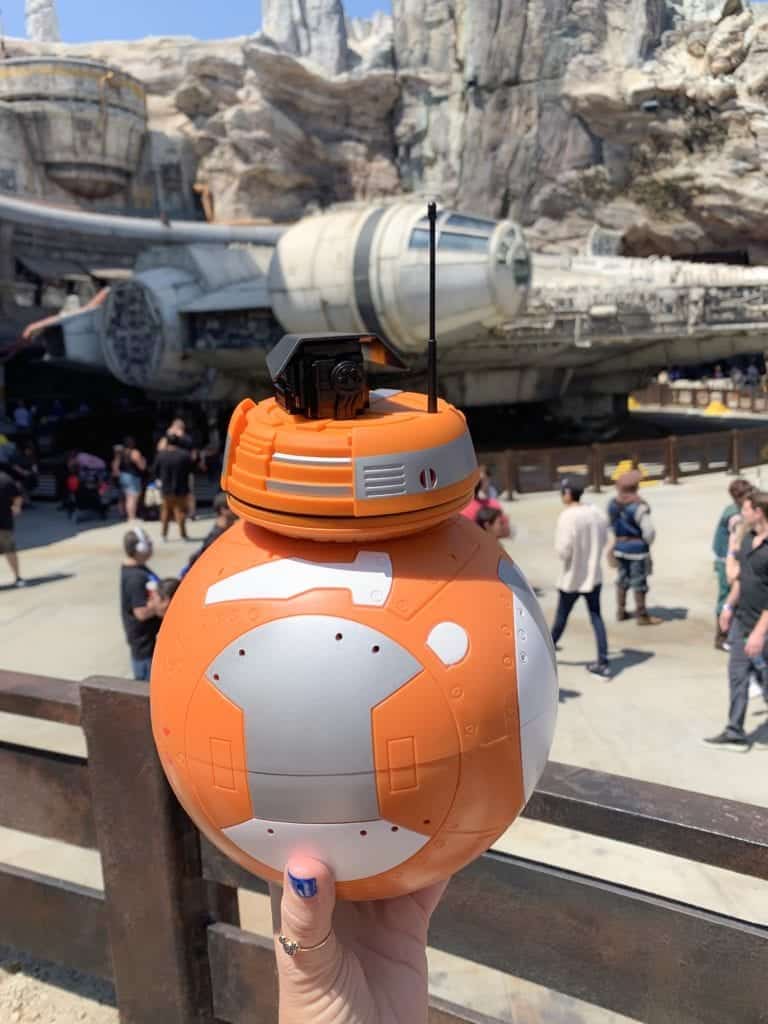 There are some really cool experiences at Star Wars Galaxy's Edge to enjoy.
Savi's Workshop Handbuilt Lightsabers (My experience still to come)
Shopping At Galaxy's Edge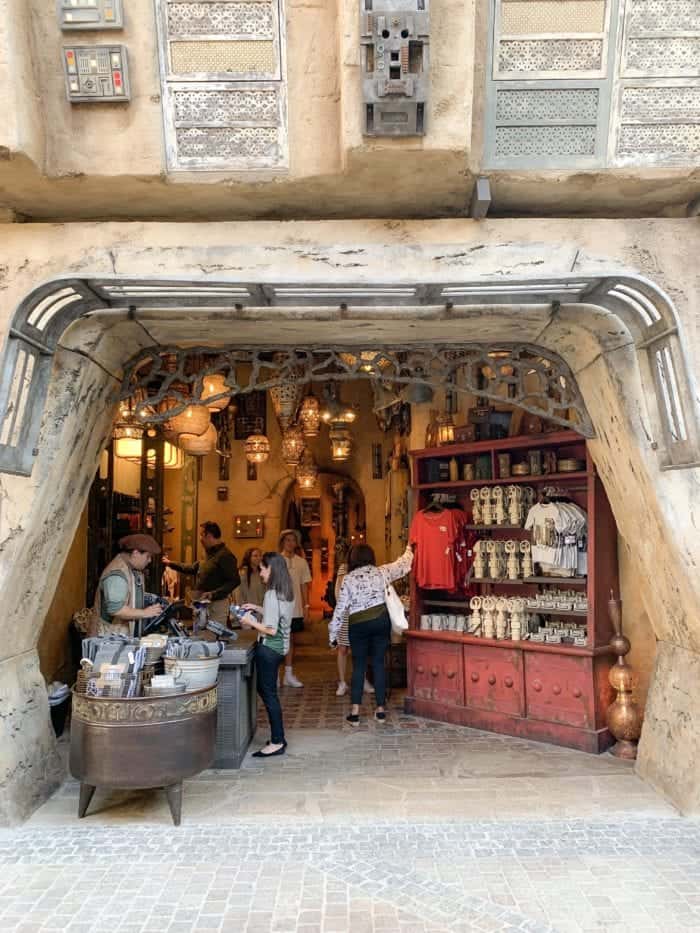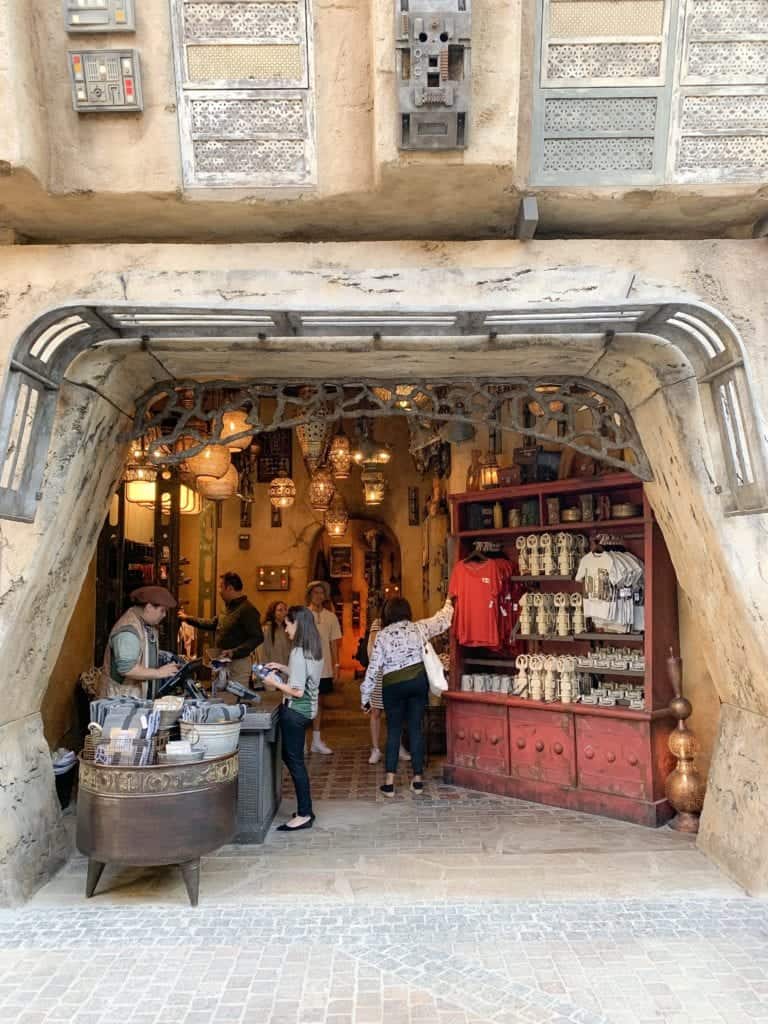 There are lots of great shopping locations around Galaxy's Edge.
Dok Ondar's Den of Iniquities
First Order Cargo
Resistance Supply
What Should I Do First at Galaxy's Edge?
This is a very popular question among guests that is honestly going to be a little different for everyone. First question you'll want to ask yourself….what is top on your list to do at Galaxy's Edge? If it's getting into Oga's Cantina you'll want to get your reservation that same morning when they open at 7am via the disneyland App. If you are not worried about making it into Oga's Cantina, get in line at Millennium Falcon first and experience that a couple times! If you are dying to make a handbuilt lightsaber, make sure you get a reservation that same morning of your Park visit as well. You can start getting reservations at 7am PST via the Disneyland App.
Decide what is most important to you and do those things first.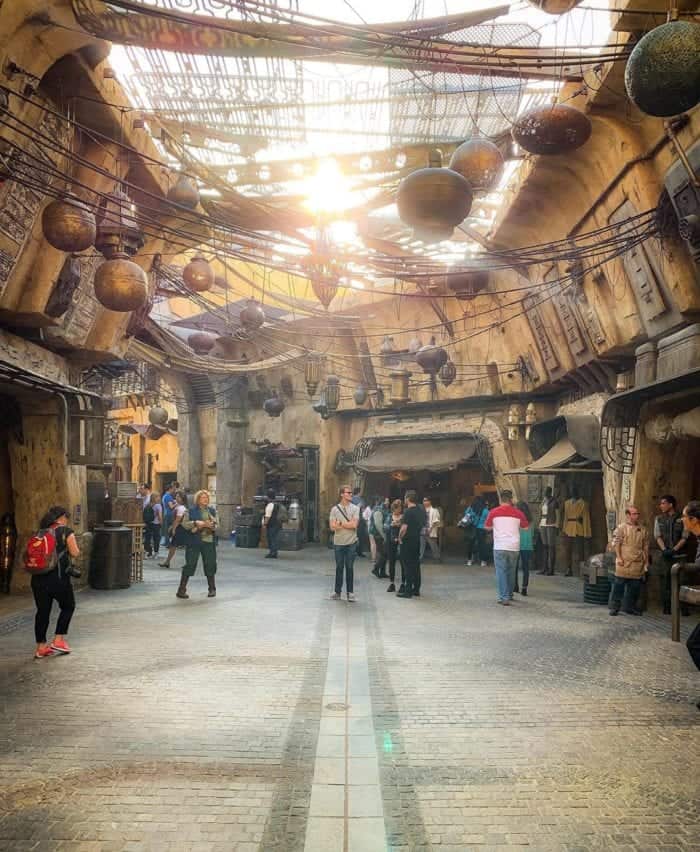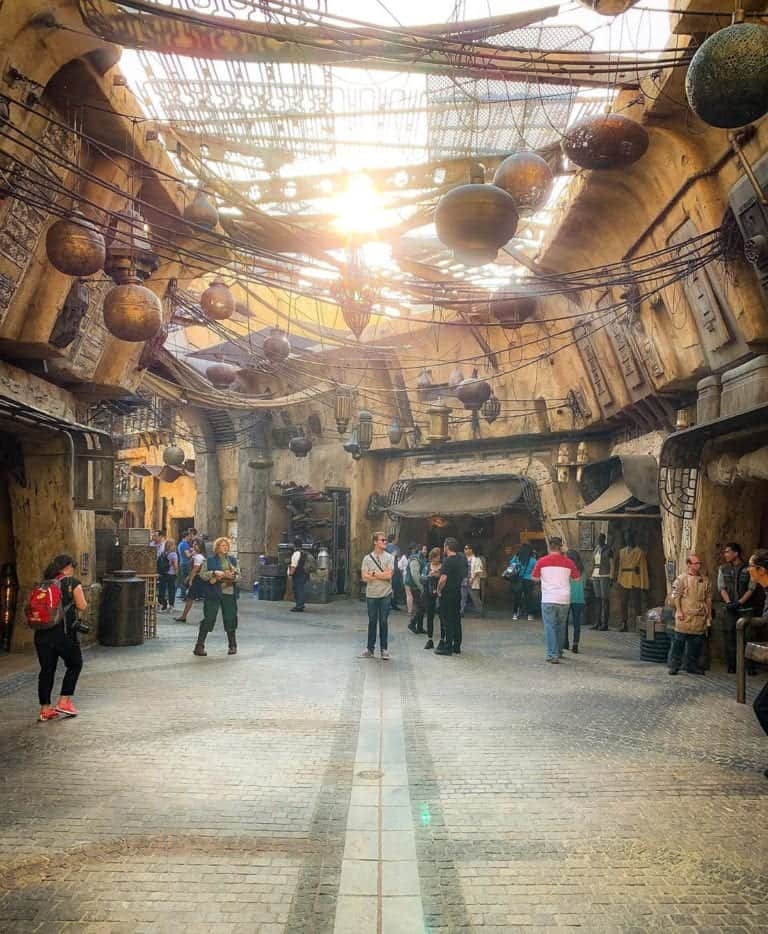 Here's How I Recommend Doing Galaxy's Edge
The same day of your Park visit, get your reservation to Oga's Cantina via the Disneyland app starting before 7am (6:30am to be safe-you'll be put into a virtual holding area until 7am)
If the line isn't too long, get in line at Millennium Falcon: Smuggler's Run. If it's long, monitor the wait time on the Disneyland App to come back.
Have your photo taken in front of the Millennium Falcon. There are Disneyland Photographers around the entire area.
Mobile Order food at Docking Bay 7 Food and Cargo. Enjoy an amazing meal. I really like the outside seating at Docking Bay 7, check it out once you get your food.
Head back to Oga's Cantina for your return time. You'll get a text when to go back. Enjoy some drinks and snacks. Such a cool experience for the whole family. Lots of non-alcoholic drinks available too.
If It's In Your Budget to Build a Droid or Handbuilt Lightsaber
Build your own custom droid at the Droid Depot or Lightsaber at Savi's Workshop! Give yourself an hour start to finish at the Droid Depot with the line to get started. Even if you don't build a droid, go in and watch. It's pretty awesome! If you are going the Lightsaber route, get your reservation the same day as your park visit before 7am via the Disneyland App.
Walk around to find some Galaxy's Edge Characters to get photos with! Storm Troopers and Chewie and Rey were our favorites!
Use Mobile Order Blue and Green Milk from the Milk Stand. Definitely get both. They're very different and fun to taste test with your group.
Shop!
Check out all of the fun shops! Black Spire Outpost Marketplace is my favorite. There's Jewels of Bith, Black Spire Outfitters, Toydarian Toymakers and Creature Stall. Even if you're just browsing, you won't want to miss these! Purchase the Galaxy's Edge re-usuable shopping bag with your souvenirs. I love using mine at home. Inexpensive souvenir too!
Browse through Don Ondar's Den of Iniquities. Super cool gift shop with unique things to purchase. Awesome details around this shop.
Don't forget to mobile Order a Ronto Wrap and Meiloorun Juice from Ronto Roasters. The Ronto Wrap is really good, even if you share it, get one!!
Grab a bag of Kat Saka's Kettle Outpost Popcorn Mix and Star Wars Coke Bottles to go!
What's The Best Food To Eat at Galaxy's Edge
While I honestly loved everything I sampled….if I had to choose just a few things to order at Galaxy's Edge it would be as follows…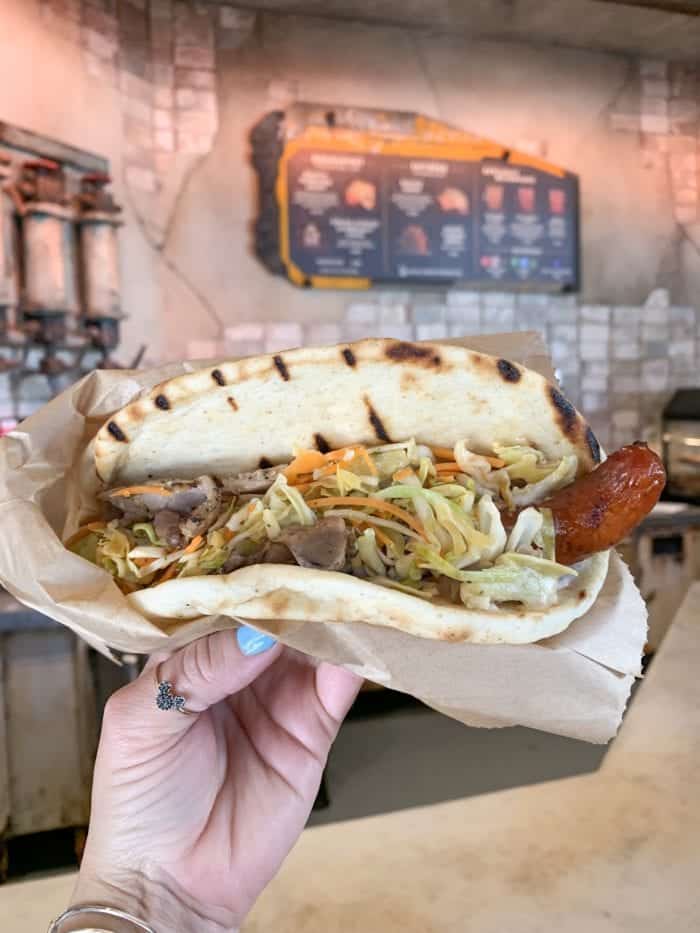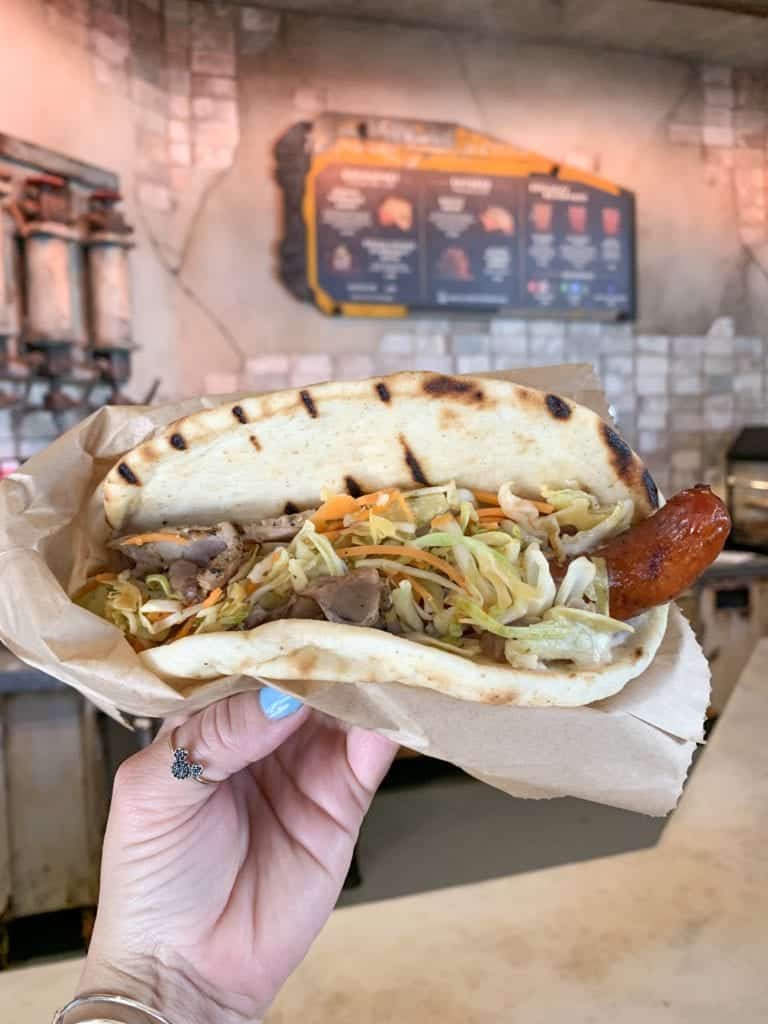 Ronto Wrap from Ronto Roasters is a must. Roasted Pork, Grilled Pork Sausage, Peppercorn Sauce, tangy Slaw, wrapped in Pita It's good!! Mobile Ordering accepted.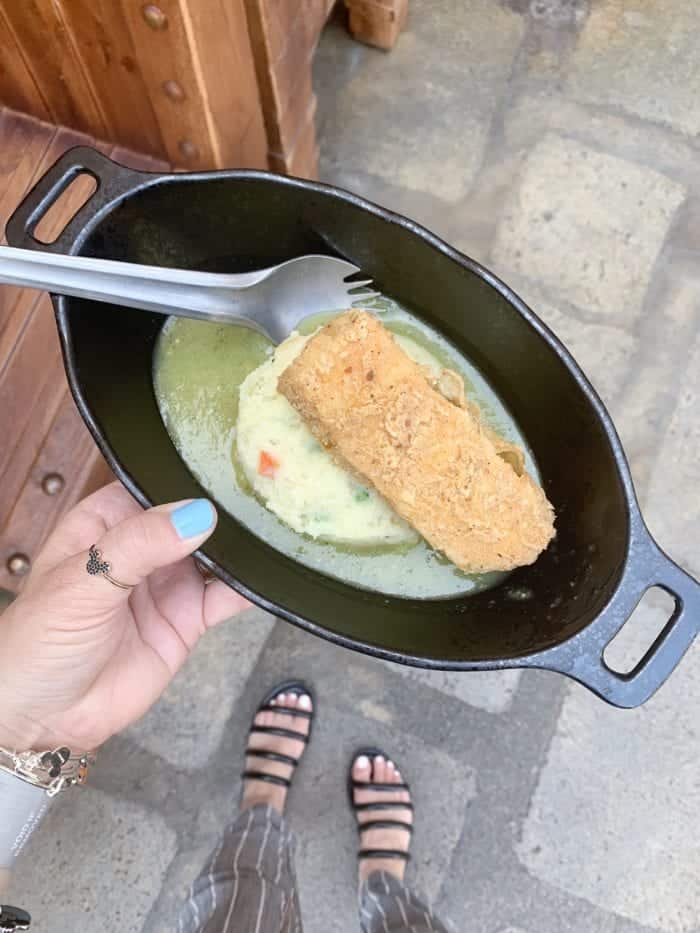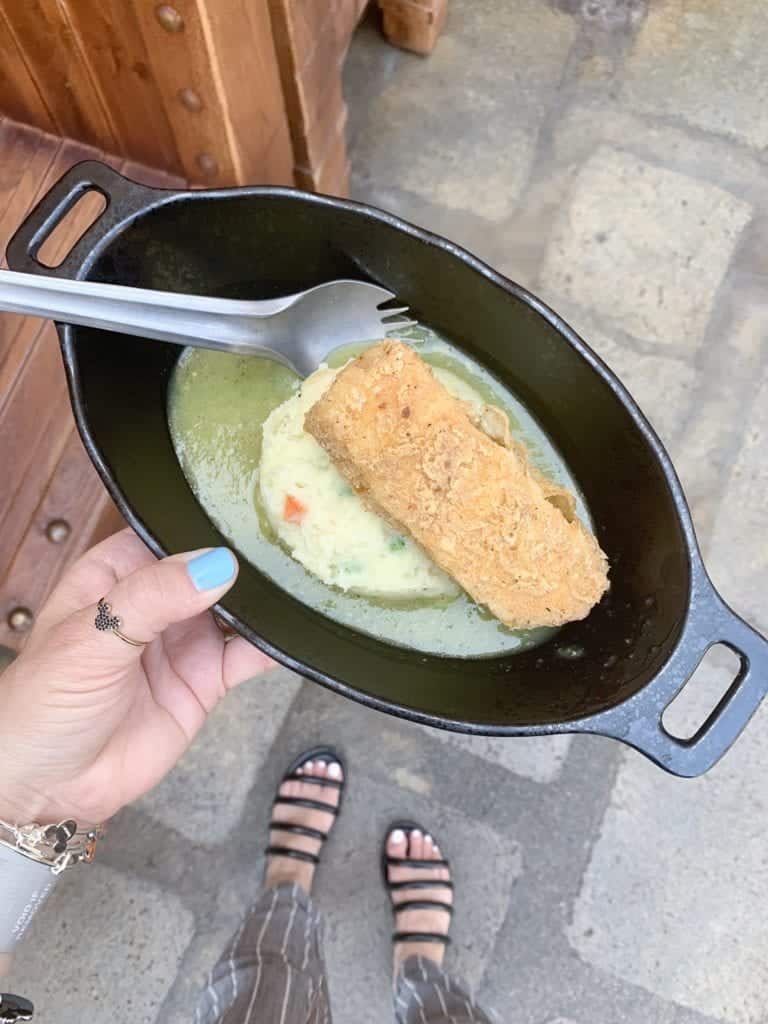 Docking Bay 7 Food and Cargo Fried Endorian Tip-Yip (all day entree) and the Braised Shaak Roast (served on dinner menu only). Order the Batuu-bon for dessert.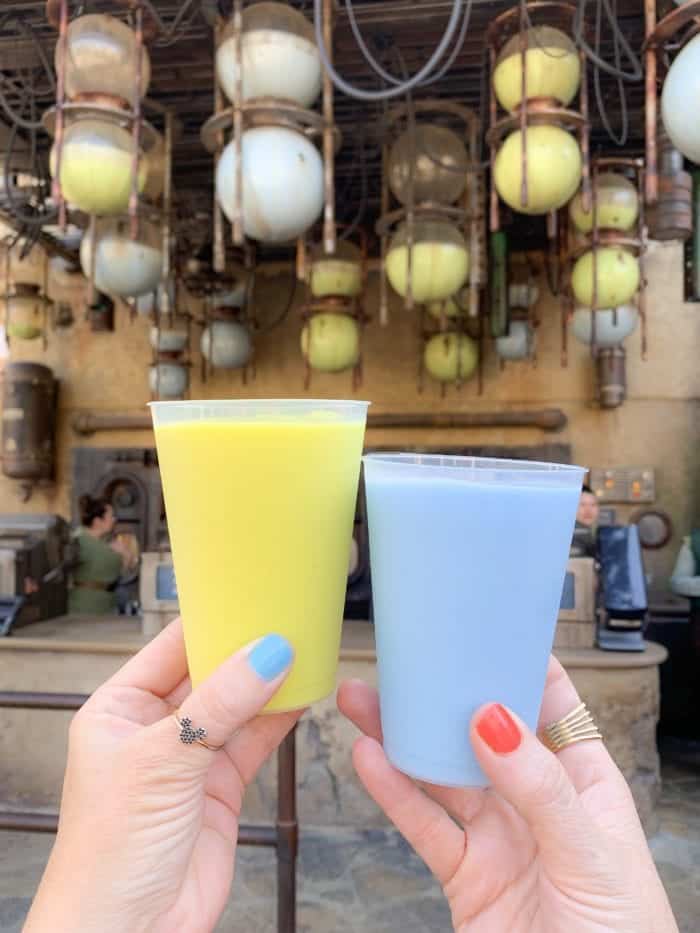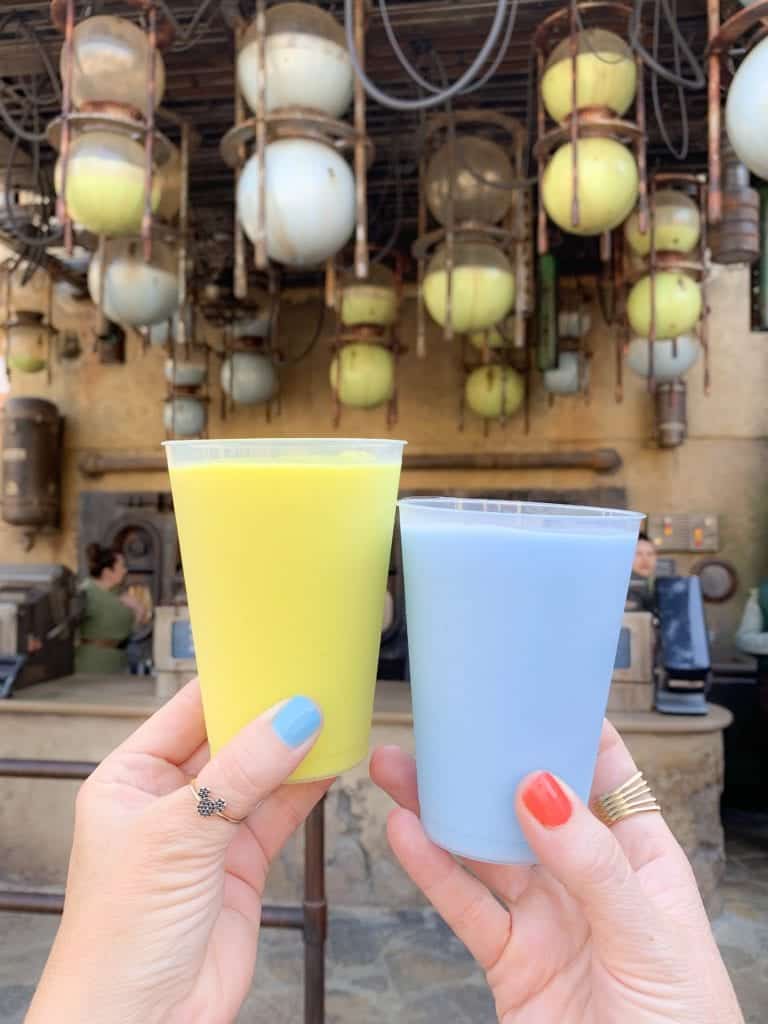 Blue and Green Milk (not food, but you have to get these while in Galaxy's Edge). They're both so good. The blue milk seems to be most popular if you want to just order one, but I recommend ordering both!
Is Oga's Cantina Worth The Wait?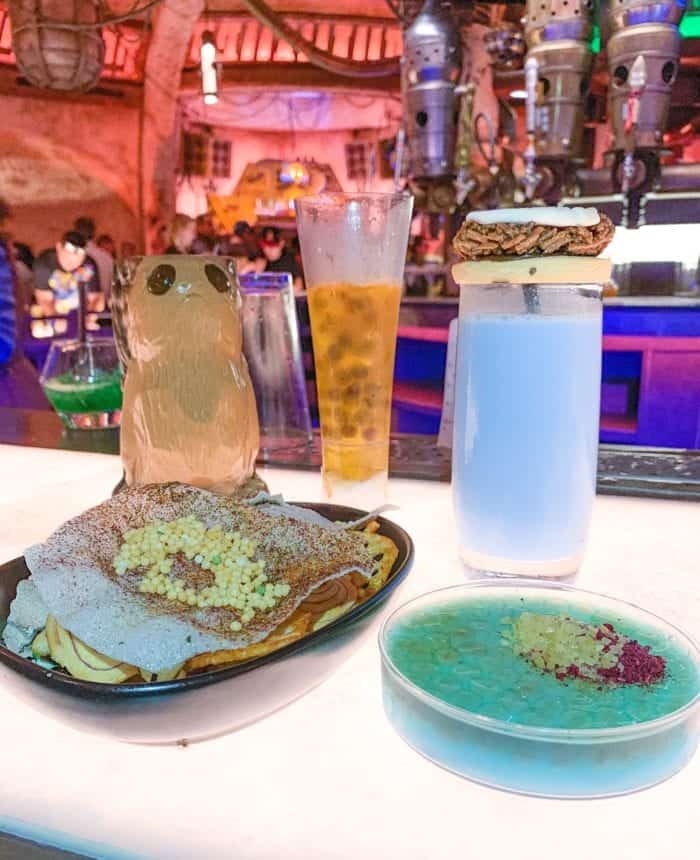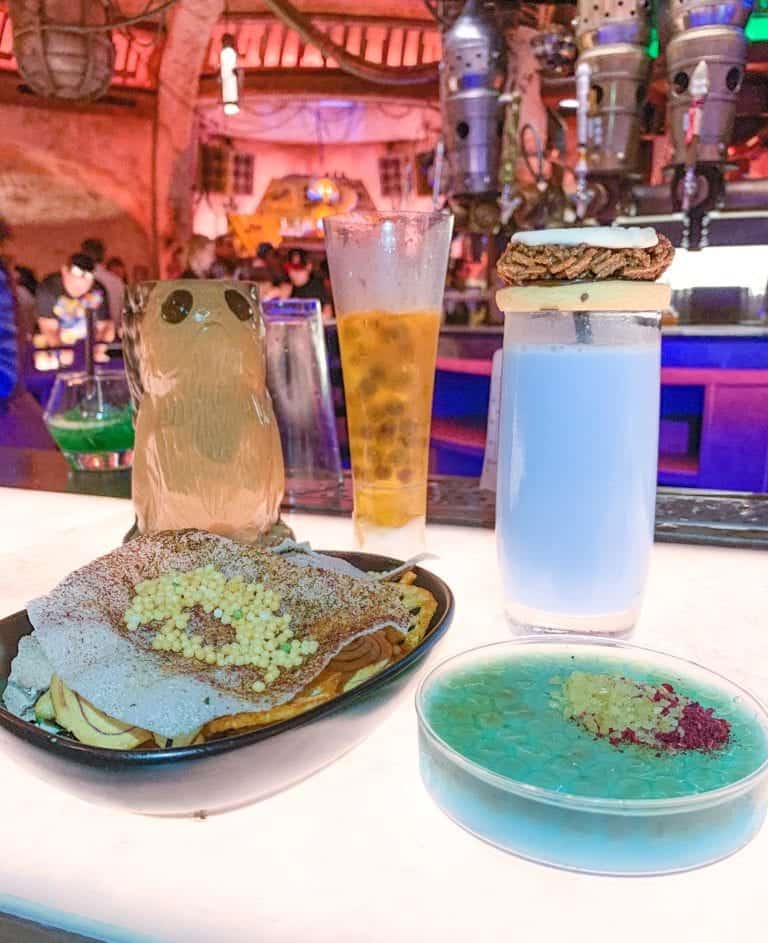 Honestly, I don't even drink alcohol and loved the Cantina experience so much! There are plenty of non-alcoholic drinks available. No matter if you are drinking or not, I highly recommend adding Oga's Cantina to your Star Wars Galaxy's Edge "to do" list. You won't be sorry.
Can I Dress Up/Wear Costumes?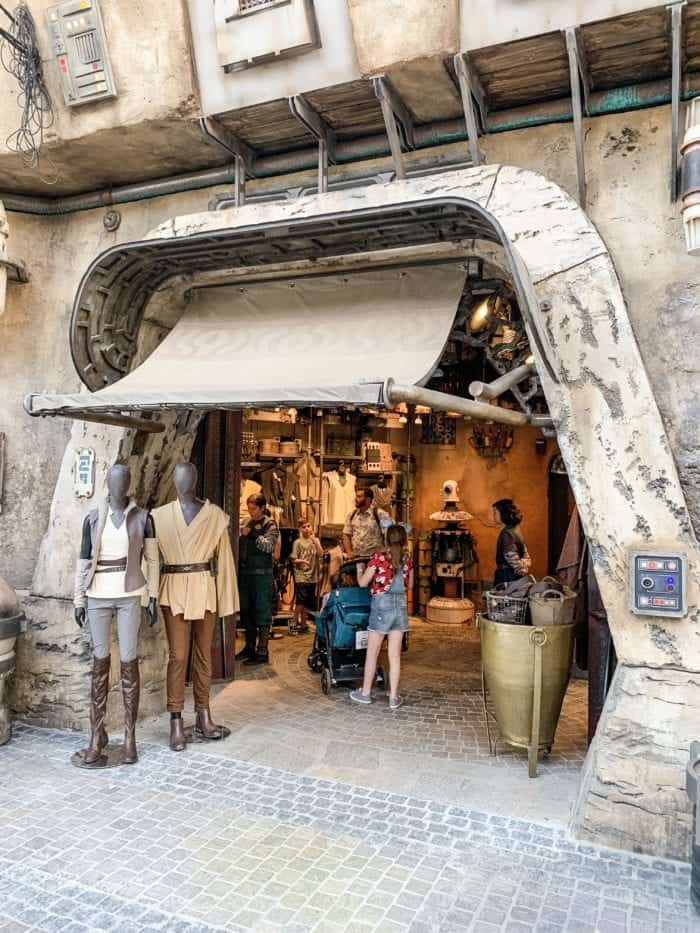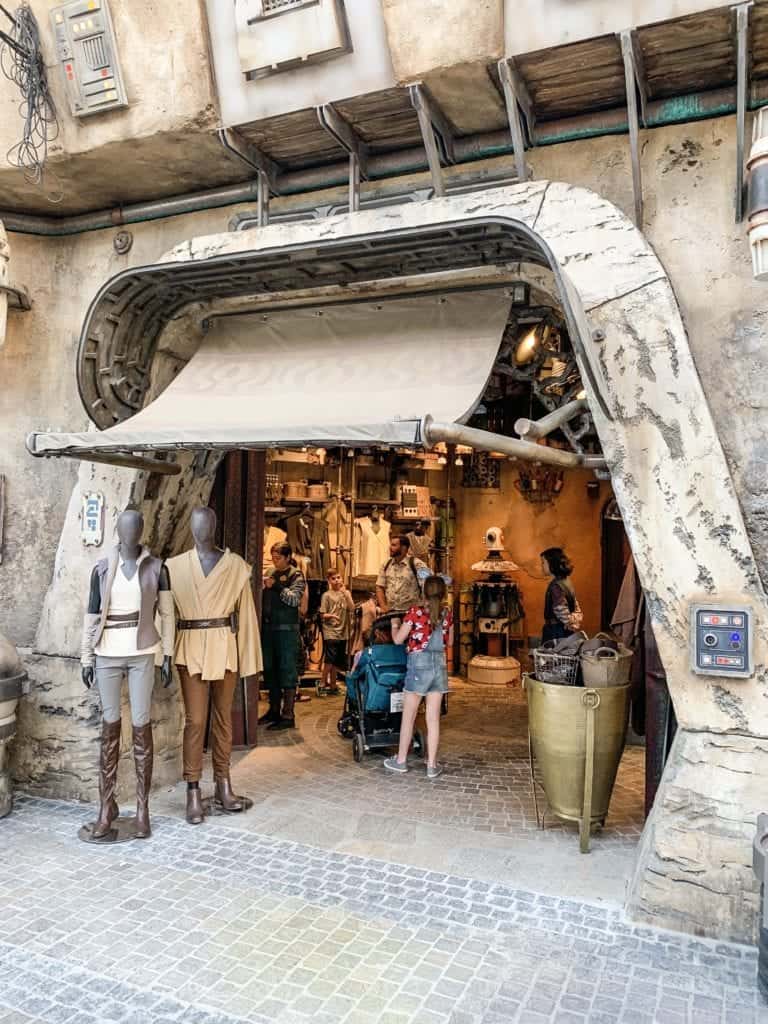 Disney Parks Blog gave more information regarding more guidelines about "dressing up."
Permitted
Costumes may not be worn by guests 14 years of age or older. Appropriate Disney bounding – dressing in outfits inspired by favorite characters – is permitted. Proper footwear must be worn.
Bounding: piecing together traditional clothing items that when worn together, serve as a recognizable tribute to Star Wars characters Batuuan attire: wearing outfits inspired by the villagers of Batuu—muted tones, vests, layers, etc.
Not Permitted
All robes or military-style attire
Masks, face paint, elaborate headwear, blasters or holsters (lightsabers are allowed) or hard items such as body armor, helmets or kneepads
Full character suits
Pin To Your Favorite Disney Board