This is a compensated review by BlogHer and Electrolux. Hi everyone, what an awesome opportunity we all have to do some good for Ovarian Cancer Research!! Kelly Ripa's Cakery For A Cause Supports the Fight Against Ovarian Cancer. Kelly and Electrolux are teaming up with a "virtual" campaign that offers Americans a sweet way to make a difference! All we have to do is visit Kelly's Cakery at www.Kelly-Confidential.com to decorate and send a special virtual cake to a friend, family member or loved one. For every cake sent, Electrolux will donate $1 to OCRF. AND…everyone who sends a virtual cake will be entered for a chance to win every bakers dream: a stylish new Induction Range from Electrolux!!
So, to set the mood and get us ready to send those virtual cakes, I am posting one of my very favorite cake recipes that brings back nothing but the best memories growing up. My mom's luscious sinful Carrot Cake with Cream Cheese Frosting!! This is not just any cake, but a cake that was only made on very special occasions that made you feel like queen or king for the day! Without further ado I give you….Mona's Carrot Cake with Cream Cheese Frosting.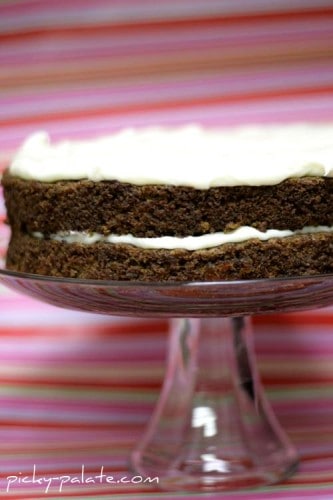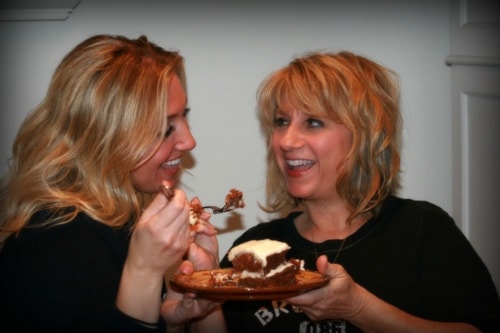 I was so thrilled to have my mom and dad visiting us last week in sunny CA. We made her carrot cake together, it was perfect!
Mona's Carrot Cake With Cream Cheese Frosting
1 ½ Cups Vegetable oil
3 large eggs
2 Tablespoons vanilla
3 Cups Shredded Carrots
1 Cup golden raisins (optional)
1 Cup chopped nuts of choice (optional)
2 Cups flour
2 Cups sugar
2 tsp baking soda
1 teaspoon salt
3 teaspoons ground cinnamon
Frosting
8 oz softened cream cheese
1 stick softened butter
1 lb powdered sugar
1 teaspoon vanilla
1. Preheat oven to 350 degrees F. Spray 2 9 inch cake pans with cooking spray. In a stand or electric mixer beat oil, eggs and vanilla until well combined. Add in carrots, raisins and nuts until combined.
2. Place flour, sugar, baking soda, salt and cinnamon into a large bowl. Slowly add to wet ingredients. Beat on medium speed for 1 ½ minutes. Pour evenly into cake pans that have been generously greased with cooking spray and bake for 35-40 minutes or until toothpick comes out clean from center. Remove and let cool completely. When cool, remove cakes.
3. To prepare frosting place cream cheese and butter into a stand or electric mixer. Beat until creamy and smooth. Slowly add powdered sugar and vanilla until smooth. Frost cooled cakes.
8 servings
___________________________________________
So there you have it! Now, let's get sending those virtual cakes!!
Check out the other sponsored stories too! BlogHer.com special offers page
Link to the official site for more information: Kelly's Cakery website