Good Thursday!
Here's a little blast from the past for you today. I LOVE these Halloween recipes that I did last year. I am actually doing a couple of them in my little guys preschool class tomorrow morning that should be fun!
Halloween is going to be here before we know it! Both my boys decided they want to be skeletons, phew that's easy. I am trying to find a couples costume for my husband and I this year. I just can't make my mind up! I saw a bacon and eggs costume that is just adorable! I might have to order it today. Catch ya'll later, happy halloween baking!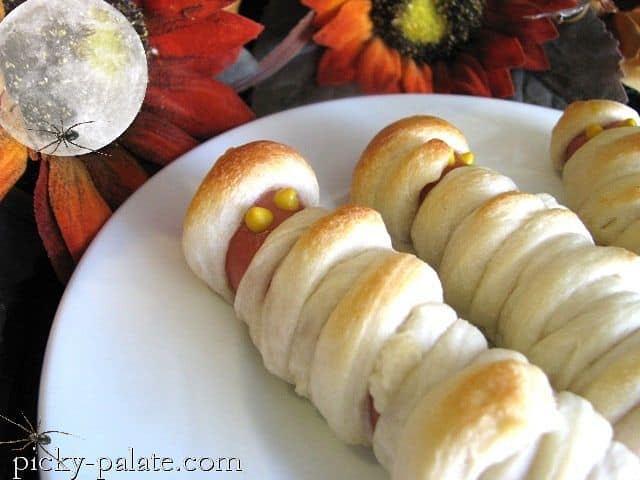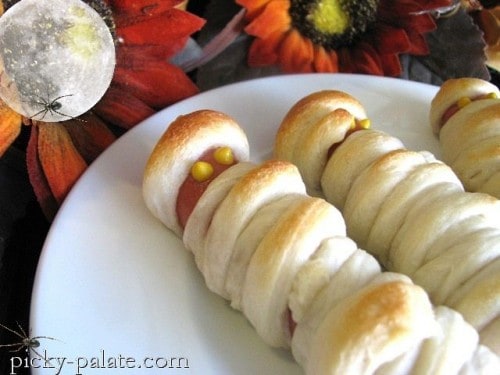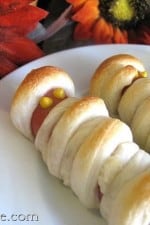 Breadstick Mummy Dogs
These festive Halloween treats make great easy party appetizers.
Print
Pin
Ingredients
1

roll/pkg Pillsbury Breadstick Dough

12 count

12

hot dogs
Instructions
Preheat oven to 375 degrees F. Unroll all 12 breadsticks from package. Cut each into 3 equal strips. Take 3 strips, one at a time and wrap around 1 hot dog starting from the top of the hot dog. (Each hot dog has 3 thin breadstick strips around it). Leave a small space towards the top of the hotdog to make mustard eyes. Continue wrapping all dogs then place on a lightly greased baking sheet. Bake for 10-15 minutes or until lightly golden brown.

Remove and let cool for 5 minutes. Use mustard or ketchup for the eyes.
Keywords:
halloween hot dogs, mummy hotdogs, pig in a blanket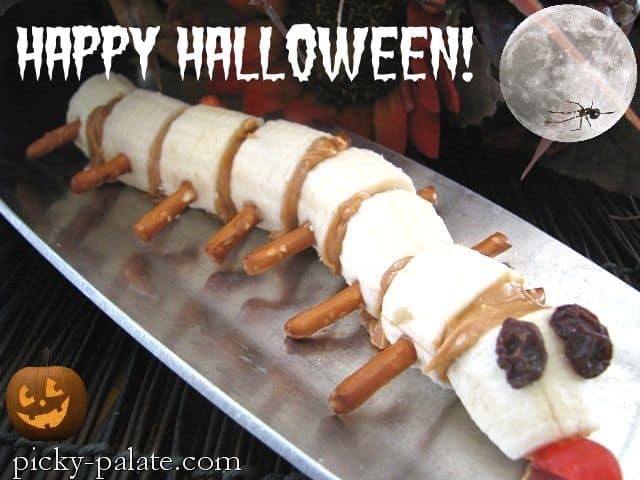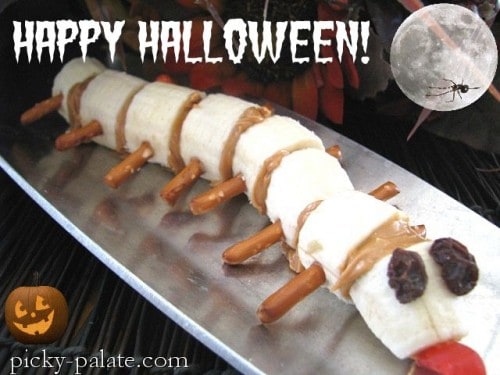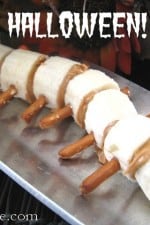 Bug-apillar Banana Dude
These adorable Halloween treats are festive and easy to make! Plus, they make a great edible craft for kids.
Print
Pin
Ingredients
1

Ripe banana

Creamy peanut butter

Pretzel sticks

Raisins

Red fruit snacks
Instructions
Cut banana into 1 inch slices. Spread a thin layer of peanut butter on each slice (minus the last piece) then press gently back together, curving slightly if desired. Break pretzel sticks in half, then press into sides of banana for legs. Dip 2 raisins in peanut butter and stick on front banana slice for eyes, then dip red fruit snack in peanut butter and stick on bottom of banana slice for the tongue.
Keywords:
halloween easy food, halloween food ideas, halloween party food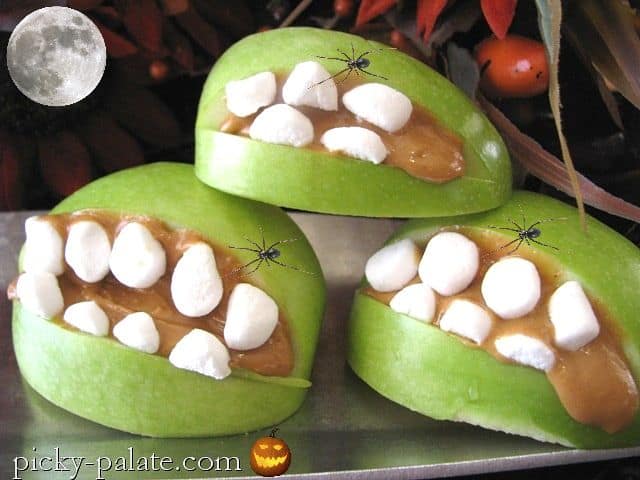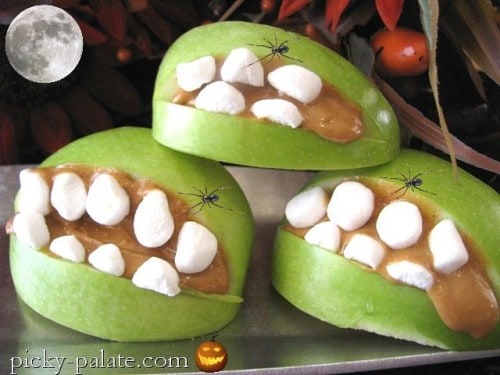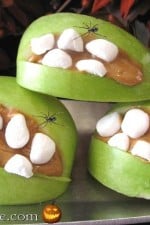 Ooozing Monster Apple Mouths
These sweet and festive Halloween treats are loaded with creamy peanut butter and mini marshmallows.
Print
Pin
Ingredients
1

Large apple of choice

Peanut butter

Mini marshmallows
Instructions
Core then cut the apple into fourths. Cut out a small wedge on the skin side of the apple. Blot inside with a paper towel then spread lightly with creamy peanut butter. Cut mini marshmallows in half and place over peanut butter to make the teeth.
Keywords:
halloween appetizers, halloween easy food, halloween snacks
_______________________________
Have a great weekend! See you all soon!