Grilled Chicken Veggie Bowls – Meal Prep
Thrilled to share my Grilled Chicken Veggie Bowls with you today!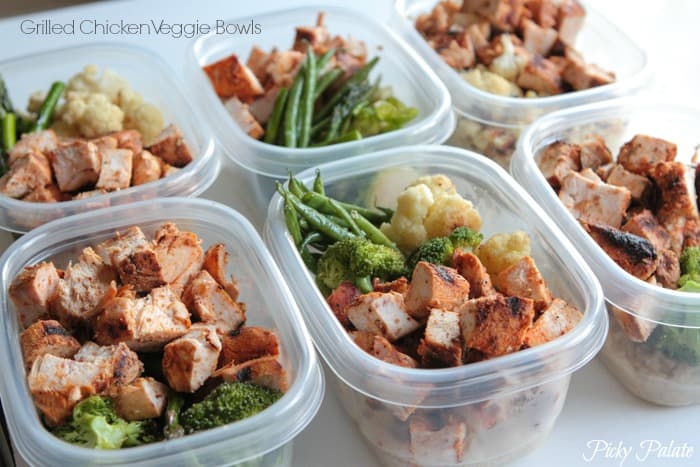 My husband and I decided we wanted to try the meal prep world by preparing a weeks worth of food before hand.  These Grilled Chicken Veggie Bowls were soooo good and it was so convenient having them prepared and ready to eat.  The website we got the idea from is called Fit Men Cook.  We used his idea of ingredients for the bowl: chicken, rice, quinoa, and vegetables all prepped one time for just about our weeks worth of meals.  We chose to make 8 bowls worth of food.  This equates to 4 days of meals for 2 people.  This allowed us flexibility for the other days to have a different lunch.
Ingredients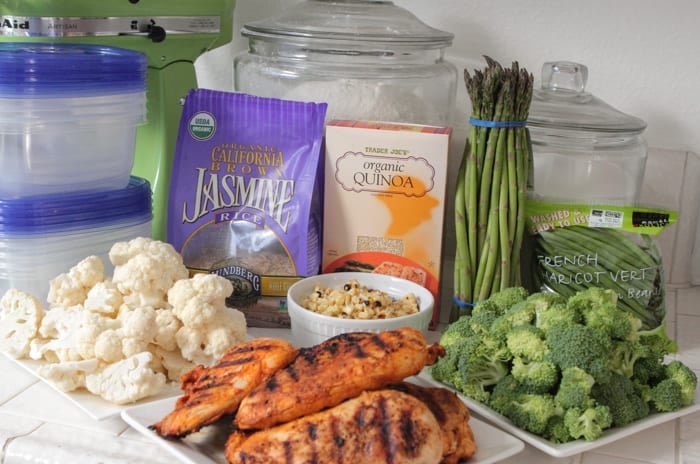 Here's your line-up of ingredients.  We decided to add 5 different vegetables to mix it up a little. You could simplify it by using 3 different types.  We used some disposable Tupperware containers you can find at your local grocery store.  They worked great for our portions.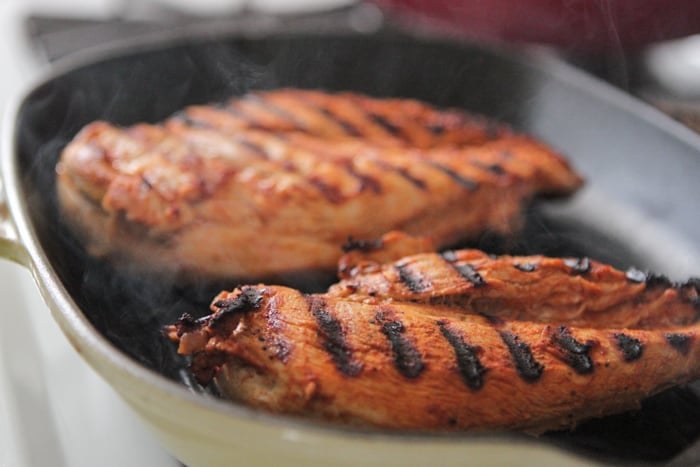 Grill up my Taco and Lime Chicken to get started.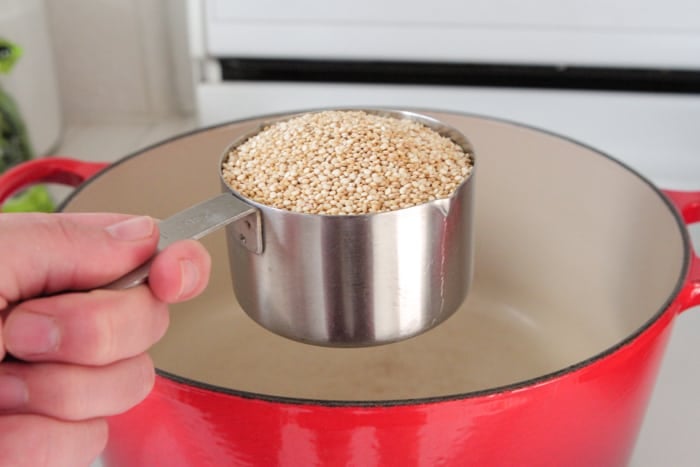 You'll need 16 ounces of cooked quinoa and 16 ounces of cooked brown rice.  Cook them both according to package directions.  We cooked extra so we could freeze some and save for future meals.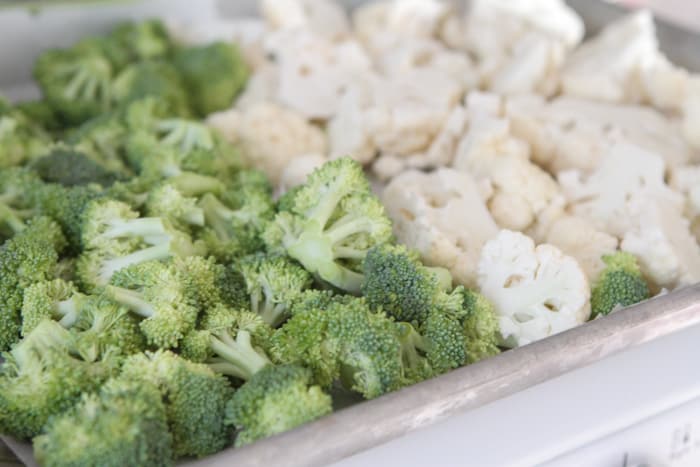 Roast your veggies.  Note that the cauliflower takes longer to cook, so I recommend putting the cauliflower on it's own baking sheet.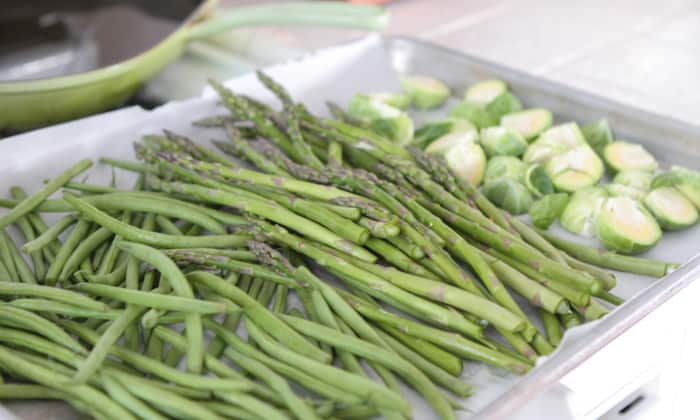 Here we have french haricot vert green beans, asparagus, and brussels sprouts.  Asparagus only takes 7 minutes to roast so those come out early.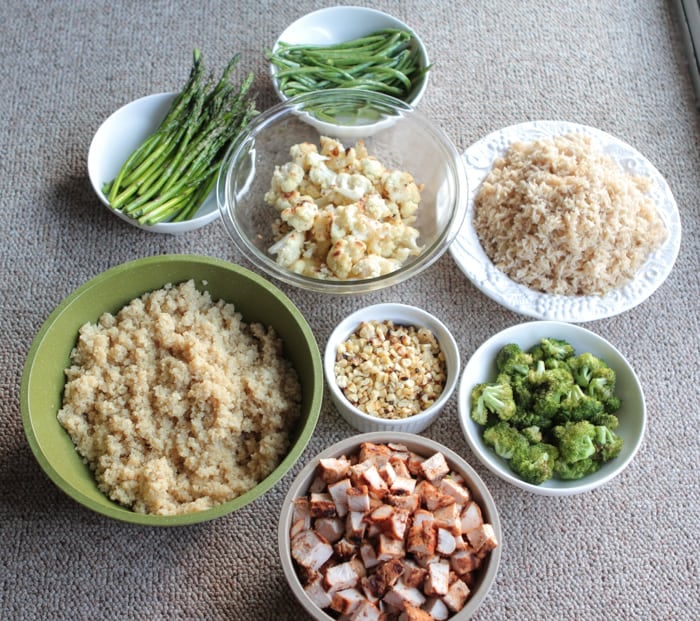 Here is the post-cooked line up.  This is what makes up your "bowls."  Again, you can ease up the process by choosing 3 or less different types of vegetables.  We cooked 5 different types for diversity and added 1.5 cups worth to each meal.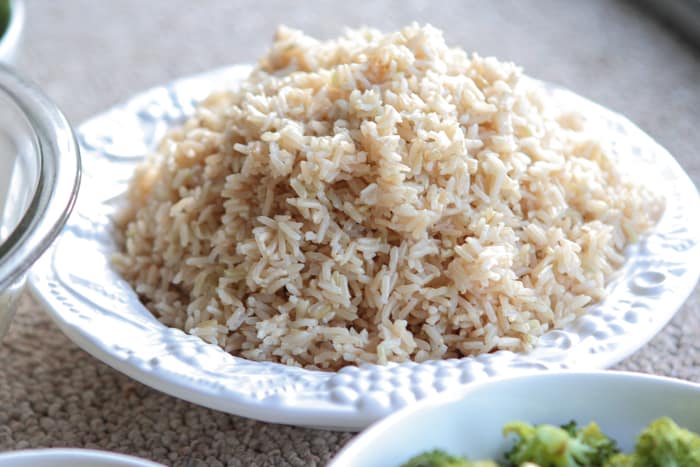 Brown rice.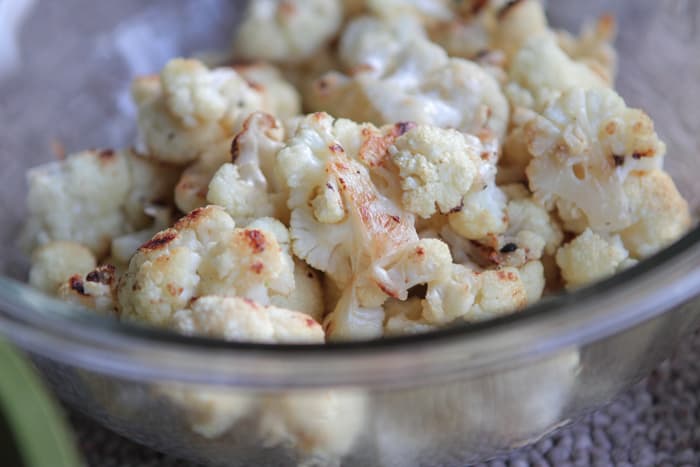 Roasted cauliflower.  This is my favorite.  So flavorful!  Here is the recipe.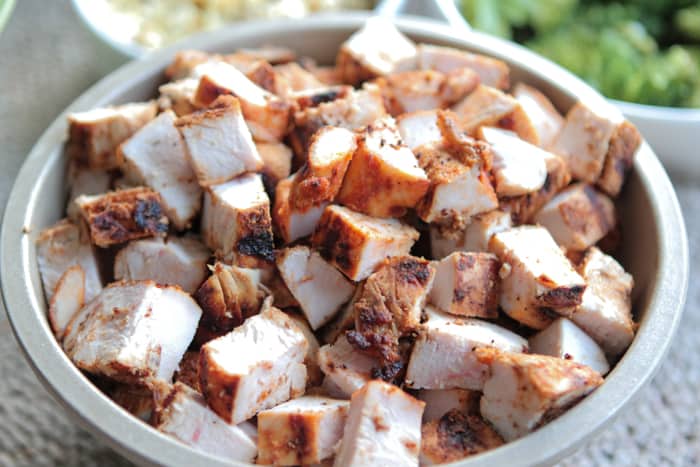 My Grilled Taco Lime Chicken, cubed.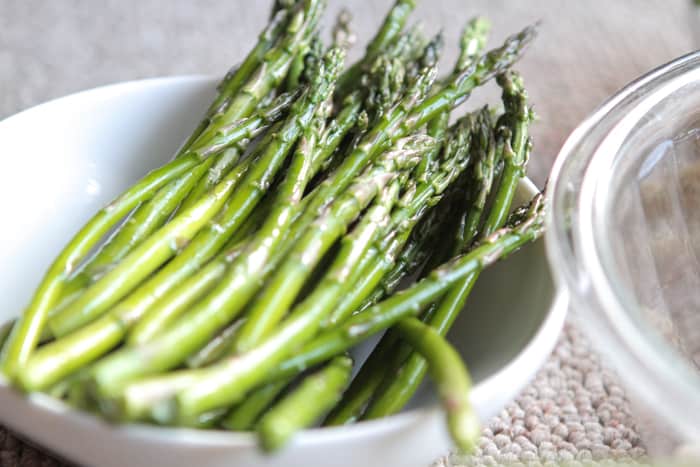 Roasted asparagus, ready to go.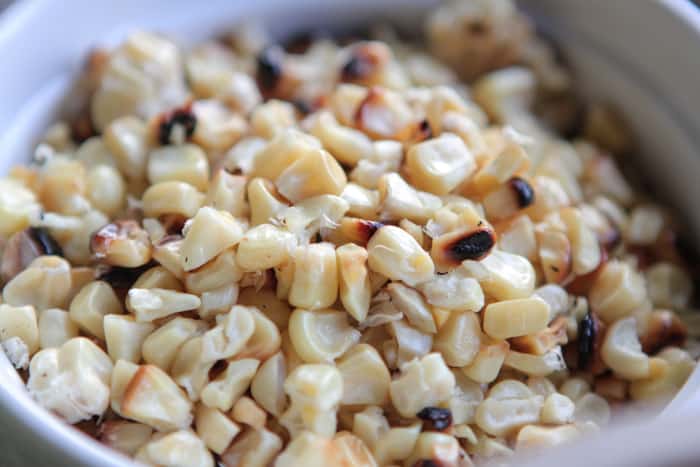 A bit of charred corn.  See my recipe and photos HERE.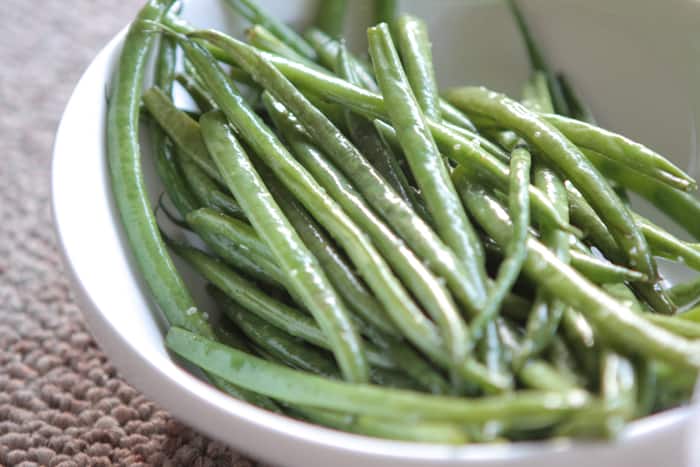 Roasted haricot verts.
For this meal prep, we documented the approximate calories and the price of the meals.  Please keep in mind these are approximate nutrition values and will vary based on the ingredients you use.
NUTRITION VALUES (excludes chicken marinade):
With 4oz chicken breast, 4 oz asparagus, 4 oz broccoli, 4 oz cauliflower, 1/4 cup of brown jasmine rice, 1/4 cup quinoa
–444 calories-    -11.5g fat-   -3g saturated fat-   -135mg sodium-   -52g carbohydrates-   -9g fiber-   -2g sugar-   -33g protein-
PRICE:
$4.71 per meal of mostly organic ingredients (vegetables used in this price are asparagus, broccoli, cauliflower).
$3.34 when we used non-organic, non-free range chicken.
MEAL PREP TIME: 
-These 8 meals took Cullen and I about 2 hours but that includes the photo shoot.  We figure it will take one skilled cook or two novice cooks 1 to 1.5 hours.
-For the best chicken flavor, marinate the chicken for 5 to 8 hours, or overnight.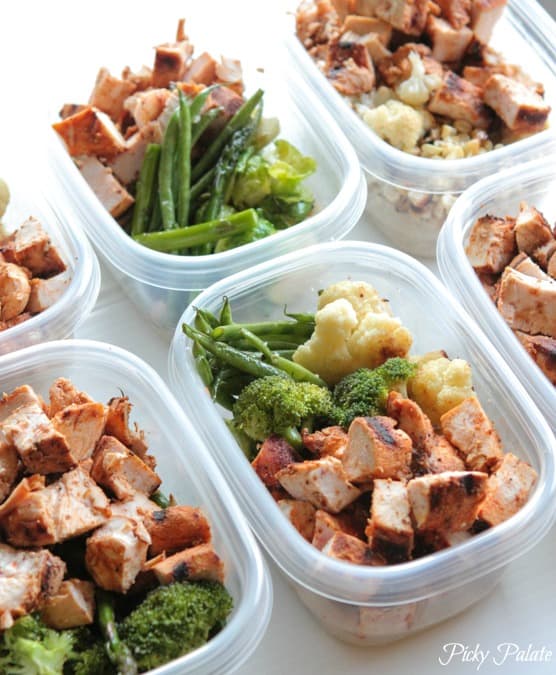 [ziplist]
Grilled Chicken Veggie Bowls Meal Prep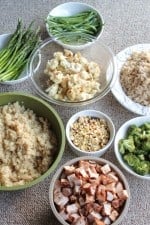 Ingredients (Makes 8 Meals)
16 ounces

cooked quinoa

16 ounces

cooked brown rice

4 cups/32 ounces

roasted asparagus, chopped

4 cups/32 ounces

roasted broccoli florets

4 cups/32 ounces

roasted cauliflower florets

32 ounces

prepared Grilled Taco Lime Chicken, cubed
Optional (would replace any of the vegetables above)
4 cups

haricot verts

4 cups

roasted brussel sprouts

4 cups

charred corn
Directions
To prepare your bowls, we used 3-cup To Go snack containers. Place 1/4 cup brown rice and 1/4 cup quinoa into each container. Top with a total of 1 1/2 cups of your cooked vegetables. Mix up the type of vegetables for each bowl so you have a variety each day.  Add 4 ounces or 1/2 cup of your cubed chicken. We added salsa or hot sauce to season to our liking after we reheated the bowl in the microwave.  A low fat dressing would work as well.  Store these in the refrigerator and when you are ready microwave until heated through.
Note: To roast vegetables, place them onto a large baking sheet, drizzle lightly with olive oil, and season with kosher salt and pepper. Cook in oven at 375 degrees until fork tender. Time will vary depending on vegetable.
Makes 8 Meals
FOLLOW PICKY PALATE ON INSTAGRAM! Show me what recipes you're making from Picky Palate by using #pickypalate.
Other recipes you may enjoy...
Comments