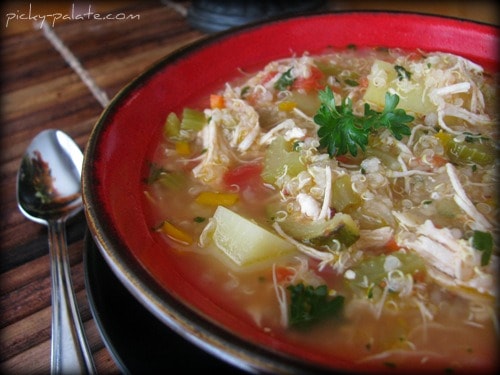 Good Monday Morning friends!
If I haven't talked you into cooking with quinoa yet, this recipe should do the trick. It is hearty and probably my favorite yet with quinoa. It is so comforting and best of all, it's pretty darn good for you! I'm sad that my big bag of quinoa from Costco is almost gone, I have used it in a zillion different soups and salads. I'm sure there will be more quinoa recipes to come 🙂
Do yourself a favor this week and whip up a big pot of this feel good soup, your belly will thank you!! If this wasn't good enough, I've added a not so bad for you dessert below too!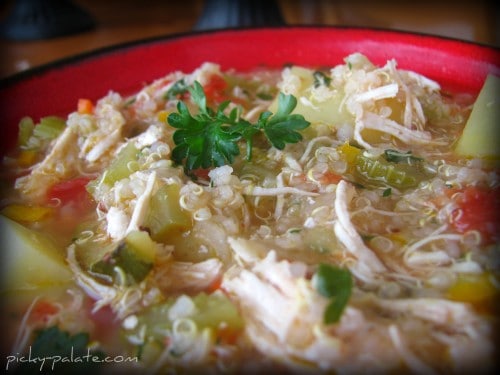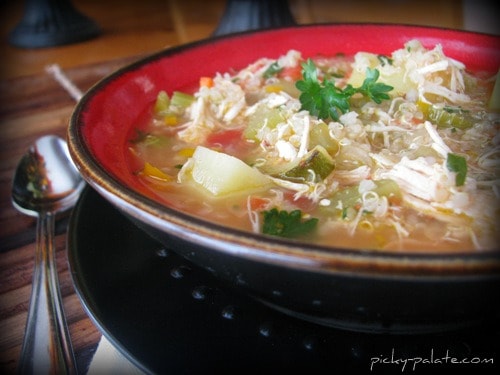 Healthy and Hearty Chicken Quinoa Stew
2 Tablespoons extra virgin olive oil
1 large onion, chopped
5 stalks celery, chopped
4 large carrots, peeled and sliced
2 Cups sweet pepper, chopped (I get the big bag from Costco, love them!)
1 large zucchini, quartered and sliced
64 oz chicken broth
15 oz can diced tomatoes
5 medium Yukon Gold potatoes, scrubbed and cubed into 1 inch pieces
3 Cups cooked quinoa
4 medium boneless skinless chicken breasts, cooked, shredded and lightly seasoned with salt and pepper
2 Tablespoons Dijon Mustard
1 Tablespoon Hot Sauce, I used Cholula
Kosher Salt, fresh cracked black pepper and Lawry's Garlic Salt with Parsley to taste
1 1/2 Cups fresh parsley, chopped
1. Heat oil in a large pot over medium heat. Saute onion, celery, carrots, peppers and zucchini until softened, about 5 minutes. Stir in chicken broth and tomatoes and potatoes. Increase heat to high just until broth starts to boil. Reduce to medium high and cook potatoes for 10 minutes or until fork tender. Reduce heat to low and stir in quinoa, chicken, dijon mustard, hot sauce and season to taste w/ salt, pepper and Lawry's. Stir in fresh parsley and simmer until ready to serve.
8-10 servings
_________________________________________
"Healthier" Banana Berry Brownies
1 Brownie Mix of choice, ( I used Naturally Nora's All Natural Brownie Mix)
1 Banana, very ripe
6 oz fresh blueberries
Powdered Sugar for Dusting
1. Preheat oven to 350 degrees F. Prepare brownie mix according to package directions except substitute 1 ripe mashed banana in place of the oil. Stir in fresh blueberries and pour into a lightly greased baking dish. Bake for 30-40 minutes or until toothpick comes clean from center. Let cool completely, cut into squares, dust with powdered sugar and serve.
12 brownies
________________________________
Happy Eating 🙂 See ya'll soon!