These Homemade Parmesan Potato Chips are such a delicious snack, you won't want to share! They're crispy, cheesy and quick & easy to prepare.
Homemade Parmesan Potato Chips
Ever been in the mood to just make a batch of homemade chips…for just yourself? Well, I did, just last week as a matter of fact. I was looking at the bag of potatoes in my kitchen and it was as if they were just asking me to turn them into salty, golden brown, crispy chips…..so I gave in and said, why not!
You wanna know the coolest part? This fun bowl for me, myself, and I only took about 10 minutes from start to finish. Before I knew it, I was crunching on crispy homemade chips. It was awesome 🙂 ……then my husband came home from lunch and stole the bowl from me. Little stinker.
Next time you pass by a "spud" in your kitchen, turn that russet into a devilish little snack for yourself. Put them in a pretty little parchment lined bowl and eat em' like no one is looking, lol! Can you tell that's what I did?
Enjoy!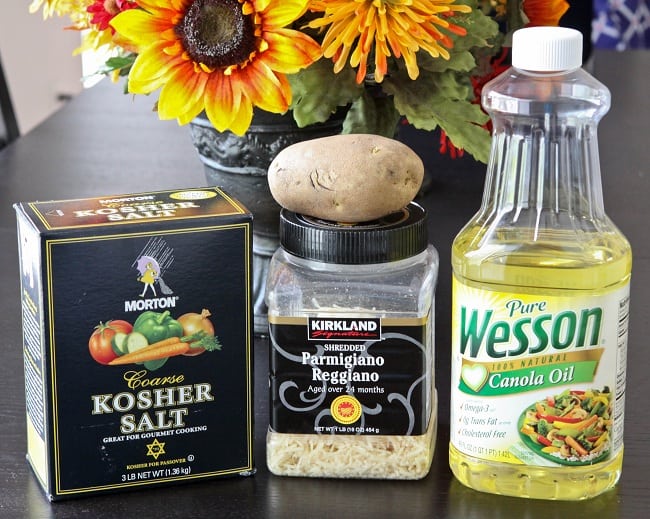 Here you have it, Left: salt, a potato, Parmesan (shredded or grated is fine) and canola or vegetable oil.
How to Make Parmesan Potato Chips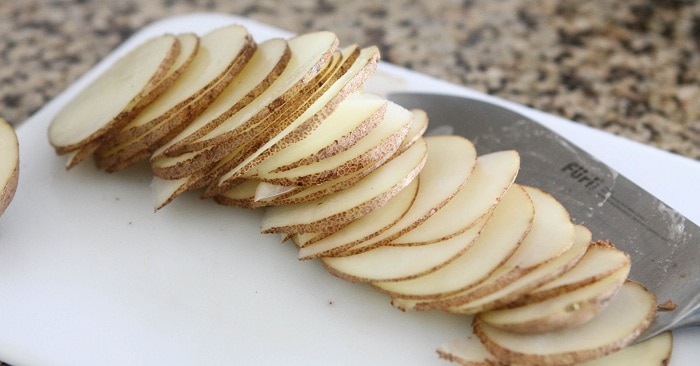 Use a sharp knife, be very careful and slice your potato very thinly. If you have a mandolin, that is a much better option. I was too lazy to pull mine out of the back of my cupboard.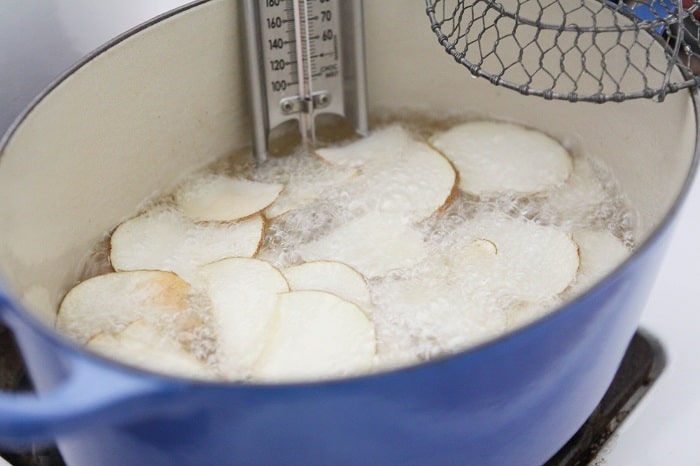 Fill your pot full with about 2-inches of oil and heat it to 350 degrees F. When the oil has reached temperature, carefully drop your potato slices in. I do this in 2 batches, per one potato.

This metal spyder comes in very handy for this task, however a heat proof slotted spoon will do the trick too. Let these slices cook for 3 to 4 minutes, until golden brown on both sides.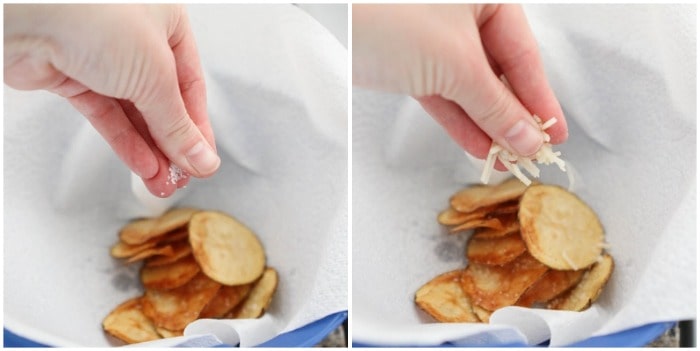 Time to season. I was in the mood for just salt and Parmesan, but can you just imagine the fun seasonings you can play with?!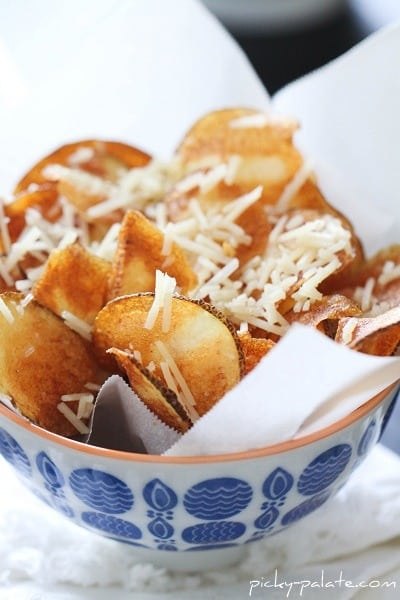 Here you have the best bowl of chips ever! Enjoy!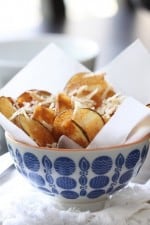 Homemade Parmesan Potato Chips
These Homemade Parmesan Potato Chips are such a delicious snack, you won't want to share! They're crispy, cheesy and quick & easy to prepare.
Print
Pin
Ingredients
canola oil

fill pot with 2 inches of oil

1

large russet potato

1/4

tsp

kosher salt

2-3

tbsp

parmesan cheese
Instructions
Heat oil in medium Dutch oven or other pot over medium heat. Place thermometer in oil and heat to 350 degrees F.

Thinly slice potato and in batches, carefully drop slices into hot oil once it's reaches 350 degrees F. (I did 2 batches for 1 potato). Cook and stir potato slices until golden brown on each side, about 3 to 4 minutes per batch.

Remove with a slotted spoon or a metal spyder as I have pictured above to a paper towel lined bowl or plate. Season with a pinch of salt and a pinch or two of Parmesan Cheese. Serve as desired. Best if eaten immediately.
Notes
Makes 1 serving, double accordingly 🙂
Nutrition
Calories:
207
kcal
|
Carbohydrates:
39
g
|
Protein:
8
g
|
Fat:
3
g
|
Saturated Fat:
2
g
|
Cholesterol:
7
mg
|
Sodium:
752
mg
|
Potassium:
888
mg
|
Fiber:
3
g
|
Sugar:
1
g
|
Vitamin A:
78
IU
|
Vitamin C:
12
mg
|
Calcium:
146
mg
|
Iron:
2
mg
Keywords:
best potato chips, easy snack idea, easy snack recipe, homemade chips, homemade potato chips, how to make potato chips, parmesan chips, potato chips
________________________________
Have a great rest of your week! Come back soon!