Sometimes you just feel like making your own peanut butter cups right? Well, a few Sundays ago I sure did. I pulled out some bloc chocolate I've had in my pantry, melted it, spooned it into these perfect little paper cups (2 3/4 inch round) I found at Michaels, poured in some softened peanut butter, more chocolate on top, then let them harden. Boy were they worth the wait. Fabulous my friends.
This is a no brainer treat, but I wanted to share anyway, perfect for a Sunday…..or any day treat 🙂 xoxo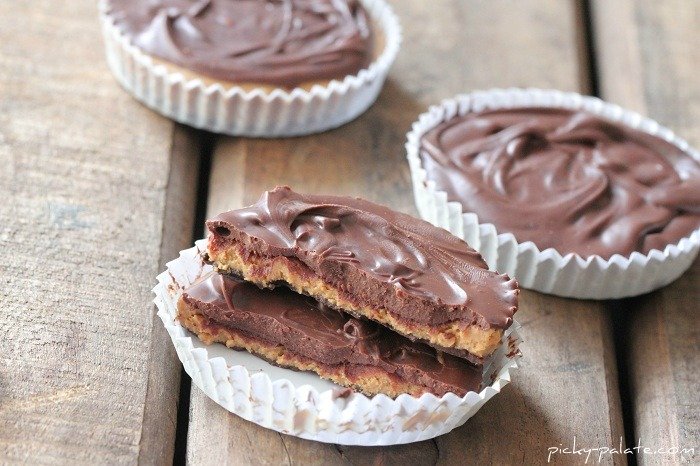 [ziplist]
Homemade Peanut Butter Cups, 2 Ingredients
2 cups chopped chocolate, semi-sweet
1 cup smooth peanut butter, melted in microwave to soften
1. Place chocolate into a microwave safe bowl and heat in 30 second intervals until melted and smooth. Spoon about 2 tablespoons of chocolate into each 2 3/4 inch round paper liner spreading to the edges. Spoon about 1 tablespoon slightly melted peanut butter over chocolate, carefully spreading to edges. Spoon another 2 tablespoons of melted chocolate over peanut butter, spreading gently to edges. Let harden completely.
2. Remove from paper liner and enjoy 🙂 Note: I found the round paper liners at Michaels in the cake decorating section.
Makes 8 to 10 peanut butter cups
______________________________
Enjoy! Come back soon 🙂