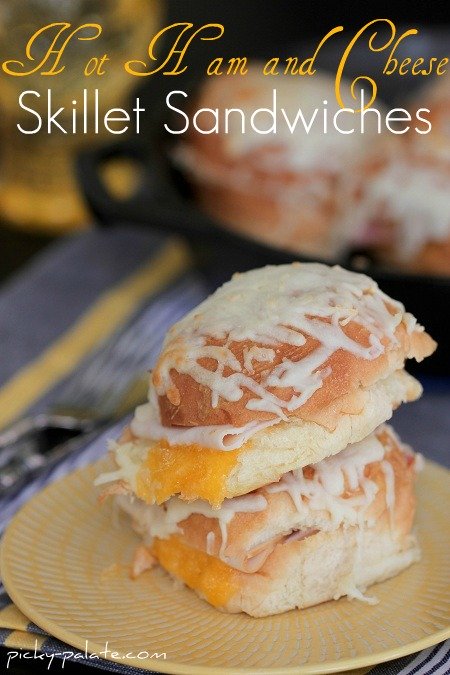 Oooo baby wait until you sink your teeth into these hot cheesy skillet sandwiches! I love breaking out my rustic cast iron skillet for this simple recipe. They are buttery, cheesy and Dijon delicious. Whip out those skillets and enjoy some hot sammy's!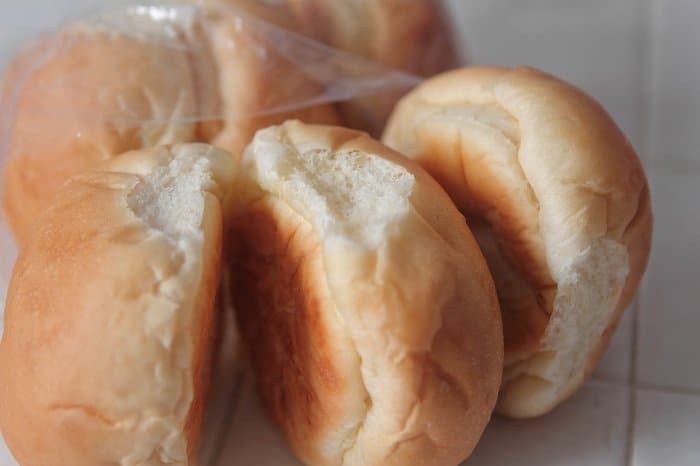 Start with some nice soft rolls. 6 to be exact 🙂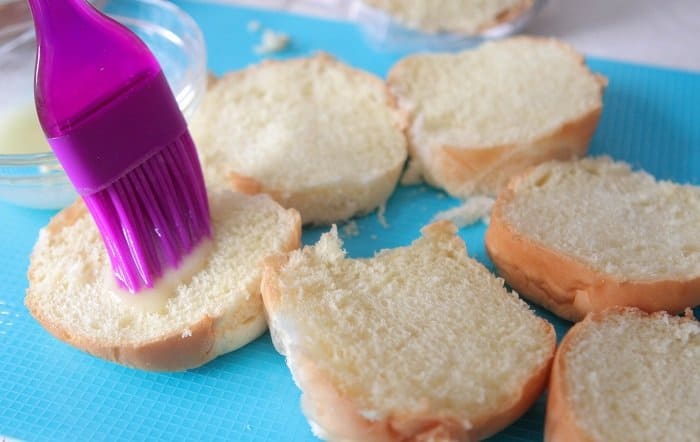 Butter the first half of the rolls.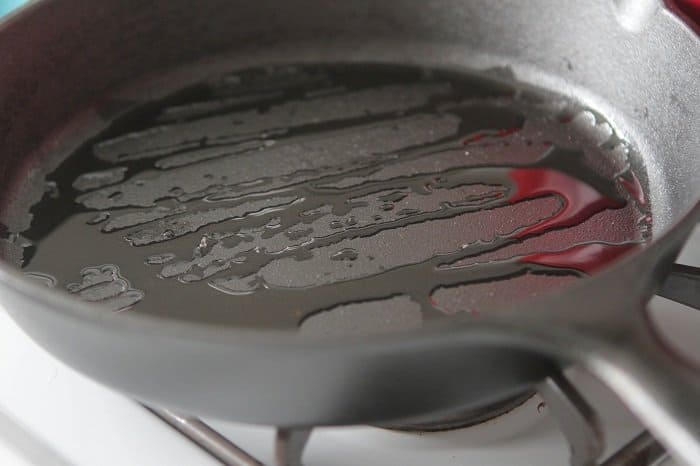 Drizzle a little oil in your skillet.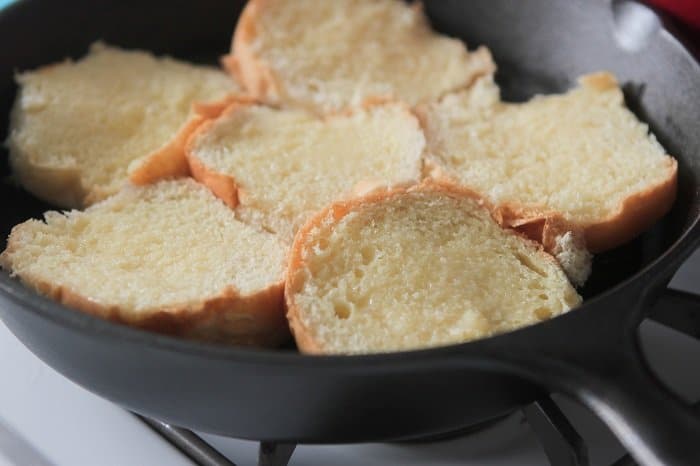 Place your buttered bottom rolls butter side up in the skillet.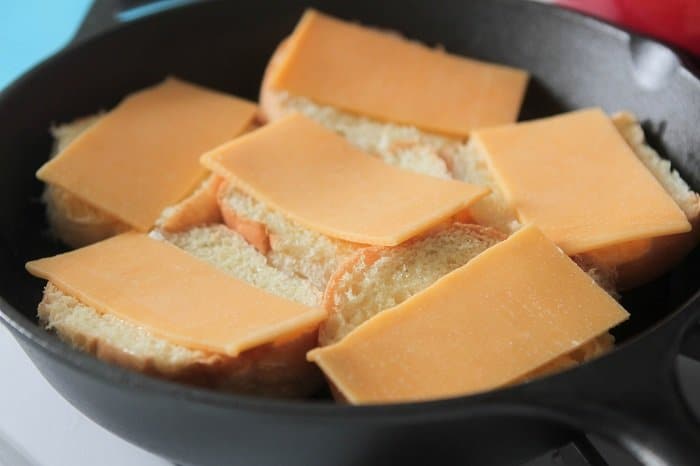 Top with some cheddar cheese!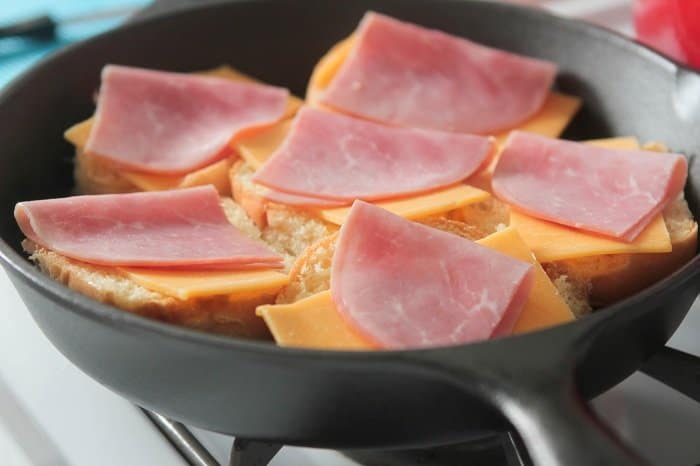 A little piece of ham.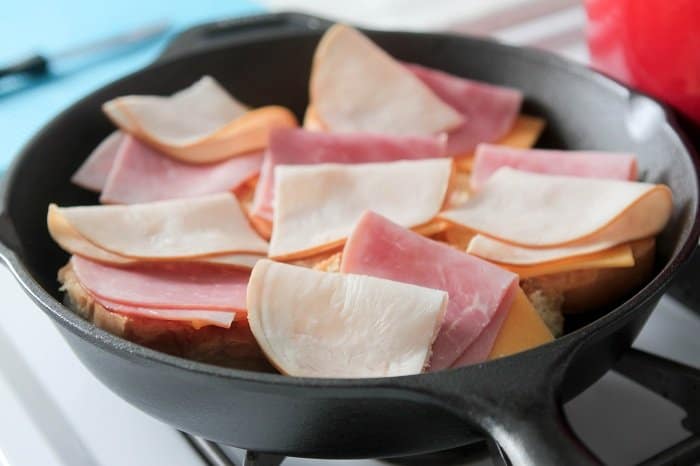 A little piece of turkey or more ham if you'd rather 🙂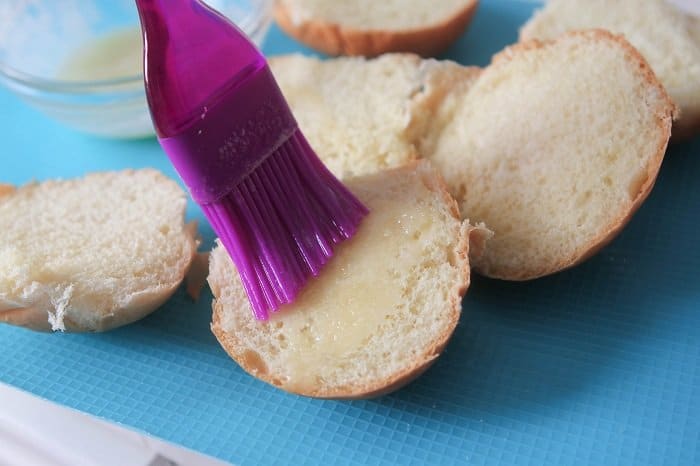 Butter the top rolls.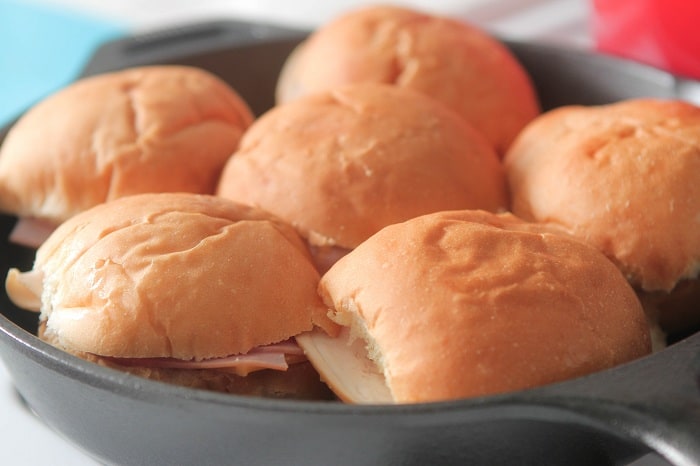 Place them ever so nicely over top.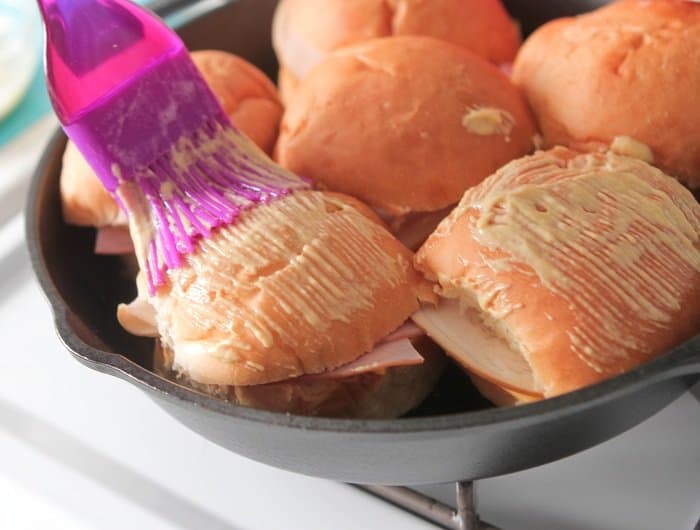 Top with some Dijon Mustard.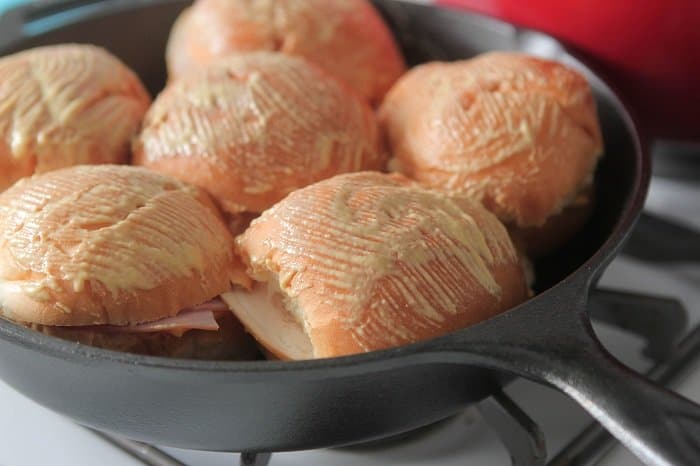 If you like it a little spicy add even more than you see here. A nice Italian Dressing would also be delicious!
Time for the cheese!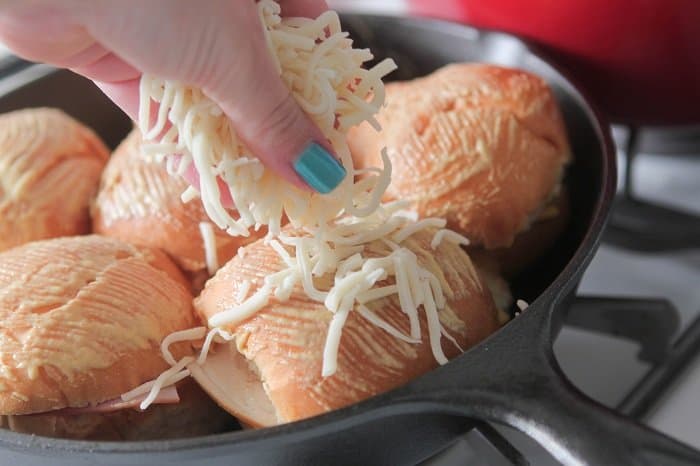 Put as little or as much as your heart desires.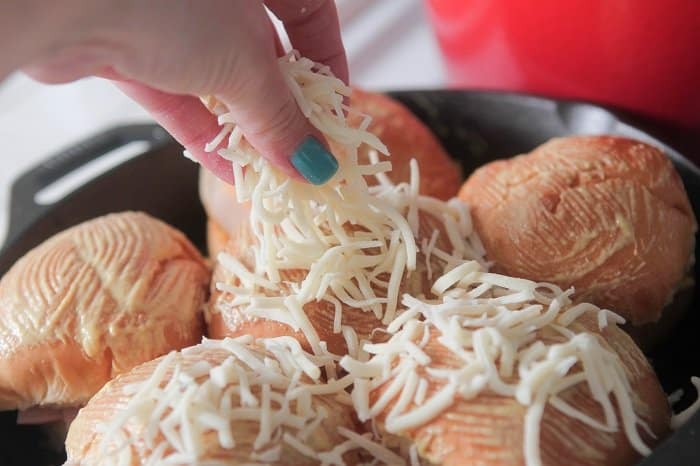 My heart desires….a lot 🙂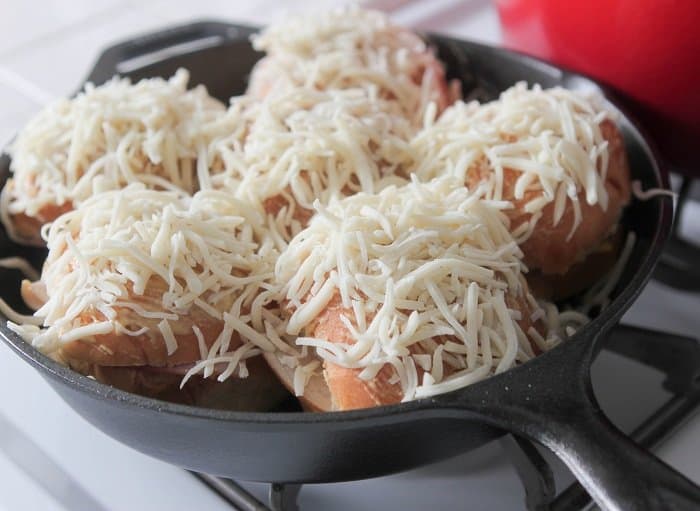 Ok, ready for the oven!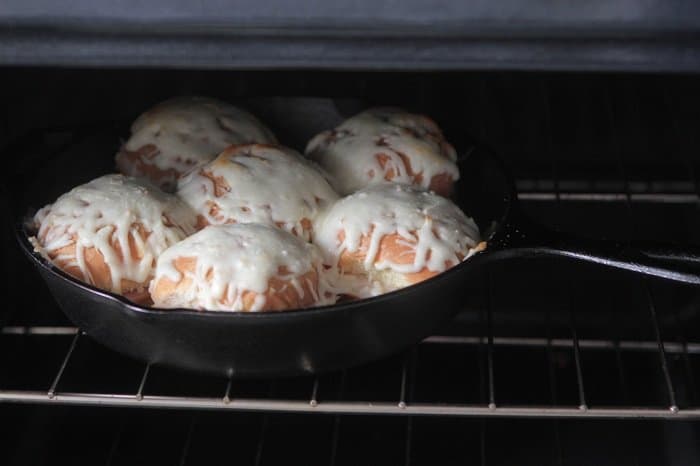 Bake for 20 minutes, until the cheese is melted and golden.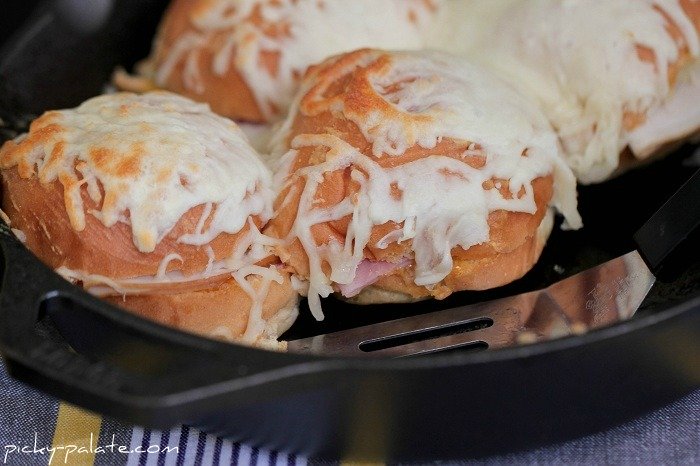 Now we're talking!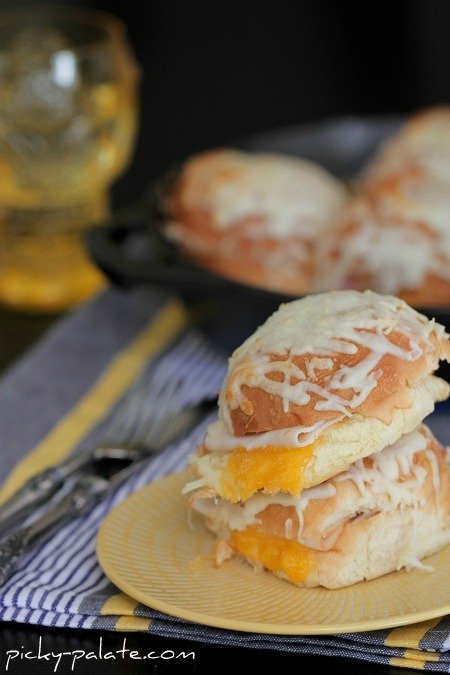 Grab a couple sammy's and enjoy!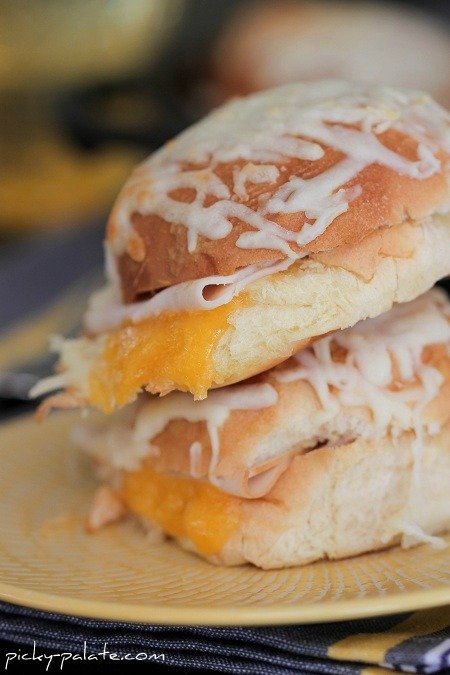 [ziplist]
Hot Ham and Cheese Butter Dijon Skillet Sandwiches
2 tablespoons extra virgin olive oil
6 soft dinner size rolls, split
4 tablespoons melted butter
3 slices cheddar cheese, cut in half
3 slices sliced ham, cut in half
3 slices sliced turkey, cut in half
2 tablespoons Dijon Mustard
1-2 cups shredded mozzarella cheese
1. Preheat oven to 350 degrees F. and drizzle 9 inch cast iron skillet with olive oil.
2. Brush bottom 6 rolls generously with half of the melted butter and place buttered side up in skillet. They'll fit snugly.
3. Top each roll with a half piece of cheddar cheese, ham and turkey slice. Butter top 6 rolls and close sandwiches.
4. Brush tops of rolls with Dijon Mustard and top with shredded Mozzarella Cheese. Bake for 20 minutes, until cheese is melted and turning golden. Remove and enjoy!
Makes 6 small sandwiches
___________________________________
Have a great day! Come back soon 🙂