I am thrilled to tell you guys about the new Good Bite Cookbook available now. I have 10 fun recipes in the book along with 16 other Incredible bloggers such as Steamy Kitchen, Matt Bites, Our Best Bites, Recipe Girl, Gluten Free Girl and more. You guys are going to love it! Make sure you enter to win a book right here on this post. See below for information on how to enter 🙂
Make sure to take a look at Matt's Video talking all about the book. He did such a beautiful job photographing all of our recipes!
I am sharing one of my recipes in the book today called Inside Out Chicken Pot Pies. It is a breeze to put together and the whole family loves it. I'll have a video on Goodbite.com soon demonstrating this recipe!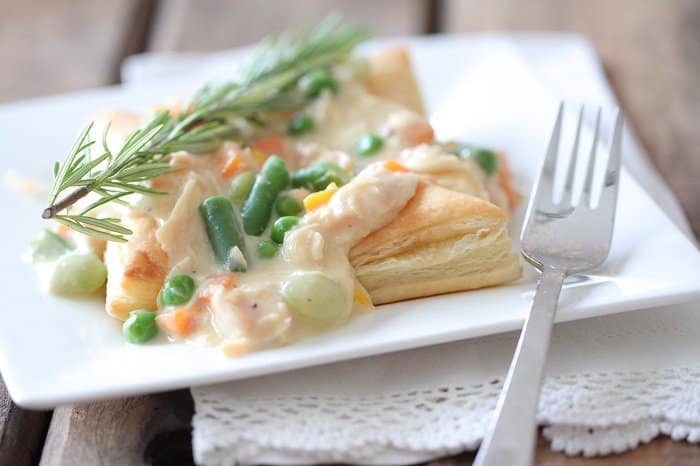 [ziplist]
Inside Out Chicken Pot Pies
1 sheet thawed puff pastry
1 can cream of chicken soup
1 Cup milk (I used skim and it was fine)
1 can chunk chicken, drained (from Costco)
1 can drained mixed vegetables
¼ teaspoon cajun seasoning (I use Emerils)
Pinch of salt and pepper
Pinch of garlic salt
Rosemary Sprigs for garnish, if desired
1. Preheat oven to 400 degrees F. Carefully unfold pastry onto a lightly floured counter. Cut into 9 equal size squares and place onto an ungreased cookie sheet. Bake for about 15 minutes or until golden brown. Set aside.
2. While pastry is baking, whisk together the soup and milk in a large bowl then transfer to a large skillet over medium heat. Add chicken, vegetables and seasonings. Break up chicken pieces with back of fork. Cook and stir until heated through, about 5 minutes.
3. Place puff pastry squares on serving plates and spoon chicken gravy over top. Garnish with sprigs of rosemary if desired.
8 servings
________________________________
Want to win a copy of the Goodbite Cookbook? 3 winners will be chosen.
Here's how to enter:
1. Leave a comment here and tell us, "What is your favorite quick and easy meal to prepare?"
2. Contest ends Thursday November 3nd 8am PST. Winners will be chosen via Random.org and be notified by email.
Have a great day! Come back soon 🙂