I was so excited when Jolly Holiday, the new Bakery Cafe opened at Disneyland last week. Thursday January 5th to be exact. My family and I went Saturday afternoon to try it out about 2:15pm. Look at the line! Apparently we weren't the only ones excited to try it:)
You can find the Jolly Holiday Bakery Cafe at the end of Main Street past the Penny Arcade and Coke Refreshment Corner.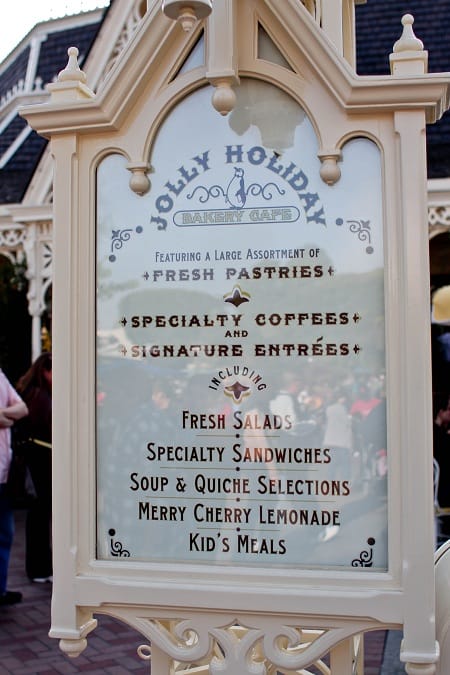 Here's the Outdoor menu board. Lots of fun things to choose from. Here's the full menu.
Served After 10:30 AM
• HOUSE SPECIALTIES •
Jolly Holiday Combo $8.99
Toasted Cheese Sandwich with Tomato Basil Soup
Ham & Cheese Quiche with House Salad $7.19
• SANDWICHES •
Served with House Chips
Caprese (Tomato & Mozzarella) $8.69
Tomatoes, Mozzarella, Basil, Lettuce, and Basil Vinaigrette
Served on a Toasted Focaccia Bread
Oven-Roasted Turkey $8.69
Turkey, Tomatoes, Lettuce, and Mustard Aioli
Served on Toasted Ciabatta Bread
Chicken Waldorf on Brioche $8.99
Apples, Walnuts, Celery, and Crasins, Dried Cranberries
Hot Angus Pot Roast Beef on Toasted Onion Roll $9.69
Caramelized Onions, Horseradish Aioli and White Cheddar
• SALADS •
Served with Fresh Breadsticks
Jolly Holiday Salad $7.49
Blend of lettuce, with Spiced Pecans, Feta, Red & Yellow Tomatoes
and Crasins, Dried Cranberries. Served with Raspberry Vinaigrette
Angus Roast Beef Salad $8.99
Iceberg lettuce, Red & Yellow Tomatoes and Pickled Onions.
Served with Bleu Cheese Dressing
Grilled Vegetable & Whole Grain Salad $7.99
Seasonal vegetables, Mixed Greens, Barley, Spelt, with Basil Vinaigrette
• FEATUREDS SOUPS •
Tomato Basil $5.49
Classic Chicken Noodle $5.49
• KID'S MEALS •
Ages 3 through 9 – Meals Built Especially for Kids
Served with Sliced Apples and Choice of small Low-Fat Milk, Minute Maid Juice Box or small Dasani Water. Soda Available on Request
Turkey Sandwich $5.99
Macaroni & Cheese $5.99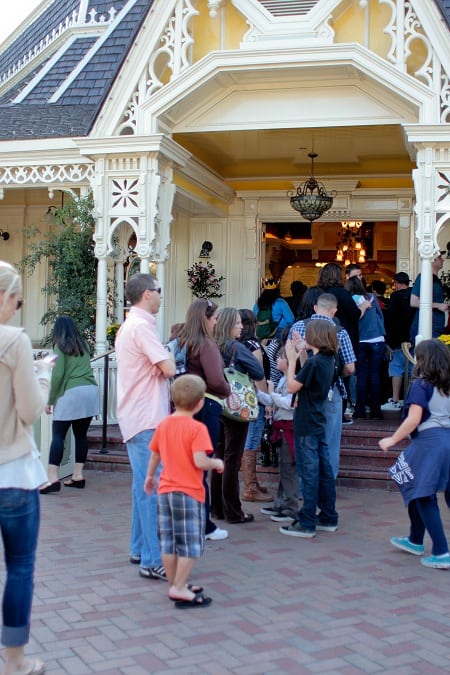 Granted the cafe had only been open for 2 days….the line was REALLY long.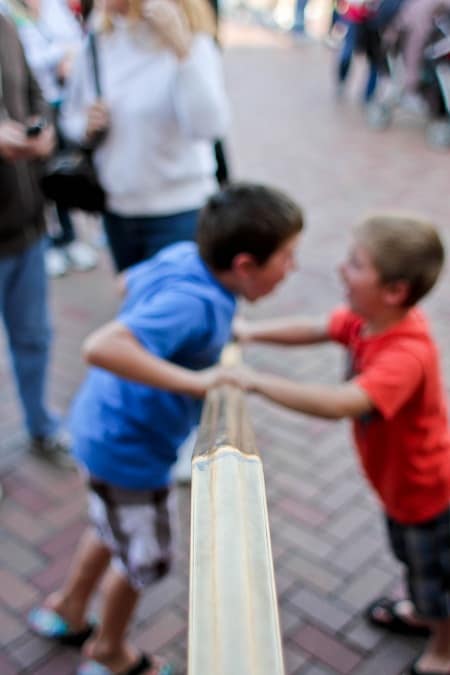 So long, that my boys were at each others' throats 🙂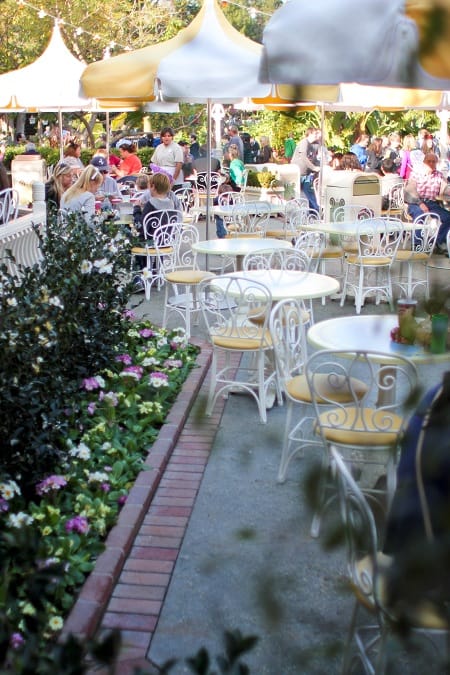 Here is the outdoor seating area. There are dozens and dozens of tables and chairs all outside under white and yellow umbrellas. Even with the long line, we were able to find a table with no problem.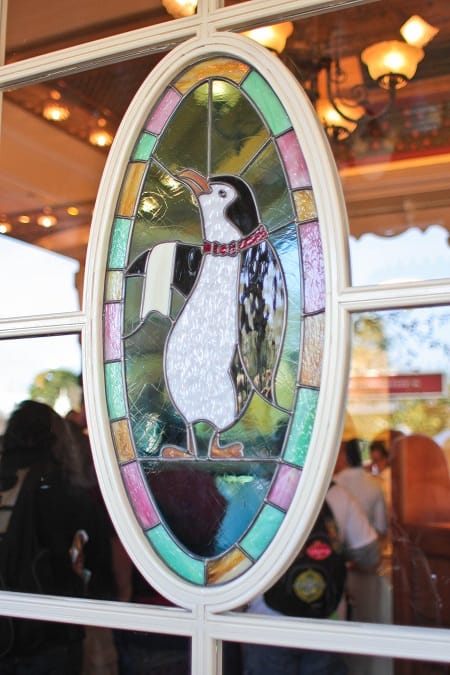 Loved the stained glass penguin on the outside window right before heading into the cafe. How cute is he?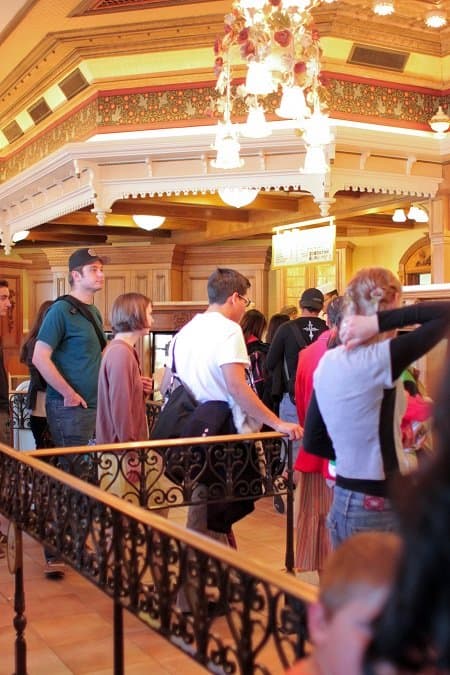 We finally made it inside! The line kept wrapping. Lol! It probably seemed longer because I was so hungry!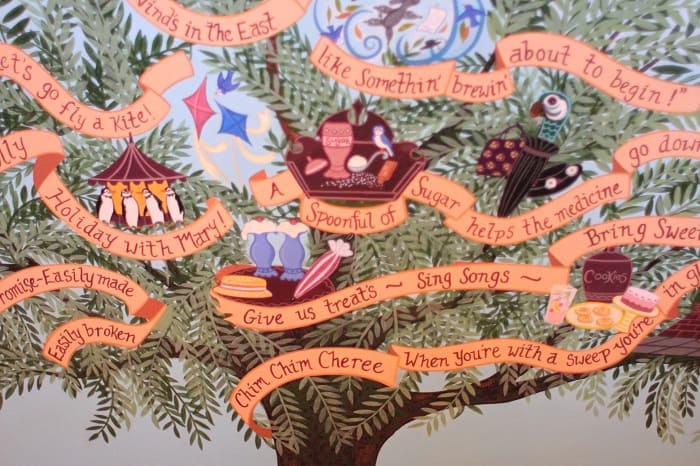 Loved this charming Marry Poppins Song Lyrics painting inside the Cafe. So cute!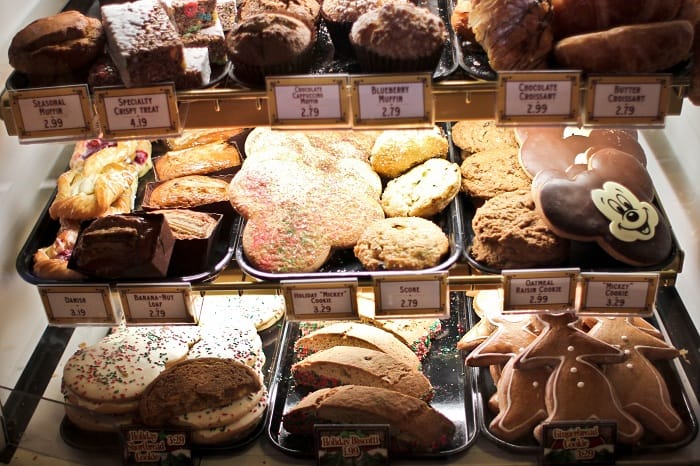 My eyes went straight to the bakery display. Cookies, cakes, brownies, bars, pastries, tarts. You name it, they had it.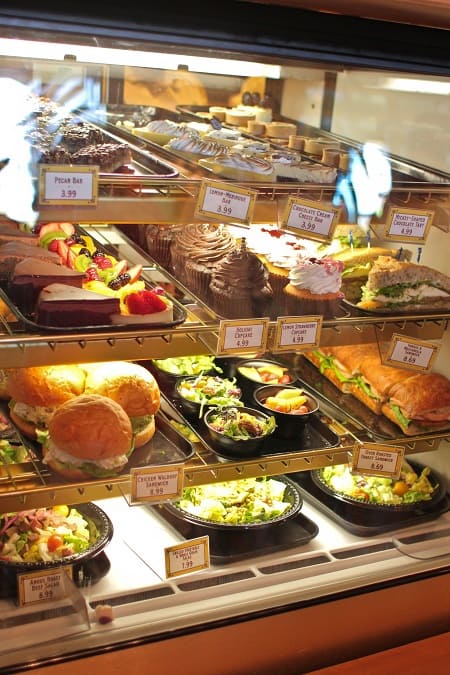 A look at some of the salads, sandwiches and more goodies on top.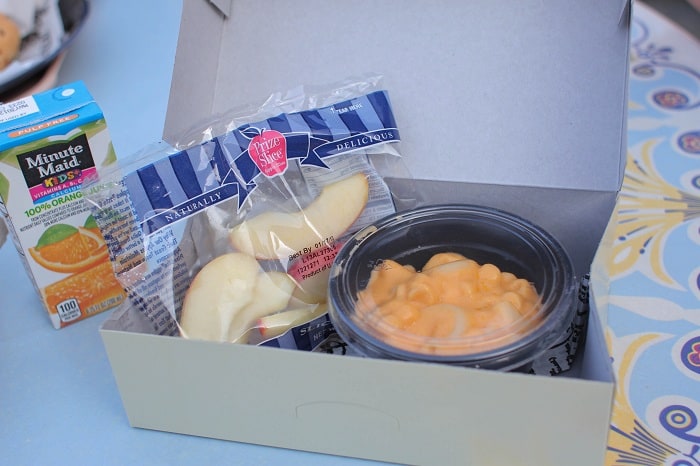 My youngest ordered the mac and cheese from the kids menu. He said it was good, but was still hungry afterwards. The portion is more suitable for 3-4 year olds in my opinion.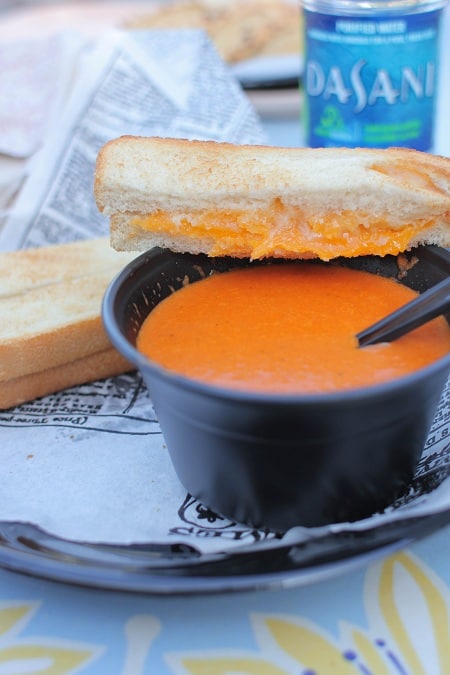 My oldest ordered the grilled cheese and tomato basil soup. He ate it right up however, here were my thoughts. The grilled cheese was not hot and the cheese was not melted. So…..don't expect that if you order this one. I thought the soup had great flavor and was a touch creamy which I thought was great.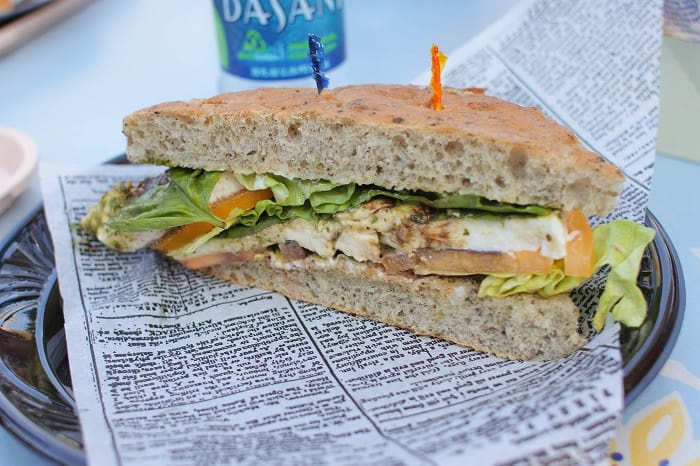 The Caprese Sandwich that my husband and I shared was my favorite thing we ordered. The bread was a soft focaccia and the entire sandwich was full of flavor. Not dry at all. I will order this again for sure.
I saw dozens of people ordering this Angus Roast Beef Sandwich so my husband and I shared this as well. I have to say it looks really good in the photo, but I found it just ok. There is a strong horseradish sauce, so be aware if you are not a horseradish fan. The pickled onions were a bit overwhelming too.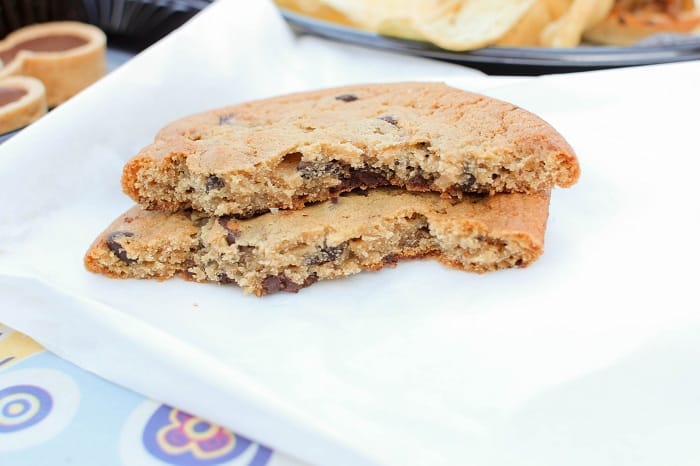 You know we ordered dessert! The giant Chocolate Chip Cookie looked really good. For a theme park cookie it was indeed really good. Soft, chewy with a good ratio of chocolate chips.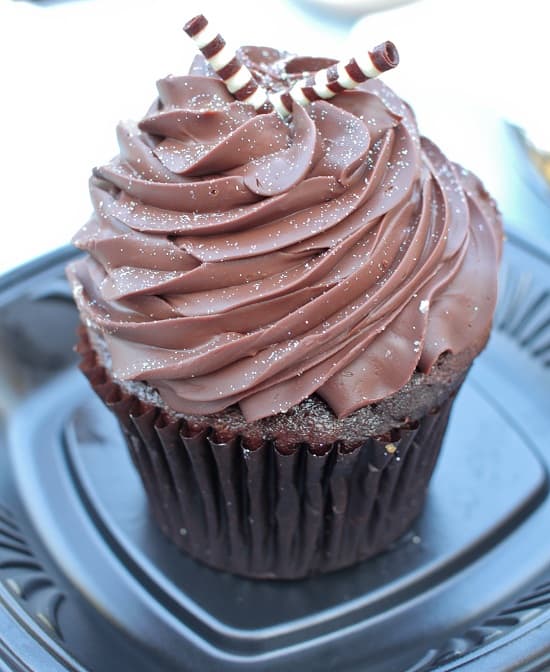 How gorgeous is this Chocolate Mint Cupcake?! Now, when I ordered it I did not know it was chocolate mint, but what a nice surprise it was. The cake was perfectly soft and moist and the frosting was crazy thick. It was really good frosting, but really hard to cut with a fork. Think ganache. Loved it, just make sure you share it. My family of 4 couldn't even finish it.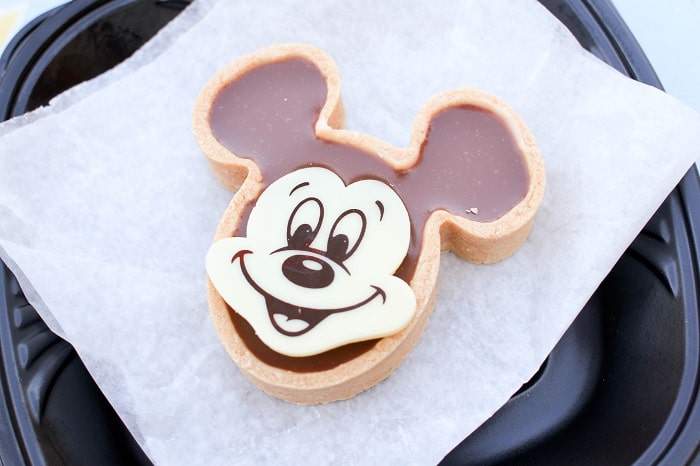 The Micky Mouse Tart was surprisingly our favorite dessert. It has a buttery shortbread crust and soft custard like chocolate/caramel tasting filling. The Micky Face is crunch white chocolate. It's a must order if you ask us.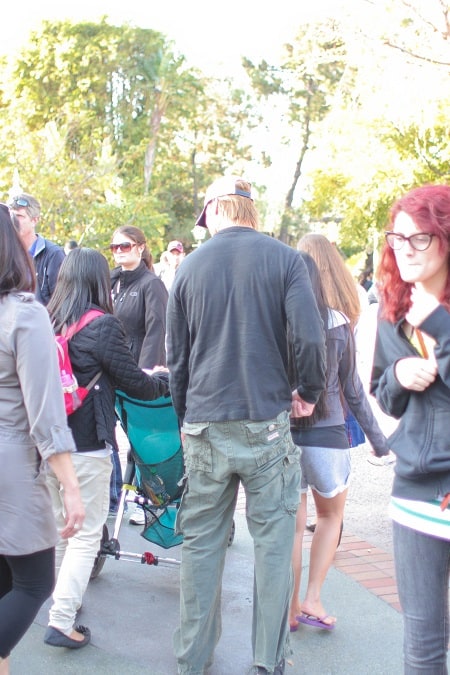 As I was taking my final photos of the outside of the Cafe, Josh Holloway (aka) Sawyer from "Lost" walked right past me with his crew. I was in shock, but managed to snap this photo of him as he walked away. My husband and I just finished the entire show last year and I just loved it. What a treat to see him cruising Disney.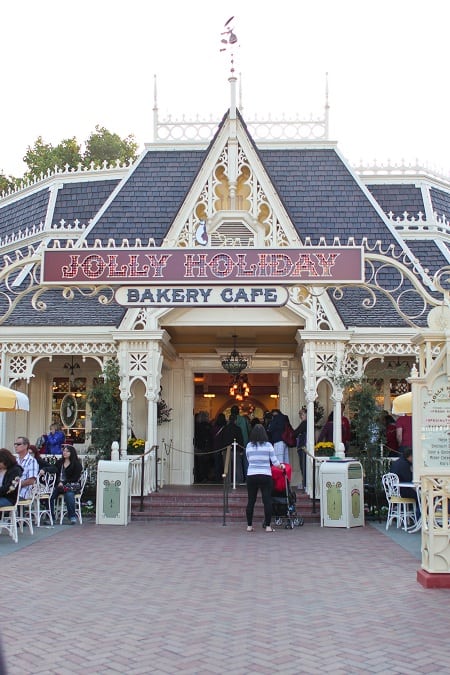 Here you have it friends. The new Jolly Holiday Bakery Cafe. You will like this one. Enjoy!
What do you think your favorite menu items would be?
Disclosure: We are in no way associated or sponsored by Disneyland. Just a family who enjoys visiting the parks and giving you are honest reviews.