Lamplight Lounge on Pixar Pier has quickly become a guest FAVORITE! So excited to share my Lamplight Lounge Review with you today!
Lamplight Lounge
What a treat to enjoy a lovely dinner at Lamplight Lounge this past weekend during the opening of Pixar Pier! I can't say enough about the new restaurant. Every detail was so thoughtfully done celebrating everything Pixar. It's best to get your reservations ahead of time if at all possible, but we did see walk in's able to put their name in to wait for a table. Let's take a look!
Be sure to check out my latest posts, Your Guide To Everything Pixar Pier and What To Eat on Pixar Pier!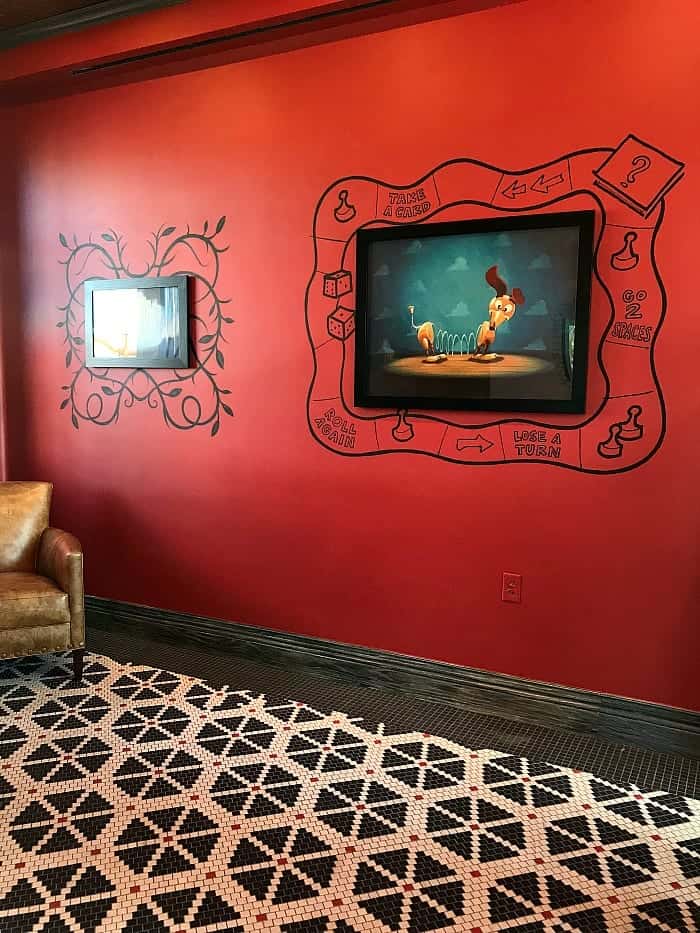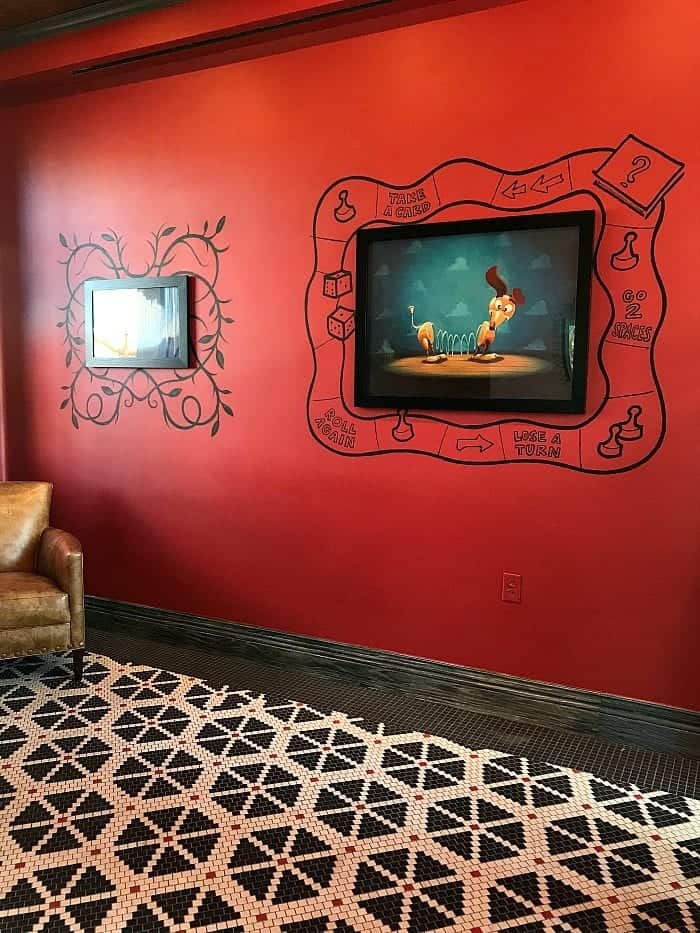 Lamplight Lounge Lobby Area
When you walk through the front doors, you'll see these fun bright walls with awesome artwork and tile work! The check in desk is also right in this front area.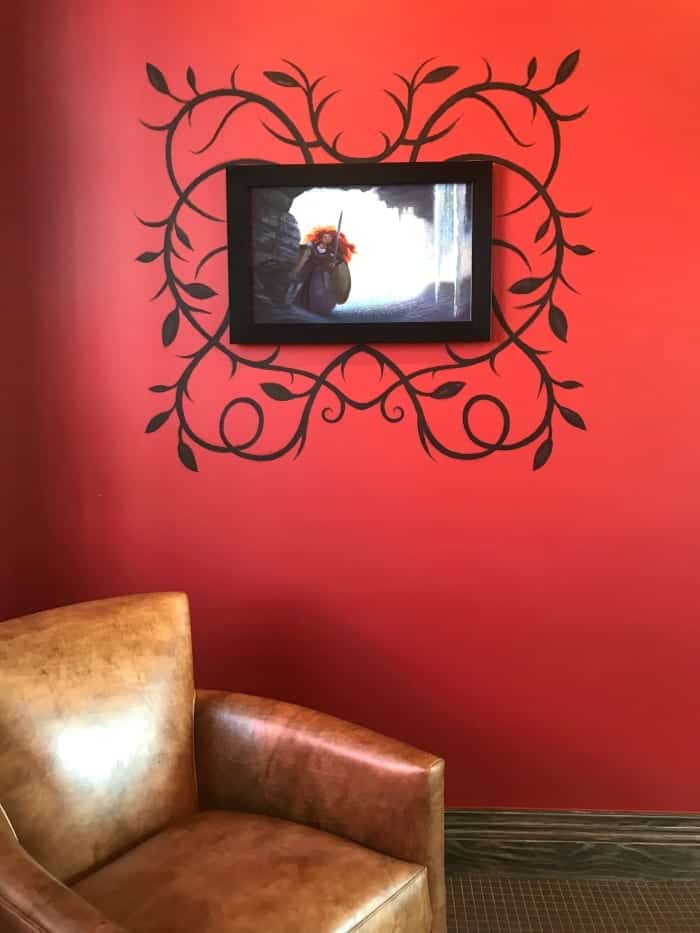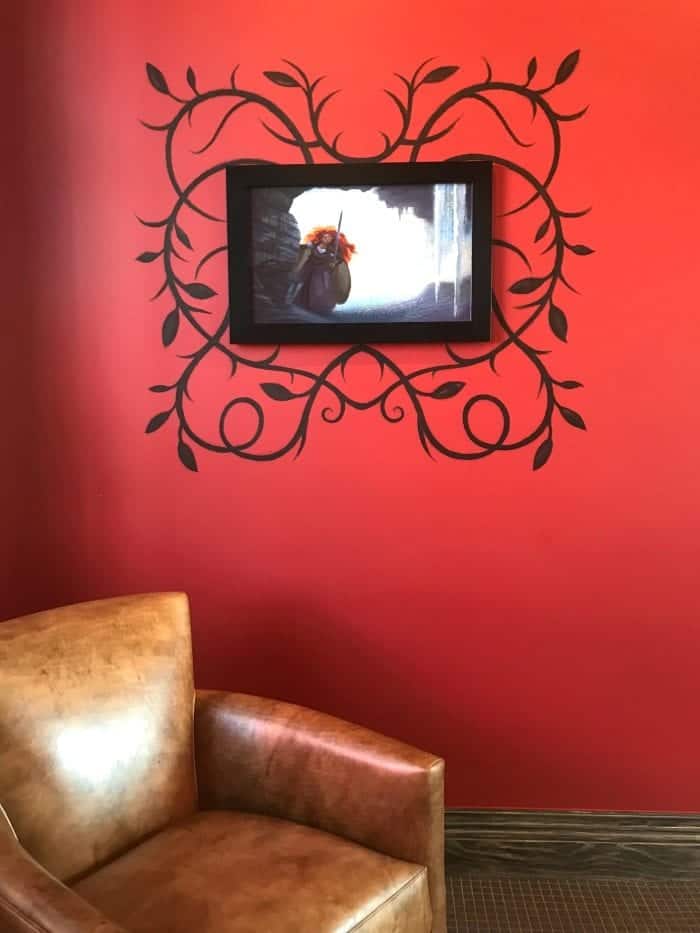 Loved walking through to see all of the artwork. Make sure you leave some time to tour each room.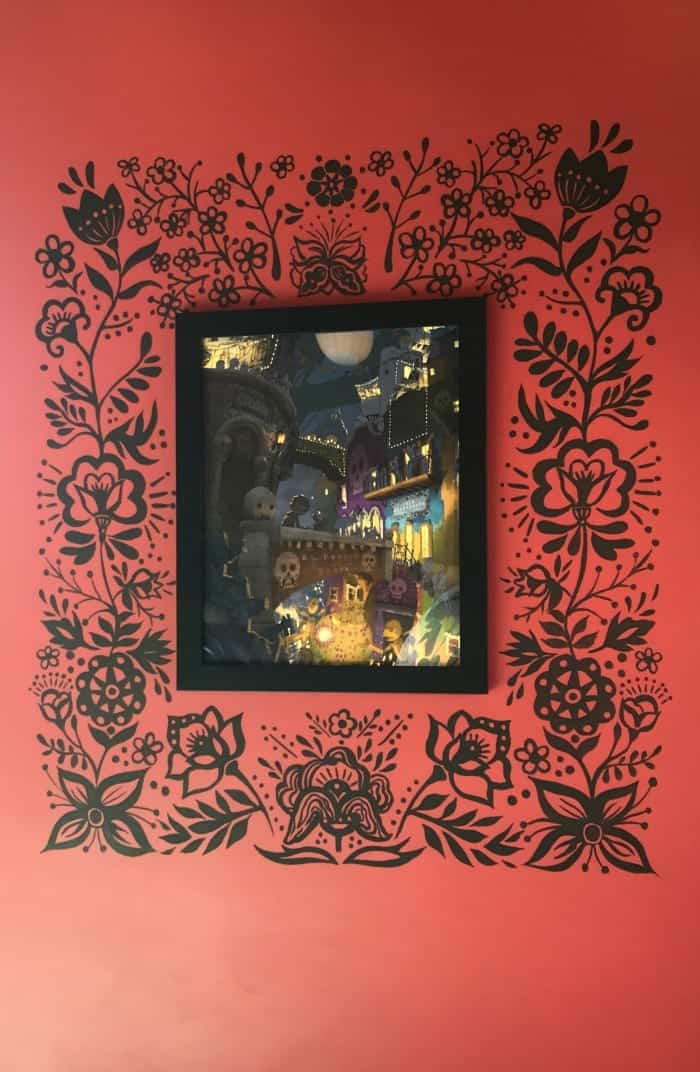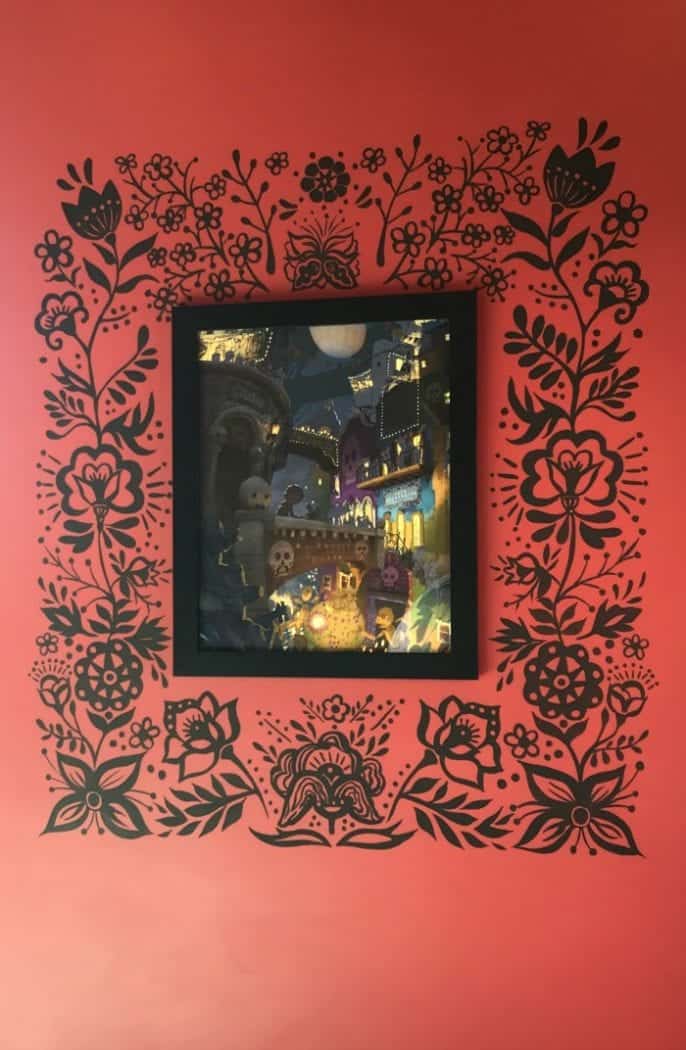 Coco!!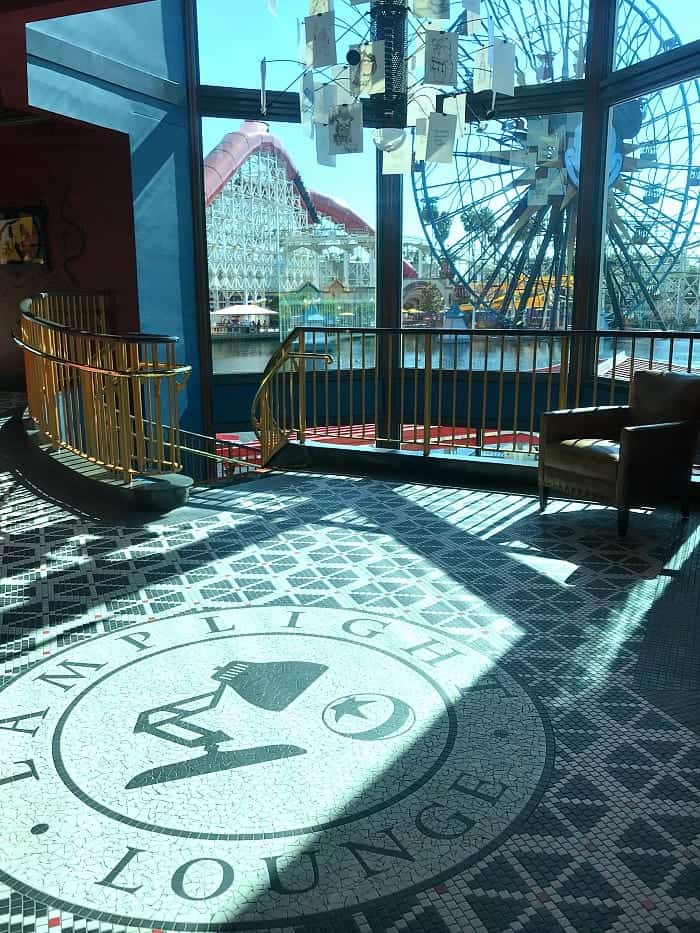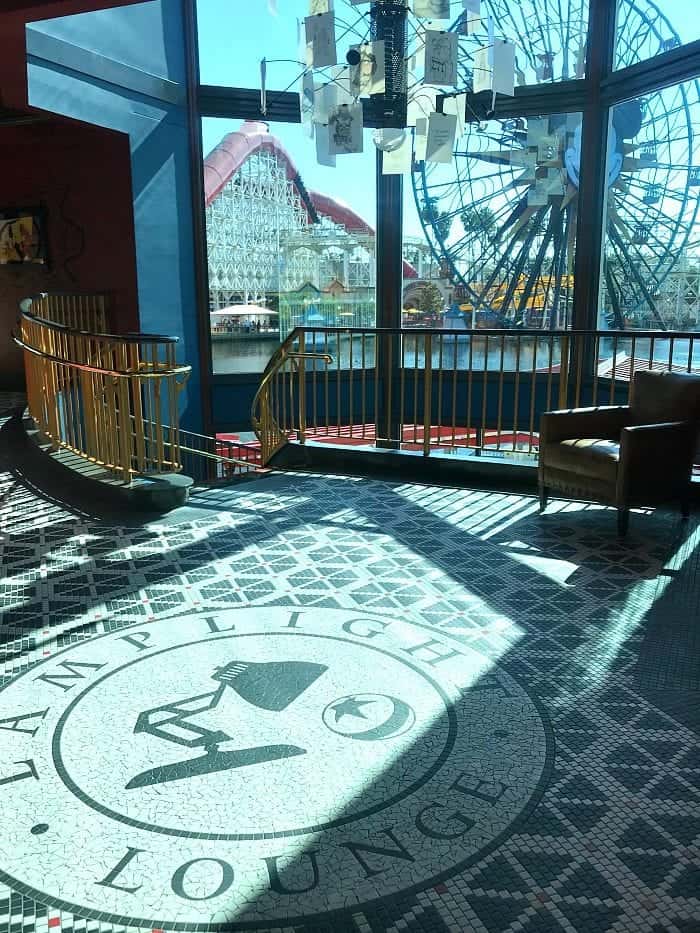 Lamplight Lounge Views
To the right of the check in desk, you'll see this lovely view plus more fun Lamplight Lounge tile work!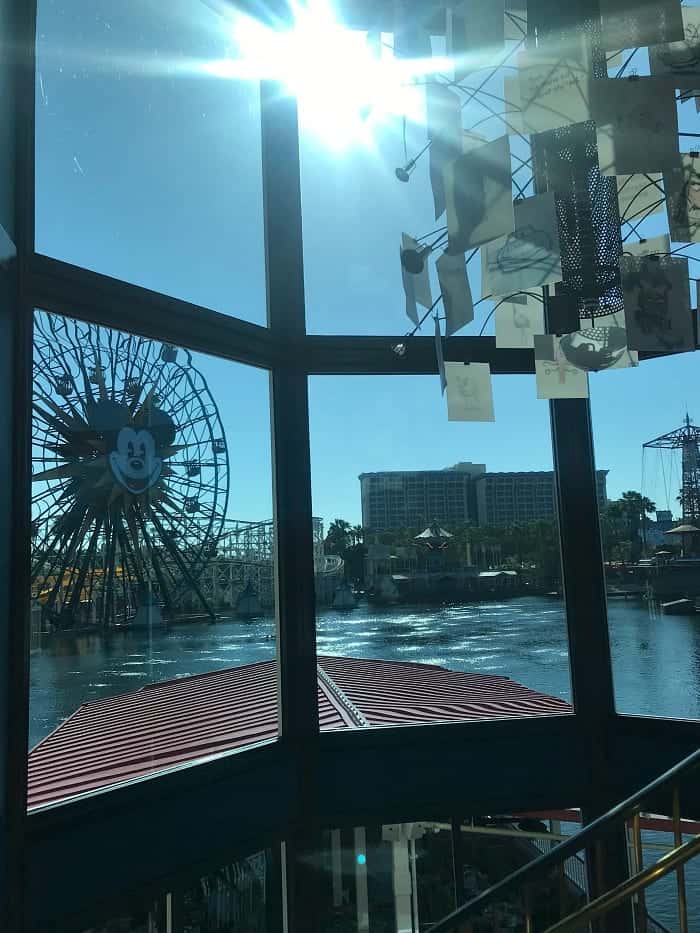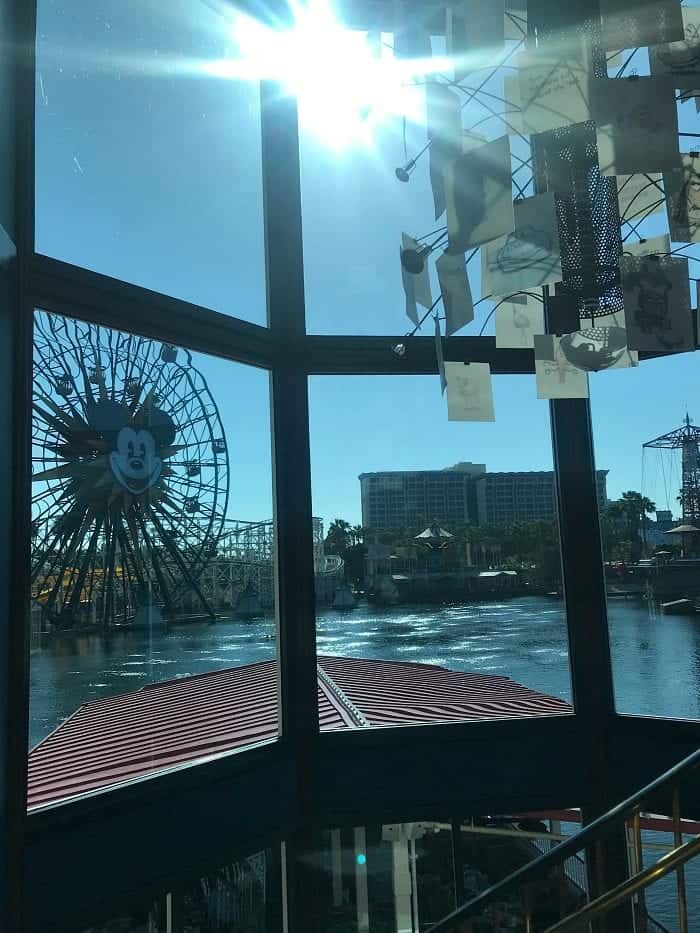 The Chandelier above the staircase has some amazing sketches on display. Make sure you look up at all of them. They even left some blank to keep adding when more movies come out 🙂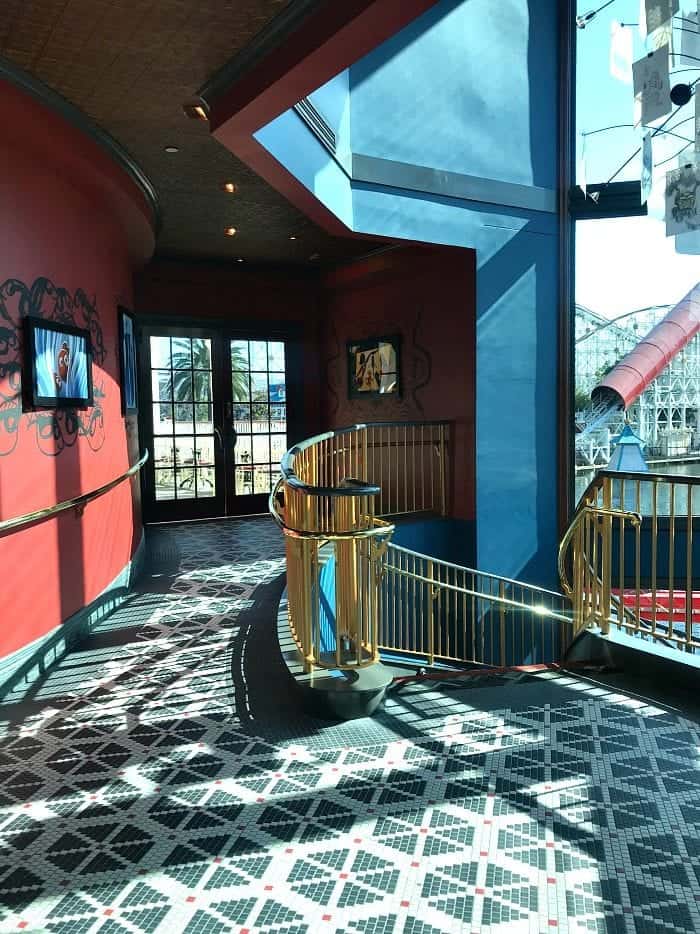 If you keep walking past the staircase, it will take you outside to the bar area where Cove Bar used to be.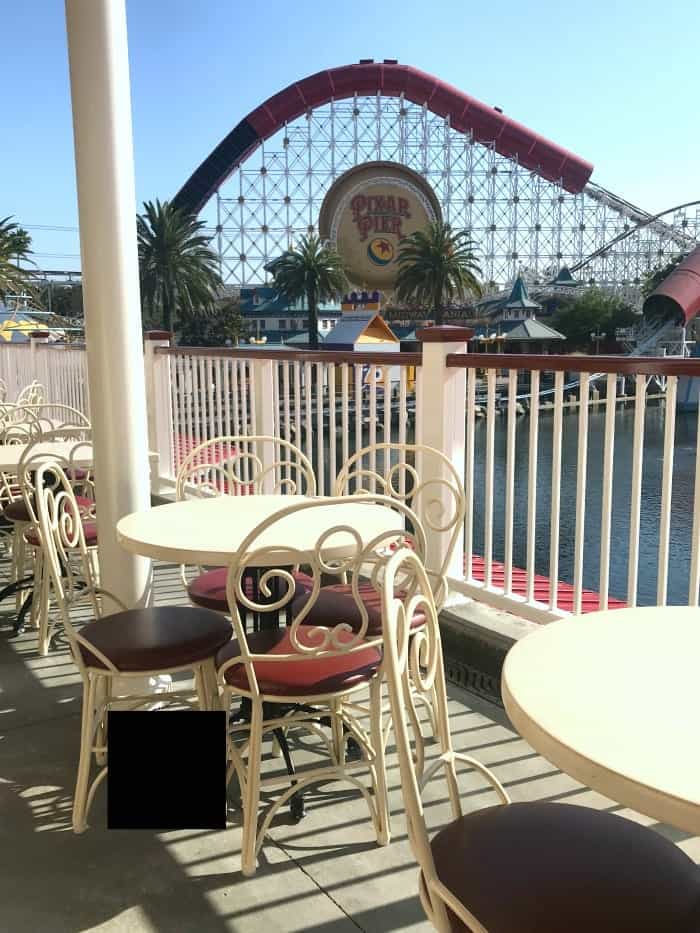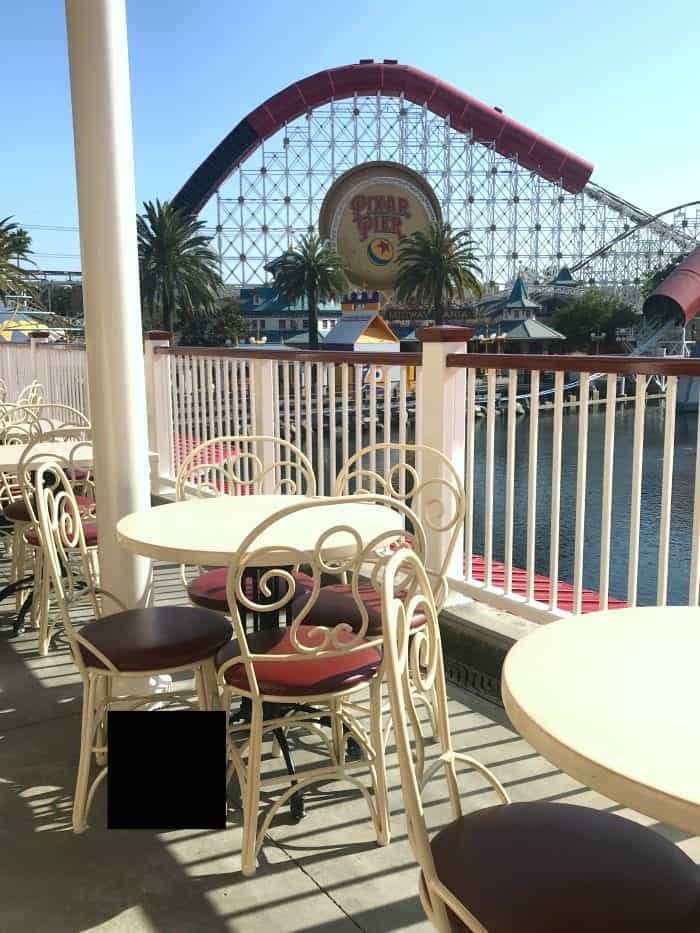 Lamplight Lounge Outdoor Seating
Can't beat the views. The bar is a great place to grab some quick bites and drinks!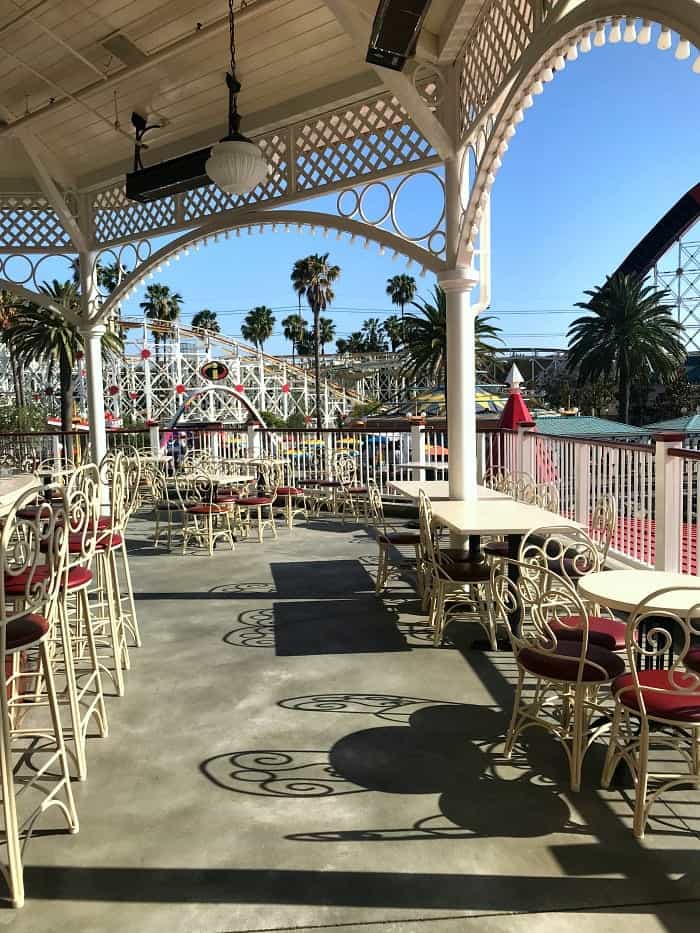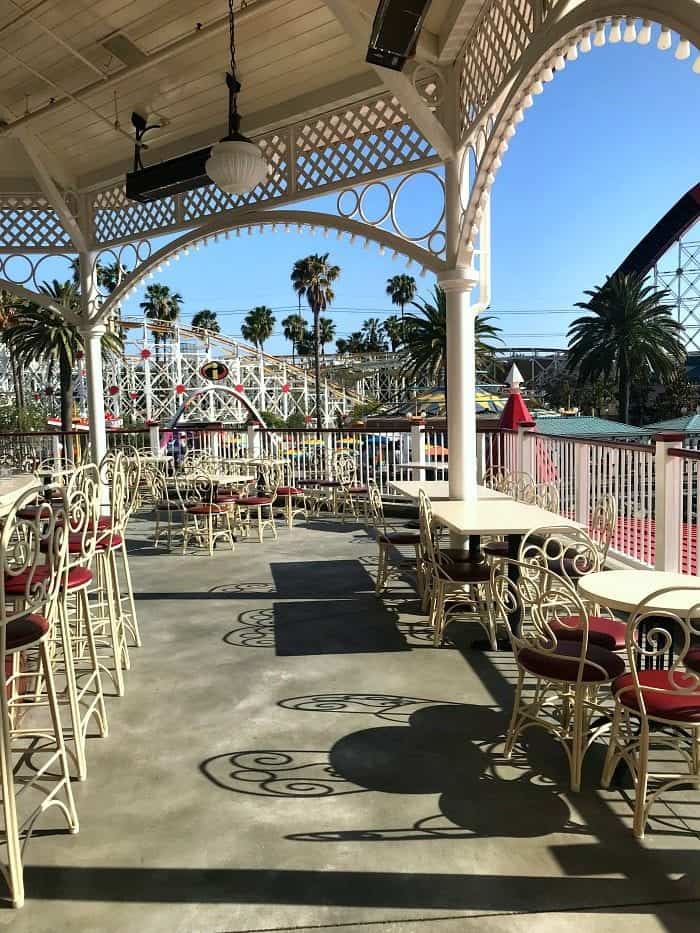 Another look of the bar area.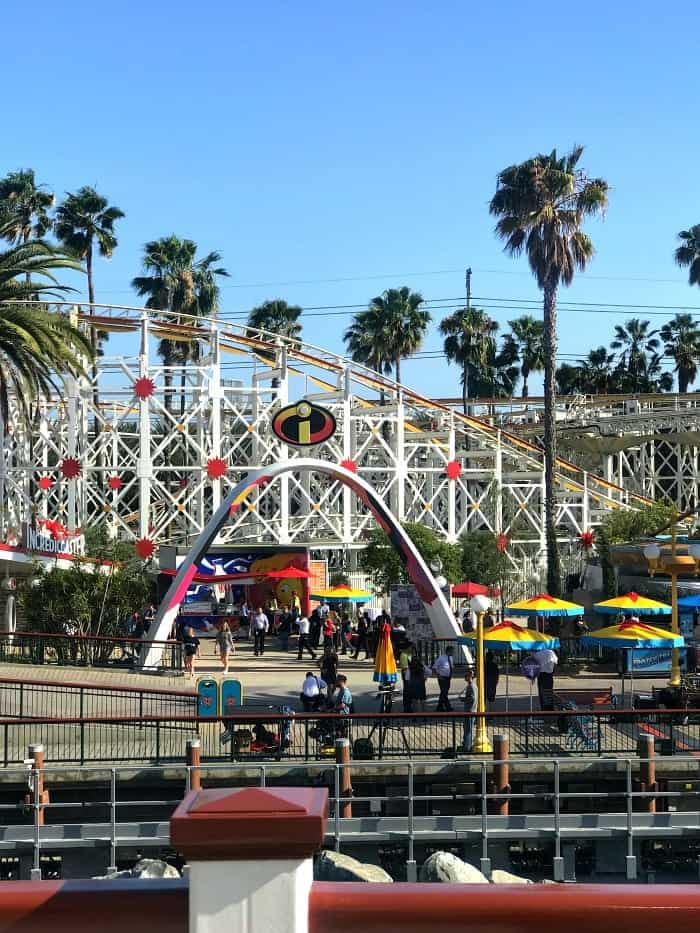 Hey Incredicoaster, great to have you!!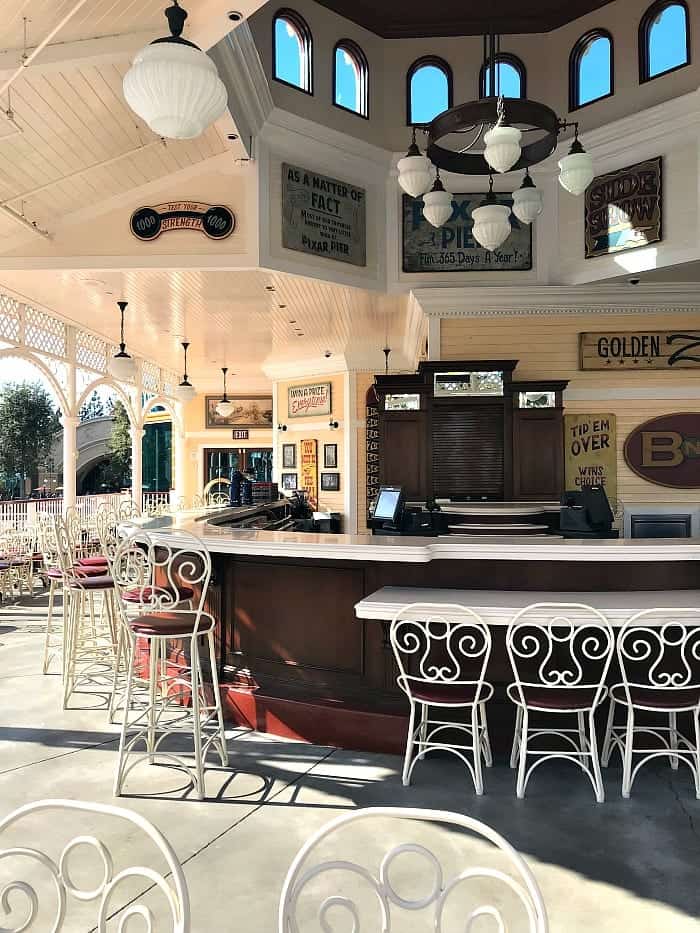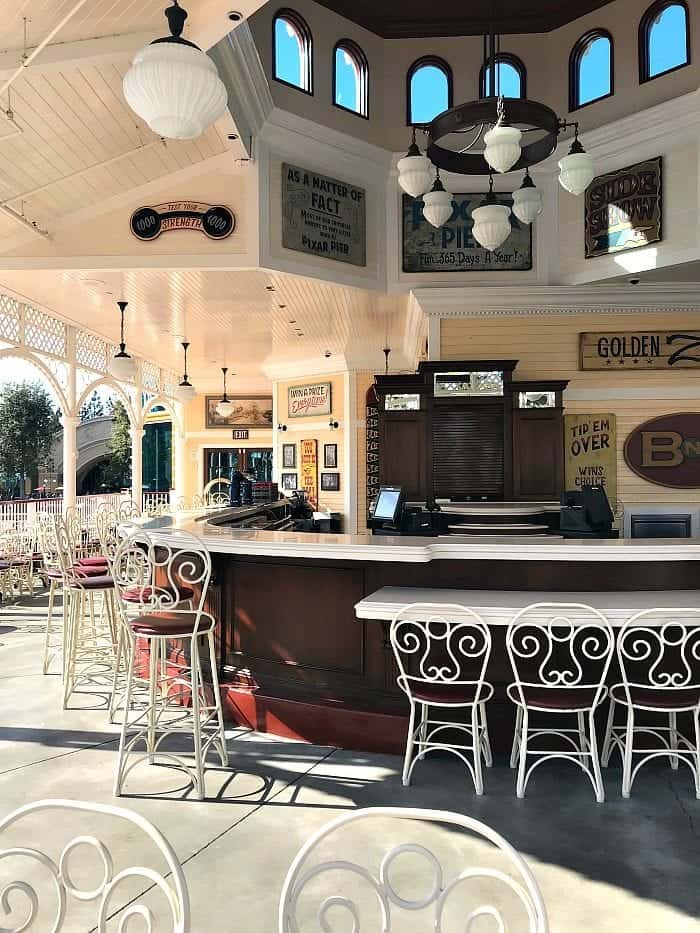 More views of the bar.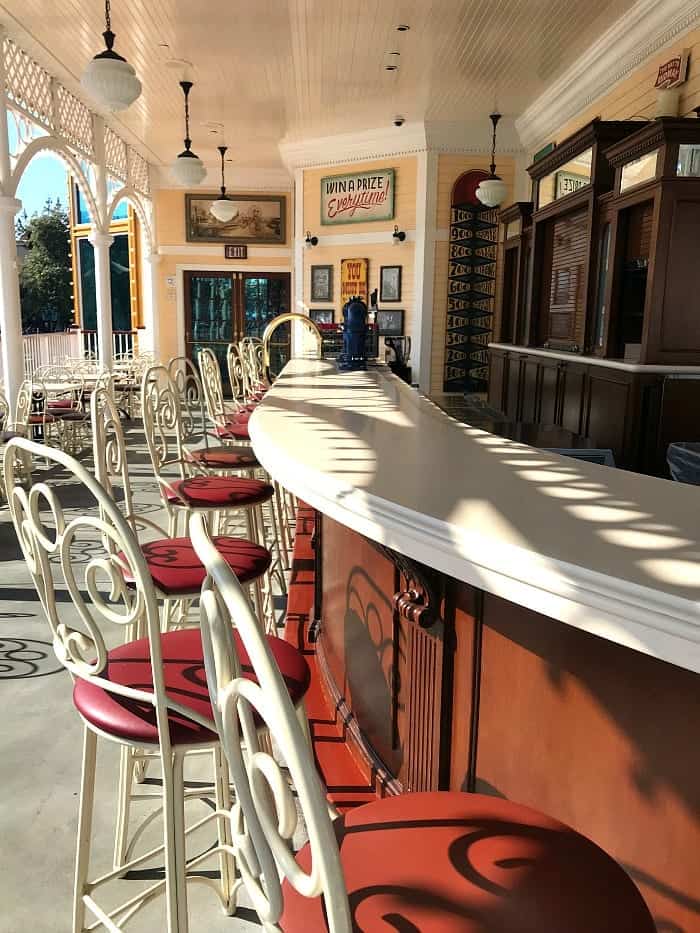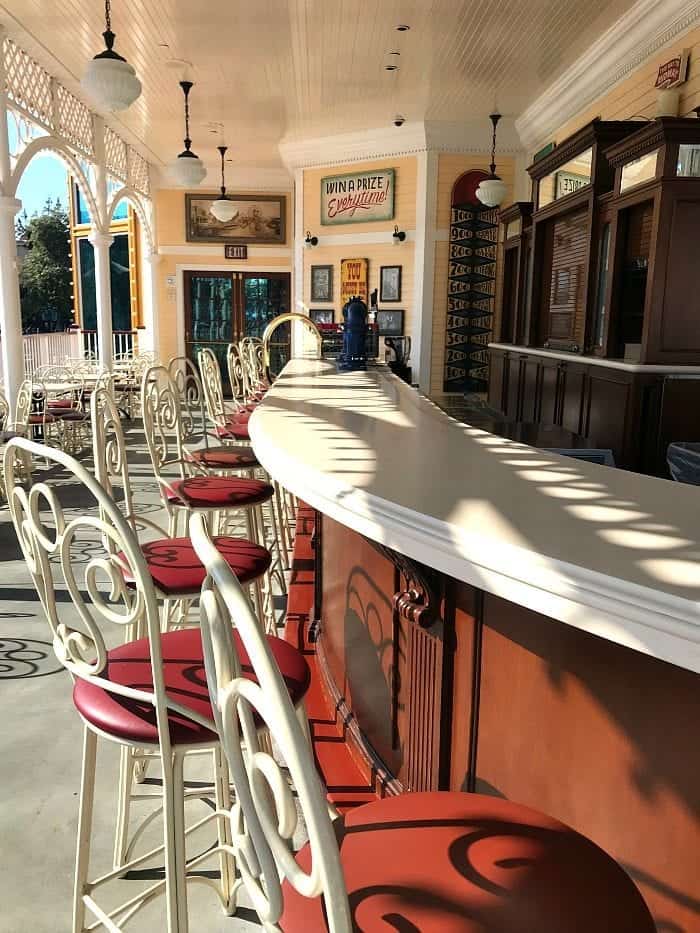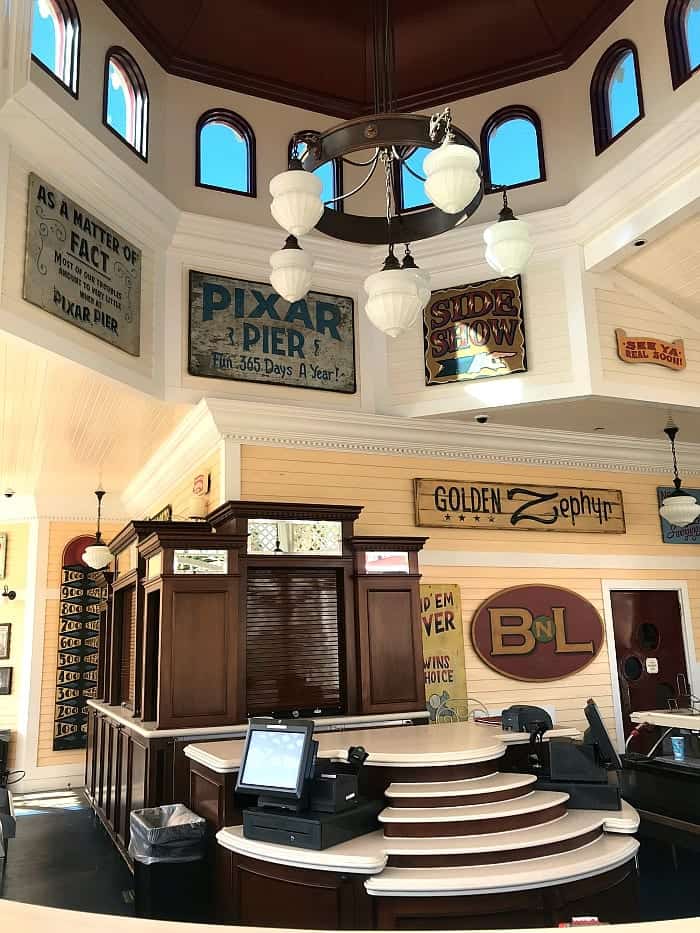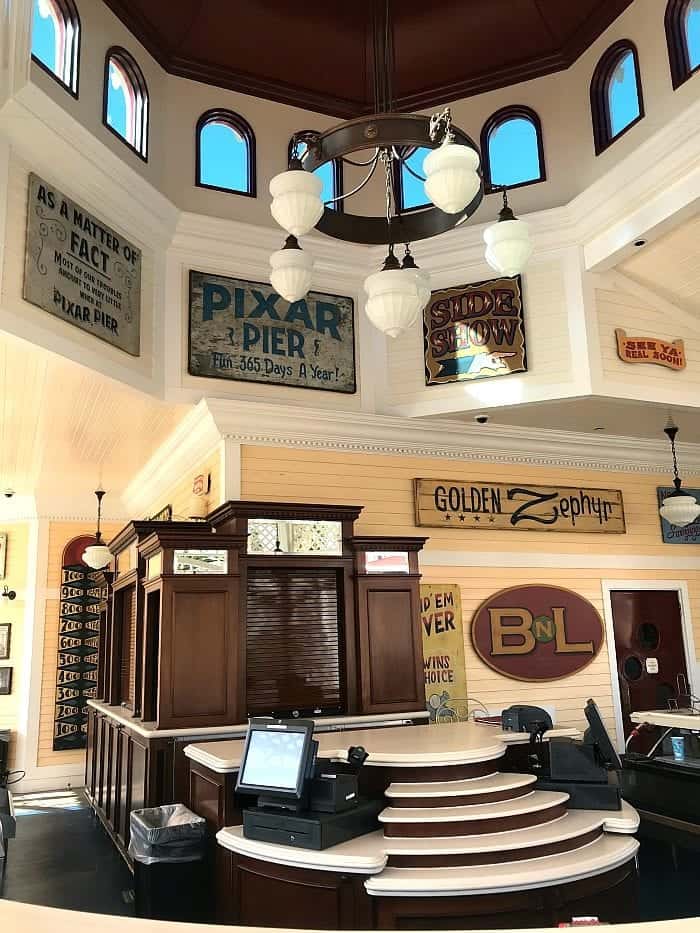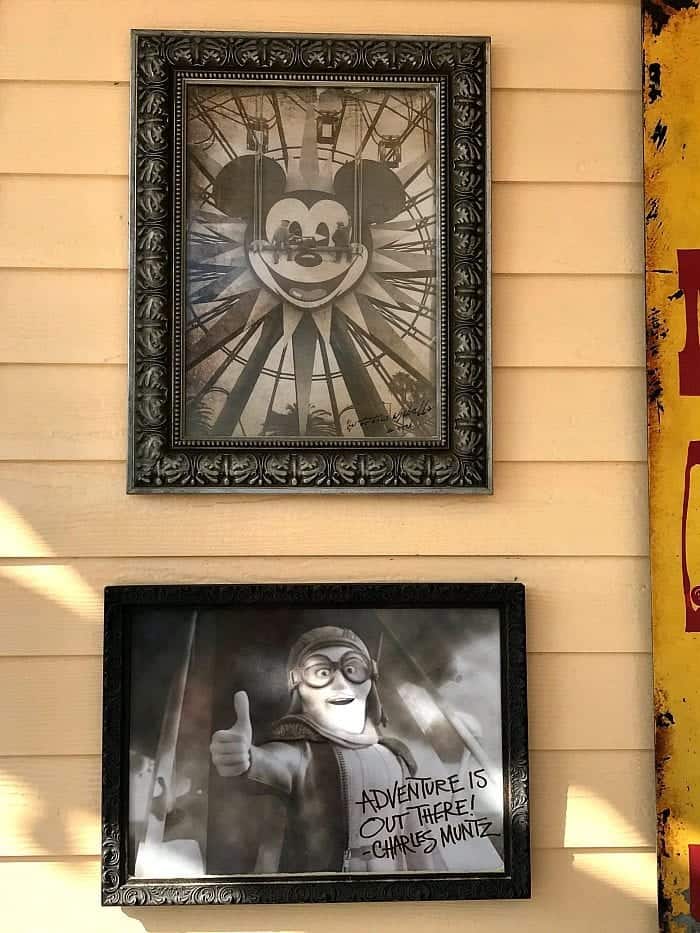 Love the new artwork!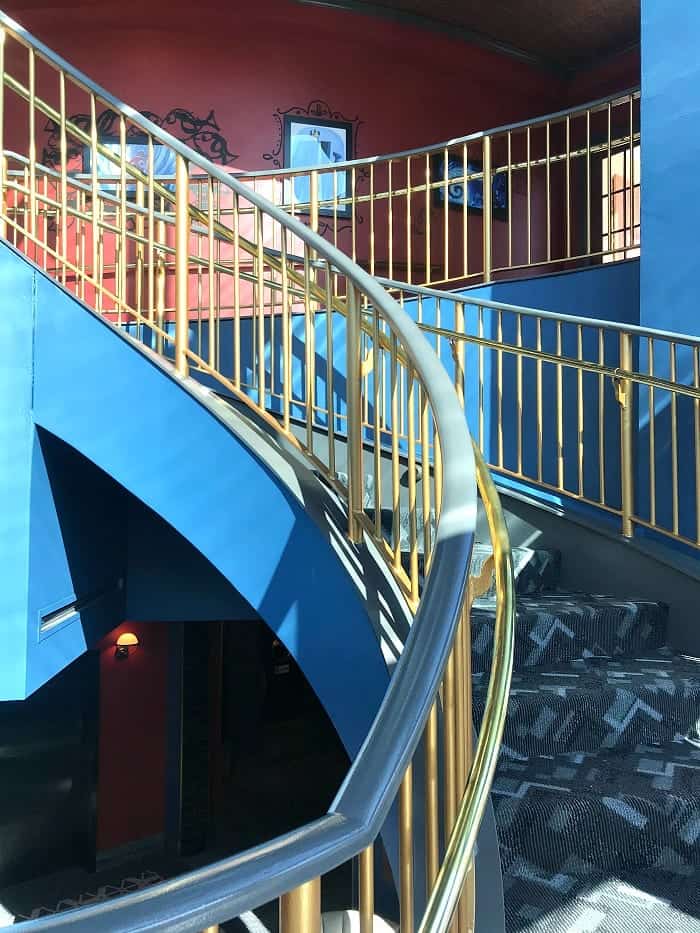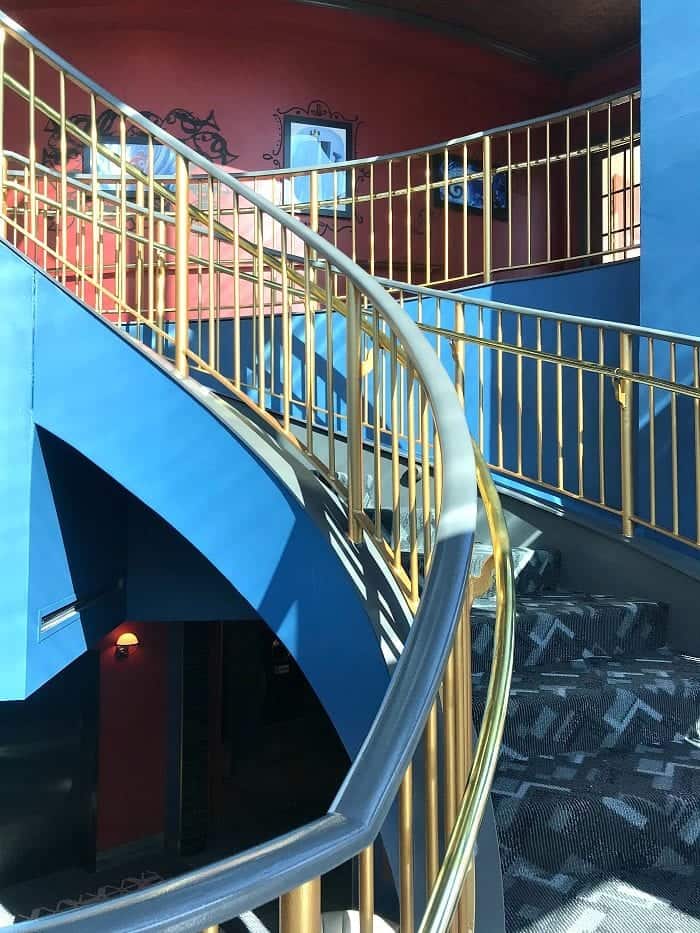 As you head downstairs more magical things to see!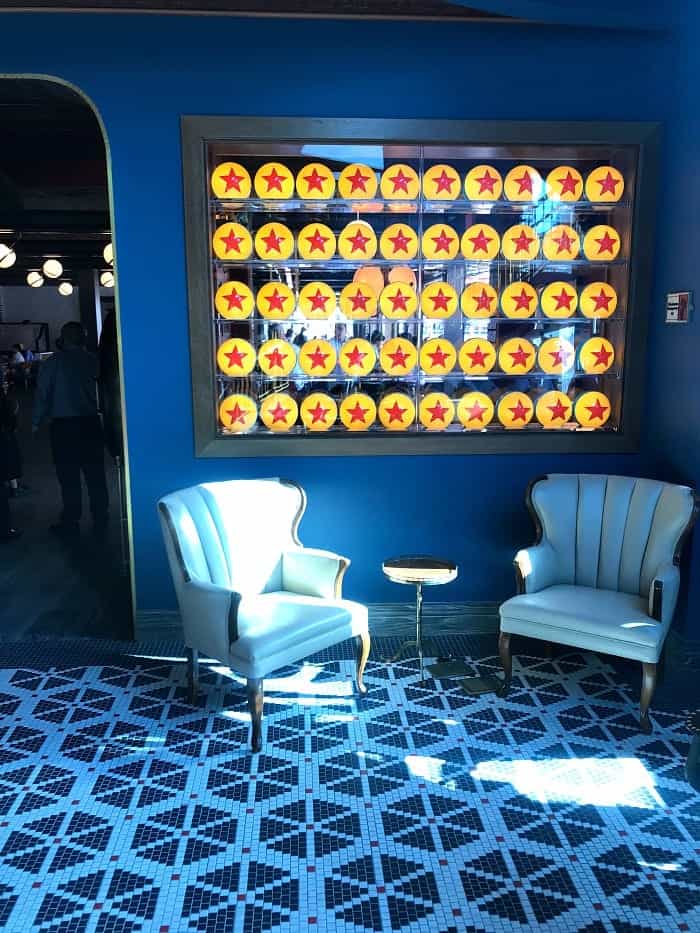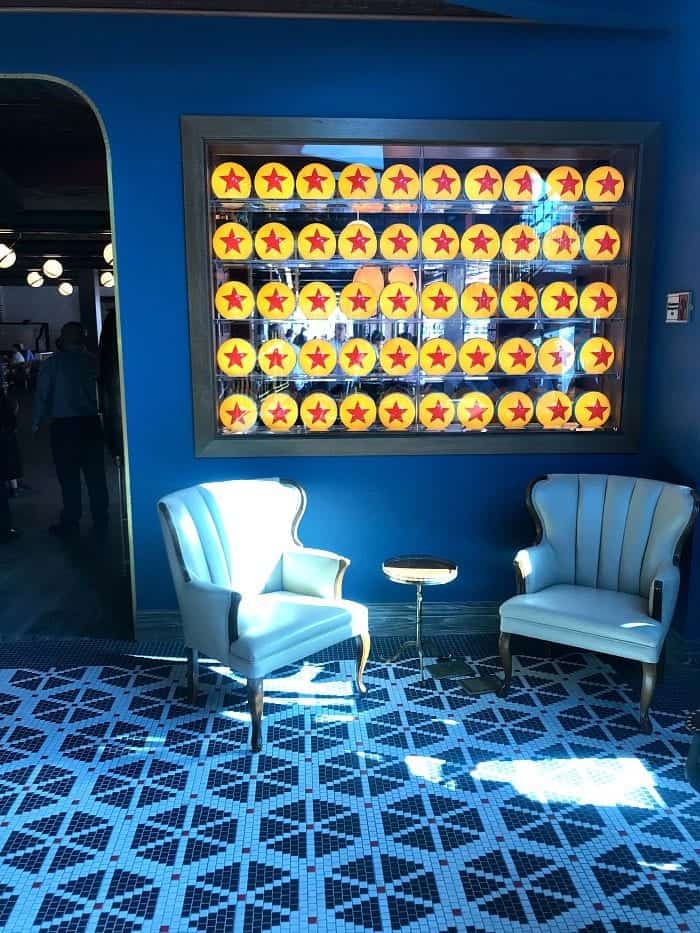 Lamplight Lounge Pixar Decor
These Pixar Balls are so fun. You'll be greeted here with another Cast Member to take you to your table.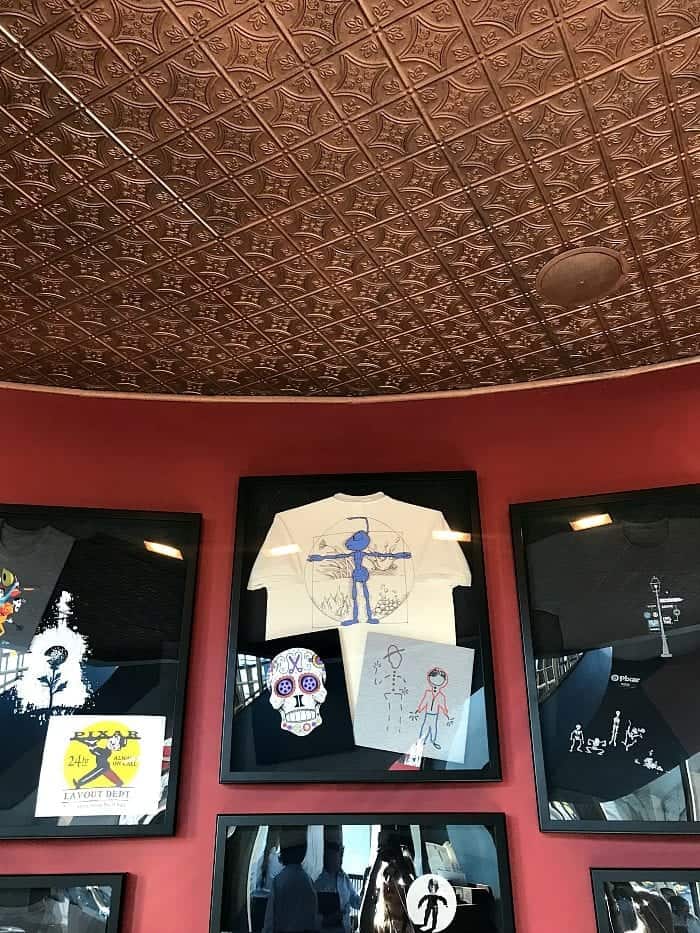 So much artwork on the walls, be sure to look at all of it. I really enjoyed touring the restaurant just as much as my meal 🙂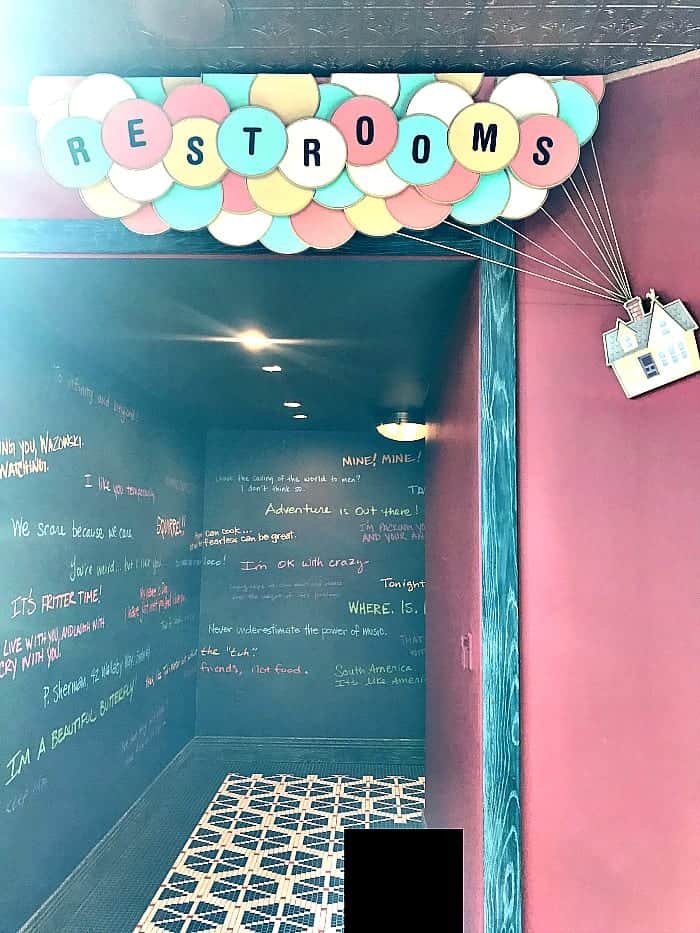 I mean, the bathroom sign is pretty epic too 🙂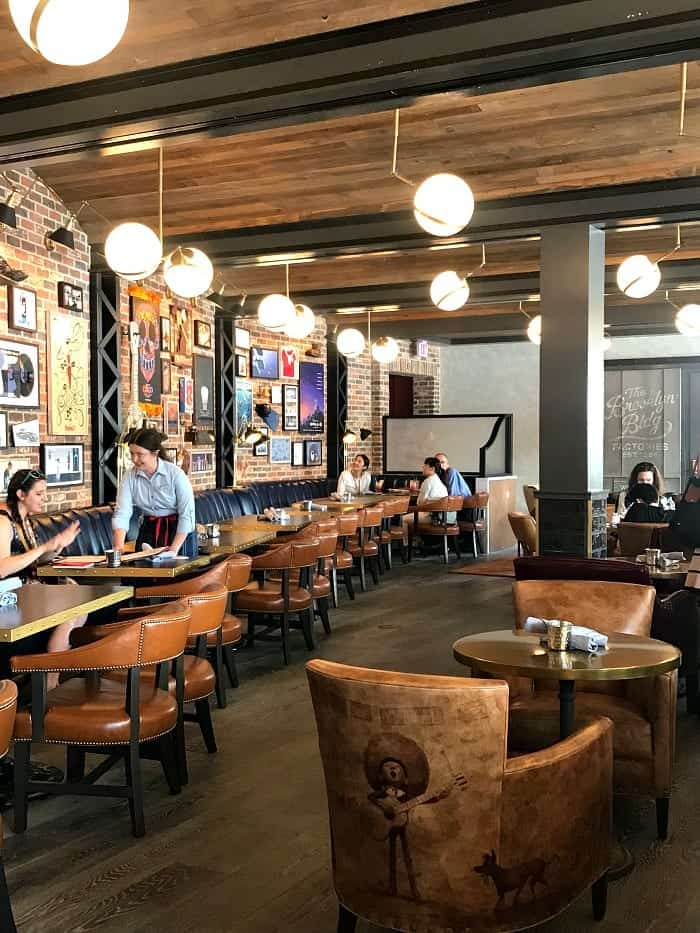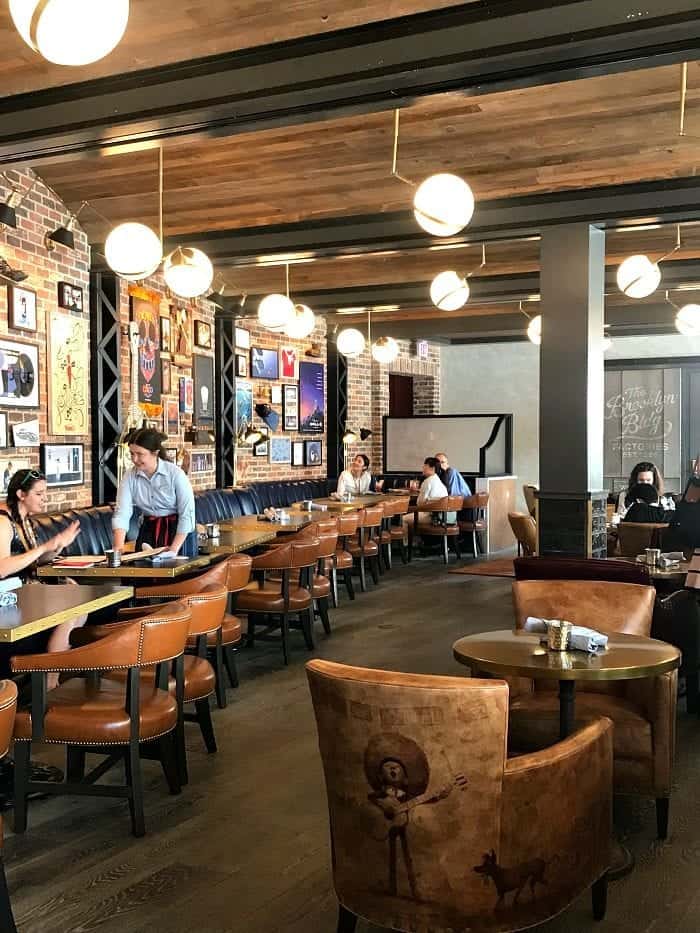 A look at some inside seating. Obsessed with this whole look. Look at Coco on the back of the leather chair?! So amazing.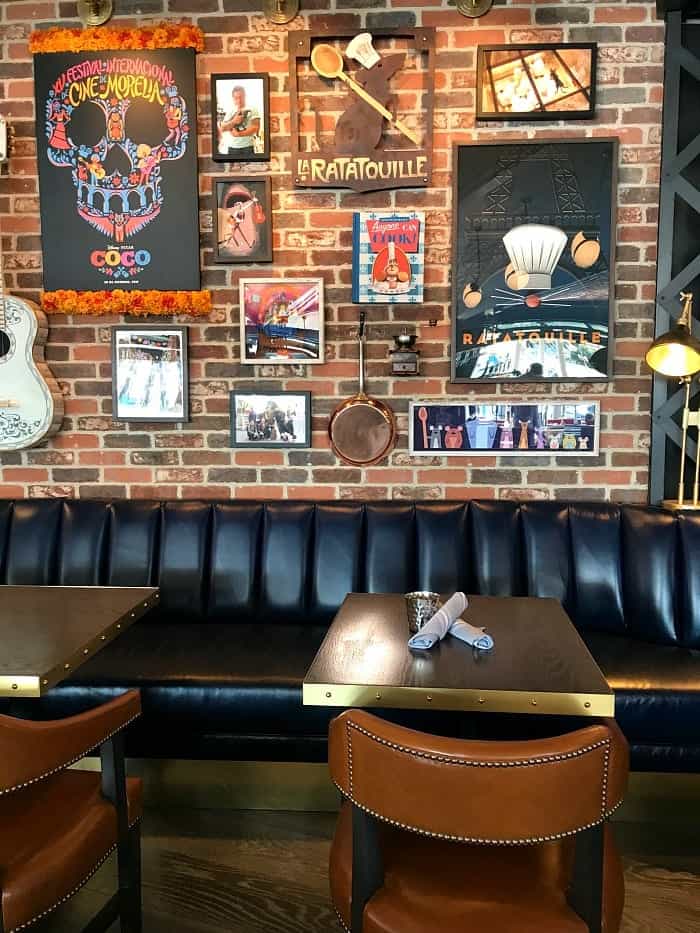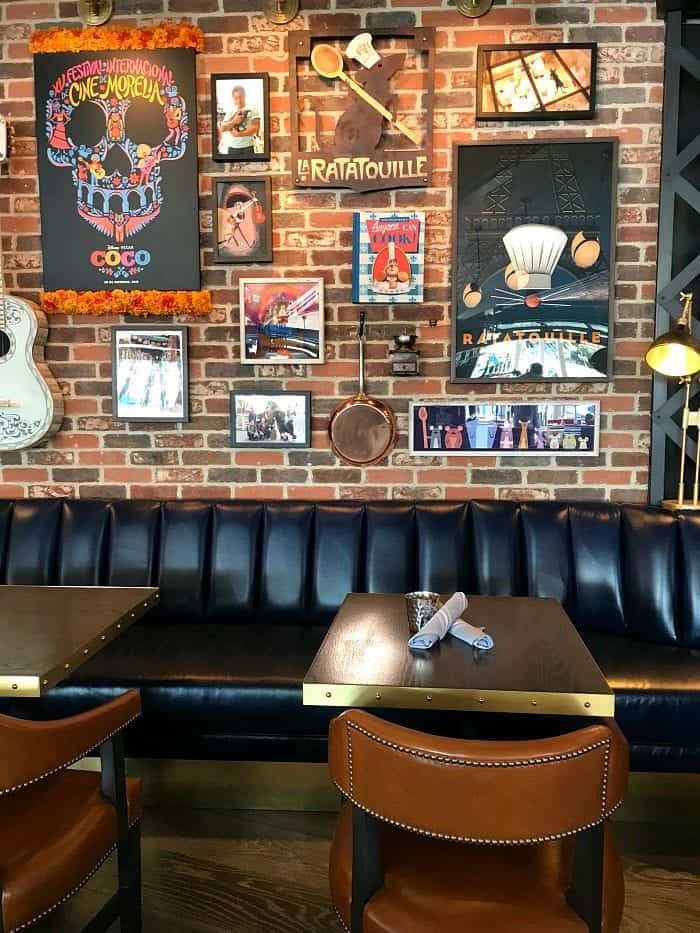 Artwork perfection here. Love!!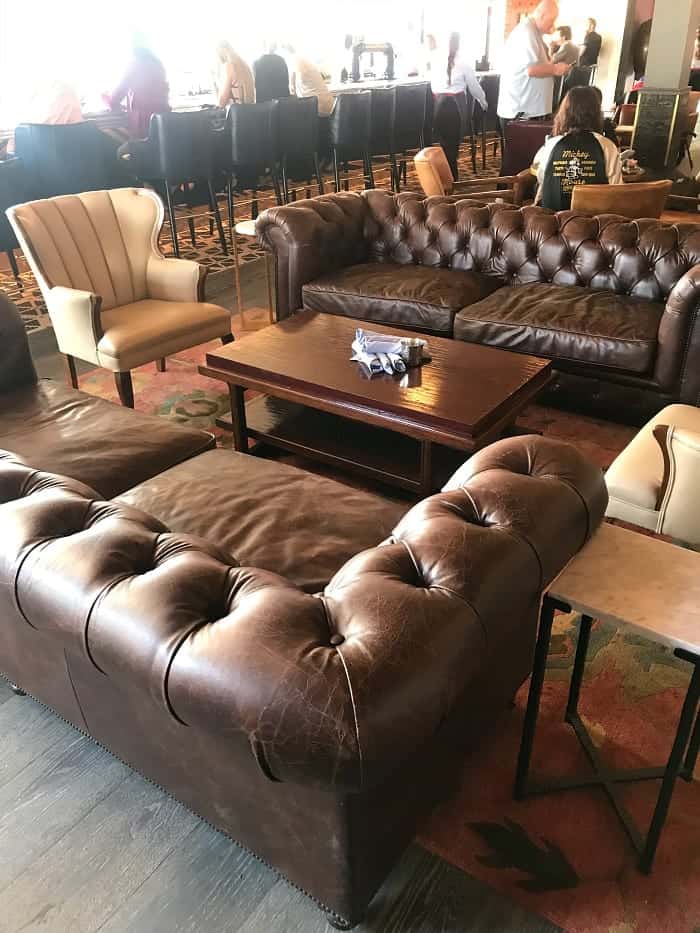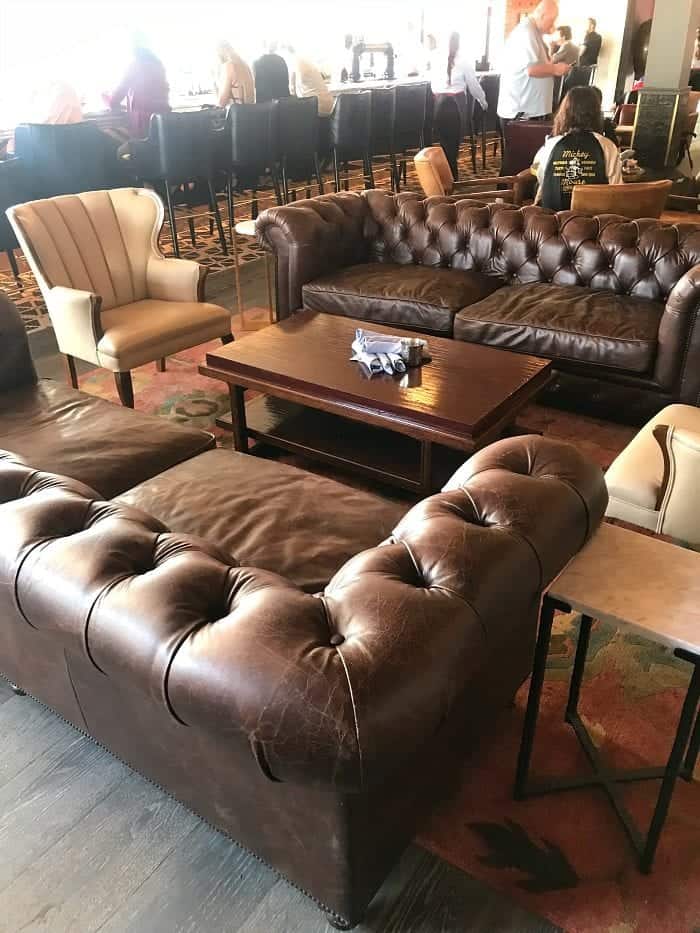 Look at this rustic leather couch seating area. Obsessed!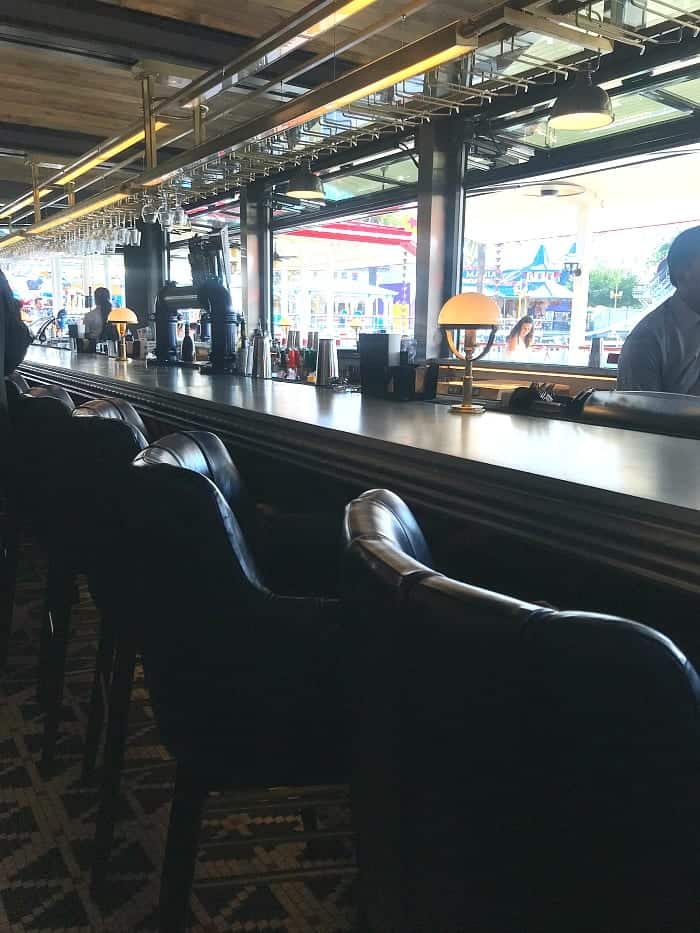 Downstairs bar area.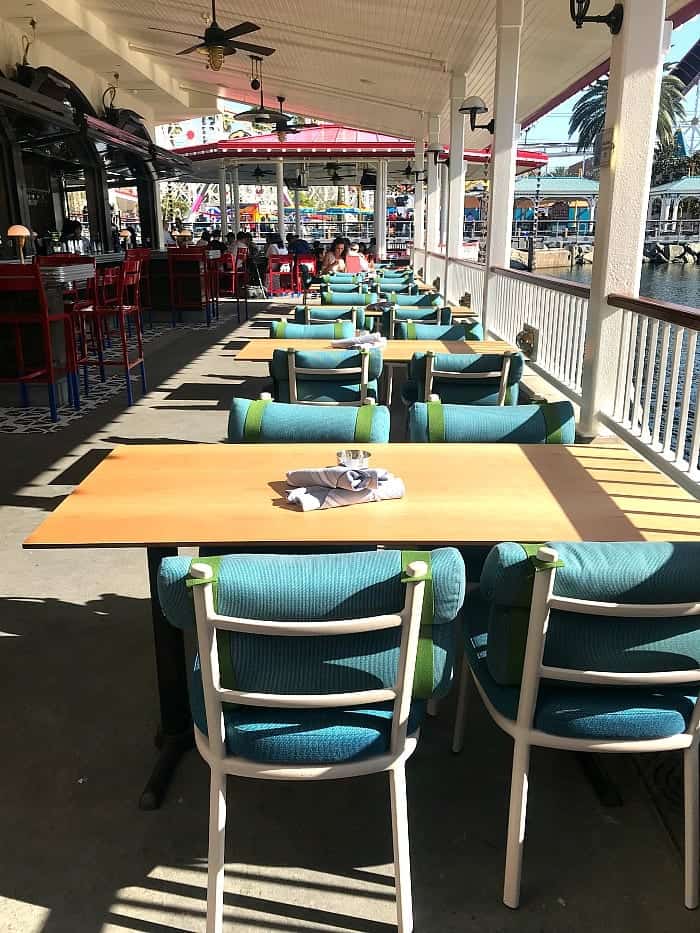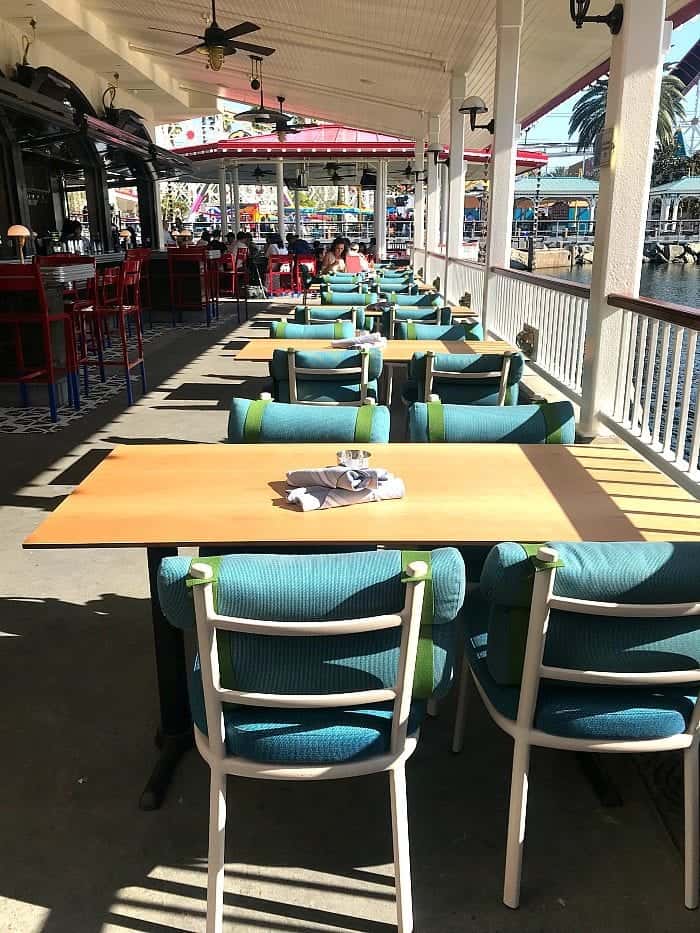 Right outside the bar area, more awesome views to enjoy.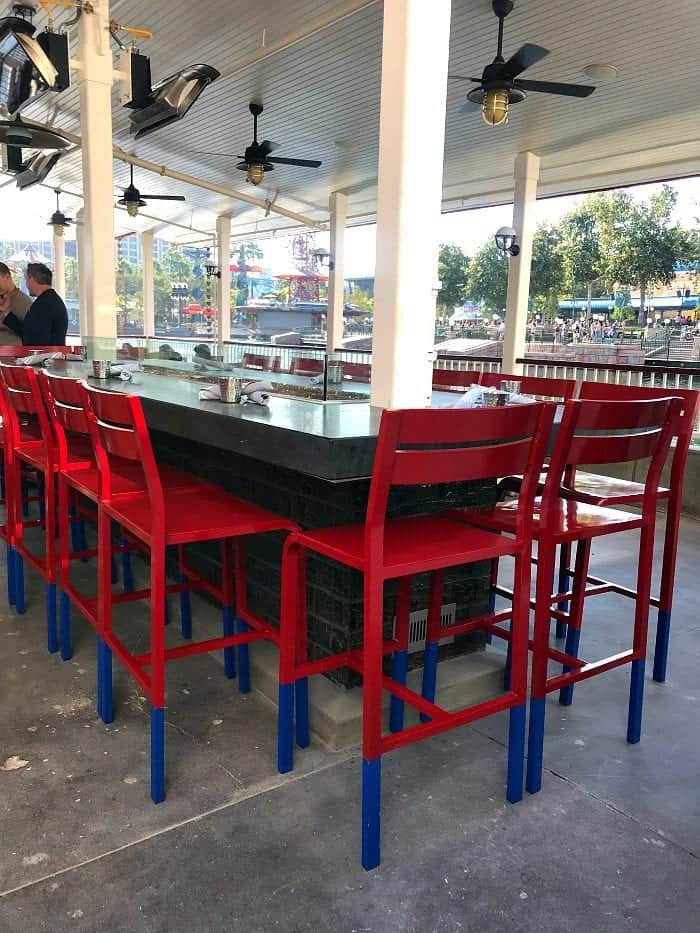 Love this bar stool style table. The center of the table is fire lit at night!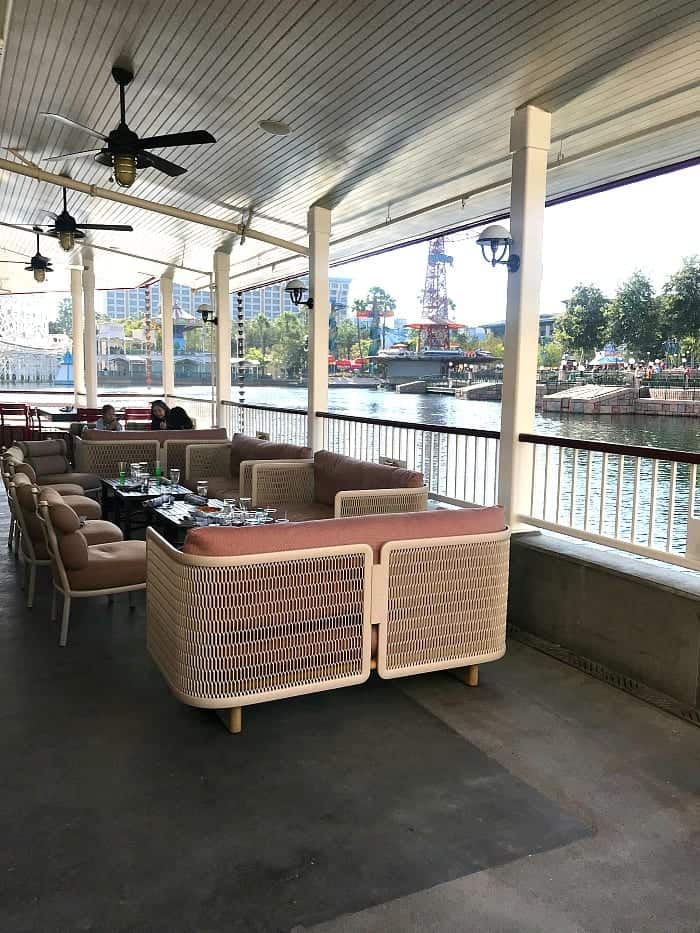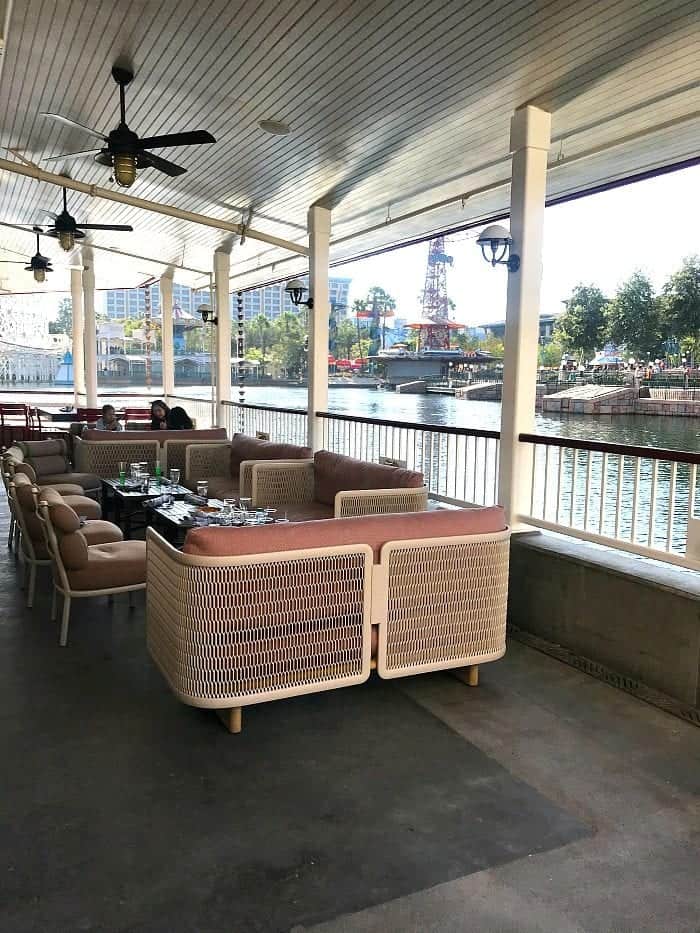 Lamplight Lounge Seating
Love the new seating areas!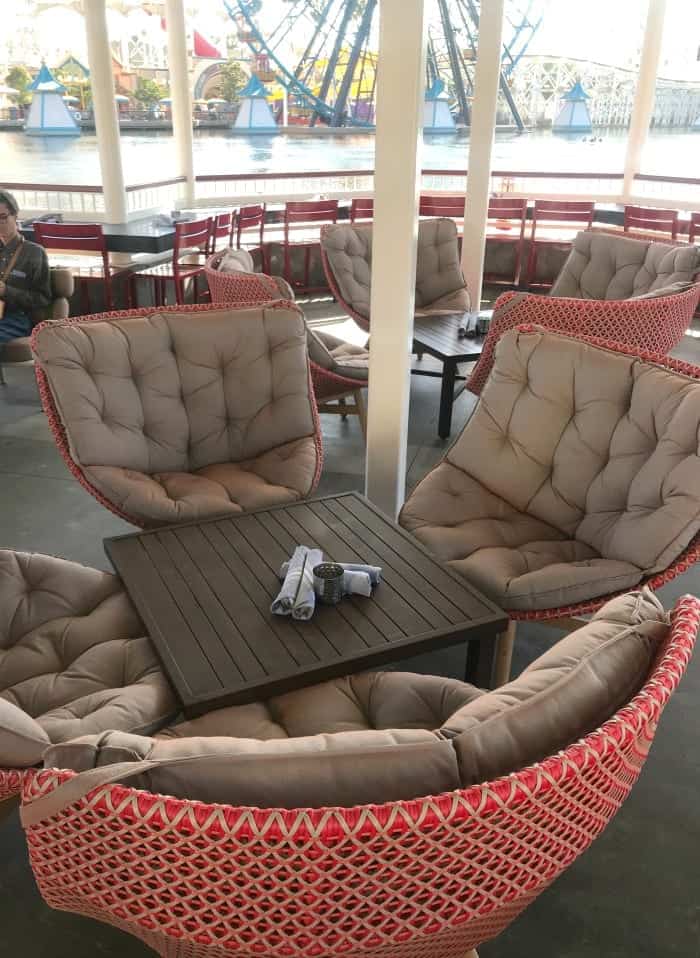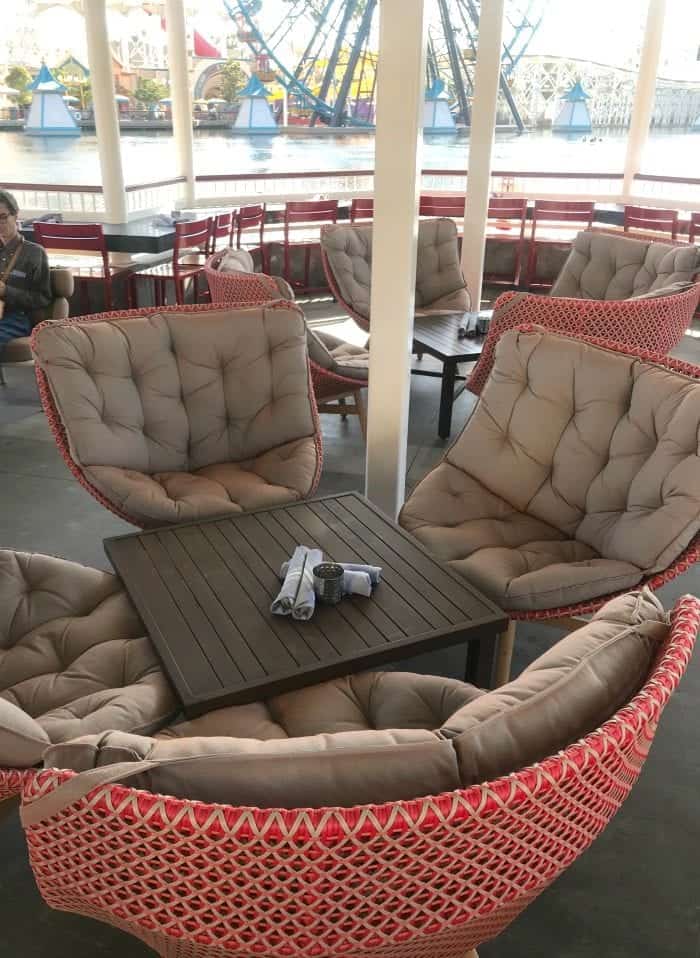 How comfy do these chairs look?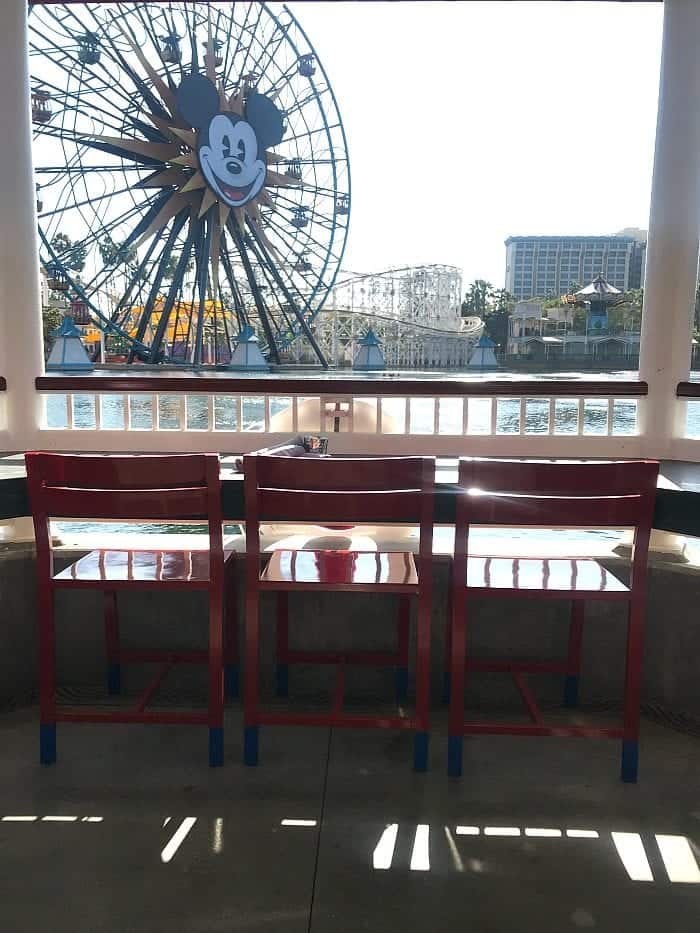 Probably my favorite view of the entire restaurant 🙂 Perfection.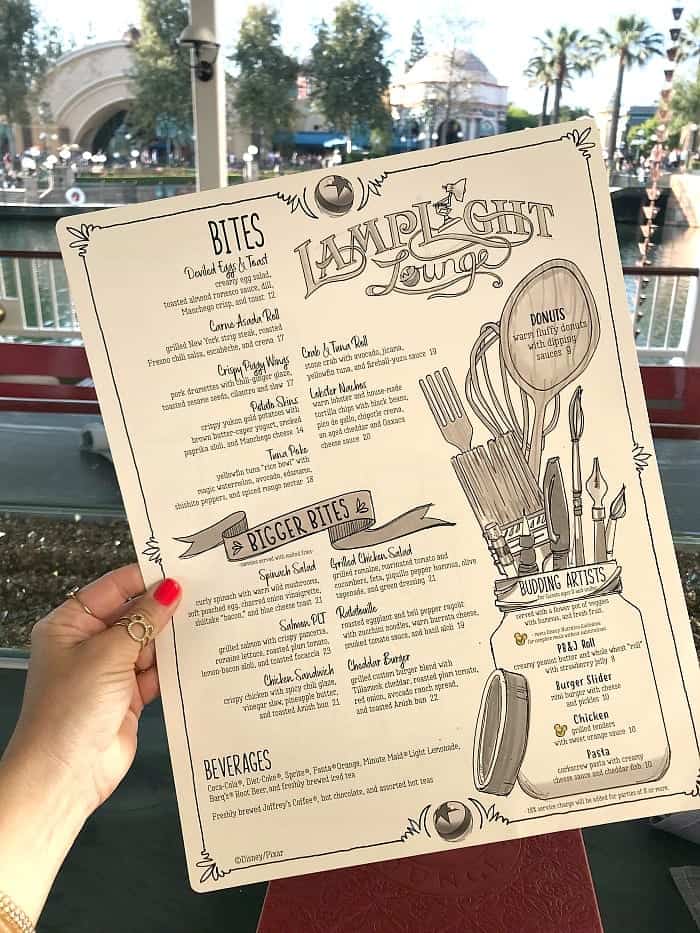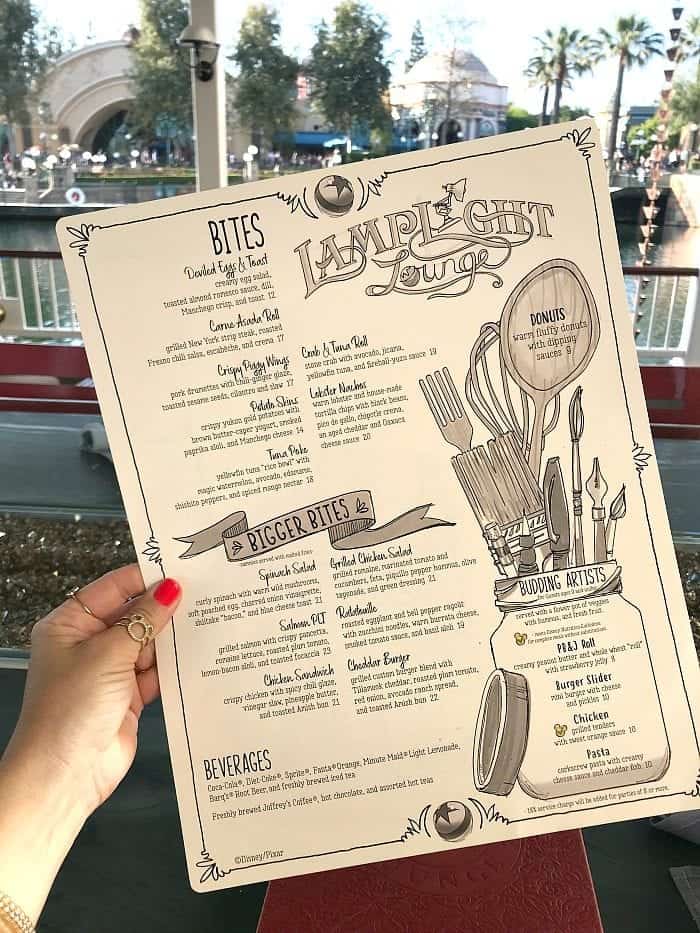 Lamplight Lounge Menu
Wait until you see the menu. The artwork is so great. Look through all of the pages.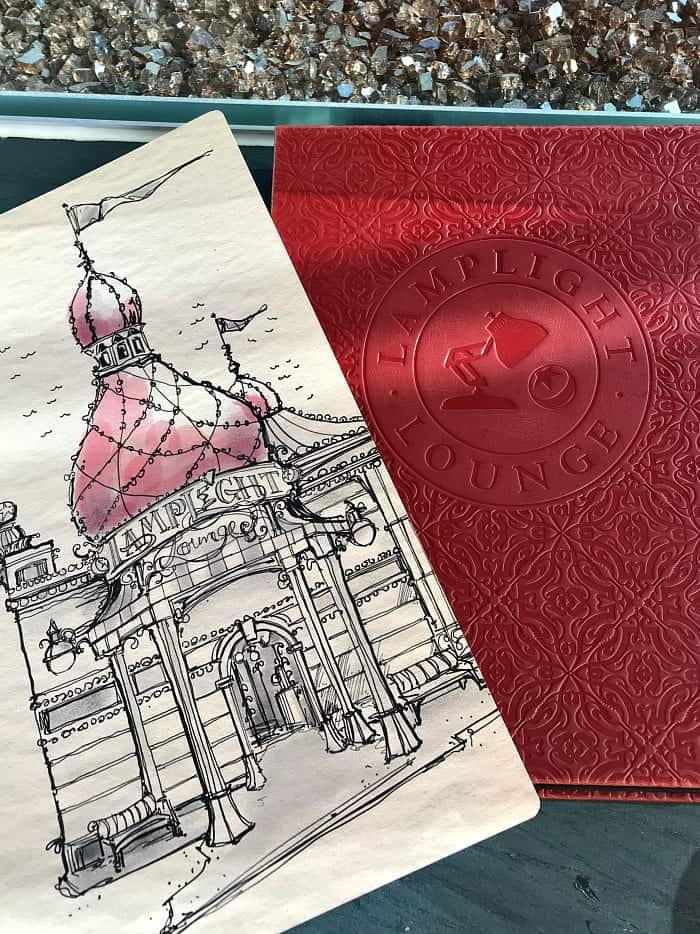 Cutest.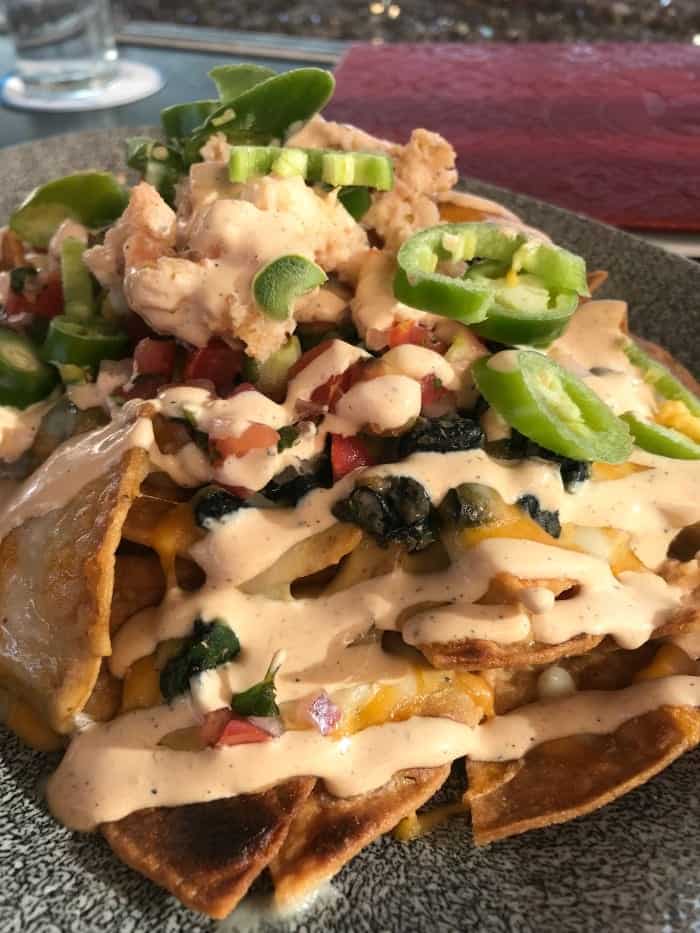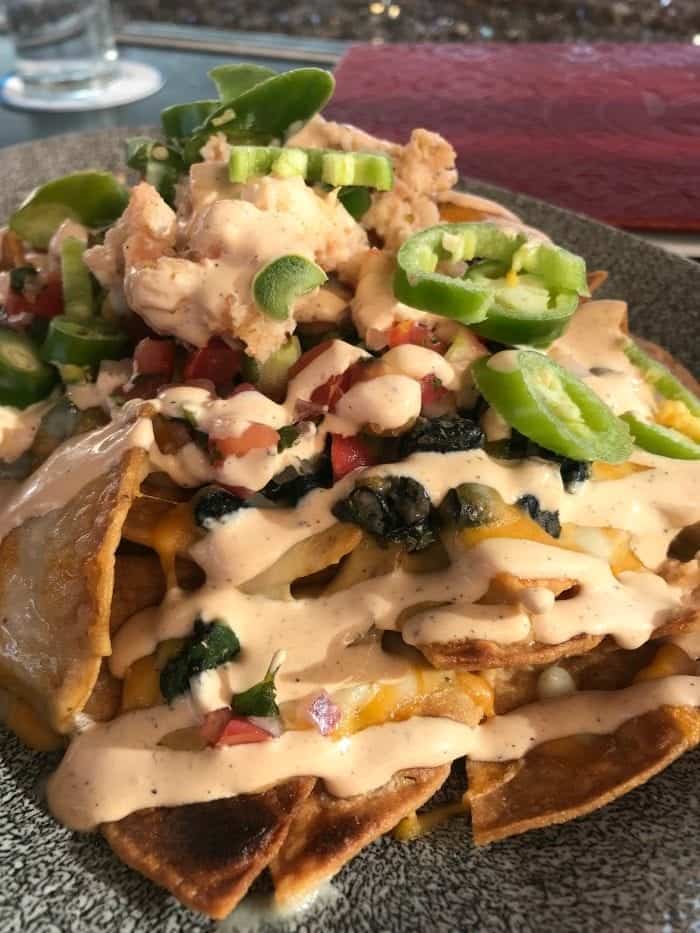 Lamplight Lounge Nachos
Yah, Lobster Nachos are a must every visit. Have to have these.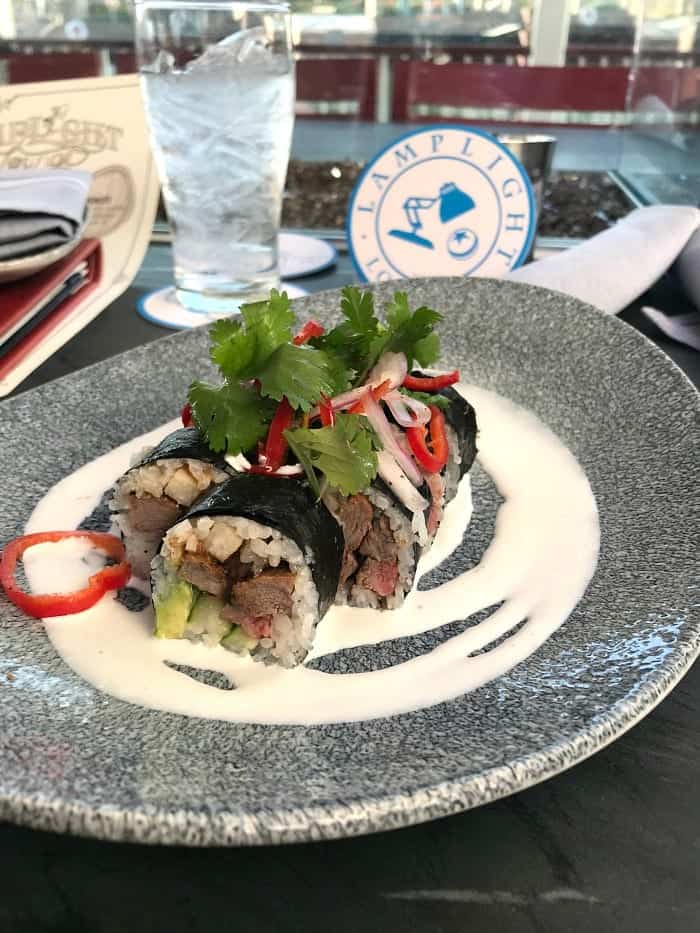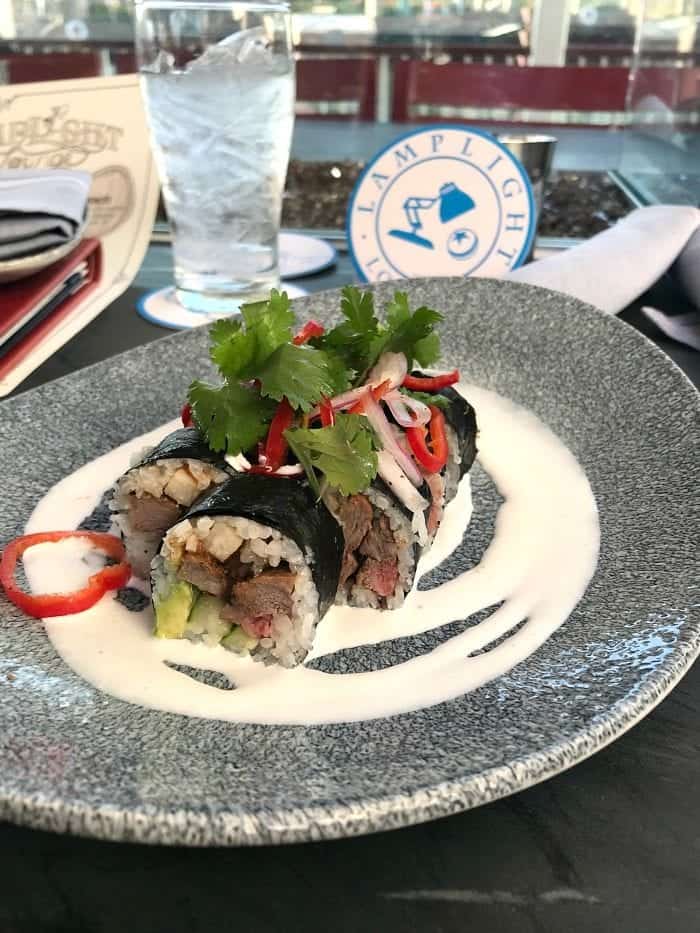 Lamplight Lounge Carne Asada Roll
This is the Carne Asada Roll. I really enjoyed this. Grilled New York Strip Steak, Roasted Fresno Chili Salsa, Escabèche, and Crema. $17.00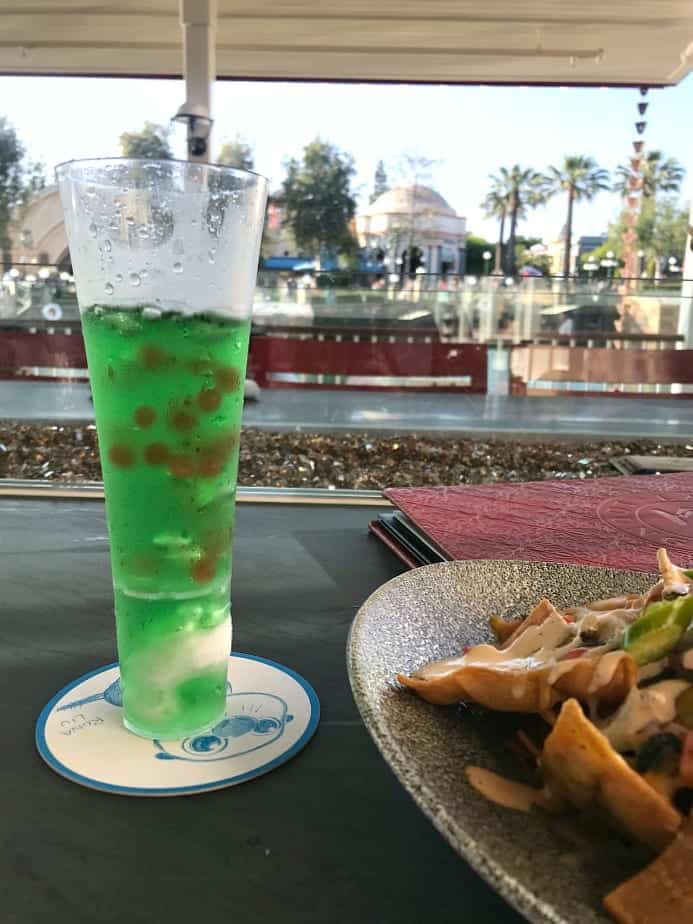 Lamplight Lounge Infinity Fizz
The Infinity Fizz is a non-alcoholic choice. It comes out bubbling and smoking (from the dry ice). It's pretty awesome! Powerade® Mountain Berry Blast, Apple Juice and Cherry Pearls. $6.50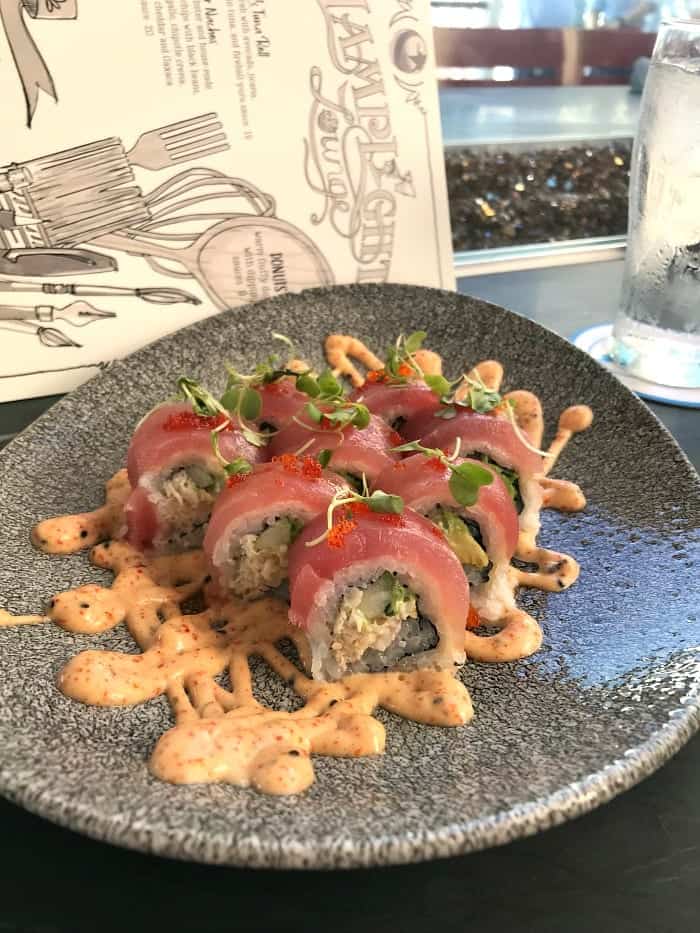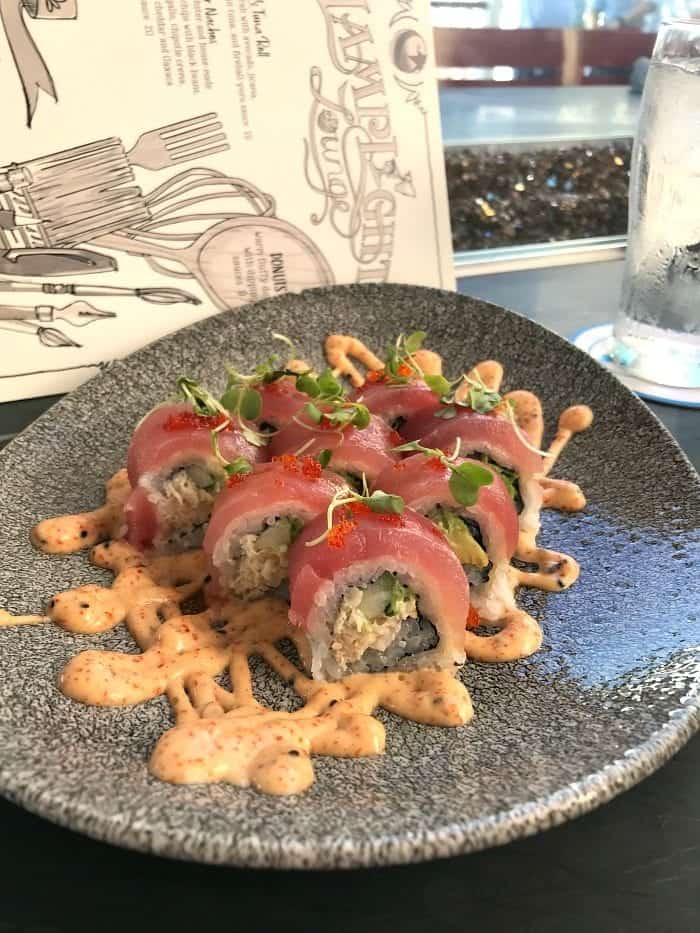 Lamplight Lounge Crab and Tuna Roll
This is the Crab and Tuna Roll. It was fantastic. Stone Crab with Avocado, Jicama, Yellowfin Tuna, and Fireball-Yuzu Sauce. $19.00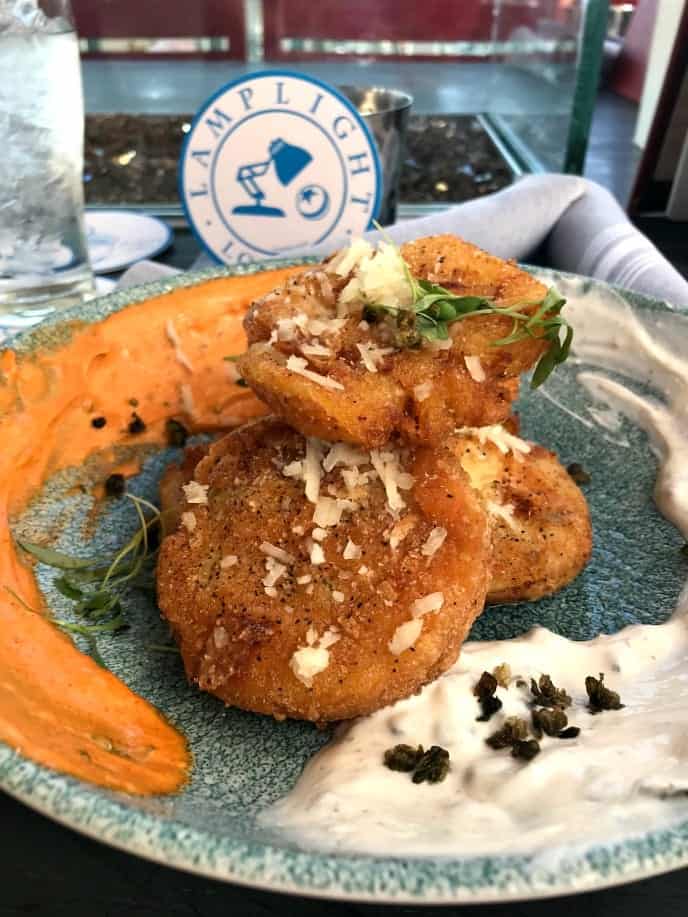 Lamplight Lounge Potato Skins
The Potato Skins were one of my favorites. Perfect starter. Crispy Yukon Gold Potatoes with Brown Butter-Caper Yogurt, Smoked Paprika Aïoli, and Manchego Cheese. $14.00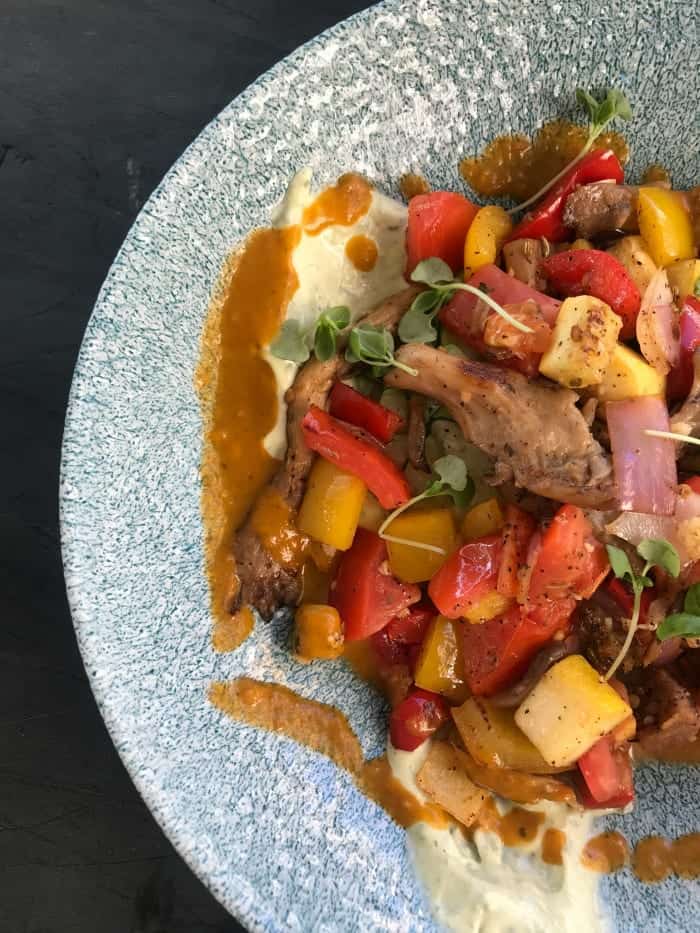 Lamplight Lounge Ratatouilli
This is the Ratatouilli. Gorgeous and a fabulous dinner option. Roasted Eggplant and Bell Pepper Ragoût with Zucchini Noodles, warm Burrata Cheese, Smoked Tomato Sauce, and Basil Aïoli. $19.00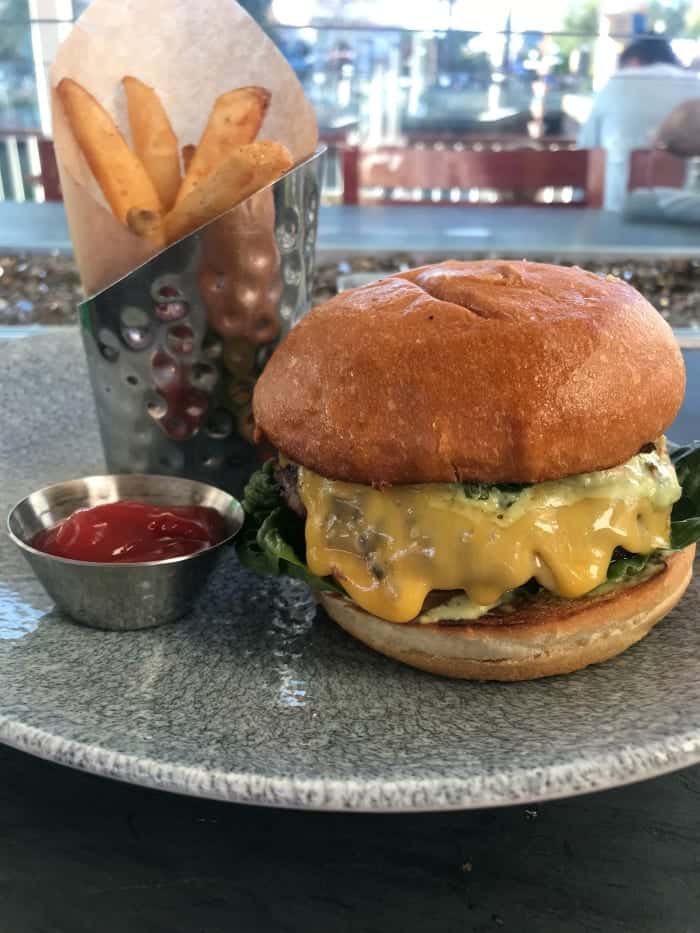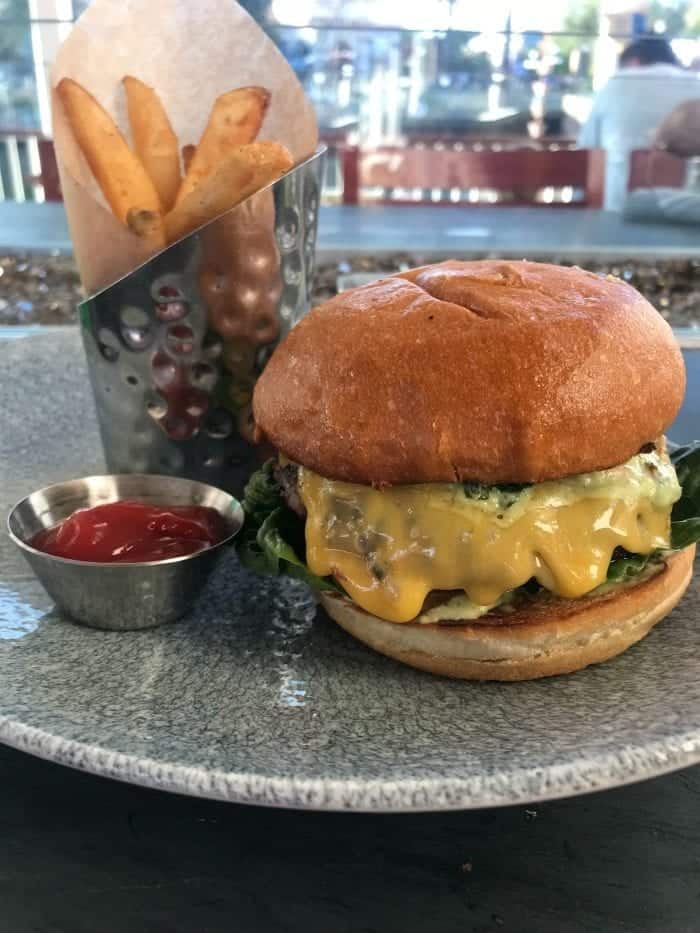 Lamplight Lounge Cheddar Burger
Another favorite for me was the Cheddar Burger. I mean, look at it. It was as good as it looks 🙂 Grilled custom Burger blend with Tillamook Cheddar, Roasted Plum Tomato, Red Onion, Avocado Ranch Spread, and Toasted Amish Bun served with Malted Fries. $22.00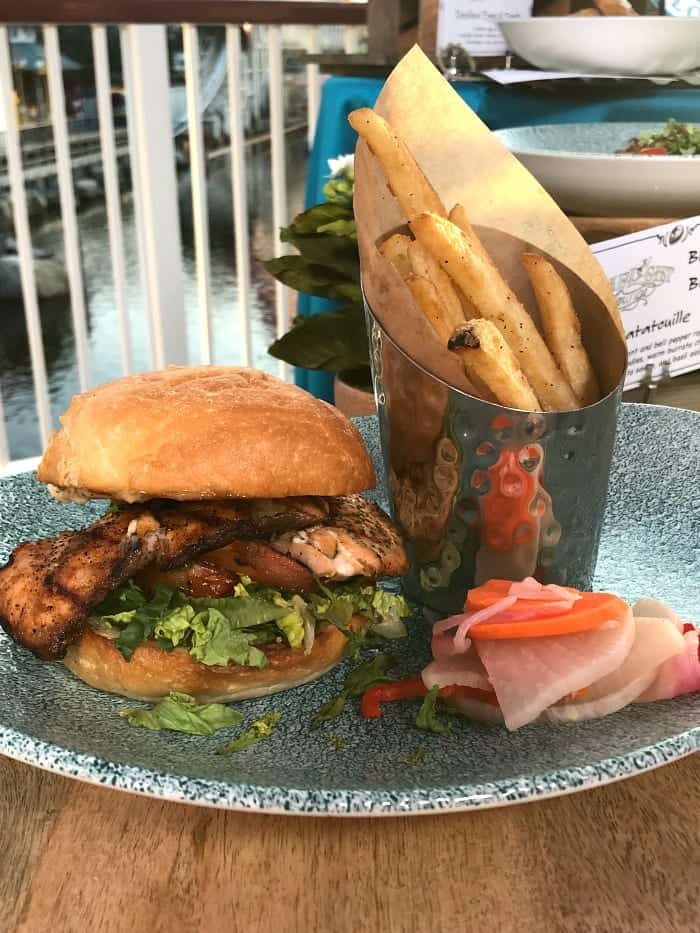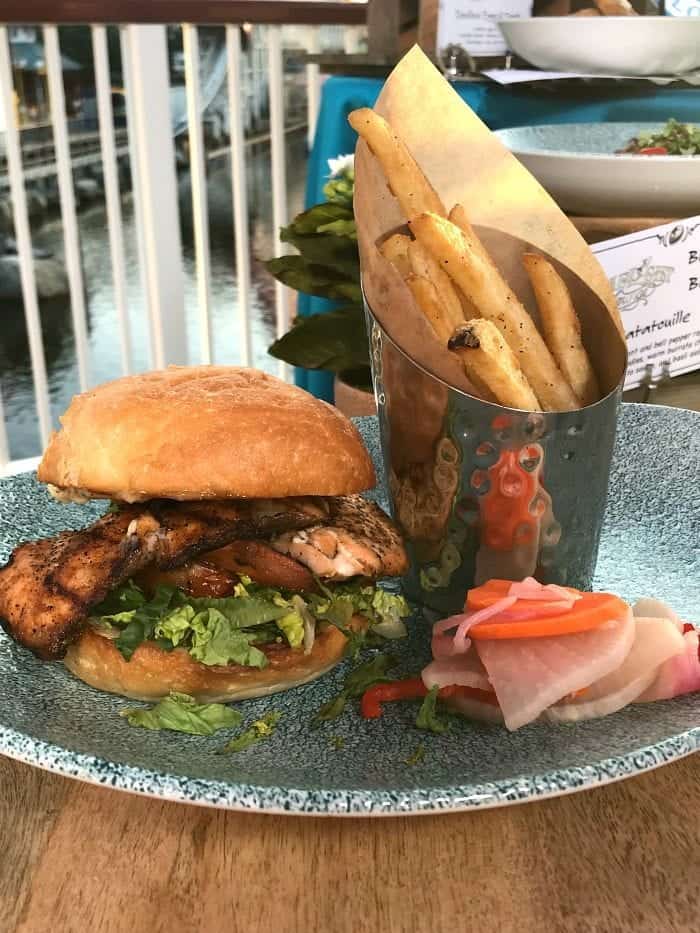 Lamplight Lounge Salmon PLT
Here's a look at the Salmon PLT. I did not try this one, but it looks amazing! Grilled Salmon with crispy Pancetta, Romaine Lettuce, Roasted Plum Tomato, Lemon-Bacon Aïoli, and Toasted Focaccia served with Malted Fries. $23.00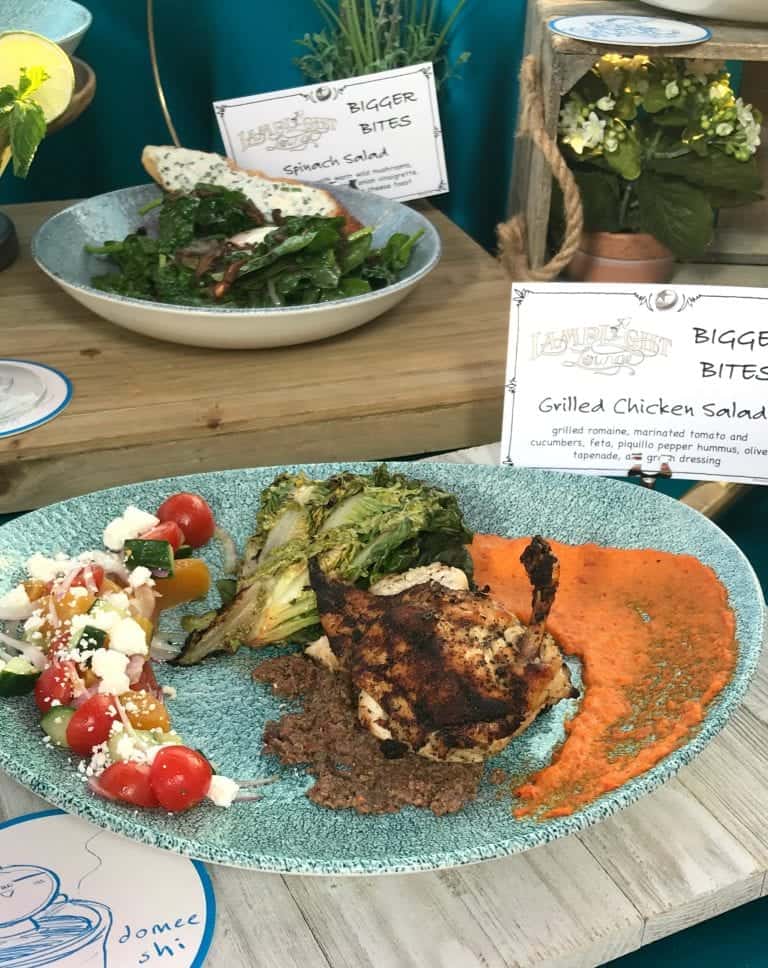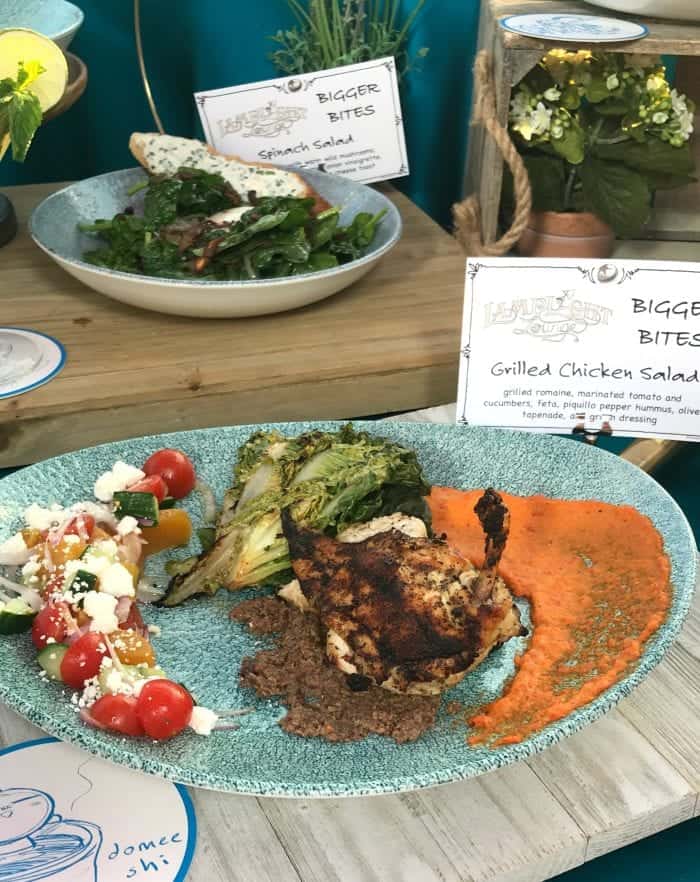 Lamplight Lounge Grilled Chicken Salad
Grilled Chicken Salad. Grilled Romaine, Marinated Tomato and Cucumbers, Feta, Piquillo Pepper Hummus, Olive Tapenade, and Green Dressing. $21.00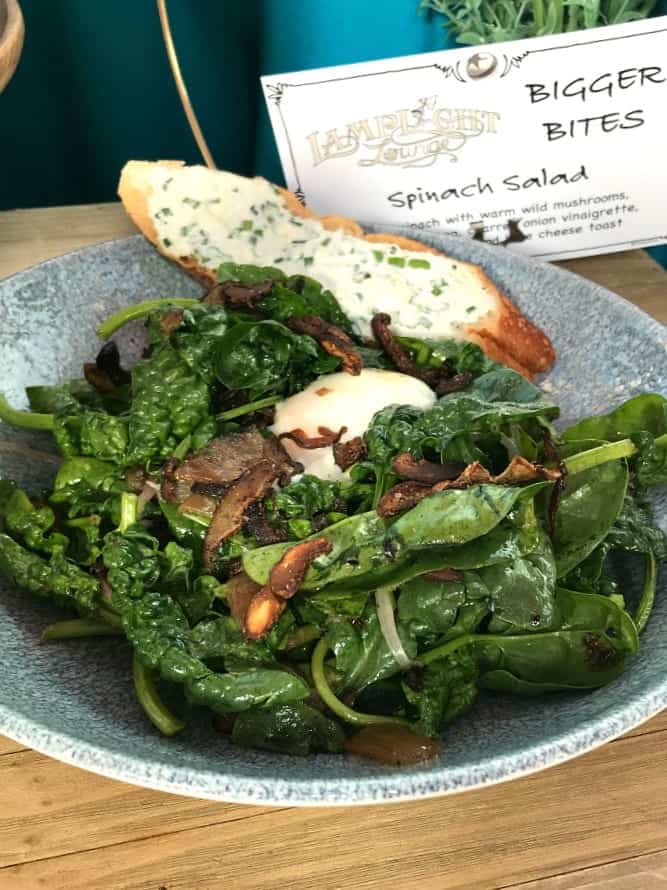 Lamplight Lounge Spinach Salad
Spinach Salad. Curly Spinach with warm Wild Mushrooms, Soft Poached Egg, Charred Onion Vinaigrette, Shitake "Bacon", and Blue Cheese Toast. $21.00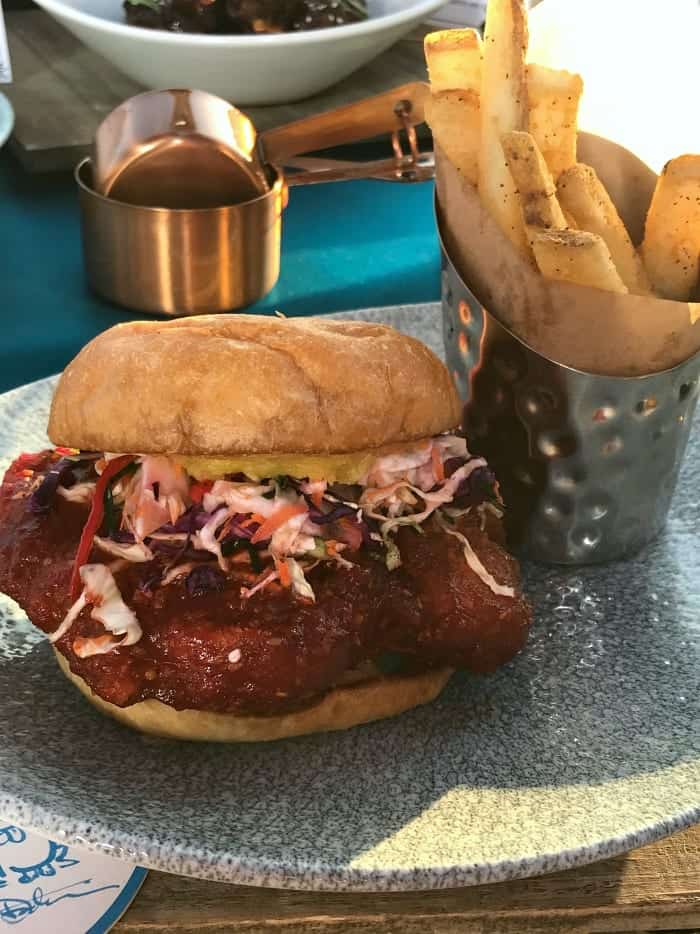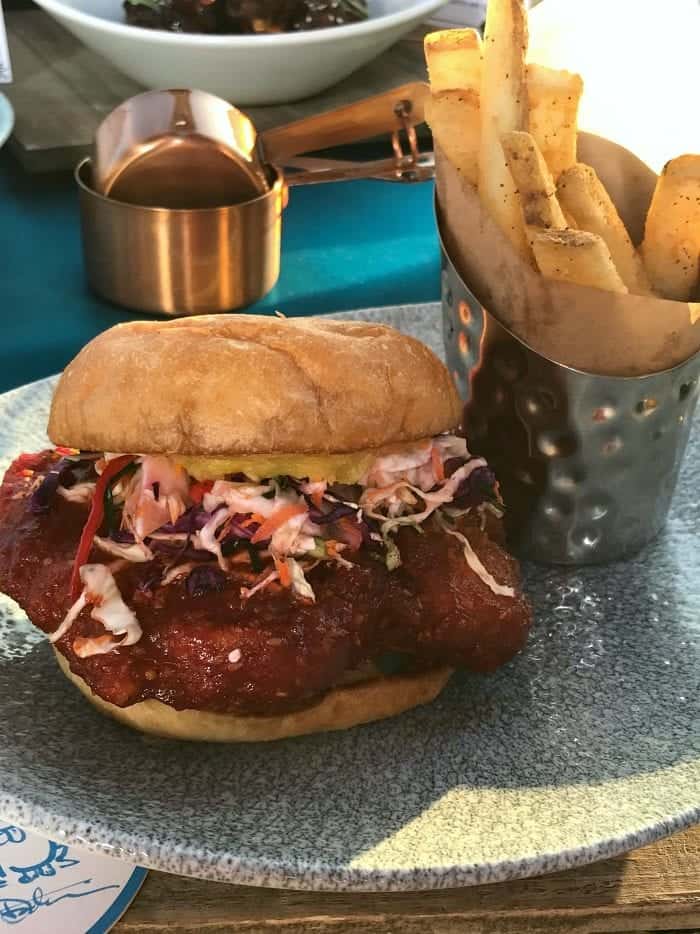 Lamplight Lounge Chicken Sandwich
I'm going to try this Chicken Sandwich on my next visit. Looks amazing! Crispy Chicken with Spicy Chili Glaze, Vinegar Slaw, Pineapple Butter, and Toasted Amish Bun served with Malted Fries. $21.00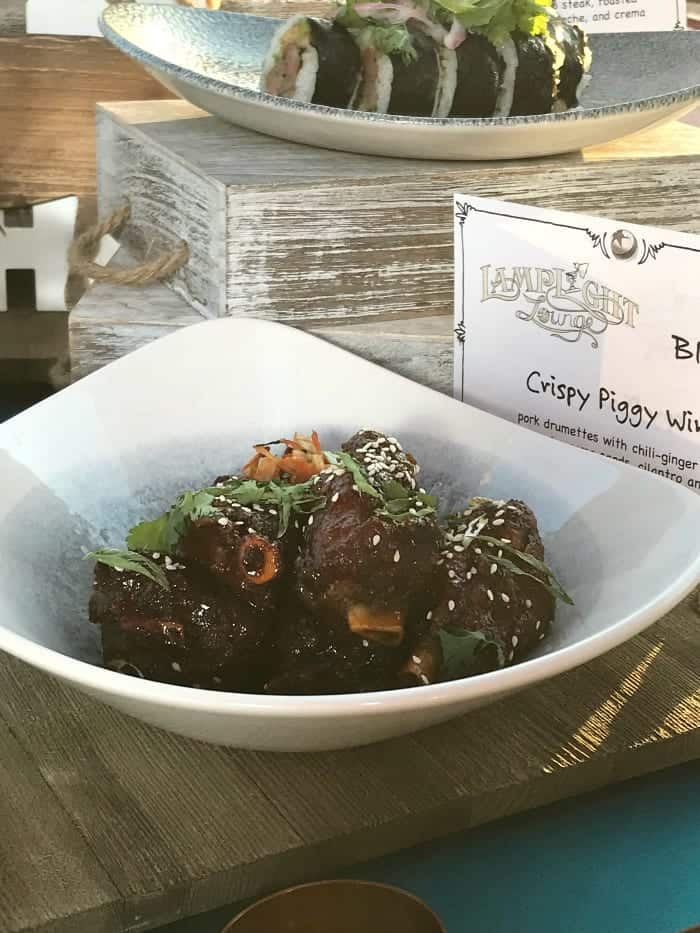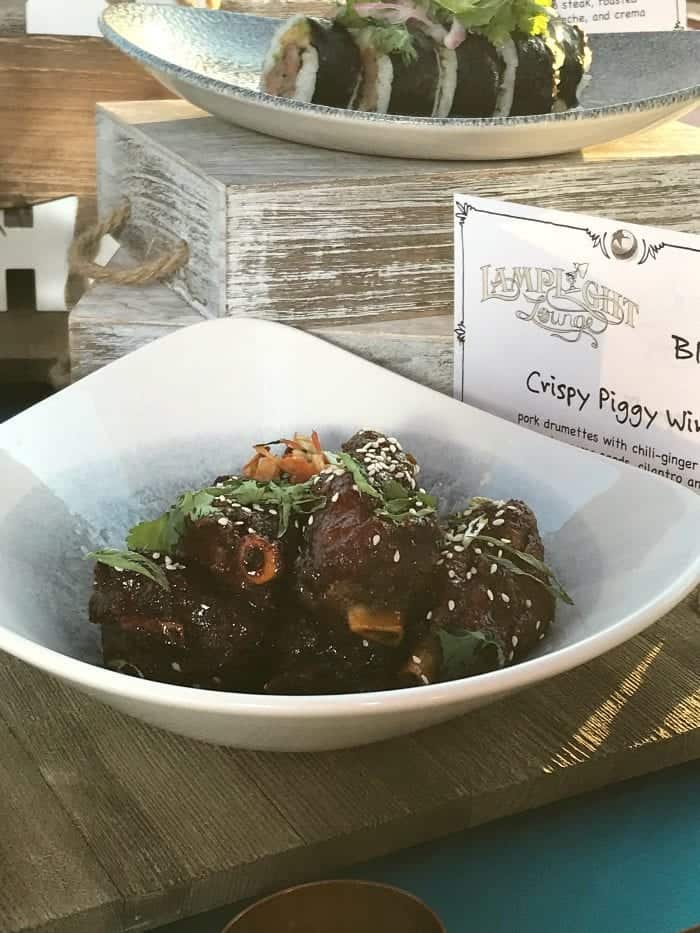 Lamplight Lounge Pork Drumettes
Crispy Piggy Wings, another I didn't try, but heard really good things about. Pork Drumettes with Chili-Ginger Glaze, Toasted Sesame Seeds, Cilantro, and Slaw. $17.00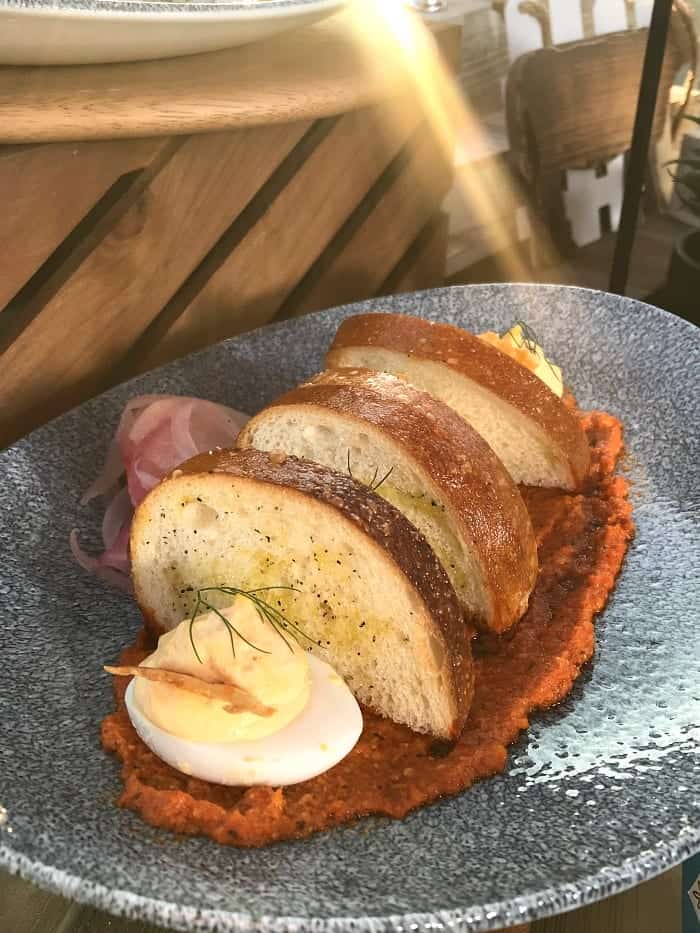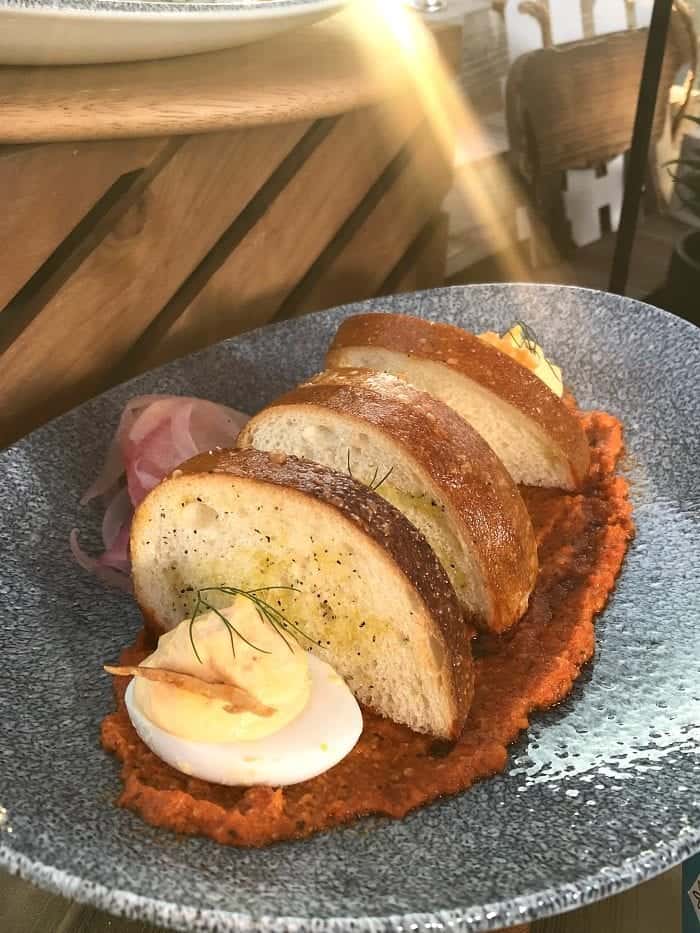 Lamplight Lounge Deviled Eggs and Toast
Deviled Eggs and Toast! Totally trying this next time too. Creamy Egg Salad, Toasted Almond Romesco Sauce, Dill, Manchego Crisp, and Toast. $12.00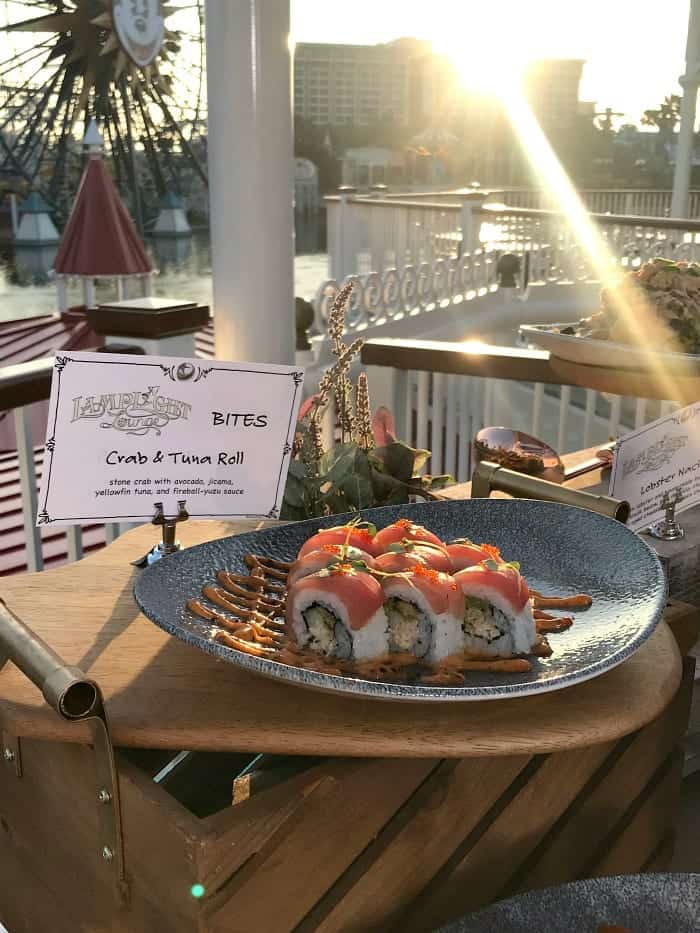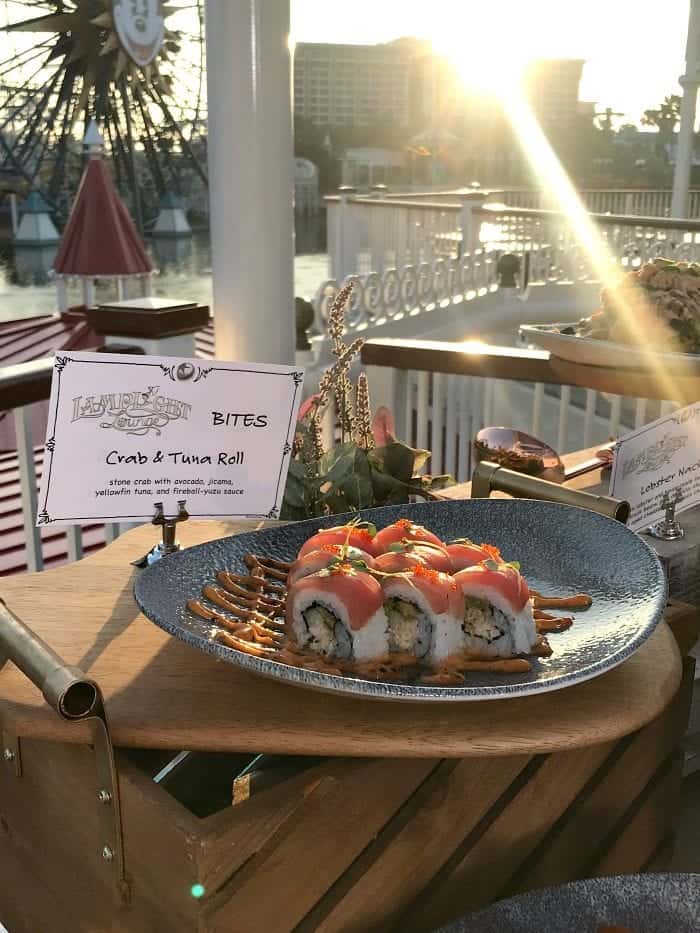 Another look at the Crab and Tuna Roll. Liked this one in the sunlight 🙂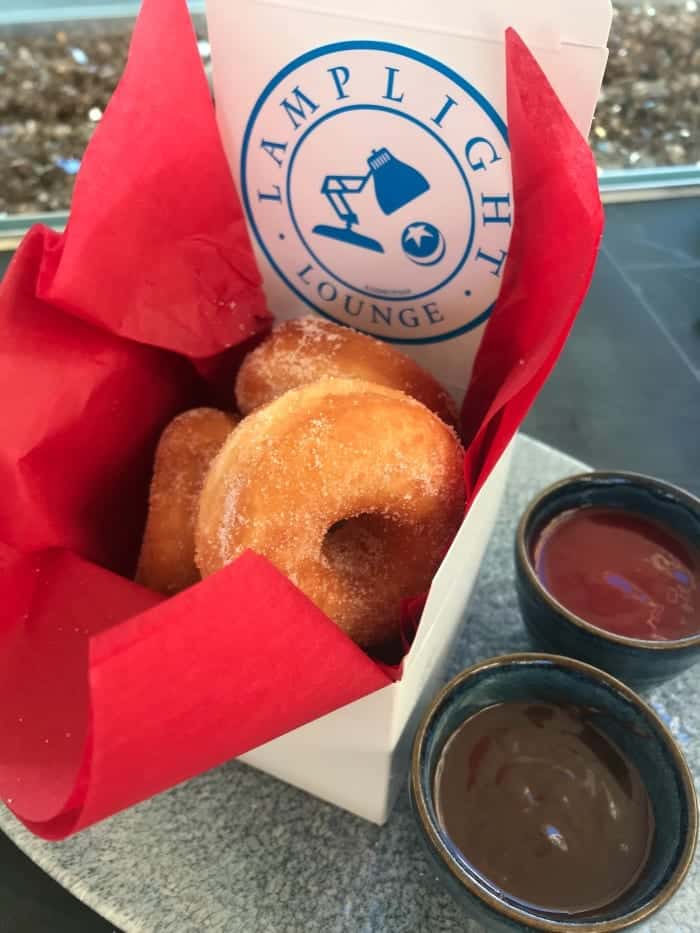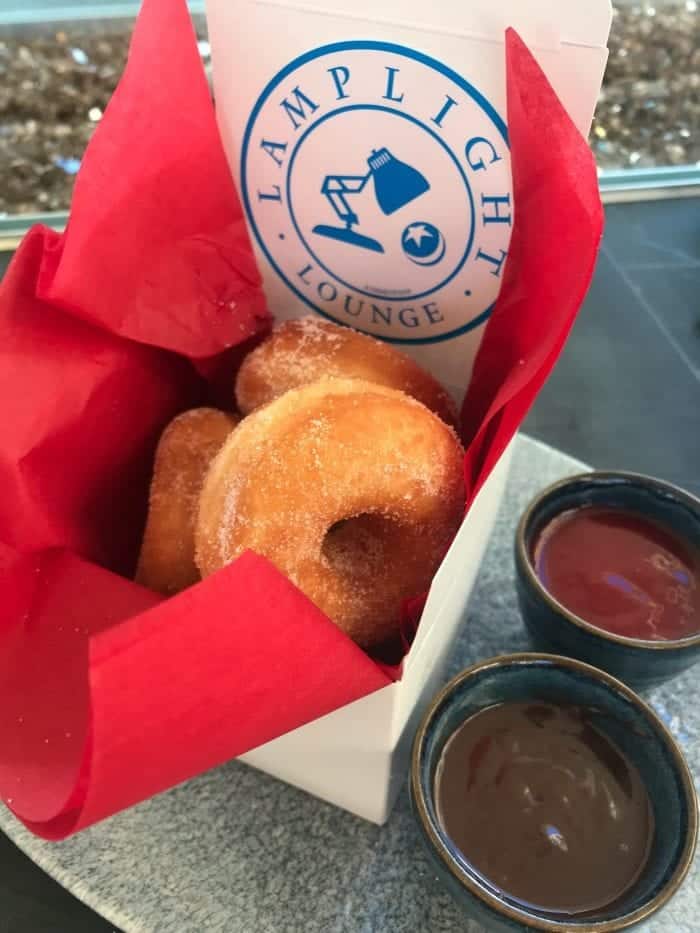 Lamplight Lounge Warm Fluffy Donuts
Ok, let's talk about these Warm Fluffy Dounuts. They're my new favorite dessert at Disney currently. So so good. Make sure you enjoy them warm. Fantastic!! $9.00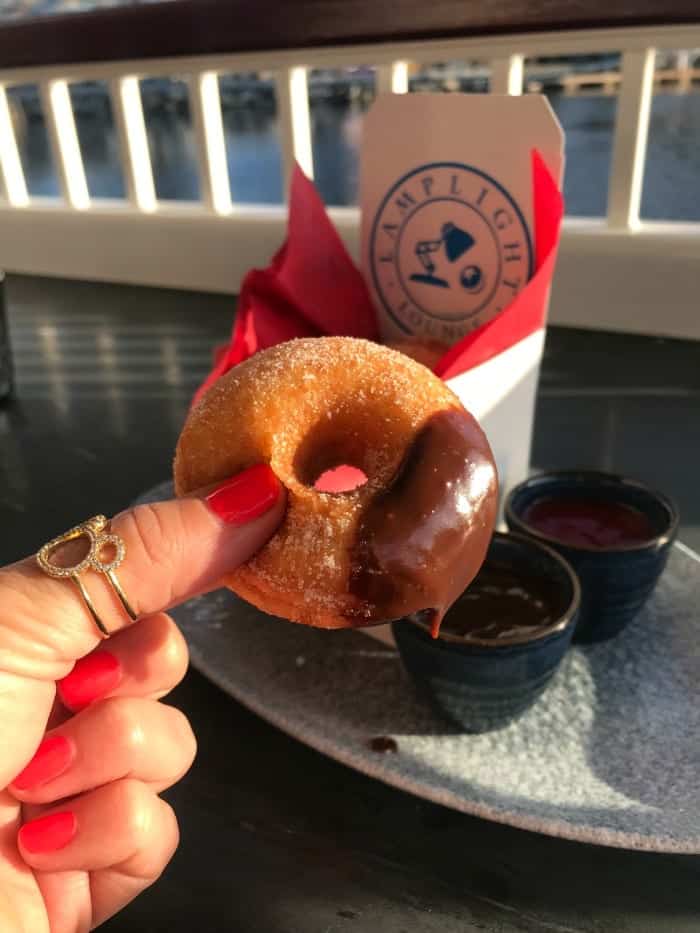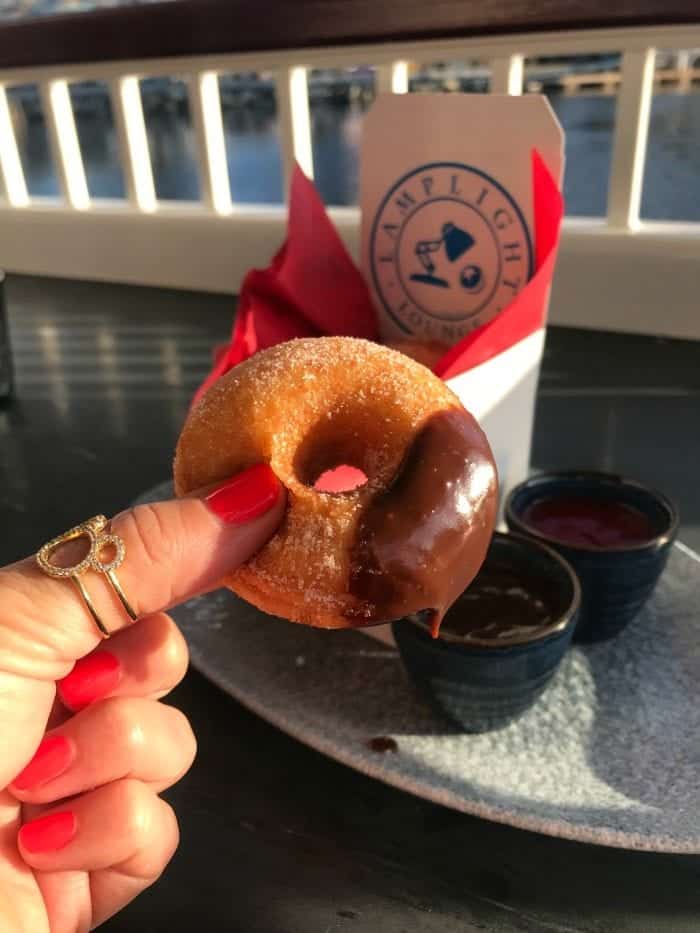 Hello warm chocolate sauce.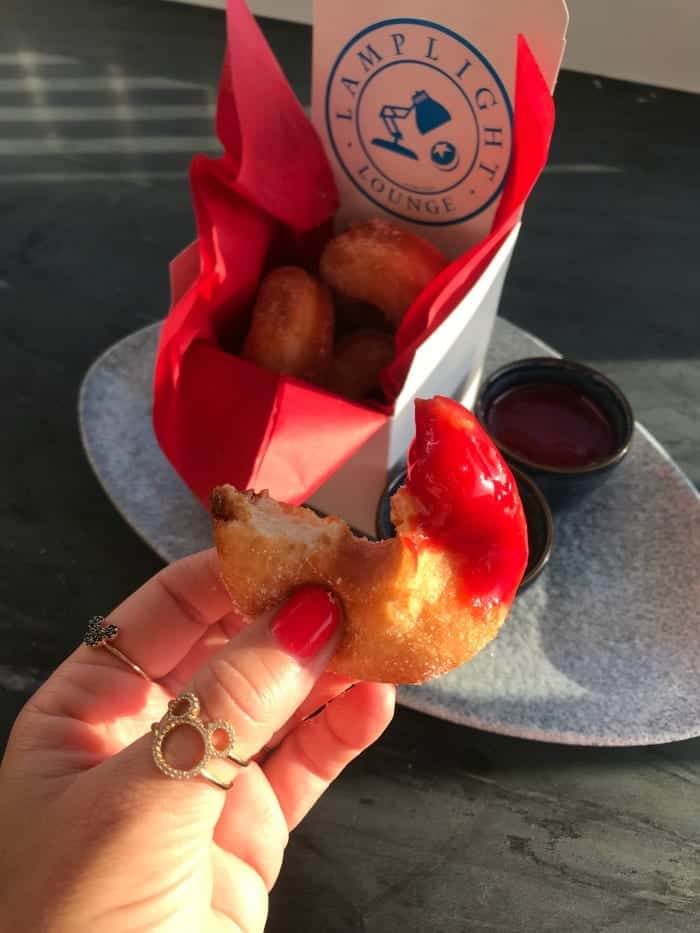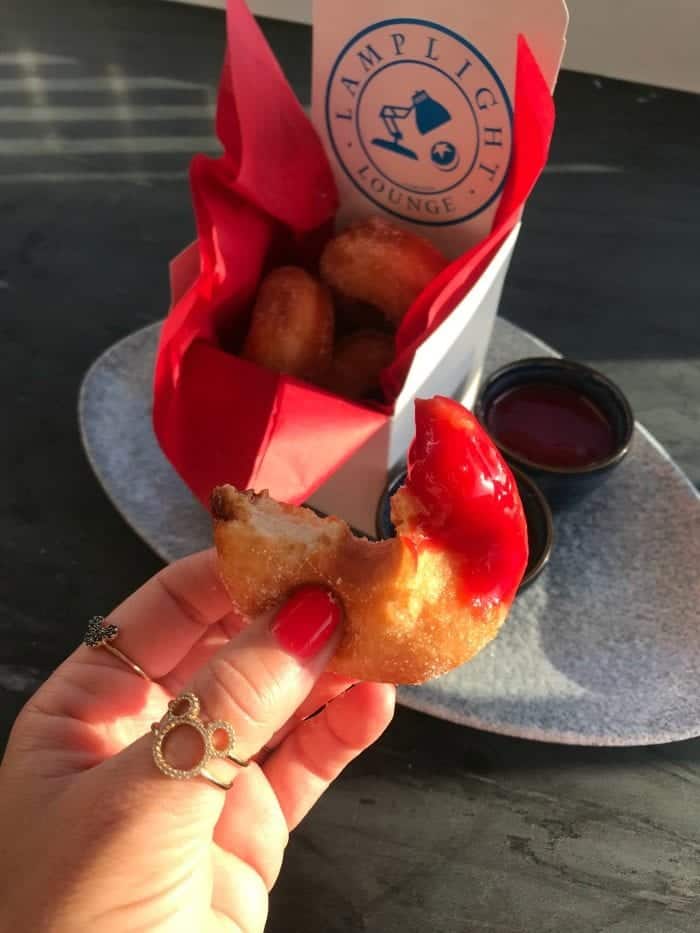 The Raspberry sauce has Pop Rocks in it so…..epic. Enjoy!!
Thoughts. Lamplight Lounge is a gorgeous restaurant with the best Pixar Pier views. It's on the pricier side, so know this before you sit down. Perfect for sharing dishes with friends. Perfect for a special occasion dinner too. In my opinion, the whole experience is worth every penny. Especially ending with those DONUTS 🙂
Pin To Your Favorite Disney Board!