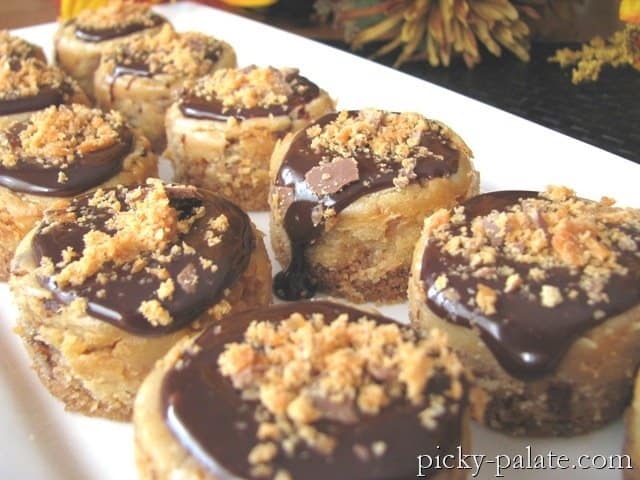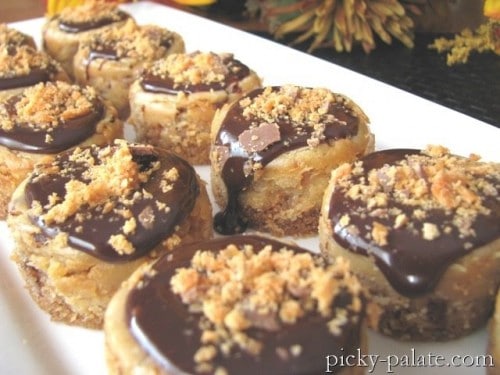 Have more baking to do before Christmas, which is only 4 days away!!?? I've compiled a few more of my top picks that would be a hit on any Christmas table 🙂 It's so great to be home with our family in AZ! Have so much to squeeze in during our time here! Can't wait to get cooking in the kitchen with my mom. Hope you are all enjoying the hustle and bustle of these last few days before Christmas.
Isn't this time of year the best!!?
Peanut Butter-Finger Mini Cheesecakes
1 Cup ground Vanilla Wafers
2 Tablespoons granulated sugar
2 Tablespoons butter
1/8 teaspoon salt
8 oz softened cream cheese
1/4 Cup creamy peanut butter
1/2 Cup sugar
1 egg
2 Tablespoons heavy cream
1/8 teaspoon salt
4 Fun Size Butterfinger Candy Bars, crushed
1 Cup semi sweet chocolate chips
2-3 Tablespoons heavy cream
2 Fun Size Butterfinger, crushed
1. Preheat oven to 350 degrees F. Place cookie crumbs, sugar, butter and salt into a bowl; mix to combine. Spoon mixture into bottoms of mini cheese cake pan or mini cupcake pan and press. Bake for 10 minutes and remove from oven.
2. Reduce heat to 300 degrees F. In a stand or electric mixer, beat cream cheese and peanut butter until smooth. Beat sugar, egg, cream and salt until well combined. Slowly stir in crushed Butterfinger. Evenly pour batter over baked crust. Bake for 20-22 minutes or until cheesecake is set. Let cool for 2 hours, then remove from pan.
3. Melt chocolate chips in microwave in 30 second intervals until smooth. Stir in cream until smooth and glossy. If needed, return back to microwave for 15 seconds or so until smooth. Spoon over tops of cakes then sprinkle crushed butterfinger over top.
_____________________________________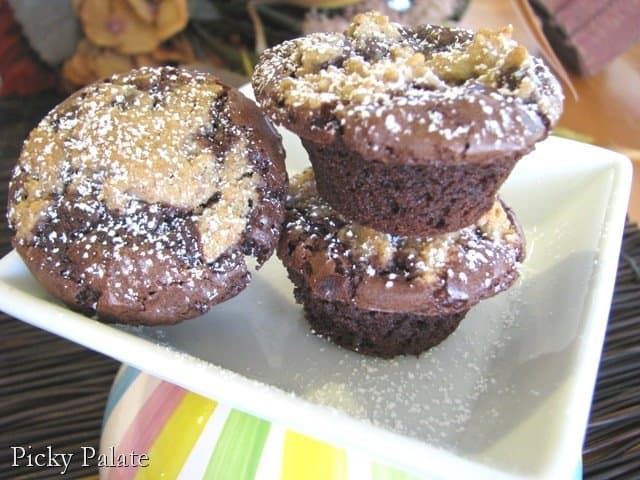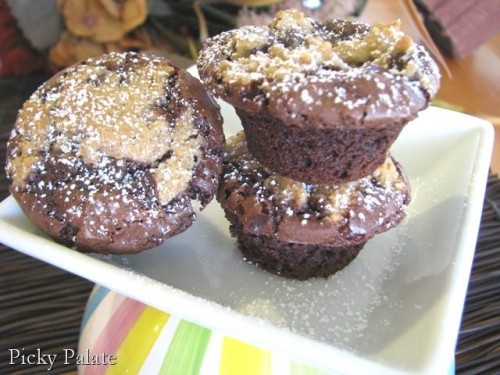 Chocolate Chip Cookie Dough Brownie Cups
1 box brownie mix 9 x 13 size
1 batch of your favorite cookie dough
Powdered sugar or frosting
1. Preheat oven to 350 degrees F. Prepare brownies according to package directions. Pour batter into mini cupcake tins (about 36-40) that have been sprayed generously with cooking spray. Spoon 1 Tablespoon of cookie dough into the center of each filled cupcake tin, gently pressing down into the batter. Bake for 15-18 minutes, or until cooked through. Let cool for 10 minutes before removing brownies from tins. Sprinkle with powdered sugar or frost. Enjoy!
___________________________________________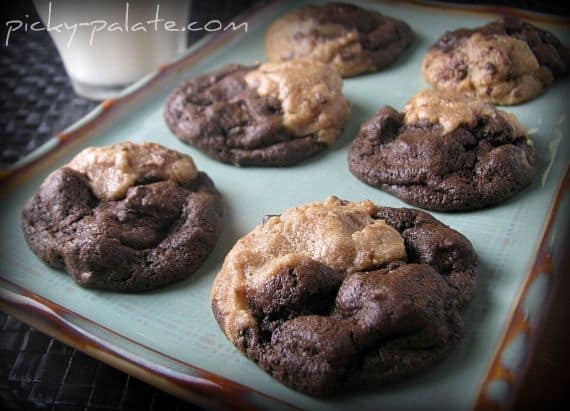 Chocolate Peanut Butter Cookie Duo
Peanut Butter Cookie
1 Cup creamy peanut butter
1 Cup granulated sugar
1 egg
1. Mix all ingredients together in a bowl until well combined. Set aside.
Chocolate Chip Cookie
2 sticks softened butter (1 Cup)
1 Cup granulated sugar
3/4 Cup brown sugar
2 eggs
1 teaspoon vanilla
1 3/4 Cups flour
1 1/4 Cups cocoa powder (I used Hersheys)
2 teaspoons baking soda
1/4 teaspoon salt
1 Cup chocolate chips
1. Preheat oven to 350 degrees F. Cream the butter and sugars until well combined. Slowly beat in eggs and vanilla until well combined. Place flour, cocoa powder, baking soda and salt into a large bowl; mix with fork or sift. Add to wet ingredients along with chocolate chips until just combined.
2. Take a Tablespoon of Peanut Butter Cookie Dough and a Tablespoon of Chocolate Cookie Dough and gently press together forming a "not so perfect" ball. Don't press and roll too much, just stick them together and place onto a silpat or parchment lined baking sheet. Bake for 9-11 minutes or until cookies are cooked through to your liking. Let cool for 5 minutes before transferring to a cooling rack. Enjoy!
__________________________________________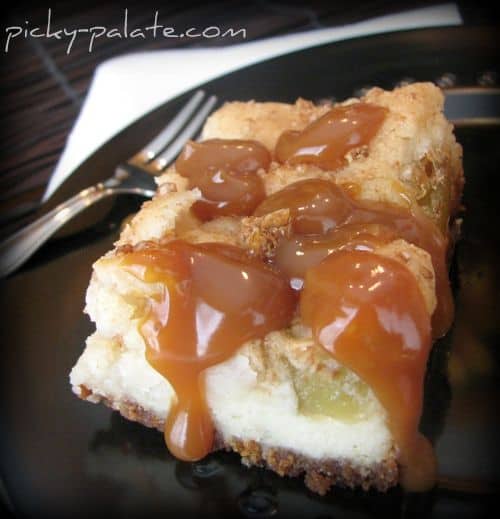 Caramel Apple Cream Cheese Cookie Bars
3 Tablespoons melted butter
3 Cups Golden Graham Cereal, ground in food processor
1 Roll Pillsbury Sugar Cookie Dough or 2 pkgs Betty Crocker Sugar Cookie Dough Mix prepared and divided into 2 equal parts
8 oz softened cream cheese
1/4 Cup sugar
1 teaspoon vanilla
21 oz can apple pie filling
1.5 oz package Nature Valley Oats N' Honey Crunchy Granola Bars (2 count), crushed (I use a rolling pin to crush them right in the bag before opening)
9.5 oz Kraft Caramels
1/2 Cup half and half
1. Preheat oven to 350 degrees F. Combine melted butter and ground cereal into a large bowl; press into an 8×8 inch baking dish lined with foil that's been sprayed with cooking spray. Bake for 10 minutes then remove from oven. Crumble half of the cookie dough over partially baked crust.
2. Place cream cheese, sugar and vanilla into a mixer; beat until smooth. Pour over crumbled cookie dough layer. Bake for 25 minutes then remove from over. Top with 3/4 of the apple pie filling (I chose to just add part, but you can add the whole can if desired). Next top with remaining cookie dough, breaking off into little pieces evenly over top. Sprinkle with crushed granola bars and bake for 30-35 minutes or until toothpick comes clean from center. Let cool completely then cut into squares. Melt caramels and half and half according to package directions. Drizzle over each bar. Refrigerate leftovers.
9 squares
__________________________________________
Happy Baking!!