Sharing our favorite farro recipe today and talking about how to cook farro too! Simple and so delicious!
Farro
If you haven't had a good farro recipe yet I've got the perfect recipe for you! I remember being served farro at a nice restaurant a couple years ago for the first time and I was smitten! You can find farro pretty easily. I would first try Whole Foods, Trader Joes, Sprouts, Fresh and Easy. You can also order it online if you have trouble. Let's take a look at this cheesy dreamy farro dish that I developed. You are going to love it!
Try my Cheesy Chicken and Rice recipe too! Follow Picky Palate on Instagram for daily recipe inspiration.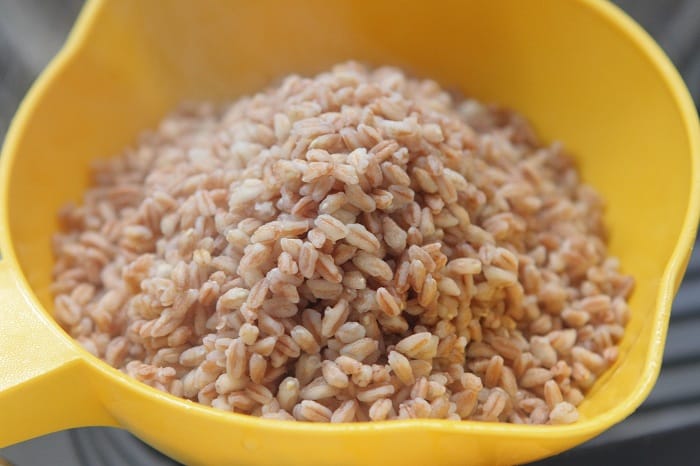 Here's what farro looks like after it's cooked. You cook it just like pasta. It's tossed right into boiling water then drained once cooked. Easy easy.
How To Cook Farro
Stovetop
Bring 2 quarts of water to a boil in a pot with salt. Add rinsed farro, return to a boil, then reduce the heat to medium-high and boil uncovered until soft, about 30 minutes. Drain off cooking water, then serve.
Pre-Soak Method
Cover farro with water and soak in the refrigerator overnight, then drain. Place in a pot and add 3 cups water or stock (enough to cover the grains). Bring to a boil; reduce heat to medium-low and simmer for 10 minutes. Drain excess liquid and serve.
Slow Cooker
Place rinsed farro, 4 cups water and salt into a slow cooker. Cover and cook on low for 2–2 ½ hours or high for 1 ½ hours. Drain excess water and serve.
Multi-Cooker
Place rinsed farro, 3 cups water and salt in the pot of a multi-cooker. Set the valve to sealing. On manual setting and high pressure, set for 12 minutes. Quick release the pressure. Drain excess water and serve.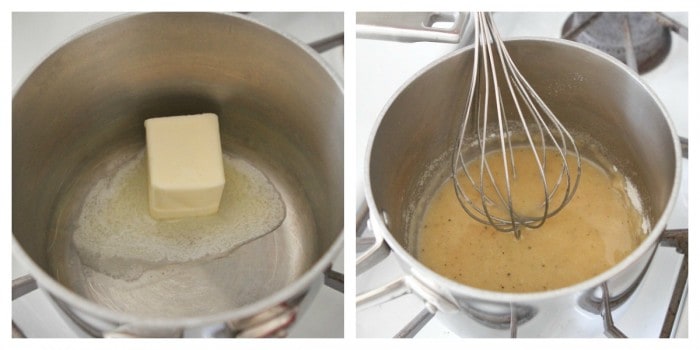 Ok, let's check out my homemade cheese sauce. You start by making a roux. You often start homemade mac and cheese this way. Melt your butter, then whisk in flour, salt and pepper.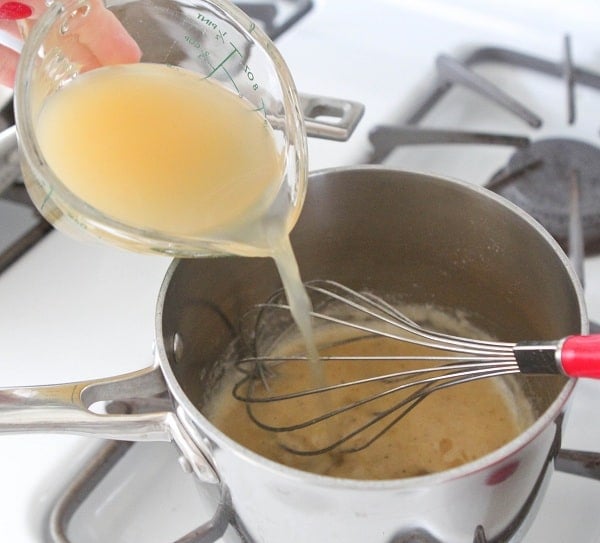 Whisk in your chicken broth, increase your heat and continue whisking until thickened.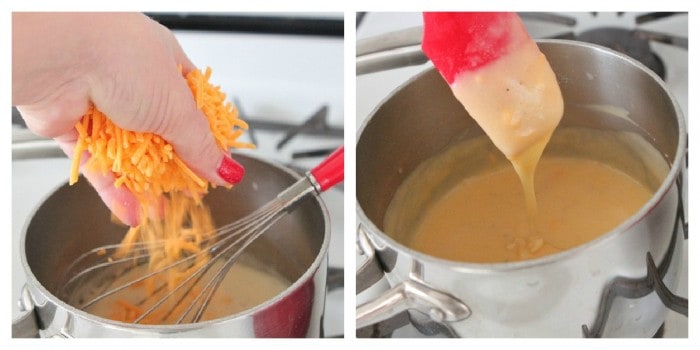 Stir in your cheese until melted and fabulous. Reduce heat to low.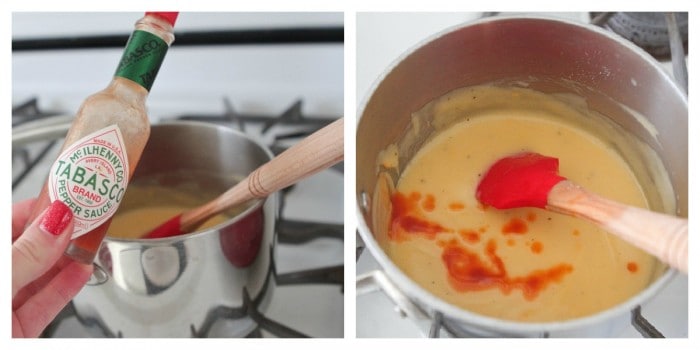 Totally optional, but very recommended….add a few drops of hot sauce. Adds great flavor.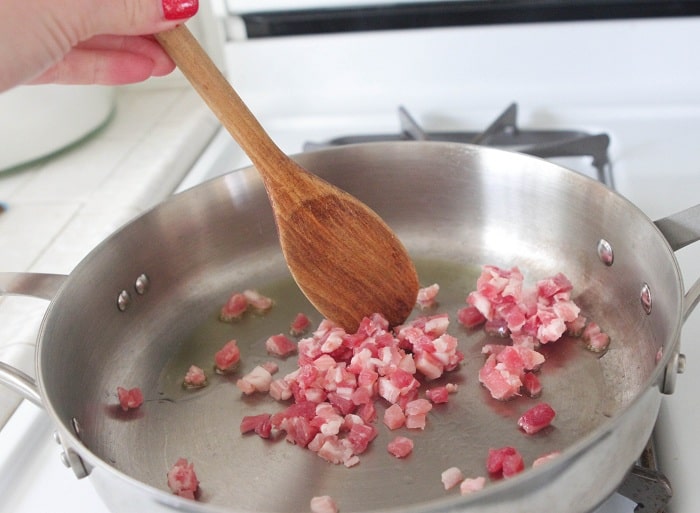 Time to brown your pancetta. Pancetta is not quite ham, not quite bacon, but right in the middle somewhere. It's salty, somewhat sweet and delicious.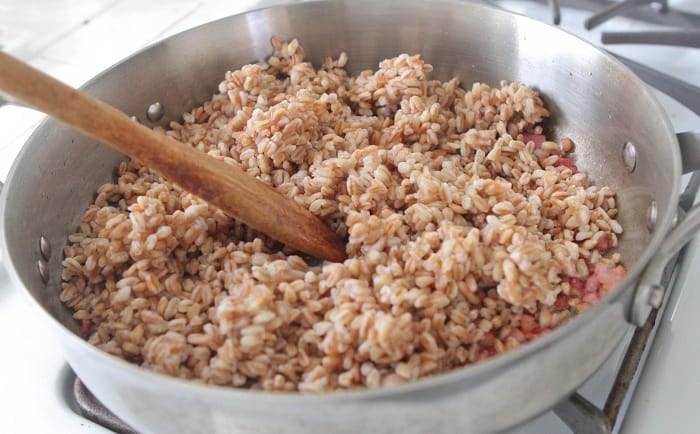 Add your cooked farro to the pot.
What Is Farro?
Farro is often used as a substitute for pasta or rice, and is a grain with a nutty flavor similar to brown rice. It is rich in fiber, magnesium and vitamins A, B, C, and E. Sounds good right? Well it is. I LOVE the texture. Think bigger and better brown rice but better tasting, lol!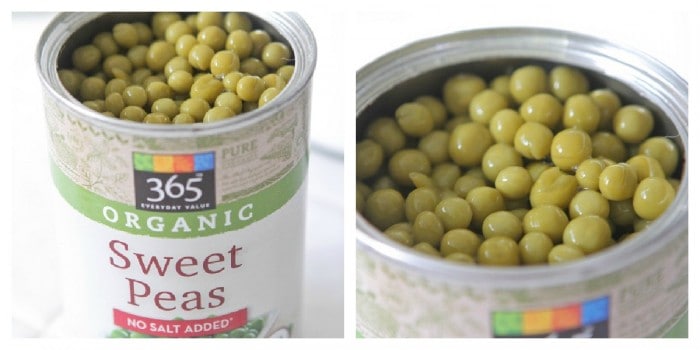 Add about 1/2 can drained sweet peas. If you despise sweet peas, no big deal. Either leave them out or substitute with another cooked vegetable of your choice.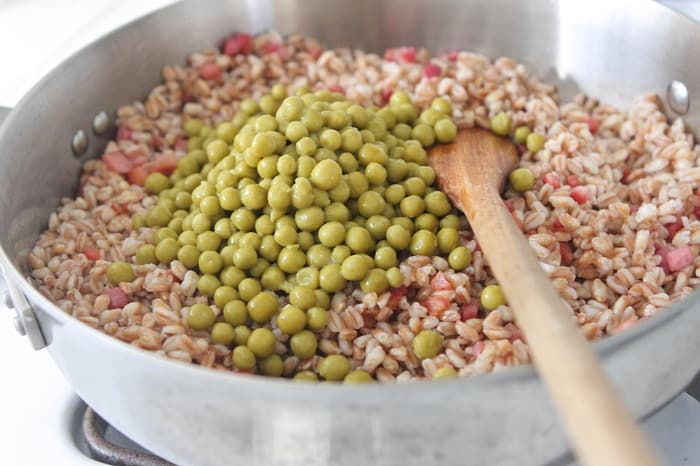 Pretty! Now mix.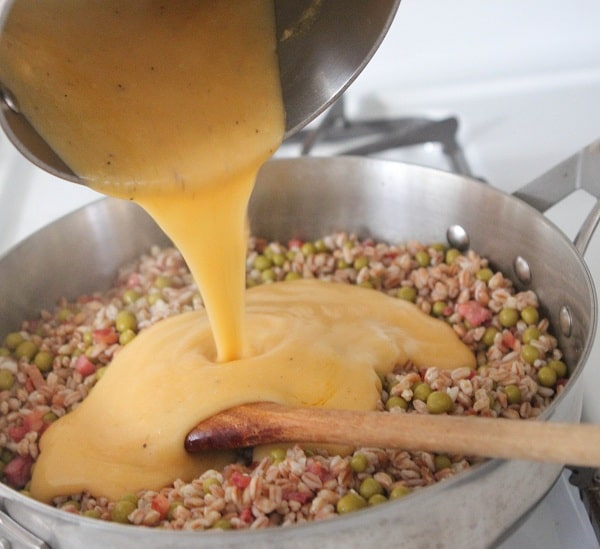 My favorite part. Pour it in baby!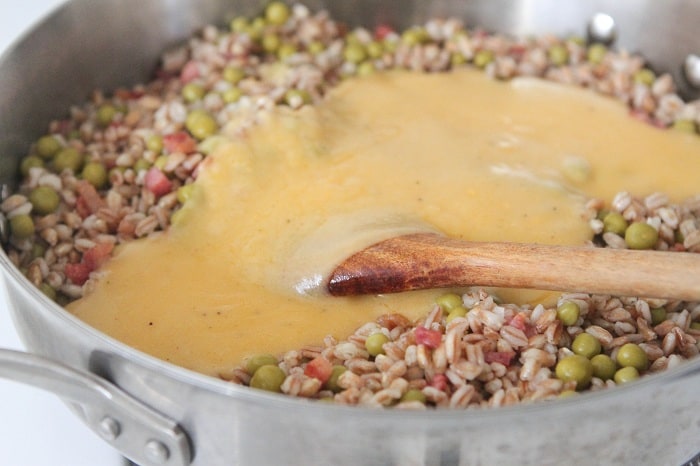 Let me just take a moment here, lol!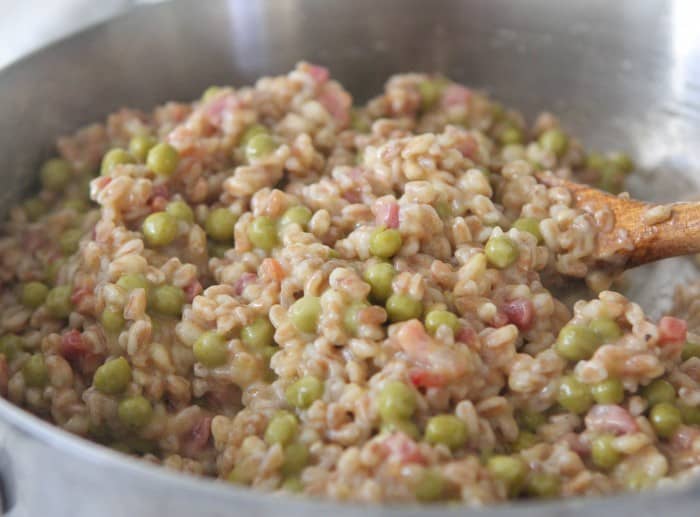 If I haven't convinced you to try this yet, I'm betting this picture does the trick 🙂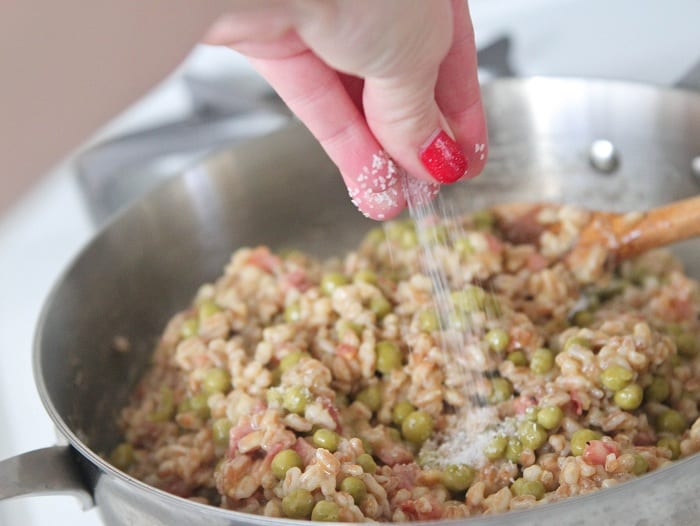 Season with salt and pepper to taste.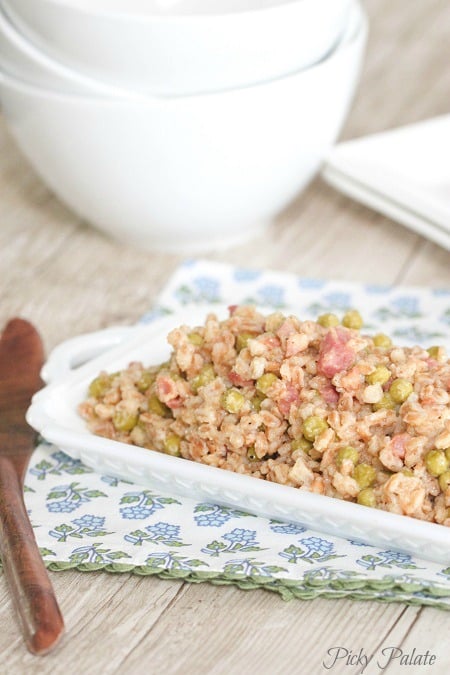 Pancetta Sweet Pea Farro
This Pancetta Sweet Pea Farro is the perfect side dish to your favorite meals! Full of flavor!
Print
Pin
Ingredients
4

cups

cooked Farro or rice

4

tablespoons

unsalted butter

1/4

cup

all purpose flour

1/2

teaspoon

kosher salt

1/4

teaspoon

freshly ground black pepper

1

cup

reduced sodium chicken broth

1

cup

shredded cheddar cheese

2

tablespoons

extra virgin olive oil

1

cup

pancetta

1

cup

sweet peas

drained if using canned
Instructions
Place cooked Farro into a bowl to use later. Place butter into a small saucepan over medium heat to melt. Whisk in flour, salt and pepper to combine. Whisk in chicken broth, increase heat to high whisking constantly. When thickened, reduce heat to low and stir in cheese until melted. Simmer on low.

Place oil into a large skillet over medium heat. Add pancetta and cook, stirring until browned. Add cooked Farro, cheese sauce and peas stirring to combine. Taste and season with additional salt and pepper to your liking. Serve warm.
Nutrition
Calories:
708
kcal
|
Carbohydrates:
112
g
|
Protein:
21
g
|
Fat:
21
g
|
Saturated Fat:
10
g
|
Cholesterol:
41
mg
|
Sodium:
352
mg
|
Potassium:
485
mg
|
Fiber:
22
g
|
Sugar:
3
g
|
Vitamin A:
636
IU
|
Vitamin C:
10
mg
|
Calcium:
183
mg
|
Iron:
4
mg
Keywords:
farro, farro recipe, farro recipes, pancetta