Hope everyone had a fantastic weekend. Can you even believe we are already in October? Seems like once October hits, Christmas comes in a flash, yikes not talking about that yet! It was actually chilly yesterday, I was loving it.
Thanks for everyone's great stories/comments about school lunches. I really enjoyed reading them all! Congrats to commenter #132 Shari who was picked by random to win the Revolution Food prizes. I'll be sending you an email. Please respond by tomorrow morning to claim your prize 🙂
This recipe is a fun little take on the traditional magic bars we all know and love. I was in the mood to bake Saturday and I had this idea to combine some fall flavors to some gooey magic bars. You all know how much I love to use my mini cheesecake pan, so I decided to bake the recipe in cute little individual bars. They take a little extra time, but I still managed to get them in the oven in about a half hour. Learn from my mistake and use a little plastic knife to loosen the edges shortly after they come out of the oven. It's much easier before the coconut gets crispy.
I'd say the final product is just adorable and so good with the cream cheese pumpkin layer. I think you all will really like these. Go get yourself a mini cheesecake pan (William Sonoma and Amazon.com carry them) and try them out 🙂 Hope you enjoy!
Visit my friend Cory over at Zesty Cook for his POM giveaway too! Click HERE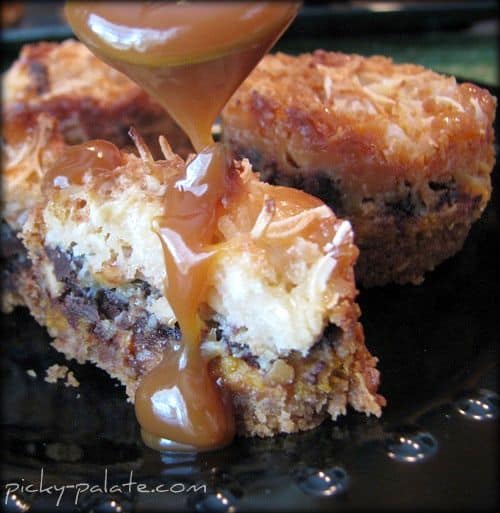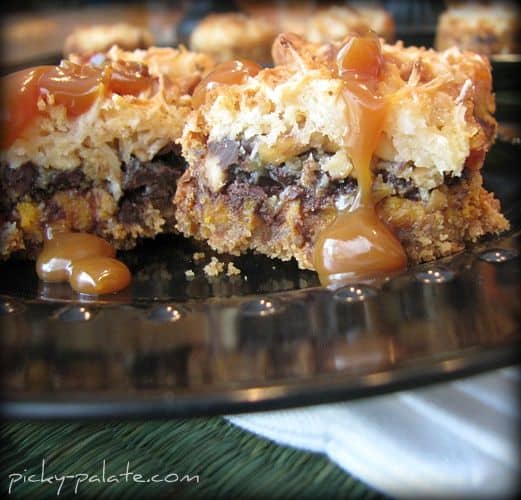 Pumpkin Spice Magic Bar Mini's
1/4 Cup melted butter
3/4 Cup graham cracker crumbs
2 oz softened cream cheese
3/4 Cup pumpkin puree, Libby's
3 Tablespoons sugar
1/4 teaspoon cinnamon
1/2 Cup chocolate chips
1/2 Cup coarsely chopped cashews
3/4 Cup sweetened shredded coconut
1/2 Cup sweetened condensed milk
Caramel ice cream topping to drizzle (or make your own if you'd rather)
1. Preheat oven to 350 degrees F. Place melted butter and graham cracker crumbs into a bowl; mix to combine. Press into the bottom of mini cheesecake cups. Bake for 8 minutes then remove from oven.
2. In a bowl beat the pumpkin, softened cream cheese, sugar and cinnamon until smooth. Spoon evenly over each graham cracker crust, about 2 small spoonfuls. Next layer chocolate chips evenly over pumpkin layer following with cashews, coconut and condensed milk. Bake for 22-25 minutes or until top is golden brown. Remove and let cool. *Before bars completely cool, take a plastic knife and run around edges to loosen. It becomes very sticky and difficult to remove from the cups if you do not loosen.
3. Once cooled, carefully remove from cups and arrange onto serving tray. Drizzle with warm caramel and serve.
12 mini magic bars
_________________________________
Have a wonderful new week! Come back soon for more goodies!