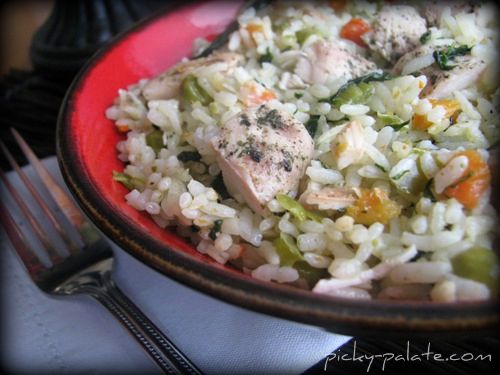 FINALLY some food around here! I've been baking so much lately, I figured it was time I post a nice quick fix dinner for those busy weeknights. This is a great no fuss, flavorful recipe the family will love. I like to even cook the chicken before hand so I can have this dinner on the table in about 30 minutes. My rice cooker is one of my favorite kitchen essentials, I don't know what I'd do without it! We've been using brown rice for the last year or so and have really grown to love it. Give it a try if you aren't already using it, adds a little more "health" to the recipe 🙂
Can't wait for Halloween this weekend, have a great week!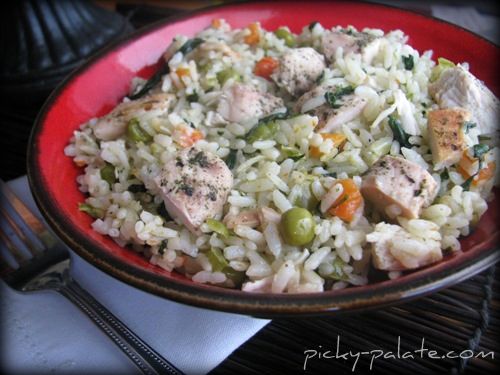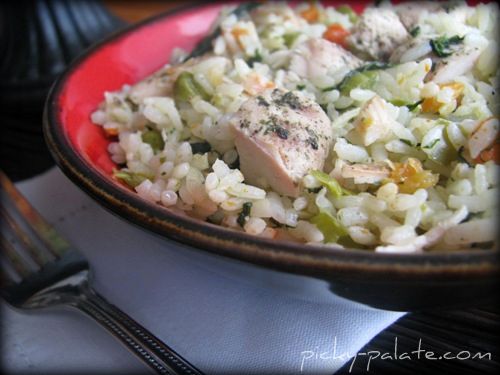 Romano Ranch Chicken and Rice Skillet Dinner
2 large boneless skinless chicken breasts
1 packet Ranch Dressing dry mix, divided
1/4 Cup extra virgin olive oil (what I used) or you can also use veg oil
1 large onion, finely diced
1 green bell pepper, diced
6 cloves fresh garlic, minced
6 Cups fresh spinach leaves, coarsely chopped
1 small can diced carrots and peas, drained
2 Cups steamed long grain brown rice (I cooked mine in a rice cooker)
1 teaspoon kosher salt
1/4 teaspoon fresh cracked black pepper
1/4 teaspoon Lawry's garlic salt with parsley
1/2 Cup shredded Romano Cheese
1. Preheat oven to 350 degrees F. Place chicken breasts into small baking dish and sprinkle half of the ranch packet over each breast. Bake for 30-35 minutes or until chicken is cooked through. Remove and let rest for 10 minutes.
2. Heat oil in large skillet with high rimmed edges over medium heat. Saute onion, bell pepper, garlic and spinach until softened, about 5-7 minutes. Stir in can of carrots and peas then stir in cooked rice, season with salt, pepper and garlic salt.
3. With a knife dice each chicken breast into small cubes and add into rice mixture. Sprinkle remaining ranch seasoning mix and romano cheese into rice. Reduce heat to low; taste and season as needed. Now you are ready to serve.
4 servings
____________________________________
Have a great new week! Come back soon 🙂