Good Thursday! This week is flying. How's everyone's healthy eating going so far? I am so excited to share this healthy salad with you. I can't stop eating it.
So on my shopping trip earlier this week I picked up a massive bag of this Bob's Red Mill Quinoa at Costco. I was determined to find a tasty recipe for it and I absolutely did. This recipe is a cold salad that is so refreshing and practically guilt free. I keep it in the fridge and snack on it throughout the day. I found that quinoa is so easy to make, 12 minutes and it's done. It has the consistency of couscous, but is healthier for you! It is a win win if you ask me.
Go pick up a bag at any health food store like Whole Foods, Sprouts or Fresh and Easy type stores. You'll find that this salad is so yummy! Let me know if you give it a whirl.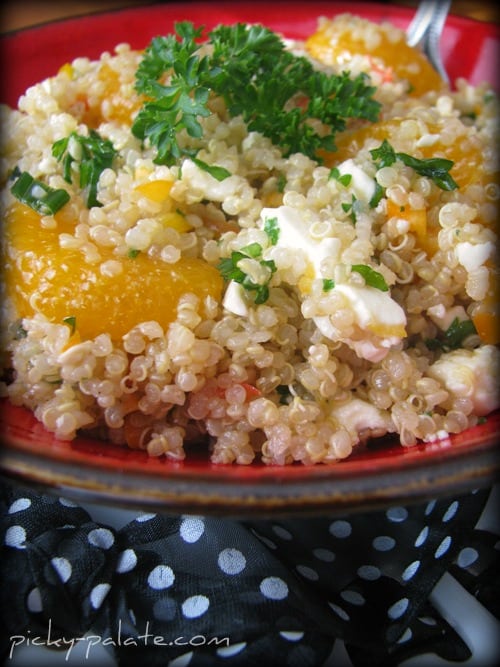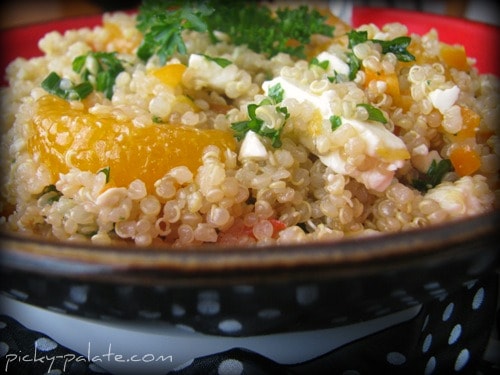 Sesame Mandarin Quinoa Salad
1 Cup uncooked Bob's Red Mill Organic Whole Grain Quinoa
1/3 Cup Extra Virgin Olive Oil
1 Tablespoon Balsamic Vinegar
1 Tablespoon sugar substitute, like splenda or something similar
2 Tablespoons sesame oil
Pinch of kosher salt and fresh cracked pepper
1/2 Cup sweet peppers, chopped (found a big bag of these at Costco, they are small and very mild. Great flavor)
1/4 Cup chopped green onions, the green part
1/4 Cup fresh parsley, chopped
1/4 Cup crumbled feta cheese
1 Cup mandarin oranges
1. Prepare quinoa according to package directions. Transfer to a large bowl to cool. In a small bowl whisk the oil, balsamic vinegar, sugar substitute, sesame oil, salt and pepper until well combined. Pour over cooled quinoa and mix to combine. Add the sweet peppers, green onions, parsley, feta and mandarin oranges. Refrigerate until ready to serve.
4 servings