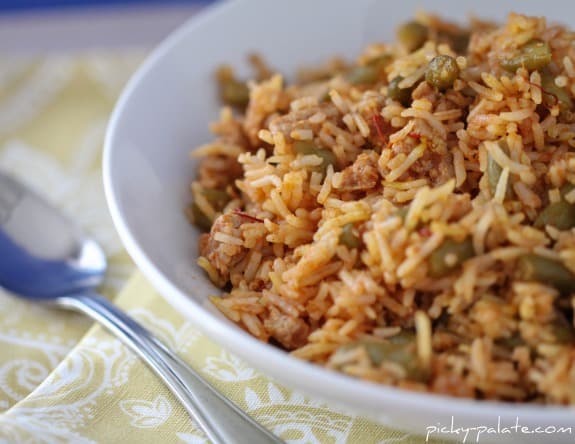 I am thrilled to be sharing this recipe with you today! I first had this rice at one of my good friends homes last year. I was in LOVE at first bite, no joke. My friend Mary told me that her Persian friend makes this rice and the kids LOVE it. My boys call it red rice and get so excited when I tell them I am making it for them. If you haven't cooked with saffron before you are in for quite a treat. It has a very distinct flavor that really makes this rice so incredible. McCormick Gourmet sells a lovely saffron, do check it out next time you are at the store 🙂
After enjoying this red rice so many times at Mary's home I finally decided I'd create the recipe myself! It tastes identical! Hope you all enjoy.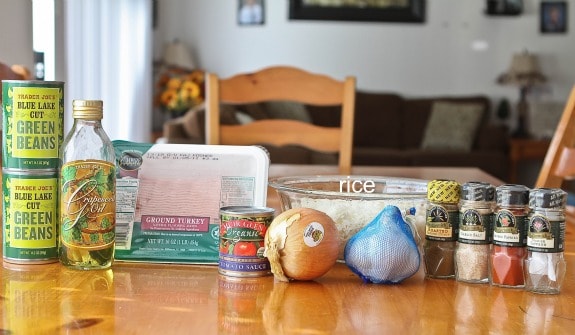 Here's your line up of ingredients.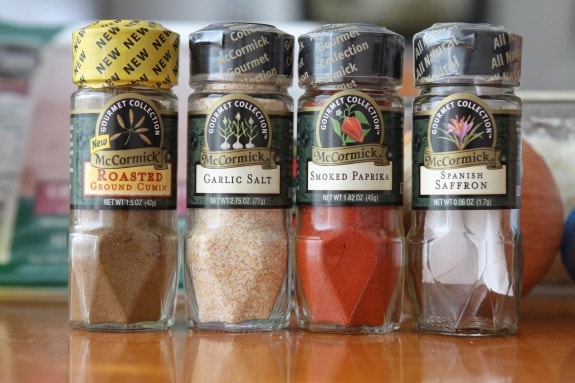 These McCormick Gourmet Spices make me smile they are so fabulous!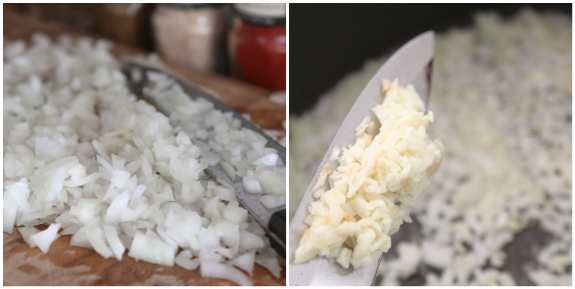 Start by sauteeing your onion and garlic.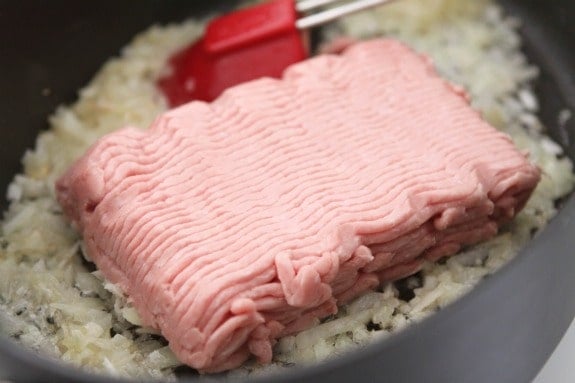 Add 1 lb ground turkey breast.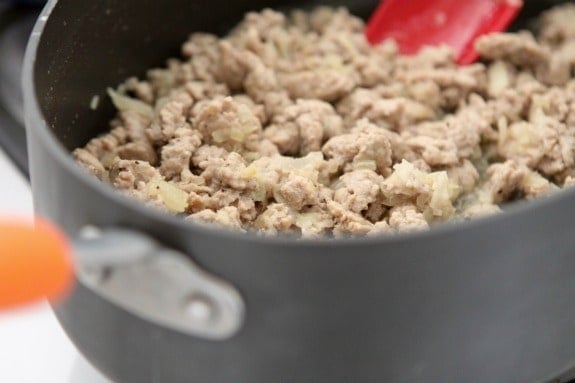 …..and cook until cooked through.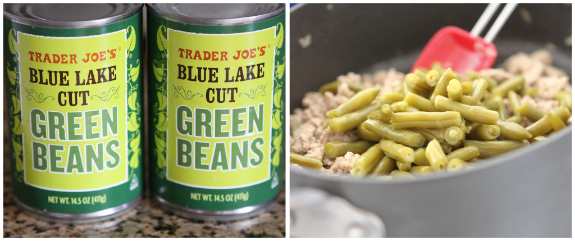 Time to add some green beans. You can use fresh green beans if you prefer.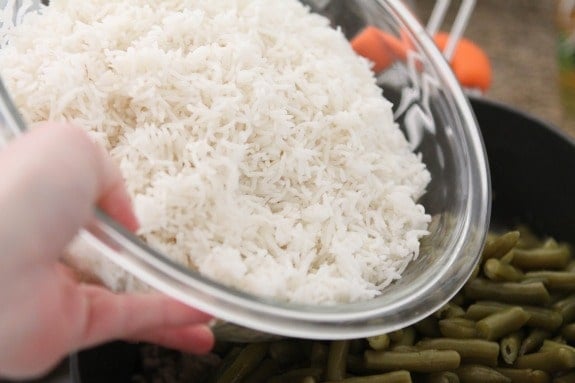 Add your cooked basmati rice.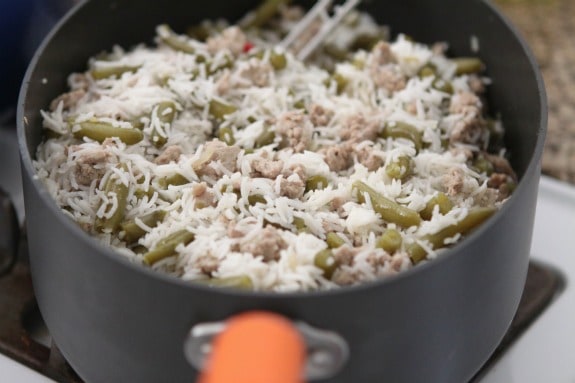 ….and give it a nice stir.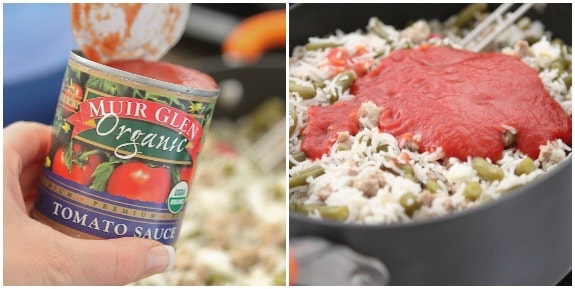 Add a small can of tomato sauce.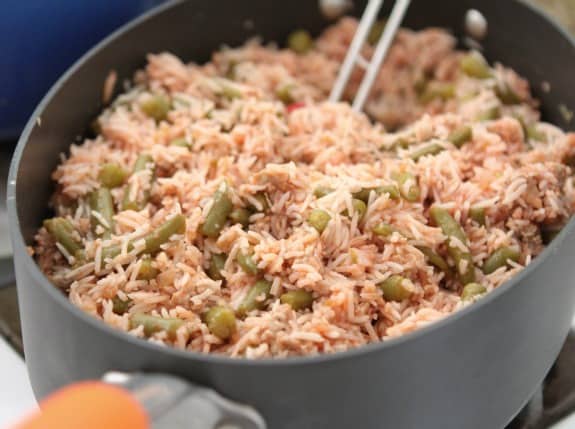 ….and it will look like this 🙂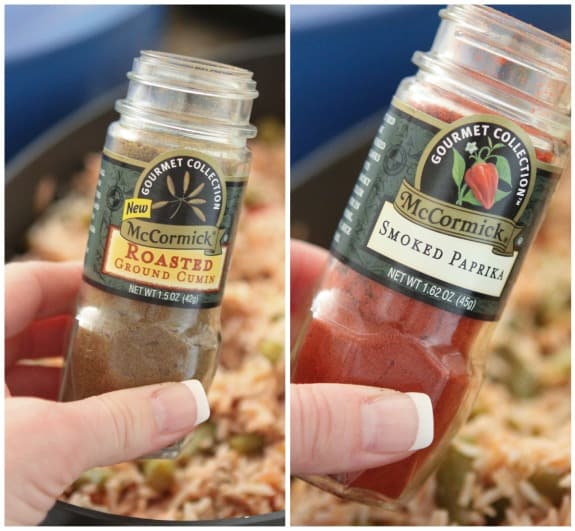 Time for the spices!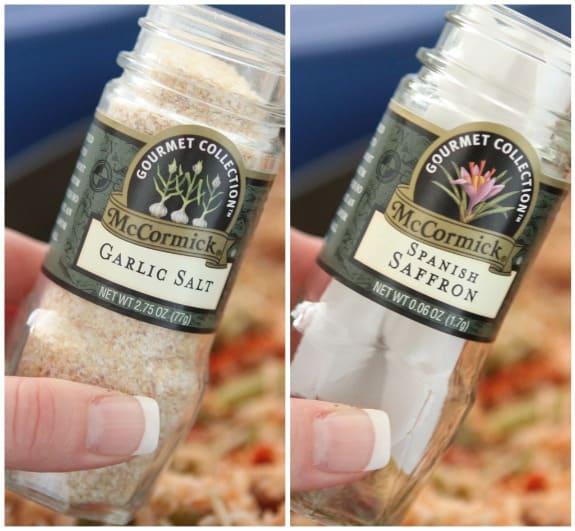 Mmmmm!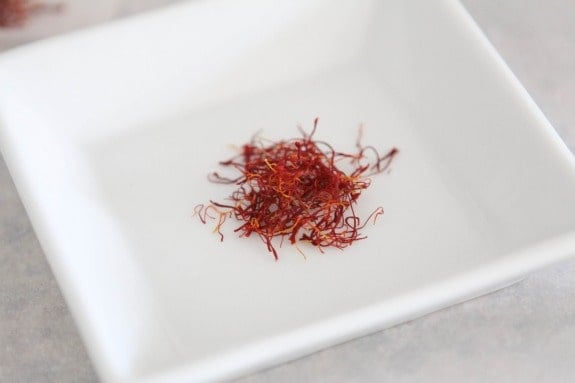 This saffron is like little threads of gold. It is expensive, but once you try it you'll see why….it's delicious!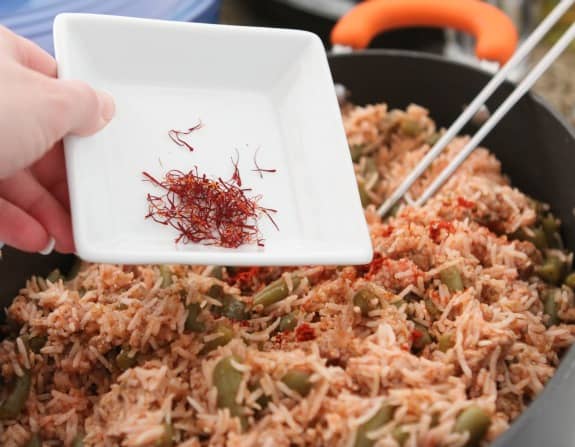 Add you threads of saffron, give a good stir and you are ready to enjoy!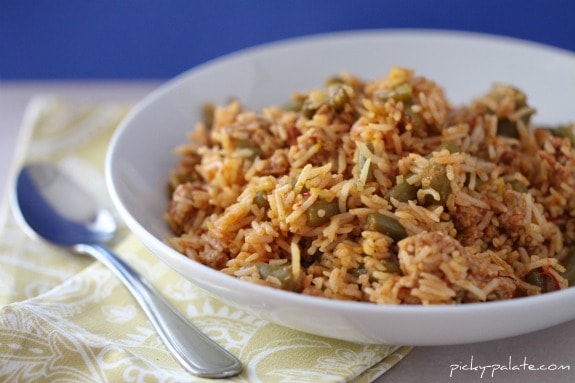 [ziplist]
Smoky Turkey and Saffron Red Rice
2 Cups uncooked basmati rice
3 Tablespoons grape seed oil (you can use olive oil if you need)
1 1/2 Cups finely chopped white onion
2 Tablespoons fresh minced garlic
1 lb ground turkey breast
1/2 teaspoon kosher salt
1/4 teaspoon fresh cracked black pepper
2 15 oz cans green beans, drained
8 oz tomato sauce
1 Tbsp McCormick Gourmet Roasted Cumin
1/2 teaspoon McCormick Gourmet Smoked Paprika
1/4 teaspoon McCormick Gourmet garlic salt
1 heaping Tablespoon McCormick Gourmet Spanish Saffron threads
1. Cook rice according to package directions. Heat oil into a large 5 quart dutch oven or pot over medium heat. Saute onions for 5 minutes or until translucent and softened. Stir in garlic and stir for 1 minute. Add turkey, salt, pepper and cook until cooked through and crumbled. Stir in green beans, rice, tomato sauce, cumin, paprika, garlic salt and saffron threads. Stir until well combined. Taste and season according to your liking. Reduce heat to low until ready to serve.
12 servings
___________________________
*Disclaimer: I am part of the McCormick Real Gourmet Blogger Program and am being
compensated however the thoughts and recipe are my very own.
Have a great week! Come back soon 🙂