To celebrate National S'mores Day (yesterday) I thought it would be fun to do a round up of some of my favorite S'mores recipes on Picky Palate.
I am still recovering from a fun sweet tour with Amanda and watching my cookbook photo shoot this week with Matt Armendariz's amazing team in Long Beach. I can't even begin to tell you what it's like watching professionals style and photograph your recipes. It felt a bit like a dream. More to come on the shoot Monday 🙂
For now, enjoy some mouthwatering S'mores treats! xoxo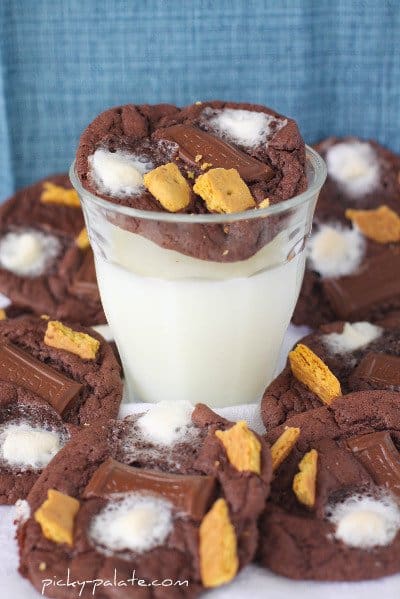 [ziplist]
Chocolate Cake S'mores Cookies
1 box devil's food cake mix2 eggs
1/4 Cup brown sugar
1/2 Cup melted butter (1 stick)
3 Hershey's Chocolate bars, cut into rectangles
1 1/2 Cups mini marshmallows
1 1/2 Cups graham crackers, cut up into small pieces
1. Preheat oven to 350 degrees F. In a large bowl mix the cake mix, eggs, brown sugar and butter until combined. With a medium cookie scoop, scoop dough onto a silpat or parchment lined baking sheet. Press cookies into little discs to flatten slightly. On each cookie press a chocolate bar, a couple marshmallows and a couple graham cracker pieces. Bake for 11-13 minutes or until cooked through.
2. Remove and let cool on baking sheet for 5 minutes before transferring to a cooling rack. Serve with milk and enjoy!
about 3 dozen cookies
<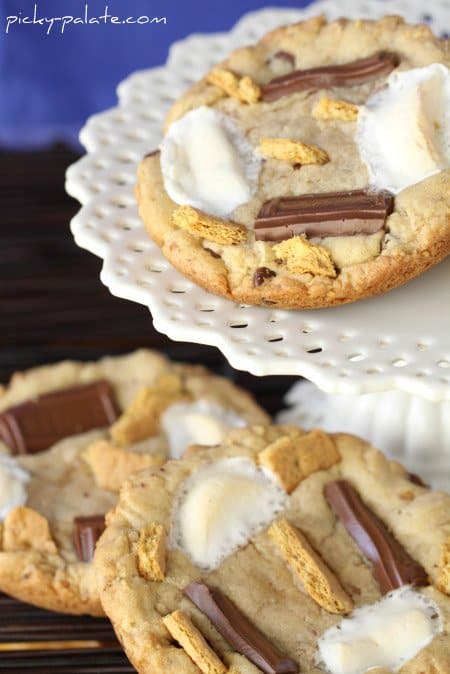 [ziplist]
Giant S'mores Chocolate Chip Cookie
2 sticks softened butter1 Cup packed light brown sugar
3/4 Cup granulated sugar
2 large eggs
1 Tablespoon pure vanilla
4 Cups all purpose flour
1 teaspoon kosher salt
1 1/2 teaspoons baking soda
1 1/2 Cups chocolate chips
3 regular size Hershey's Chocolate Bars
3 Full Graham Crackers
5-6 Large Marshmallows cut into fourths
1. Preheat oven to 350 degrees F. Place butter and sugars into a stand or electric mixer; beat until light and fluffy. Add eggs and vanilla until well combined.
2. Place flour, salt and baking soda into a large bowl; mix then slowly add to wet ingredients along with the chocolate chips. Mix until just combined. Scoop a heaping 1/4 Cup of cookie dough into muffin top pan cups. Press down then gently press chocolate bar squares, graham cracker pieces and marshmallow slices on top of cookie dough. Bake for 11-13 minutes or until edges are just turning brown. Let cool for 5 minutes before removing from pan. Serve with milk and enjoy
**Note, this recipe may also be done without the muffin top pan. Just flatten out your cookie dough slightly onto a parchment or silpat lined baking sheet and press your s'mores toppings over the dough** You can purchase those fun muffin top pans at TJ Maxx Home Goods if you are lucky, Sur La Table, Bed Bath and Beyond and of course you can google it as well!!
Makes 18 LARGE cookies from the muffin top pan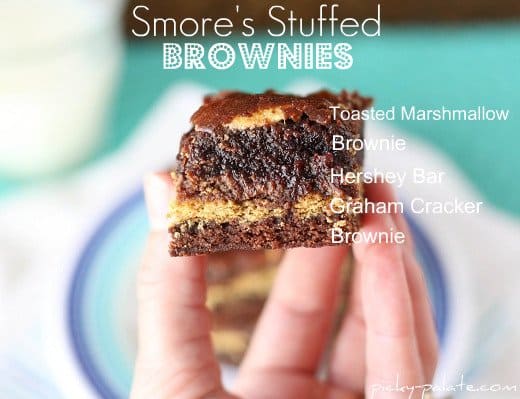 [ziplist]
S'mores Stuffed Brownies
1 box of your favorite brownie mix
4 1/2 full Graham Crackers
3 1/2 Full size Hershey's Bars
16 large marshmallows
1. Preheat oven to 350 degrees F. Prepare brownie mix according to package directions. Line foil into an 8×8 inch baking pan and spray generously with cooking spray. Pour half the brownie batter into lined pan. Layer graham crackers over brownies following Hershey Bars and marshmallows. Pour remaining brownie batter over marshmallows. Bake for 40-45 minutes or until toothpick comes mostly clean from center. Remove from oven and let cool completely. Carefully remove foil and brownies from pan. Peel any foil from away from edges and cut into squares.
12 brownies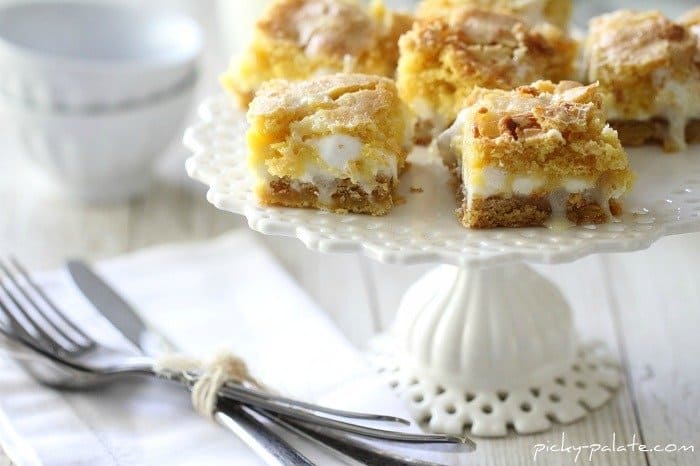 [ziplist]
White Chocolate S'mores Gooey Cake Bars
1 box yellow cake mix1 large egg
1 stick (1/2 cup) unsalted butter, softened
4 1/2 full graham crackers
10 ounce bag white chocolate chips
2 cups mini marshmallows
1/2 cup sweetened condensed milk
1. Preheat oven to 350 degrees F. and line an 8×8 inch baking pan with tin foil that's been generously sprayed with cooking spray. Make sure foil goes all the way up and over the edges for this one. It will be a full pan
2. Place cake mix, egg, and butter into a large mixing bowl. Mix with hands until a nice dough forms. similar to a cookie dough. Press half of the dough into the bottom of the prepared pan. Layer with graham crackers, white chips then marshmallows. Top with remaining half of dough pressing evenly. Drizzle sweetened condensed milk over top then bake for 28-33 minutes, until cooked through and golden brown on top. Remove from oven. Let cool for 5 minutes then take a plastic knife and run along edges to loosen marshmallow (this will make your life easier when pulling foil out of pan to remove bars Let cool completely then remove bars from pan with foil edges. Cut off all edges if desired, about 1/2 inch each side. I save the edges to snack on too. Cut bars into squares and serve. They are delicious room temperature or chilled.
12 to 16 servings
Have a great weekend!!