Talking about Summertime at Disneyland today! So many exciting things going on, let's talk about the Disney tips and things you do not want to miss! Disneyland Park up first!
Sleeping Beauty Castle, Fantasyland
Sleeping Beauty Castle got a gorgeous make-over the end of May 2019. Her new paint and vibrant roof look amazing. Be sure to check it out in person! Makes the perfect photo.
Be sure to check out my blog post, How To Make The Most of Your Disney Trip! Follow Disney Hungry on Instagram for travel tips and the BEST eats at Disneyland Resort.
Disney Tips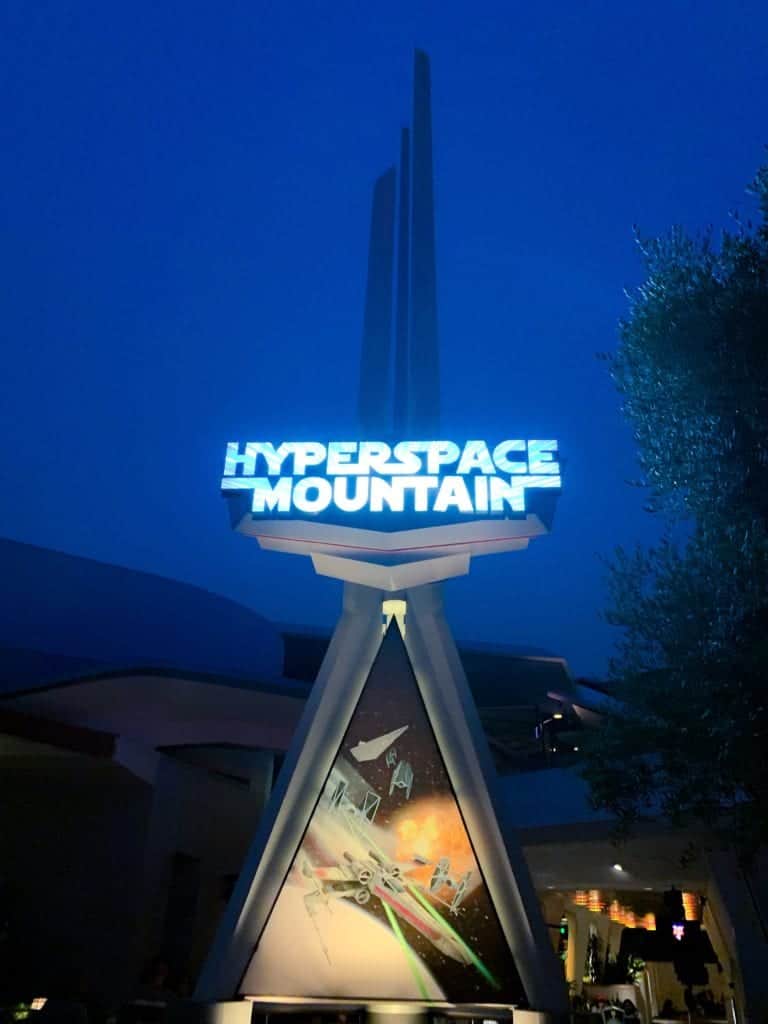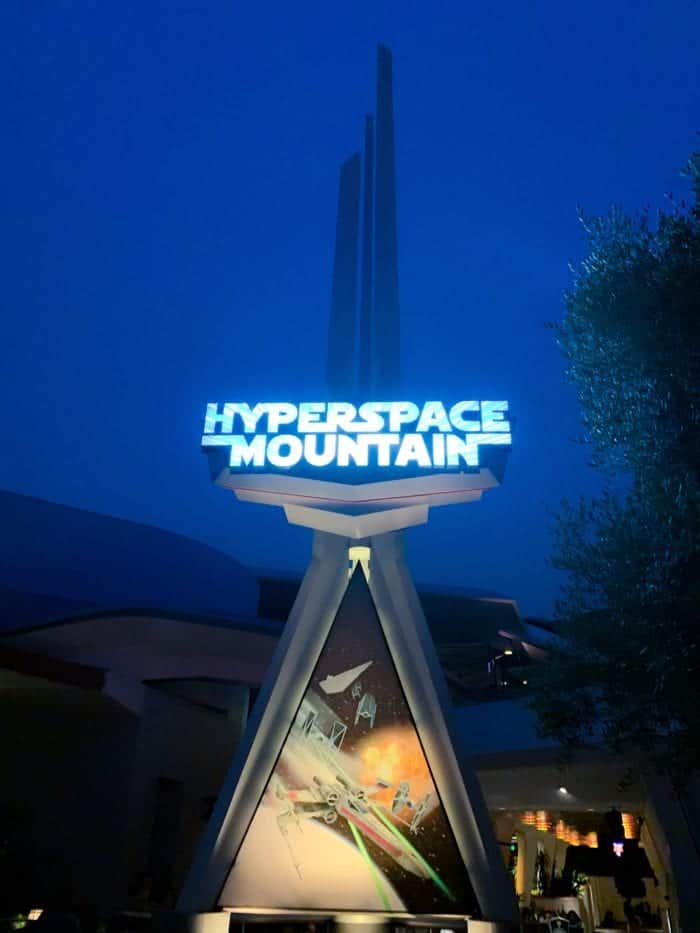 Hyperspace Mountain, Tomorrowland
So excited that Hyperspace Mountain is back! Hurtle through hyperspace while dodging furious dogfights during the high-speed Star Wars adventure. Available for a limited time.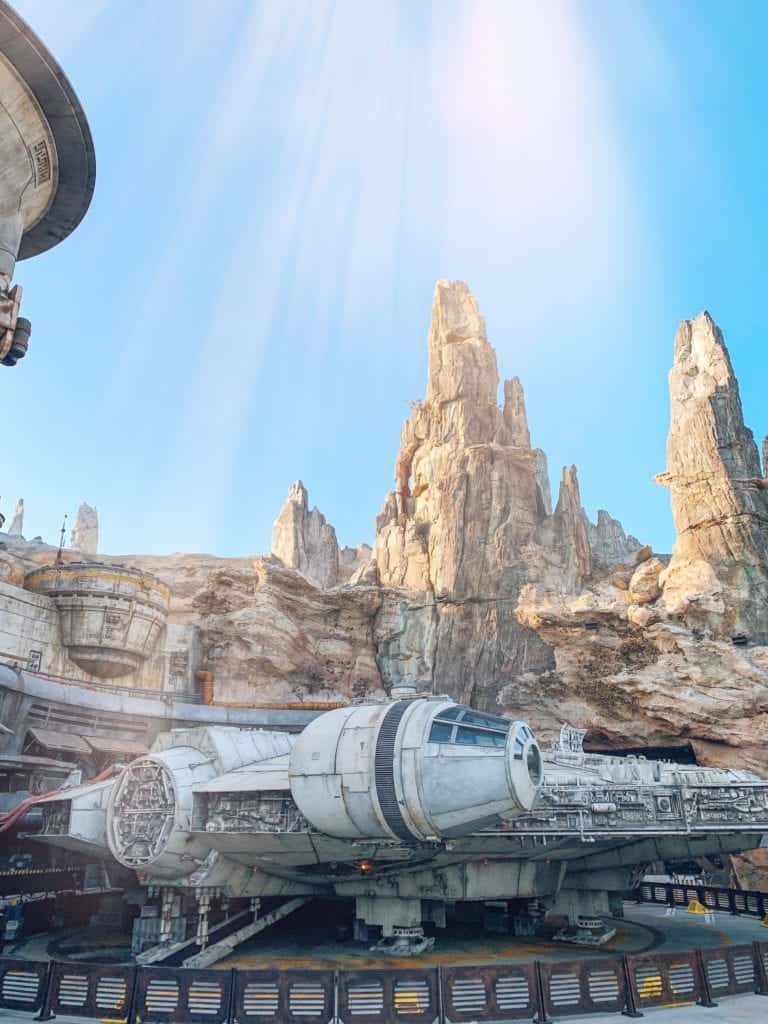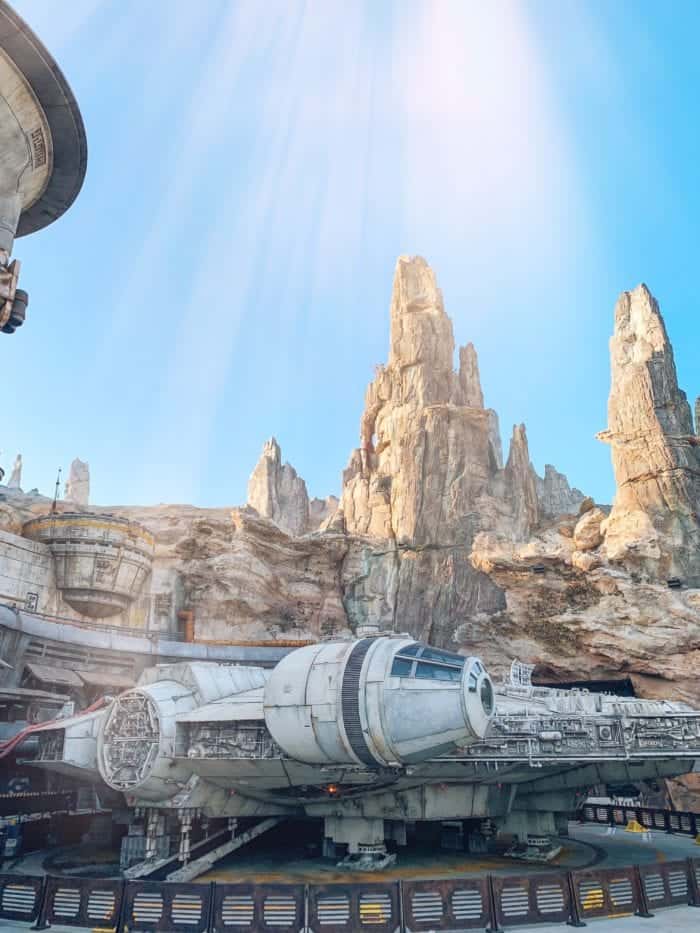 Star Wars Galaxy's Edge, Disneyland Park
Star Wars Galaxy's Edge opened May 31st 2019 at Disneyland Park and has been so exciting! No reservations are needed starting June 24th. Stay tuned for a virtual queue for for the guests wanting to enter Batuu. It's "out of this world!"
Disney California Adventure Park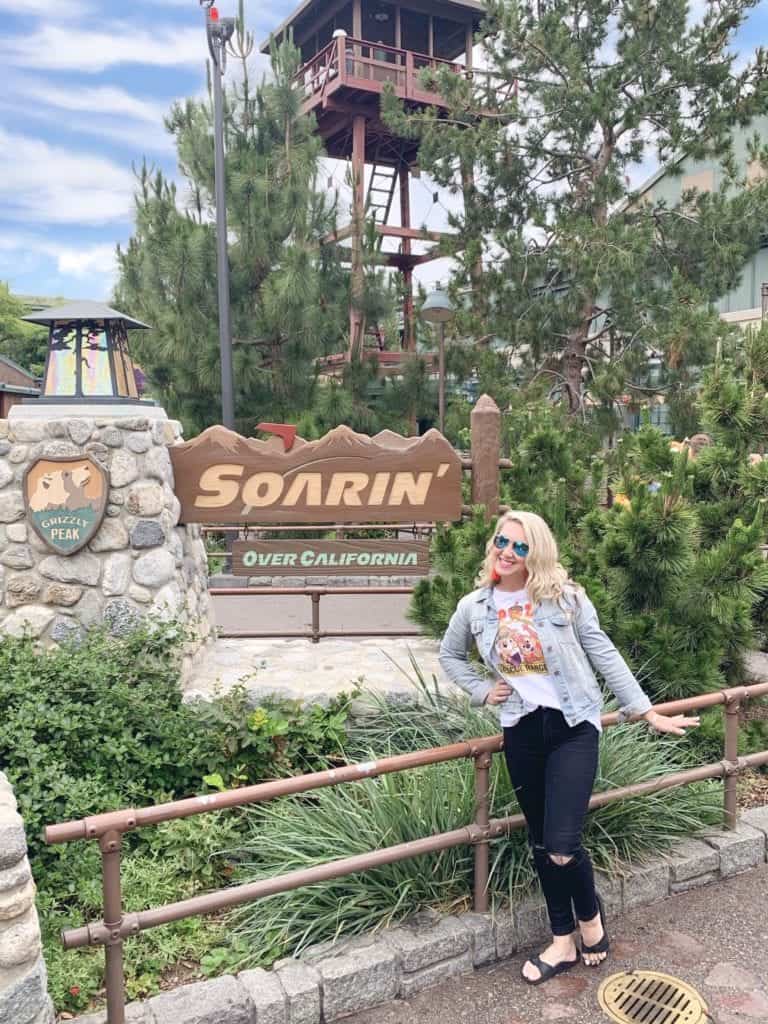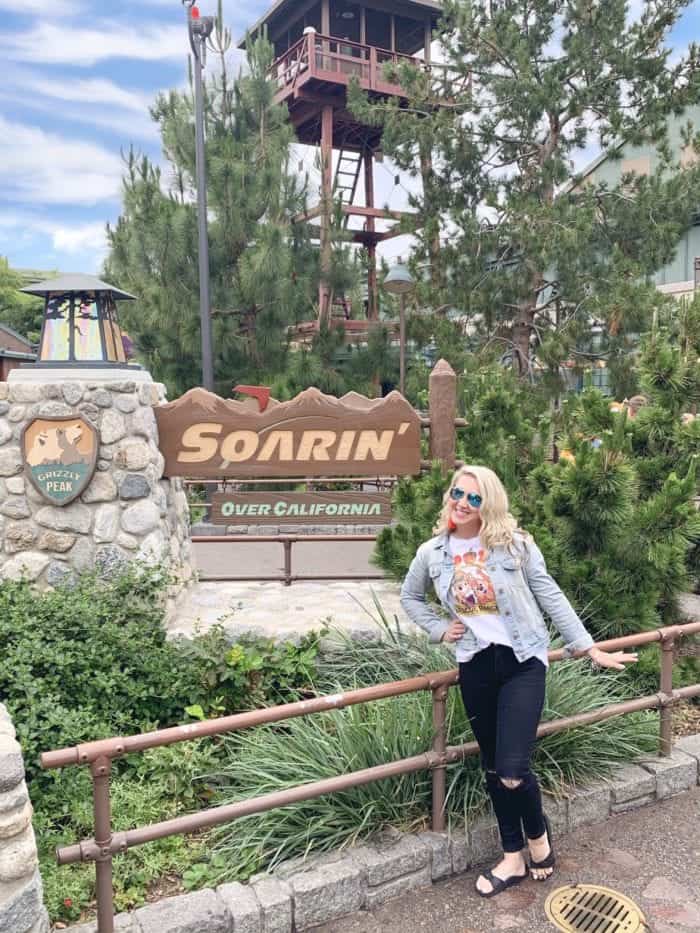 Soarin' Over California, Grizzly Peak
Over in Grizzly Peak Soarin' Over California is back for the month of June! It's my absolute favorite, be sure to enjoy it! Those Orange Trees!! Miss them so much.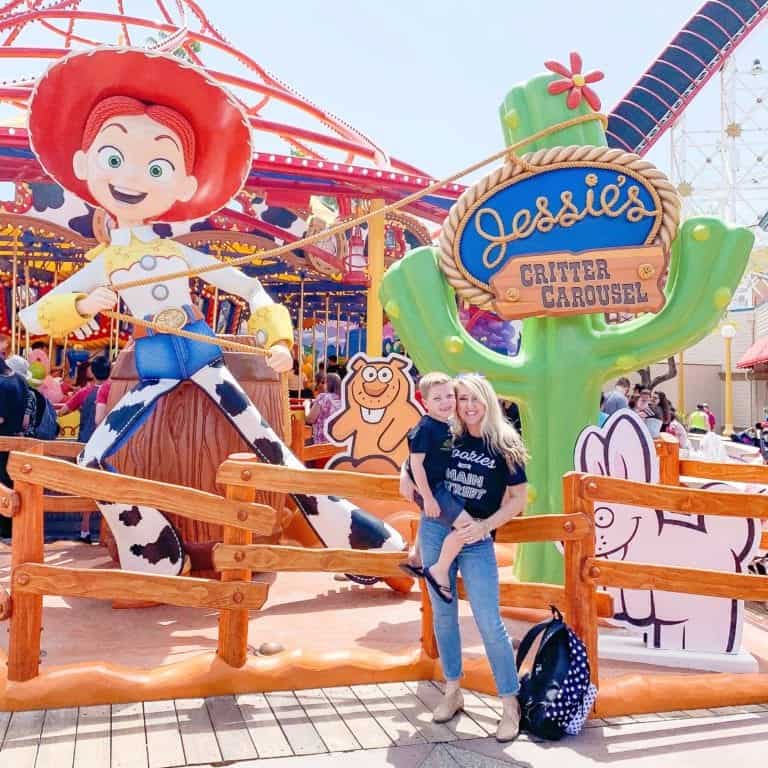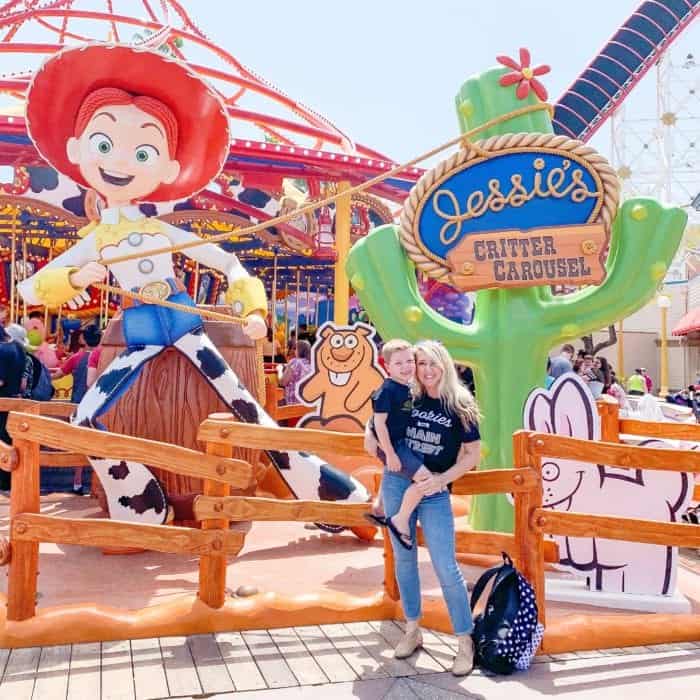 Jessie's Critter Carousel, Pixar Pier
Take a spin and hop on the new wild carousel of critters from the world of Woody's Roundup in the hit movie sequel, Toy Story 2. Pax and I had so much fun on Jessie's Critter Carousel a couple months ago. It really is the cutest!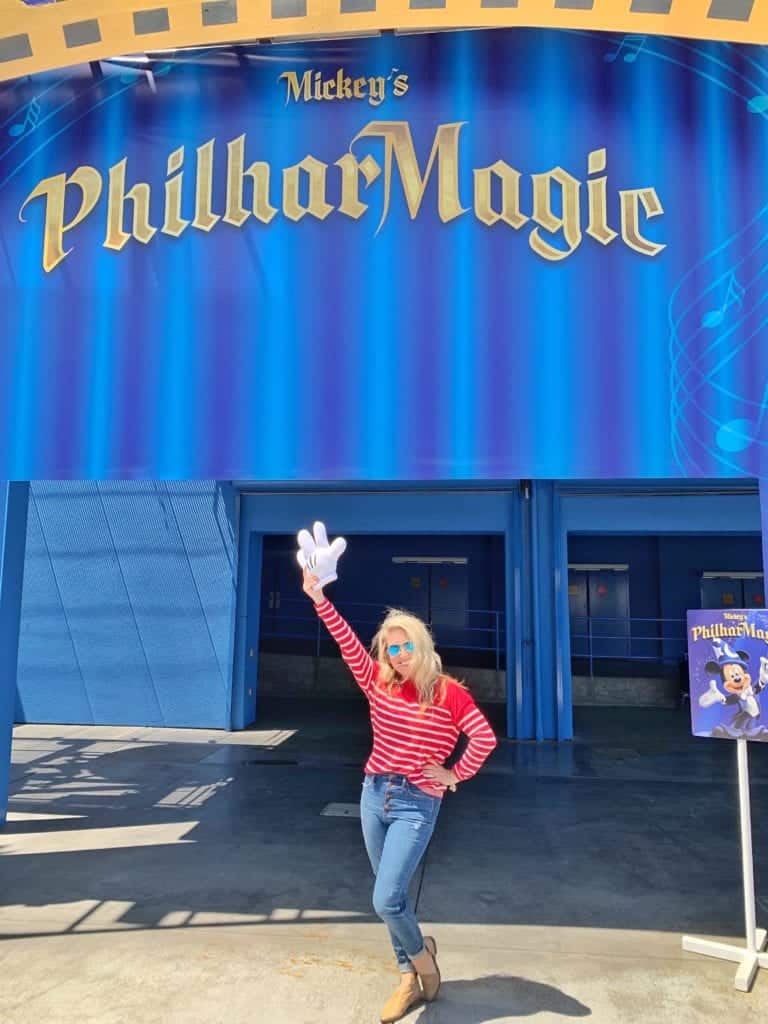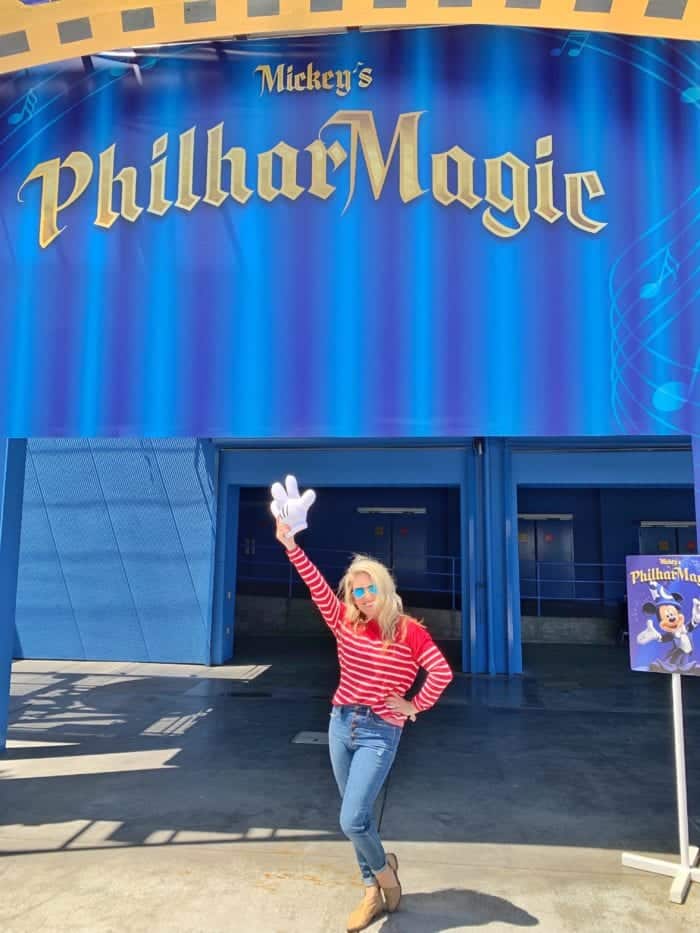 Mickey's PhilharMagic, Hollywood Land
Sit back and enjoy the spectacular magic of Disney animation coming to life in this new 3D movie musical! Mickey Mouse, Donald Duck and other favorite Disney characters take the stage in this fantasy adventure in the Sunset Showcase Theater.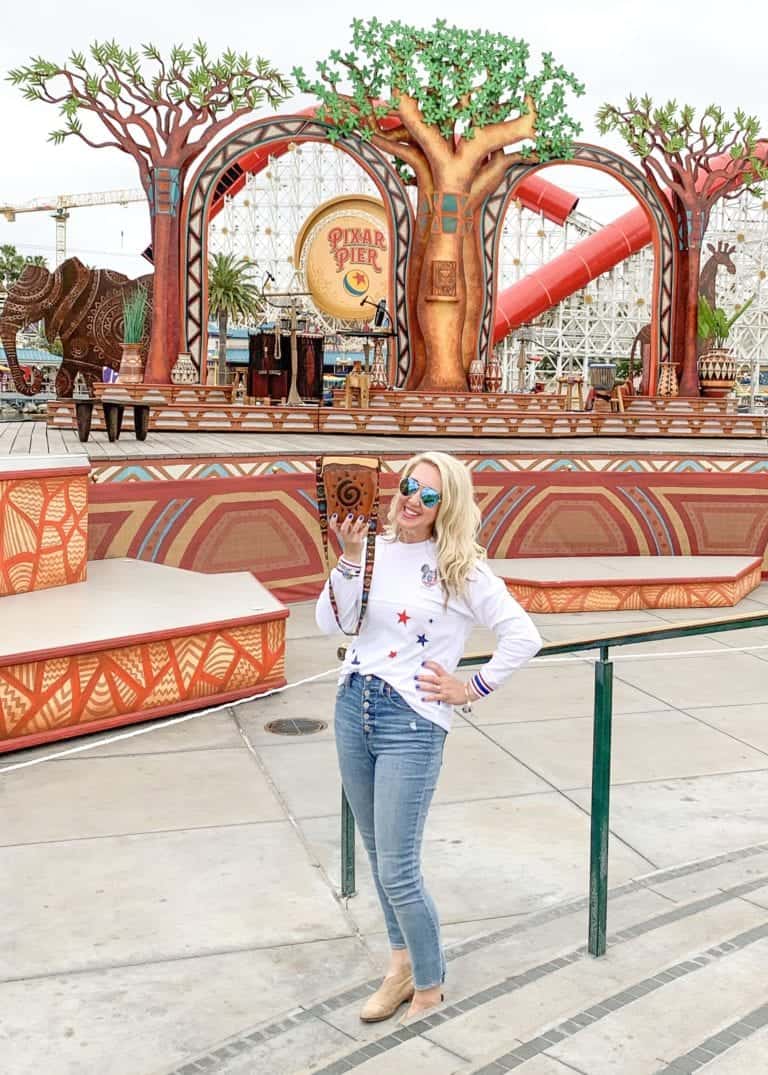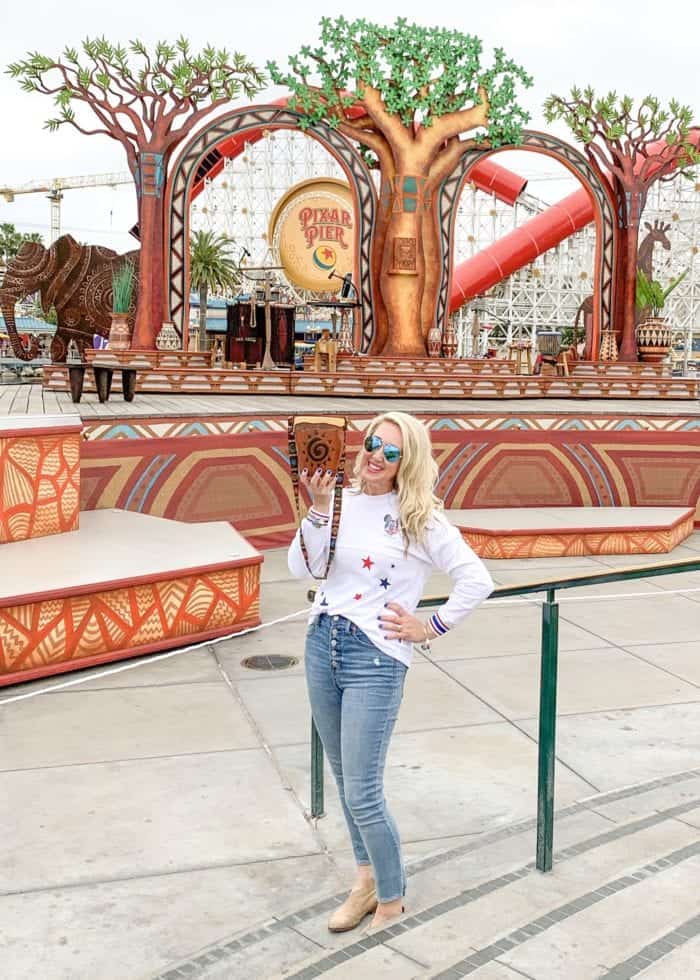 Tale of the Lion King, Palisades Stage
Celebrate the all-new musical showcase inspired by the classic Disney movie, The Lion King! Watch the performers weave an imaginative story that celebrates the spirit of Africa through visual and performance art. I got to see the show June 1st and it was phenomenal. The show runs about 20 minutes, the music and performers do a great job!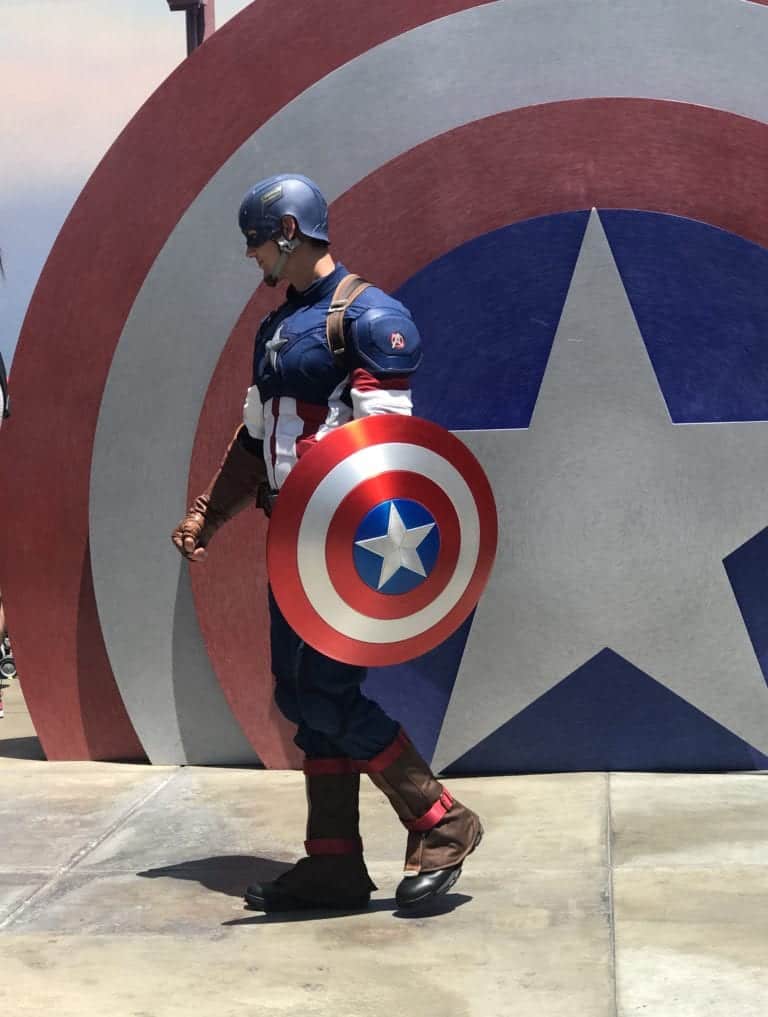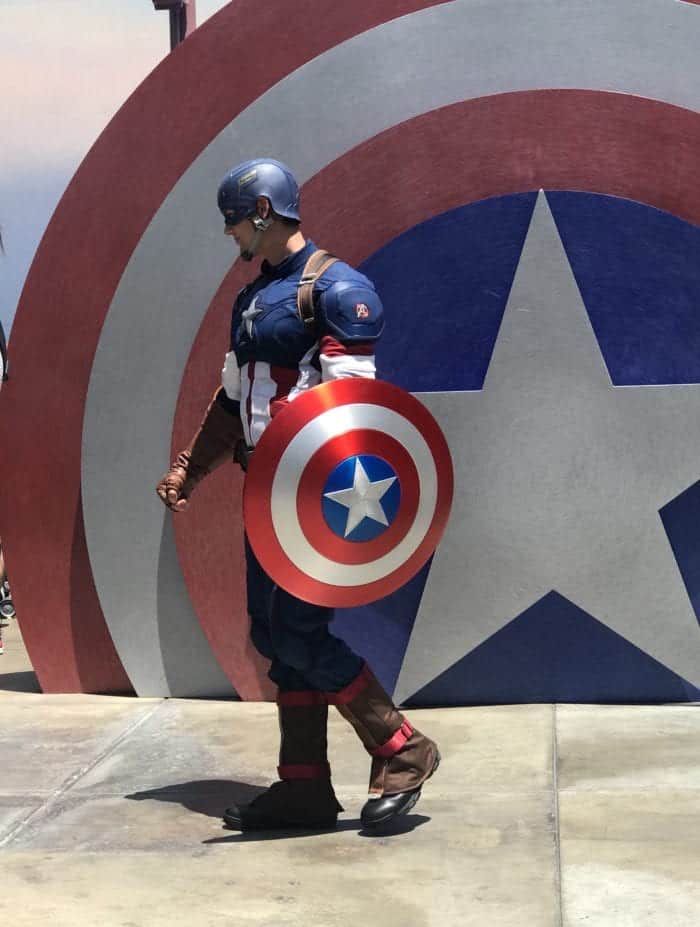 Super Hero Encounters, Hollywood Land
Come face to face with some of the most admired heroes in the universe, including Captain Marvel, Spider-man, Captain America and Black Panther.
You Have To Try The Summertime Food!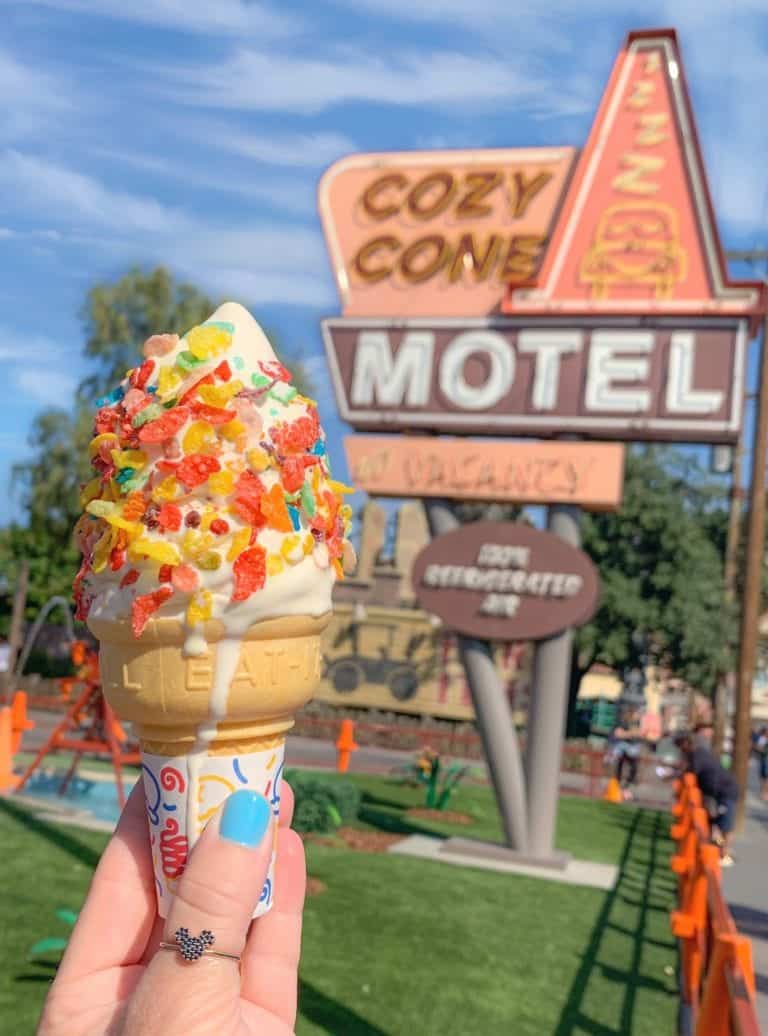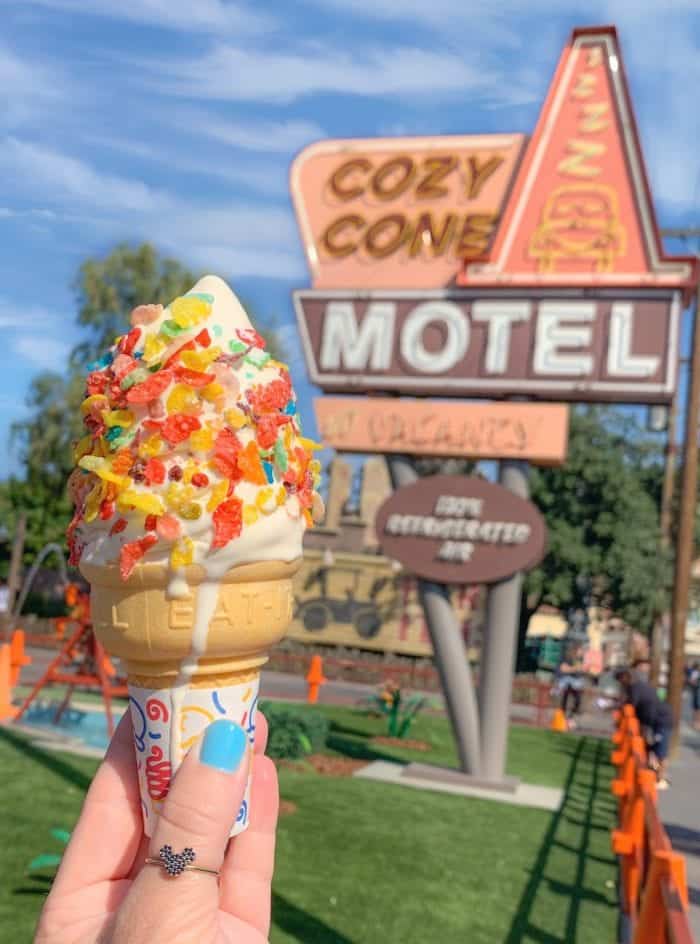 There is an abundance of good food to enjoy this summer! You can never go wrong with a nice soft serve cone from Cozy Cone Motel!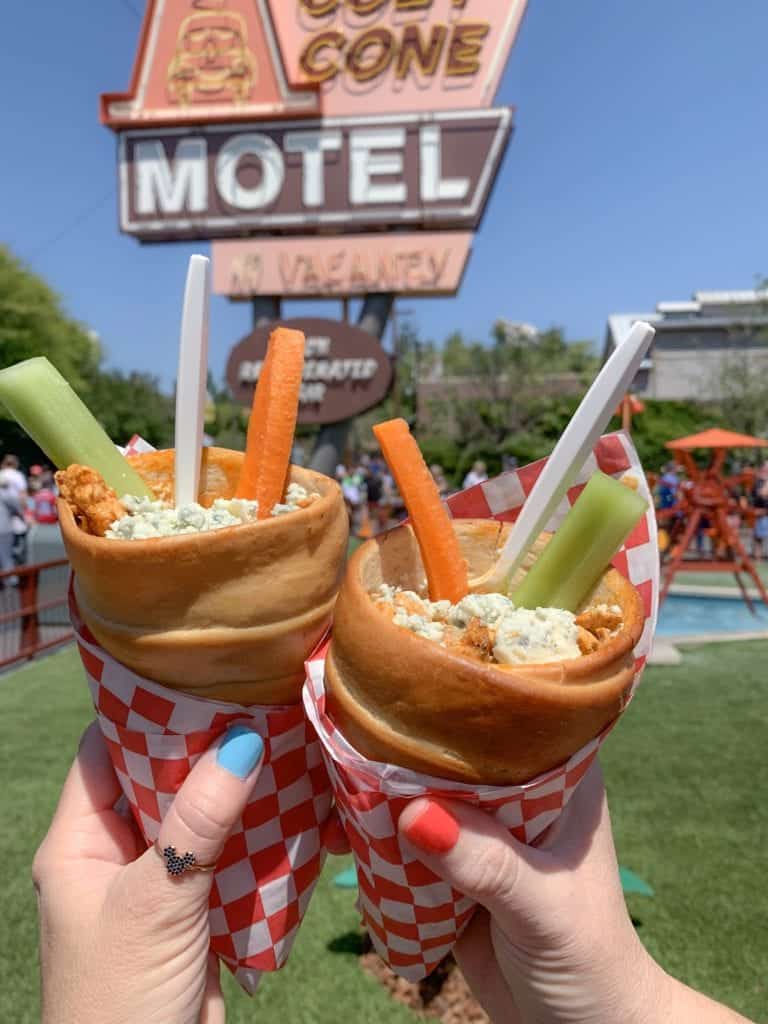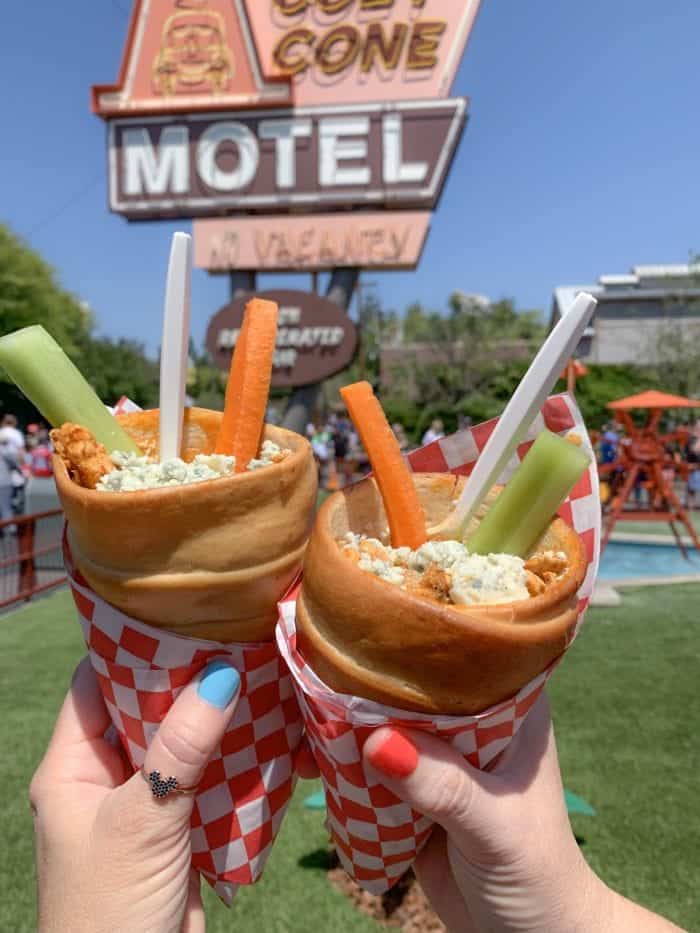 Also at Cozy Cone Motel is Red's Hot Chicken Cone! This baby is goooood! Spicy Buffalo Chicken, creamy Ranch Dressing, Carrots and Celery, topped with Crumbled Blue Cheese.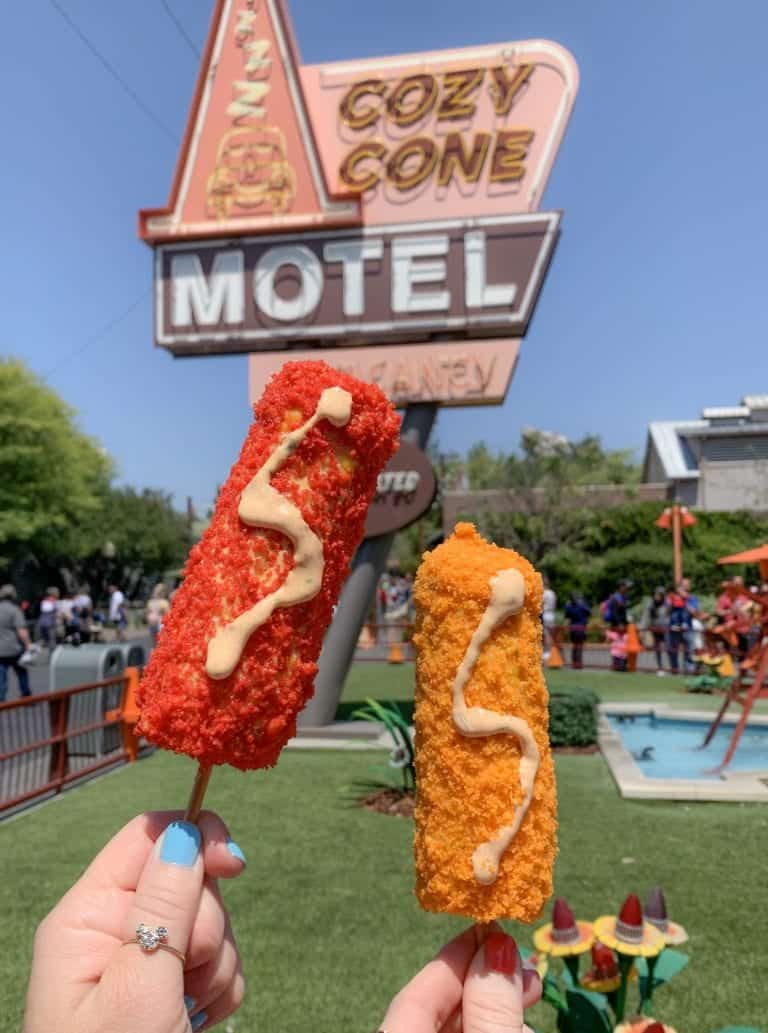 Cozy Cone Motel has so many good menu items right now! Check out the Cozy Cone – Buttered Corn on the Cob, brushed with spicy Lime Mayo, rolled in choice of Cotija, Cheese Puffs or spicy Cheese Puffs. I loved both of them!!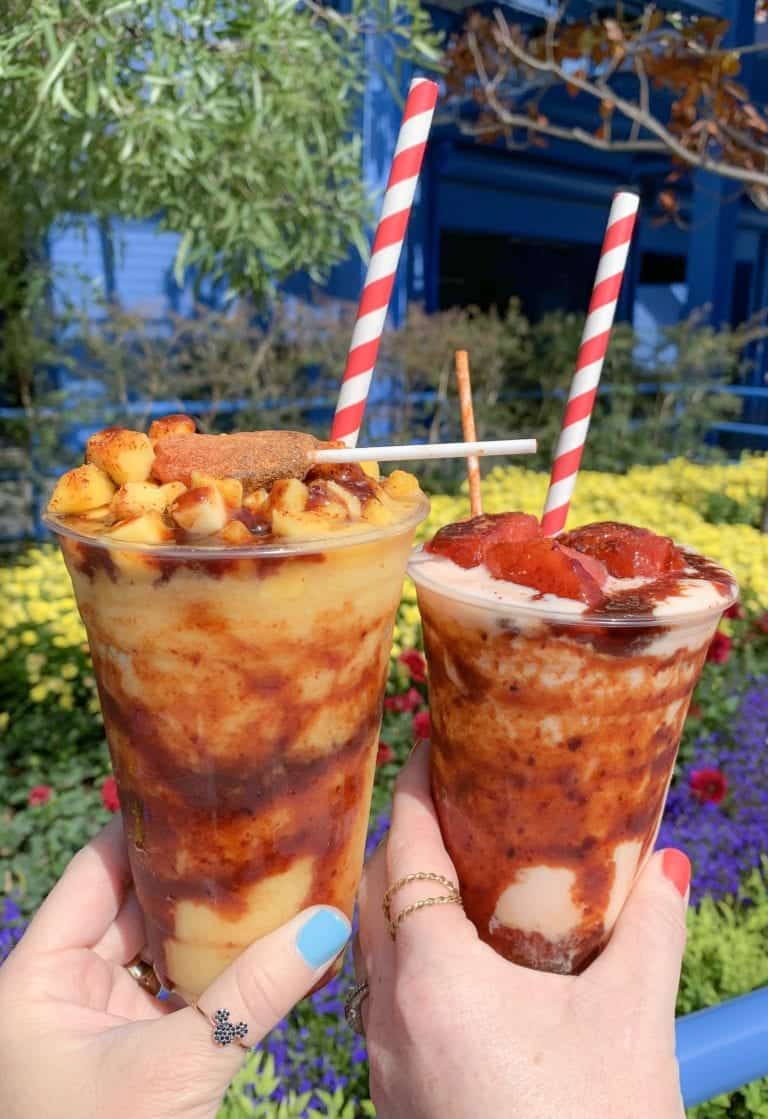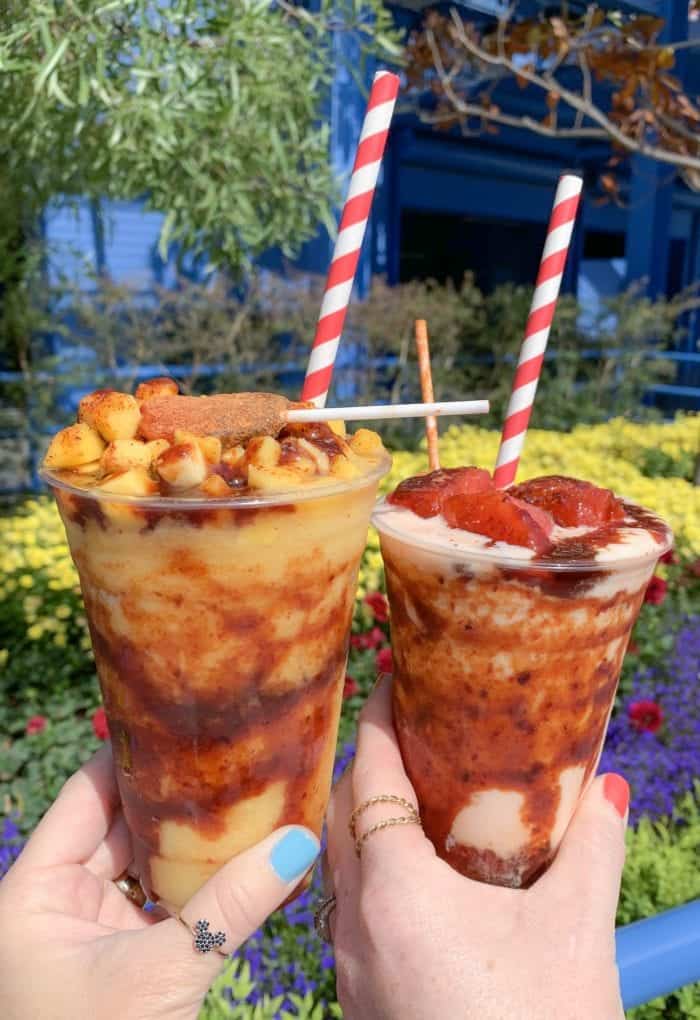 Over at Schmoozies at Disney California Adventure's Hollywood Land you can get these perfect for summer treats! On the left is the Mangonada Smoothie – Mango Smoothie with Chamoy and Mango Pieces, topped with Chile Candy. On the right is the Sandianada Smoothie -Watermelon Smoothie with Chamoy and Watermelon Pieces, topped with Chile Candy. Both amazing, but the watermelon smoothie was FANTASTIC!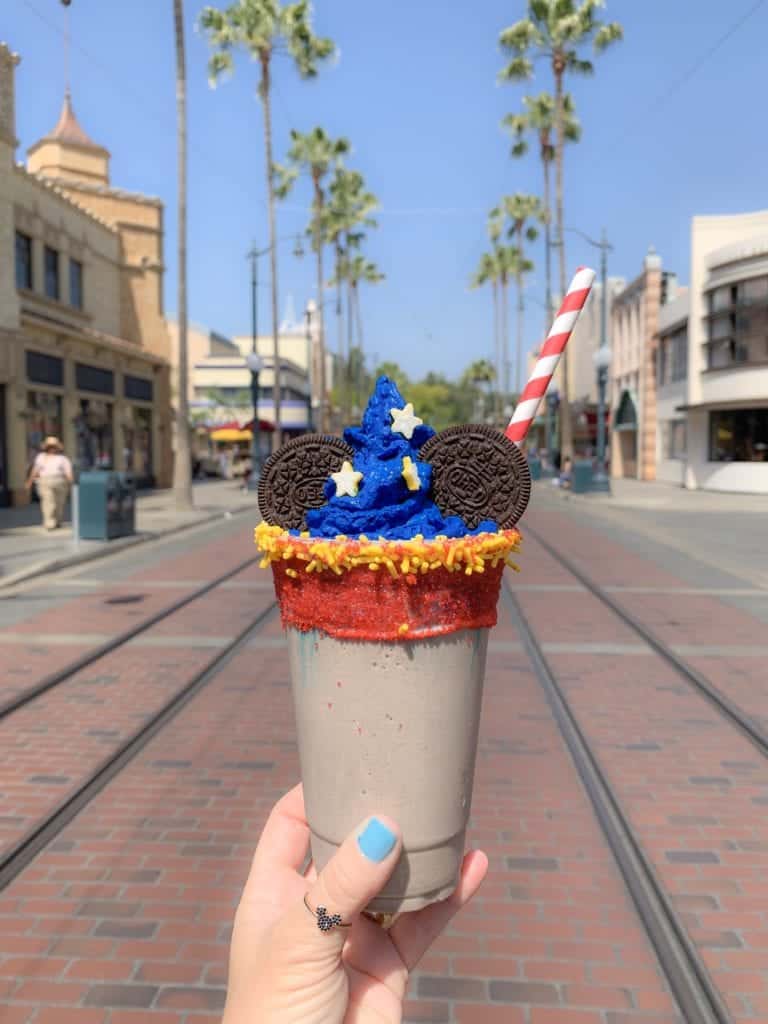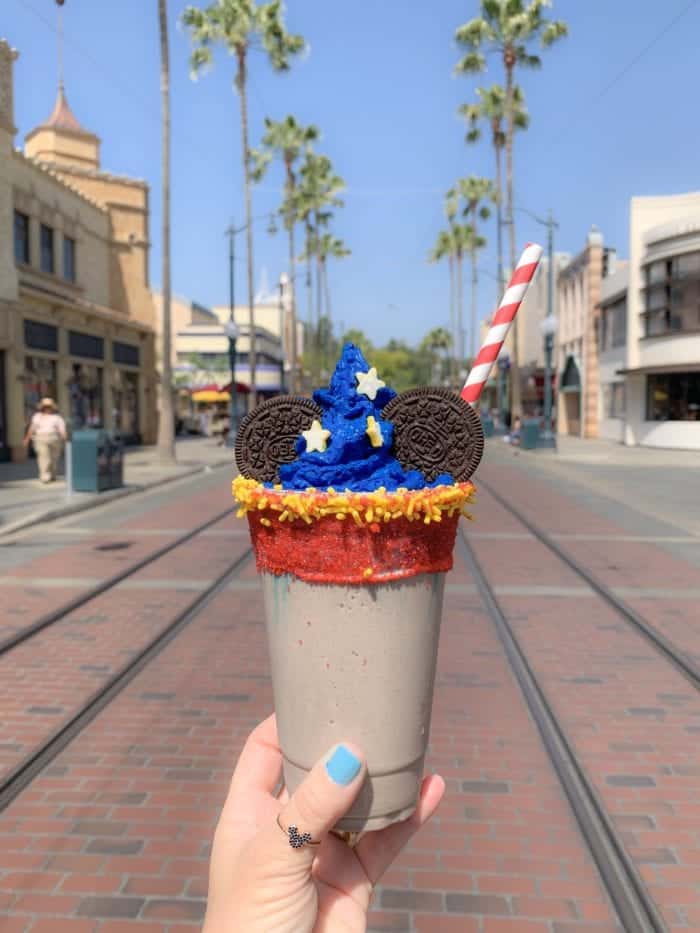 Also from Schmoozies is the Sorcerer Mickey Shake! Cream-filled Chocolate Cookies mixed with Vanilla Ice Cream and decorated with Whipped Cream and Cream-filled Cookies. So fun and perfect for summer!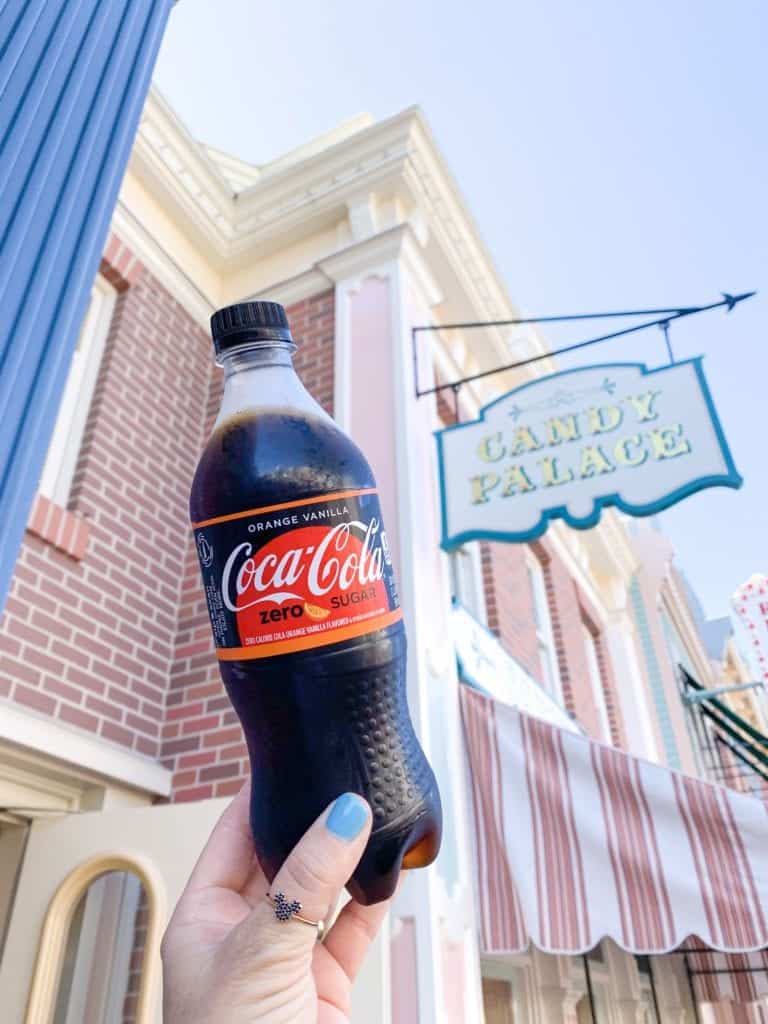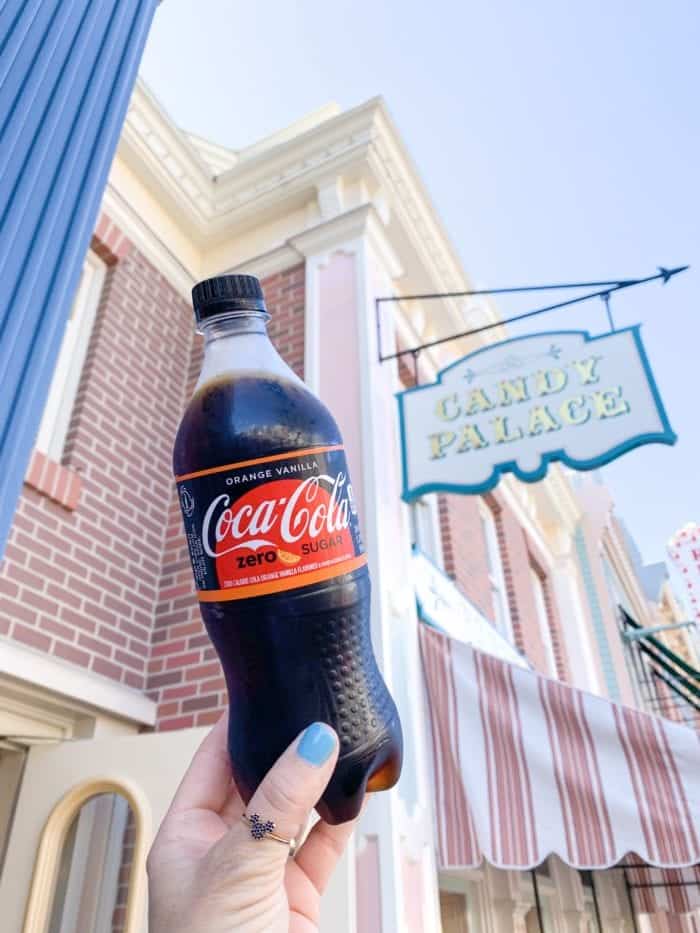 Disneyland Park always has fun options….one of my favorites right now is the Orange Vanilla Coke Zero you can get at Candy Palace.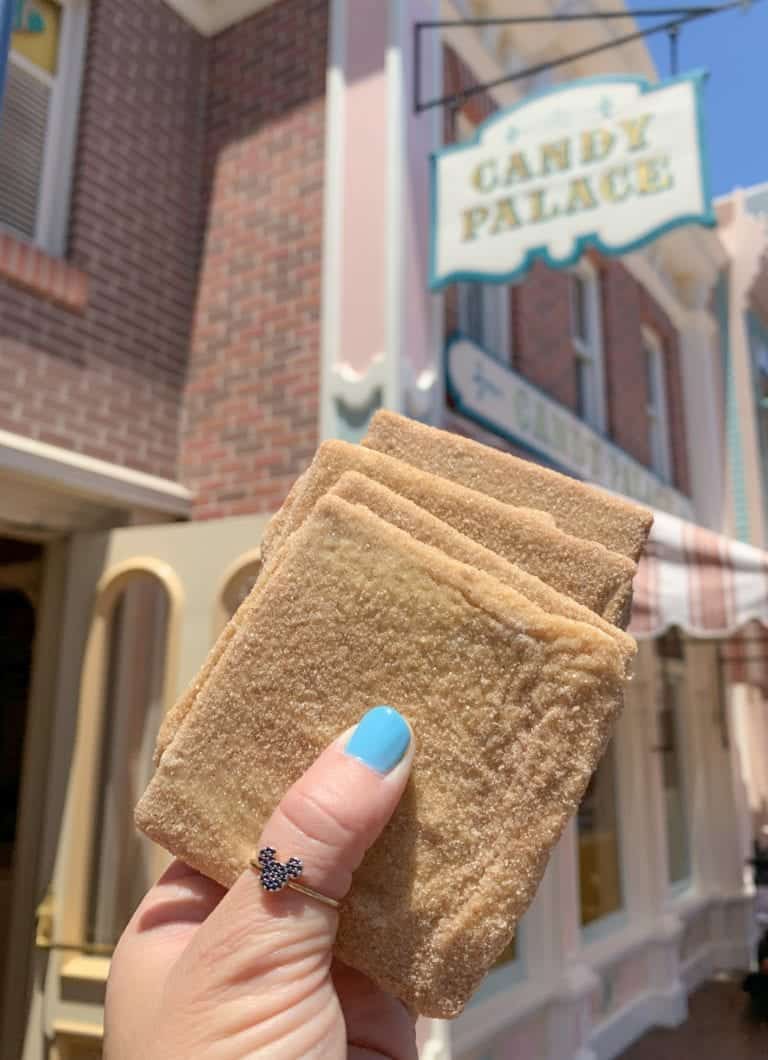 Don't miss the Churro Toffee available at Candy Palace and Pooh Corner at Disneyland Park now! Still available at DCA's Trolley Treats and Bing Bong's Sweet Stuff along with Marceline's Confectionery in Downtown Disney District.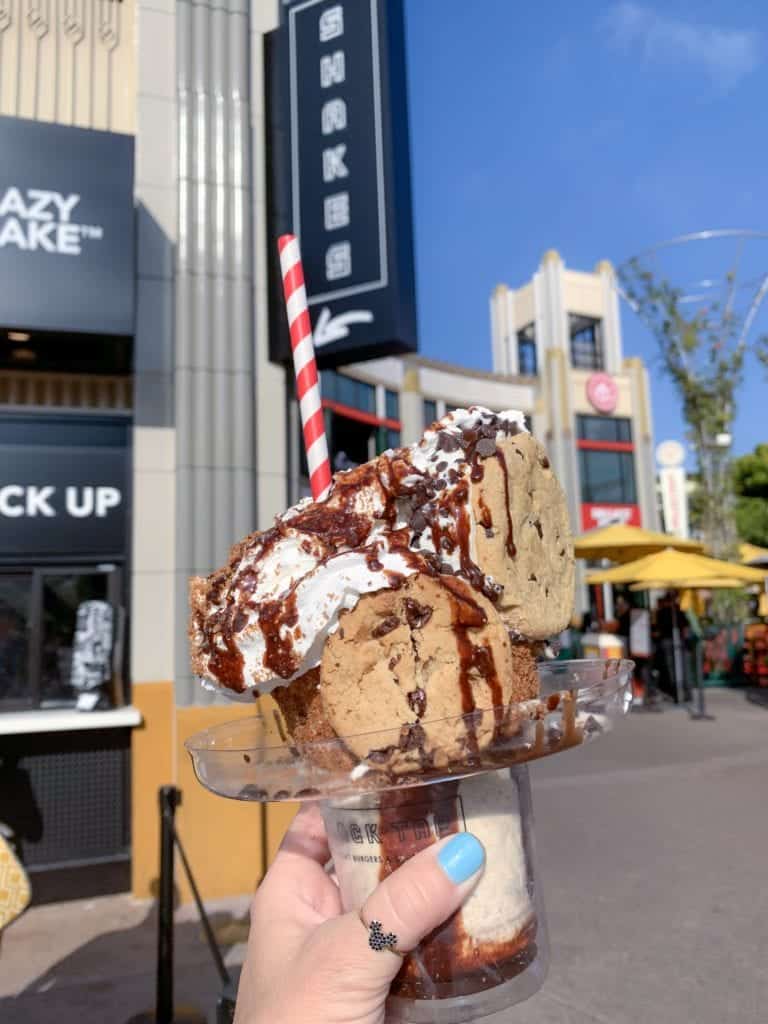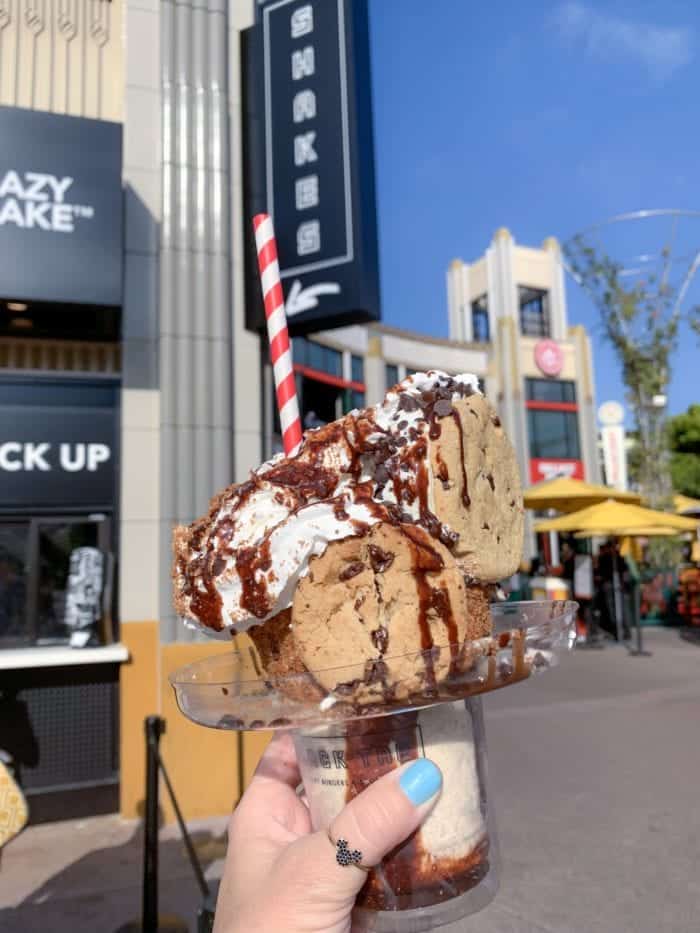 Don't forget Downtown Disney's Black Tap for the best Crazy Shakes around! See my full review of Black Tap for lots of photos and menu items.
Pin To Your Favorite Disney Board