Photo via Amanda
What a great time I had in NYC last week despite the wicked cold! No kidding, this was the first time in my entire 34 years of age that I have ever witnessed falling snow. It was quite the experience for me, it's beautiful! I prefer enjoying it from a warm hotel room, but what the heck, I was only in NY for a couple of days, so I didn't let it slow me down….much 🙂
I love this photo above that Amanda snapped of us Left: Me, Susan from She's Becoming Doughmesstic, Maria from Two Peas and Their Pod and Lori from Recipe Girl. We really were just cruising through the streets of NY hunting for the best bakeries around.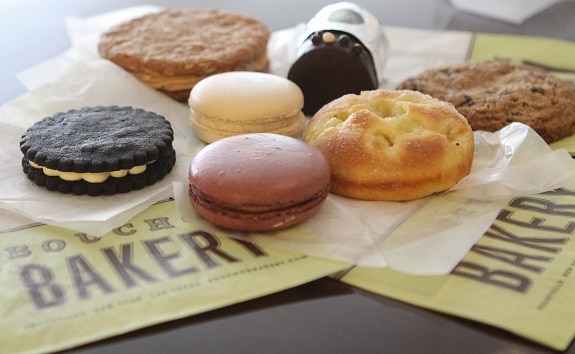 Fist up was this adorable little bakery called Bouchon Bakery. I wasn't expecting much since it was just inside a mall but boy did it prove me wrong. The vanilla macaron photographed a few photos down was probably one of the best things I have ever eaten, hands down!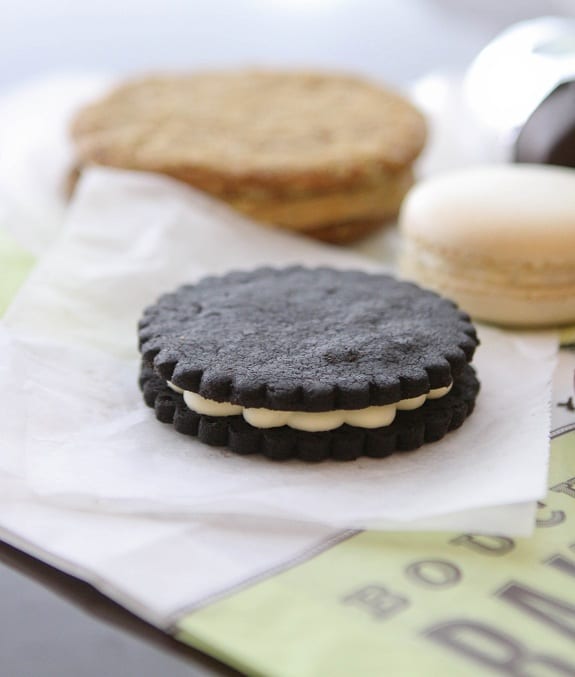 Here's the homemade Oreo Cookie, it was just so so if I am being honest.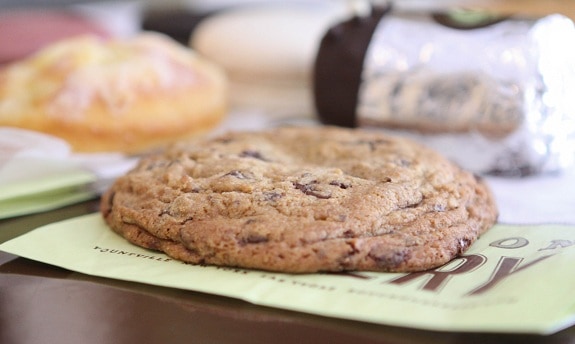 A nice big Bouchon chocolate chip cookie. Doesn't touch Levain's cookies, but this one was good.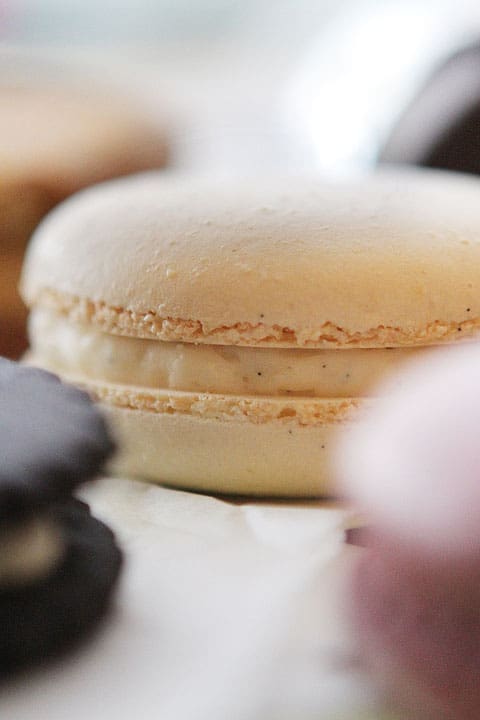 Photo via Amanda
Here is the ever so fabulous Vanilla Macaron from Bouchon that I will never forget. It was soft and cake like, almost like a cream filled cupcake which is probably why I fell in love with it so much 🙂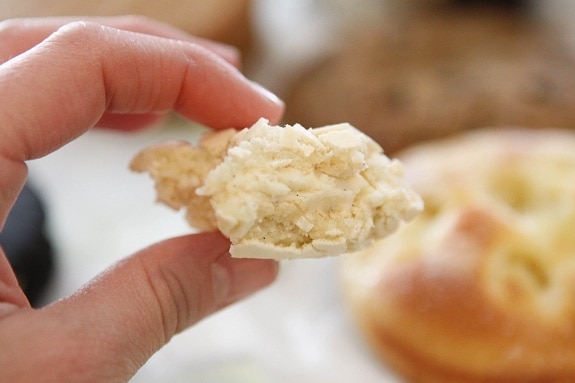 The inside goodness of the vanilla macaron, drooling just thinking about it.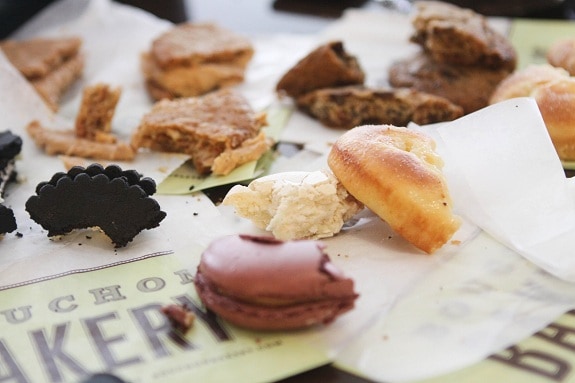 This is what we had left….how embarrassing. We devoured these treats.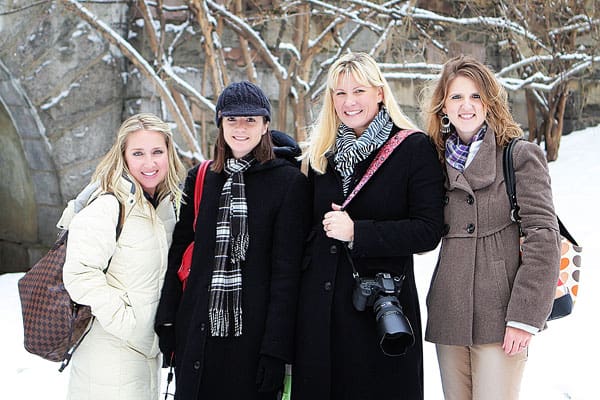 Photo via Amanda
Such a fun photo that was taken with Amanda's camera in Central Park. Left: Me, Maria, Lori and Amanda.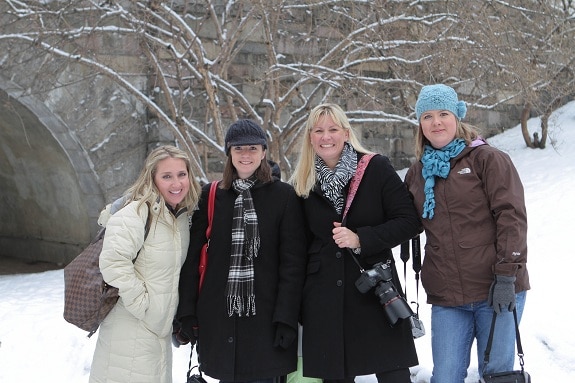 Photo via Amanda
Here's another shot with the same gals swapped with Susan on the right 🙂 Susan happened to be in NY the same time we were there, how fun is that?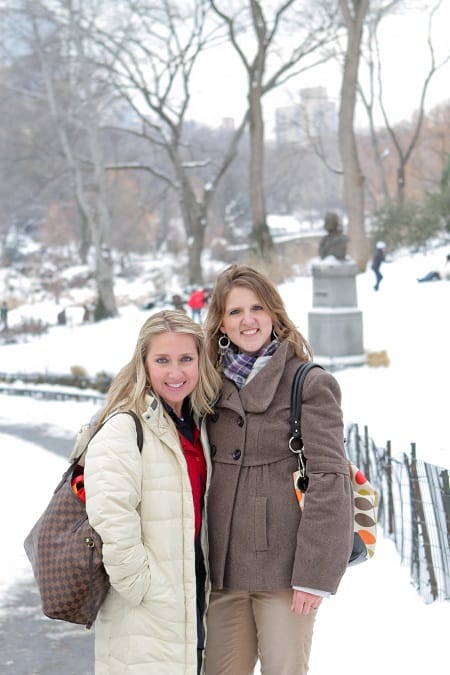 Photo via Amanda
Amanda and I….we were due for an updated photo together 🙂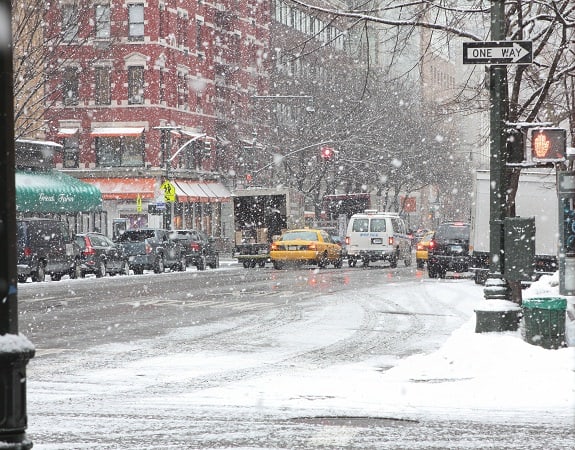 We walked through this snowy weather to find our sweet shops. Are we nuts?!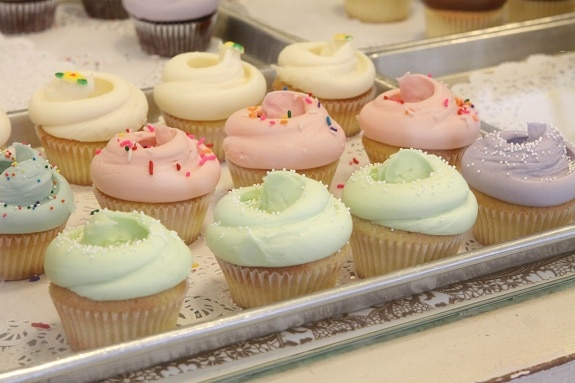 Couldn't pass up stopping in Magnolia Bakery. Such pretty cupcakes that happen to be mighty tasty too.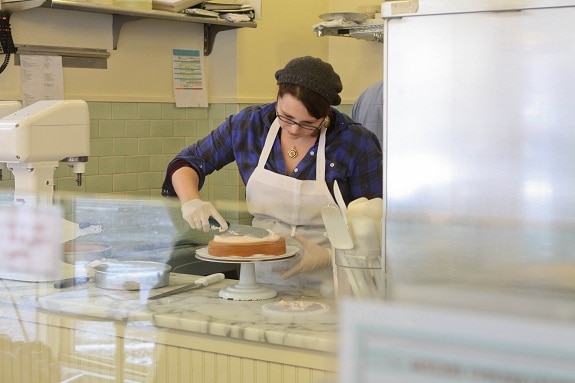 Magnolia employee hard at work 🙂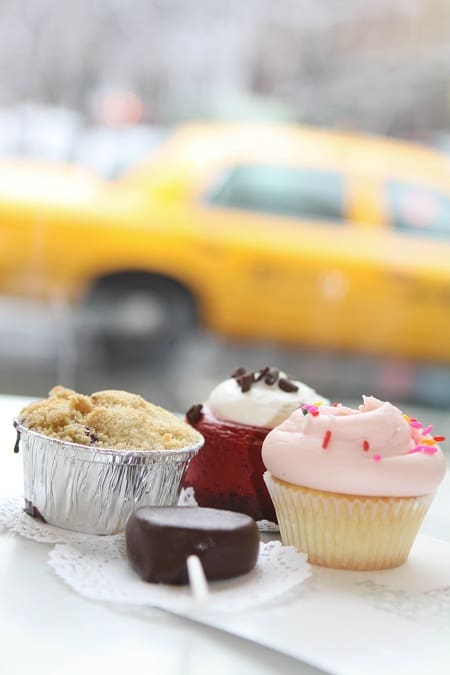 This was quite fun, we wanted to capture the yellow taxi in the background of the photo. Luckily they passed by every couple seconds.
The berry crumble and chocolate peanut butter pop were incredible. Actually the red velvet cheesecake and vanilla cupcake were great too.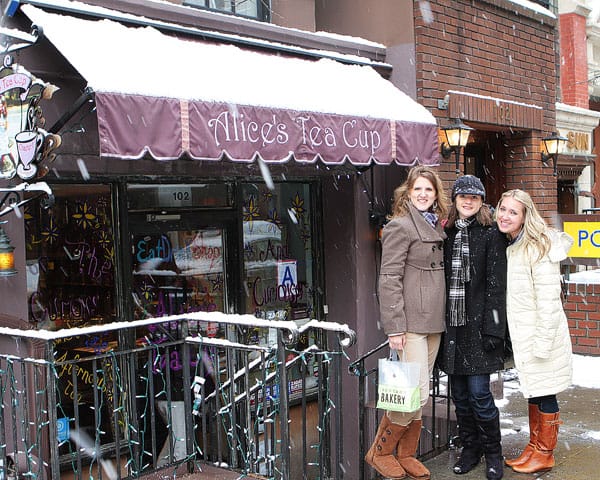 Photo via Amanda
We popped in Alice's Tea Cup for a few minutes. Cute little shop.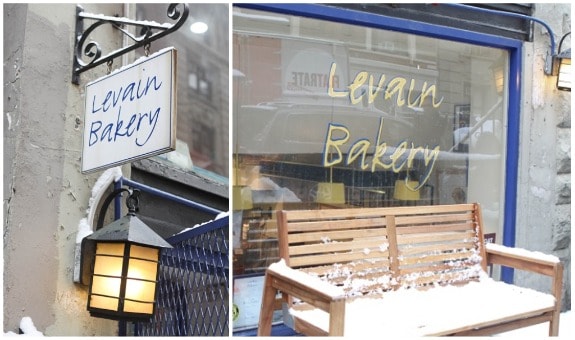 Ahhhh, finally back to Levain Bakery. This tiny little shop produces some crazy good treats. Go find them next time you are in NYC!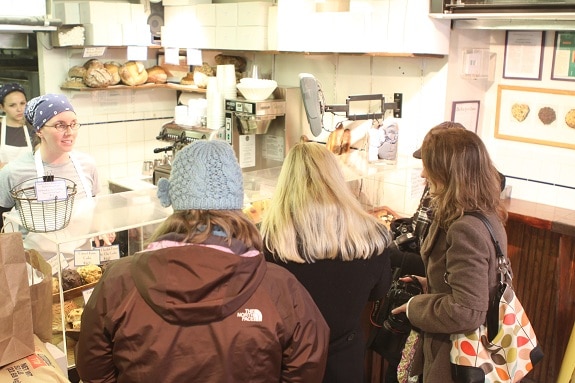 Deciding what to order 🙂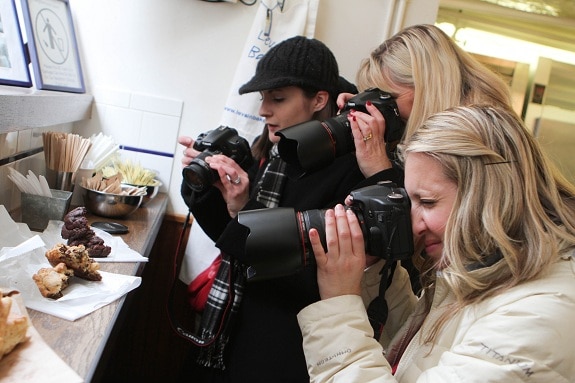 Photo via Amanda
I think Lori said it best on twitter about this photo….this is what happens when a bunch of food bloggers get together 🙂 Let the photo shoot begin.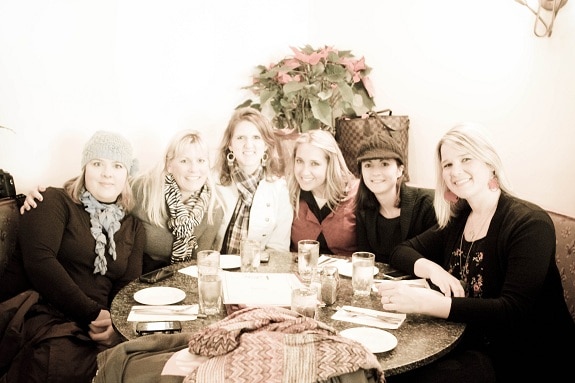 Photo via Amanda
We got to meet up with Maggie from Three Many Cooks for lunch at Patsy's Pizza. This was such a great day. Patsy's has a killer salad. I just remembered how much I loved it. Left: Susan, Lori, Amanda, Me, Maria and Maggie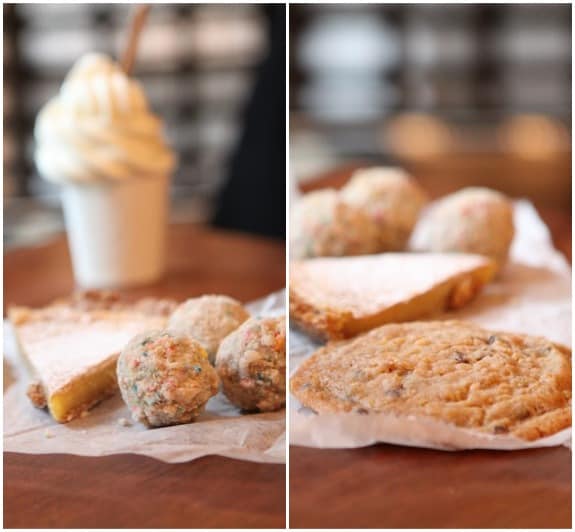 After lunch we strolled on over to Momofuku's for some unusual desserts such as crack pie, birthday cake truffles, compost cookies and cereal milk ice cream. They were all…..really interesting. I'll leave it at that. My favorite was probably the birthday cake truffles.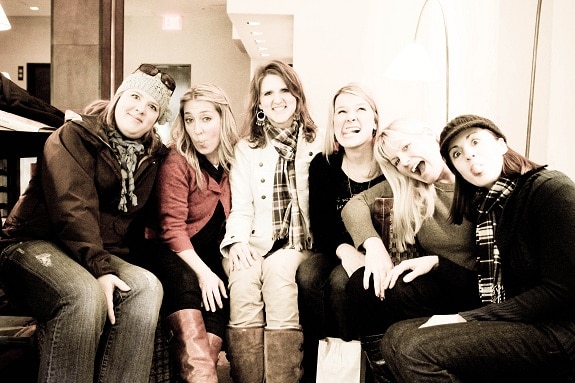 Photo via Amanda
We kind of took over the upstairs library for our hang out/dessert eating session.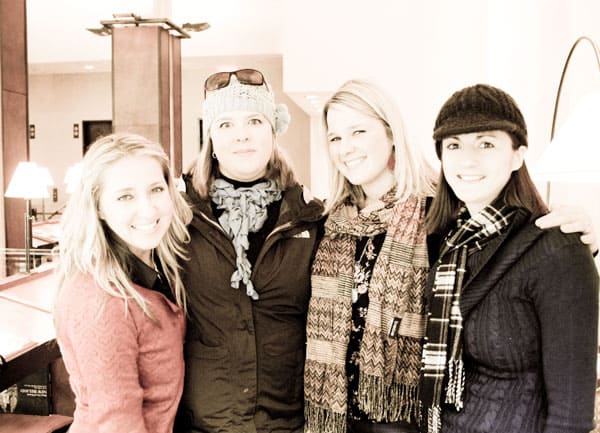 Photo via Amanda
Left: Me, Susan, Maggie and Maria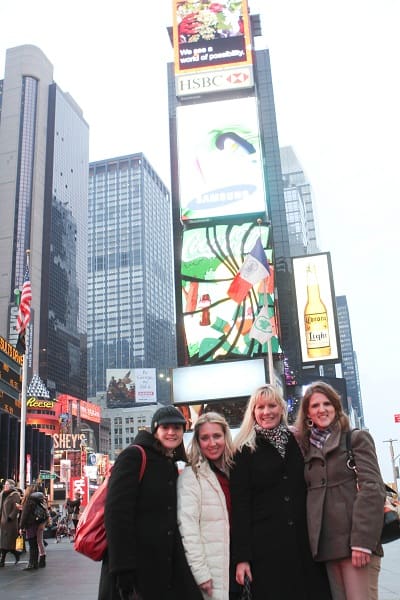 Photo via Amanda
Walked back to our hotel through Time Square. I don't ever get tired of this gorgeous city. The lights are unbelievable.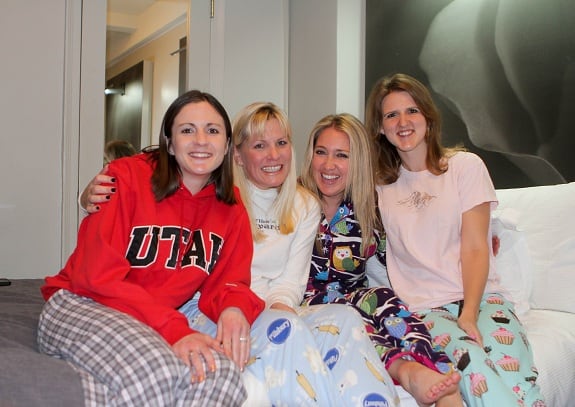 Photo via Amanda
After our cupcake adventures we had a fun pampering night with the folks from I Can't Believe it's Not Butter who provided us with the trip. We then had a PJ party in Amanda's room.
Stay tuned for day 2 where we spend the morning at Butter Restaurant, met Chef Alex Guarnaschelli and saw Kim Cattrall during more adventures with ICBINB.