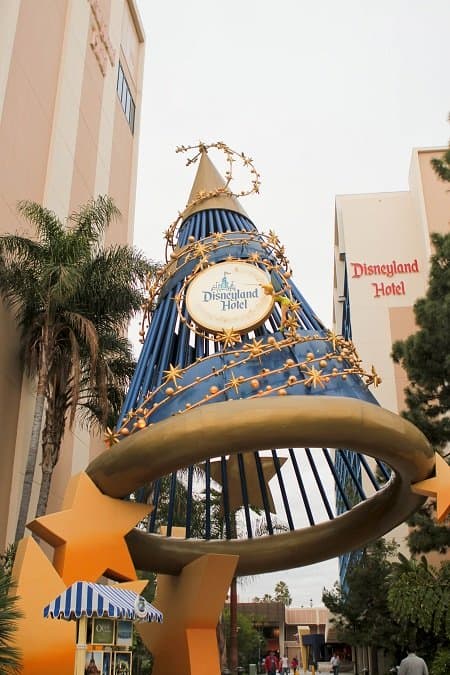 A couple weekends was one of the best weekends my family has had together…..ever.  We celebrated my birthday and our anniversary at Disneyland and The Disneyland Hotel in Anaheim California.  I snapped pictures of our time to share….let's take a look 🙂
To start, the hotel is under some construction right now, so make sure you ask about that if you plan on staying soon.
When you pull up to the hotel you have the option to valet your car for $22.00 per day or self park for $15.00 a day.

MY LATEST VIDEOS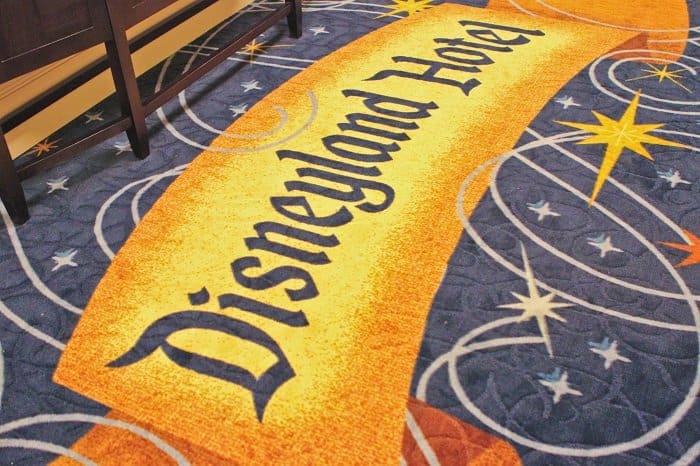 We checked in on a Thursday evening and met with friendly staff that showed us to our room.  As you walk out of your elevator you are greeted with this fun Disneyland banner on the carpet.  Too fun!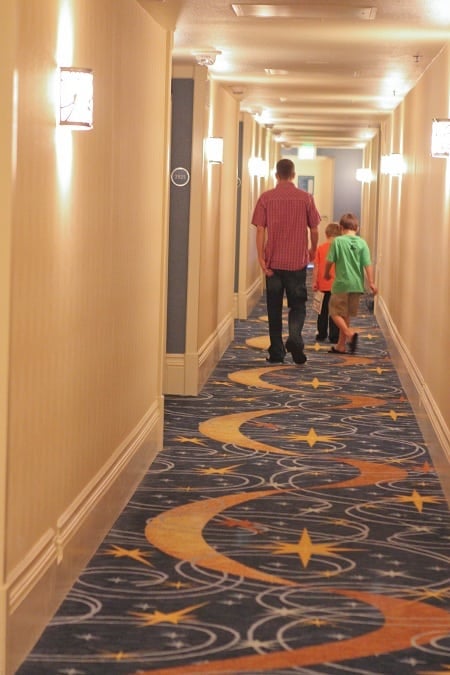 Skipping down the hall anxious to see our room.  Now, I will say I called one month in advance and most of the rooms were already booked.  The only rooms available were the suites so…..since it was my birthday and anniversary we splurged 🙂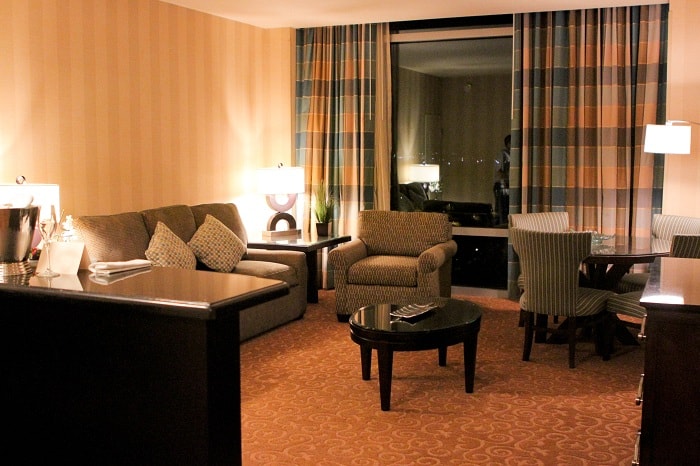 As you open your door to the suite, you have a bathroom, separate living room and bar area.  Lots of space.  We had a decent view…not fabulous.  Next time, I will make sure we have a view of the park.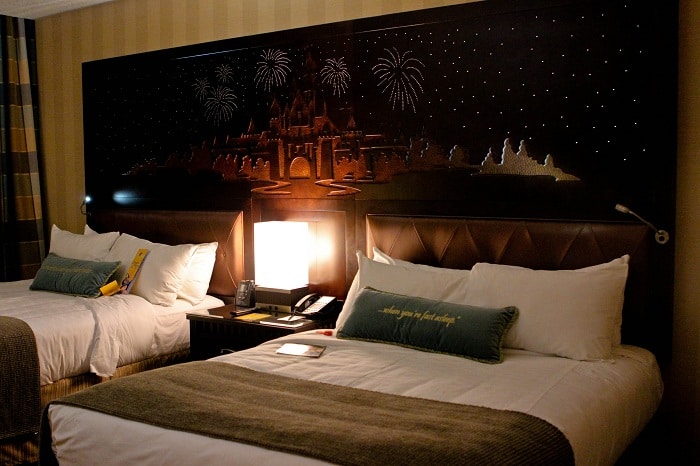 To the right of the living room was a separate bedroom and bathroom.  The beds were fabulous, soft and fluffy just like you would imagine.  My favorite part of the entire suite was the lighted Disneyland headboard.  Not only did it light up, but when you turn the light on, the lamp plays "When You Wish Upon A Star."  It is magical without a doubt.  The boys and I would come into the room just to play the sweet song and watch the headboard light up.  Loved this 🙂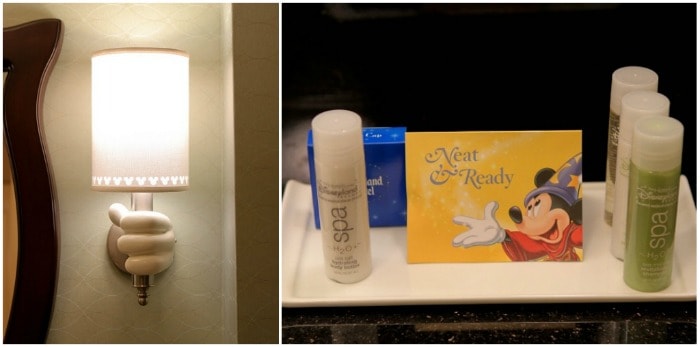 Every corner had Micky…..everywhere.  Perfectly festive.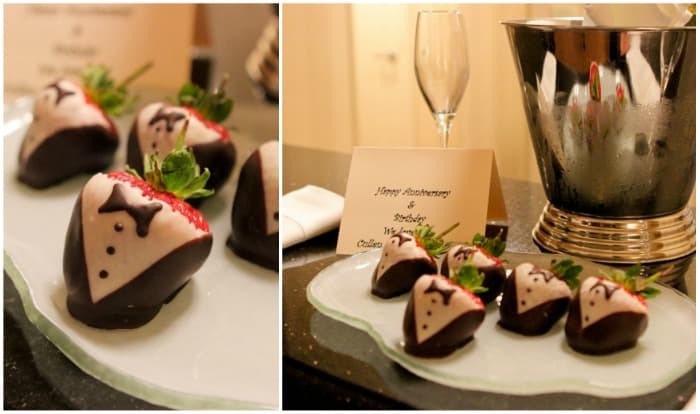 My sweet boys had these fancy chocolate covered strawberries and Sparkling Cider ready when we checked in.  They were delicious.  There is also a room service menu you can peek at HERE.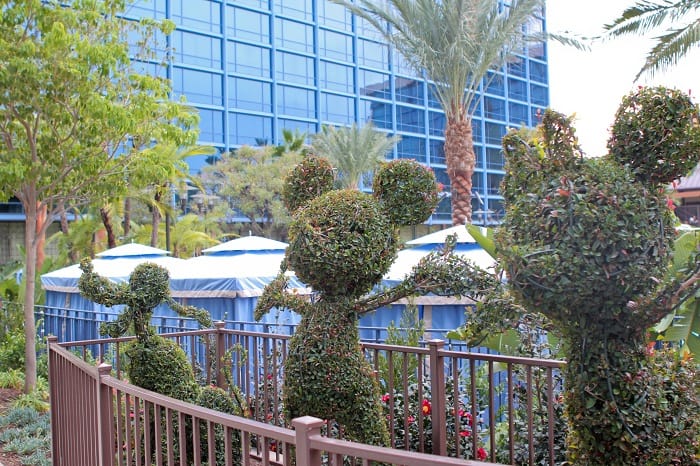 The next morning we walked out the back door checking out the pool and restaurants.  Loved these Disney shaped bushes.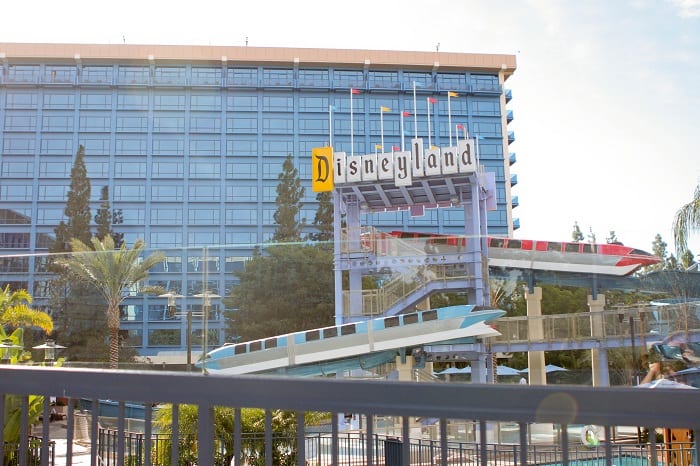 Here is the monorail water slide.  It was quite chilly when we visited, so we didn't swim, but it looked very fun for summer!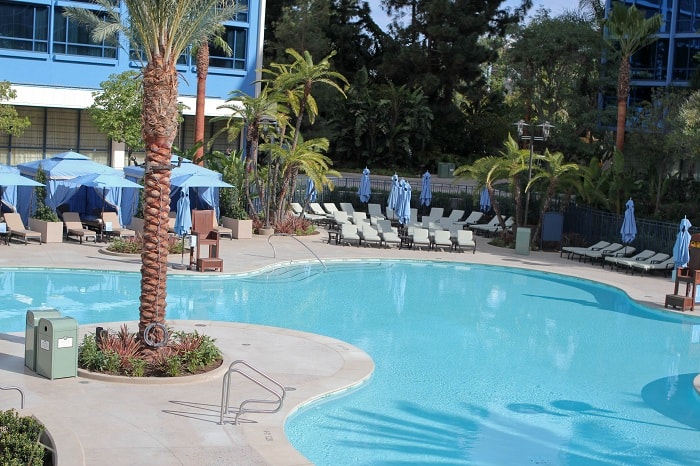 Here is a separate pool area.  It was under construction during our stay, but it looked lovely from a distance.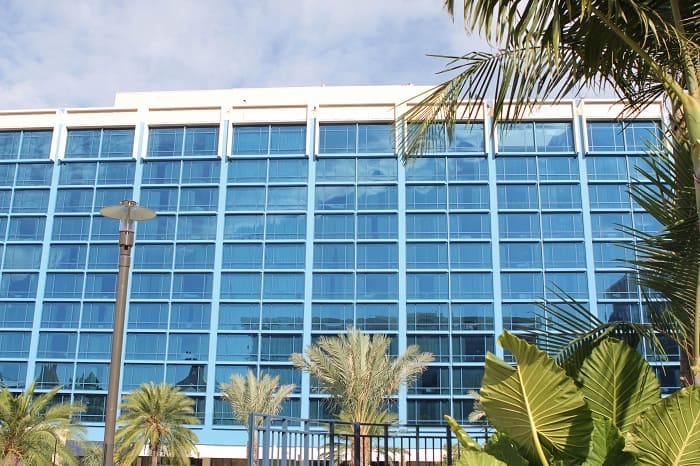 Here is a shot of the vibrant blue hotel from the pool.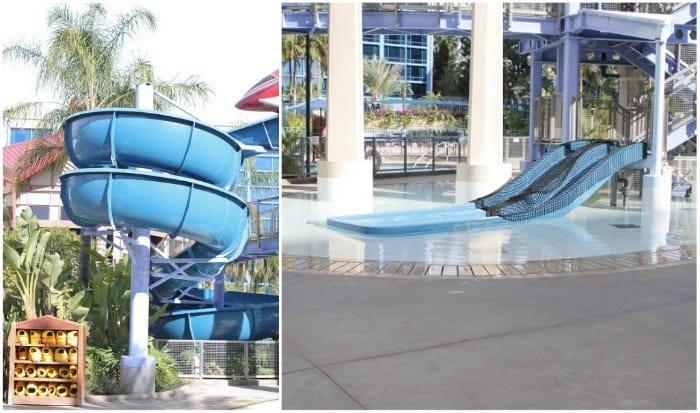 A couple shots of the water slide area.  The water slides didn't open until 11am, but kids were still swimming around them.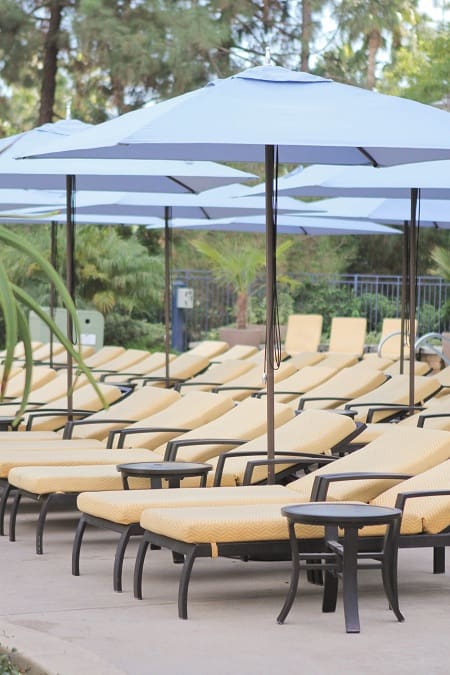 Plenty of places to sit and watch the kids 🙂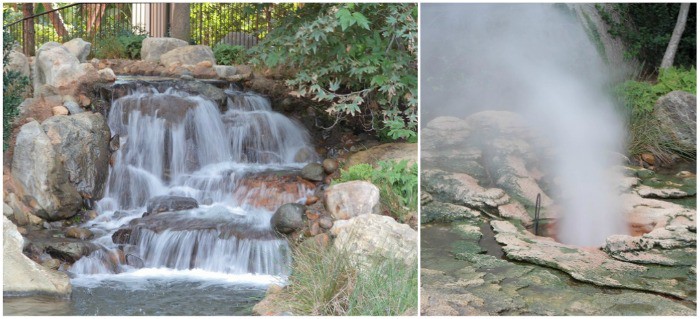 Some of the scenery around the hotel grounds.  The boys loved the steam coming from the rocks.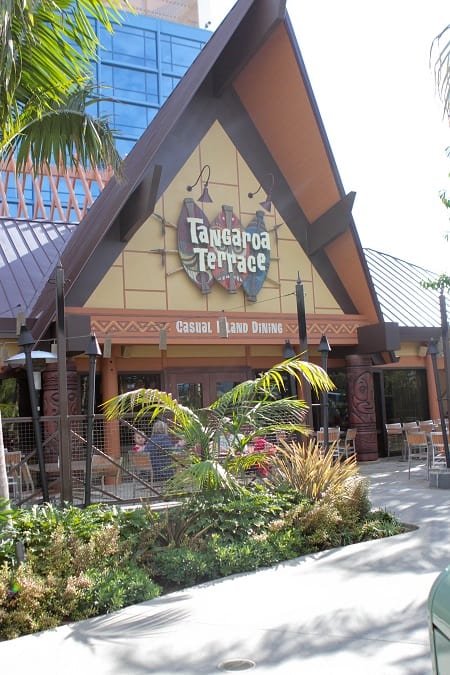 One of the restaurants at the hotel, Tangaroa Terrace.  It is a casual dining experience.  We didn't make it to this one, but will be trying it soon.  Click HERE to see the menu.  There's also Trader Sam's Enchanted Tiki Bar you can see their menu HERE.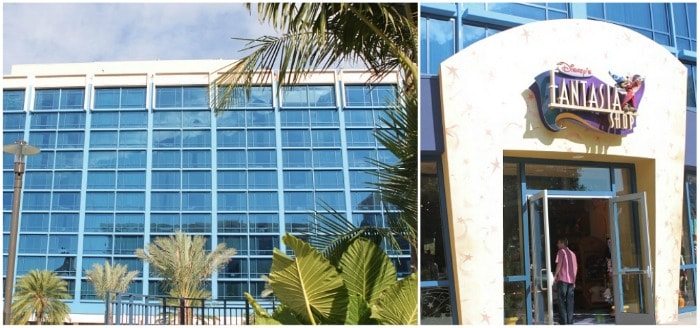 There is a Disney Fantasia shop to purchase plenty of Disney gifts for family and friends.  It was like a smaller Disney Store.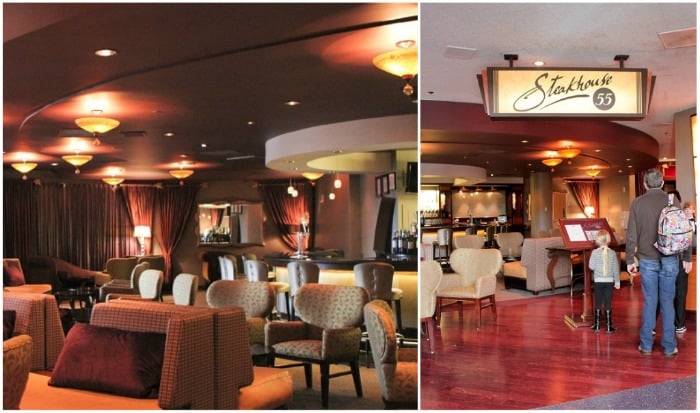 For breakfast one morning we dined at Steakhouse 55.  Next door is Goofy's Kitchen (review coming soon) which is very busy.  Keep in mind if you waited last minute getting reservations to Goofy's Kitchen you can generally get seated right away at Steakhouse 55.  Take a look at the menu.
Menu Date: March 2011


---

All That Jazz

Espresso – $2.99

Caffe Latte or Cappuccino – $4.19

Mocha – $4.29

Brewed Regular or Decaffeinated Coffee, Hot Chocolate with Whipped Cream, Hot Tea – $2.99

Juices: Orange, Grapefruit, Cranberry, Apple or Tomato – Small $2.99, Large $4.99

---

Steakhouse 55 Struttin' Selections

Buttermilk Stack – Steaming buttermilk pancakes piled high. Served with whipped butter and Warm Bananas Foster or Warm Berries. $11.00

French Toast – Thick-cut French toast dipped in eggs, cream with vanilla and powdered sugar served with Warm Bananas Foster or Warm Berries. $12.00

---

Sunrise Rhapsodies
With fresh-cut fruit or roasted potatoes with peppers and onions

Eggs Benedict – Two fresh eggs, expertly poached atop Canadian bacon and an English muffin. With hollandaise sauce. $14.00

Two Times Four – Two slices of French toast, two fresh eggs, any style, plus two strips of bacon and two links of sausage. $12.00

Build-Your-Own-Omelette – Choice of three: cheese, bacon, sausage, mushrooms, ham, avocado, tomato, onion or roasted peppers. With toast or bagel. $12.00

American Breakfast – Two eggs, any style with ham, bacon or sausage. With toast or bagel. $12.00

New York Steak and Eggs – A juicy, 7-ounce certified Angus steak, with two farm-fresh eggs, any style. With toast or bagel. $17.00

---

South-of-the-Border Serenade

Huevos Rancheros – Two fresh eggs, corn tortillas, cheese and black beans with fresh pico de gallo, guacamole and sour cream. $12.00

Sunrise Burrito – Scrambled fresh eggs, chorizo, potatoes and cheese in a flour tortilla with fresh pico de gallo, guacamole and sour cream on the side. $12.00

---

Healthful Harmonies

Egg-White Omelette – Egg whites, with mushroom, tomato, onion and peppers. With toast or bagel. $11.00

Bakery Basket – Choice of three: Blueberry or Bran muffin, Croissant or Fruit Danish. $6.00

Granola – Rolled oats with sliced almonds, with choice of one: fruit, yogurt or small juice. $8.00

Seasonal Fruits with Yogurt – Fresh-fruit cocktail or a grapefruit half. $8.00

Kellogg's Cereals – Froot Loops, Kellogg's Frosted Flakes, Mini Wheats, Raisin Bran, Rice Krispies, Special K or Corn Flakes, with choice of one: fruit, yogurt or small juice. $8.00

Oatmeal – Served with brown sugar and raisins, with sliced bananas or strawberries. $10.00

Smoked Salmon and Bagel – Dill cream cheese and traditional accompaniment. $12.00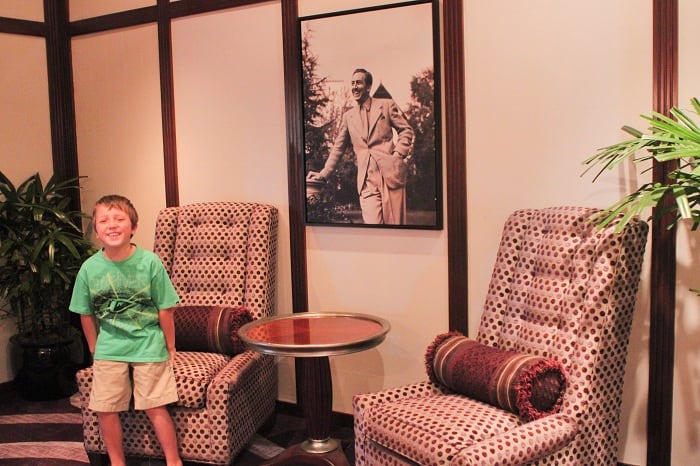 Here is a fun seating area as you walk into the restaurant.  My son was trying to dance like Michael Jackson and got embarrassed when I tried taking a picture 🙂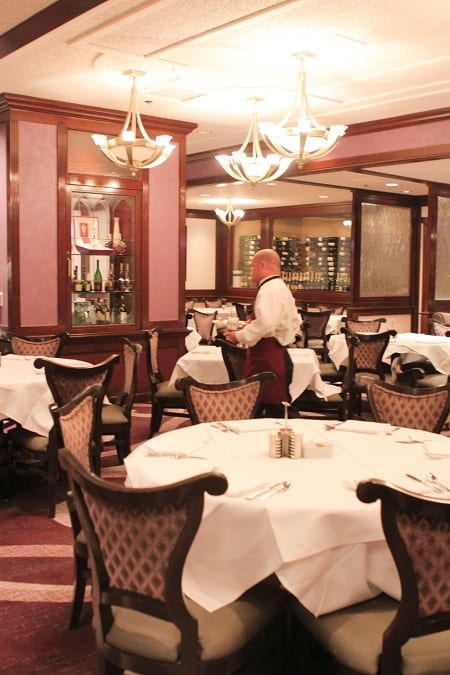 You'll find a very nice dining area.  I will say this is not really kid friendly, however there were other families with kids dining around us.  This is more of a nice dinner atmosphere, but the breakfast was really good.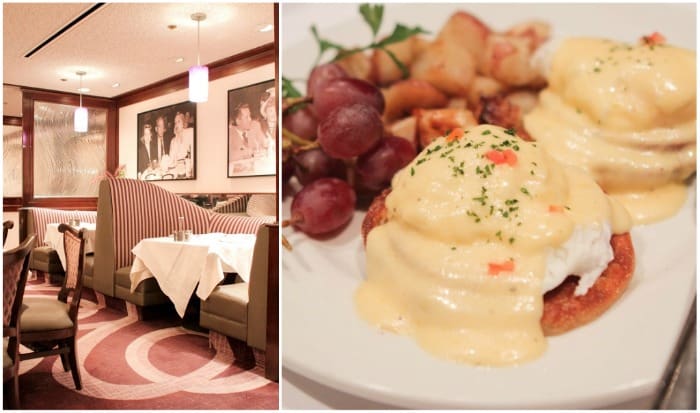 I ordered the eggs benedict, which was great.  The boys wished they would have ordered it for themselves.  They loved it….so did I!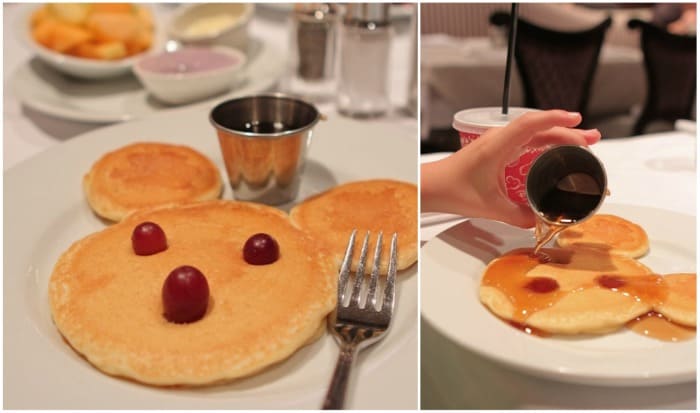 The boys ordered the Micky Pancakes.  What kid doesn't like pancakes in the shape of a mouse?  They gobbled these up no problem.  I like that it came with a side of yogurt and fruit.  Here is the menu for kids.
---
For Kids Ages 3 through 9
Each meal includes a side of Seasonal Fruit and Yogurt plus one of these beverage choices:
Minute Maid Juice, Low-Fat Milk, Low-Fat Chocolate Milk, Dasani Water
Kellogg's Cereals – Froot Loops, Frosted Flakes, Mini Wheats, Raisin Bran, Rice Krispies or Special K $6.99
"Mickey" Shaped Pancake. $6.99
Jr. Scramble – Scrambled Eggs with Breakfast Potatoes $6.99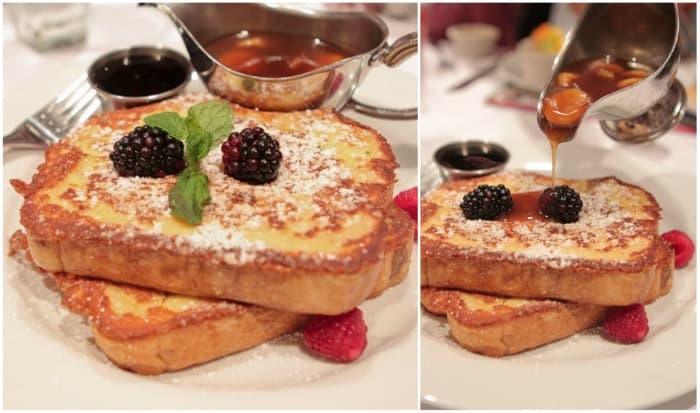 My husband ordered the French Toast with a Banana's Foster Sauce.  This was heavenly.  Overall, Steakhouse 55 was a great place for breakfast with no wait during a Holiday weekend.  Love that!
The Disneyland Hotel
1150 Magic Way
Anaheim, CA 92802
_______________________________
Goofy's Kitchen review coming next!
Hope you enjoyed our review of the hotel.  Have you been?  Tell us your experience.
FOLLOW PICKY PALATE ON INSTAGRAM! Show me what recipes you're making from Picky Palate by using #pickypalate.
Other recipes you may enjoy...
Comments