Sharing our Disneyland Hotel Review with you today! There's no better place to feel the disney Magic than the Disneyland Hotel. Can't beat being walking distance to the Parks!
A couple weekends was one of the best weekends my family has had together…..ever. We celebrated my birthday and our anniversary at Disneyland and The Disneyland Hotel in Anaheim California. I snapped pictures of our time to share….let's take a look 🙂
The Disneyland Hotel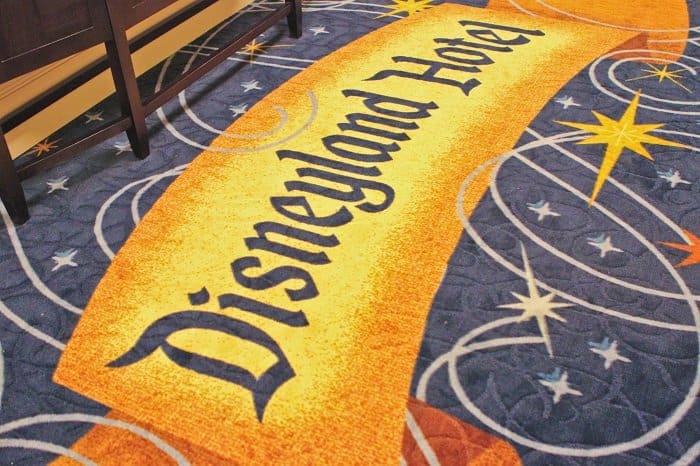 We checked in on a Thursday evening and met with friendly staff that showed us to our room. As you walk out of your elevator you are greeted with this fun Disneyland banner on the carpet. Too fun!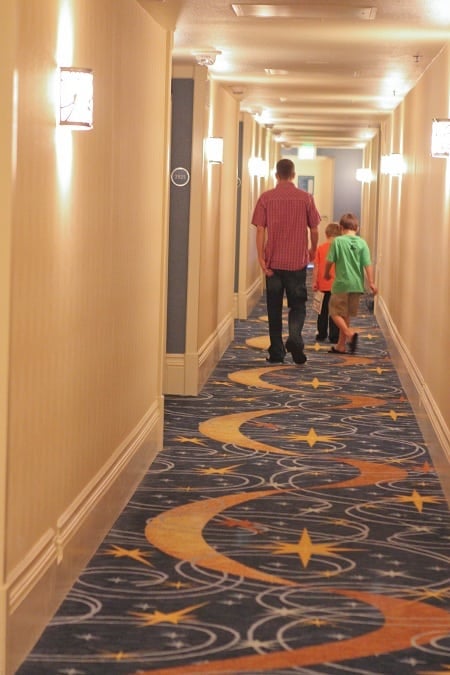 Skipping down the hall anxious to see our room. Now, I will say I called one month in advance and most of the rooms were already booked. The only rooms available were the suites so…..since it was my birthday and anniversary we splurged 🙂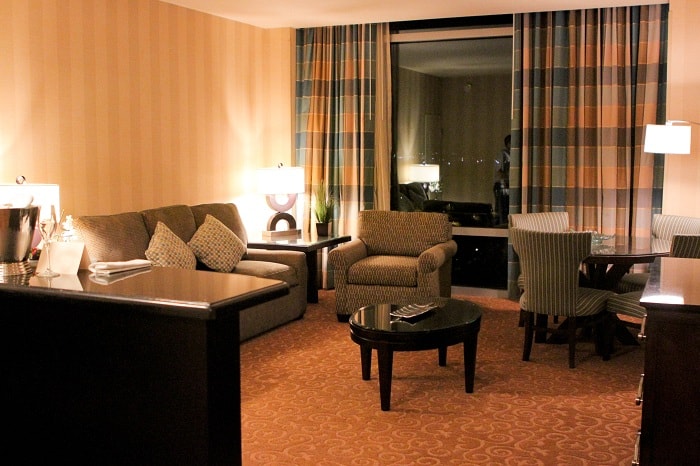 As you open your door to the suite, you have a bathroom, separate living room and bar area. Lots of space. We had a decent view…not fabulous. Next time, I will make sure we have a view of the park.
The Disneyland Hotel Magical Headboard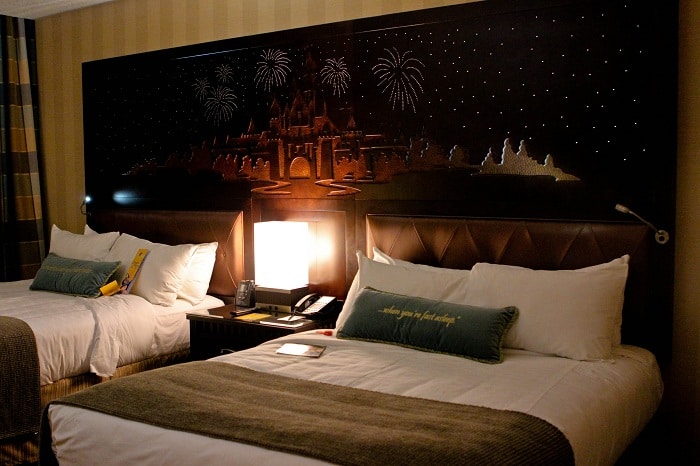 To the right of the living room was a separate bedroom and bathroom. The beds were fabulous, soft and fluffy just like you would imagine. My favorite part of the entire suite was the lighted Disneyland headboard. Not only did it light up, but when you turn the light on, the lamp plays "When You Wish Upon A Star." It is magical without a doubt. The boys and I would come into the room just to play the sweet song and watch the headboard light up. Loved this 🙂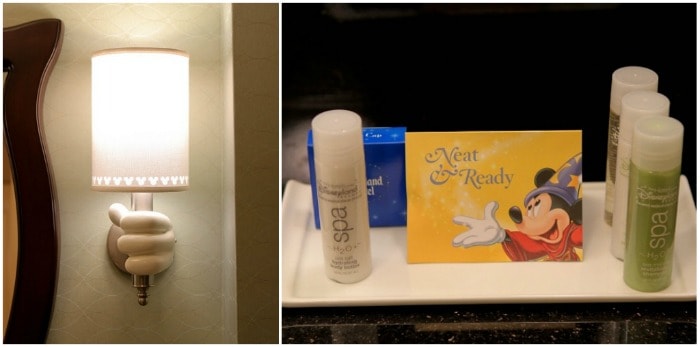 Every corner had Micky…..everywhere. Perfectly festive.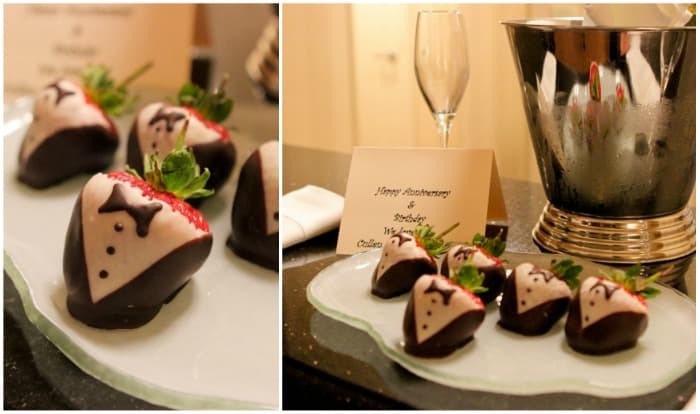 My sweet boys had these fancy chocolate covered strawberries and Sparkling Cider ready when we checked in. They were delicious.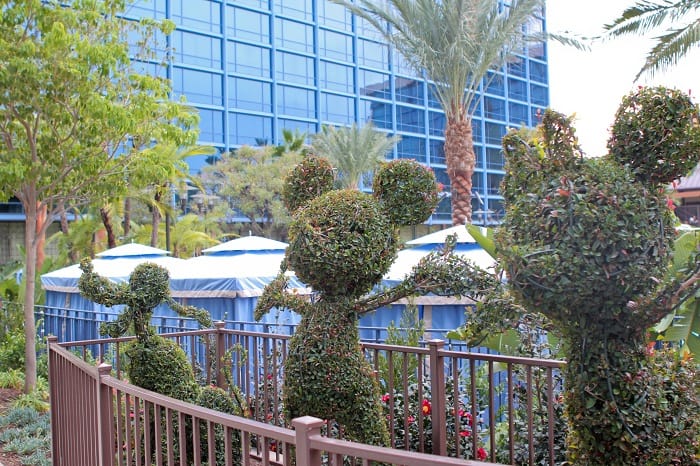 The next morning we walked out the back door checking out the pool and restaurants. Loved these Disney shaped bushes.
Disneyland Hotel Pool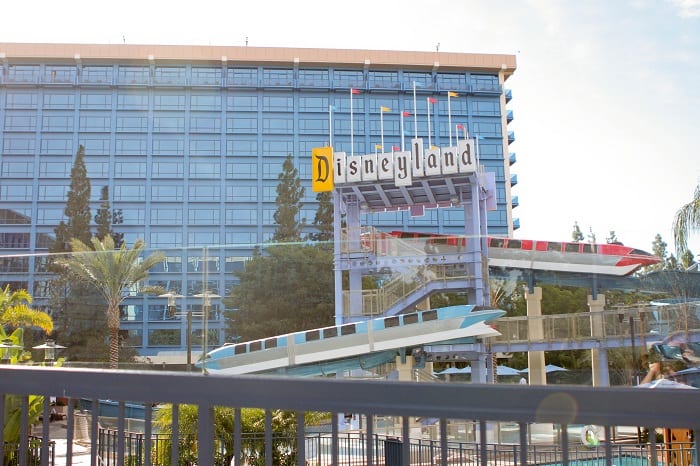 Here is the monorail water slide. It was quite chilly when we visited, so we didn't swim, but it looked very fun for summer!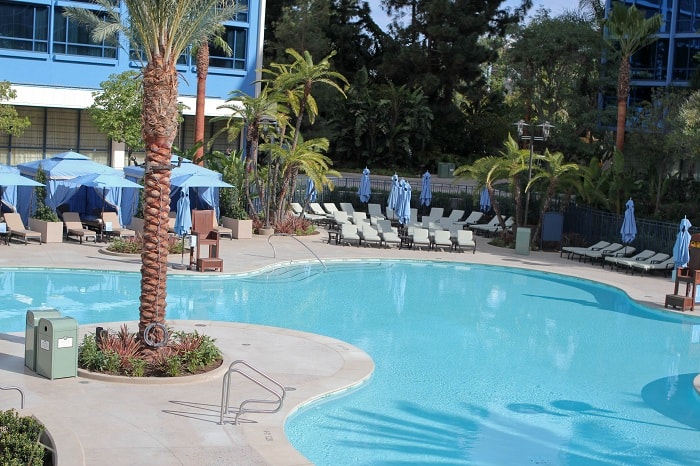 Here is a separate pool area. It was under construction during our stay, but it looked lovely from a distance.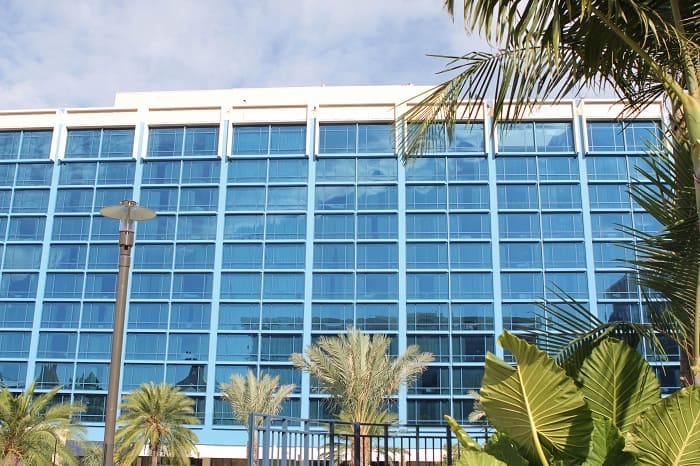 Here is a shot of the vibrant blue hotel from the pool.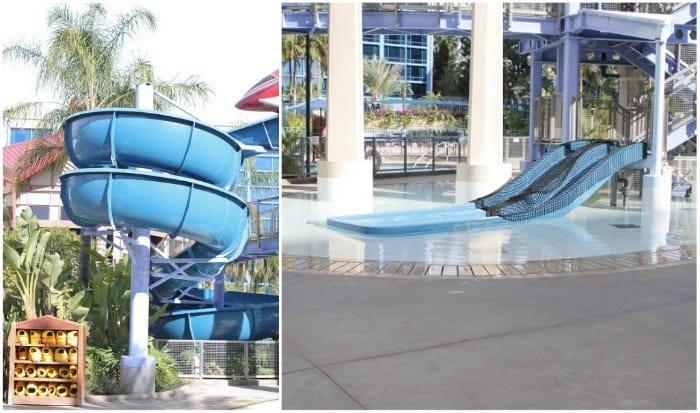 A couple shots of the water slide area. The water slides didn't open until 11am, but kids were still swimming around them.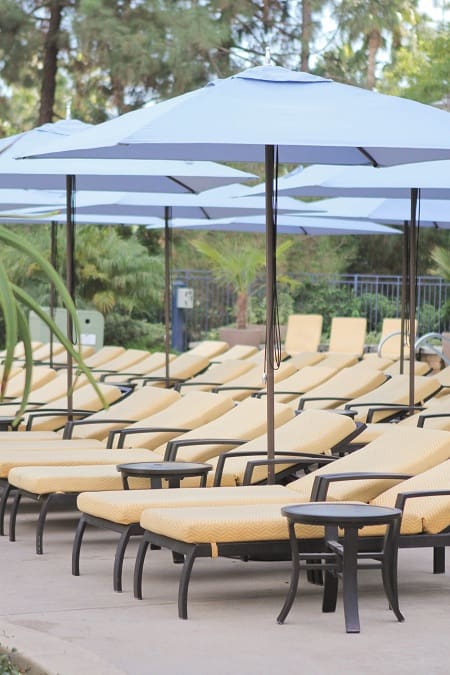 Plenty of places to sit and watch the kids 🙂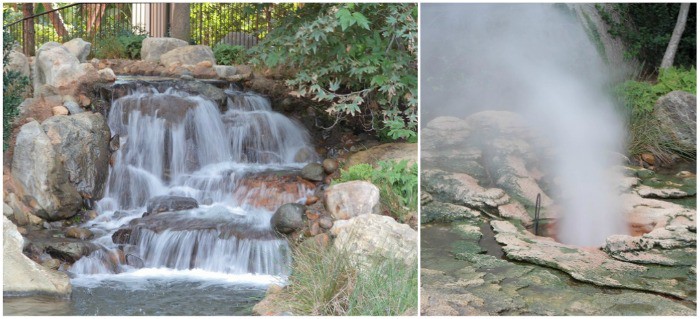 Some of the scenery around the hotel grounds. The boys loved the steam coming from the rocks.
Tangaroa Terrace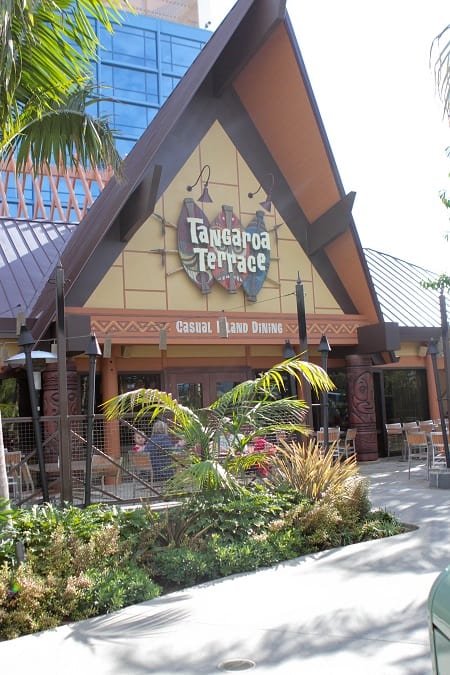 One of the restaurants at the hotel, Tangaroa Terrace. It is a casual dining experience. We didn't make it to this one, but will be trying it soon. Click HERE to see the menu. There's also Trader Sam's Enchanted Tiki Bar you can see their menu HERE.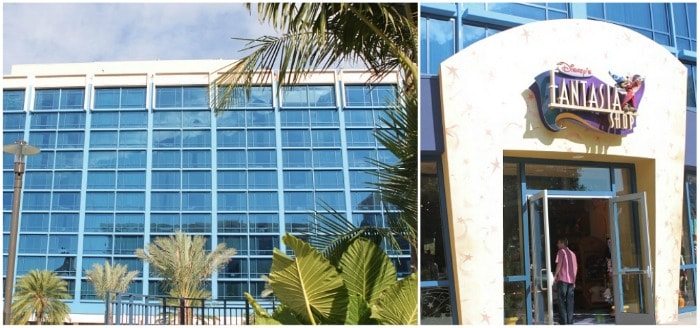 There is a Disney Fantasia shop to purchase plenty of Disney gifts for family and friends. It was like a smaller Disney Store.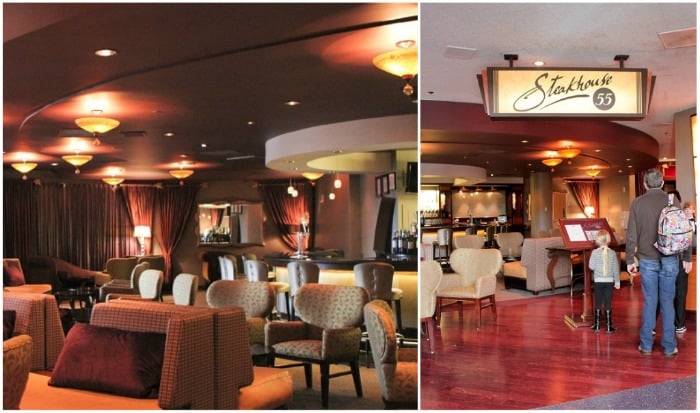 For breakfast one morning we dined at Steakhouse 55. Next door is Goofy's Kitchen which is very busy. Keep in mind if you waited last minute getting reservations to Goofy's Kitchen you can generally get seated right away at Steakhouse 55.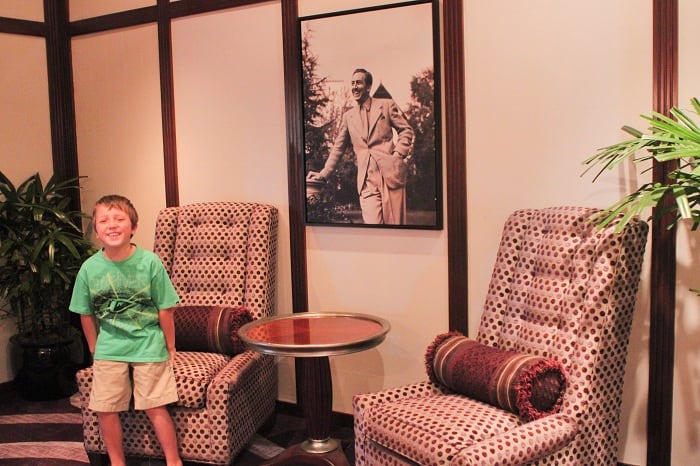 Here is a fun seating area as you walk into the restaurant. My son was trying to dance like Michael Jackson and got embarrassed when I tried taking a picture 🙂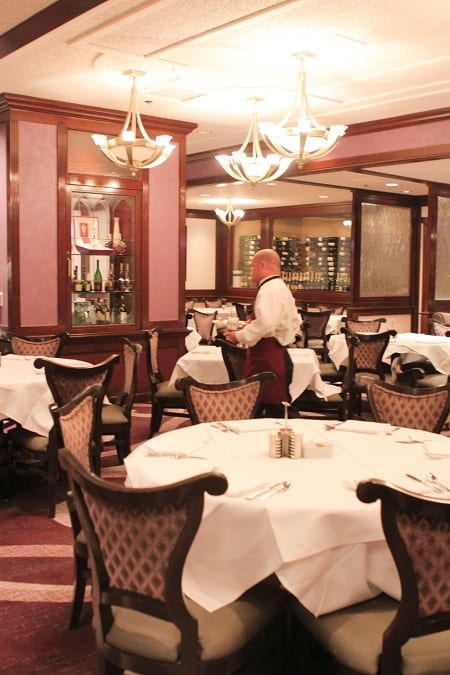 You'll find a very nice dining area. I will say this is not really kid friendly, however there were other families with kids dining around us. This is more of a nice dinner atmosphere, but the breakfast was really good.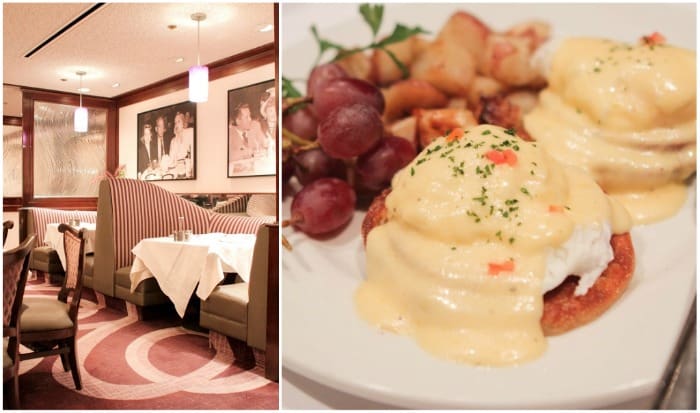 I ordered the eggs benedict, which was great. The boys wished they would have ordered it for themselves. They loved it….so did I!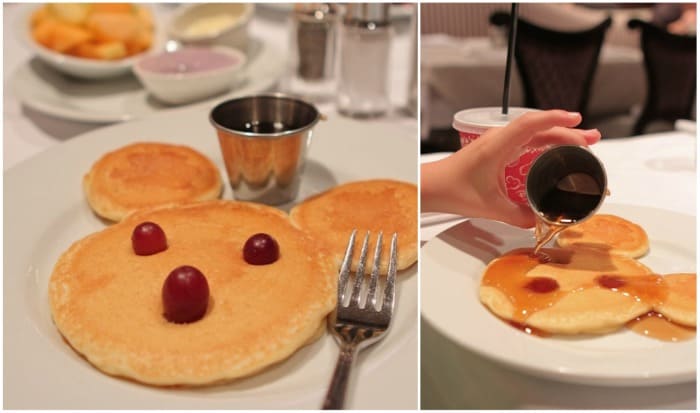 The boys ordered the Micky Pancakes. What kid doesn't like pancakes in the shape of a mouse? They gobbled these up no problem. I like that it came with a side of yogurt and fruit. Here is the menu for kids.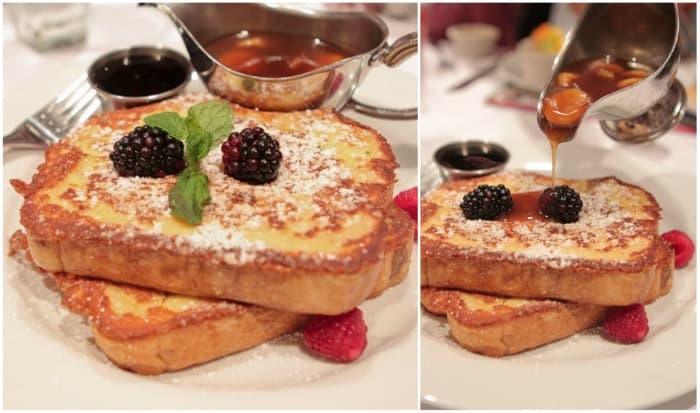 My husband ordered the French Toast with a Banana's Foster Sauce. This was heavenly. Overall, Steakhouse 55 was a great place for breakfast with no wait during a Holiday weekend. Love that!
To see our review of Goofy's Kitchen see HERE.
Pin Disneyland Hotel Review