Sharing my Tips For Taking The Disney Wonder Cruise with you today! There are countless activities to enjoy, let me show you our favorites!
Still dreaming about the great memories made taking our first Disney Cruise early this month. It was filled with so many great activities and so many to choose from. My husband and I celebrated and early anniversary, however we are anxious to take our 3 boys in the near future.
I'll take you through the activities available on the Disney Wonder and our many favorites throughout the 3 night cruise.
Take a Day Bag/Carry On Bag When Checking In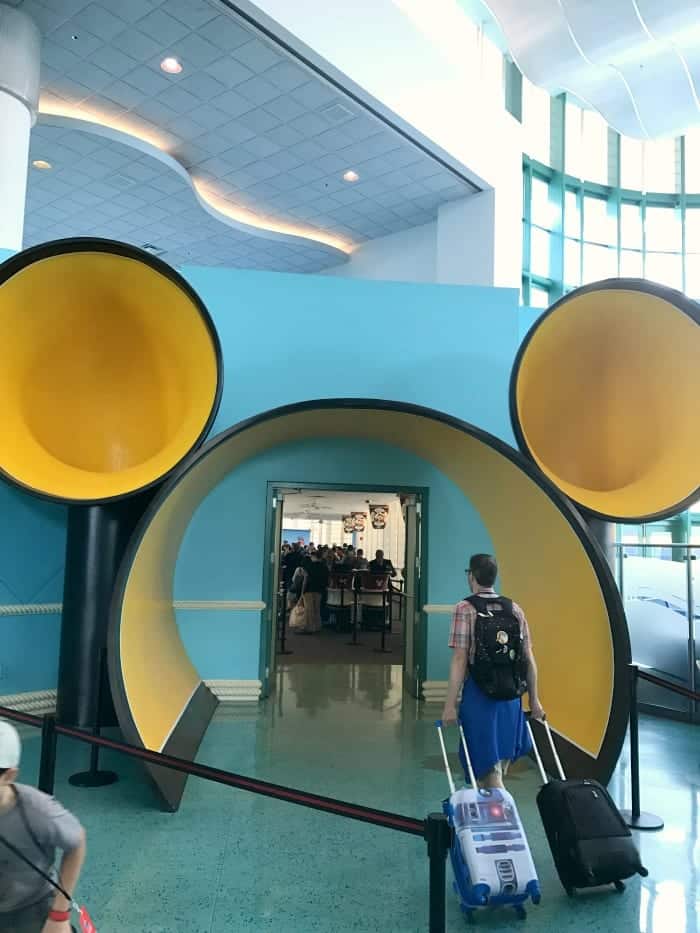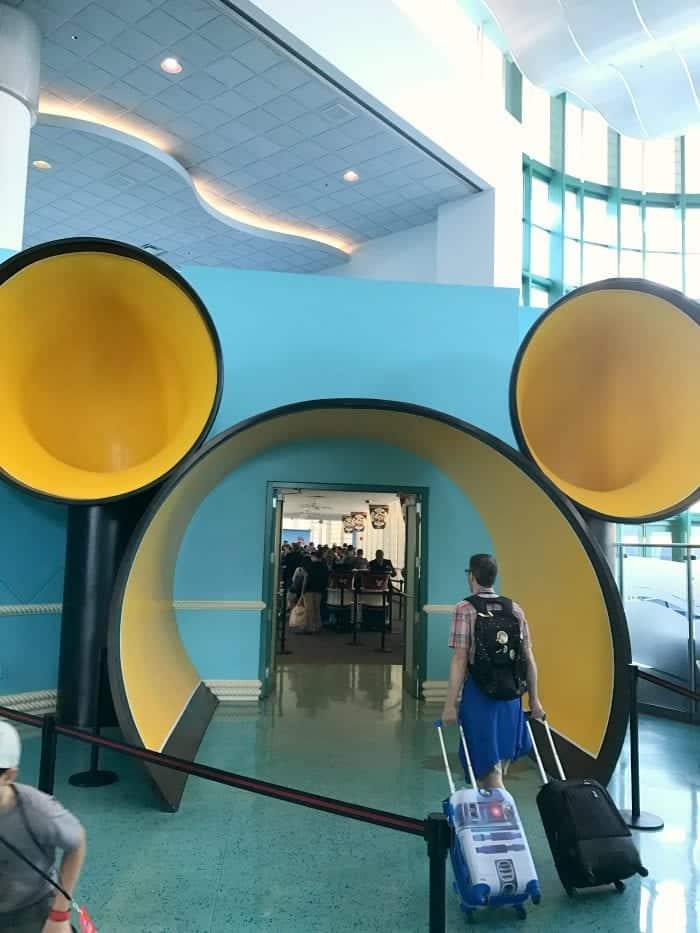 My first tip is to be prepared with a day bag or carryon with anything you might need for the day. Swim suits, extra change of clothes, toiletries….your luggage will be delivered to your stateroom usually by 5 or 6pm.
Keep Your Disney Cruise Line Card With You At ALL Times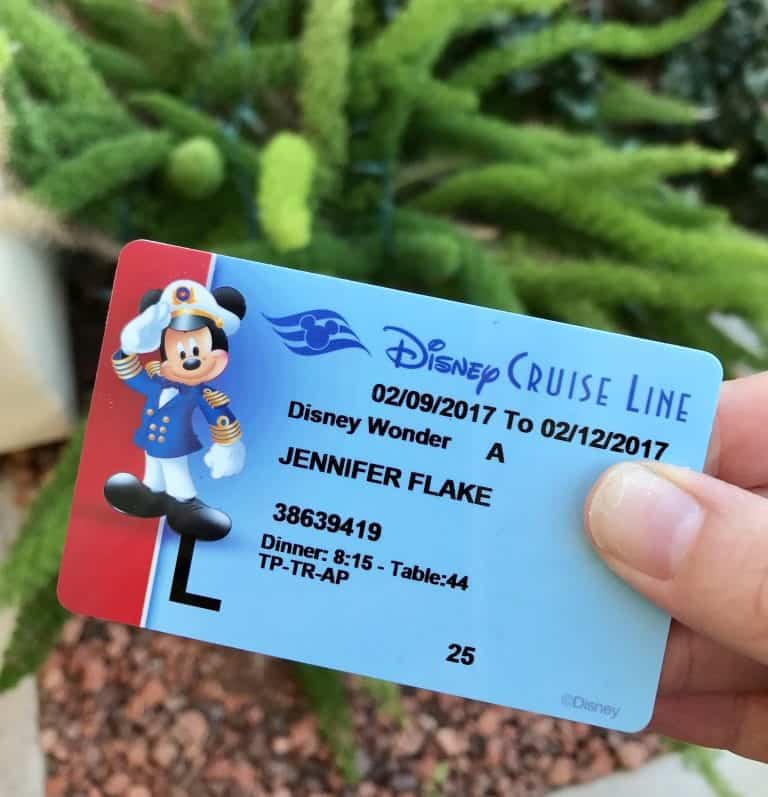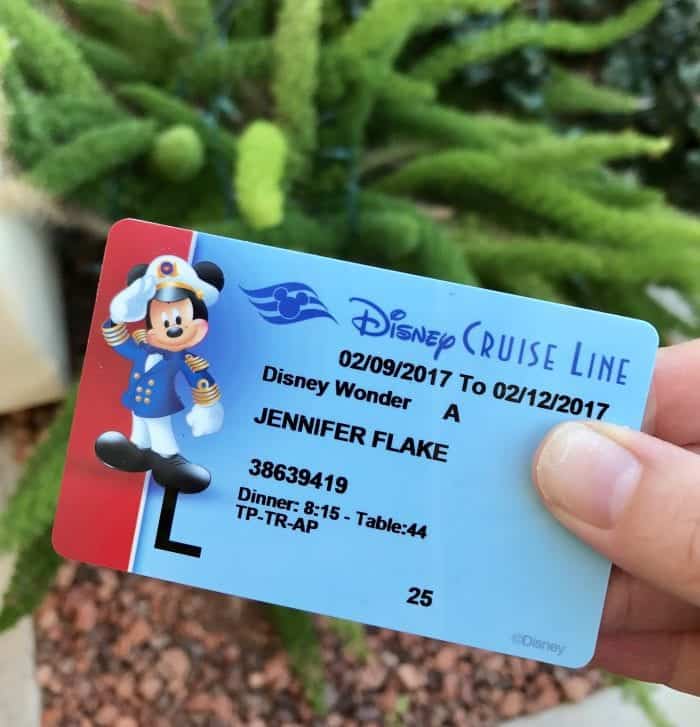 You'll want to keep your card with you everywhere you go, they call it "your key to the world" lol! It works as your room key, any purchases you need to make on board and on Castaway Cay and it is necessary to have to get on and off of the ship along with your Photo ID/Passport.
Listen Closely As You Board The Ship 🙂

If you haven't cruised before, you will be busy looking all around at the gorgeous ship, like I was, but as you step foot onto the ship, the Cast Members ask for your last name and welcome each and every family. "Welcome The Flake Family!" It was awesome. I wish I would have gotten it on video. Very personable and the whole ship can hear it.
Get To Know Your Stateroom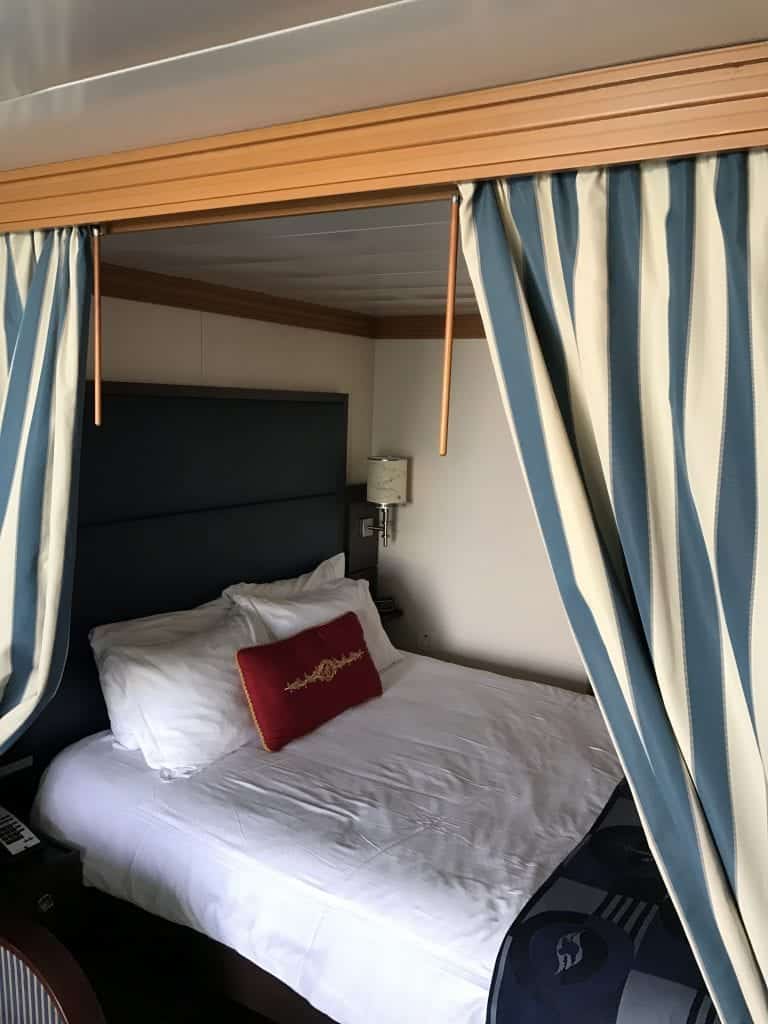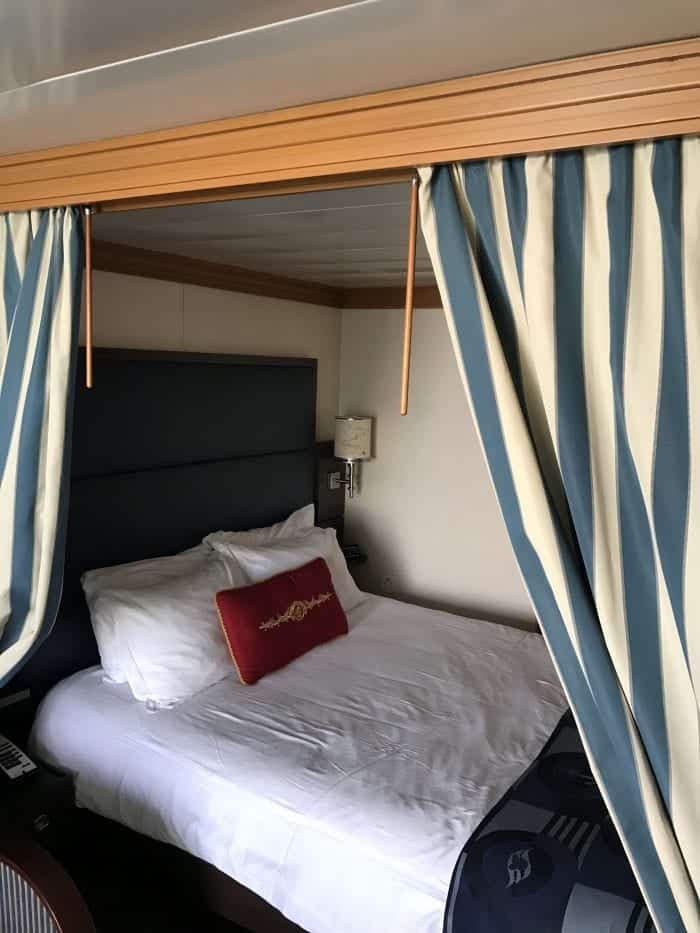 If you are a heavy packer, you'll soon find that the majority of the staterooms (unless you've upgraded to a suite) are on the small side. Even with just my husband and I, it was tricky to find where we could open both of our suitcases without our things being all over the room, ha! The rooms are cozy, but just know you don't have as much space as a typical hotel room. For a review of our Stateroom with Verandah see my post HERE.
Budget For A Stateroom With Verandah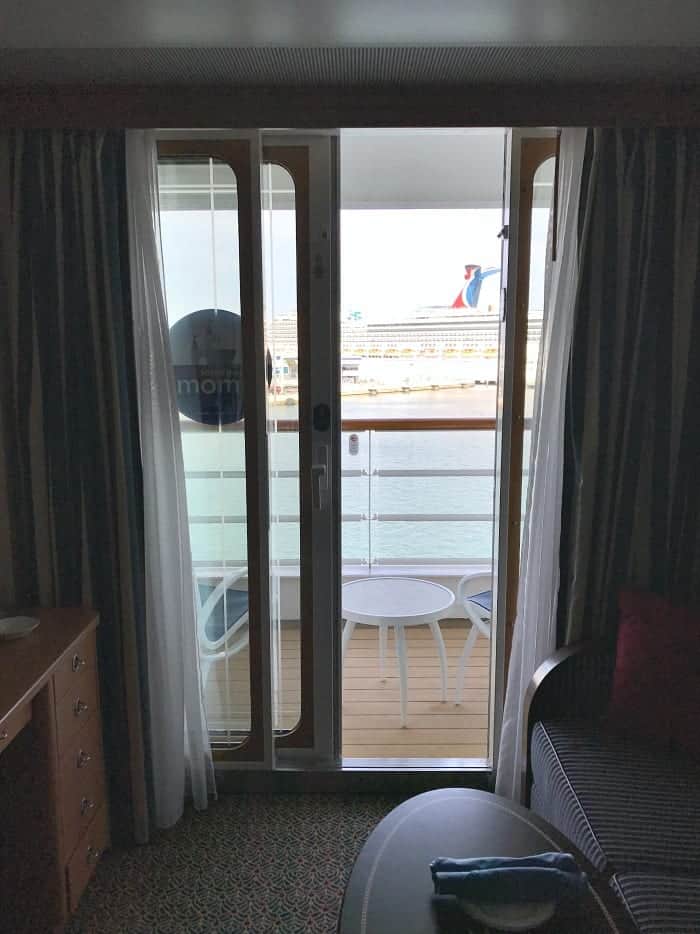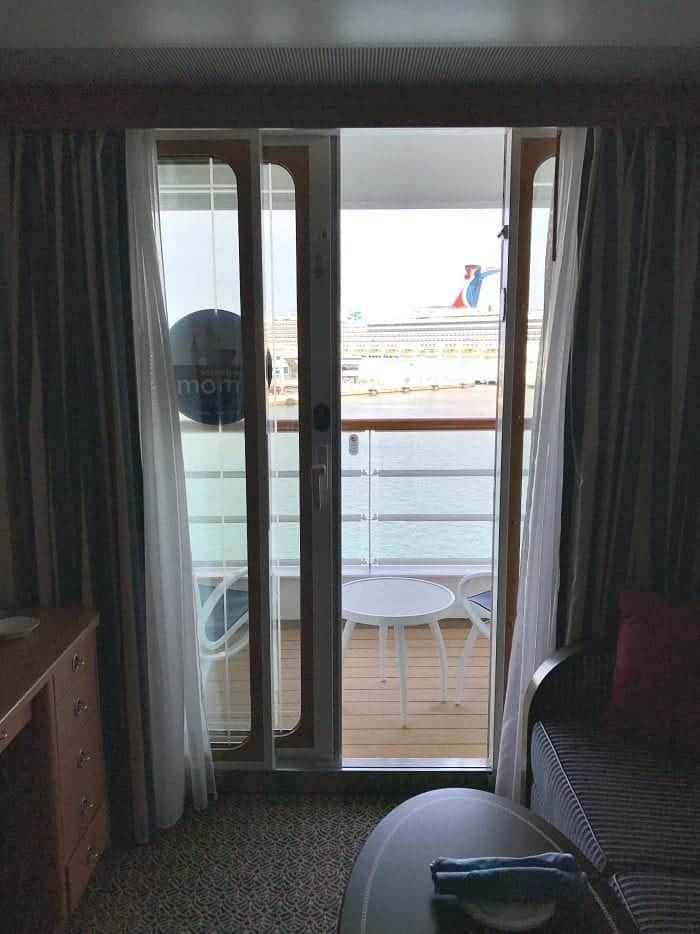 I know that the Verandah Staterooms are a little bit more expensive, however I can't say how much we enjoyed our little outside area. To look out and be so close to the water was quite magical. If it works for your budget, you won't regret it!
Take Advantage Of Running The 5K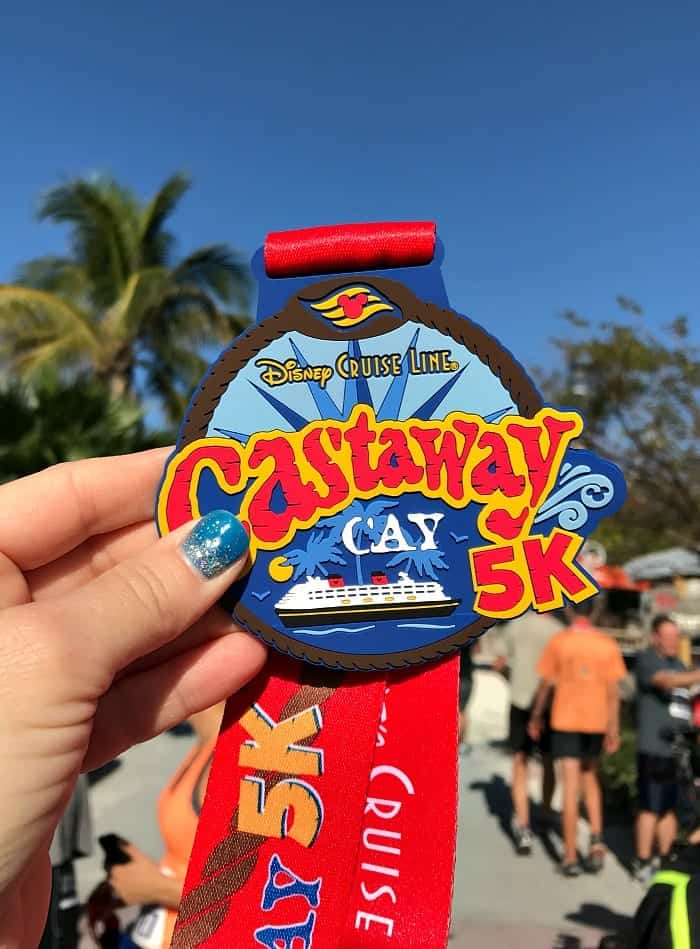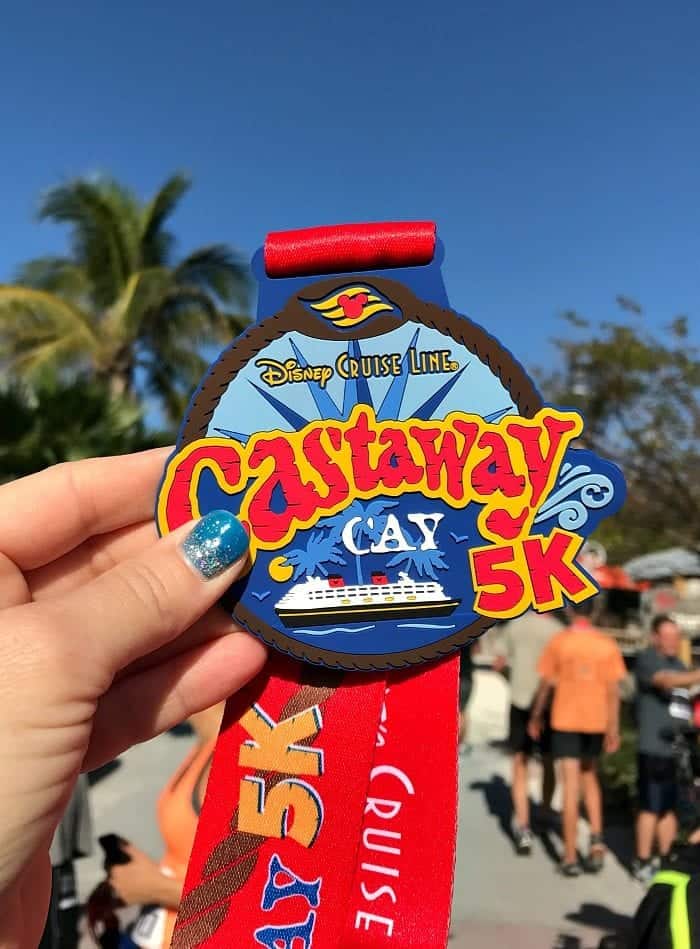 If you are a runner or walker even, you are invited to run the 5K available on Disney's Castaway Cay in the Bahamas. My husband ran the race and every participant gets this fun medal. Make sure if you want to run the race, you sign up in advance. Go to the Guest Relations on the ship and they'll get you a ticket. Super simple process.
Enjoy The Sitting Areas Around The Ship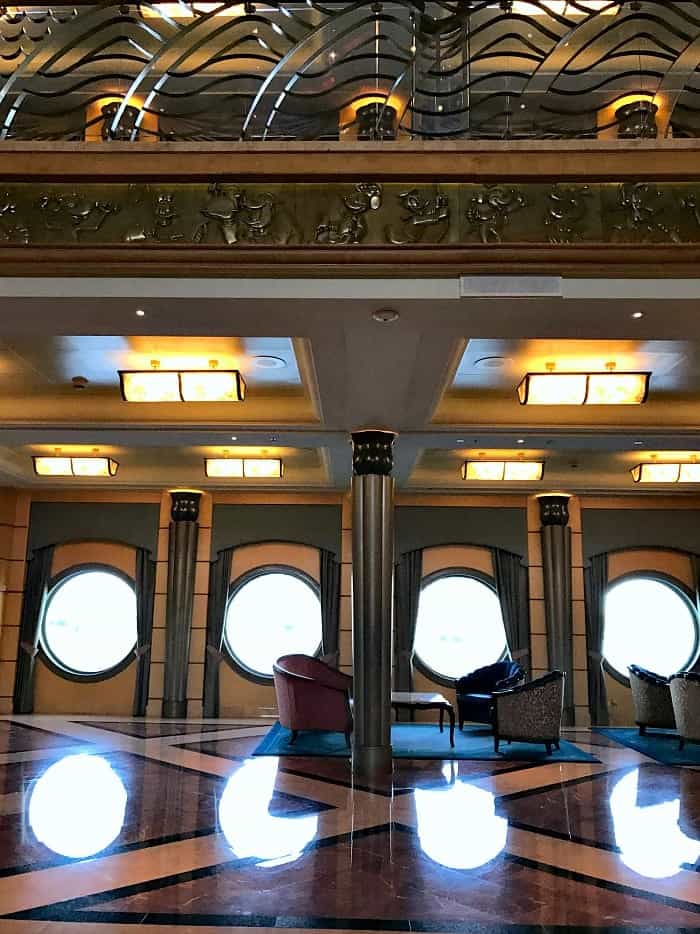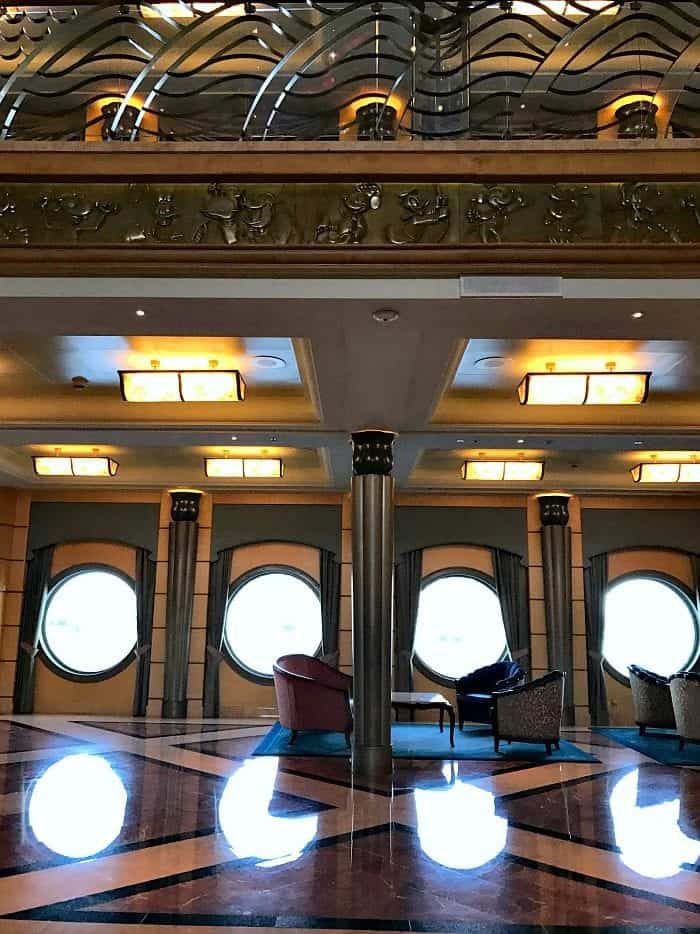 Throughout the main areas of the ship, you'll find some great sitting areas with large windows for relaxing. Many of the windows even had cushions for sitting inside the window. Saw lots of nappers in these areas 🙂
Take Advantage of "After Hours" Fun!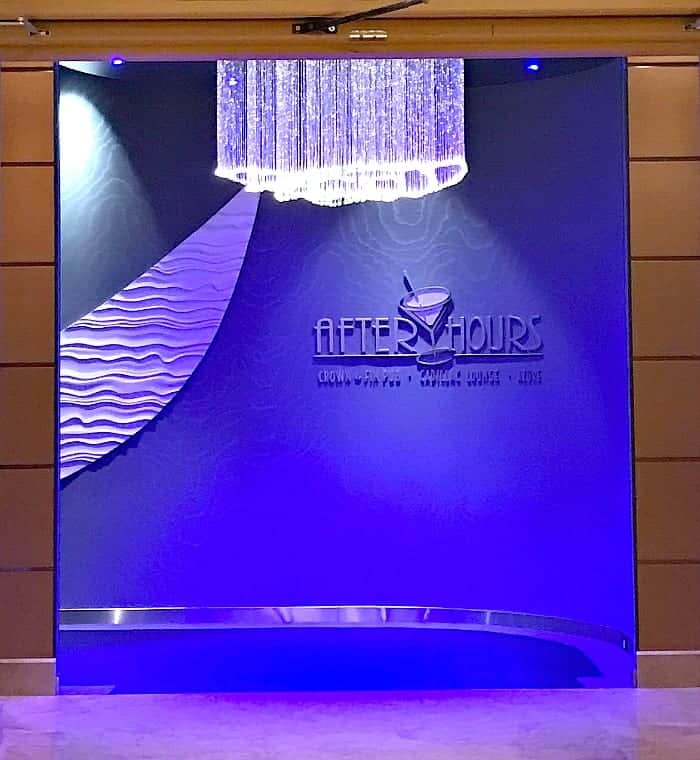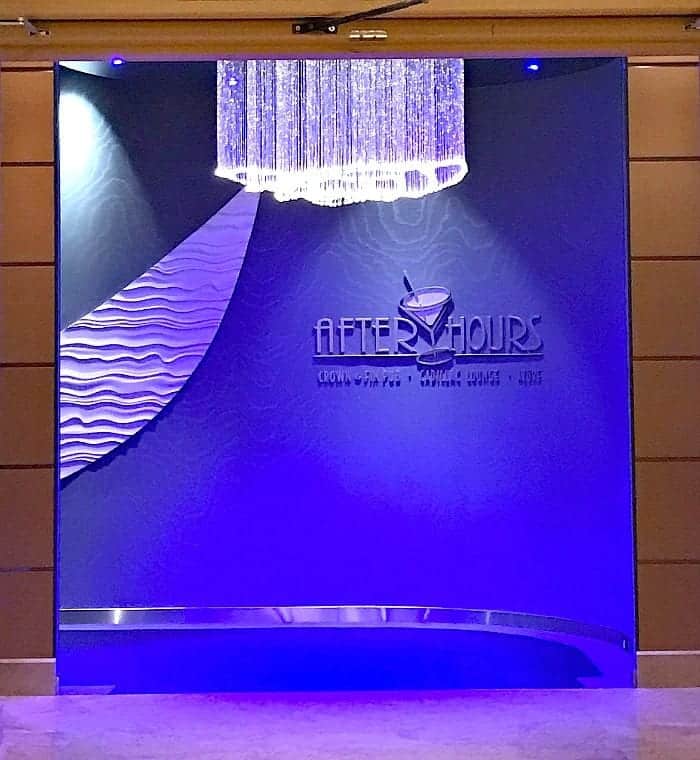 My husband and I loved this area of the ship before and after dinner. There's Crown & Fin Pub, Cadillac Lounge and Azure…all fun places to check out. We loved the piano player at Cadillac Lounge, the fun trivia games at Crown & Fin Pub and entertaining shows at Azure. Lots of fun to check out. You'll want to have the kids at the kids centers while you visit these areas.
Check Out The Art!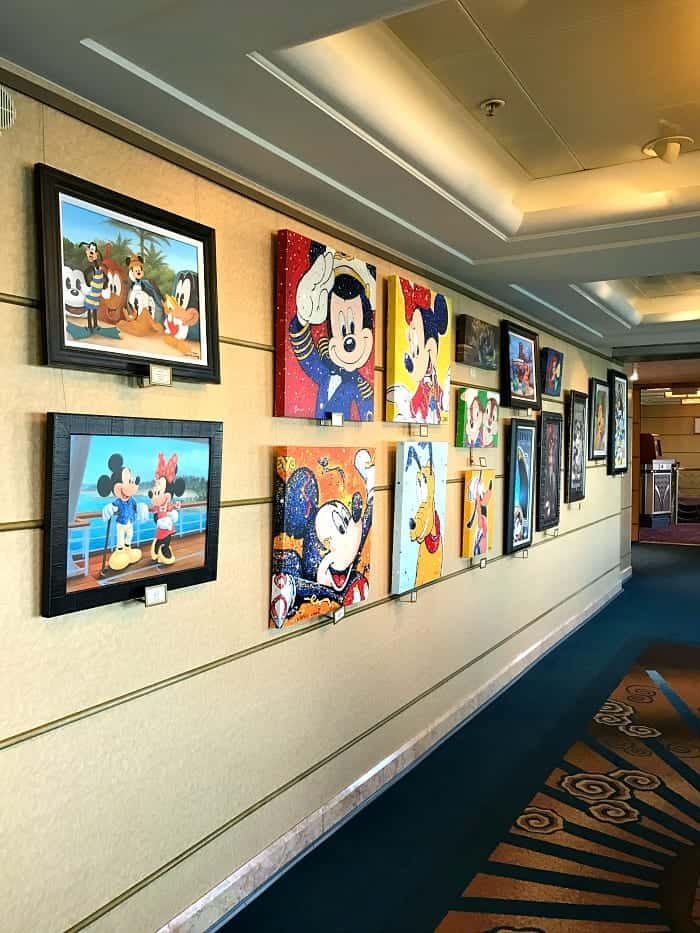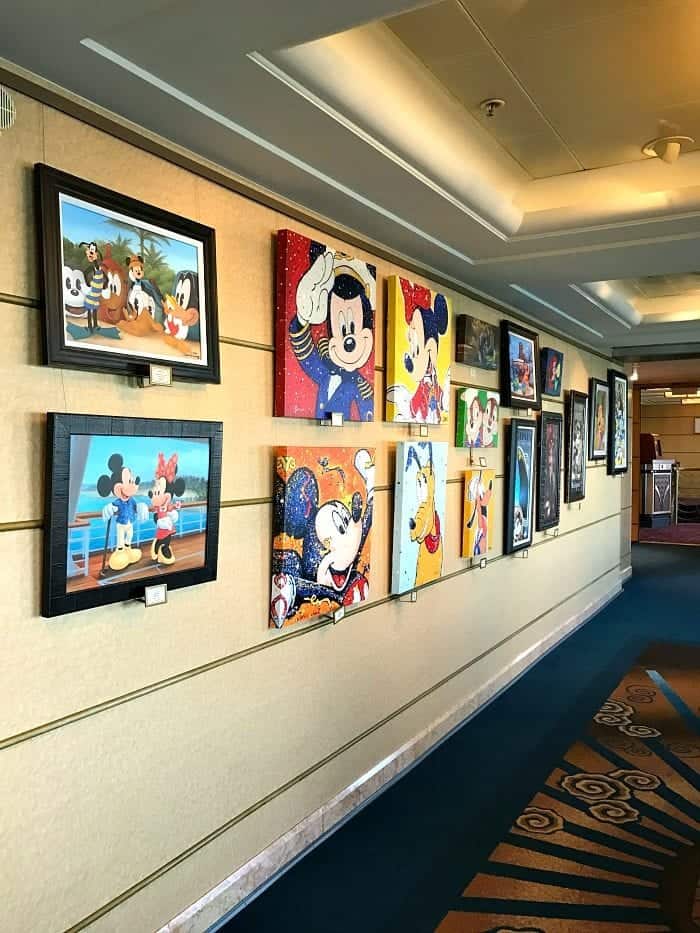 The artwork on the ship is perfectly fun and some of it is even for sale for the big spenders 🙂
Check Out The Shopping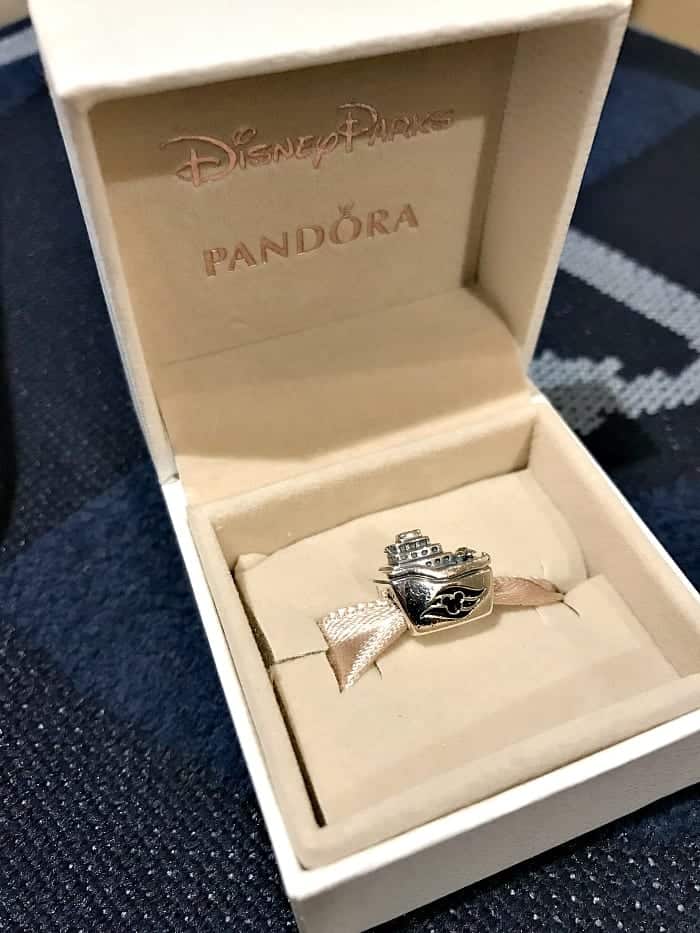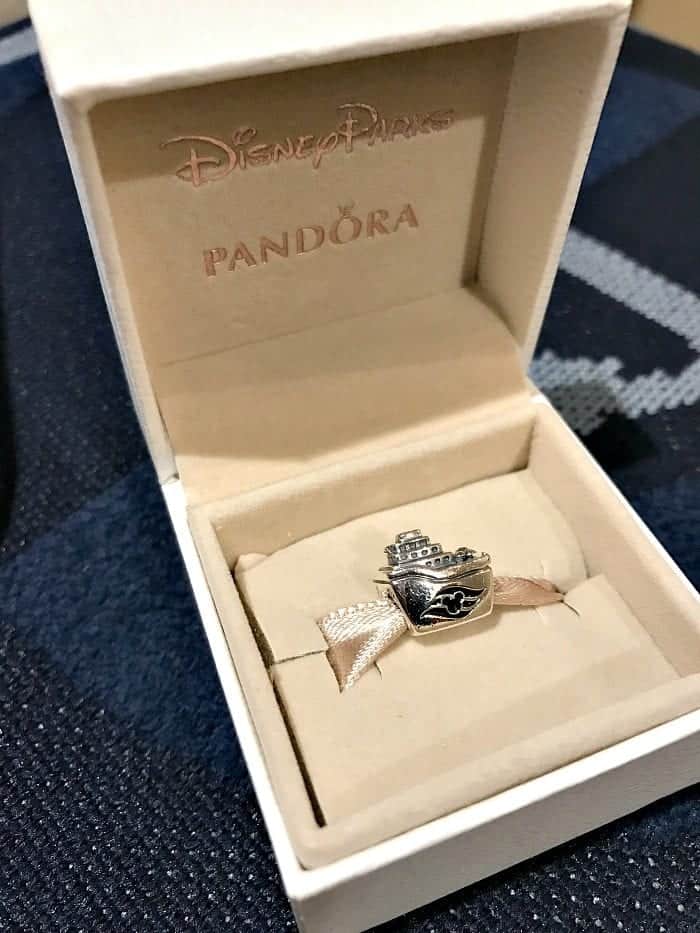 I loved browsing through the gift shops on the ship and Castaway Cay. Lots of fun souvenirs to bring home. I went with a new Pandora Charm for my bangle. Love it!
Go To The Sailing Away Deck Party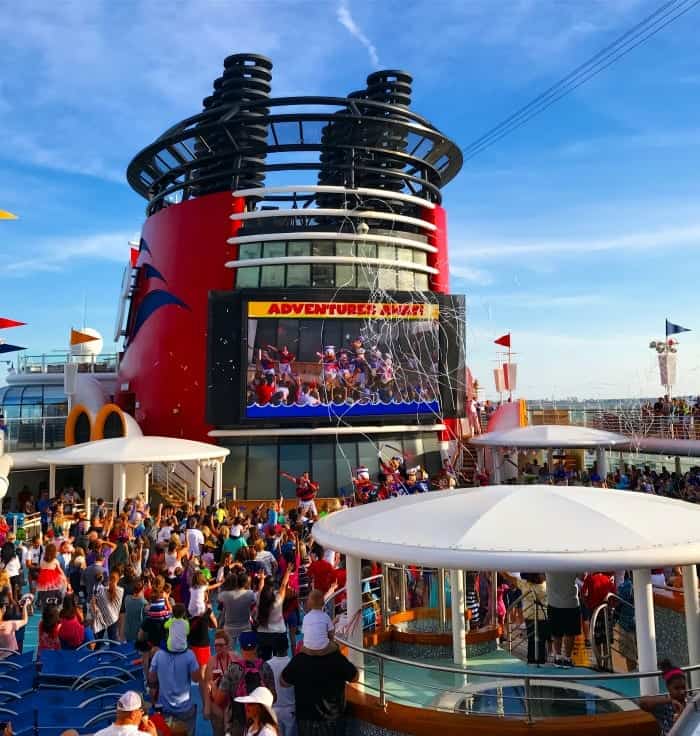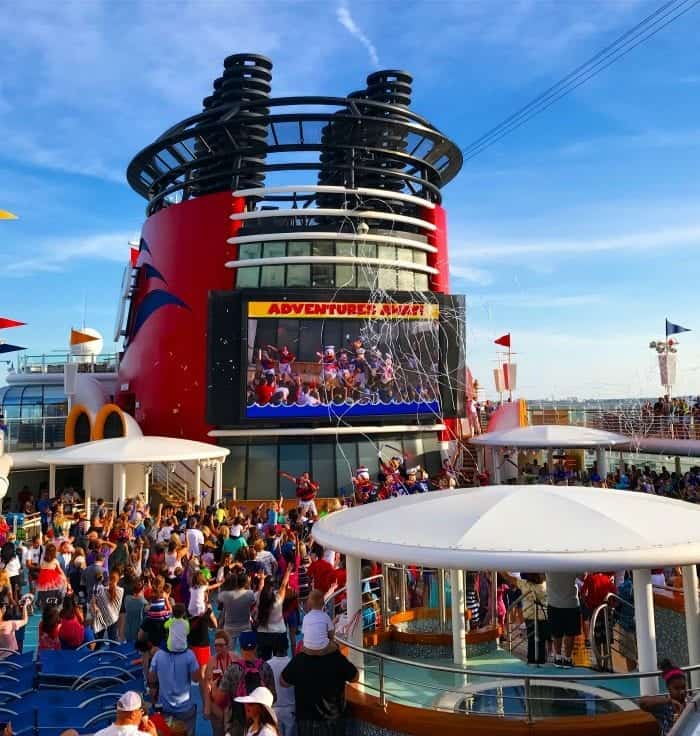 Our cruise set sail about 4pm and they've got the coolest party on the 9th floor deck with music, dancing and all kinds of fun surprises. Worth going to for sure!
Enjoy The Sunsets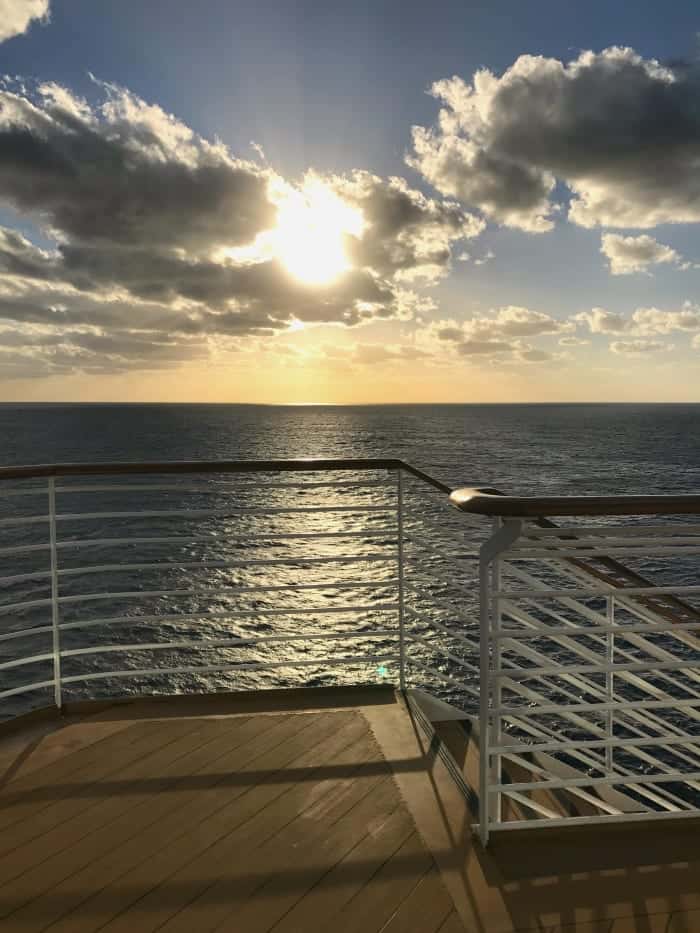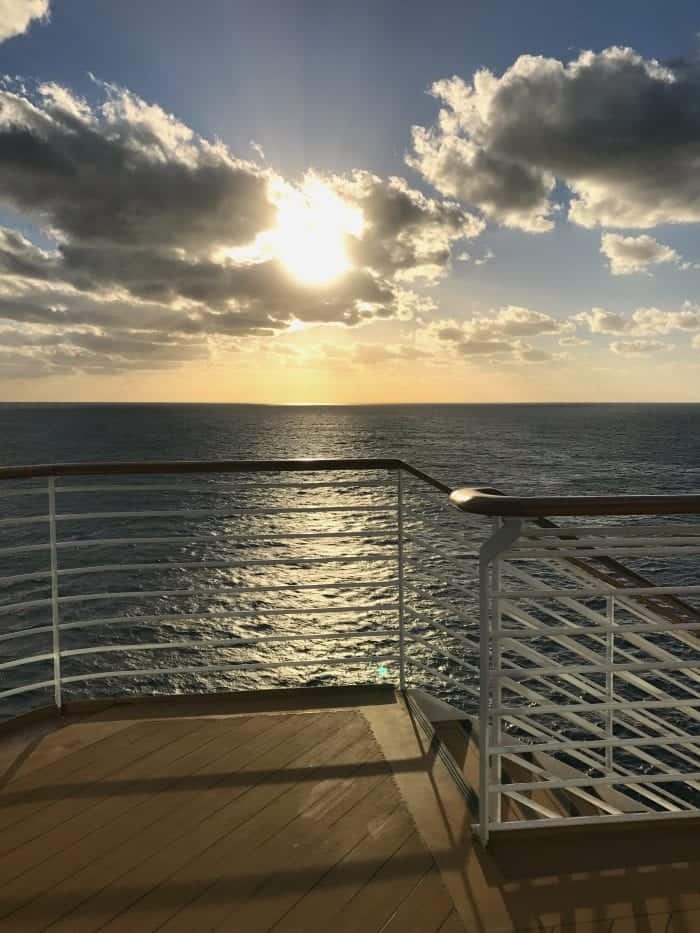 It is absolutely stunning to stroll on the top deck to watch the sun set. I highly recommend taking in these gorgeous views nightly.
Enjoy The Pools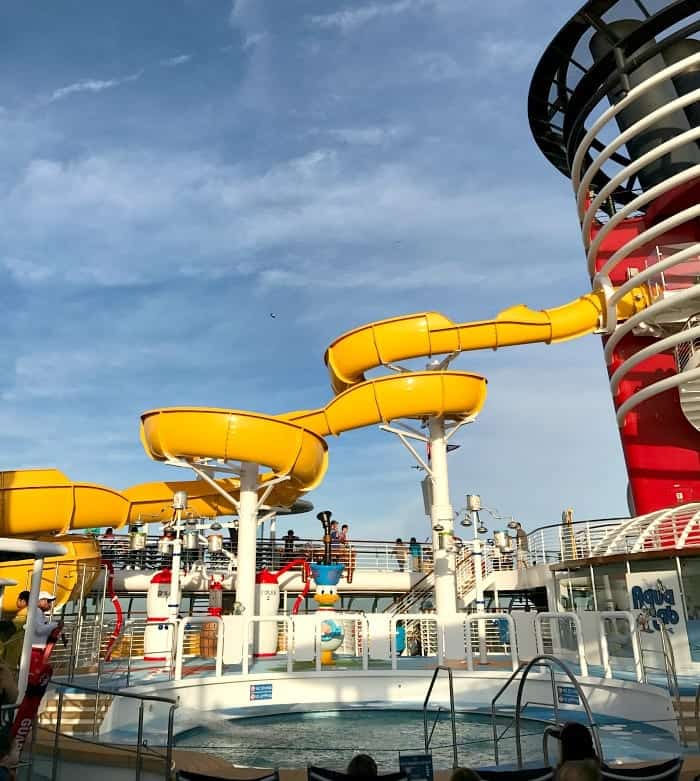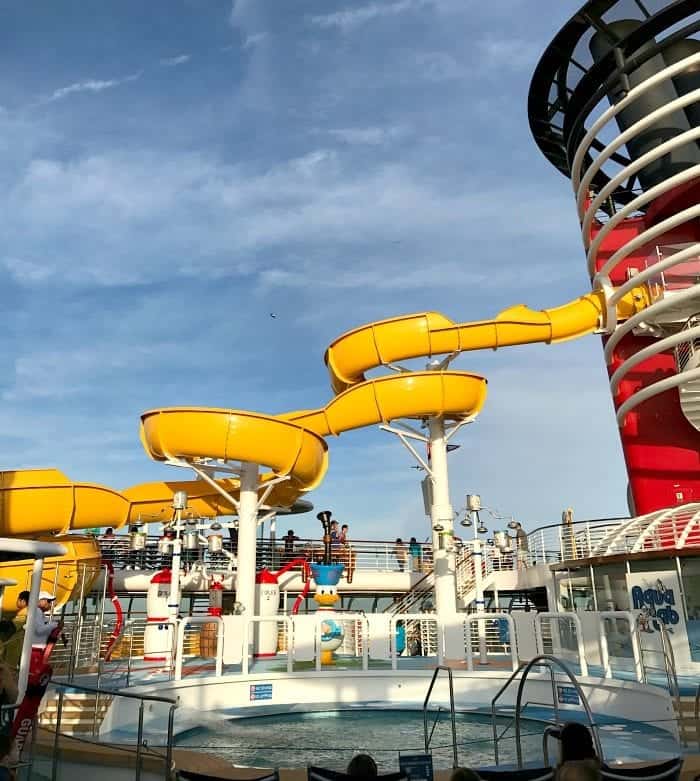 The Disney Wonder has a kids pool area and an adults only pool area. Be sure to check out both!
Eat ALL The Food 🙂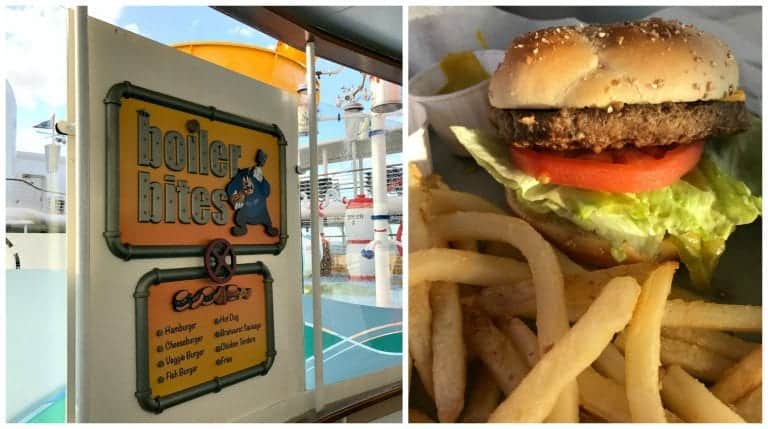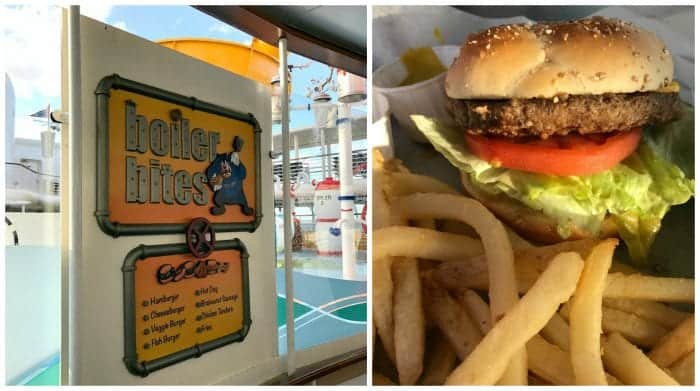 Let's be serious, part of the excitement around taking a cruise is the amount of food you can fit in 24 hours a day, lol! By the pools you've got Boiler Bites where you can get burgers, fish, hot dogs, sausage and some of the BEST french fries. We might have enjoyed a plate of french fries on the daily 🙂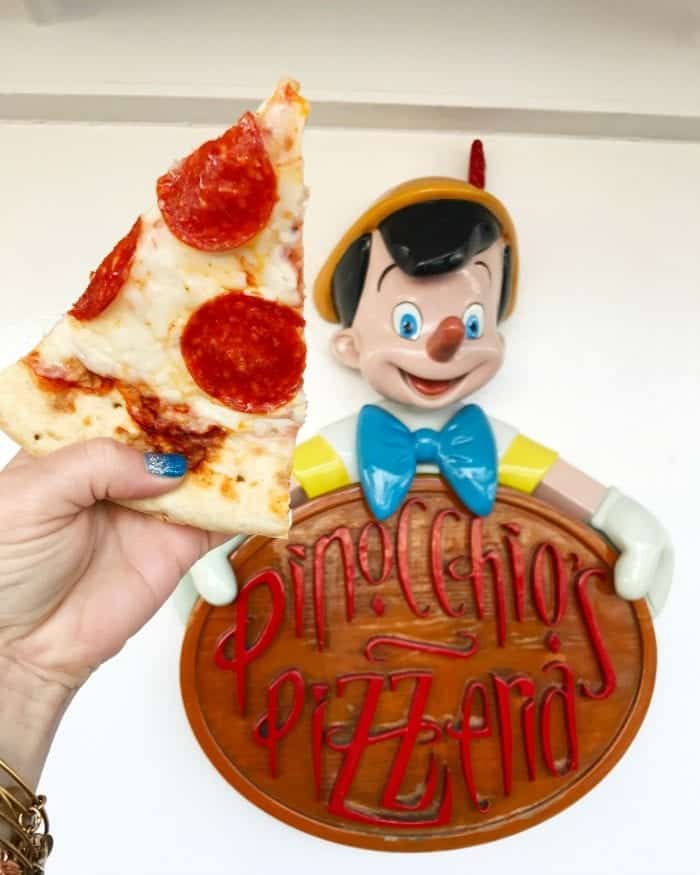 Right around the corner from Boiler Bites is Pinocchio's Pizzaria. Yep, pizza all day isn't a bad thing at all.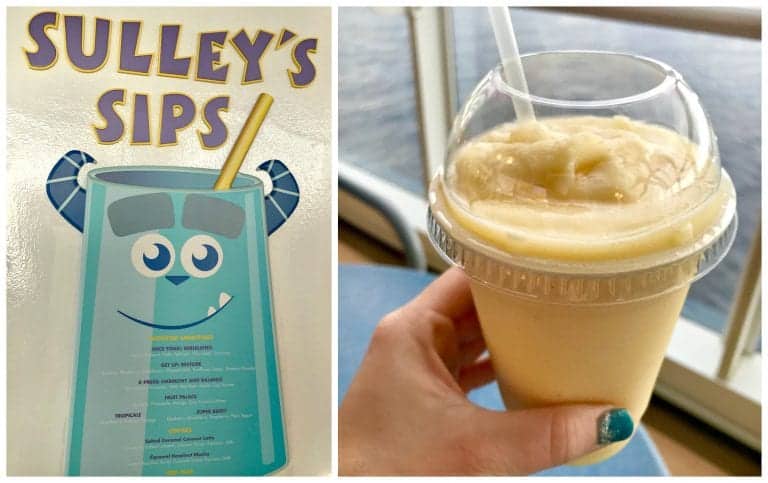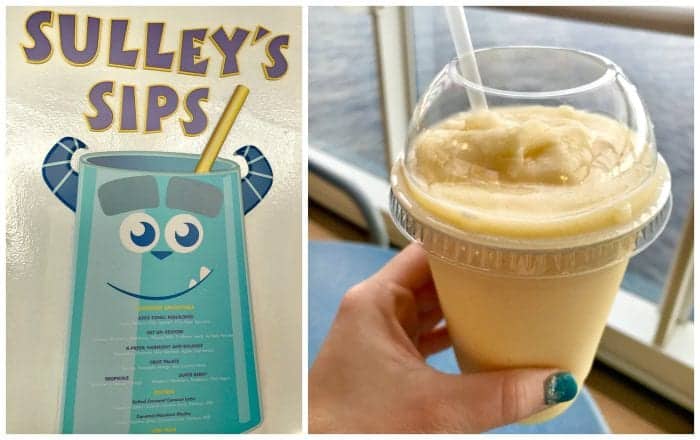 Sulley's Sips right next to the soft serve machine has smoothies for purchase. They were delicious!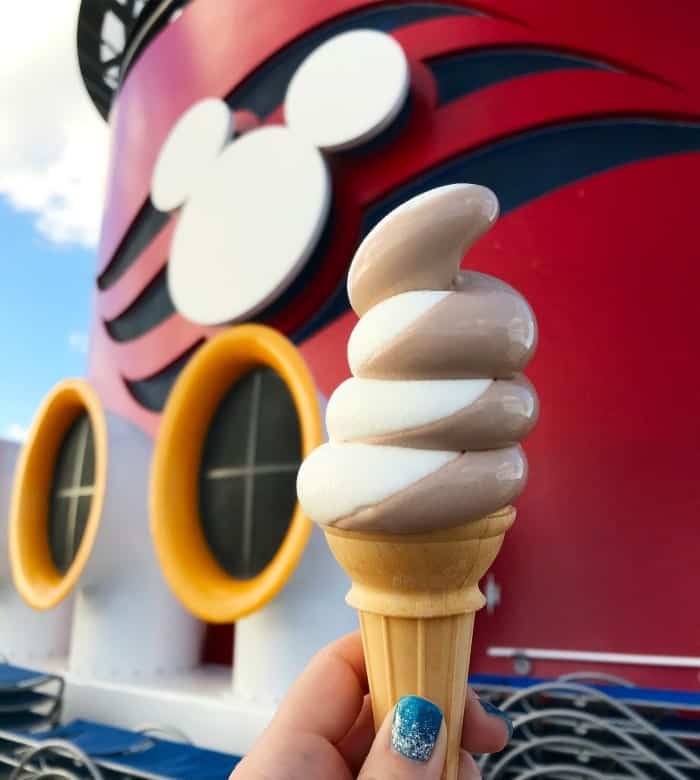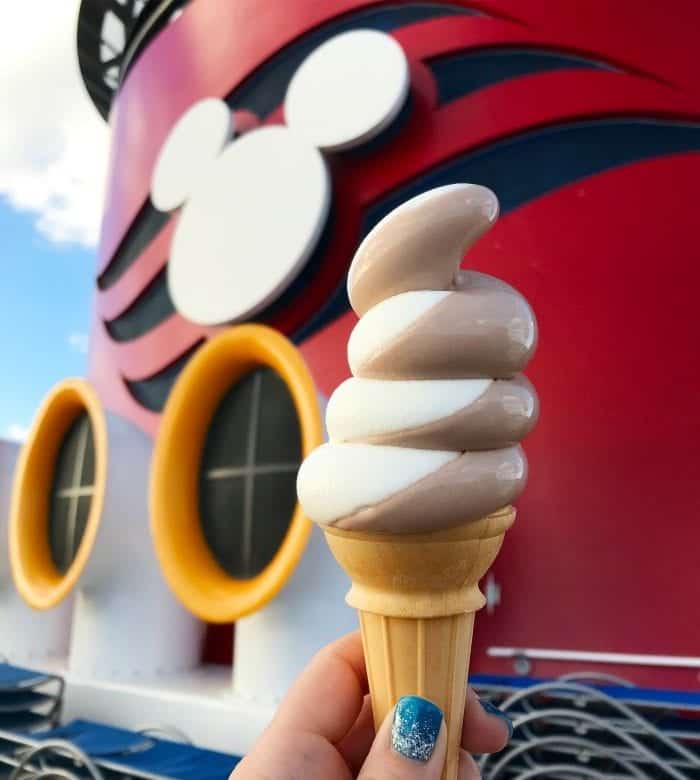 I'm pretty sure if you talk to anyone on the Disney Wonder, they'll say one of the highlights is hands down the soft serve machine for anytime ice cream. I got pretty good at the swirl, ha!
Enjoy Each of the Restaurants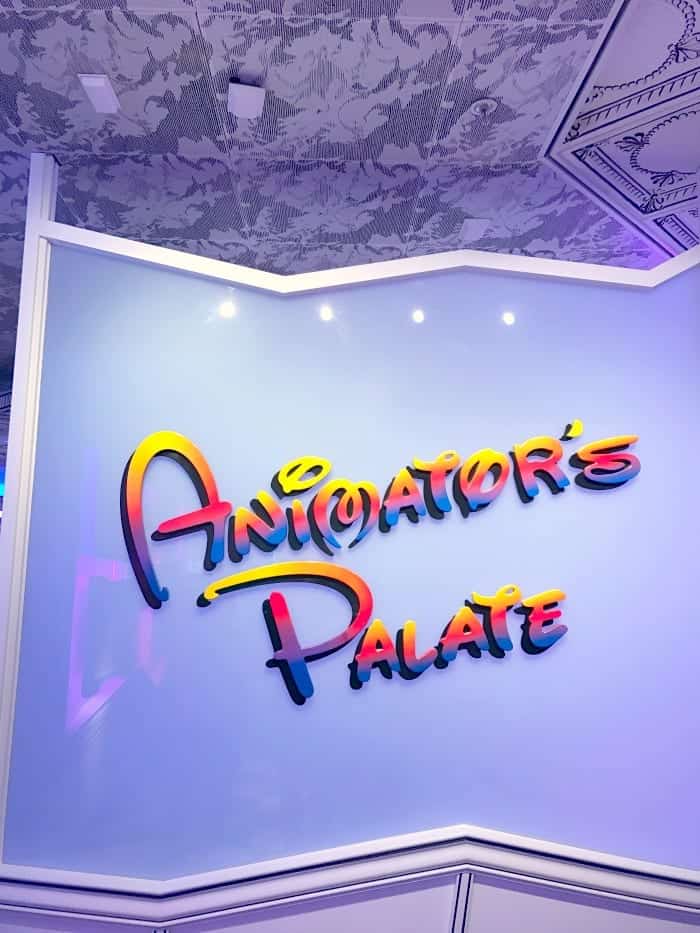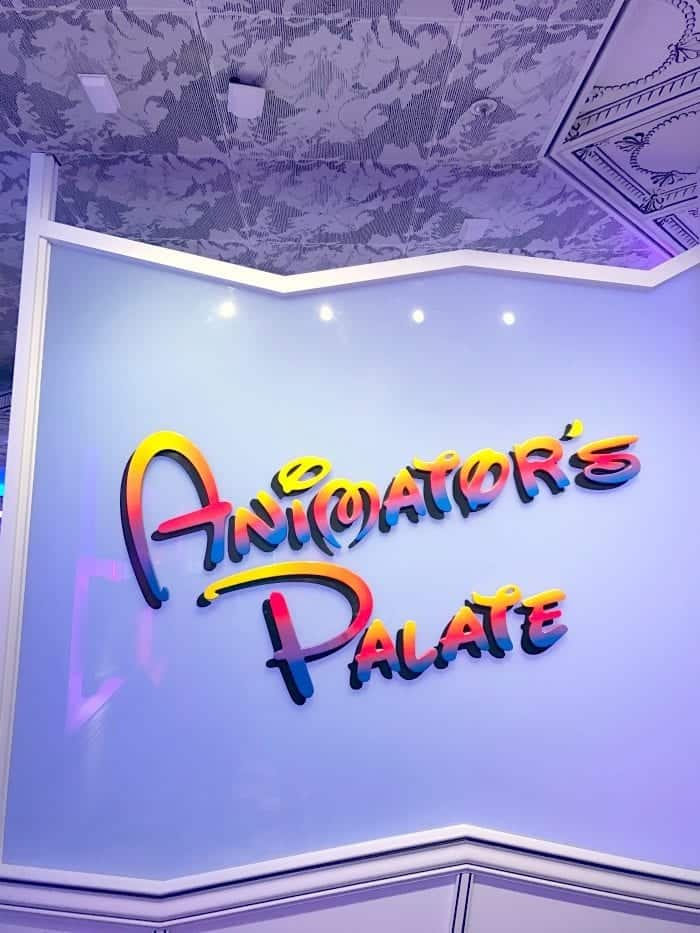 Animator's Palate was an absolute treat. With the interactive picture frames on the walls, you are entertained from the start of your dinner to finish.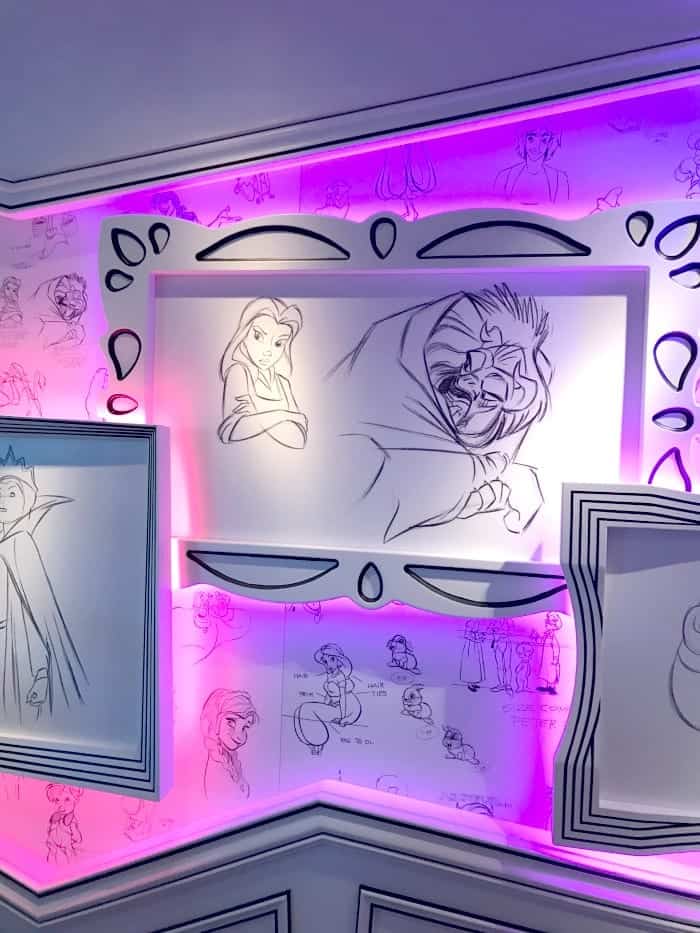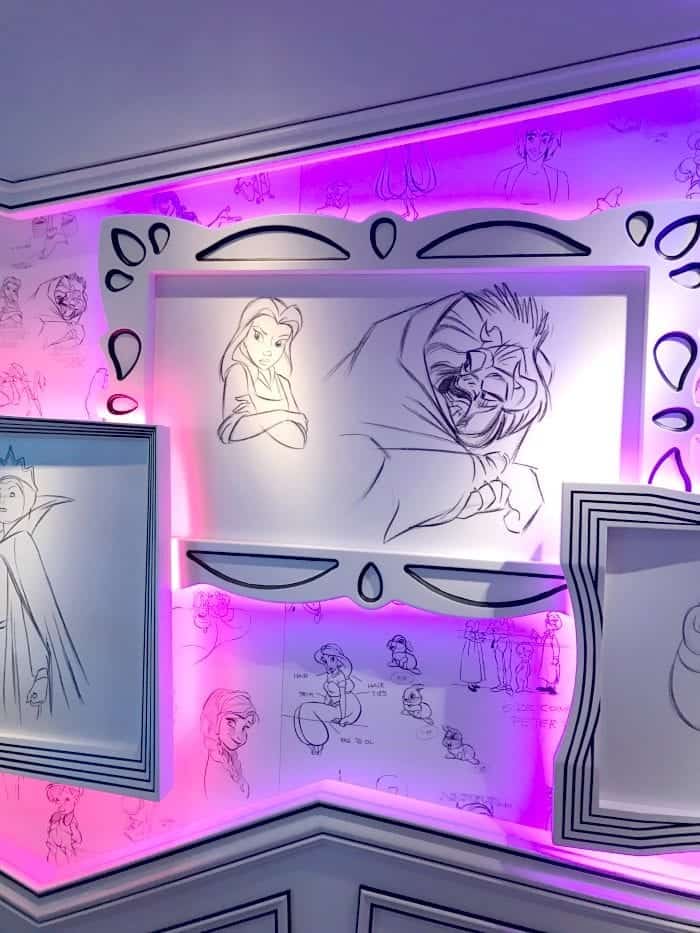 The artwork was so much fun and it changes throughout your dining experience. From black and white to color and still to playing movie scenes. Loved it!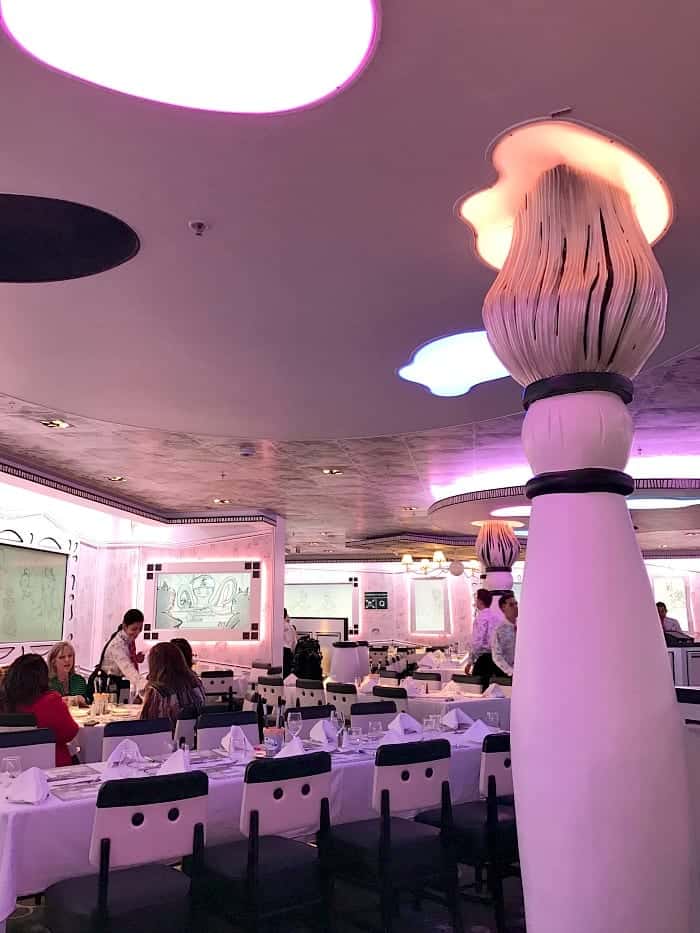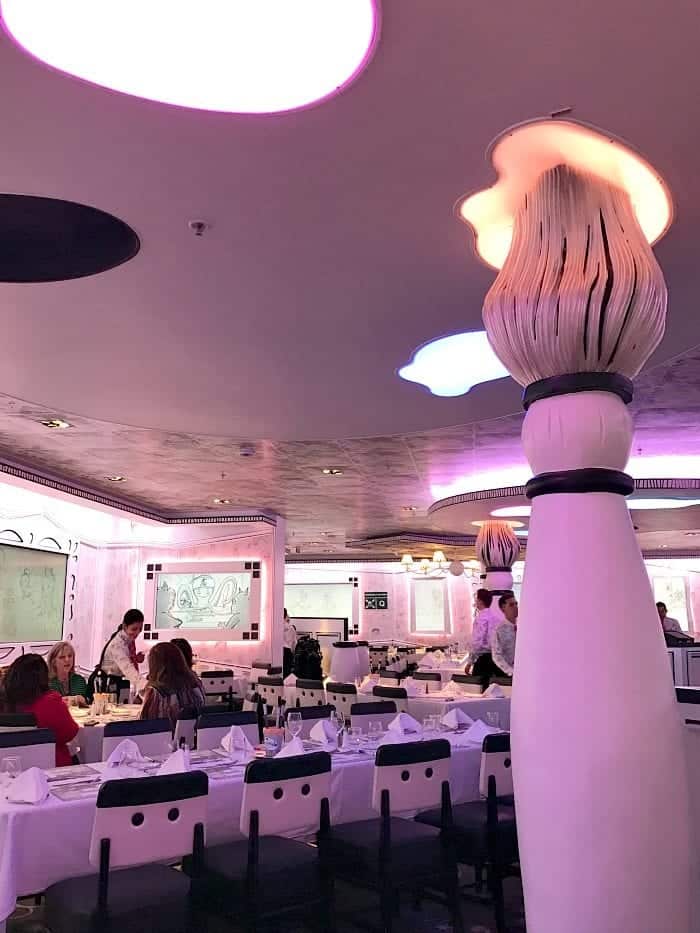 A little shot of the inside.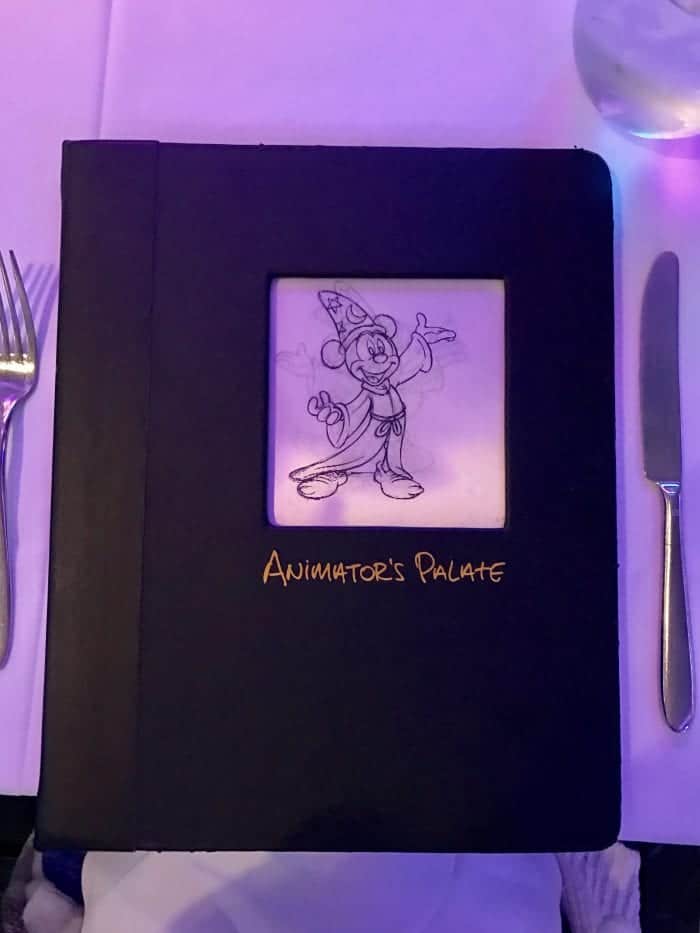 Even the menu was the coolest. The Mickey sketch changed as you moved the menu.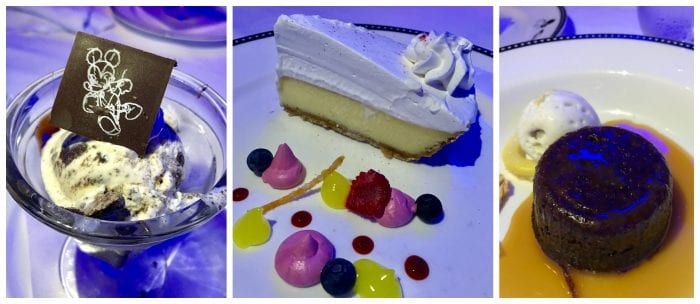 Somehow I only took pictures of the desserts our table shared, lol! The entire dinner was fantastic.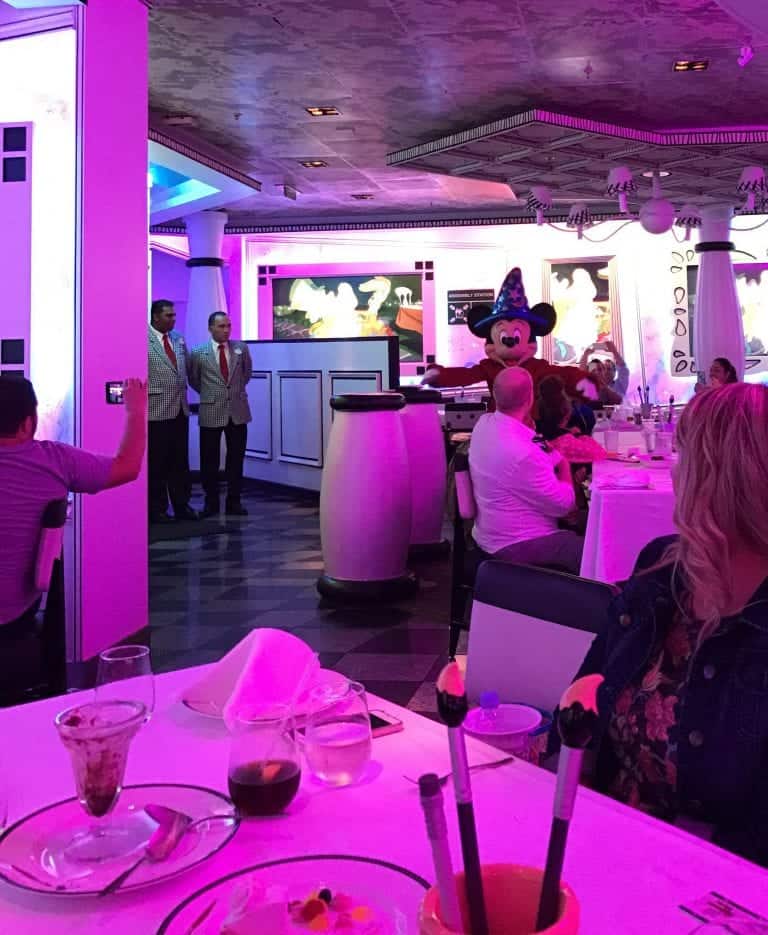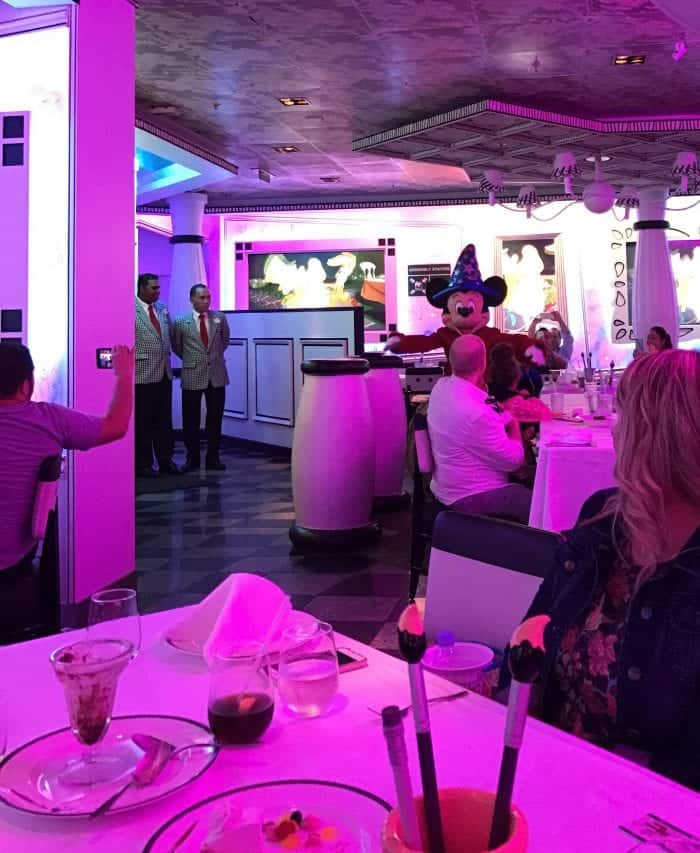 Mickey even makes a special visit at the end of dinner.
Get To Know Your Dinner Servers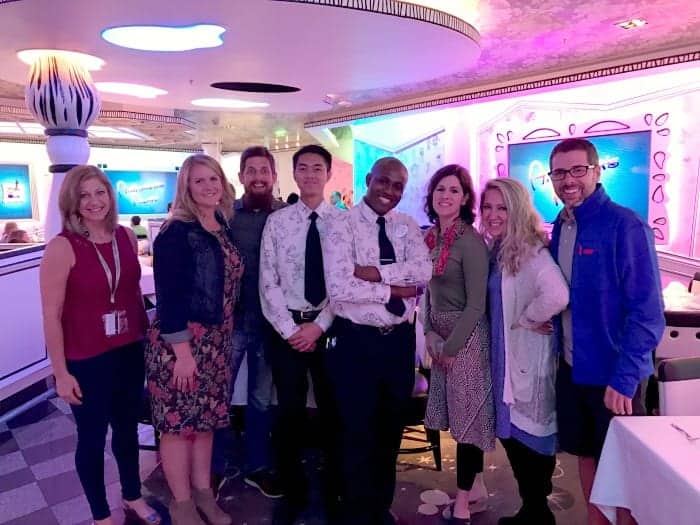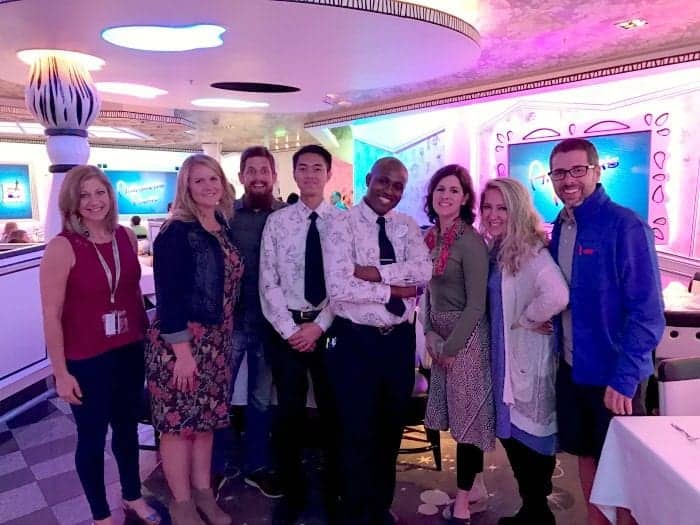 We had the coolest dinner servers, Anthony and James. I love that your same servers stay with you each night even when you switch restaurants.
Tiana's Place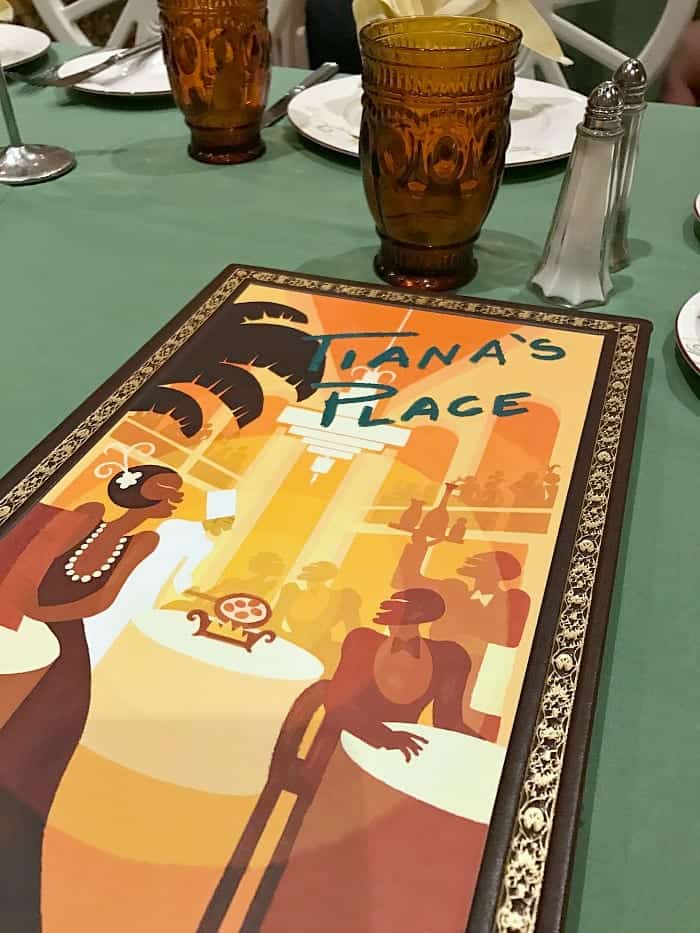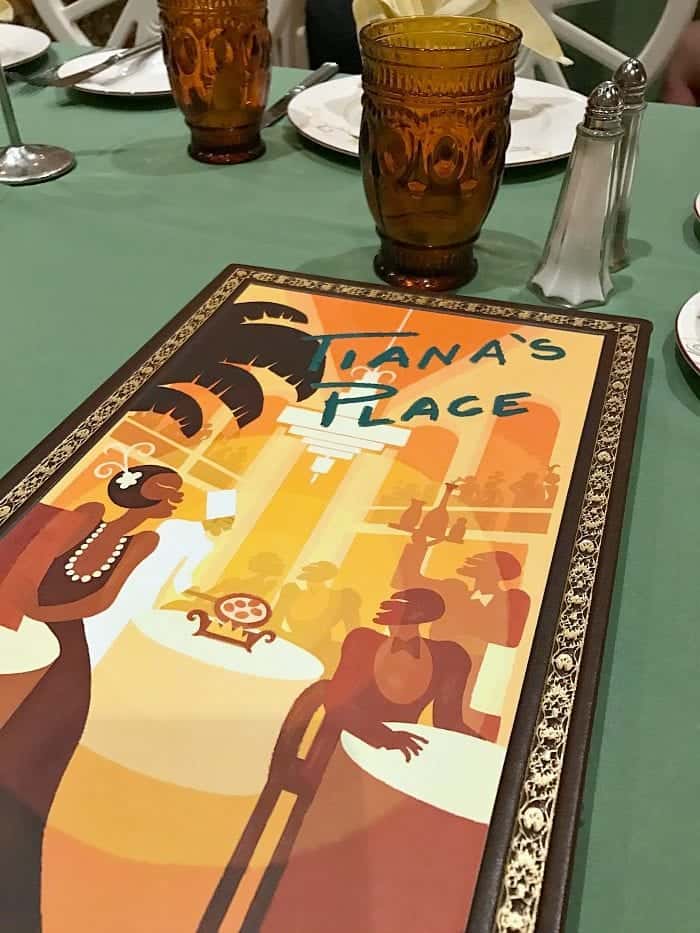 Tiana's Place was a party from start to finish. The music, the food, the beignets…it was all very memorable.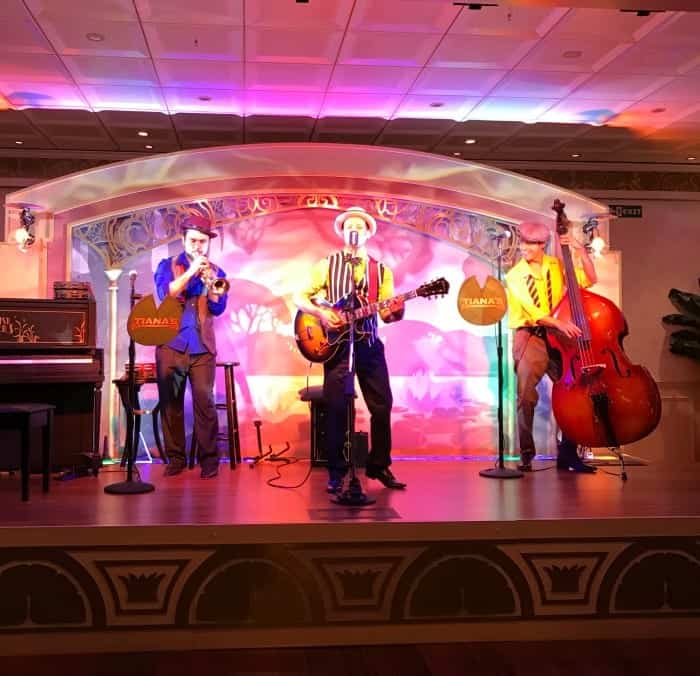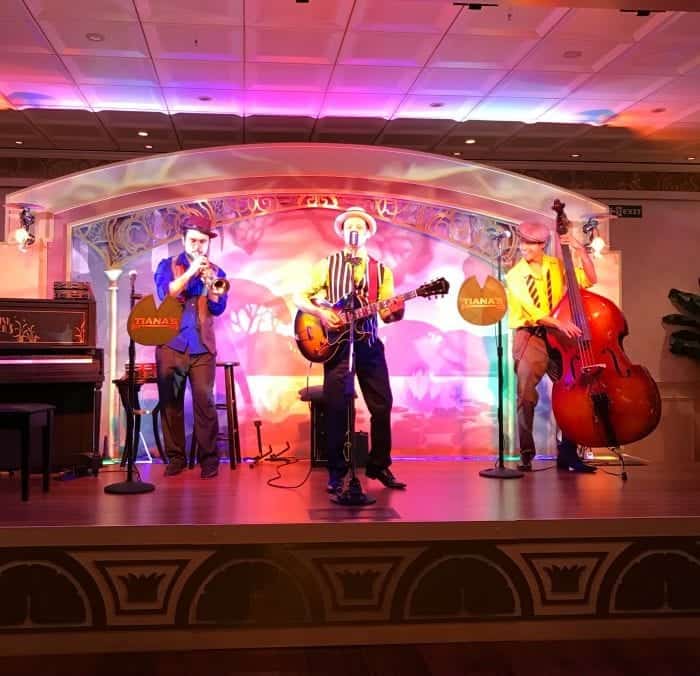 There's a live band playing and even live entertainment throughout the night.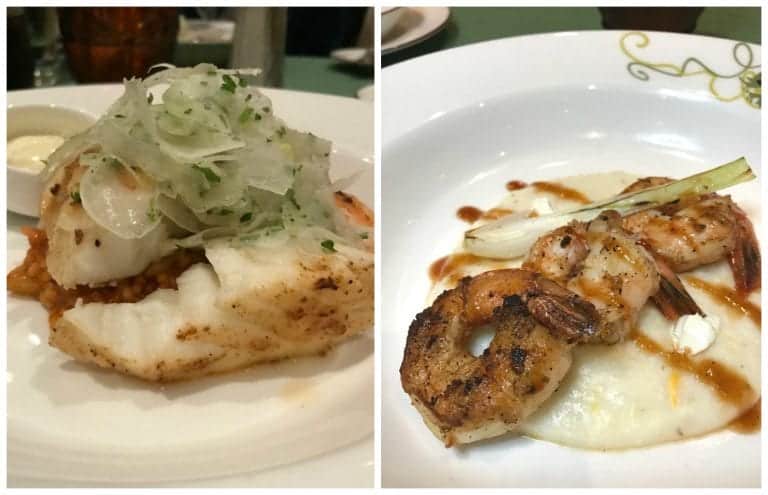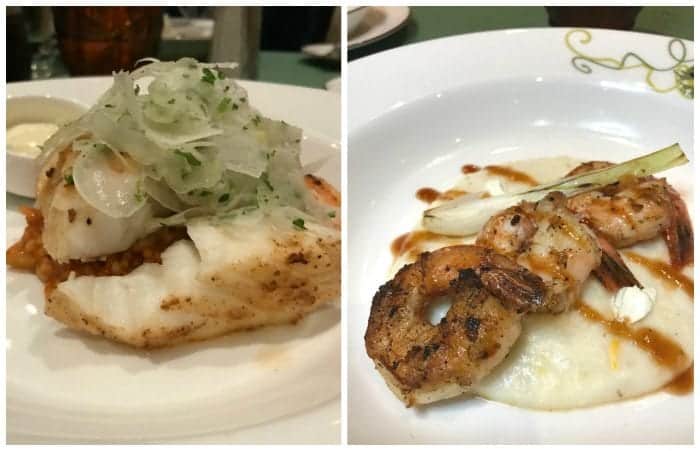 The food was spot on. I had no idea what to expect regarding cruise cuisine, however we were pleasantly surprised at how delicious each and every restaurant was and how much detail went into every plate.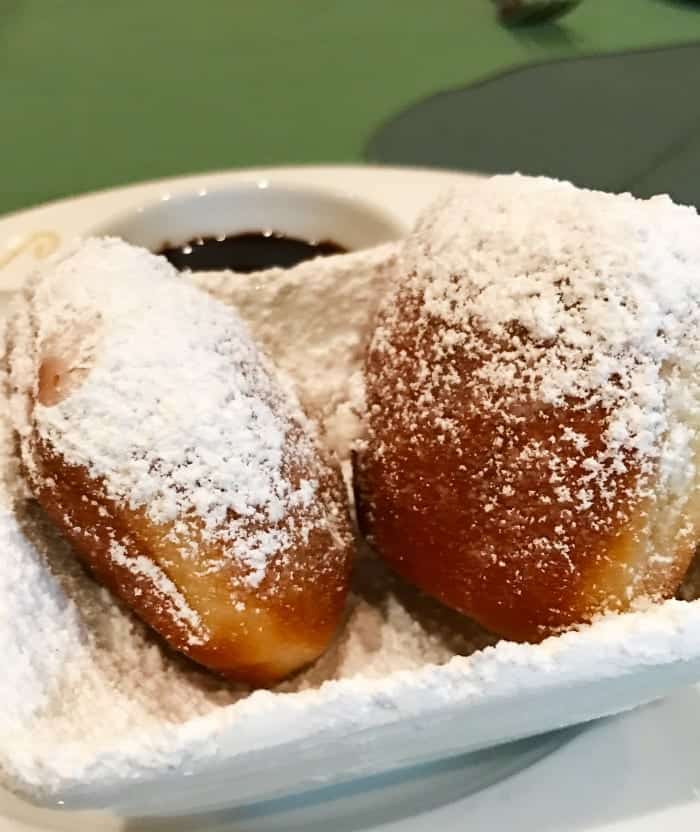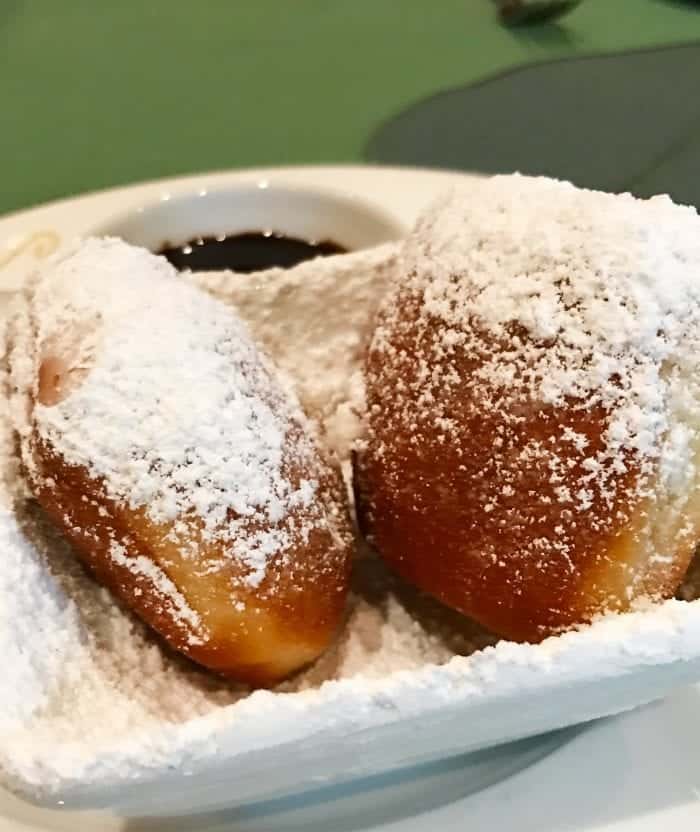 Tiana's Place had beignets we all still dream about. Hot, soft and sweet.
Tritons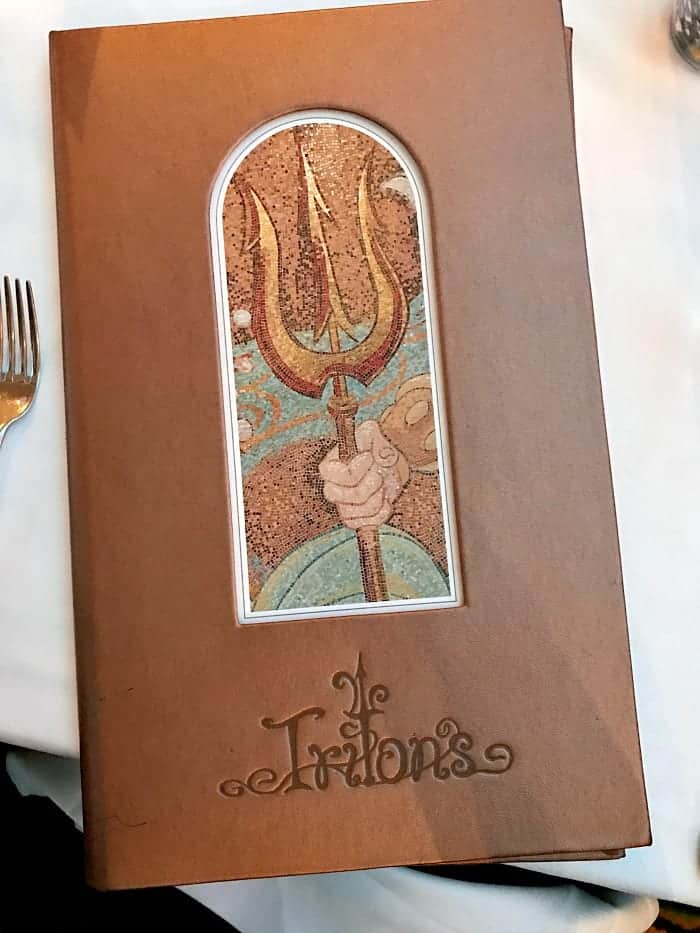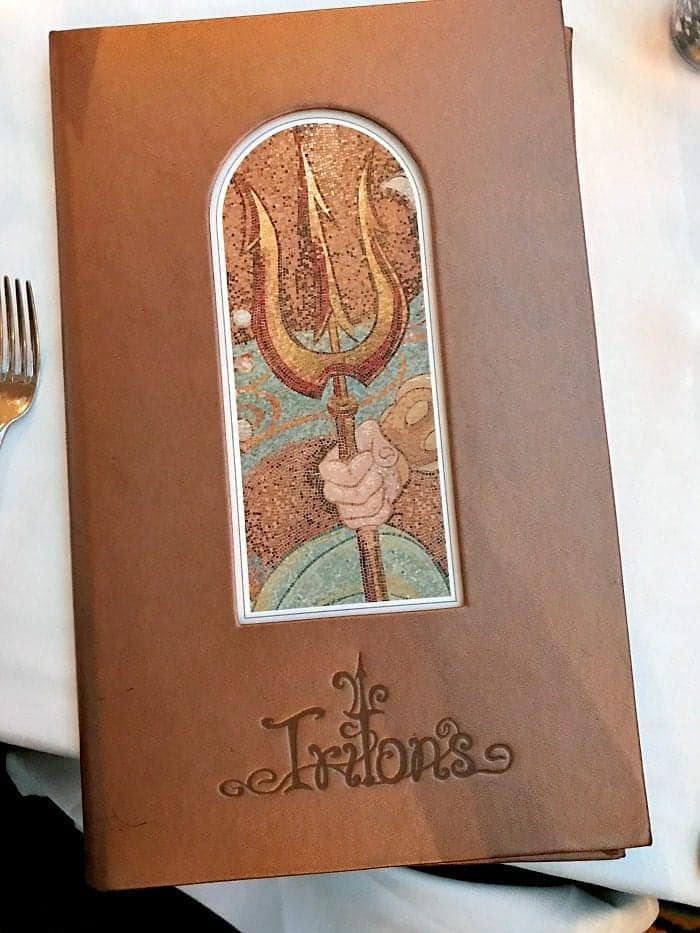 Our third night we dined at Tritons. It was an adorable Little Mermaid themed restaurant and had all kinds of deliciousness going on!
Enjoy The Broadway-like Shows Each Night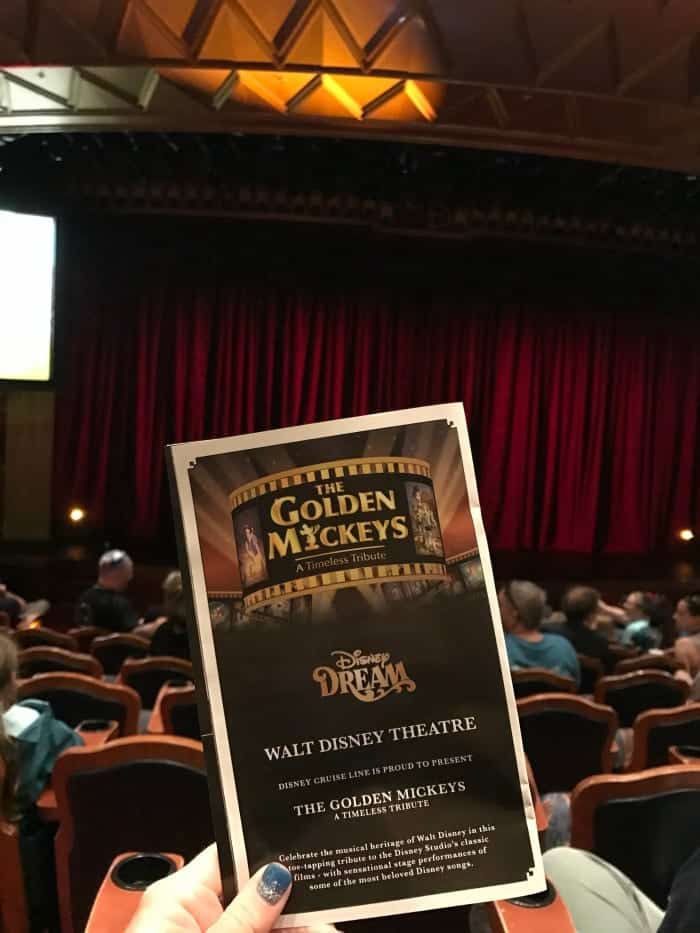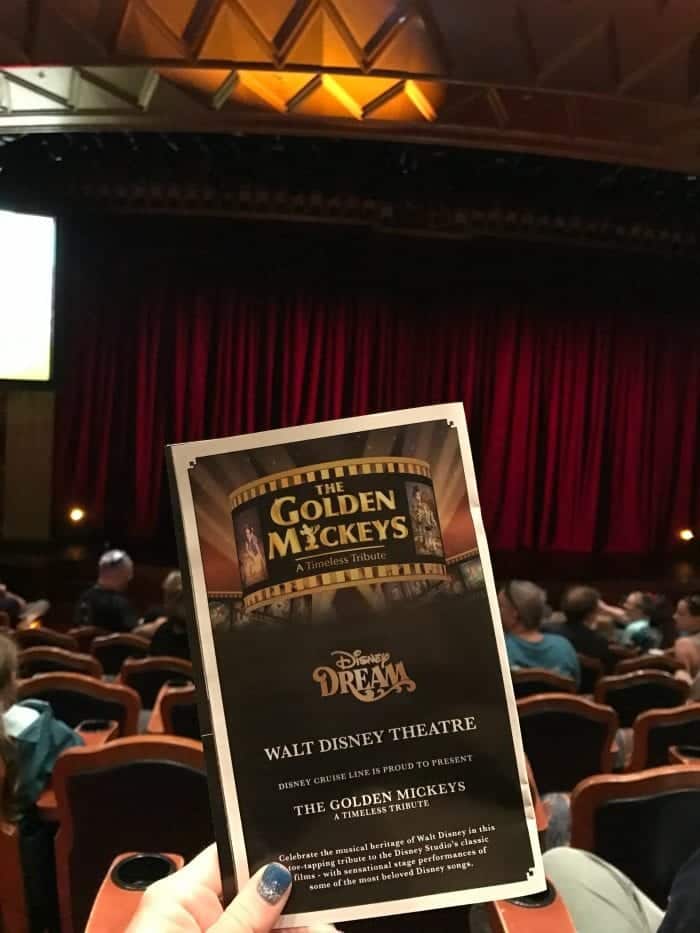 I'm a sucker for Broadway shows, so I knew we'd be checking out each show available on the ship. The first night we saw The Golden Mickeys.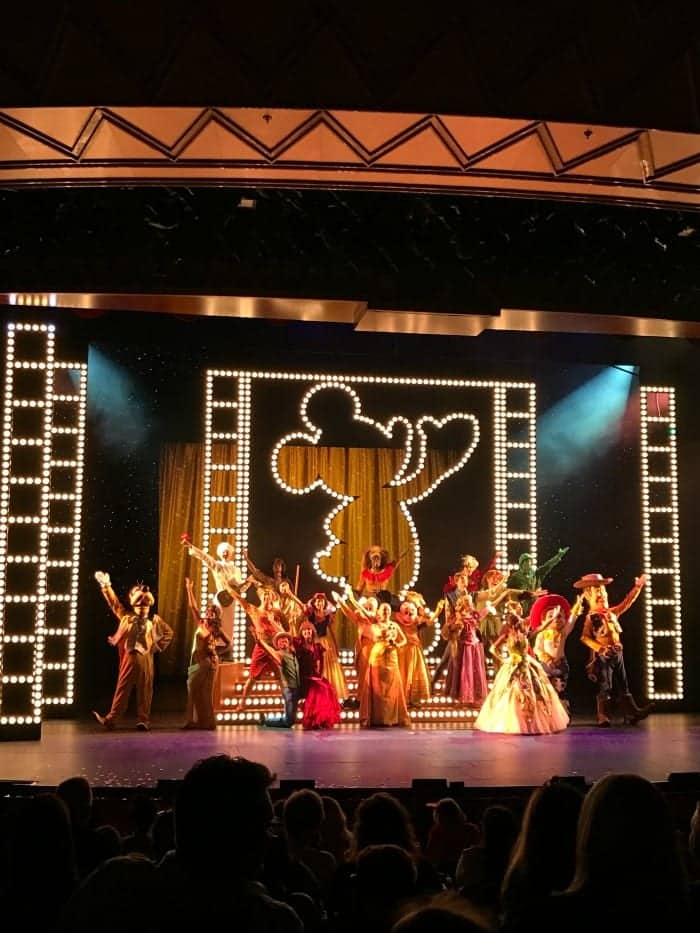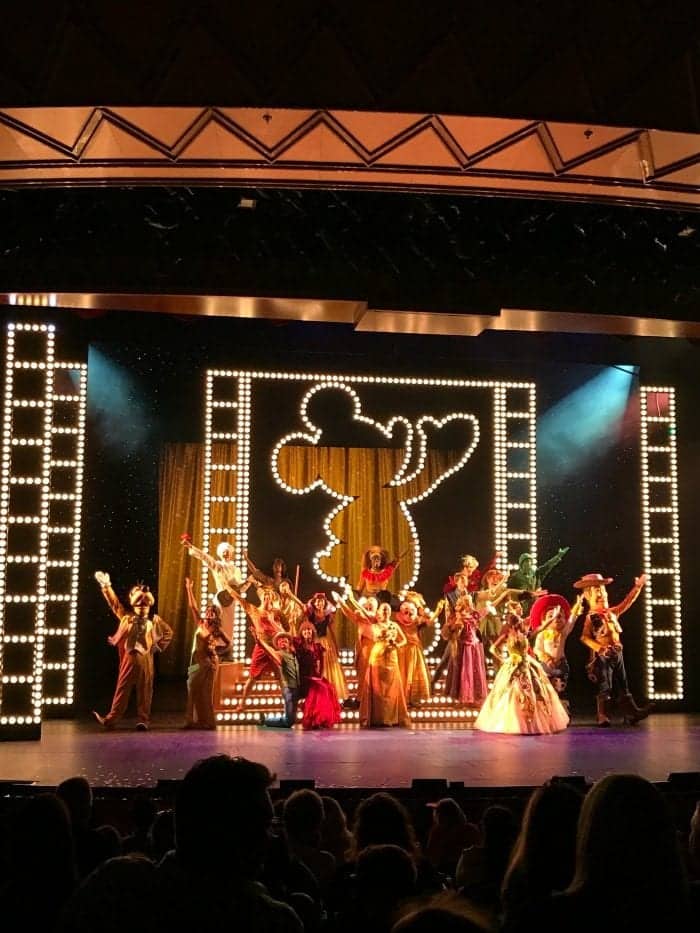 The costumes, the actors, the music…it was all really entertaining. Loved it.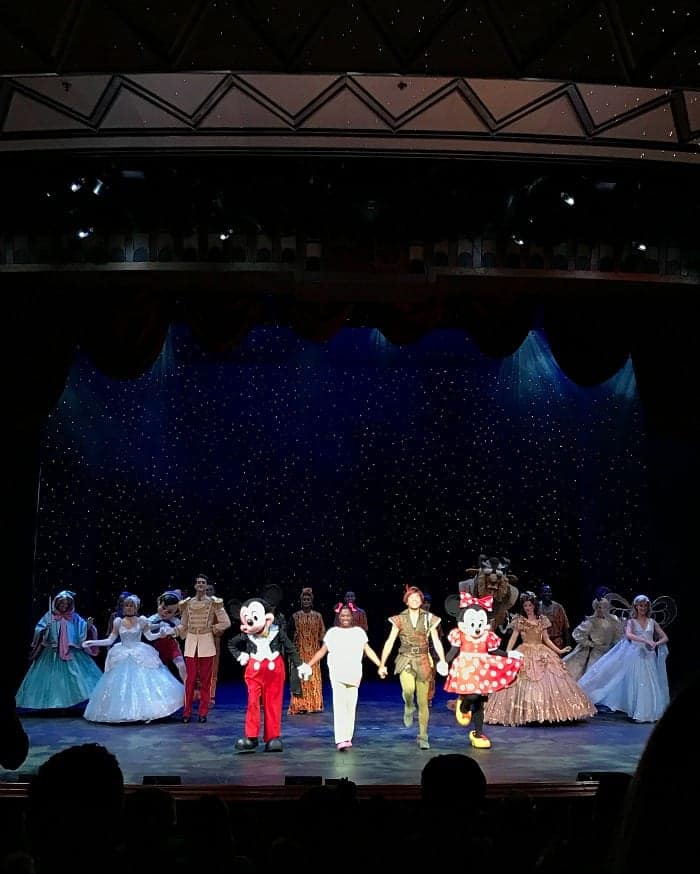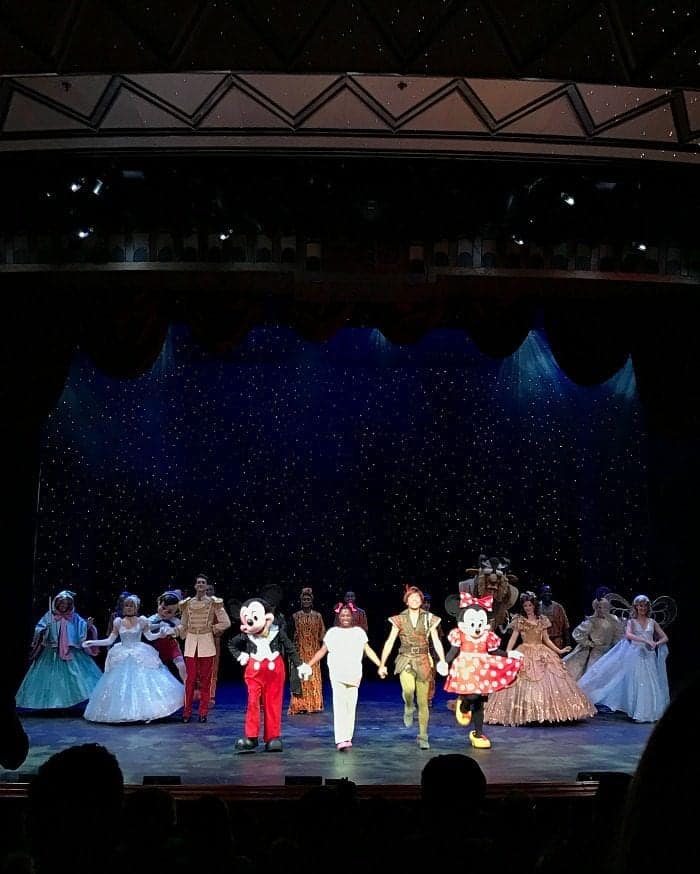 Night two we saw Disney Dream. Loved this one just as much as the first. Such a sweet story.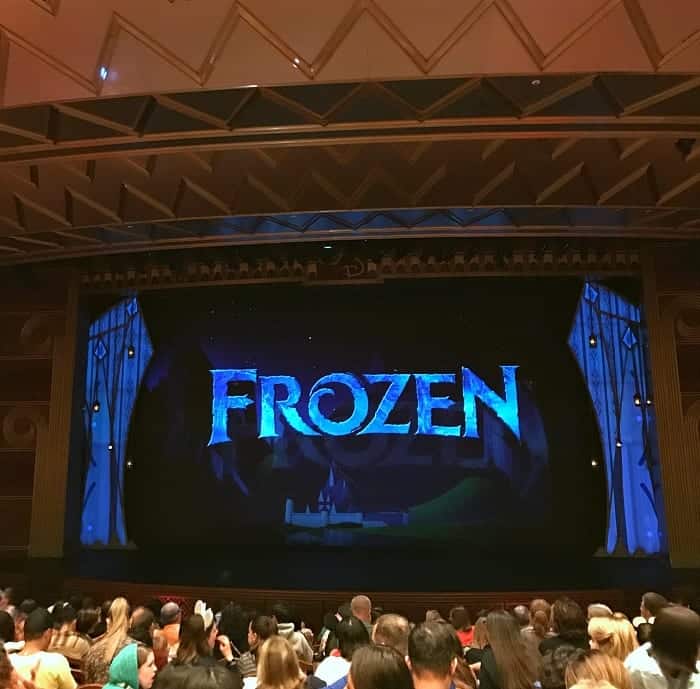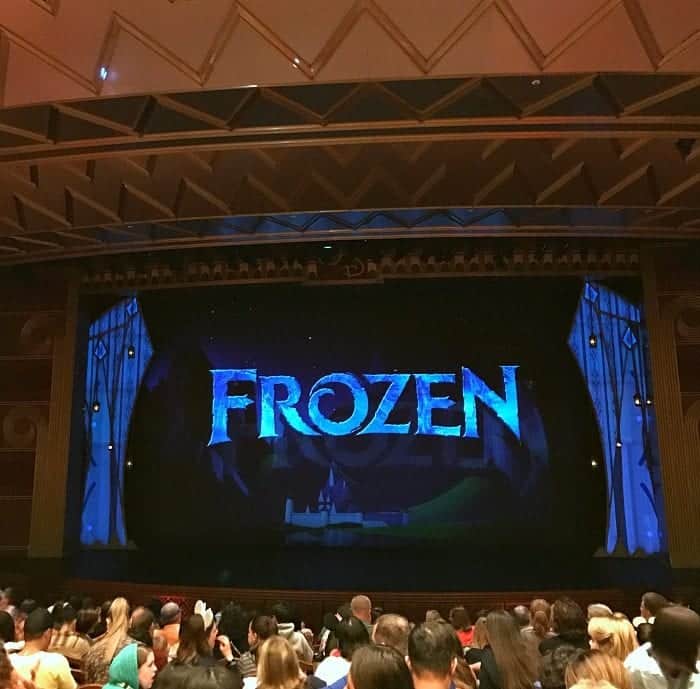 Our last night on the ship we saw their newest show "Frozen."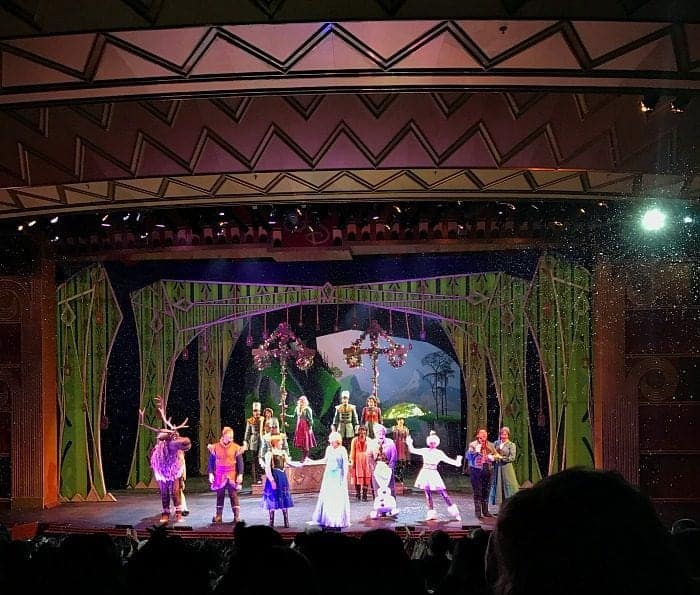 I'm telling you, I thought I was watching a real Broadway Show. From the costumes to the set and special effects it was all such a fun experience.
Go To The Pirate Party!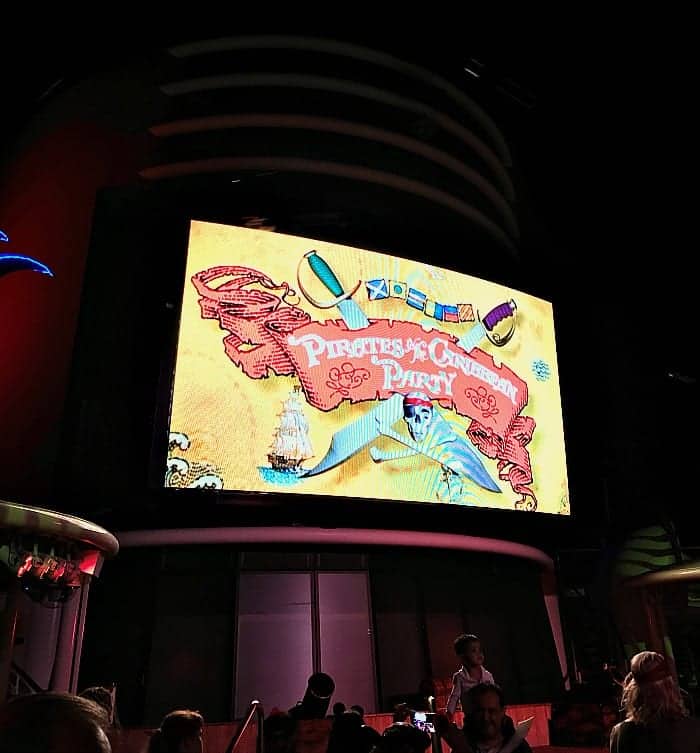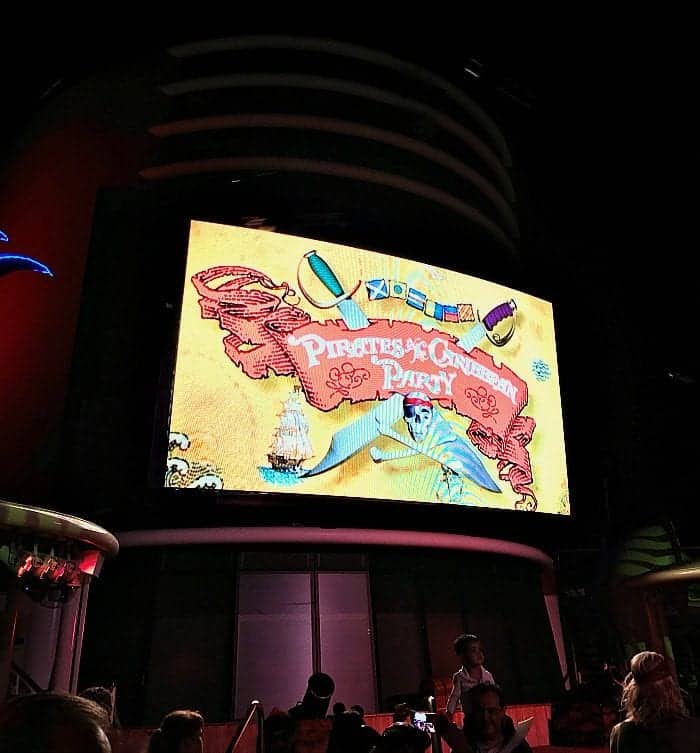 Friday night on the ship, they have a Pirate Party and invite guests to dress up in their best Pirate costumes. While my husband and I passed on the costumes, we had an absolute blast at this party.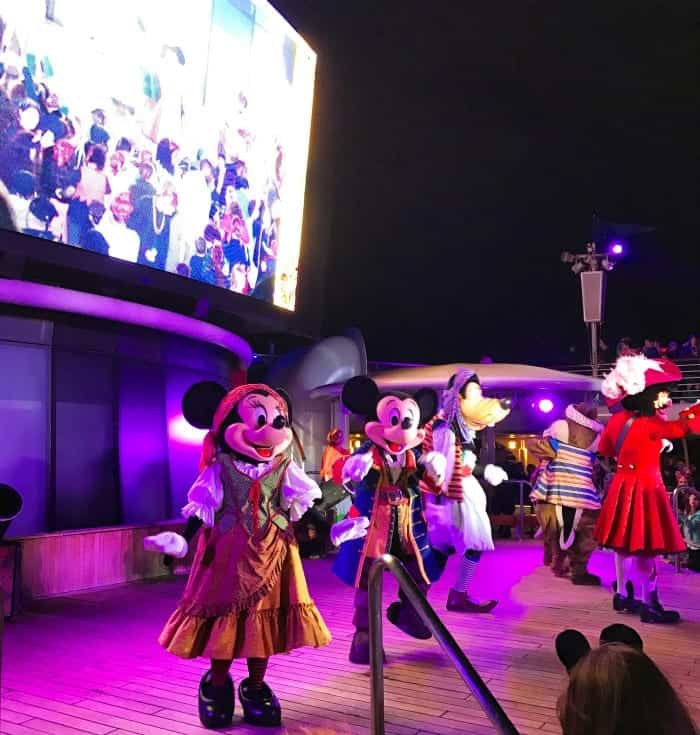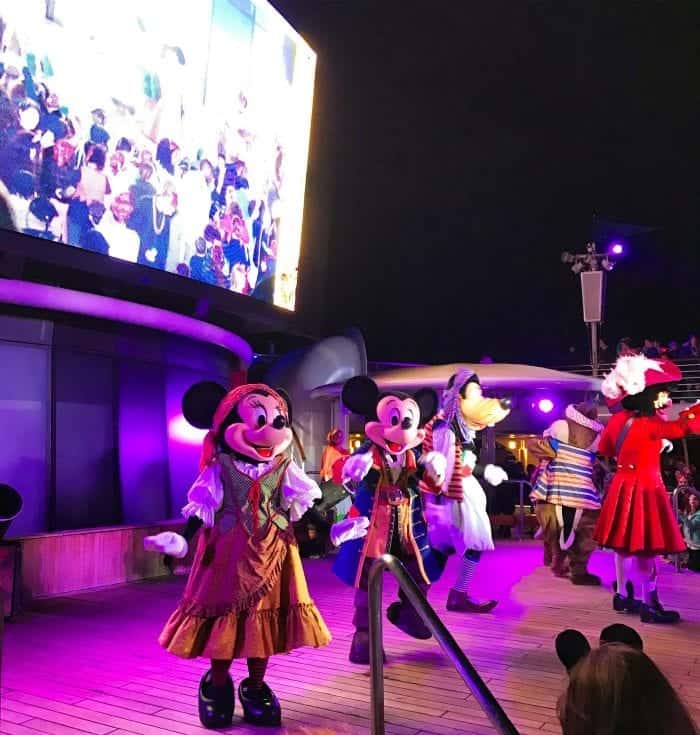 Mickey, Minnie and Friends join the stage in their Pirate Costumes for a little dancing number. This was a great night.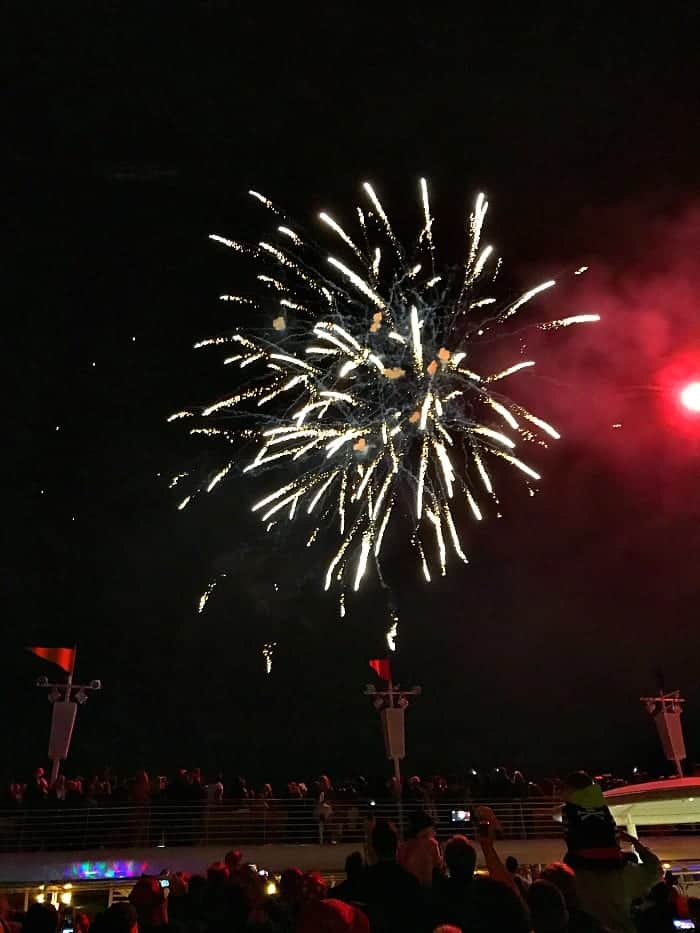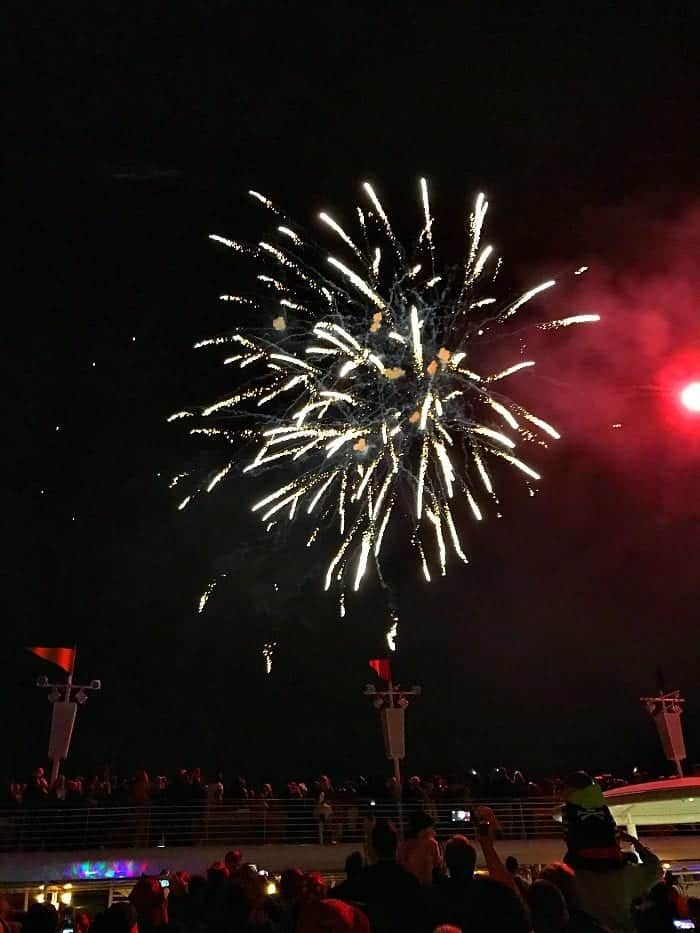 There's even a firework show during the Pirate Party. Loved this.
Explore Castaway Cay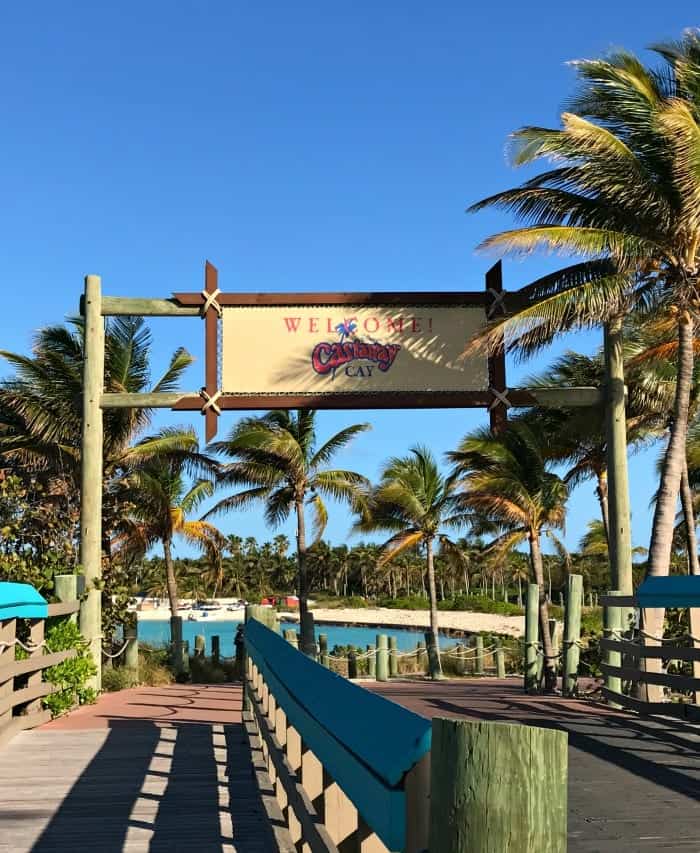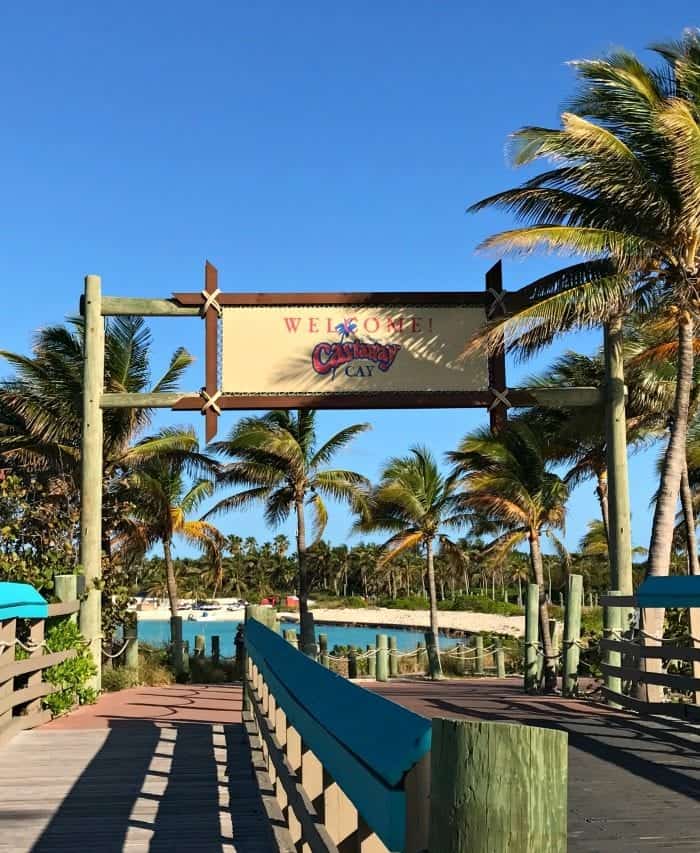 On day 3 we arrived at Disney's Private Island, Castaway Cay. There's so much to do and see, it's nice if you come prepared as to what you want to do. The day before you'll get a detailed list of excursions for purchase to choose from should you choose to go that route. There are plenty of families who choose to just lounge on the beach and enjoy the sunshine. Whatever you feel like doing, it's likely you'll find it.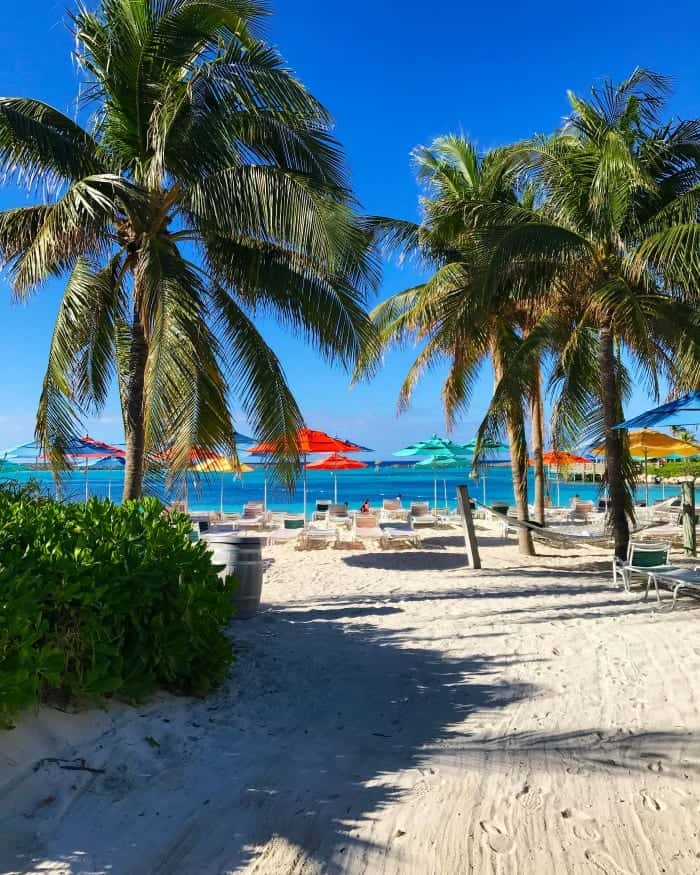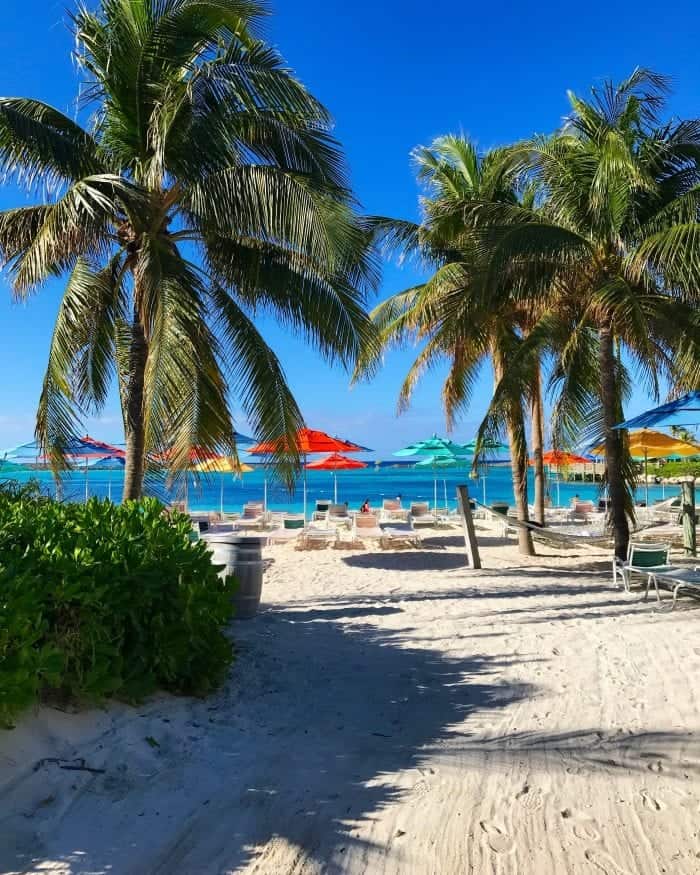 For a full tour of Castaway Cay, see my post HERE. Lots of pictures and information to share.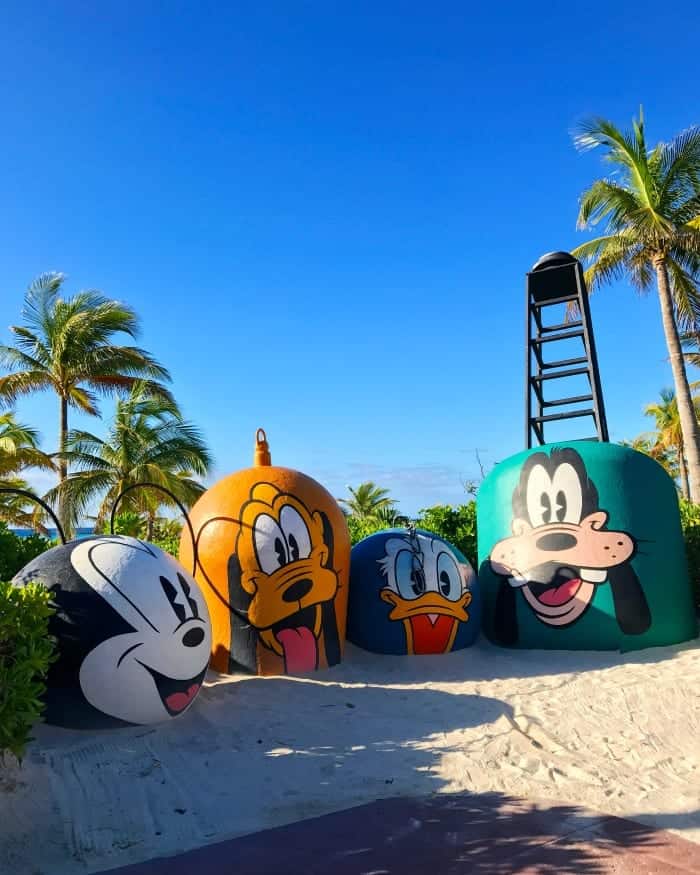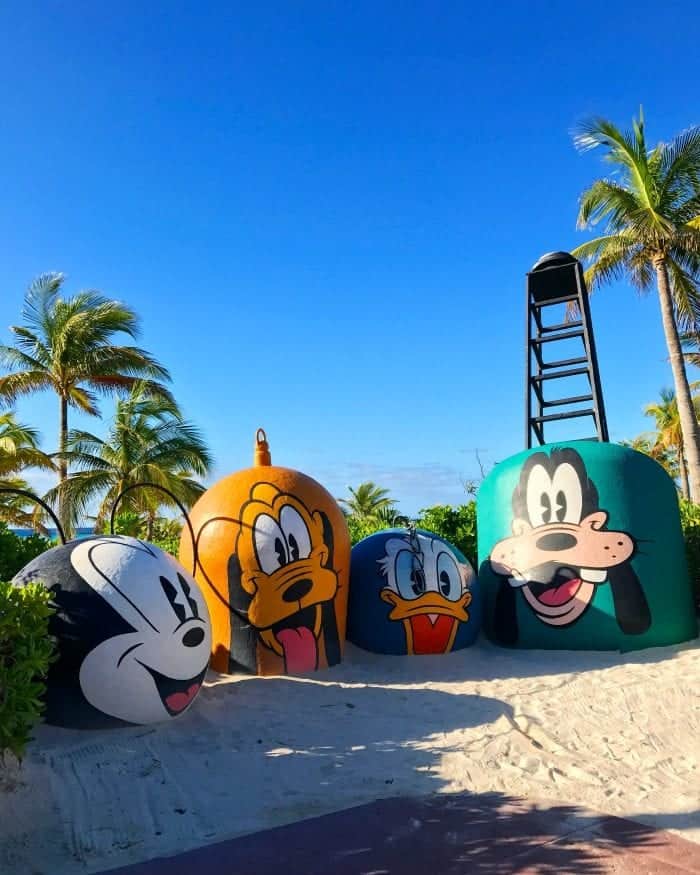 Let's just say this island was my favorite.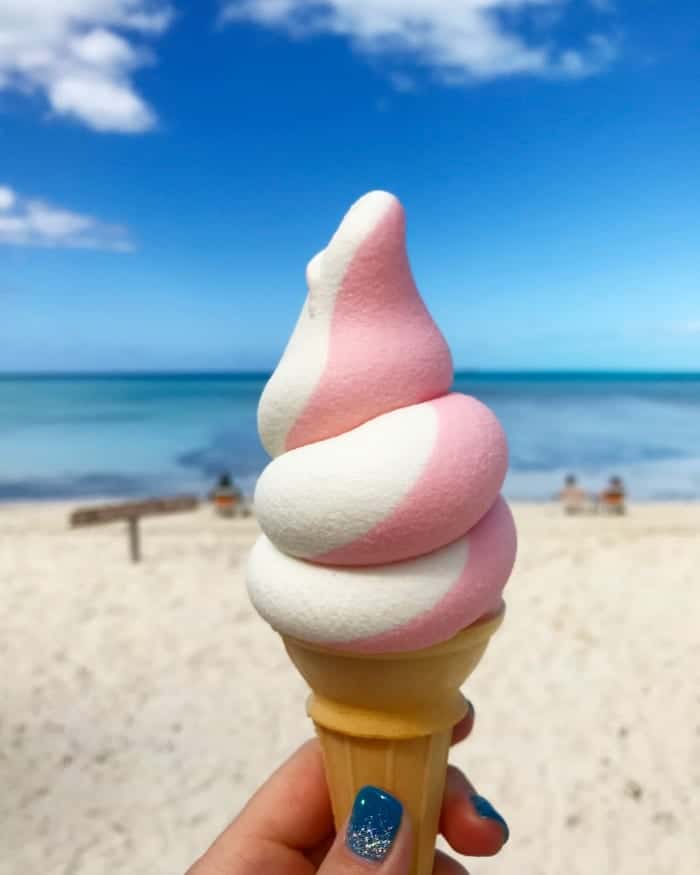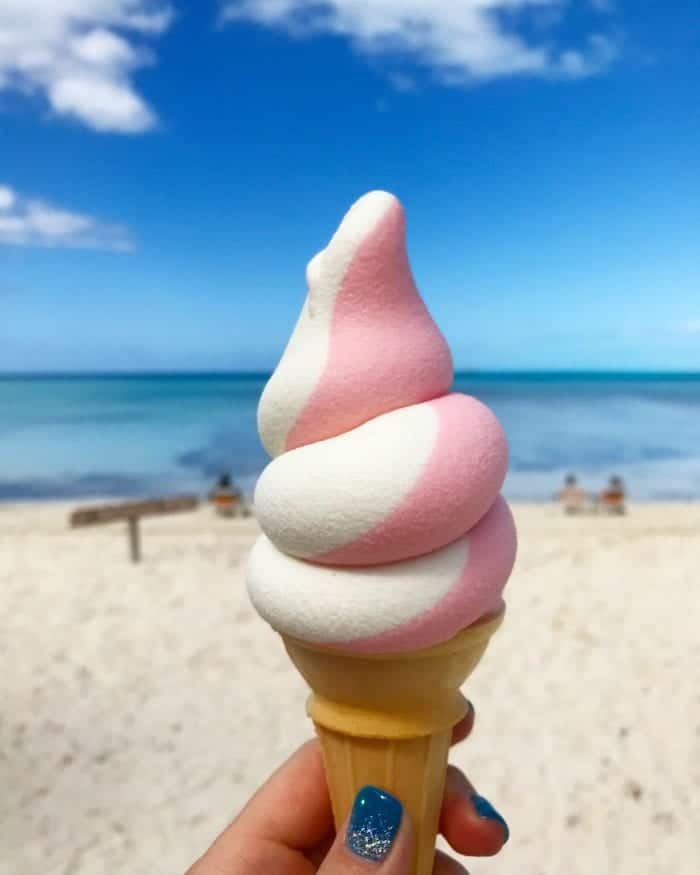 ….and there was ice cream on the island as well 🙂
The Goodbye Party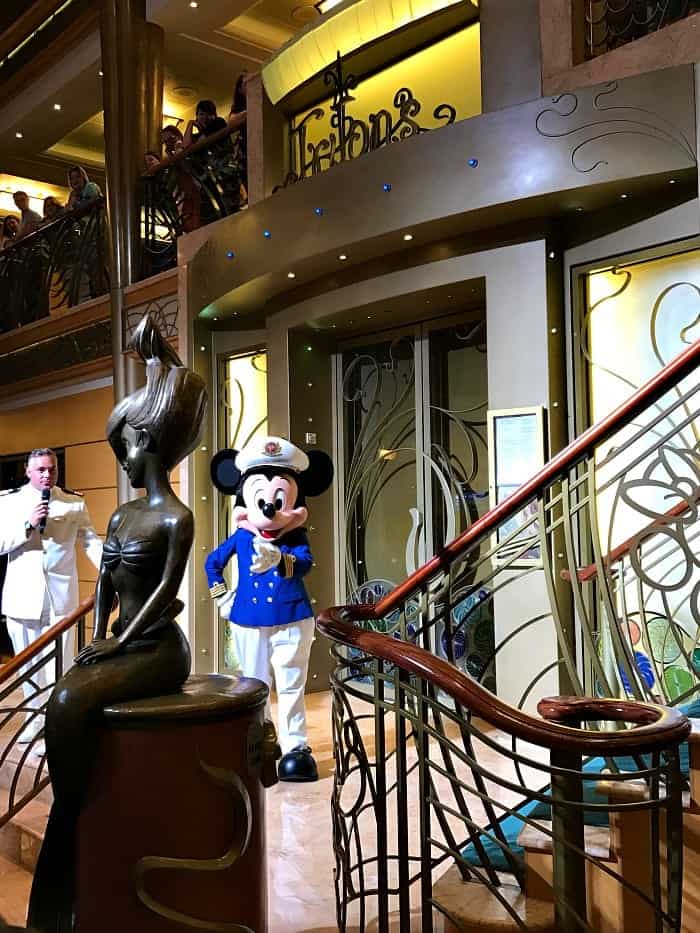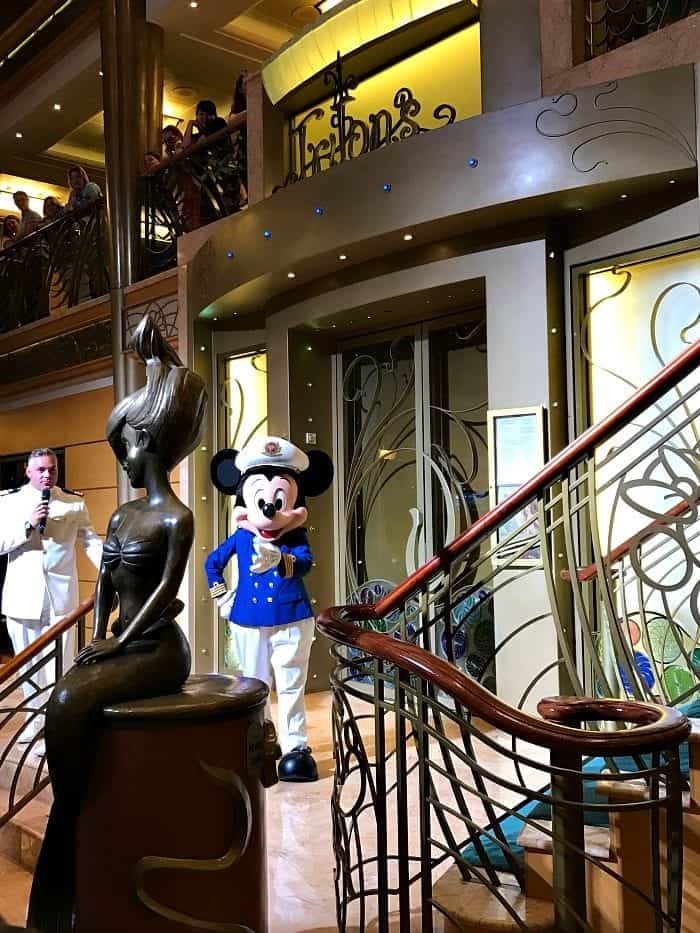 On the last night of the cruise, all of the characters and musical performers come out to say goodbye. It was actually really sweet. Glad I caught it.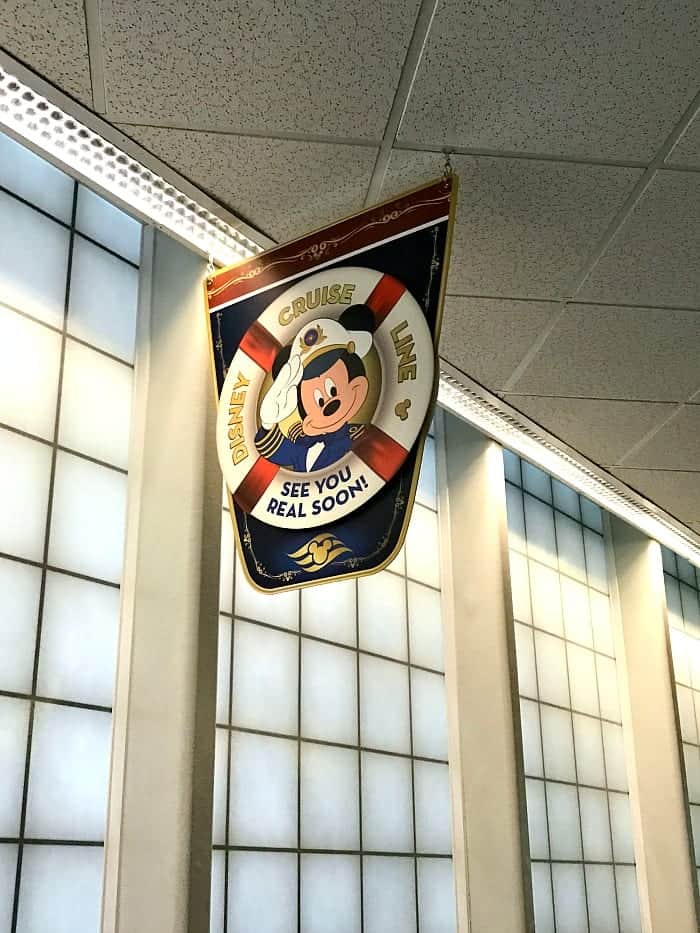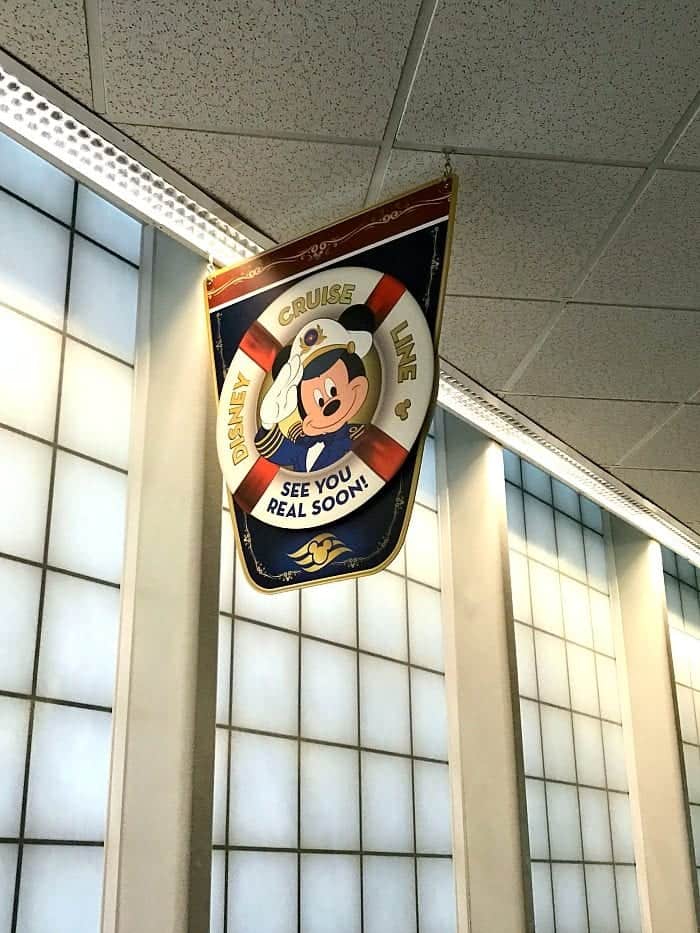 It's always a little sad leaving vacation especially a Disney Cruise, however you'll find that you are leaving with so many great memories it was all worth it! Hope you've enjoyed my Tips today!
Pin to your favorite Disney Board!