Sharing my tips when visiting Oga's Cantina, Galaxy's Edge today! This is the coolest cantina in the galaxy, let's help you make the most of your visit and assure you get in the doors!
Oga's Cantina
When Star Wars Galaxy's Edge comes up in conversation, you better believe Oga's Cantina comes up too. This hopping little cantina has got all of Disneyland talking.
It's the local cantina, where bounty hunters, smugglers, rogue traders and weary travelers of all ages come together to refuel, enjoy music and conduct meetings—no questions asked. With an expansive menu of exotic concoctions for young ones and adults, the cantina is a welcome rest stop before your crew's upcoming galactic journey.
Check out my Tips Before Going To Galaxy's Edge! Follow Disney Hungry on Instagram for travel tips and Best eats at Disneyland!
How To Get Into Oga's Cantina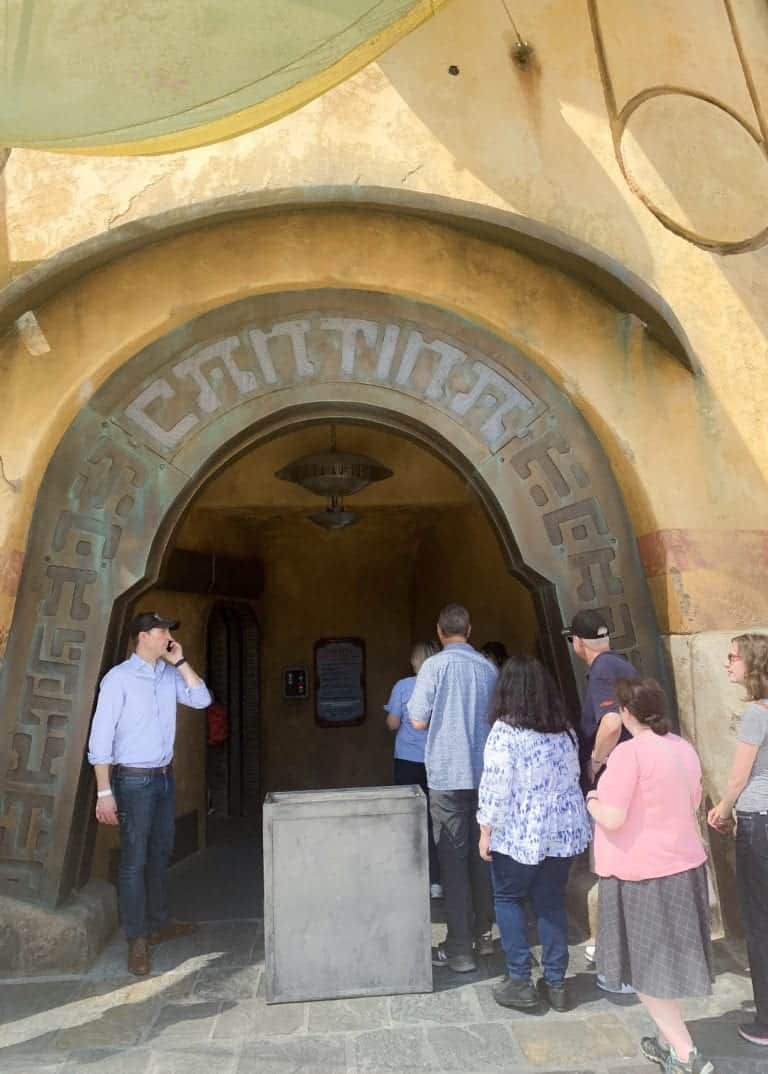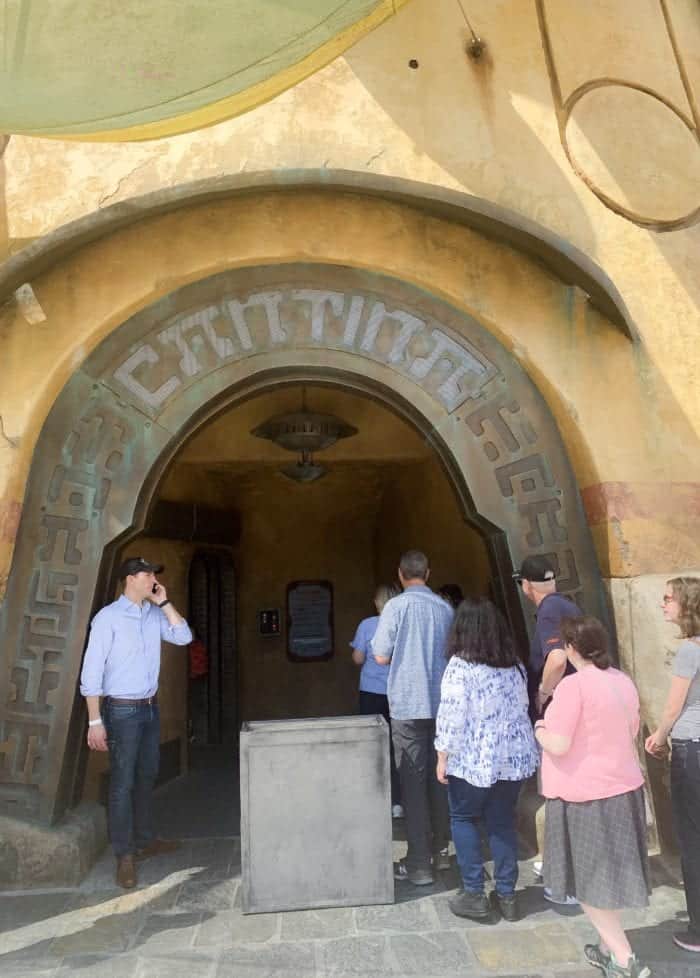 Reservations Available For Oga's Cantina and Savi's Workshop-Handbuilt Lightsabers
Reservations are available up to 60 days in advance for Oga's Cantina and Savi's Workshop-Handbuilt Lightsabers.
How Do I Make Reservations To Oga's Cantina From The Disneyland App?
When you get to the Disneyland App click on the search bar and type in Oga's Cantina Reservations. See my photos below and you just follow the steps. Very easy to do from the App. You'll do the same for Savi's Workshop. Type it in the search bar.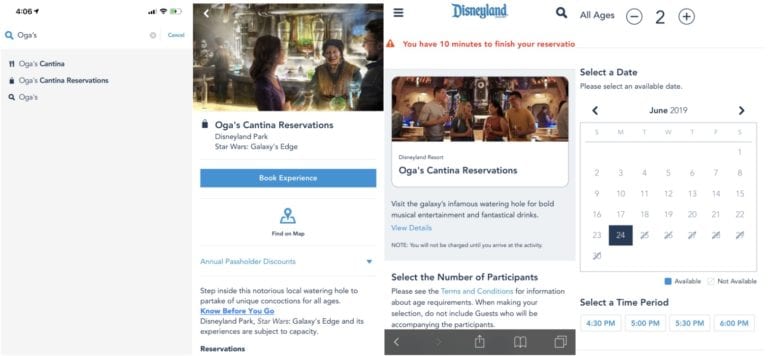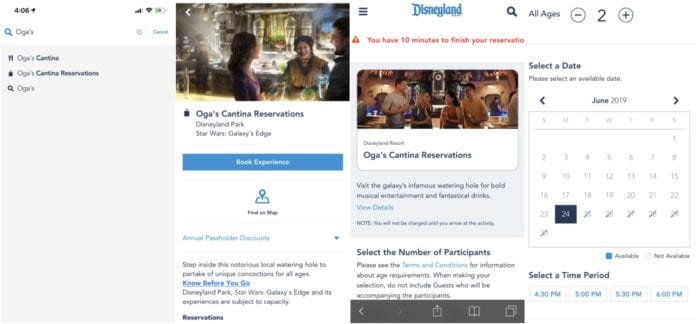 If you didn't score a reservation via the Disneyland App, the very second you get into Star Wars Galaxy's Edge you are going to quickly without running make your way over to the Oga's Cantina line. Don't worry, you won't miss it, there are hundreds and hundreds of people doing the same thing. It's quite daunting but don't give up. Stay in the line. It moves pretty quick. When you reach the front, you'll get a return time card. This is your ticket into the Cantina.
Can I Take My Kids Into Olga's Cantina?
Yes, you can take children. Keep in mind, it's tight quarters inside so no strollers allowed. It's a bar setting, so use your judgement if that's what you'd like to do. During our time in Oga's, there were not many kids, mostly adults. There are plenty of things to order on the non-alcoholic menu for them should you take them in. At least one person in the party must be 14 years of age or older.
How Many Drinks Can I Order?
Each guest in your party has a 2 drink maximum.
Oga's Cantina Menu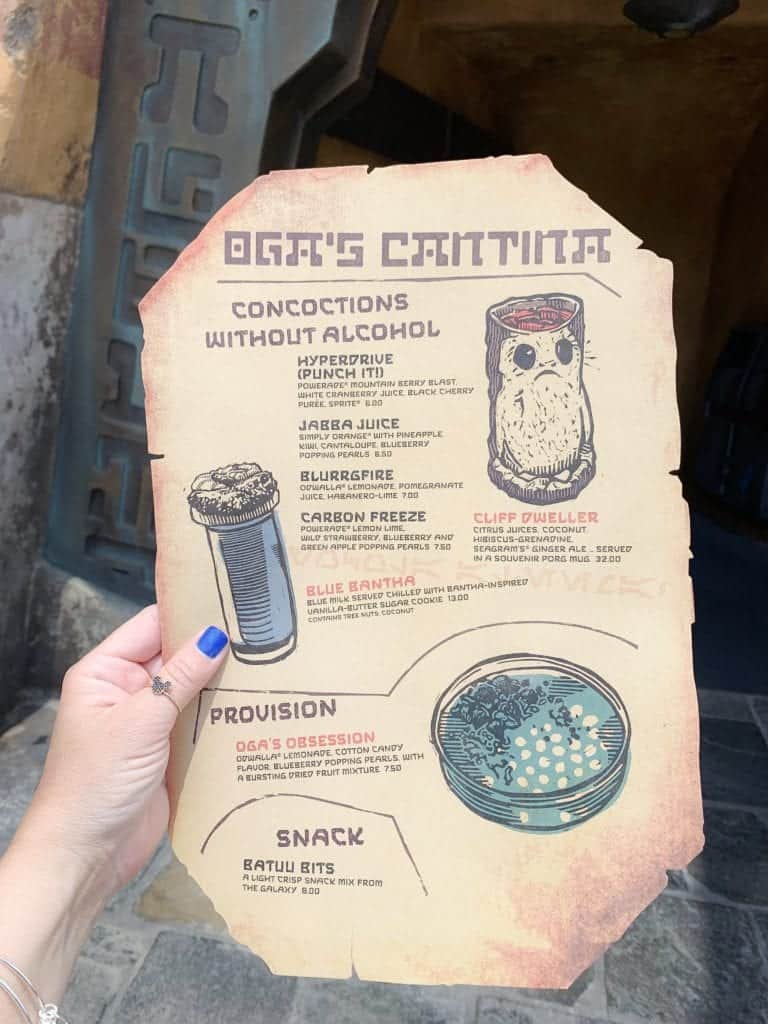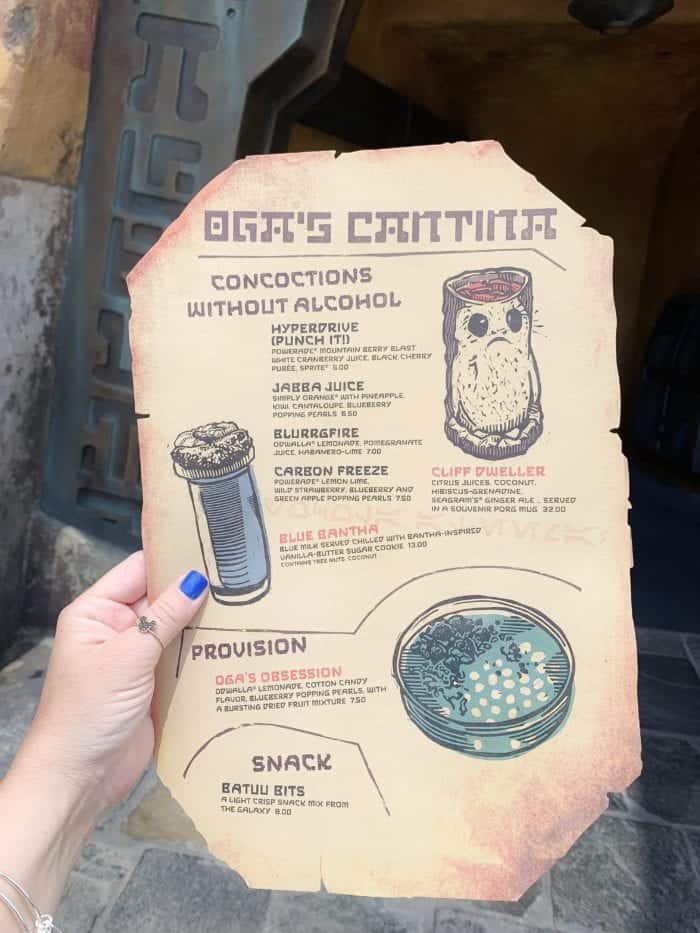 Here's a look at the concoctions without alcohol. Since I do not drink alcohol, I was excited to see all of these fun options!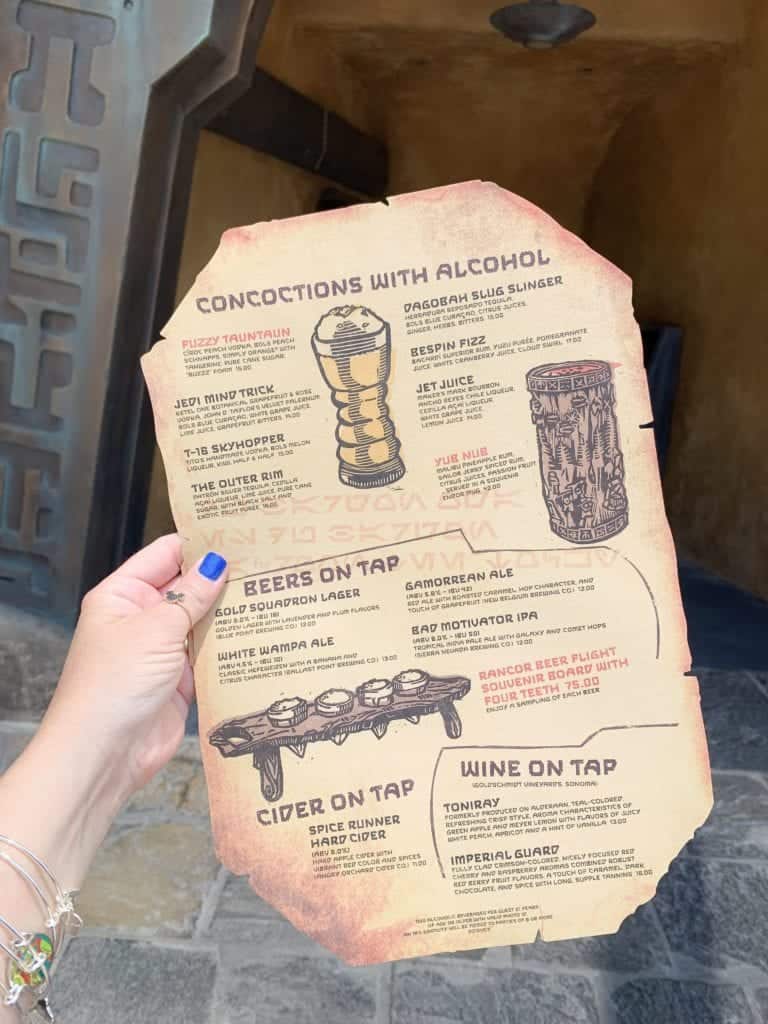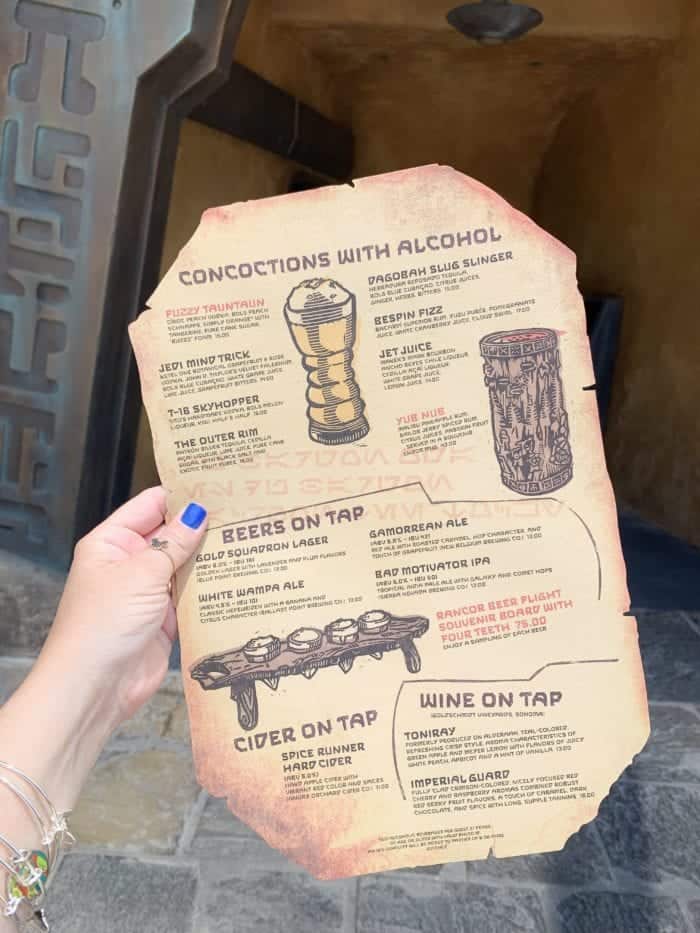 Here's a peek at the concoctions with alcohol.
Atmosphere Inside Oga's Cantina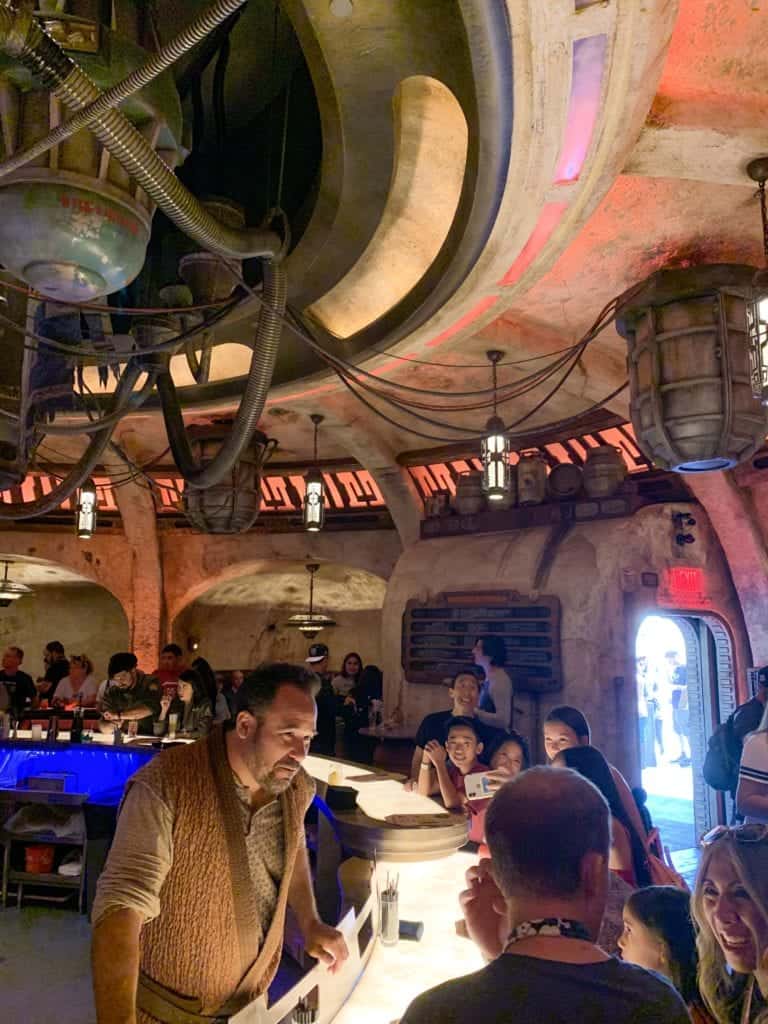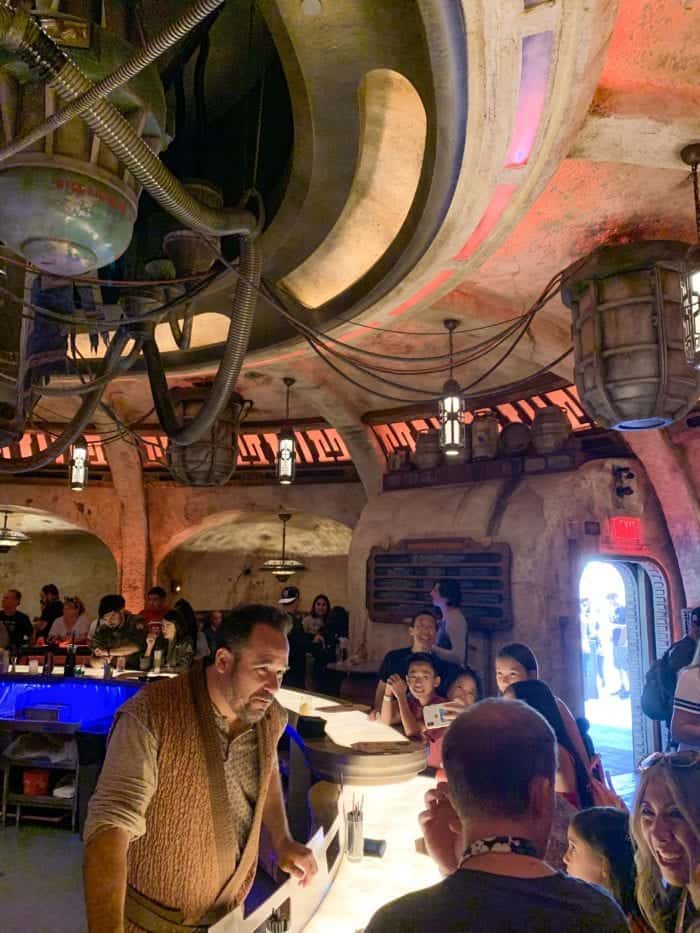 I was so excited to finally step foot into Oga's Cantina. My first visit to Galaxy's Edge, I wasn't able to go inside because of the crowds. My first impression after walking through the door was WOW!! DJ R-3X, a former Starspeeder 3000 pilot was playing loud energetic music for the room and the neon colors and vibe around the bar were contagious. I had my oldest son and brother joining me today and we quickly found a spot around the bar to place an order.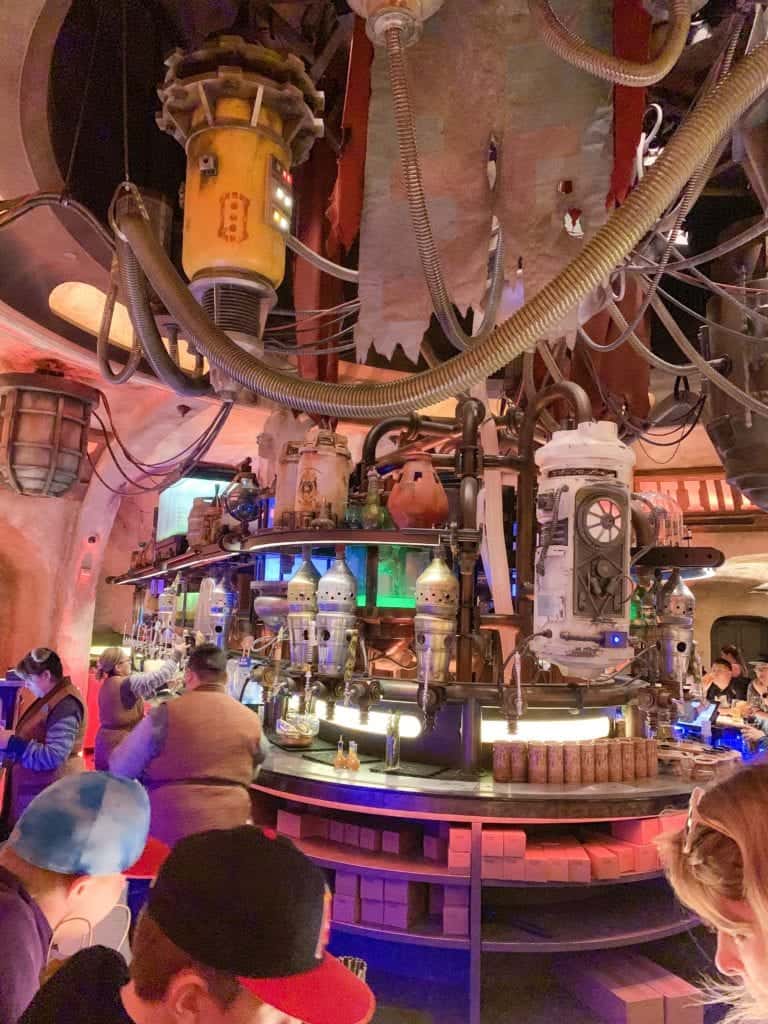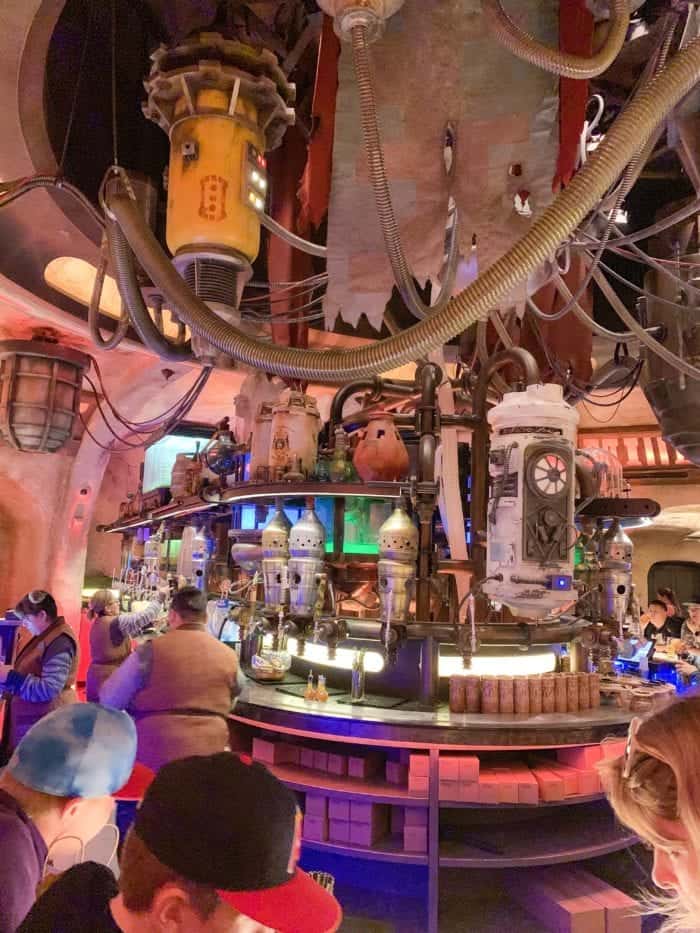 I was frantically trying to get some photos around the busy bar to capture what it's like inside. You're going to love it. The details are spot on.
Can My Entire Party Sit Together at Oga's?
The Cast Members told us there is no guarantee to sit together once you are inside, but my party of three had no problem with a standing area around the bar.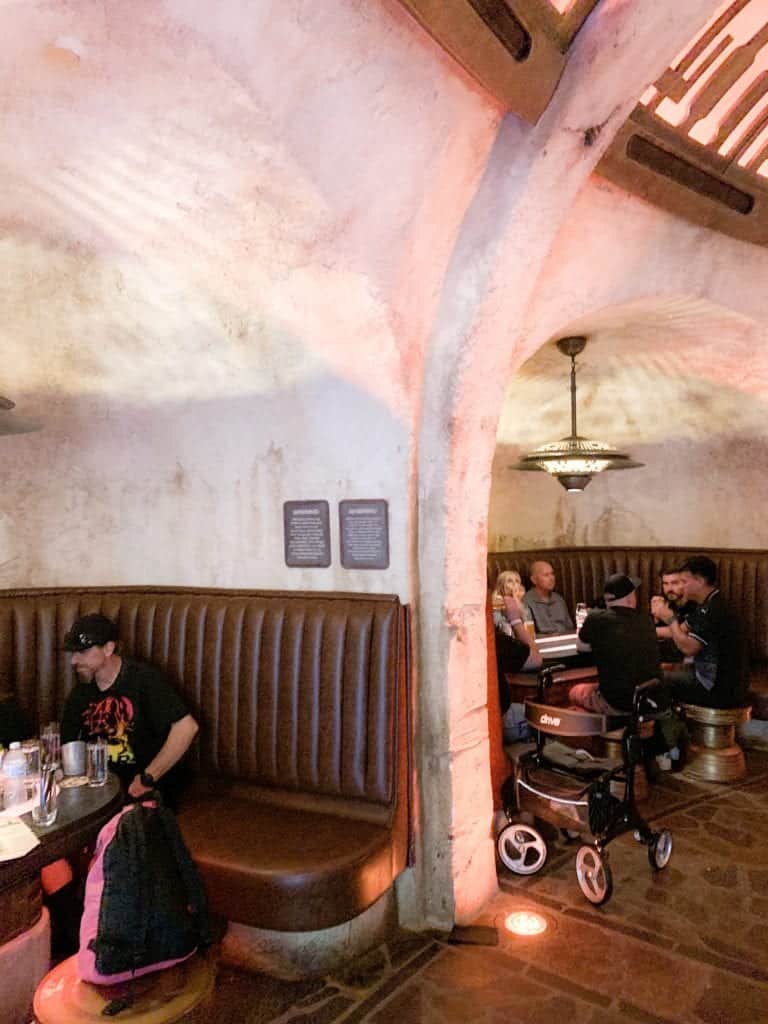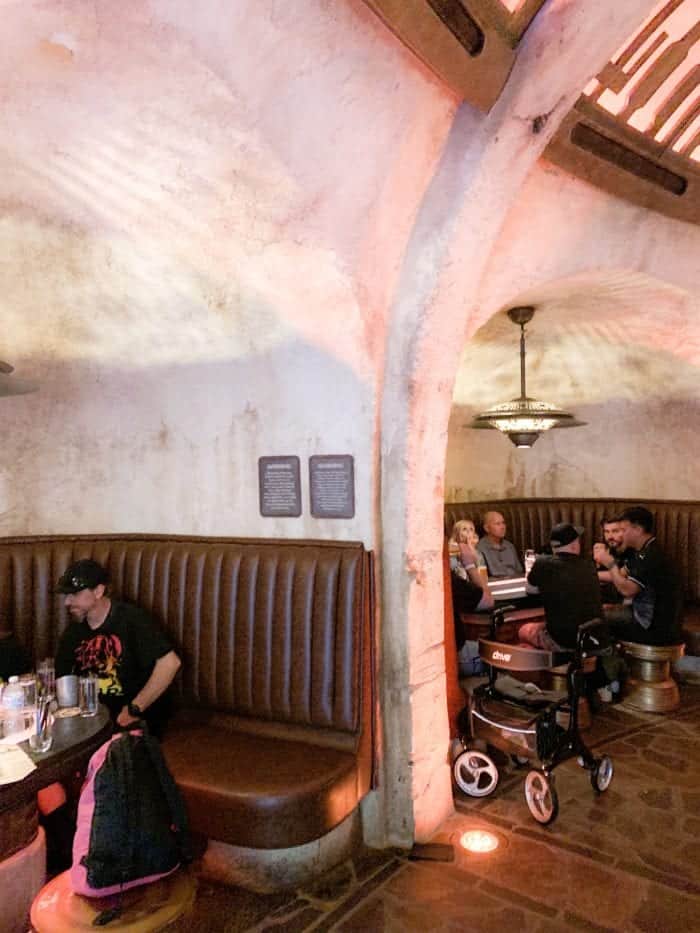 When you enter Oga's to the left there are a couple of large booths that could fit parties of 6-8 easily. I would just talk with the Cast Member if you want to wait for a large booth. It is very tight quarters inside. People sitting very close to each other, for your reference.
Oga's Cantina Non-Alcoholic Drinks, Provisions and Bites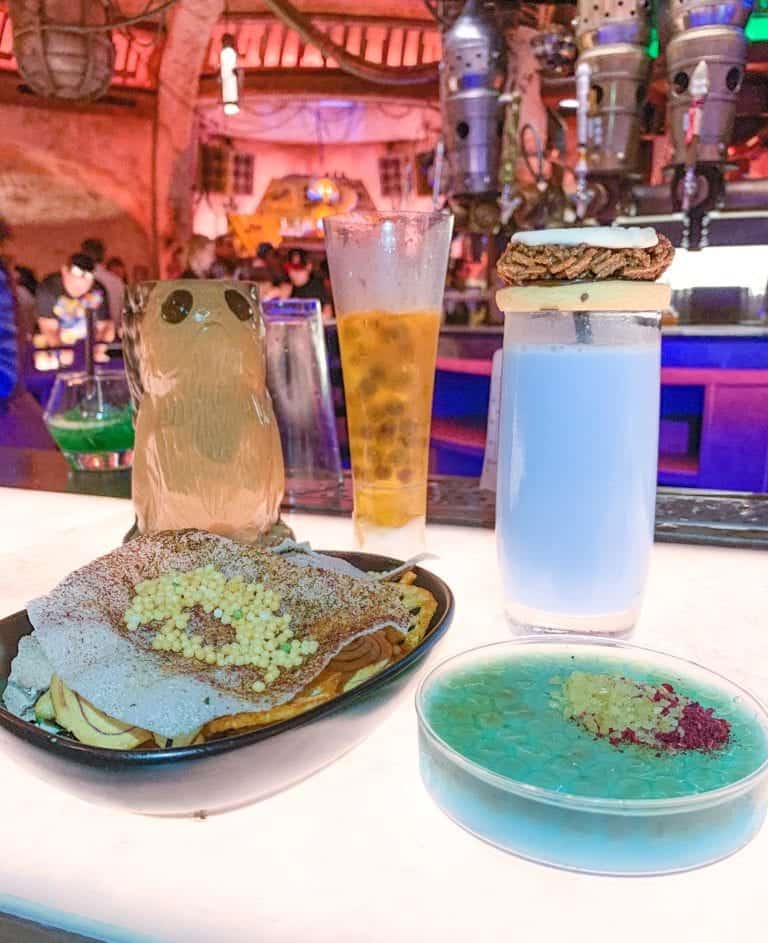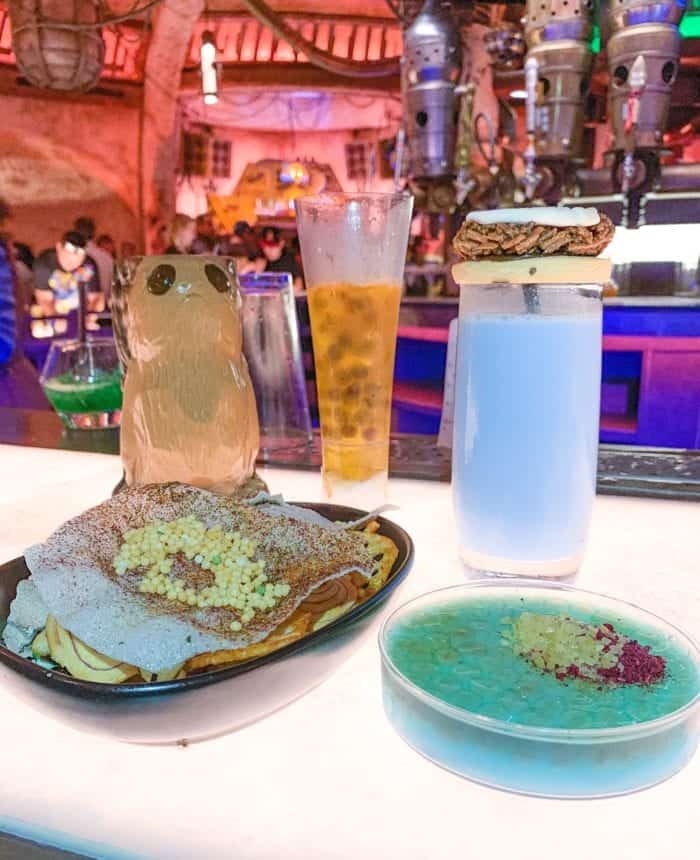 Since we are not alcohol drinkers I ordered a whole bunch of goodies from the non-alcoholic side of the menu. This was so much fun. Let's talk about each one below.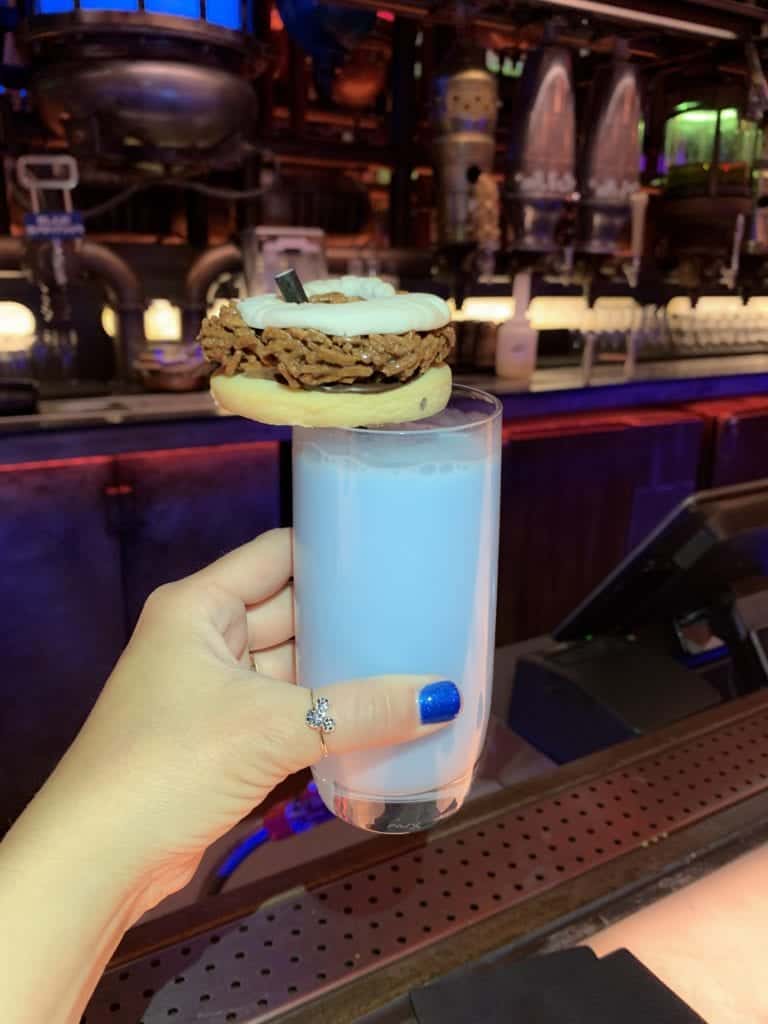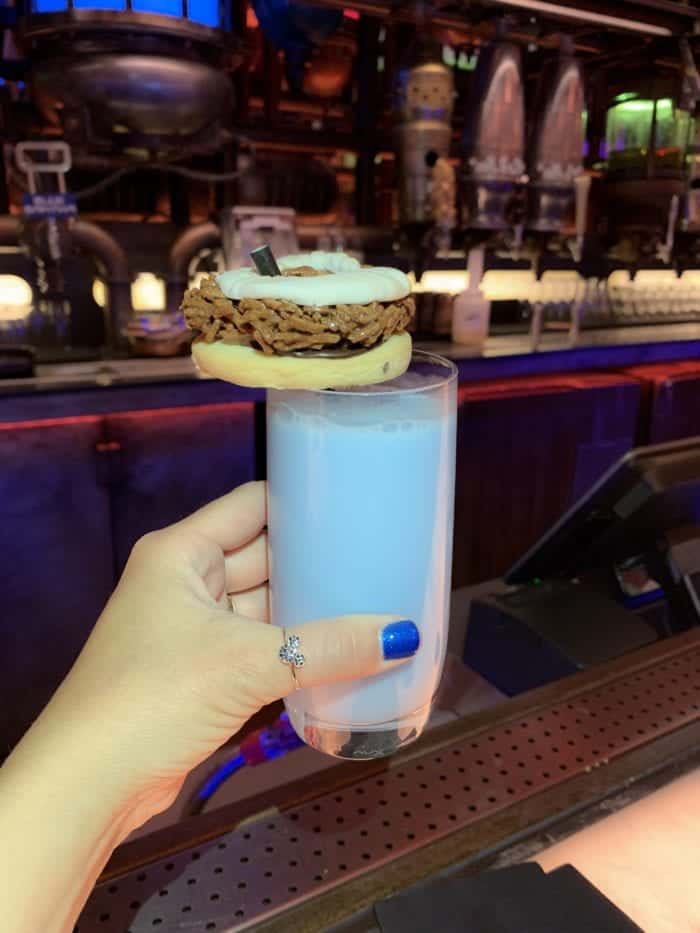 Blue Bantha
Blue Milk served chilled with Bantha-inspired Vanilla-Butter Sugar Cookie. Note…the Blue Bantha "blue milk" is different than the blue milk you get at the Milk Stand. This one doesn't have the icy-pieces inside, it's more of a smoothie consistency. We preferred the Milk Stand Blue Milk. $13.00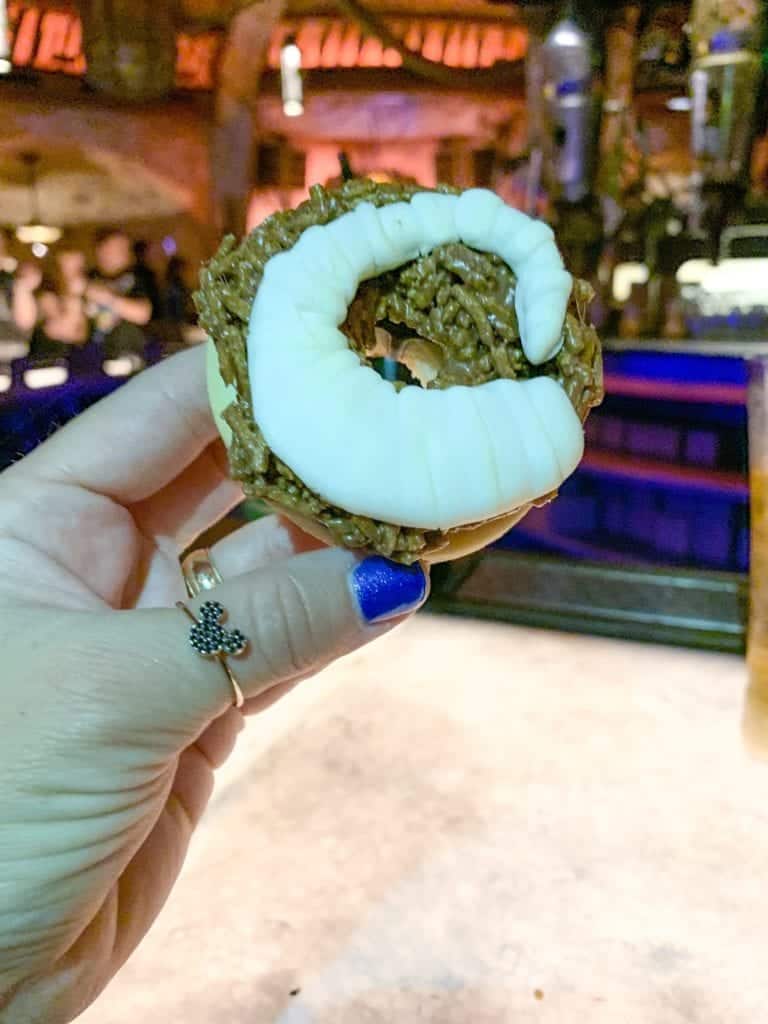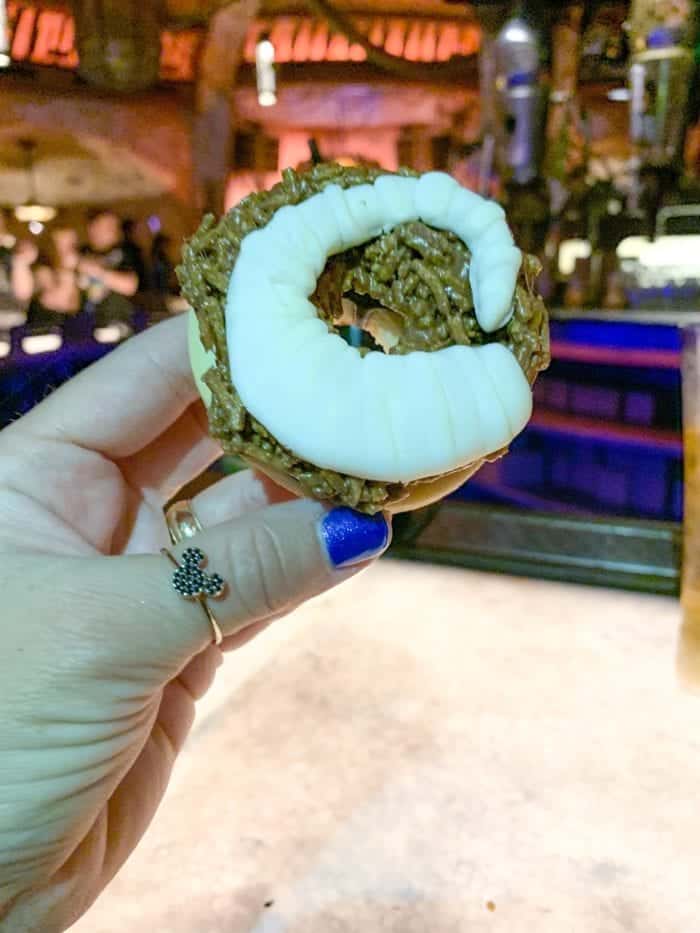 Bantha-Inspired Vanilla-Butter Sugar Cookie
The cookie that is served on top of the Blue Bantha is crazy…in really good way. I haven't had anything quite like it so it's hard to explain. It was sweet, soft and chewy. Definitely a must try if you ask me.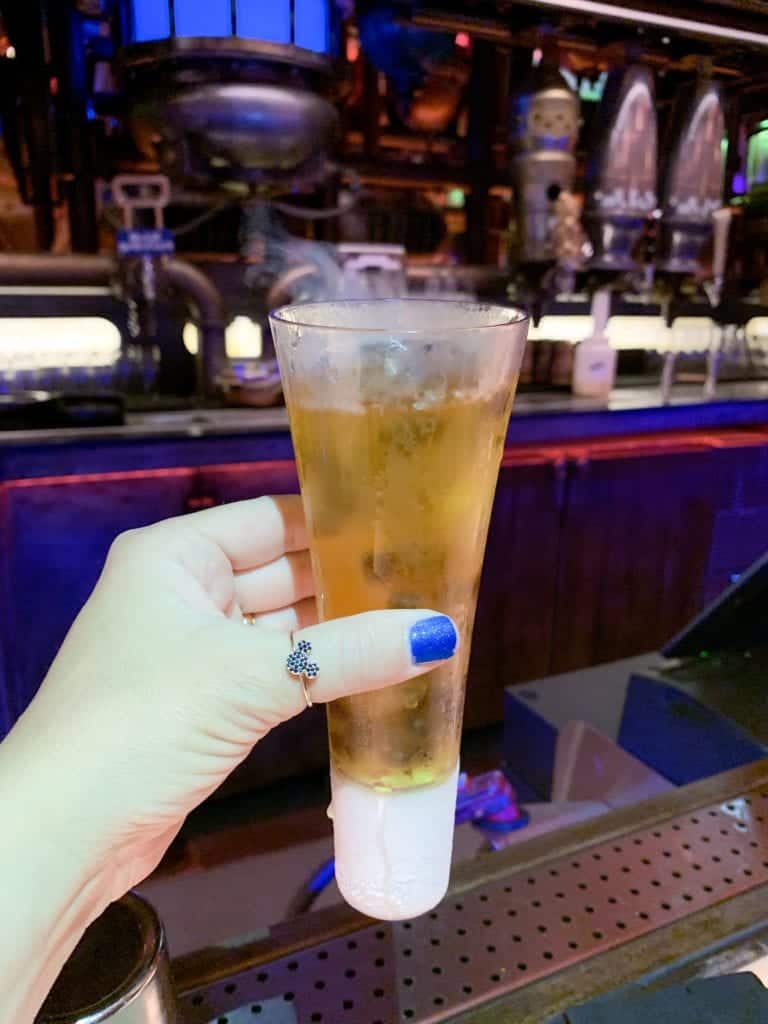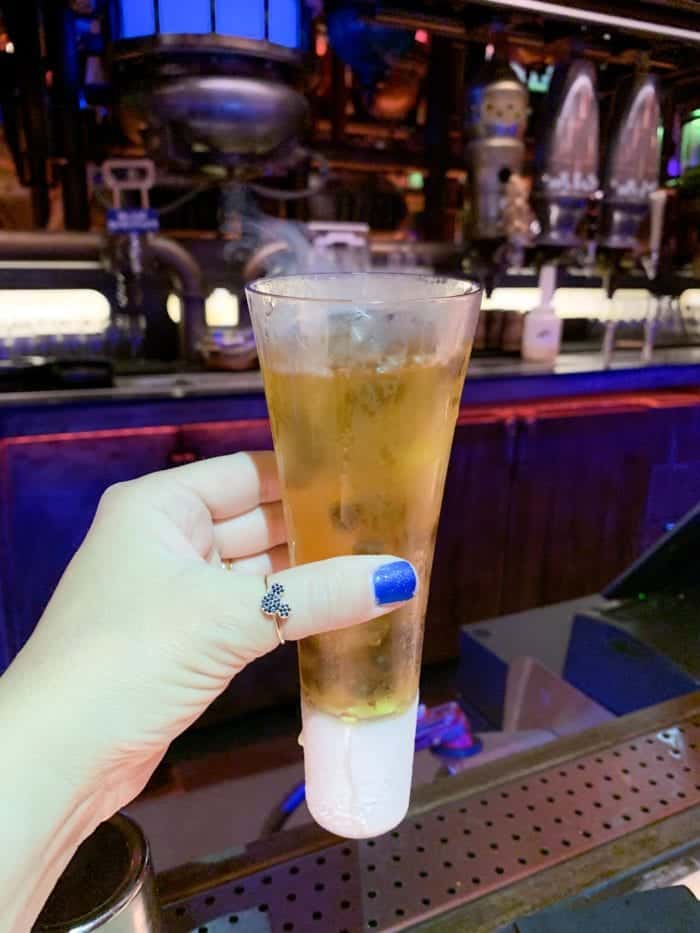 Carbon Freeze
Ok, this one was so cool! It comes out bubbling and smoking from the dry ice. Powerade® Lemon Lime and Wild Strawberry with Blueberry and Green Apple Popping Pearls. Lots of insta stories saved on my hightlights under Oga's Cantina! Would definitely get this one again. $7.50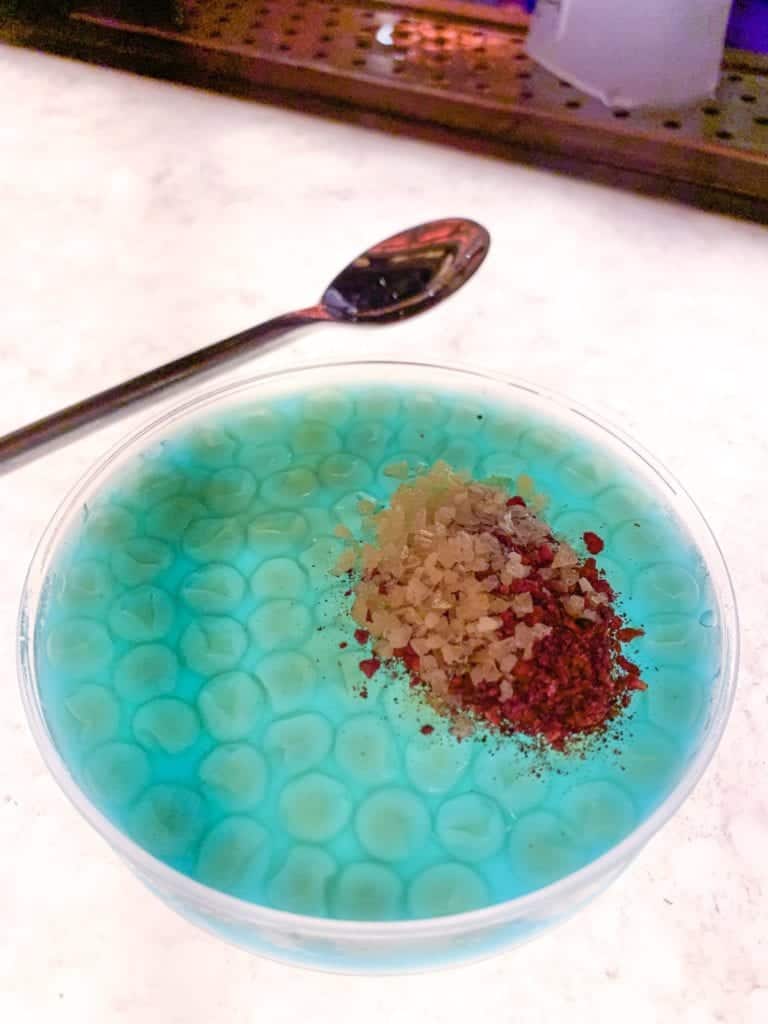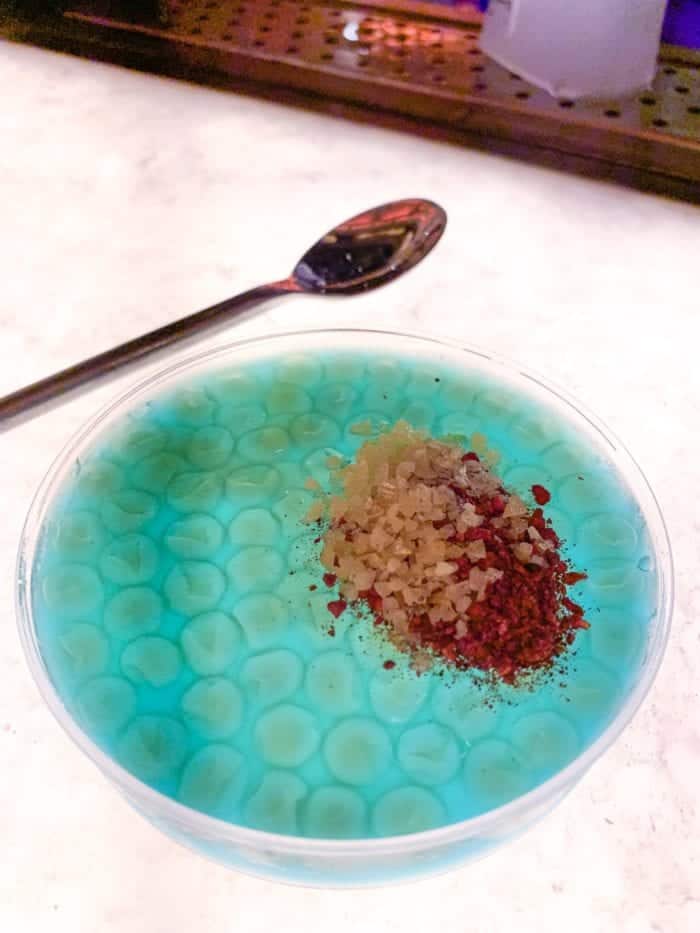 Oga's Obsession
Do I dare say this bizarre little jello-style petri dish was my absolute favorite?! It was so crazy. Odwalla® Lemonade, Cotton Candy Flavor, and Blueberry Popping Pearls with a bursting Dried Fruit Mixture. It has a jello texture with popping pears inside plus the topping was sweet and salty. You have to try this!! $7.50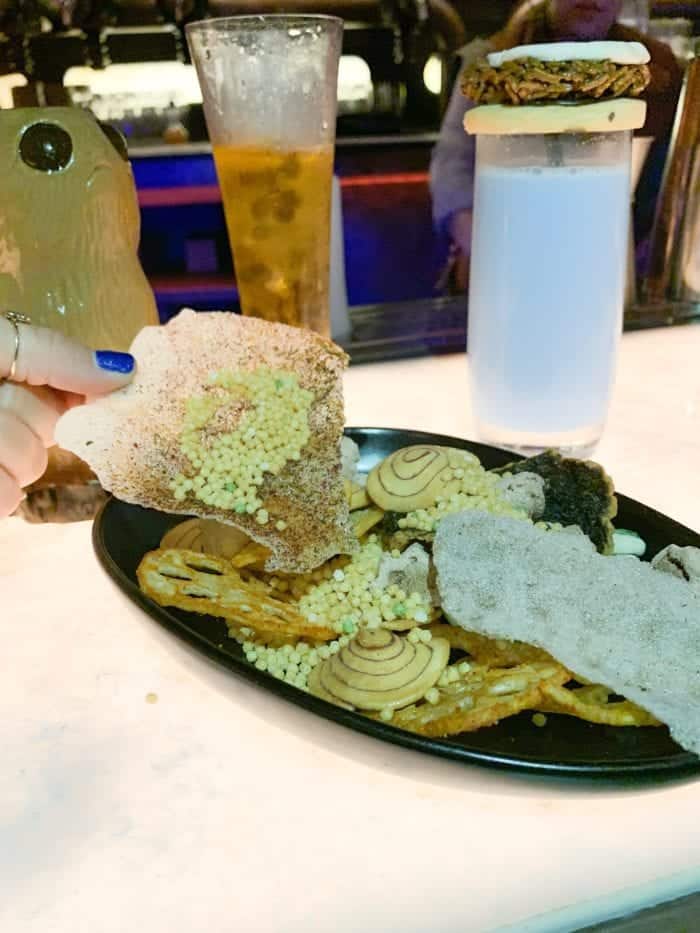 Batuu Bits
These Batuu Bits were the craziest. So many flavors and textures going on….but I kind of loved it. You had sweet delicious marshmallow bits, bites of salty cracker-ish pieces and hints of fish-y and wasabi too. It's crazy, but I totally loved it. $8.00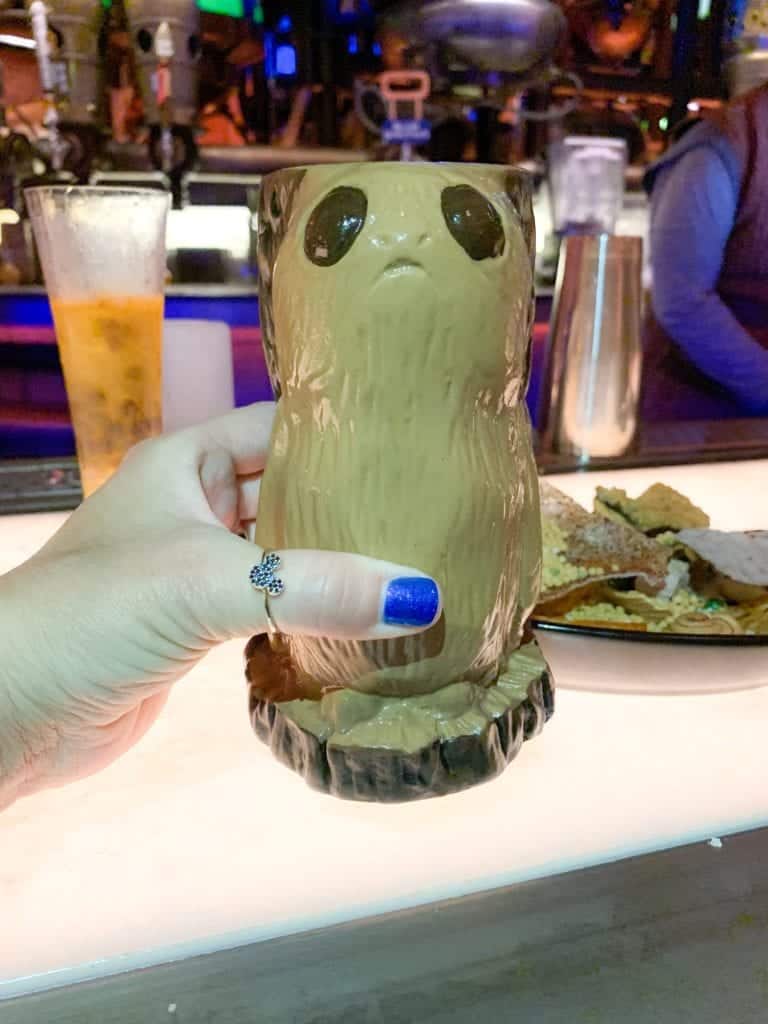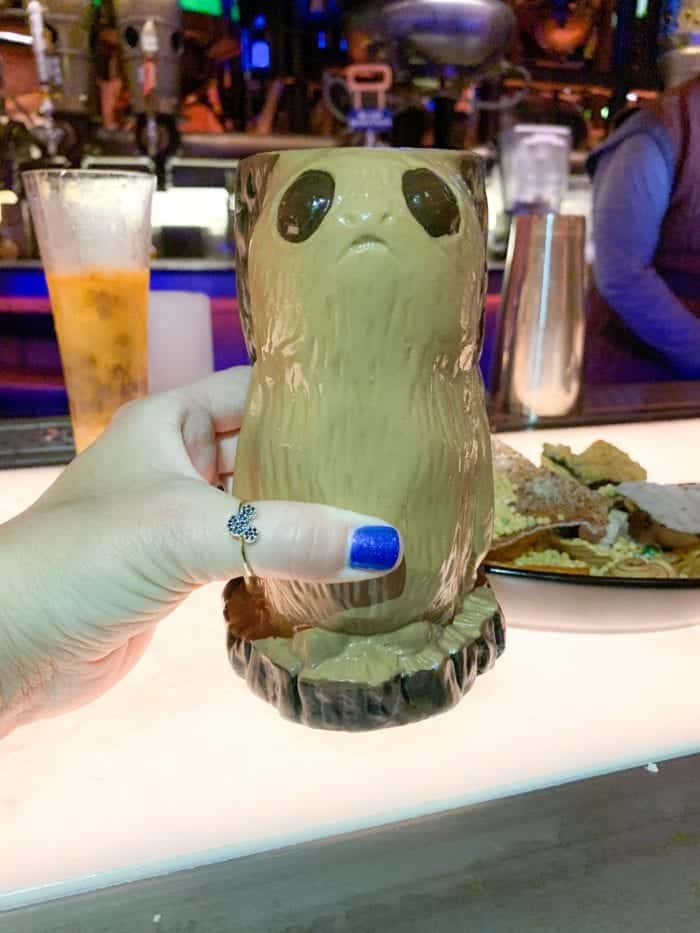 Cliff Dweller
Did I need this $32.00 Souvenir Mug? Yes, yes I did ha! Ok, it's completely overpriced, but for my first visit to Oga's I have no regrets. The Cliff Dweller is Citrus Juices, Coconut, Hibiscus-Grenadine, and Seagram's® Ginger Ale served in a souvenir Porg mug. I liked this drink…and I'm excited to take home my new mug!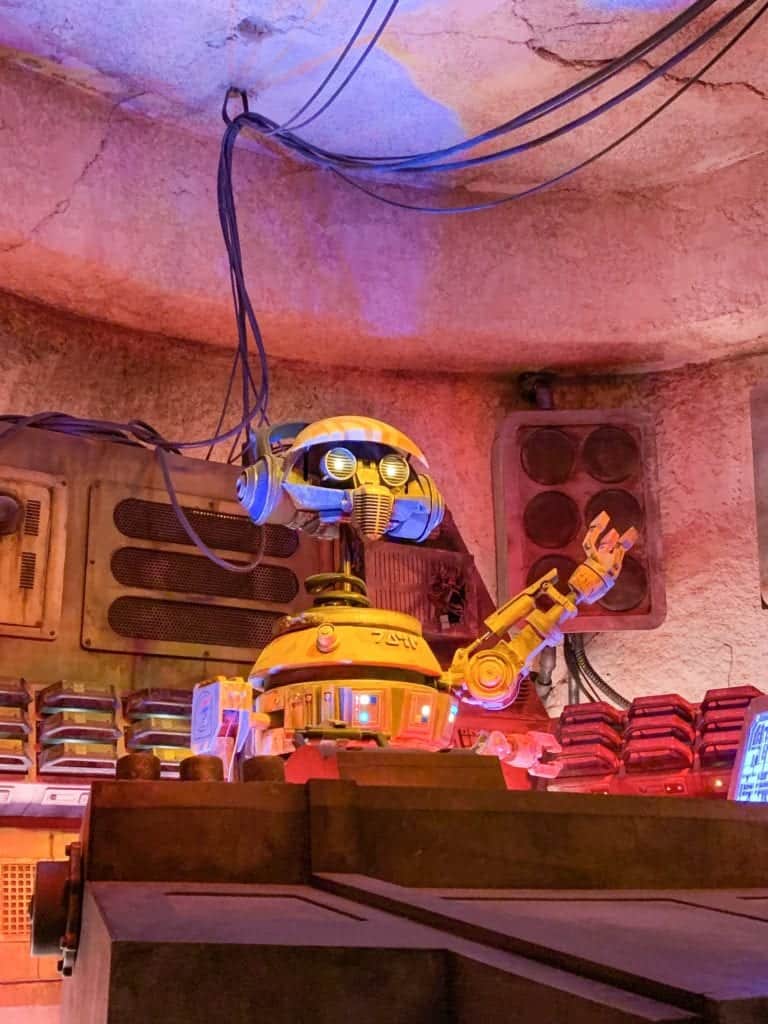 DJ R-3X, a former Starspeeder 3000 pilot plays hopping music during your visit to Oga's. Definitely the focus of the room. He's adorable and plays some really fun music!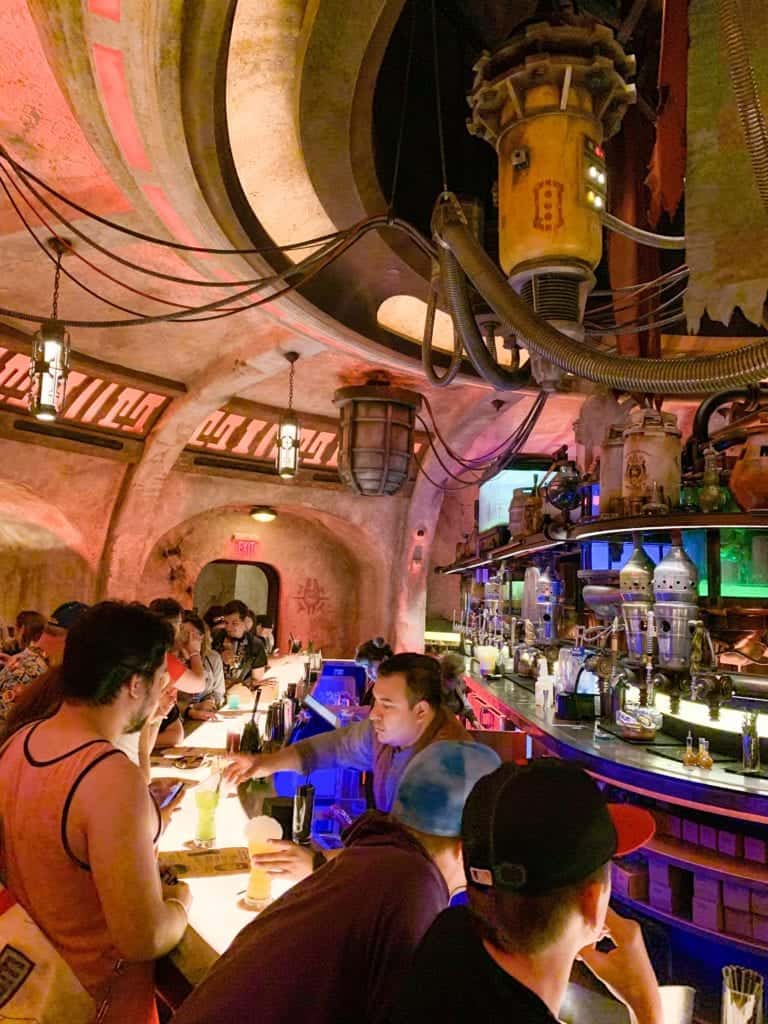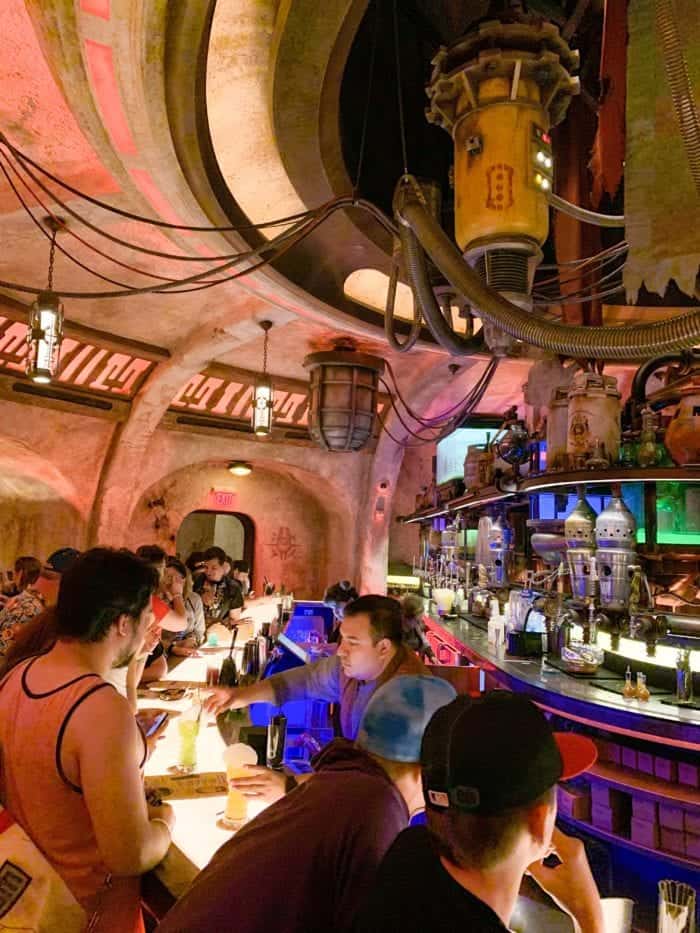 Had to capture more photos around the bar. You really have to see this place to get the full experience.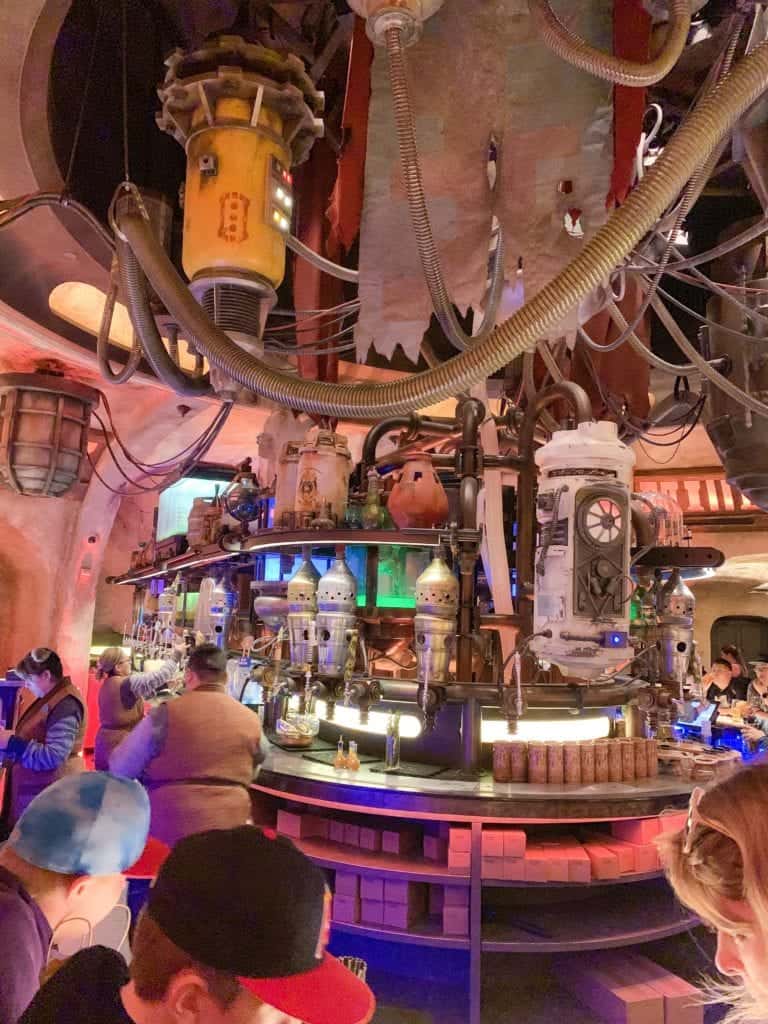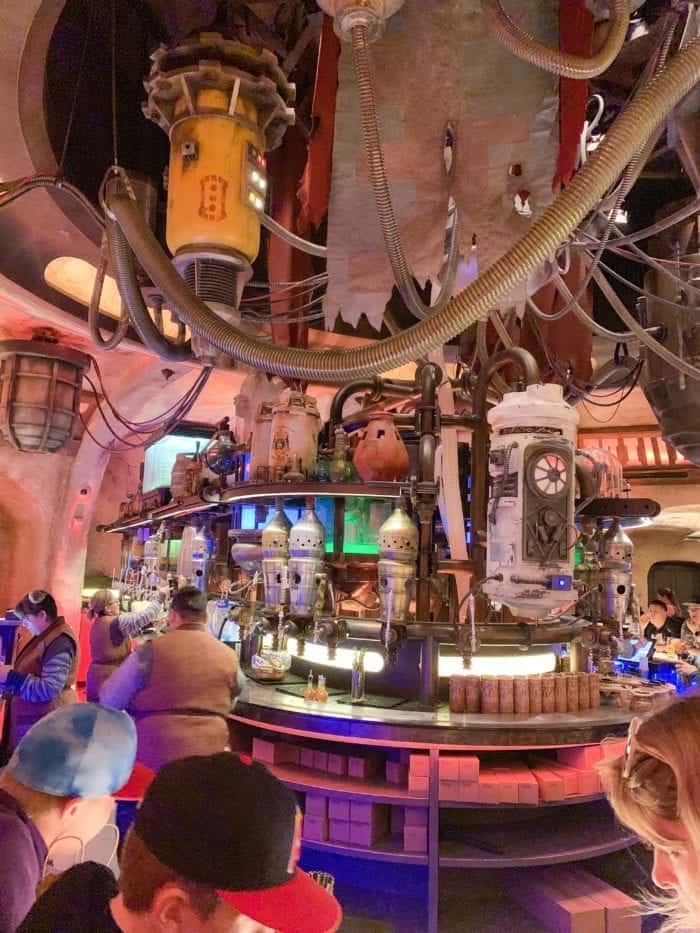 Be sure to walk around both sides of the bar to see all of the details. After we were done with our order, we walked around to see everything 🙂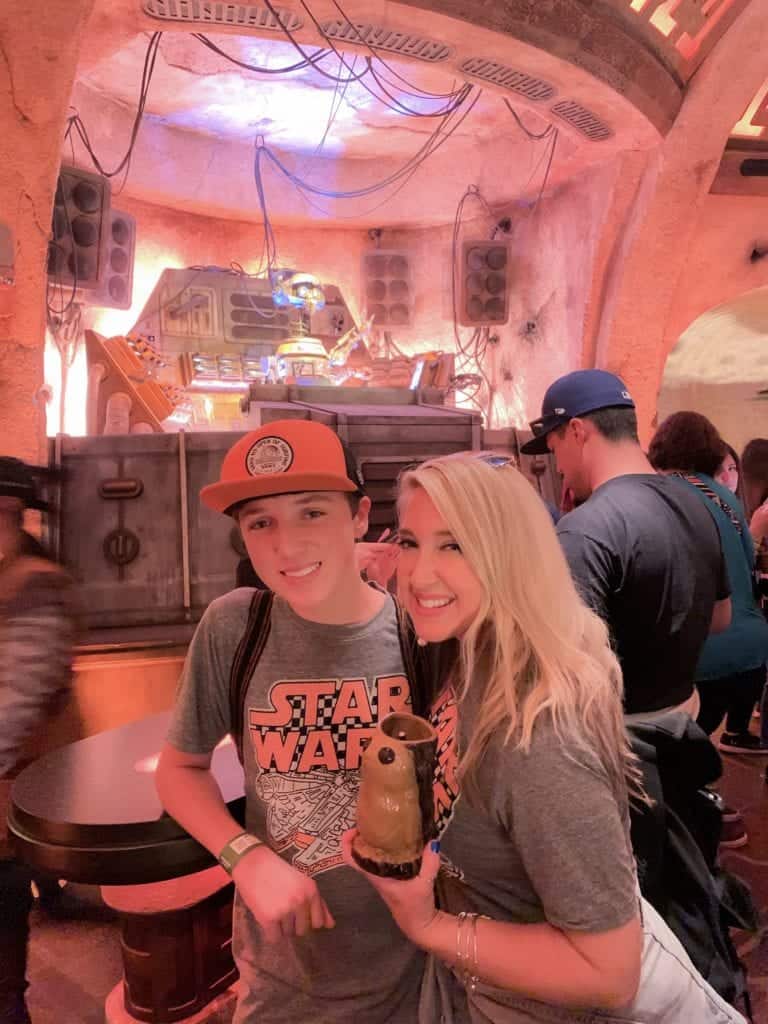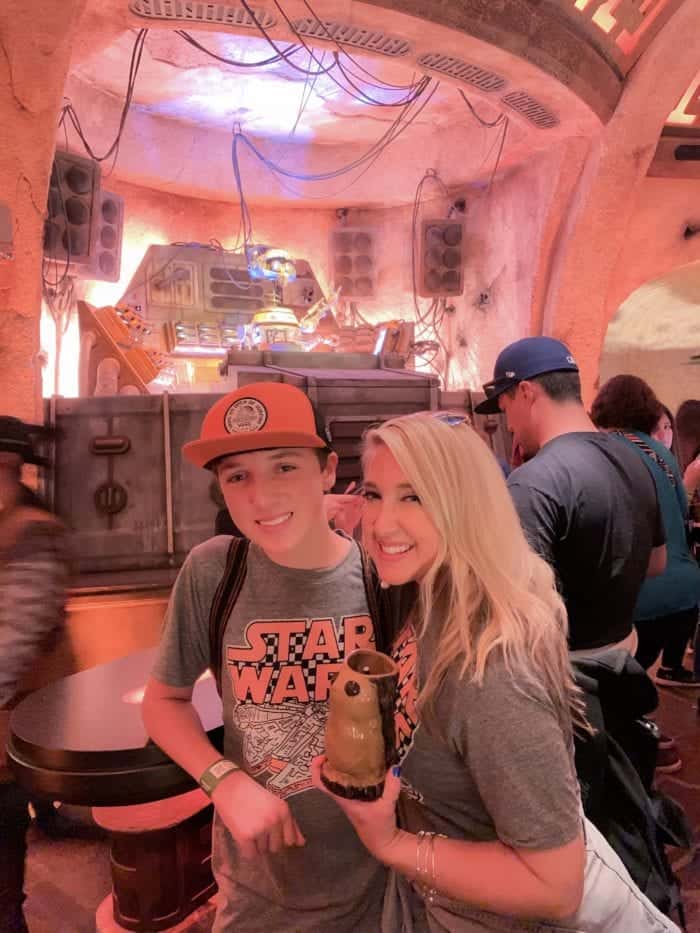 So glad I got to experience Oga's for the first time with my son, we had a blast! Can't wait to go back for another visit.
Pin To Your Favorite Disney Board