Sharing Why You Should Visit Disney Aulani Resort today! Pure paradise, one of the best family vacations we've ever had.
Disney Aulani
We had the opportunity to visit Aulani, a Disney Resort and Spa January 2018. I have been wanting to visit for years, so this truly was a dream come true for me. We brought the whole family and brought home memories to last a lifetime. Check out The Best Food At Disney's Aulani.

Disney Aulani Villas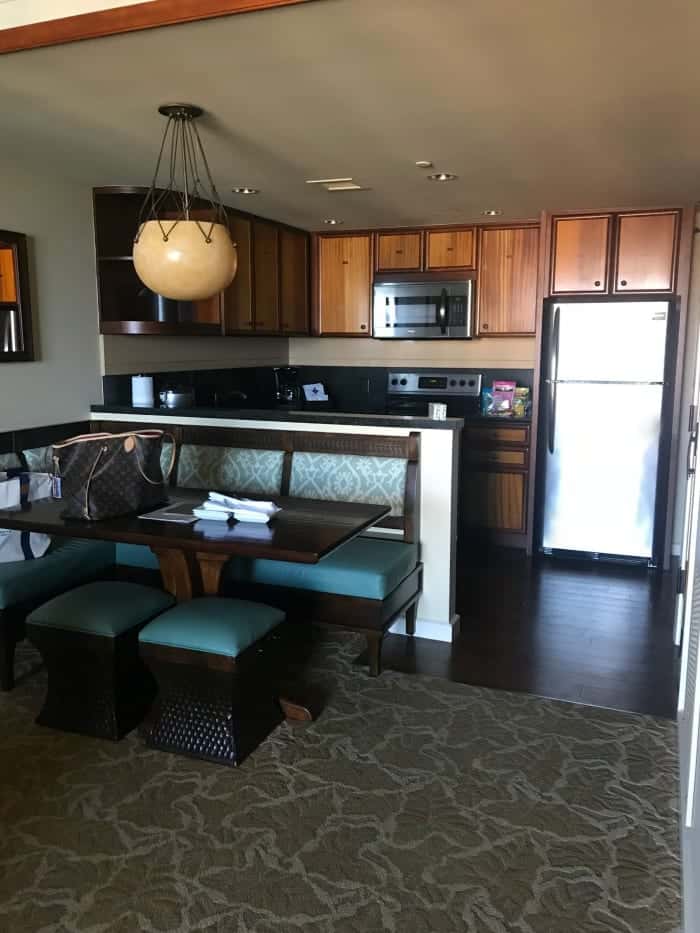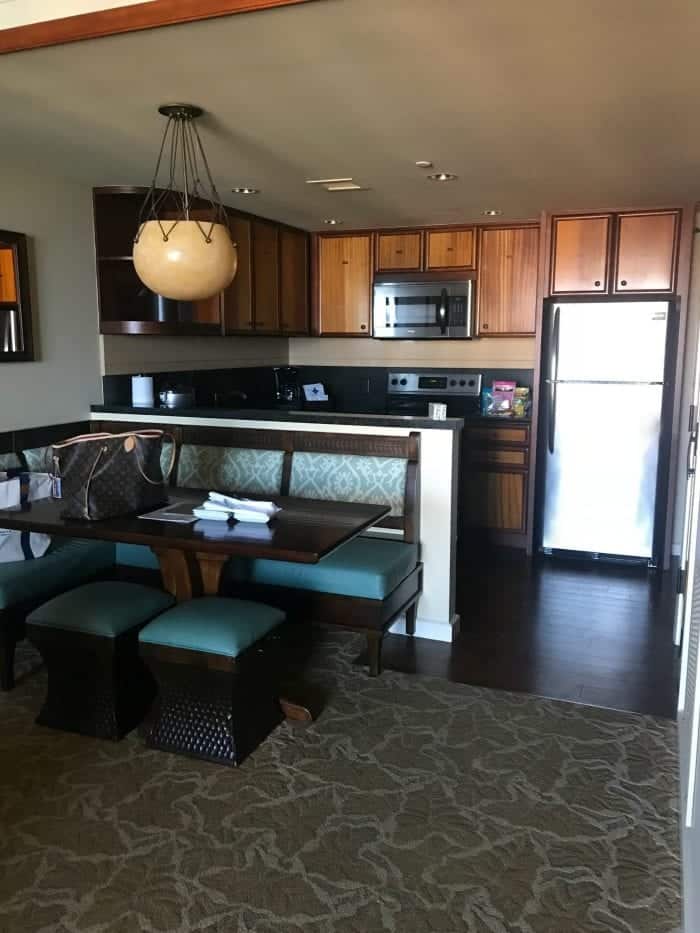 We stayed in a One Bedroom Disney Aulani Villa during our stay. You walk through the door and have full kitchen, table, living room, washer dryer and awesome bathroom space. Check out all of your room choices HERE.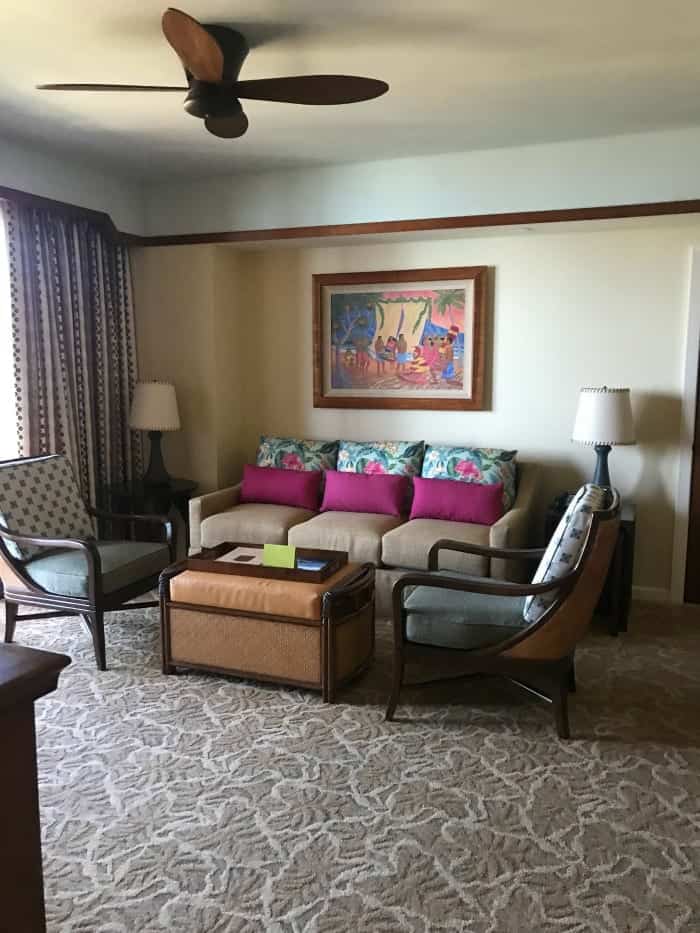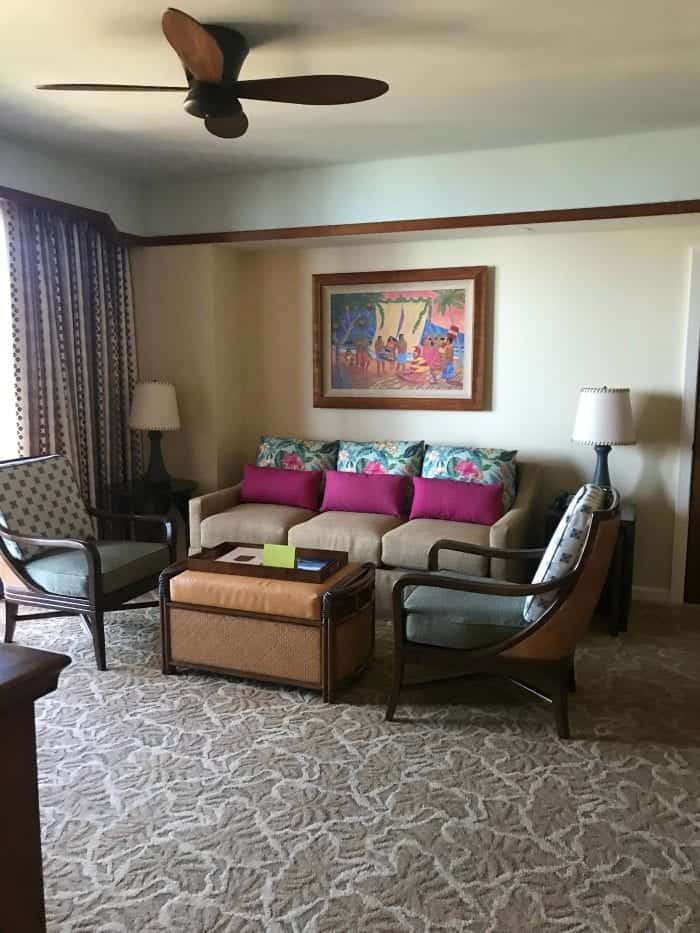 Here's the living room off of the kitchen. Love the island vibe here.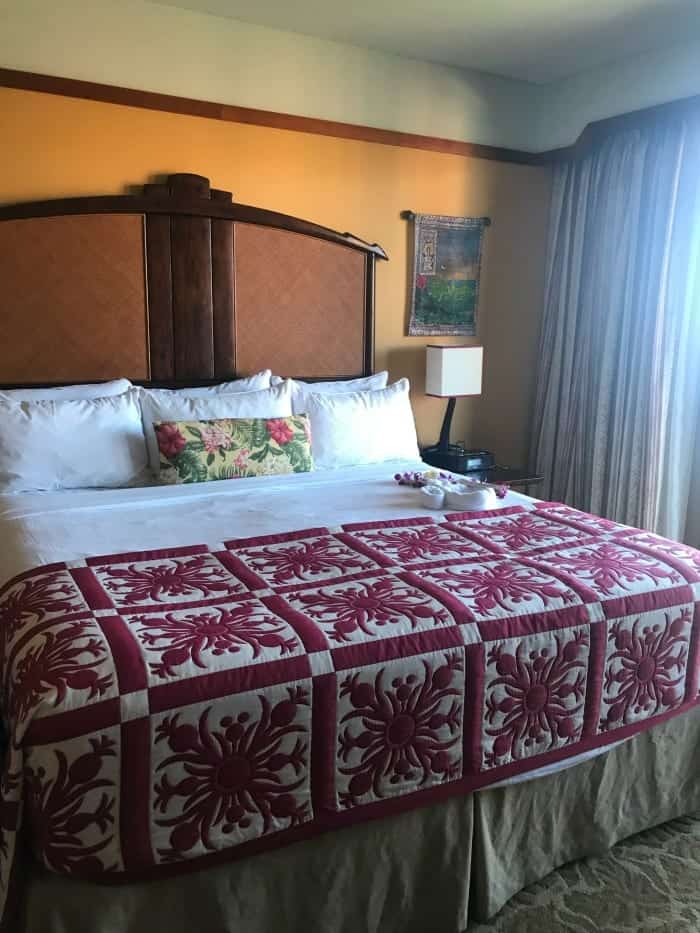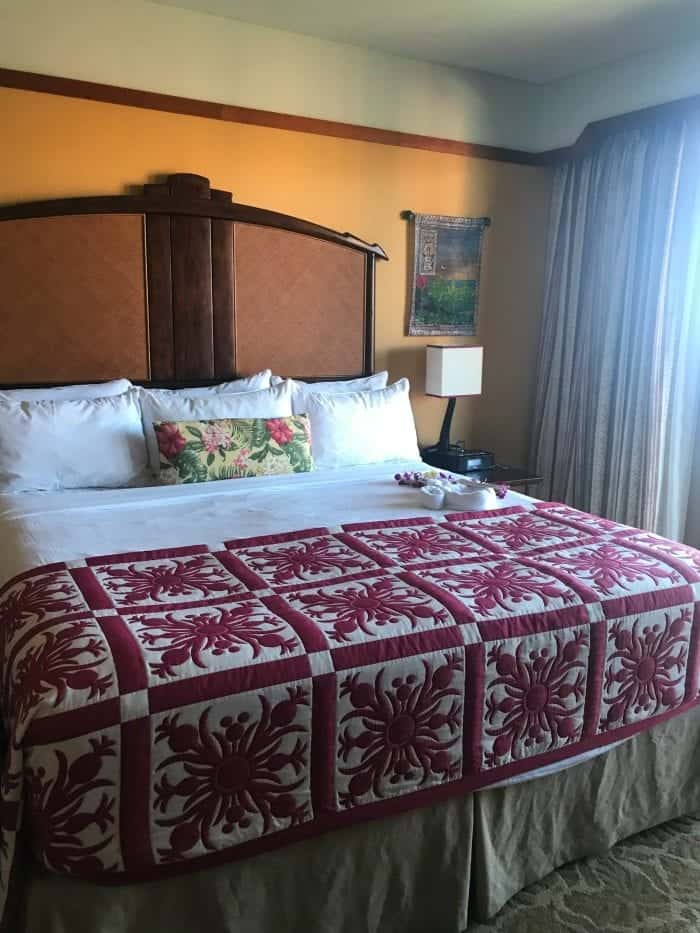 The bedroom was cozy and comfortable. Obsessed with that Mickey comforter at the end of the bed. So cute!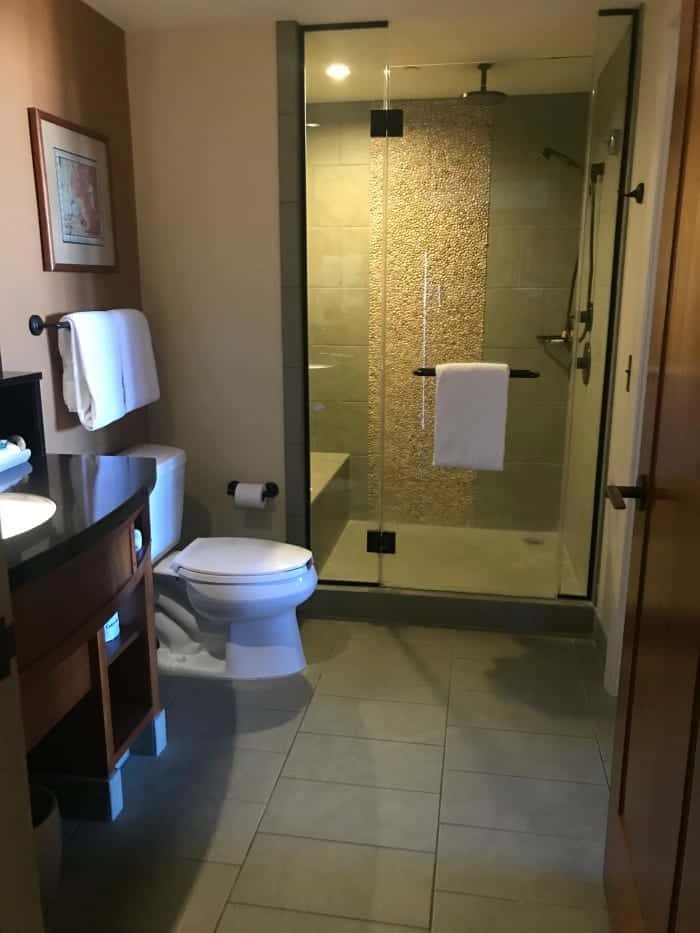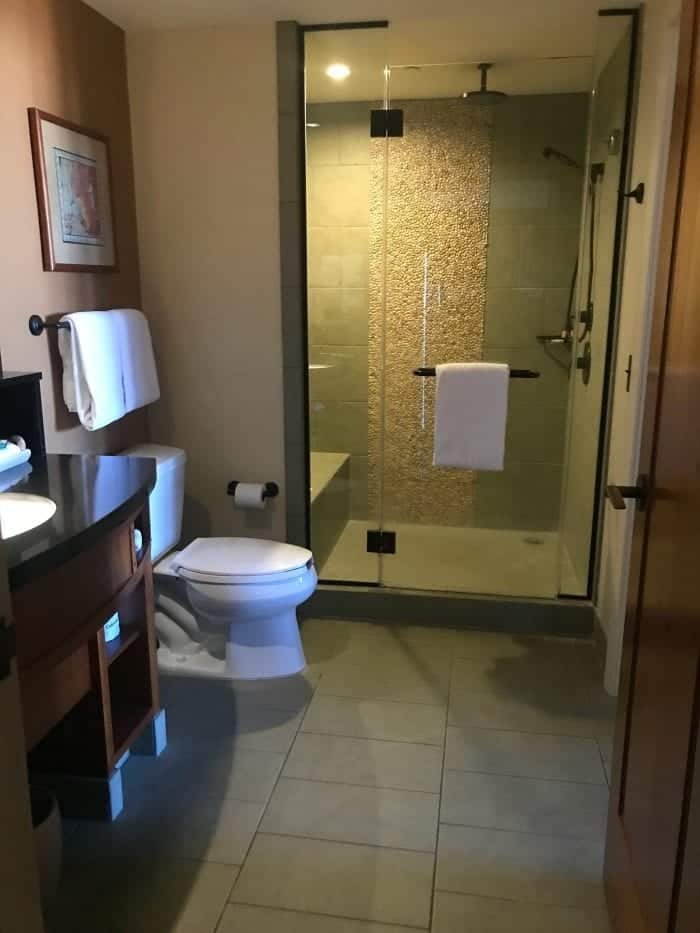 This was the first bathroom/shower area. Clean and roomy.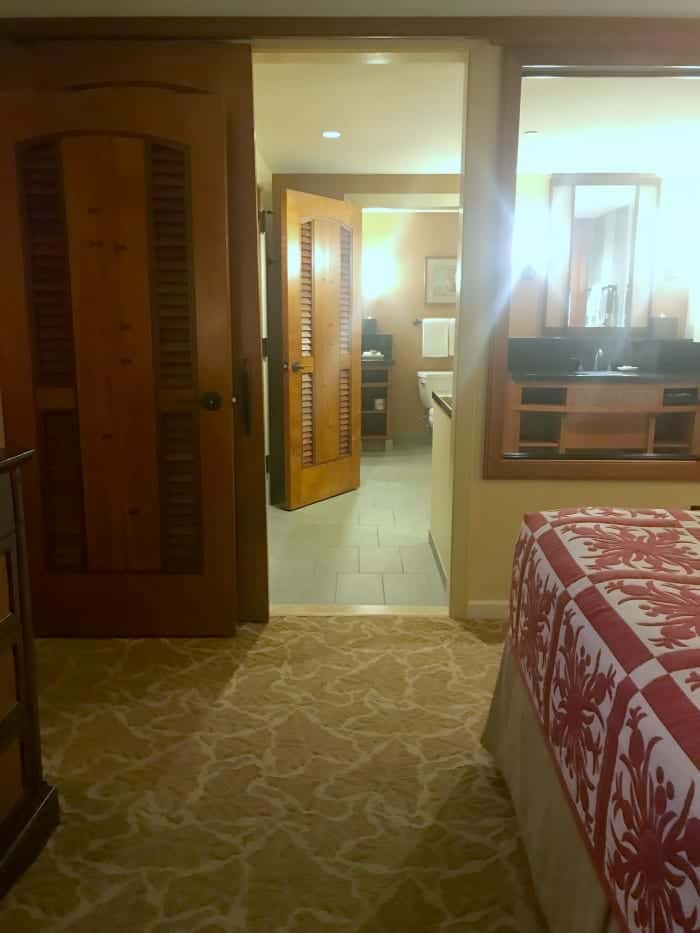 There was another bathtub area off of the master bedroom where you could also get ready.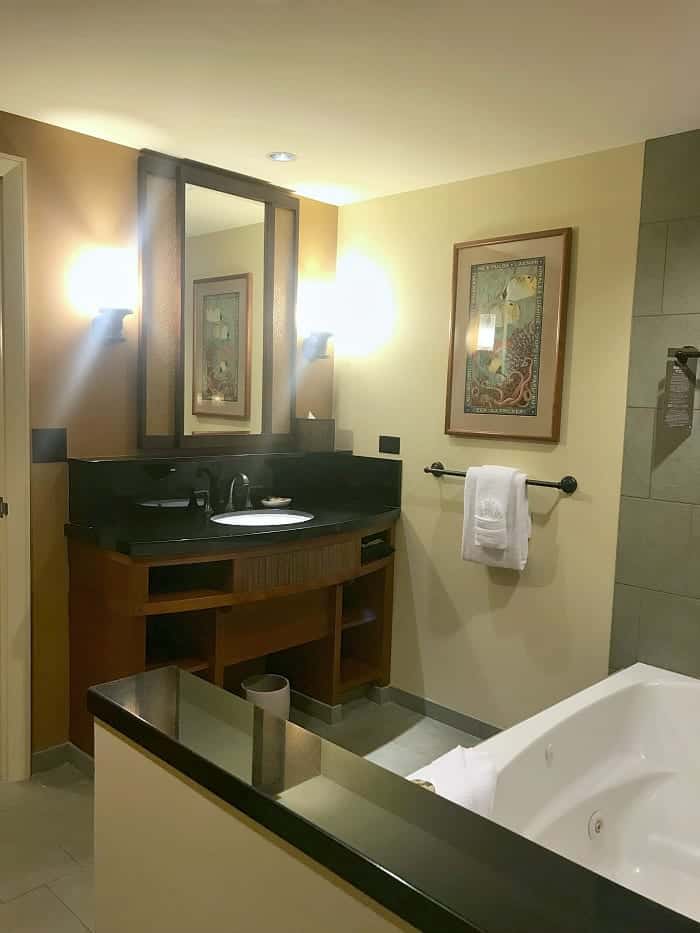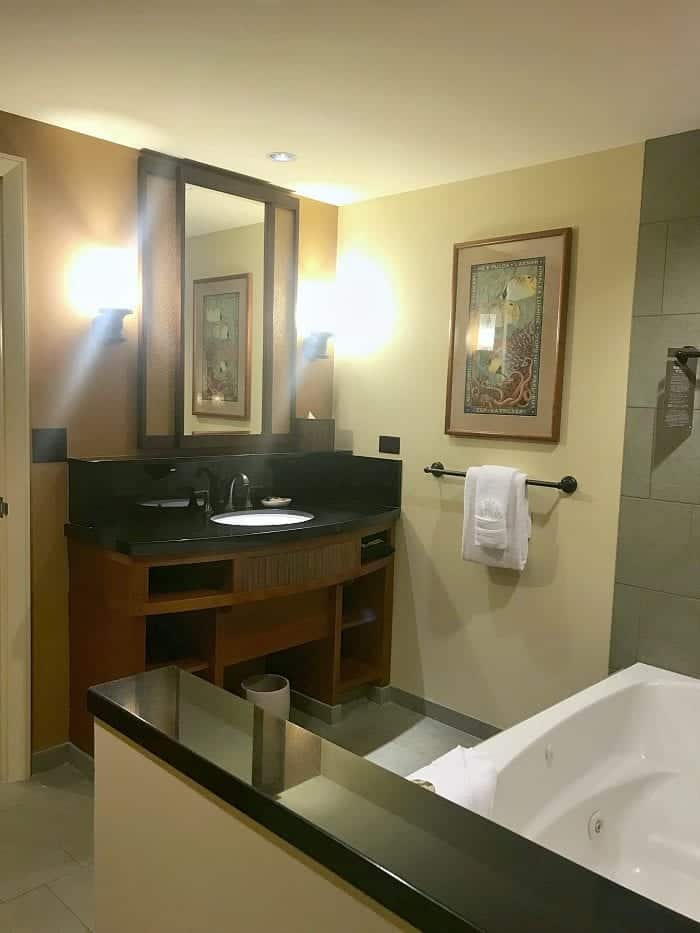 A closer view of the vanity area.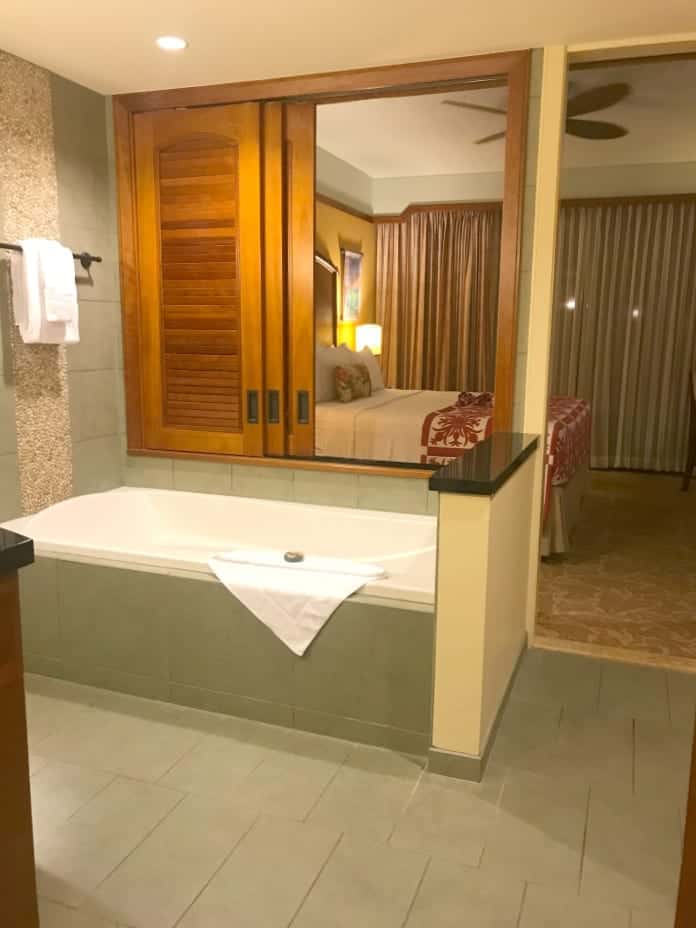 The kids LOVED the bathtub 🙂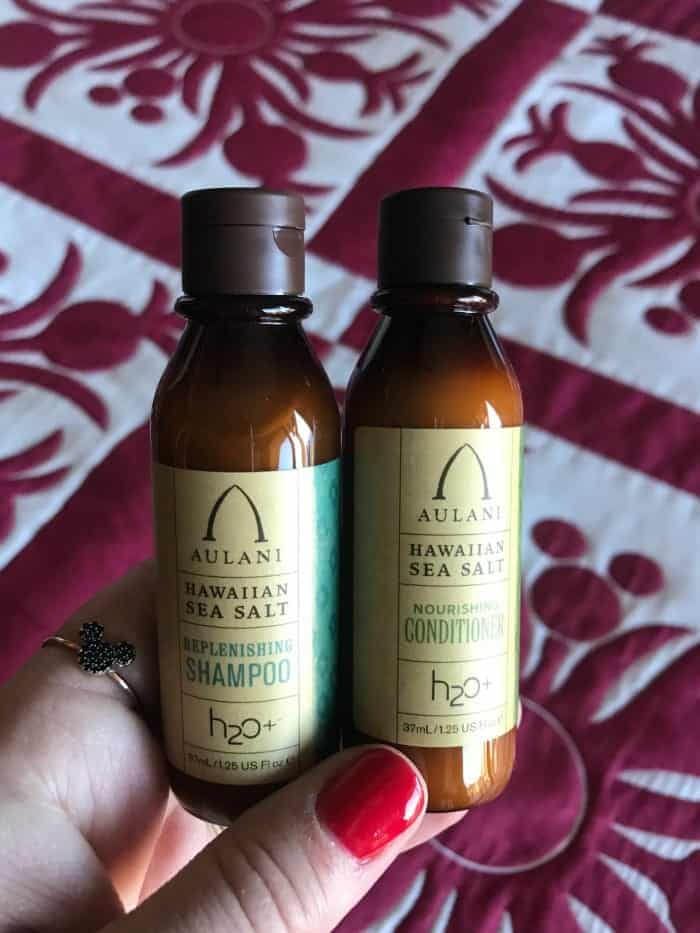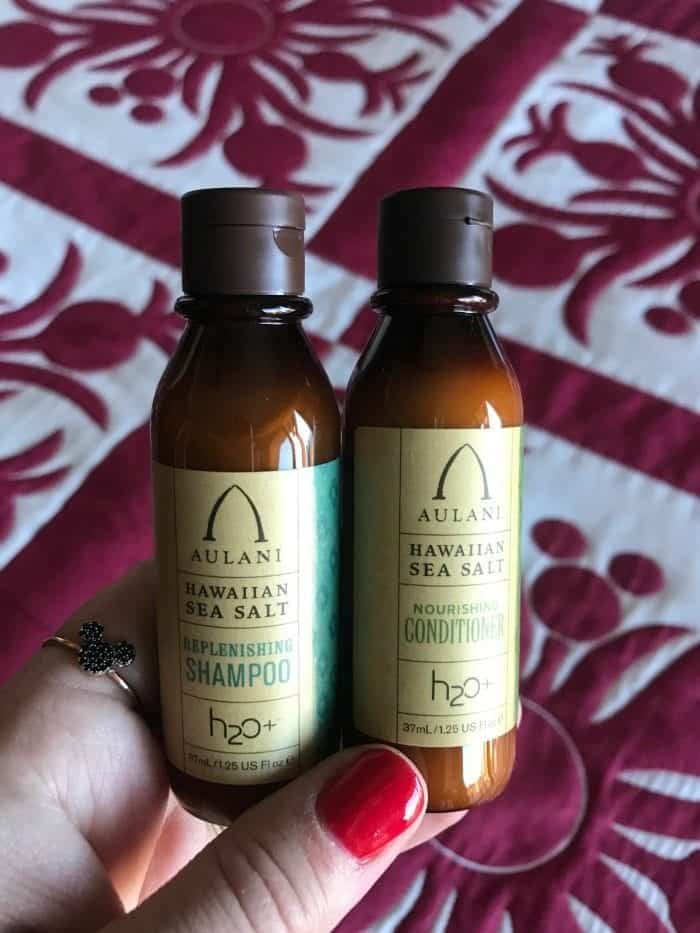 Always love the hotel branded shampoo and conditioner. These were lovely!!!
Disney Aulani Resort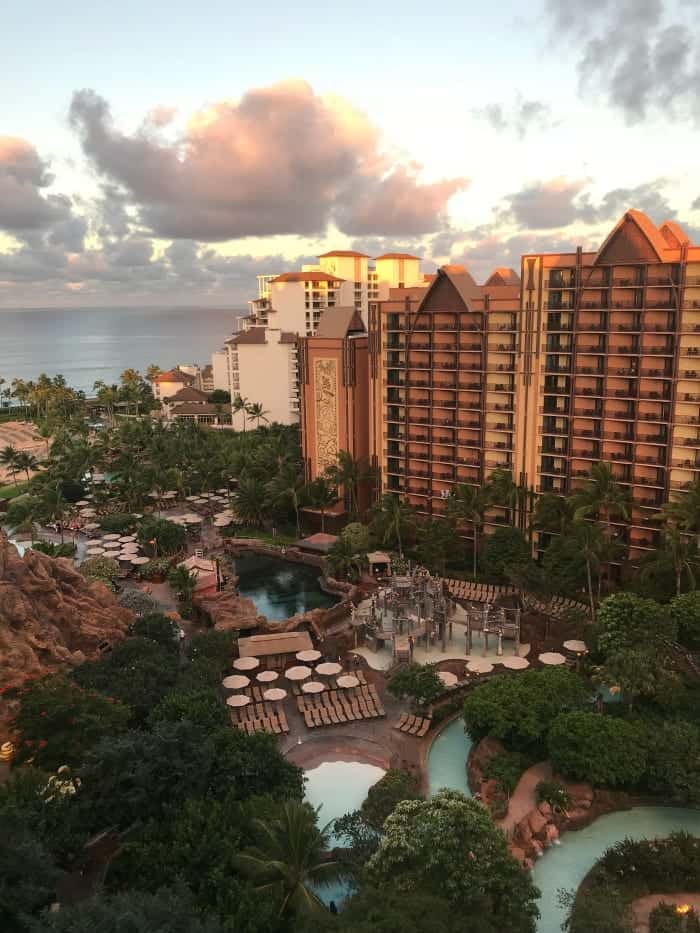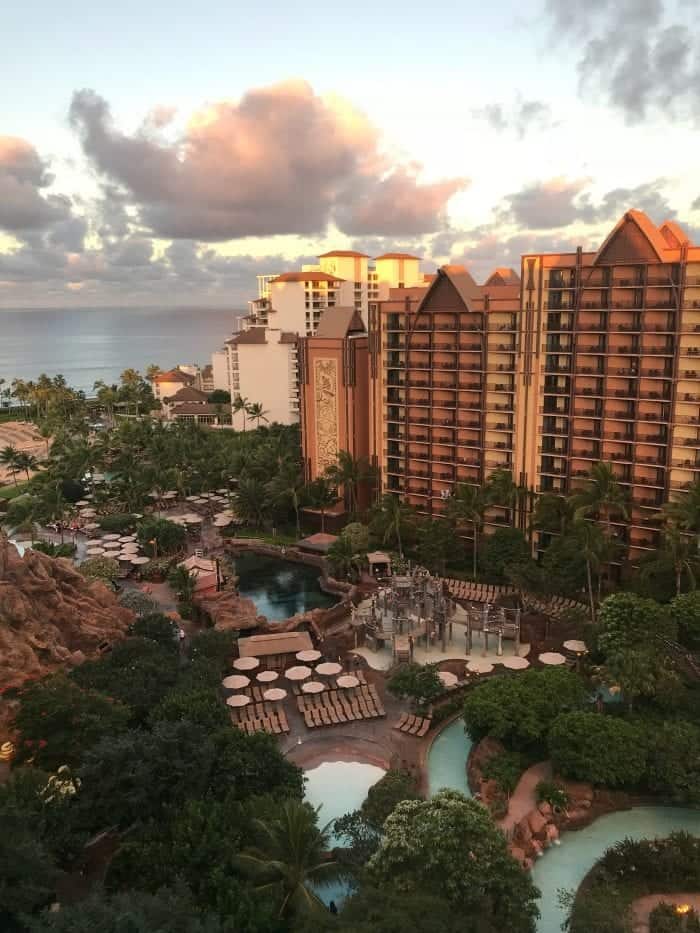 The views at Aulani, literally took my breath away. I'd come out to my balcony every chance I could to enjoy this.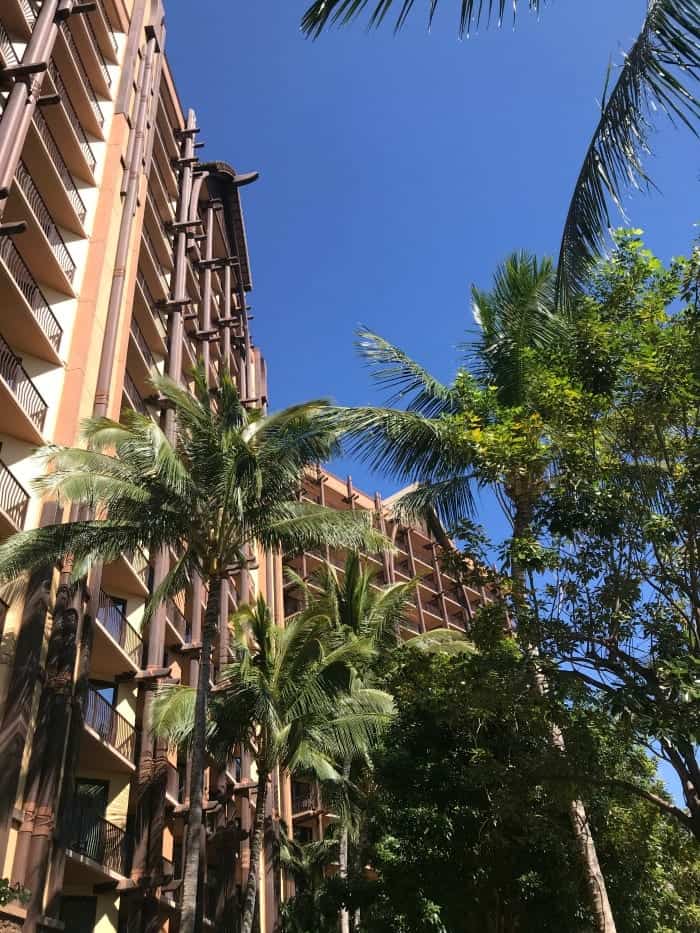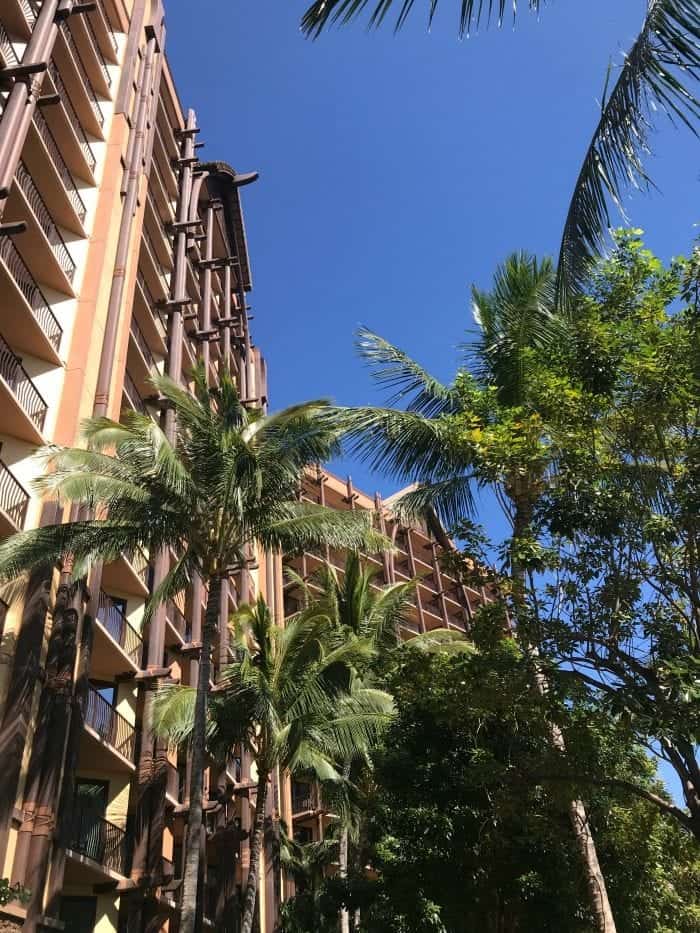 The greenery around the resort is so tropical and lush. A dream.
Disney Aulani Lobby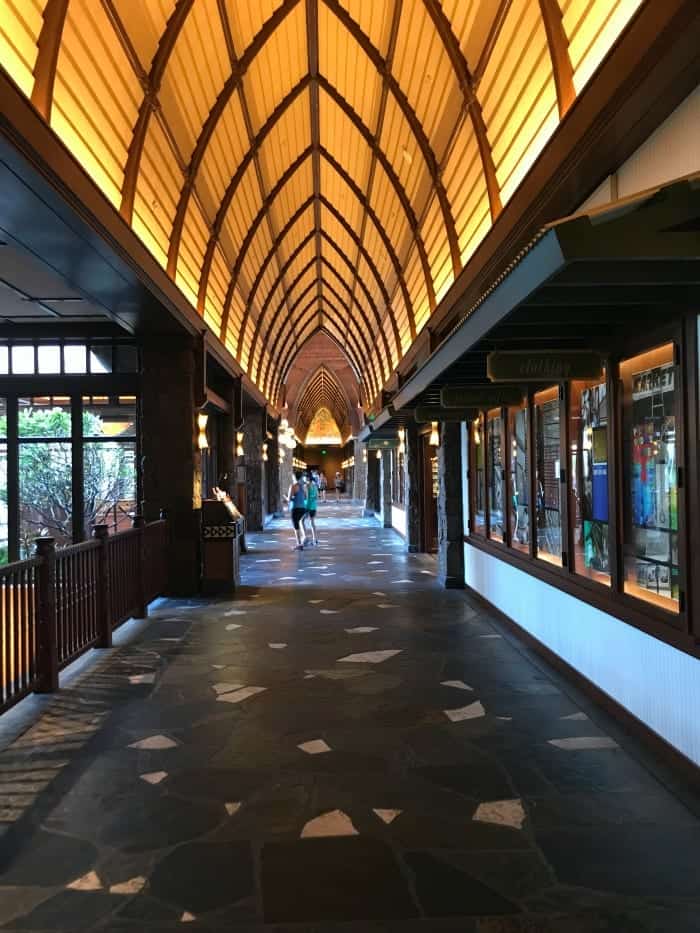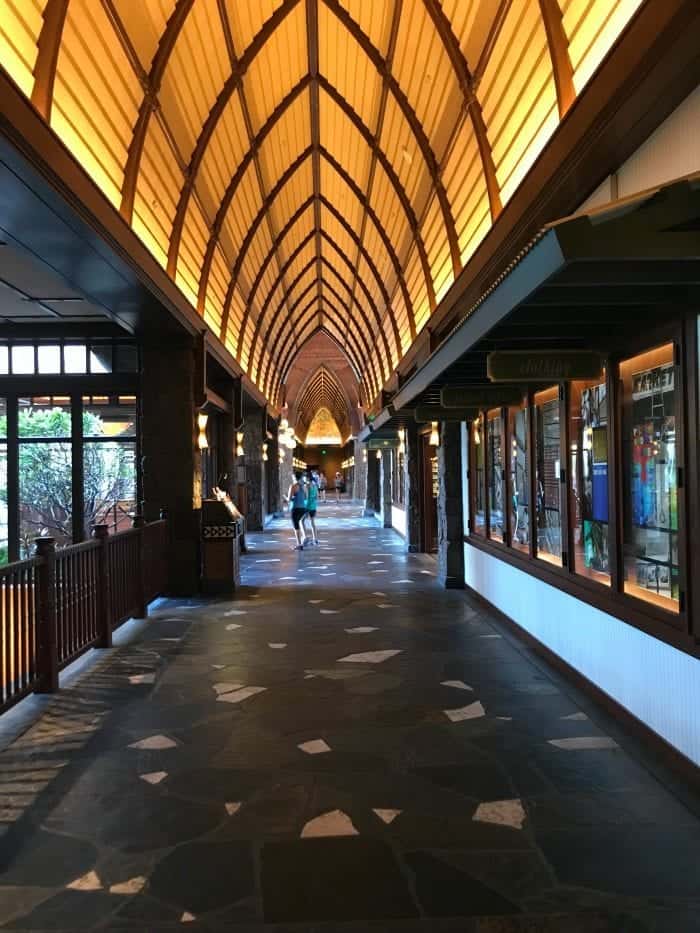 I also LOVE walking through the resort. There are so many beautiful details from floor to ceiling.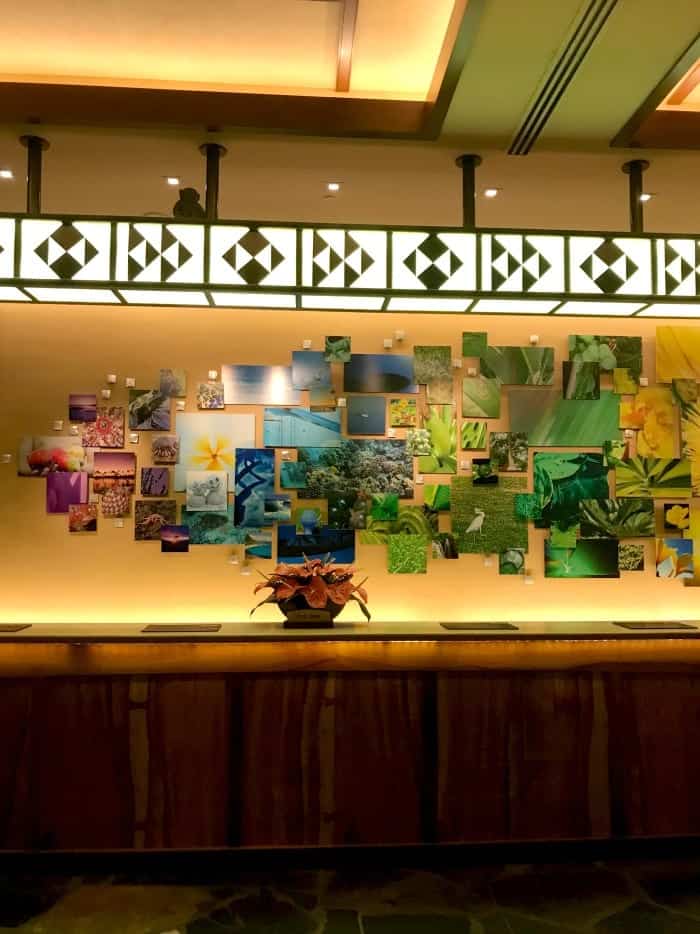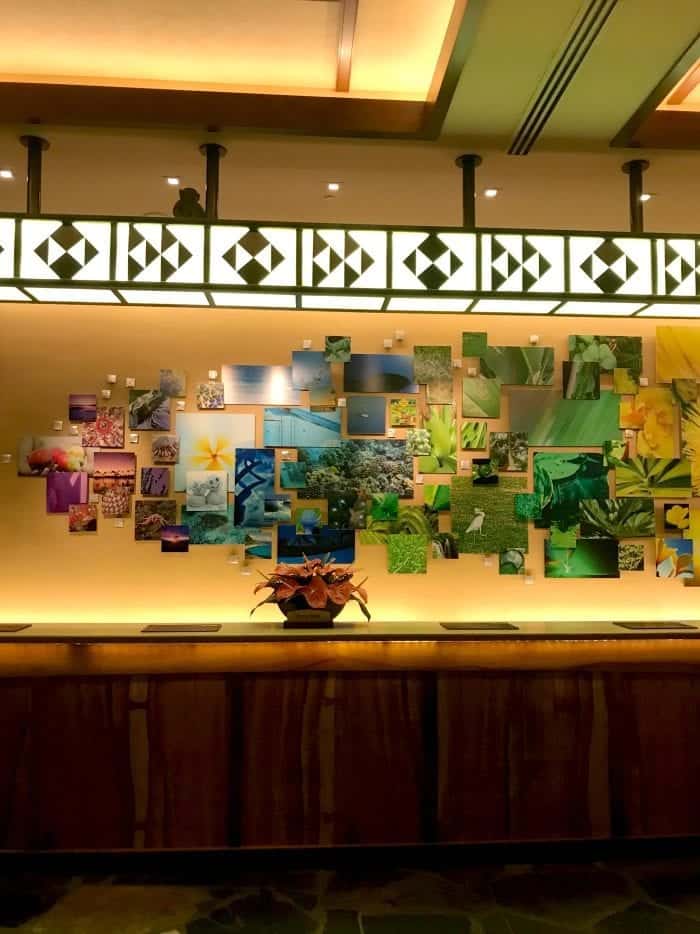 Loved the front desk area. All of the photos represented Hawaiian culture from the eyes of a child.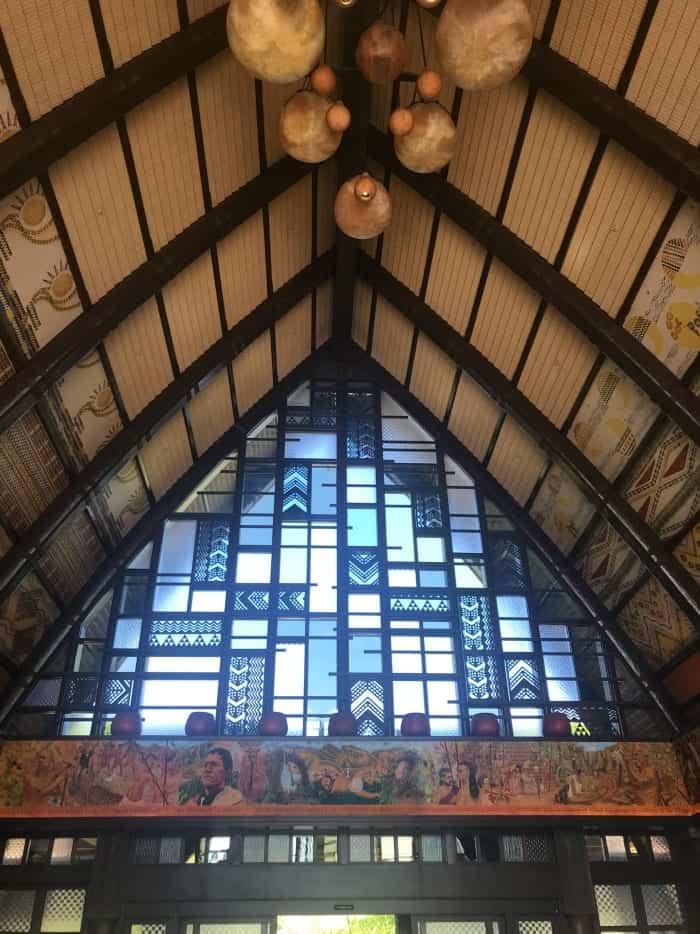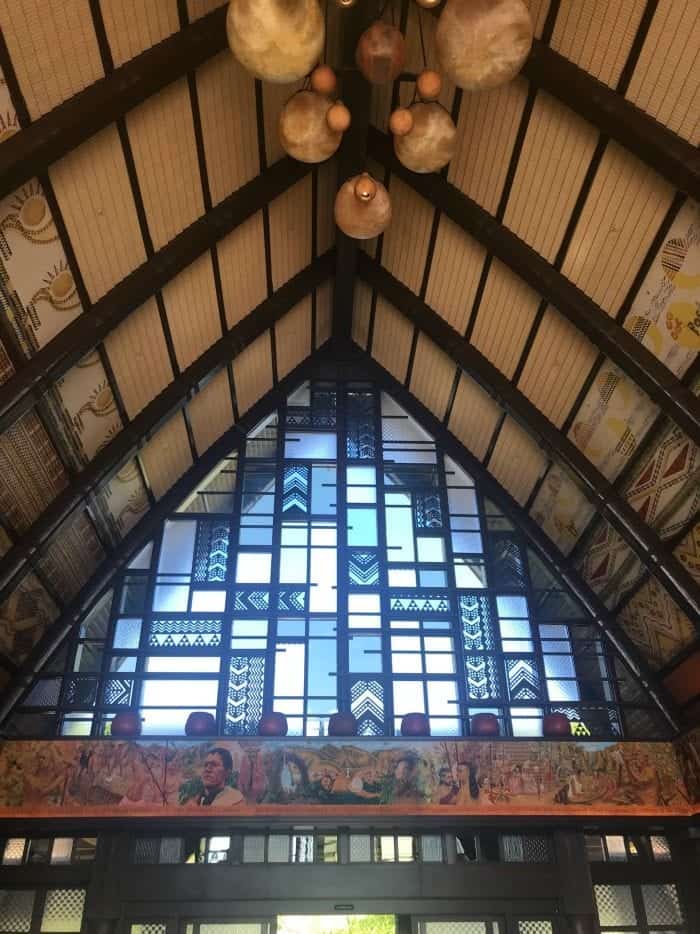 There is Hawaiian culture even as you look up!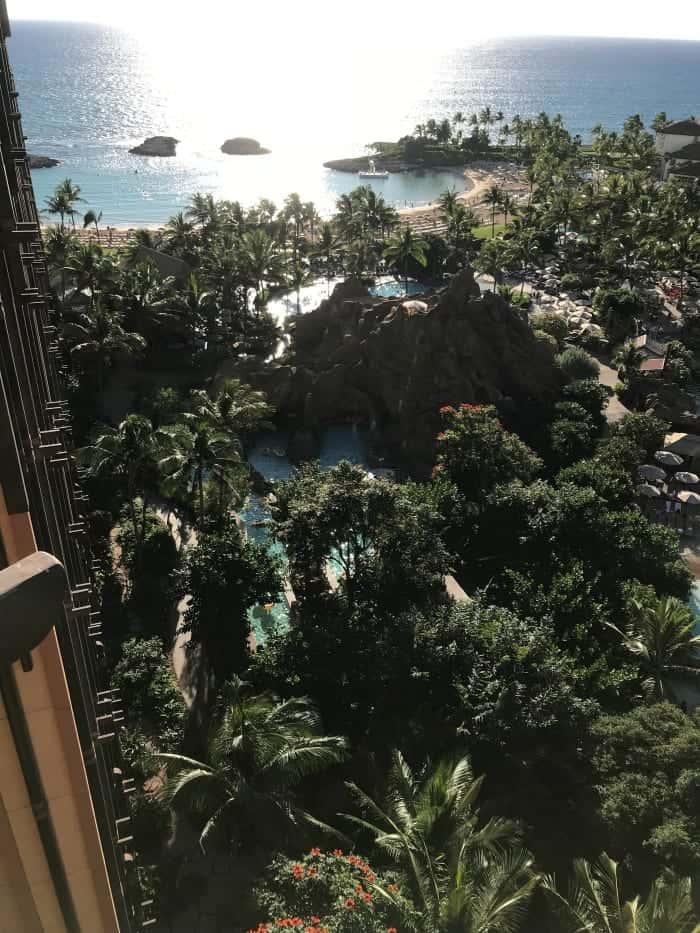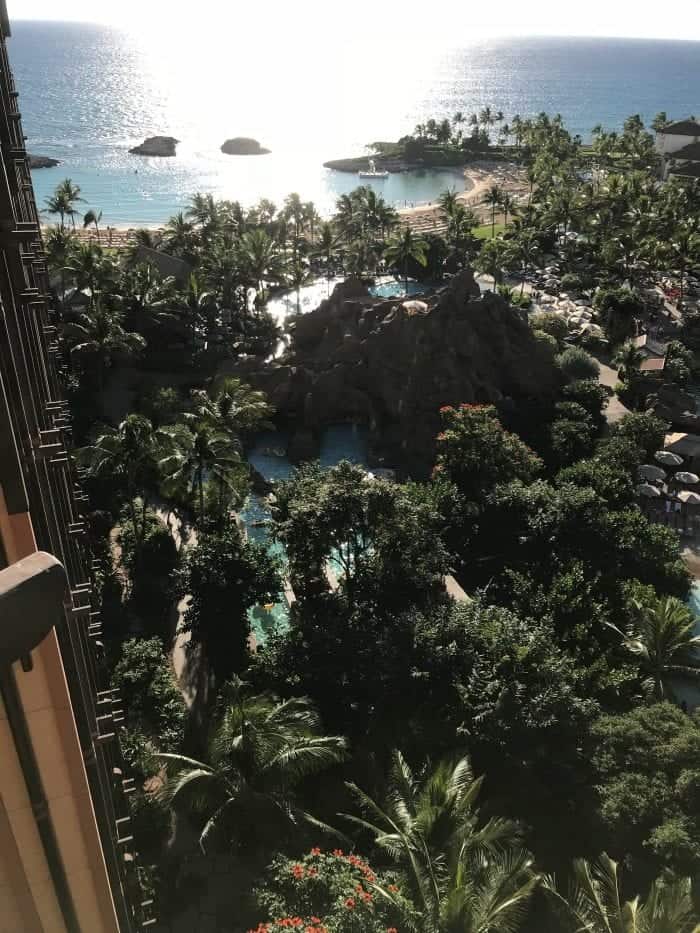 More amazing views from our Villa. Spectacular!
Disney Aulani Characters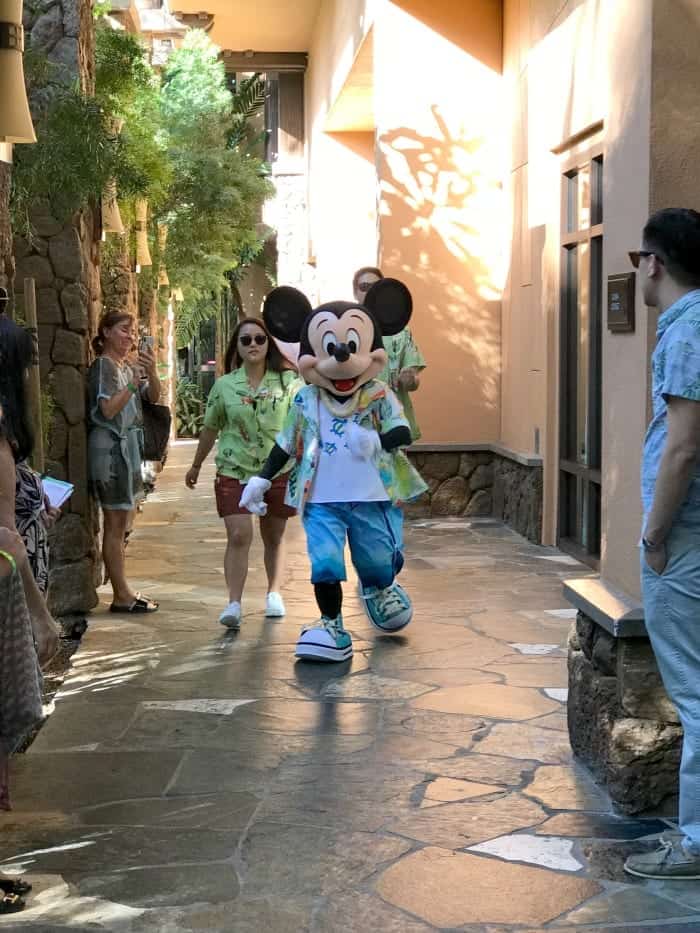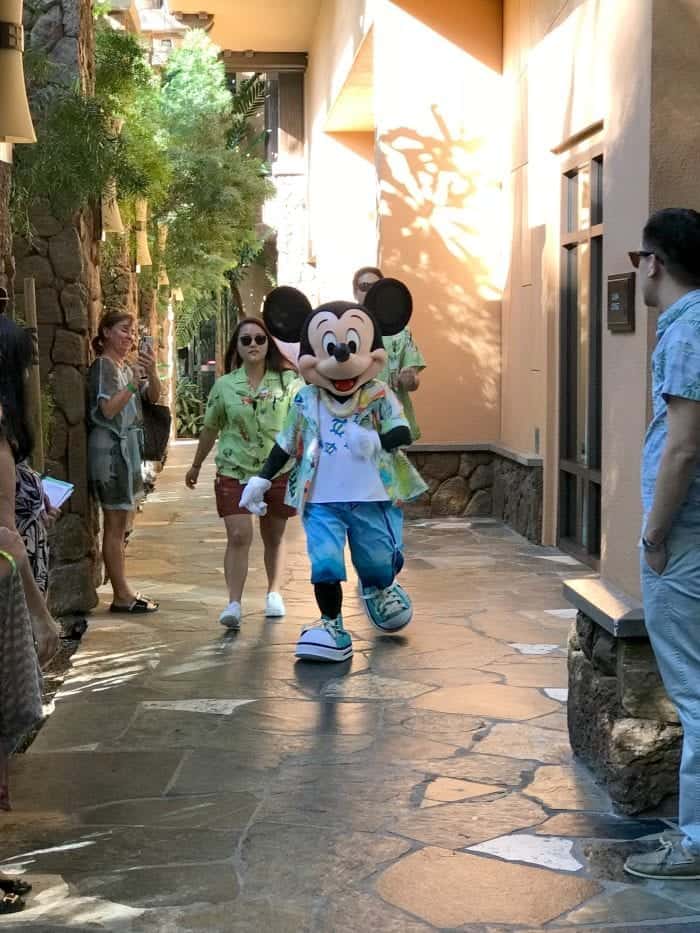 You'll find Mickey and his Pals walking through the resort for photo opportunities. So fun to see them in their vacation clothes! 🙂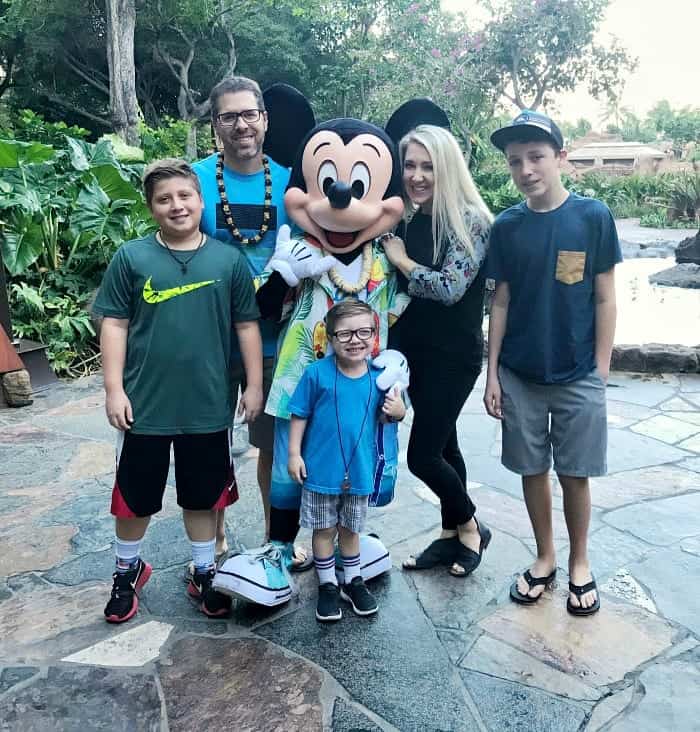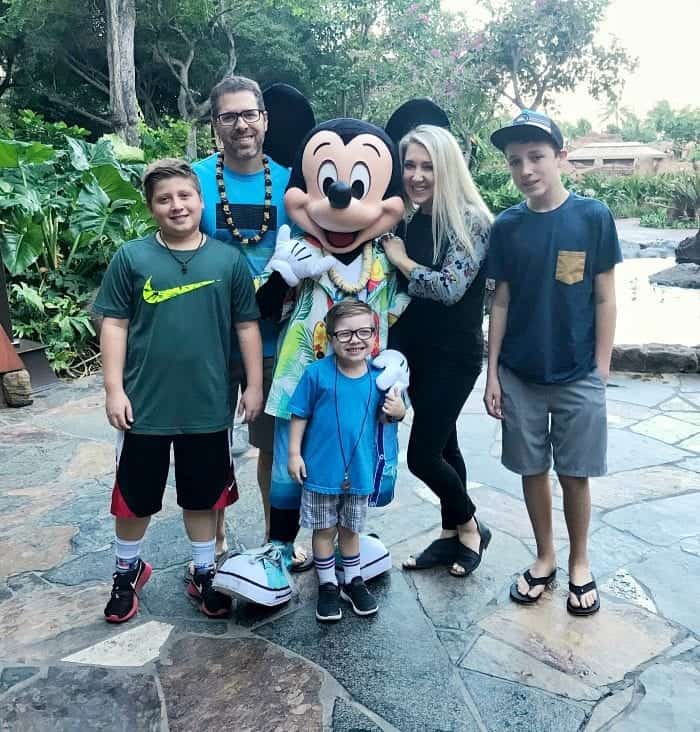 Can't go without a photo with Mickey!!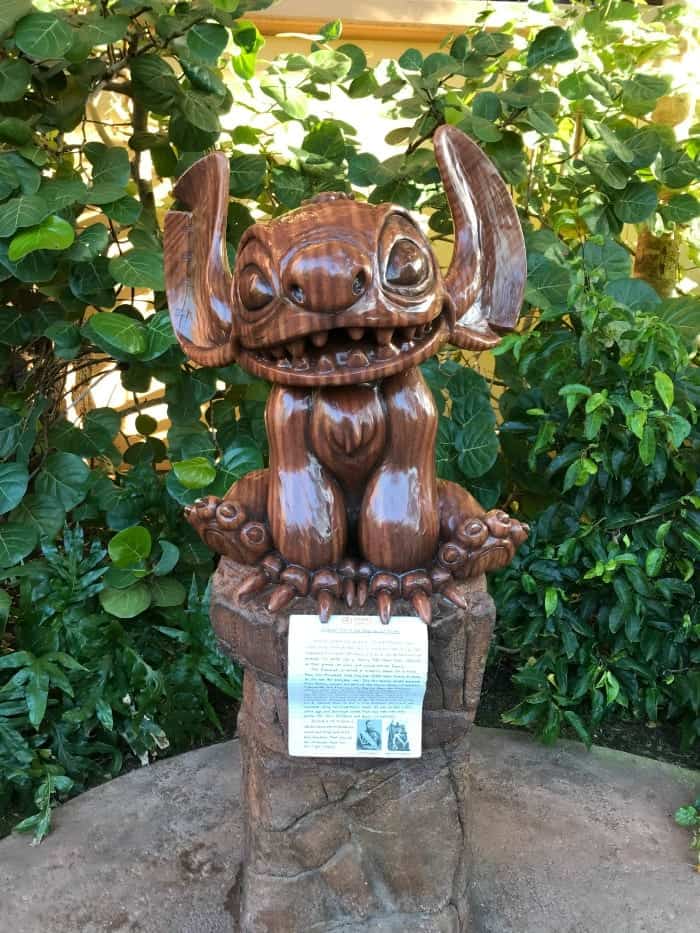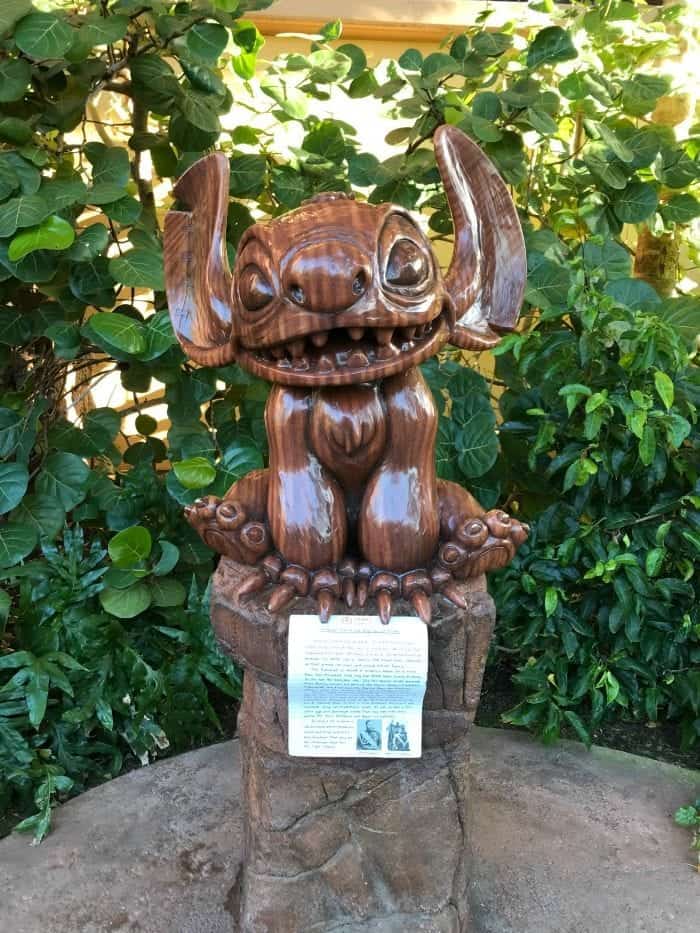 You'll also find Stitch as you are walking by the pools!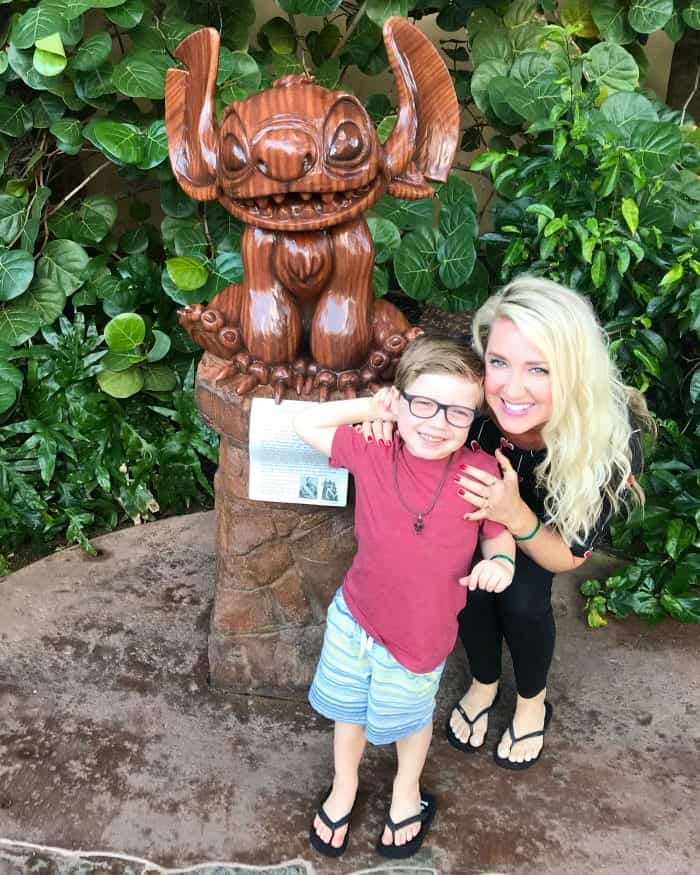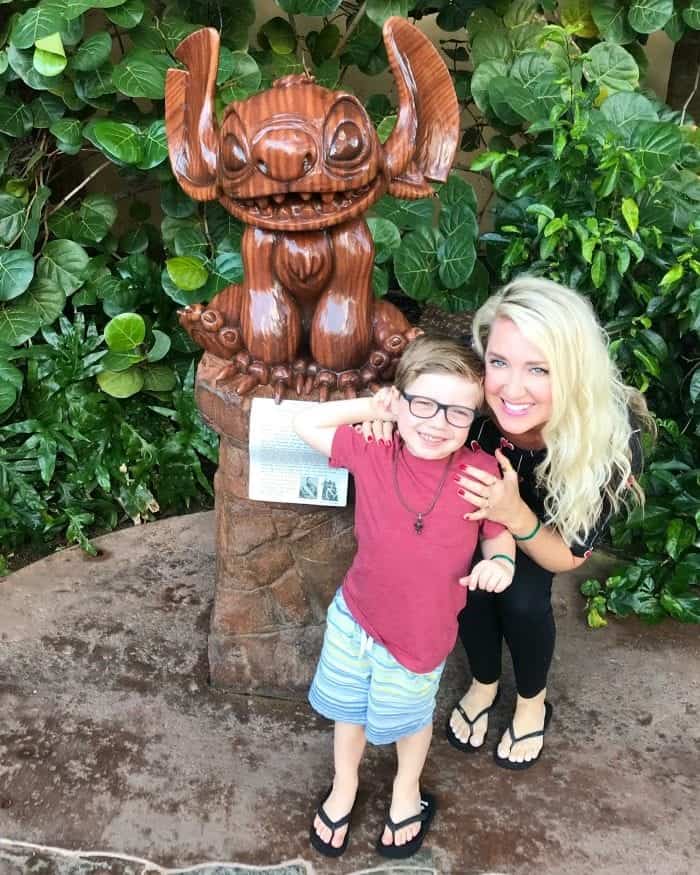 Pax and I stopped for a photo.
The Disney Aulani Pools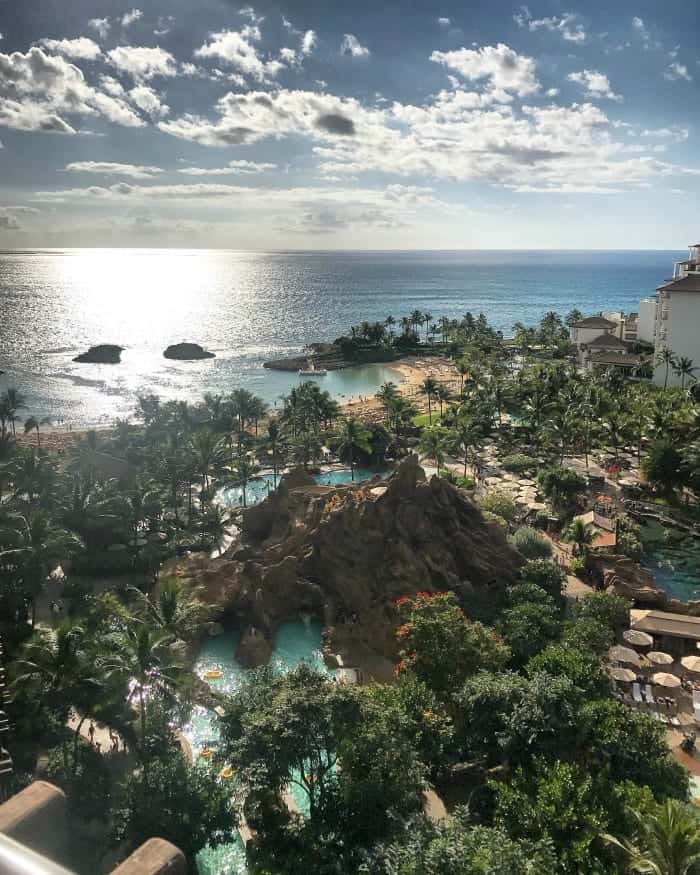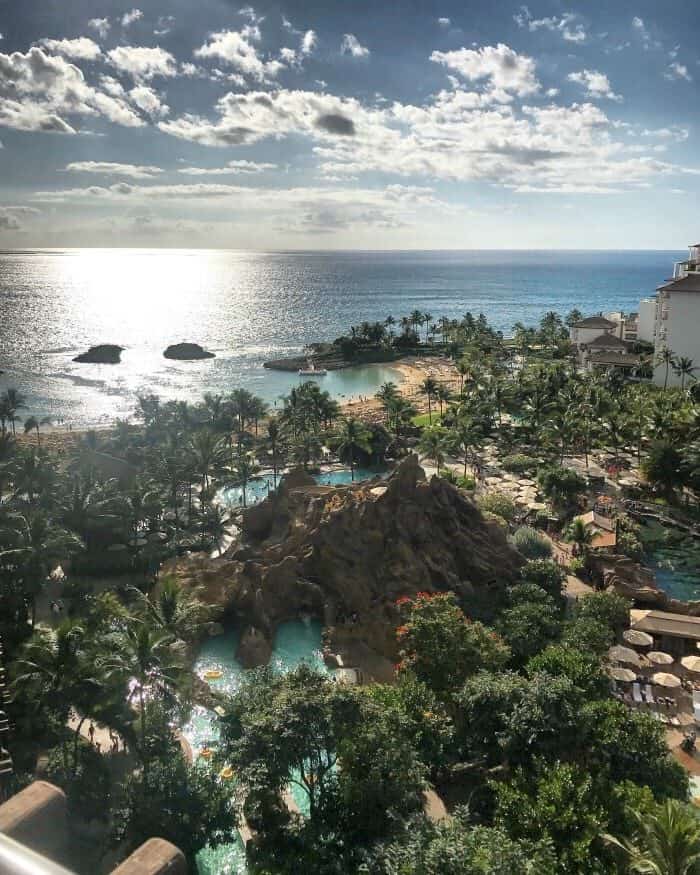 I mean……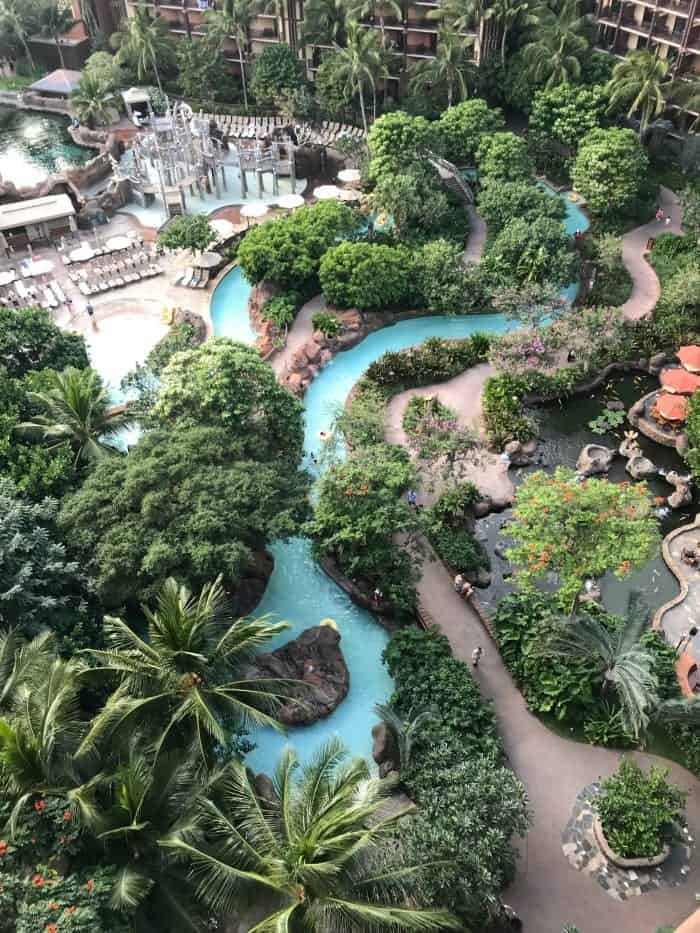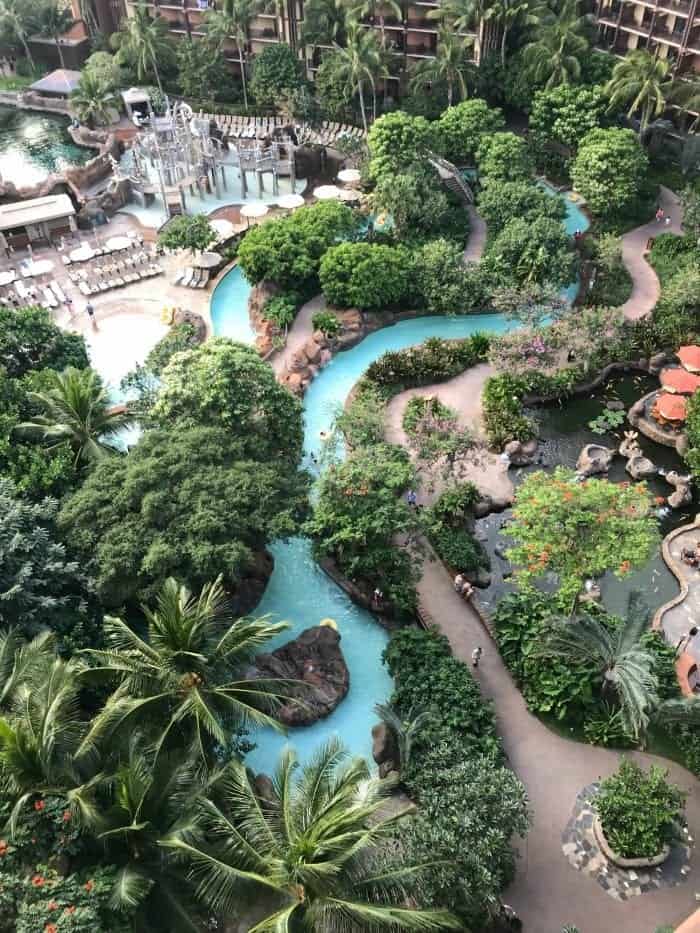 We loved floating down the lazy river. So scenic and relaxing.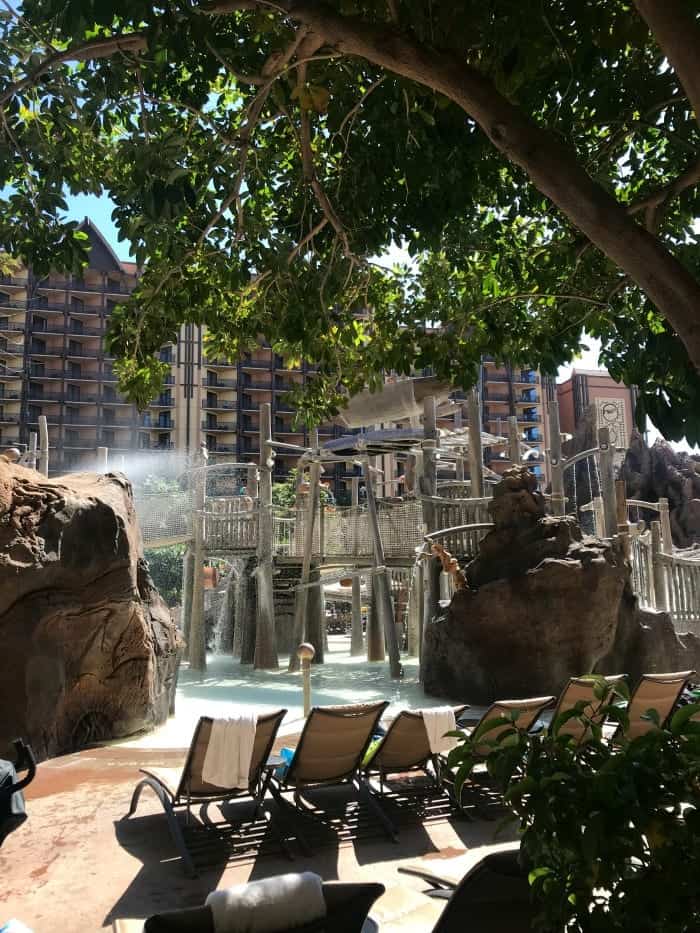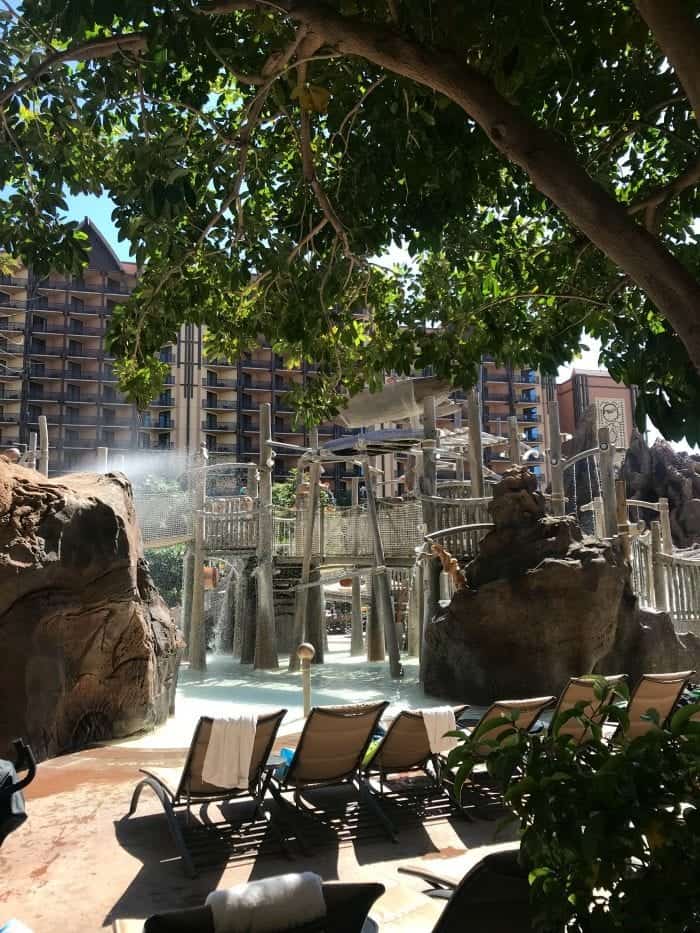 Pax loved this kids water area near the pools. So much to play in.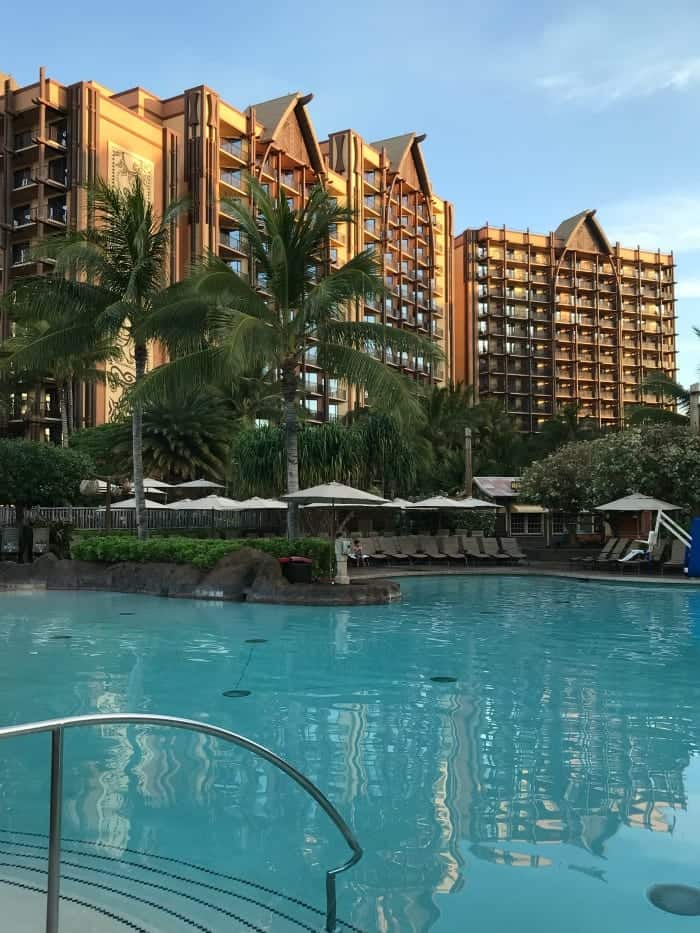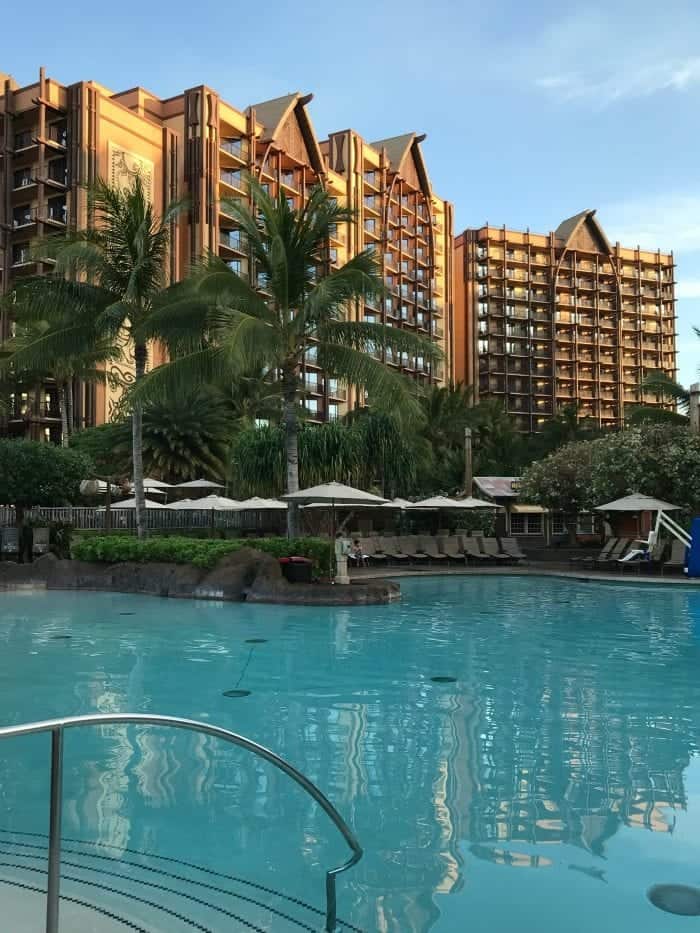 One of the many pools to enjoy. This was early morning before all of the families show up 🙂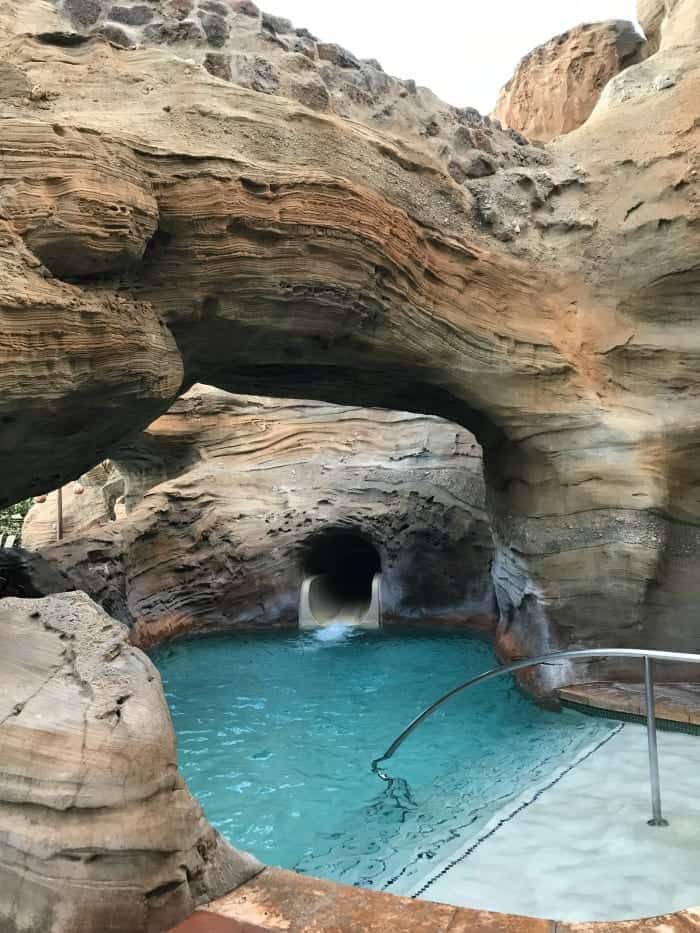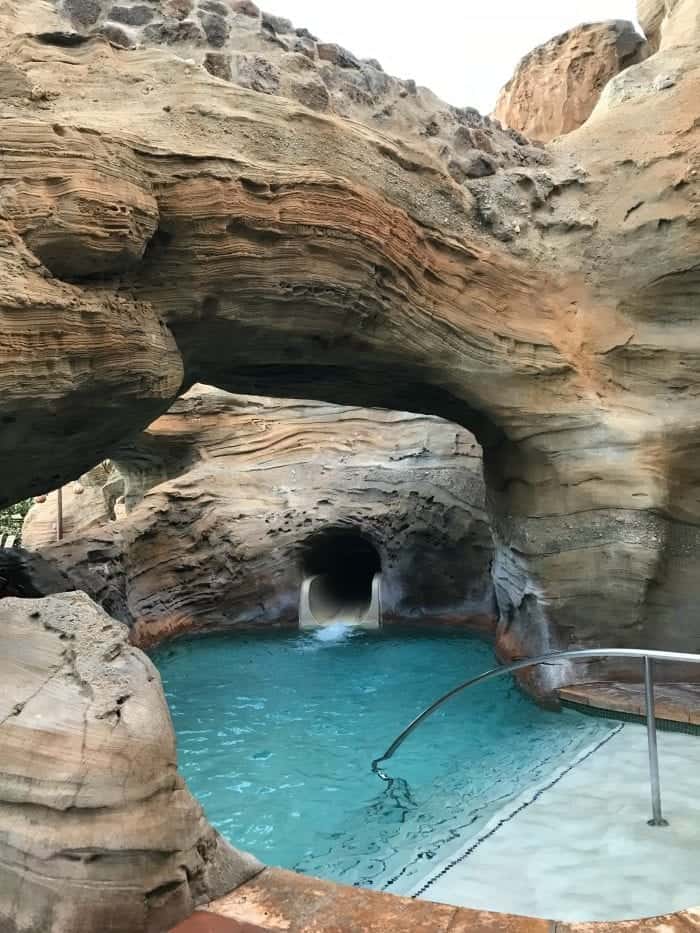 There are two waterslides to enjoy as well. One you go down in a tube and one just your body. We had a blast on these.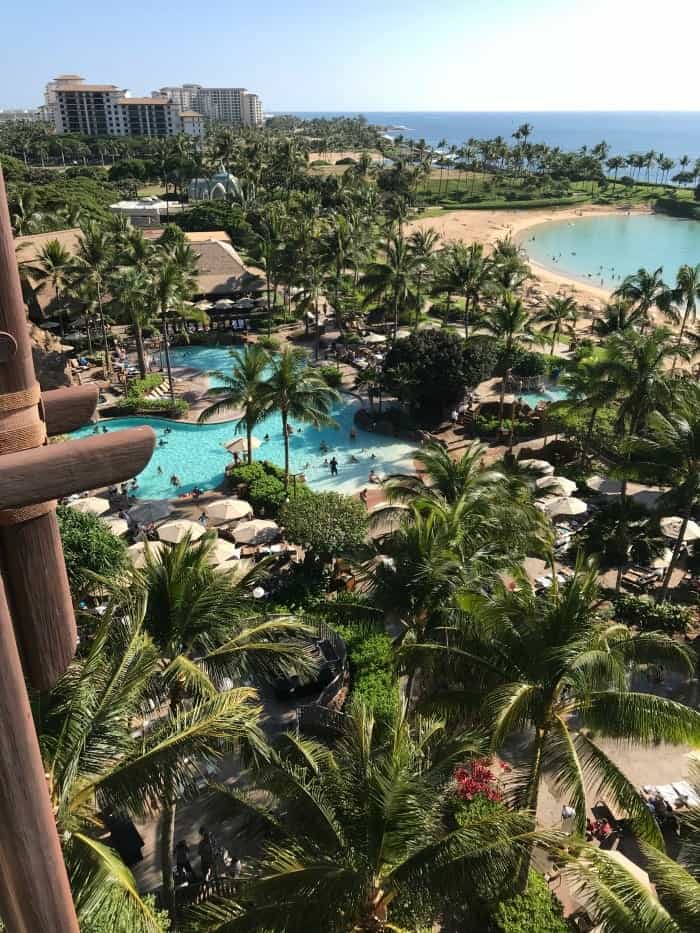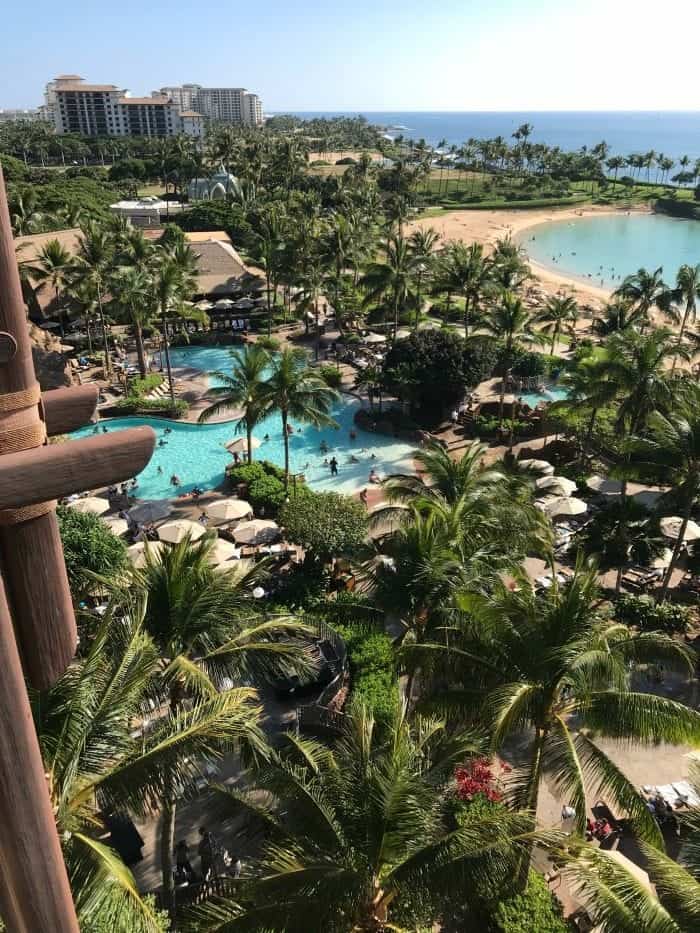 There are a number of pools to enjoy and you can see the beach is just steps from the resort. It's Disney's private lagoon, also open to the public and locals. Crystal blue waters and white soft sand.
The Beach is Right By The Resort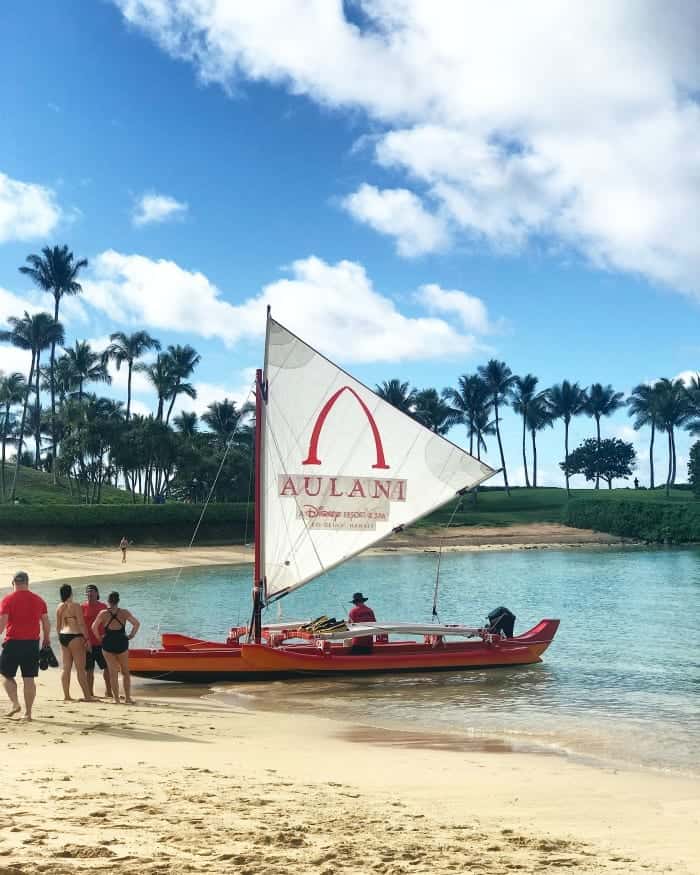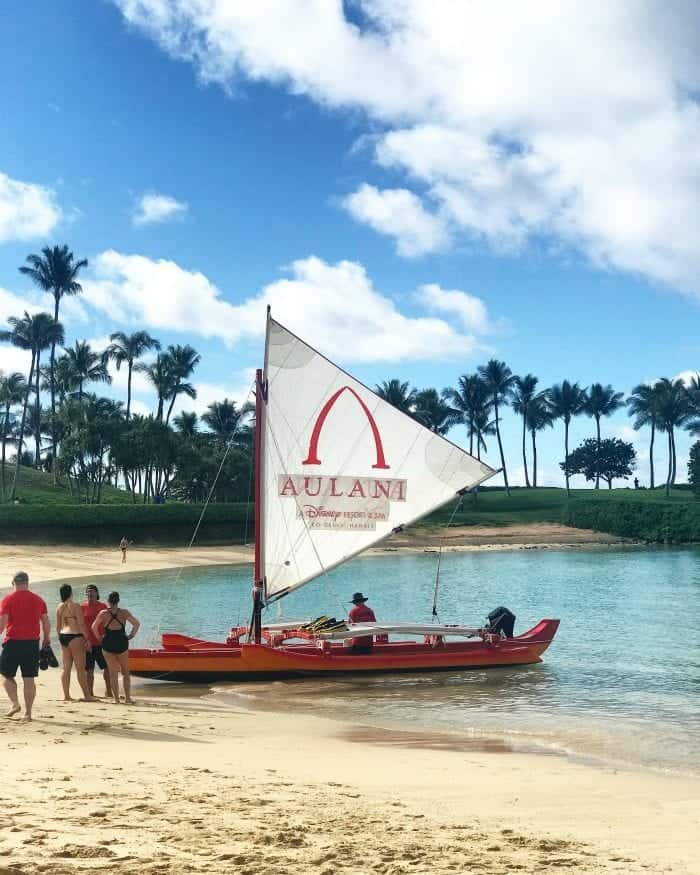 You can rent canoe rides if you'd like at the beach along with a number of other activities for the whole family to enjoy.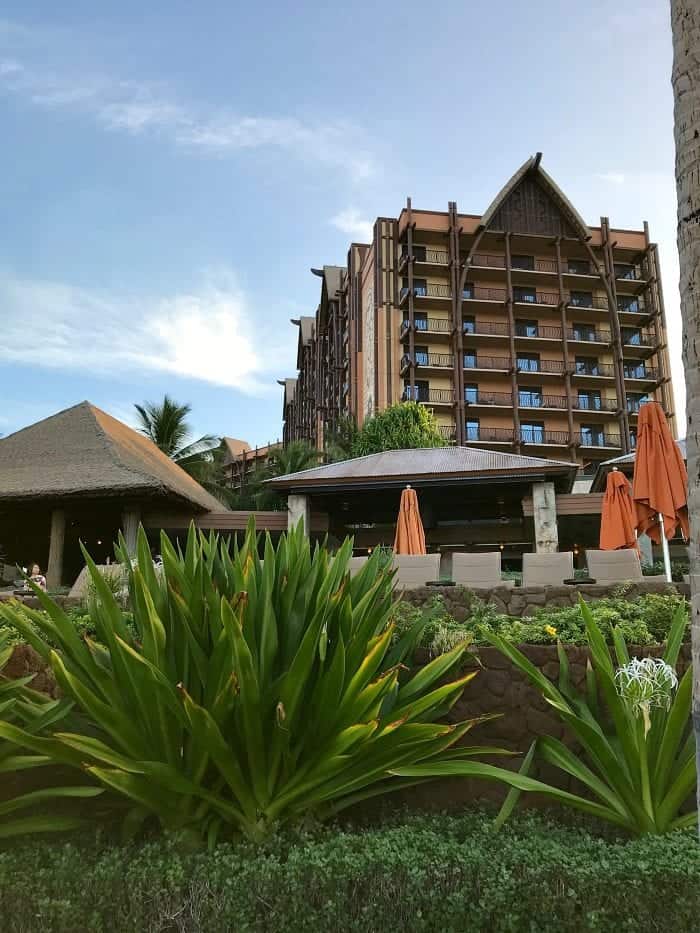 There's a fantastic walkway between the resort and beach area to sightsee and run/walk if you'd like. My husband took advantage of it for his running trail in the mornings.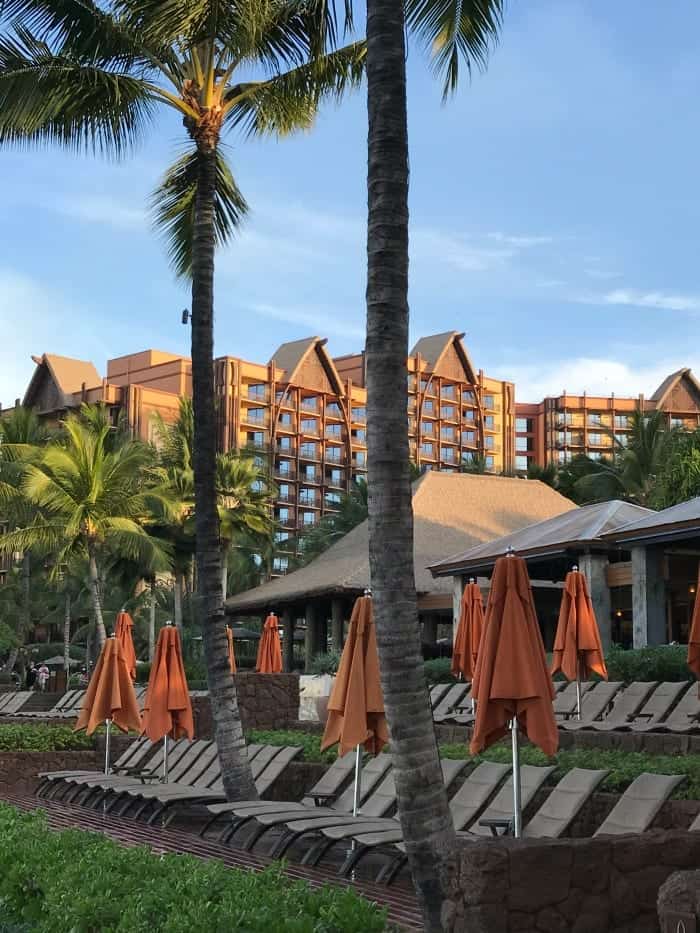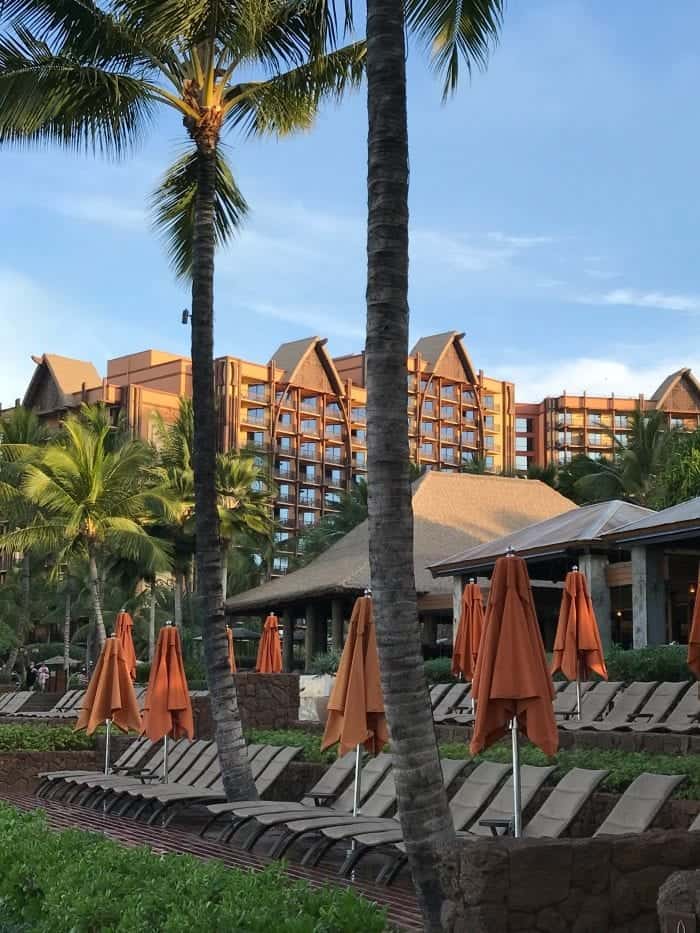 Loved the views from all around the resort.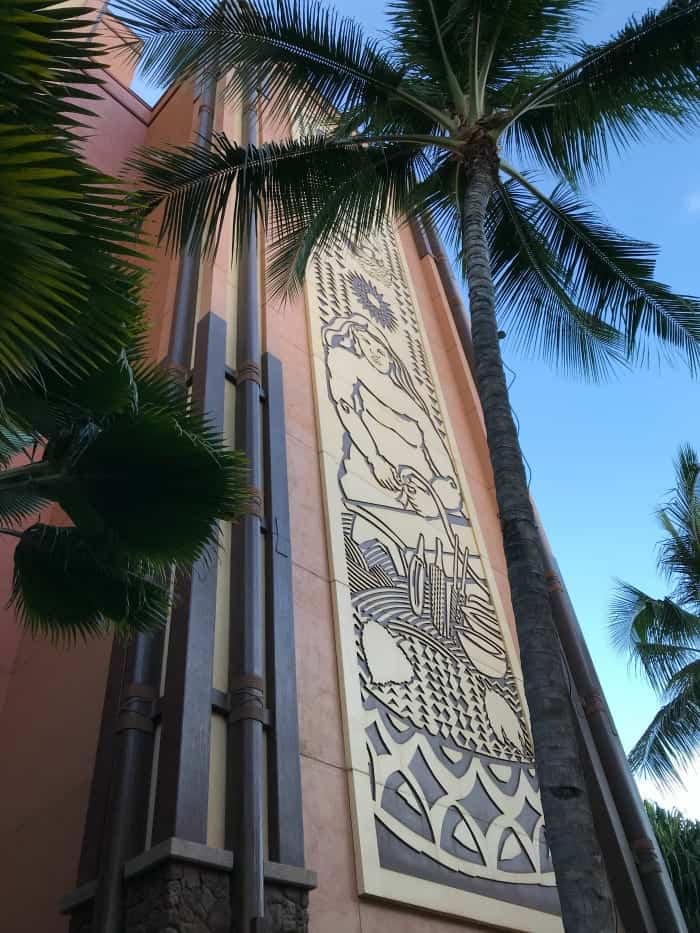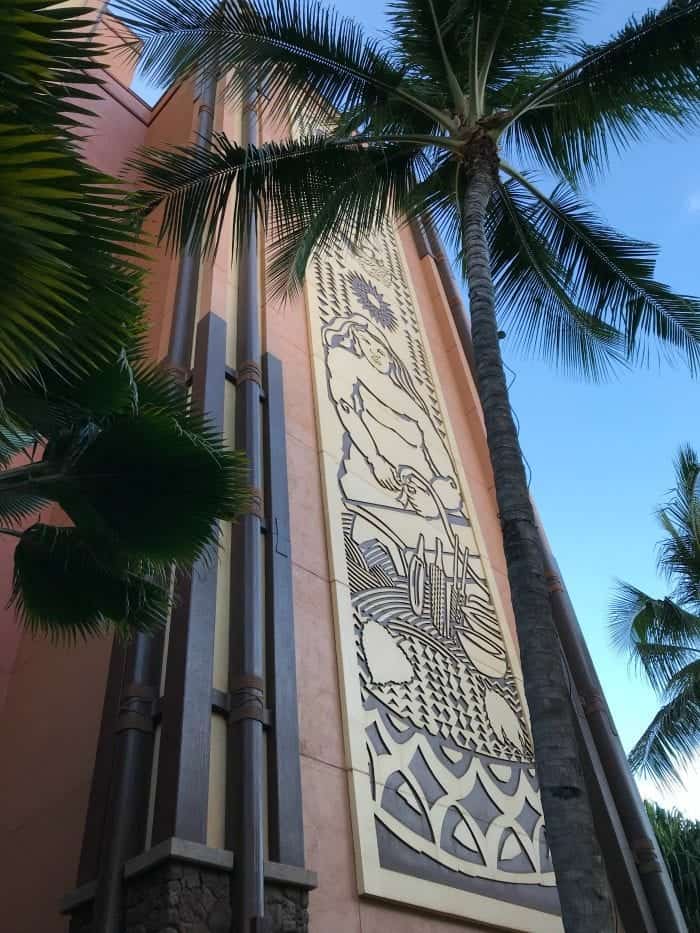 The Kids Club at the resort is phenomenal, Aunty's Beach House. You can register the kids online or at the Club. They get a magic band to use during their stay. Pax had a great time enjoying all of the activities they had to offer.
Disney Aulani Luau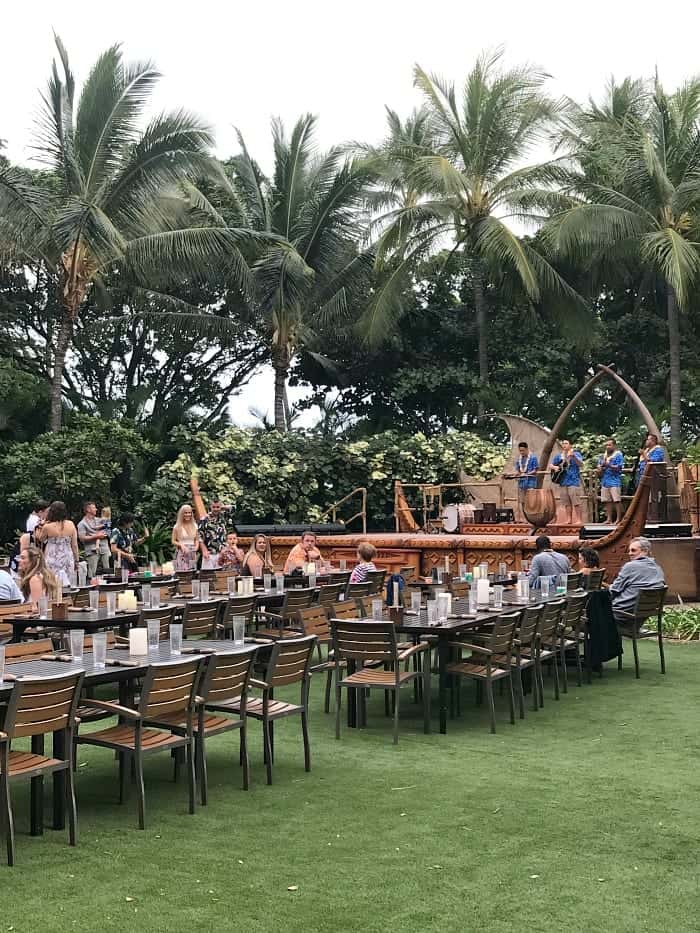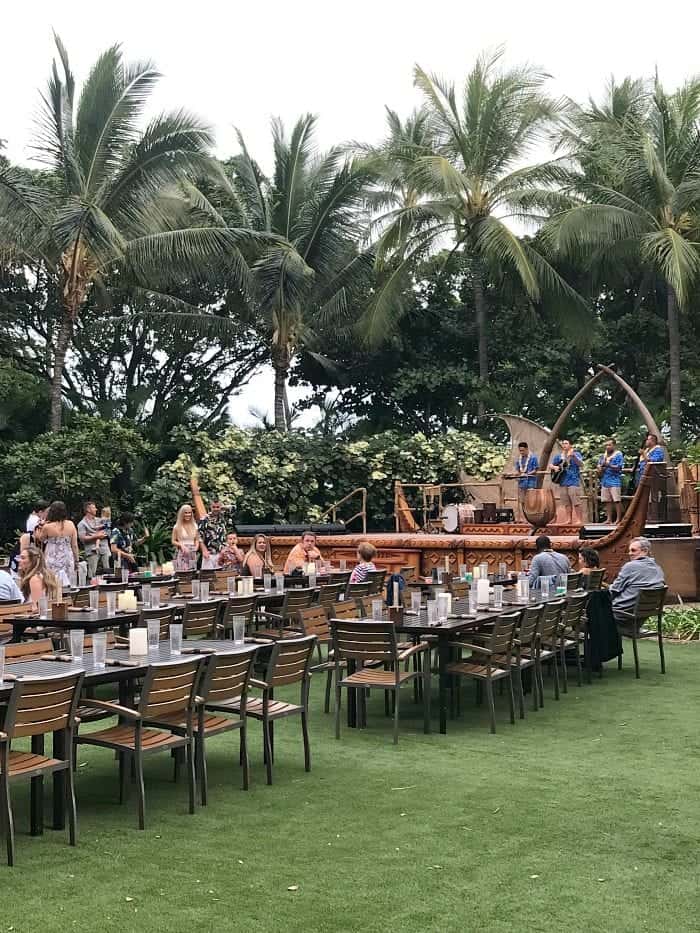 The Aulani Luau is a special ticketed dinner that I highly recommend. The public is welcome to purchase tickets as well. You do not have to be a guest at the hotel. It's a buffet style dinner. We really enjoyed this night.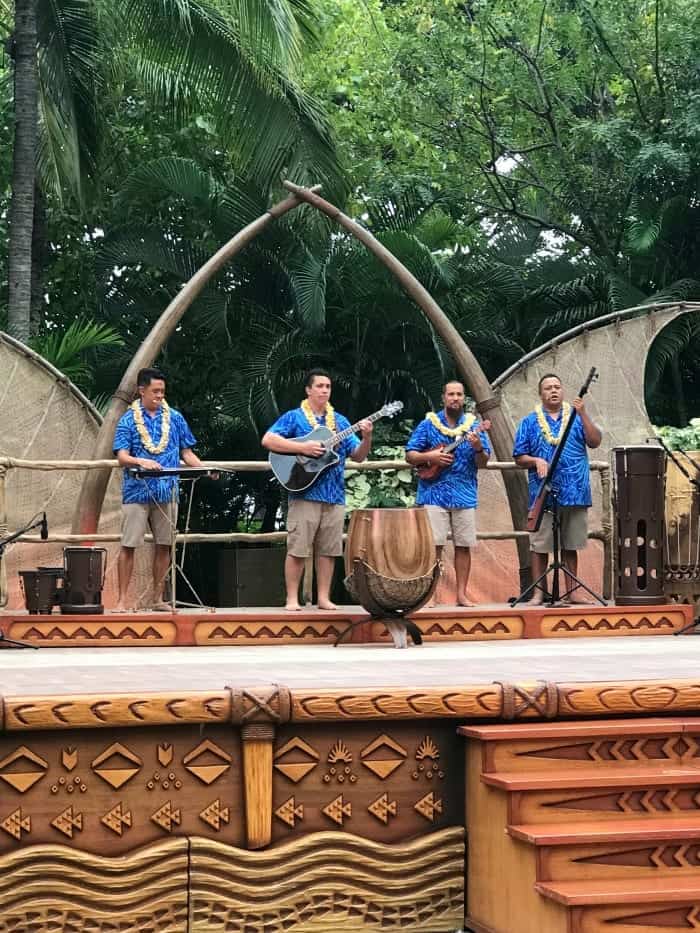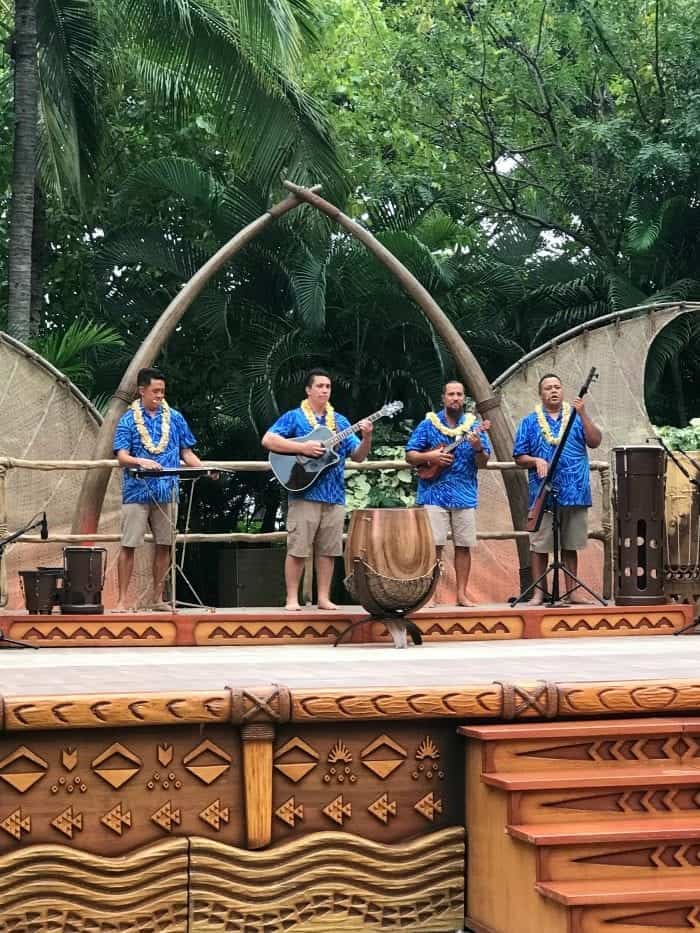 Amazing music to enjoy before and during dinner.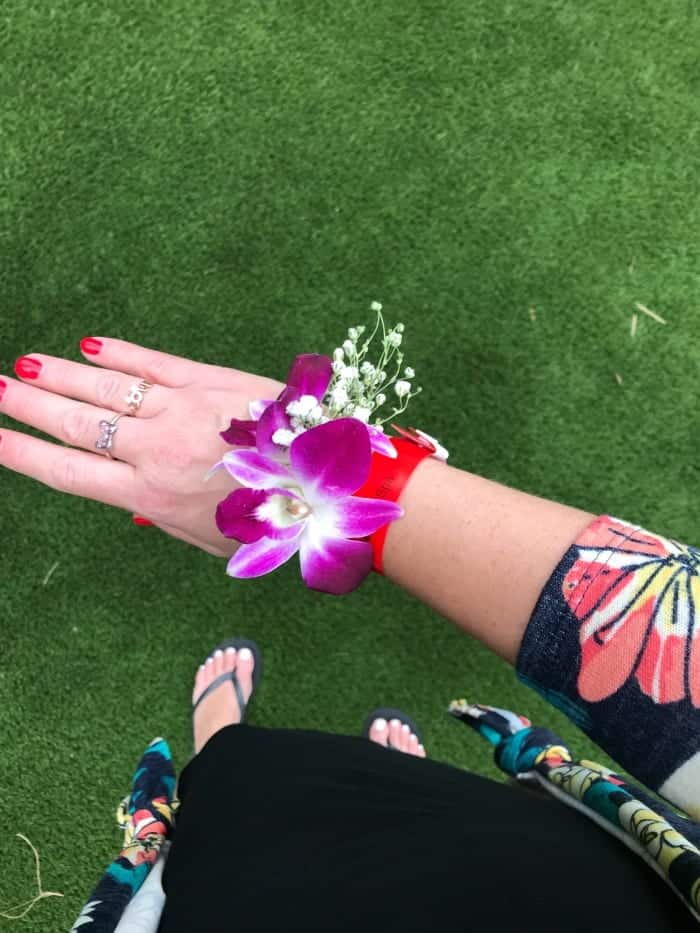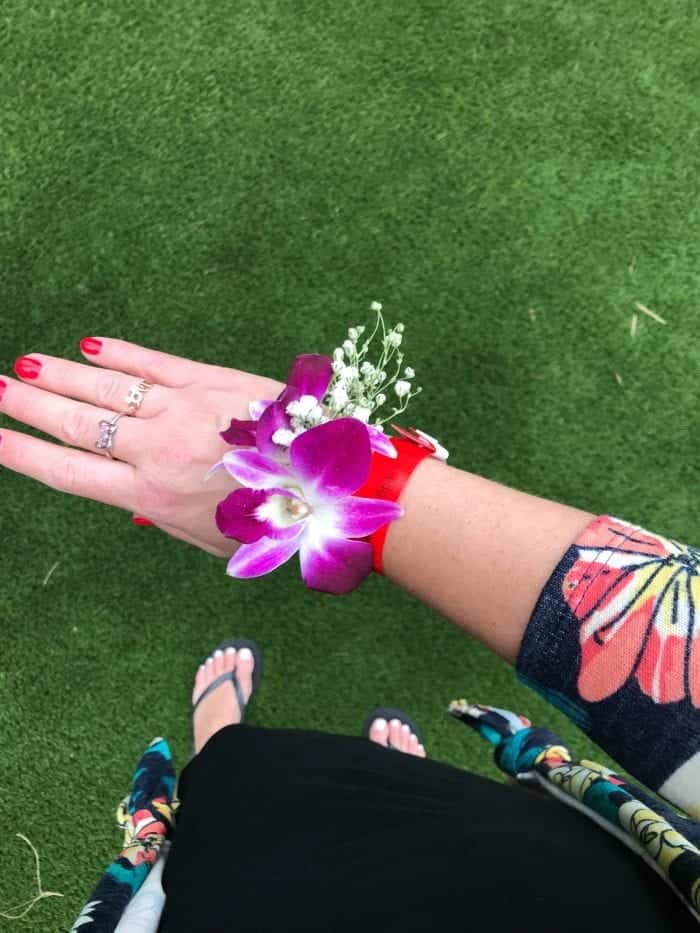 A number of fun activities for the whole family before dinner.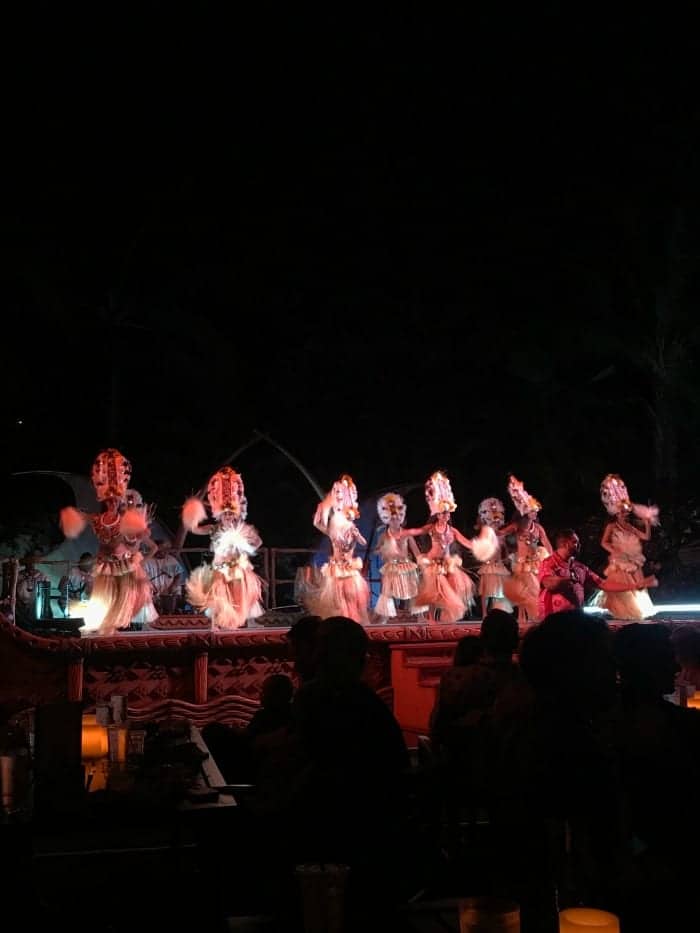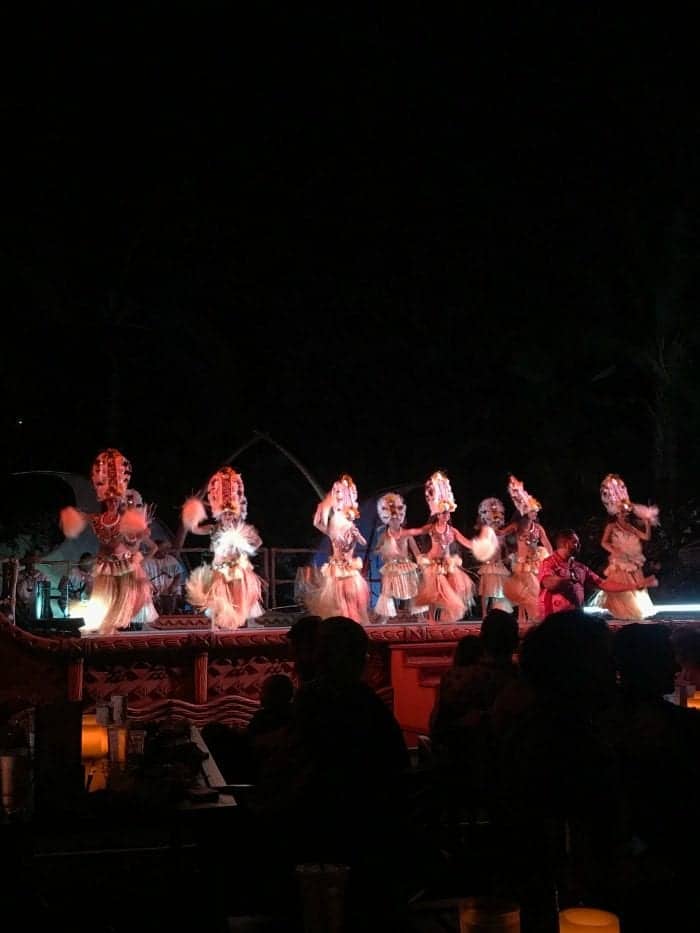 The Luau was one of my favorite activities we did during our week at Aulani. Definitely check it out. Even our 5 year old enjoyed. I believe from start to finish, it was 3 hours.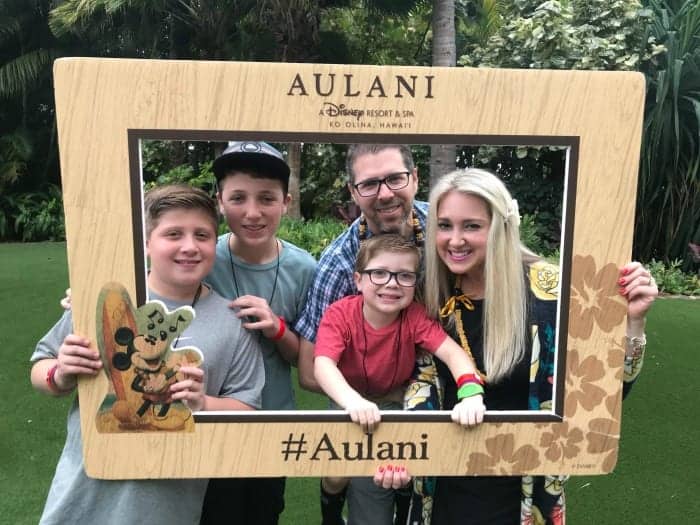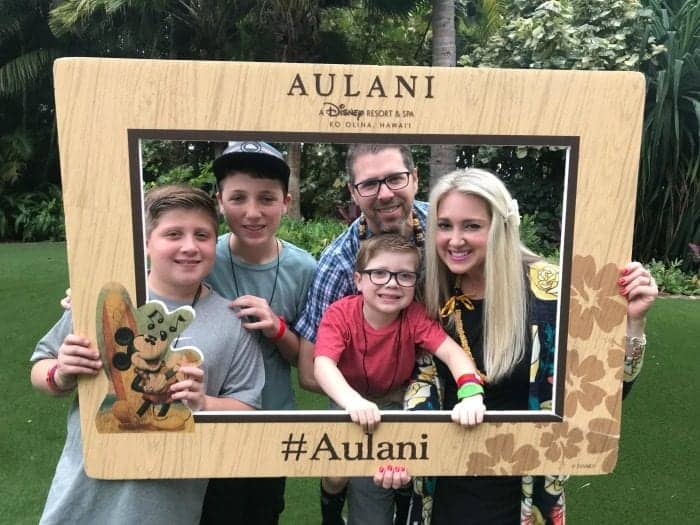 Of course there are lots of photo opportunities 🙂
The Food!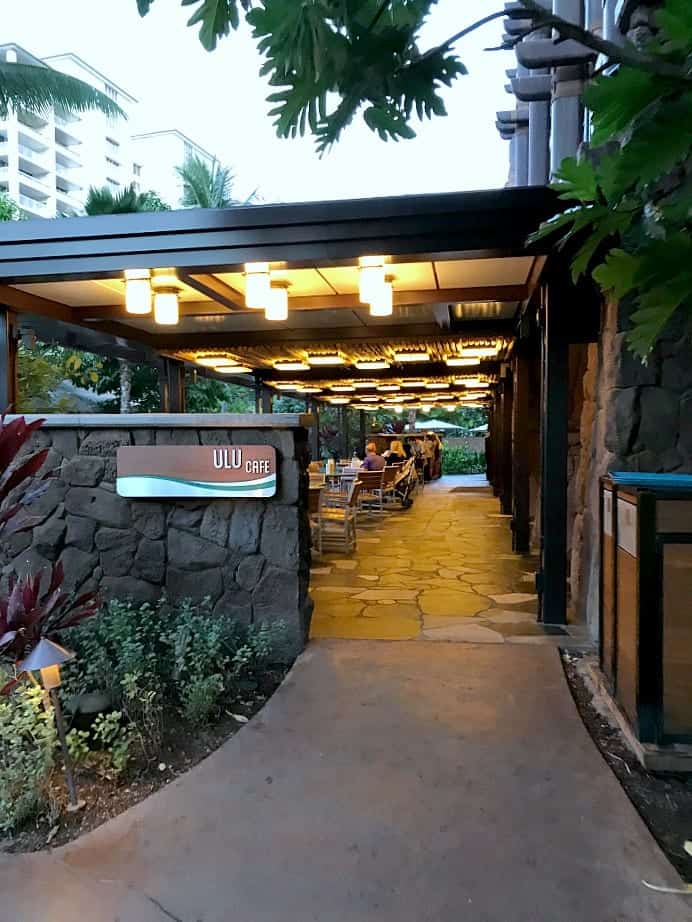 We pretty much lived out of Ulu Cafe during our trip. It's a quick service cafe open for breakfast, lunch and dinner. It was our favorite….ALL DAY LONG, ha!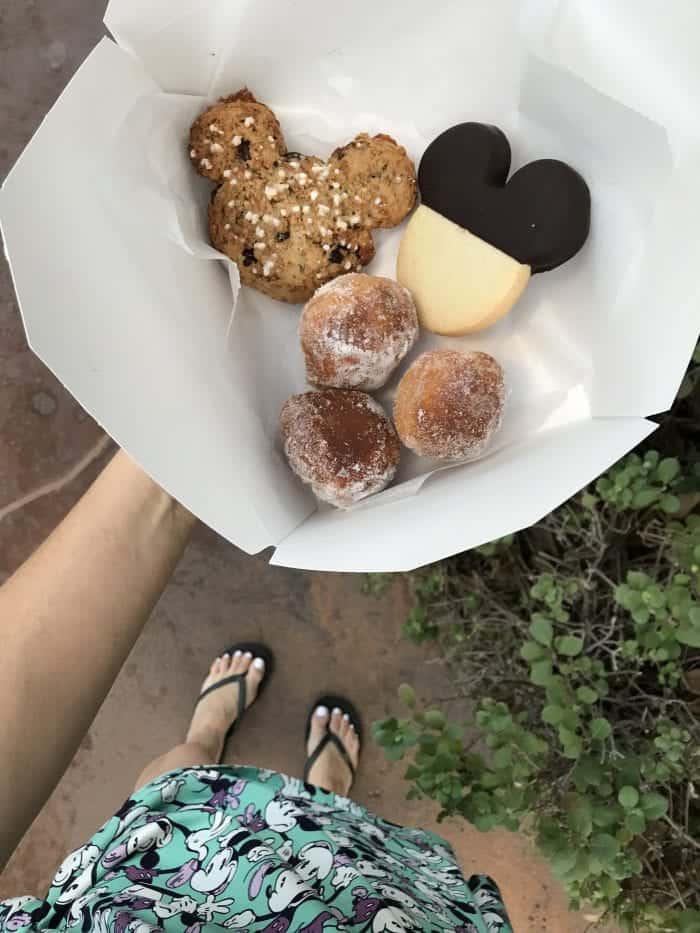 Some fun treats I picked up for breakfast.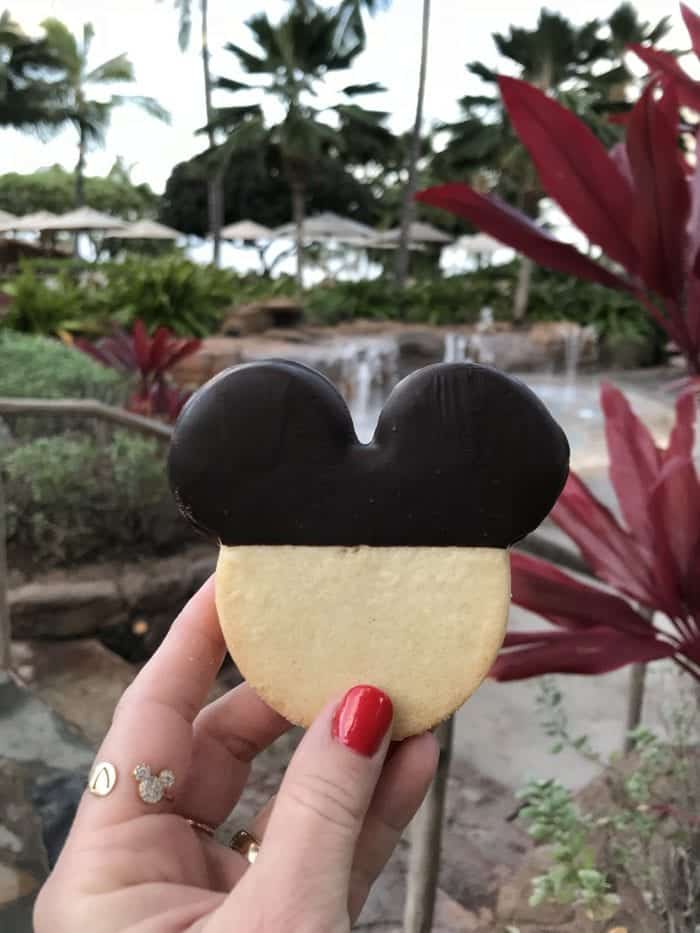 They had the best Mickey Shaped Cookies and treats!!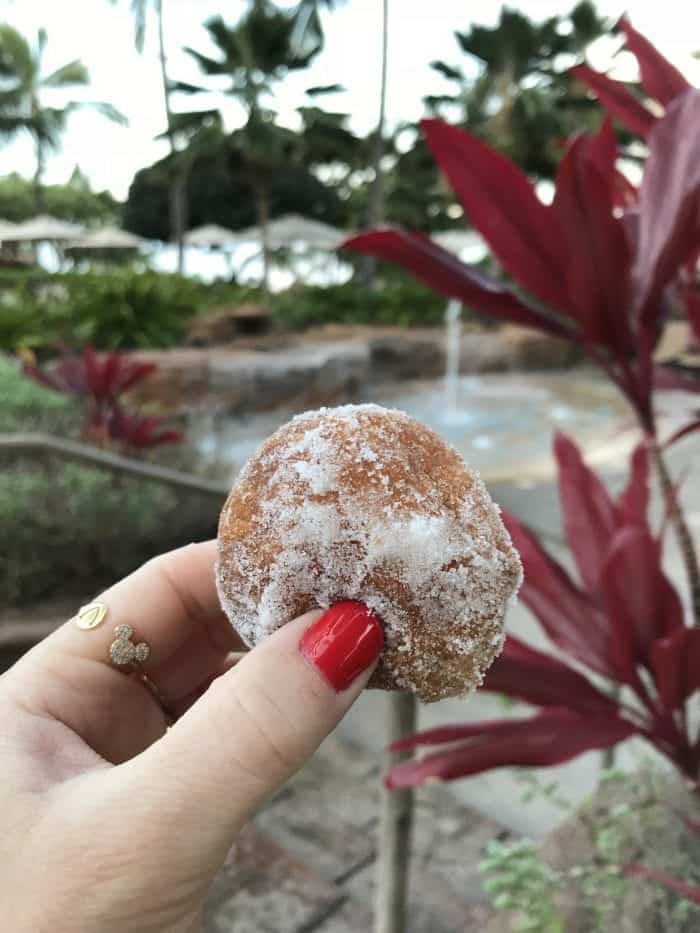 Thes Malasada Doughnuts were our favorite served during breakfast. So so good!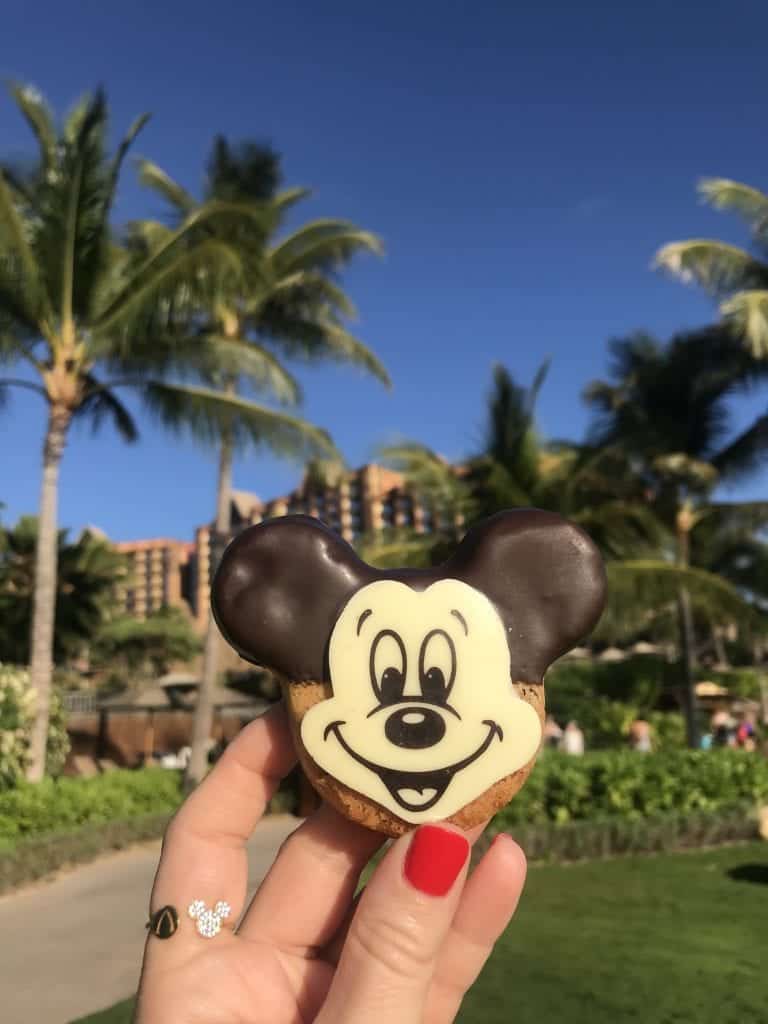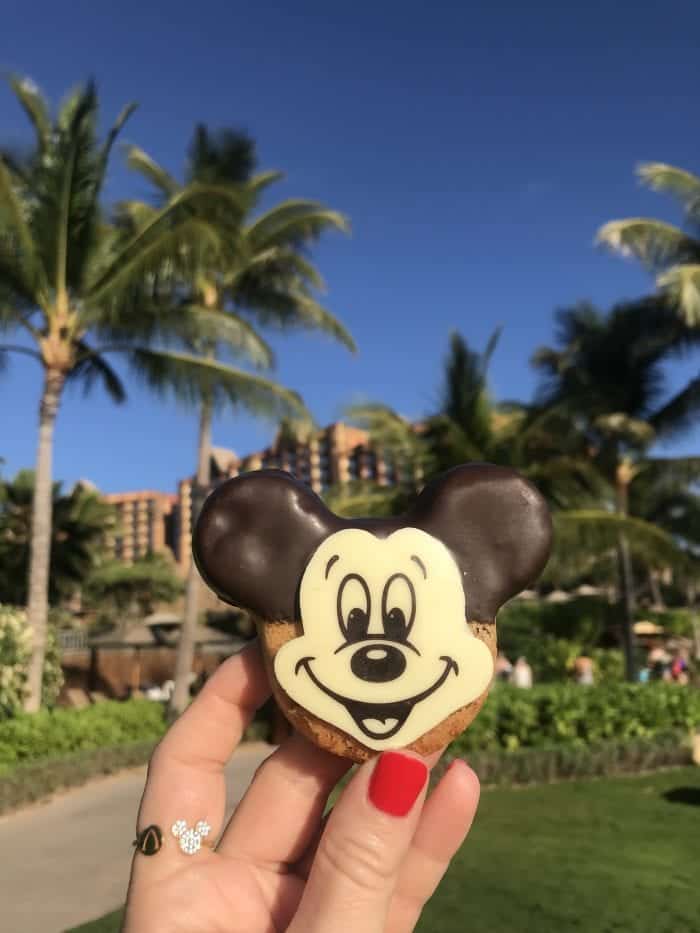 Another adorable Mickey Cookie from Ulu Cafe.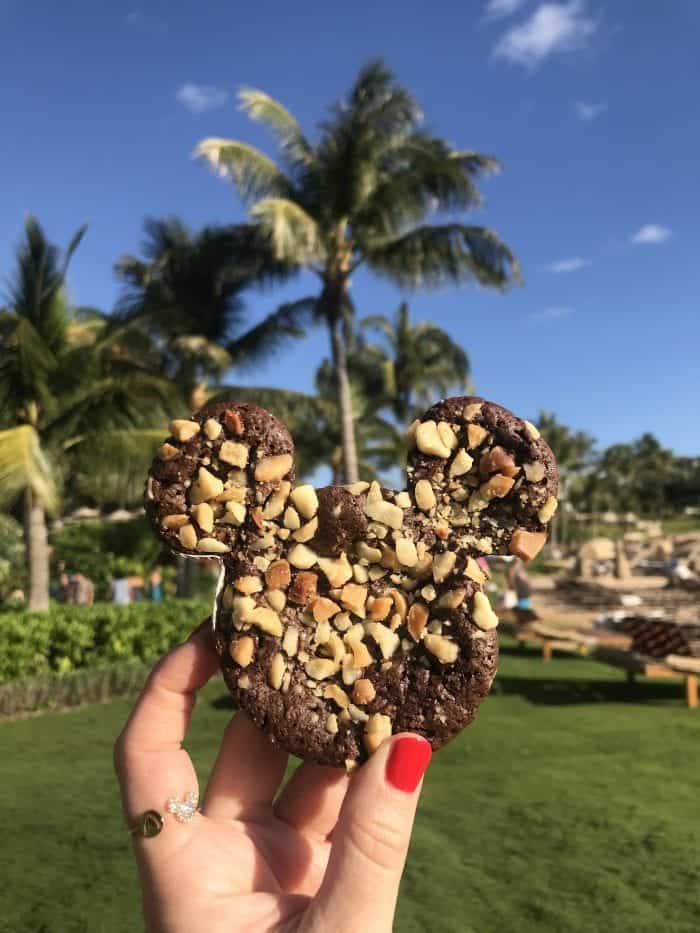 Mickey Brownie also from Ulu Cafe.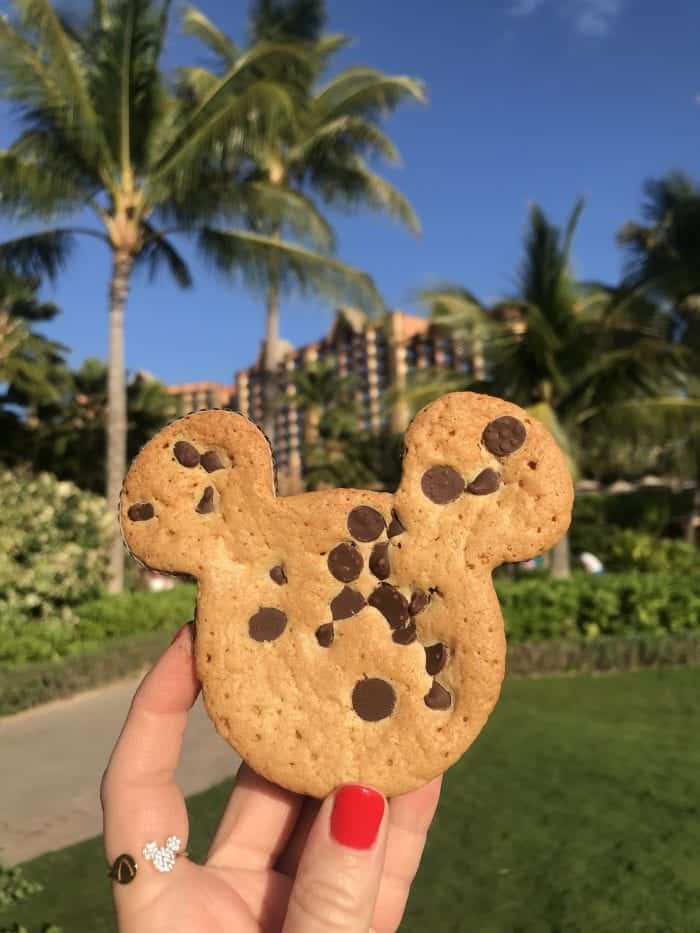 Mickey Shaped Chocolate Chip Cookie, yes please!!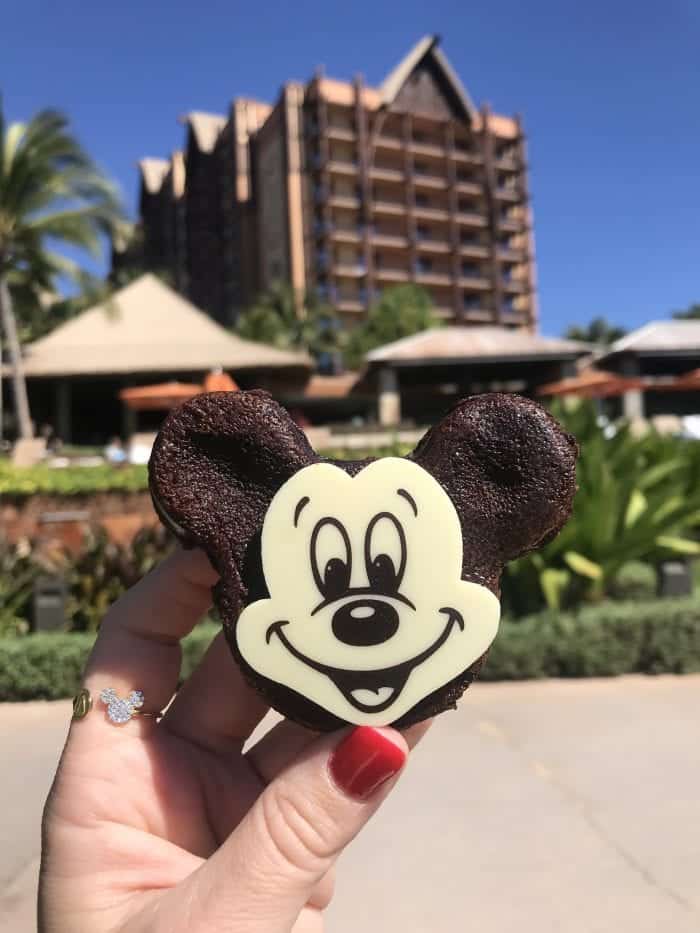 This Mickey Brownie was AMAZING. Do you see why we lived at Ulu Cafe? Lol!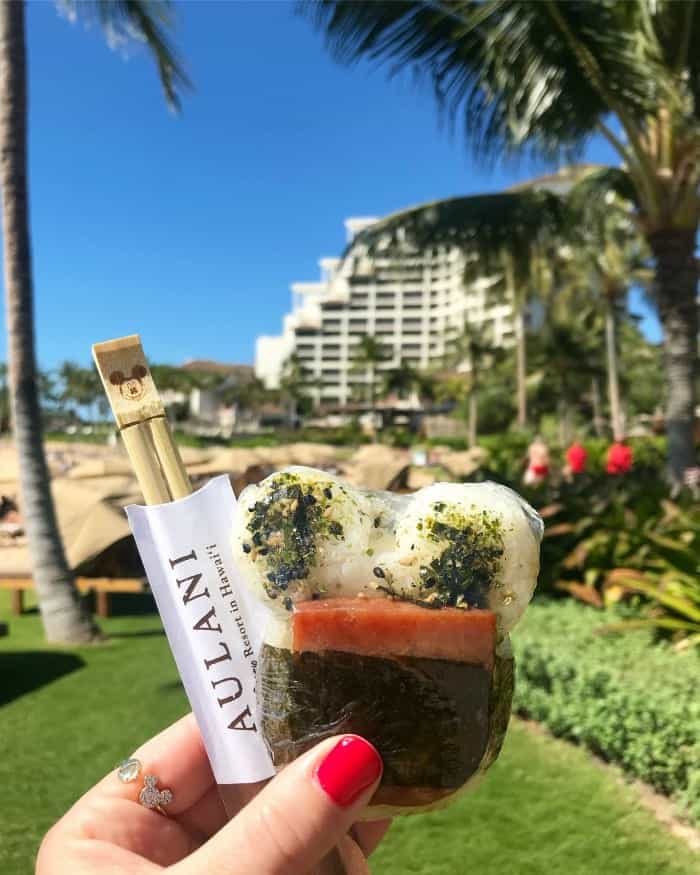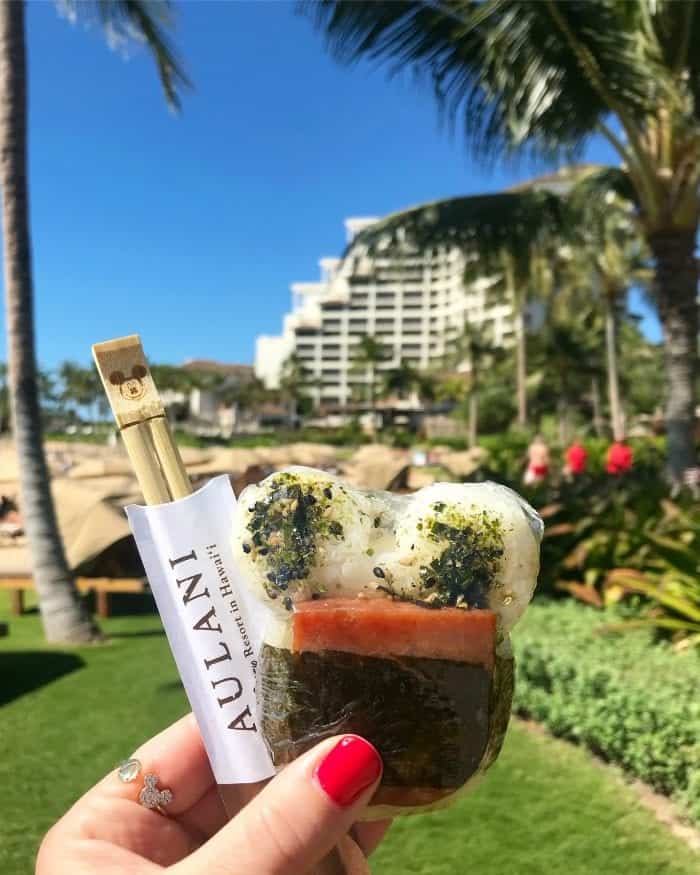 The Mickey Spam Musubi was one of my favorites. I got it for lunch daily!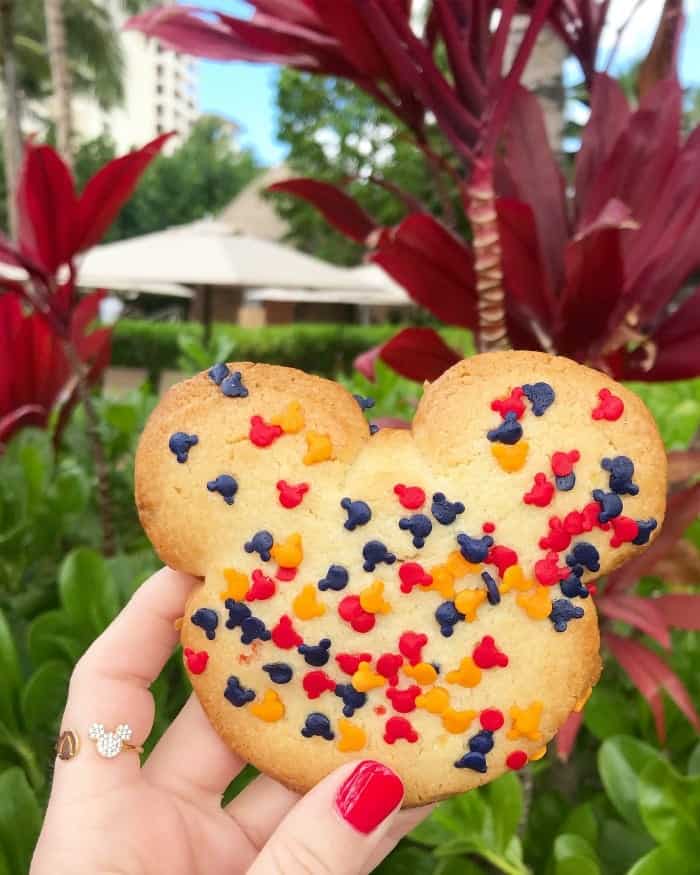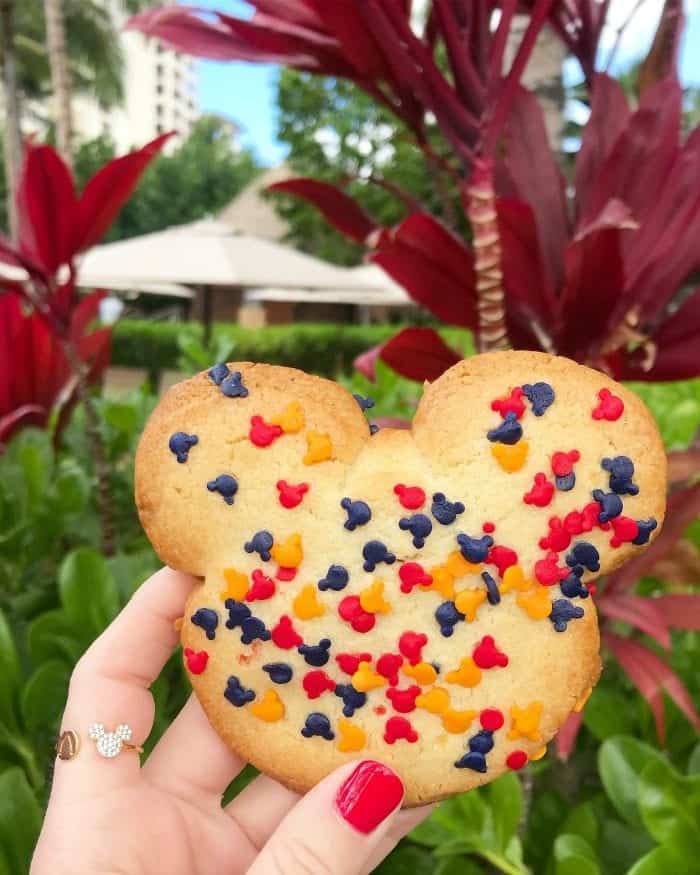 Just keeps getting better and better with the Mickey treats.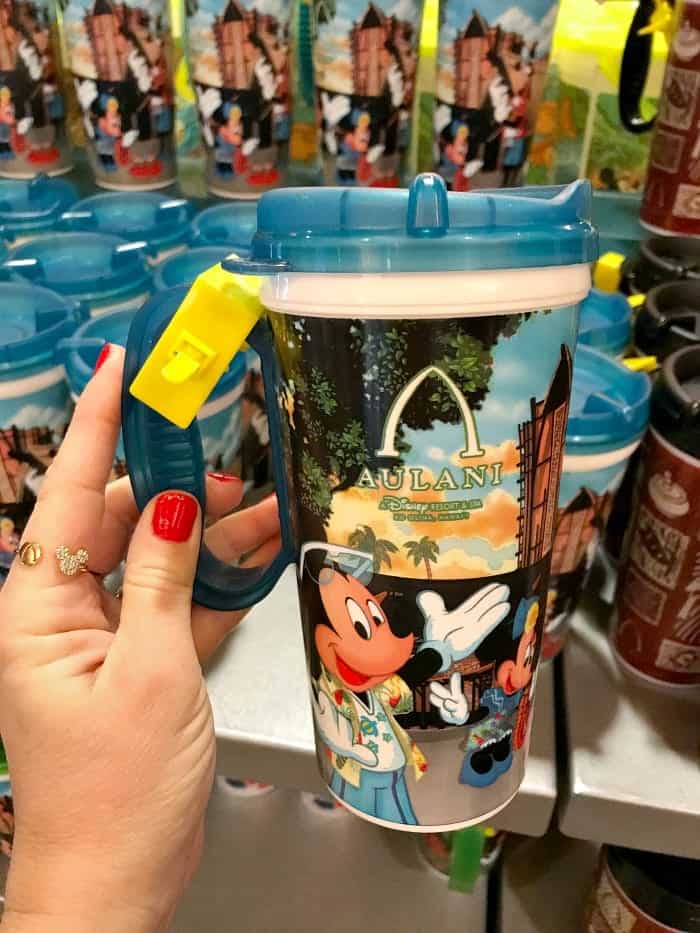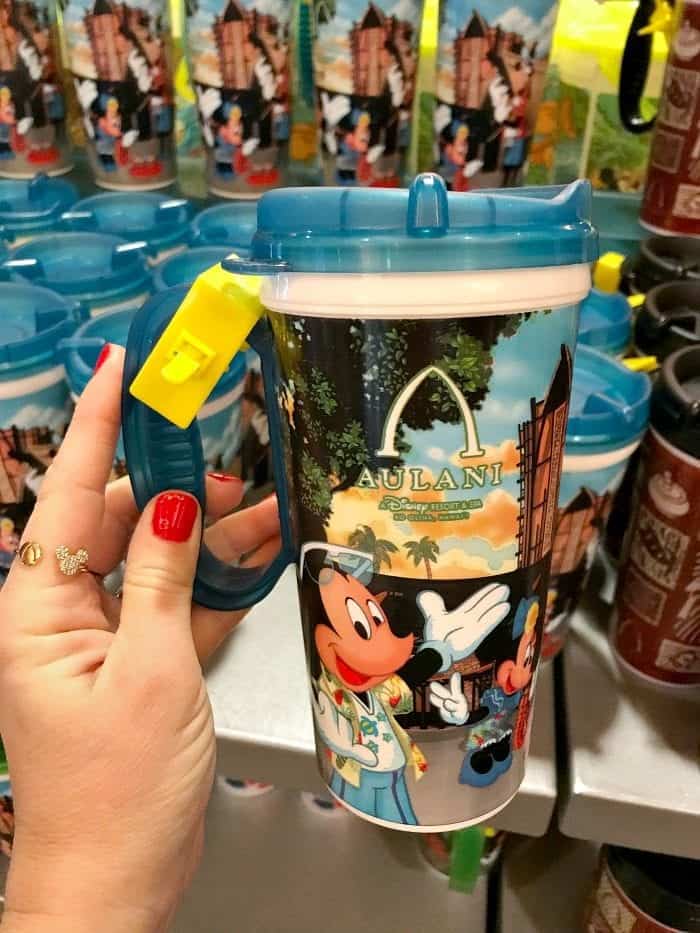 The re-fillable mug was $18.99 with free re-fills during your stay.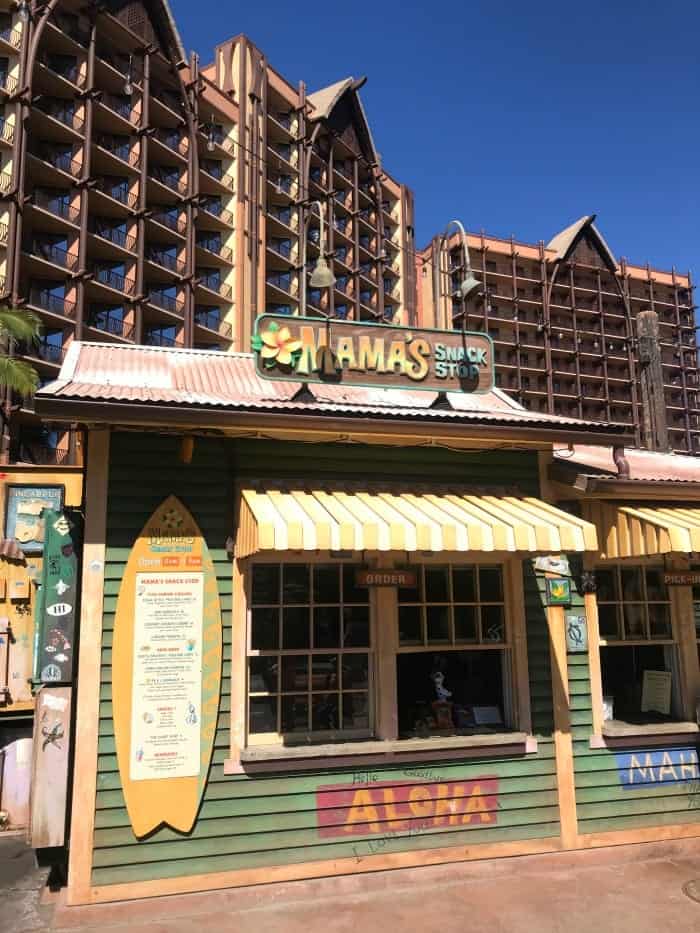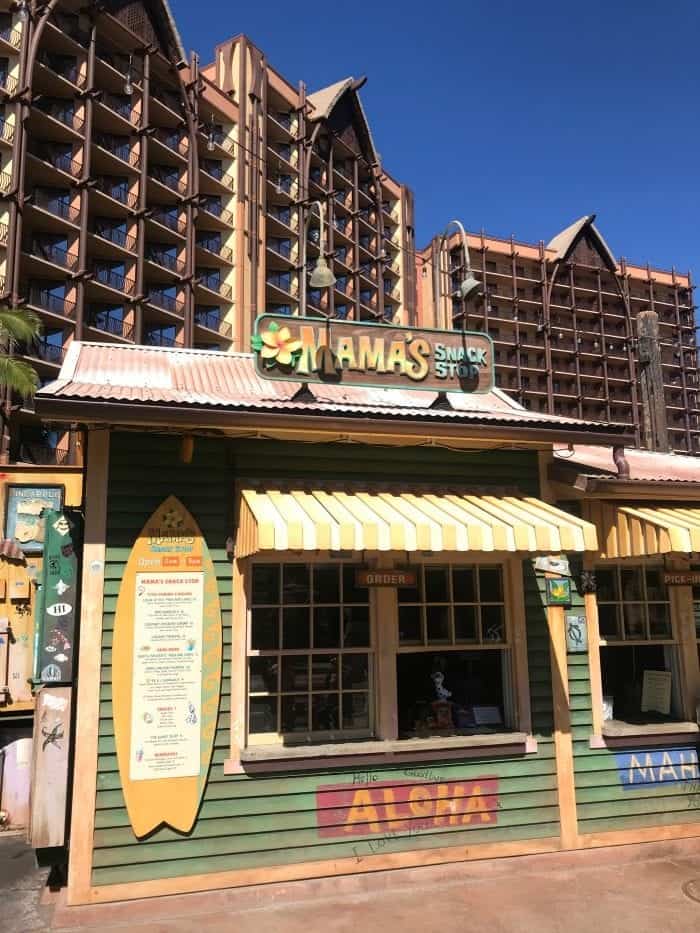 Another great stop for lunch is Mama's Snack Shop. Shrimp, Fish Sandwiches, Chicken Fingers, lots of great options.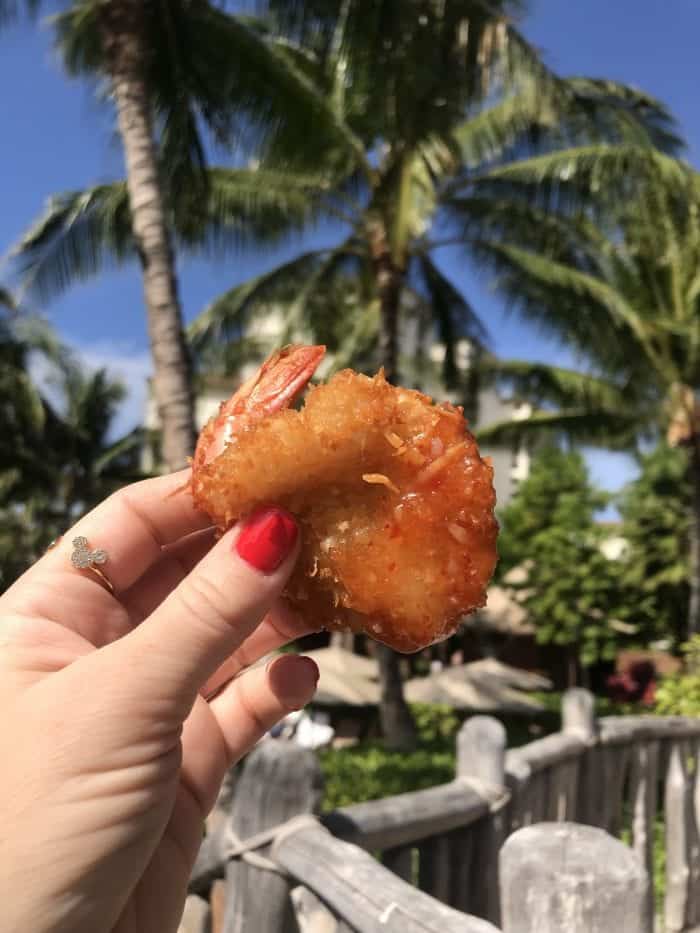 Our favorite was the Coconut Shrimp. Had it numerous times.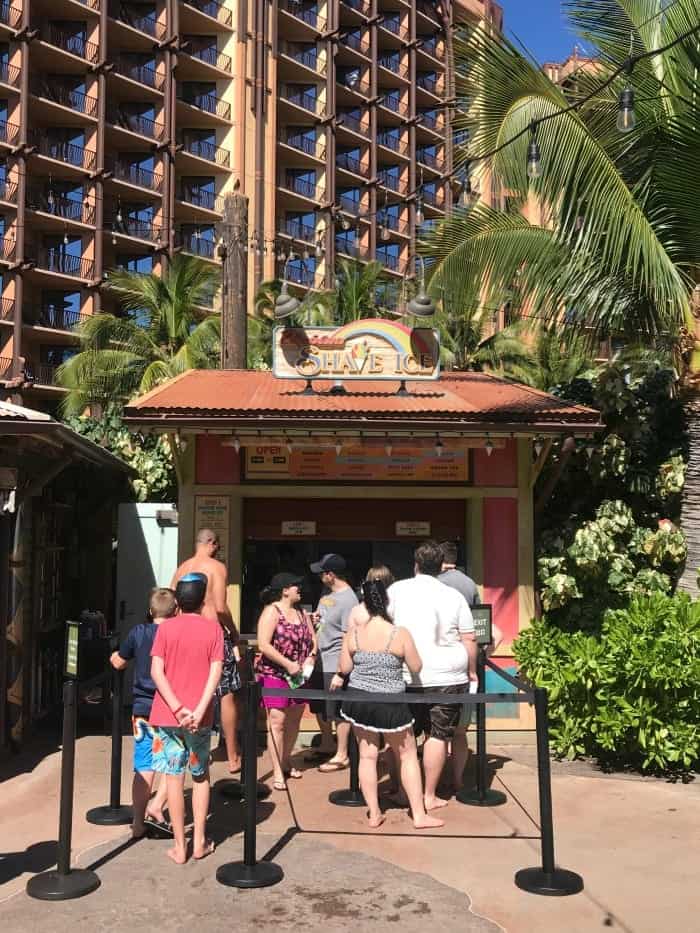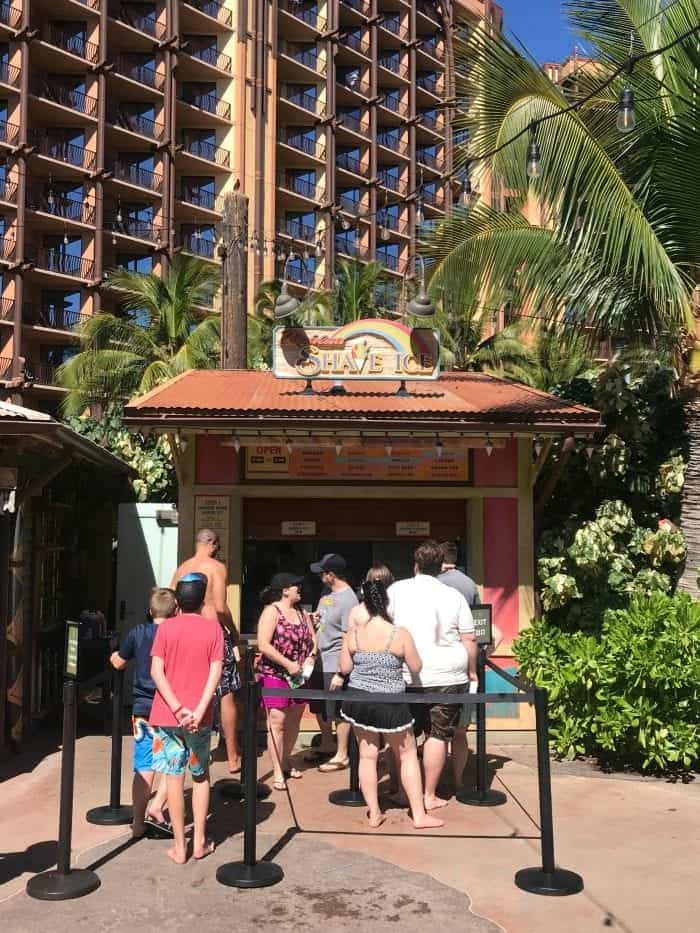 Another highlight of our trip was Papalua Shaved Ice!! Keep scrolling to see the many varieties we enjoyed. EVERYDAY was a must 🙂
Mickey Shaved Ice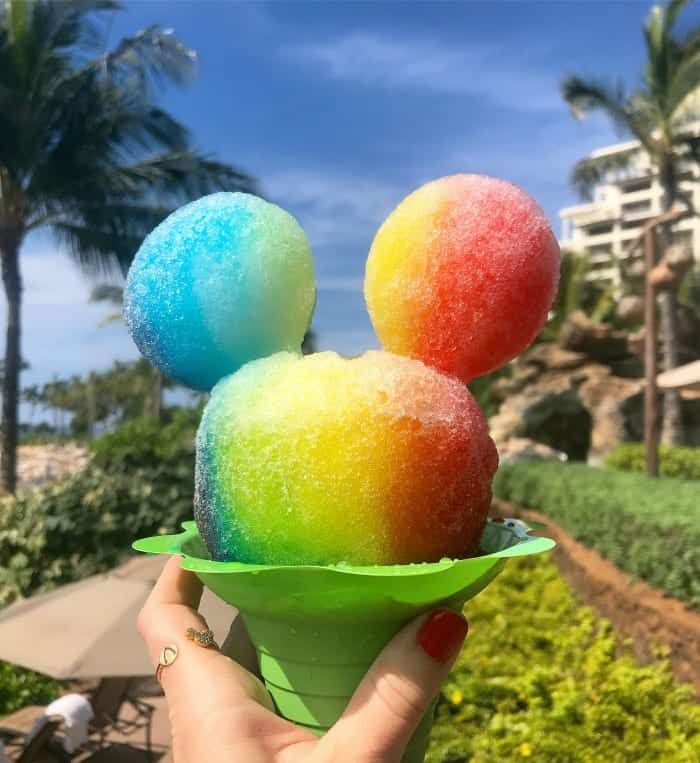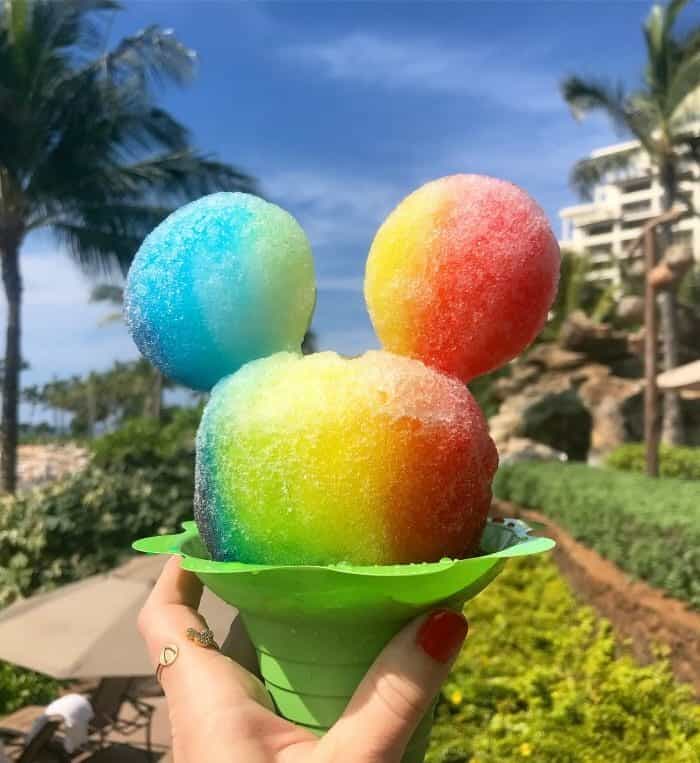 Rainbow Mickey Shaved Ice was amazing.
We decided the shaved ice with sweetened condensed milk was the absolute best. Crazy good.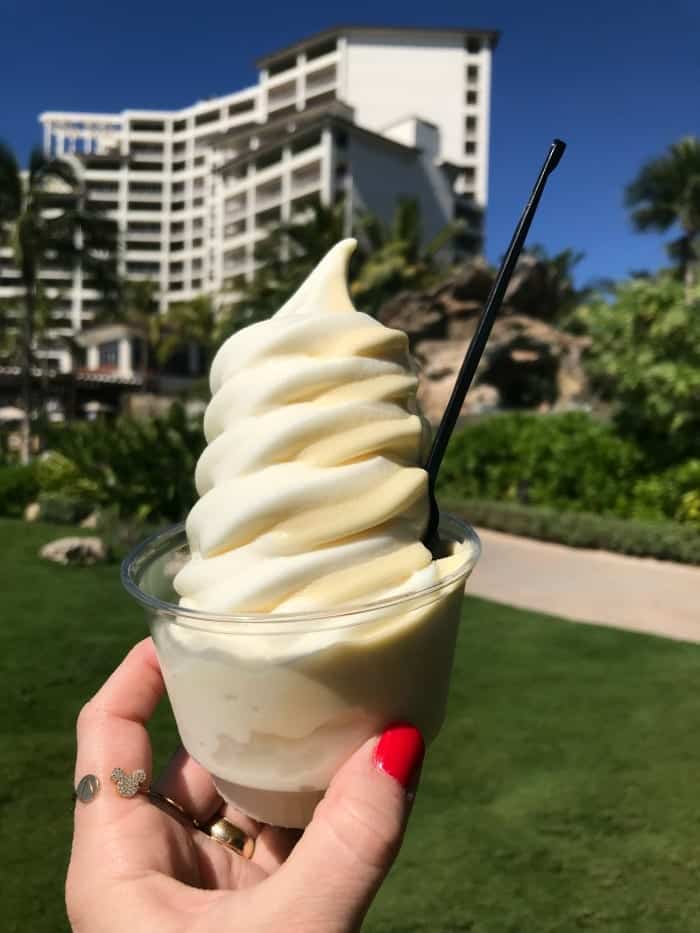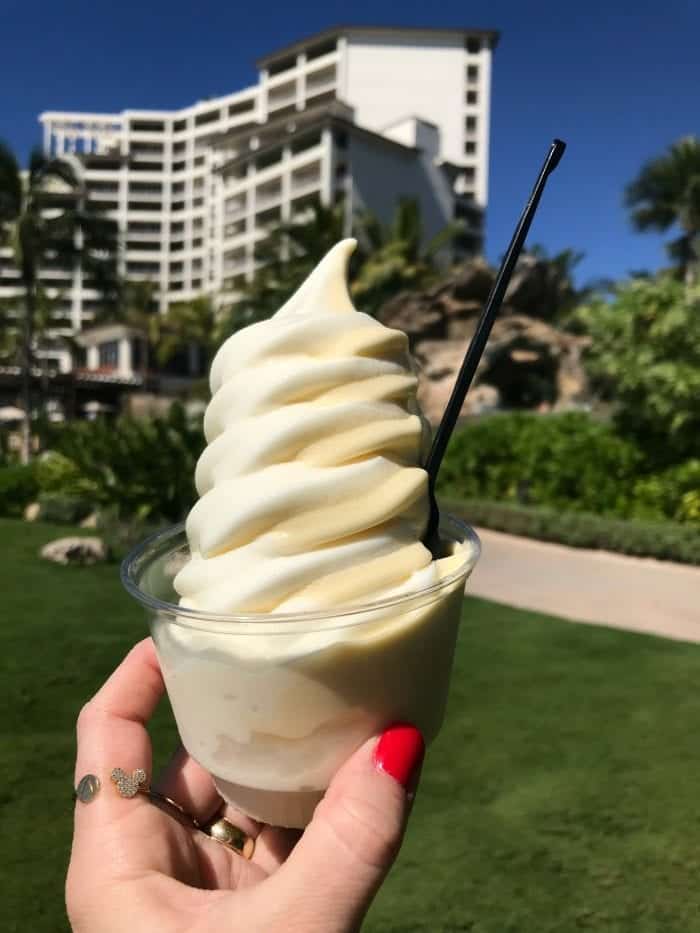 Between the beach and resort, there's Little Opehis Beachside Kiosk where you can get snacks like Dole Whips, sushi, sandwiches, pretzels, churros and drinks.
Makahiki Character Breakfast!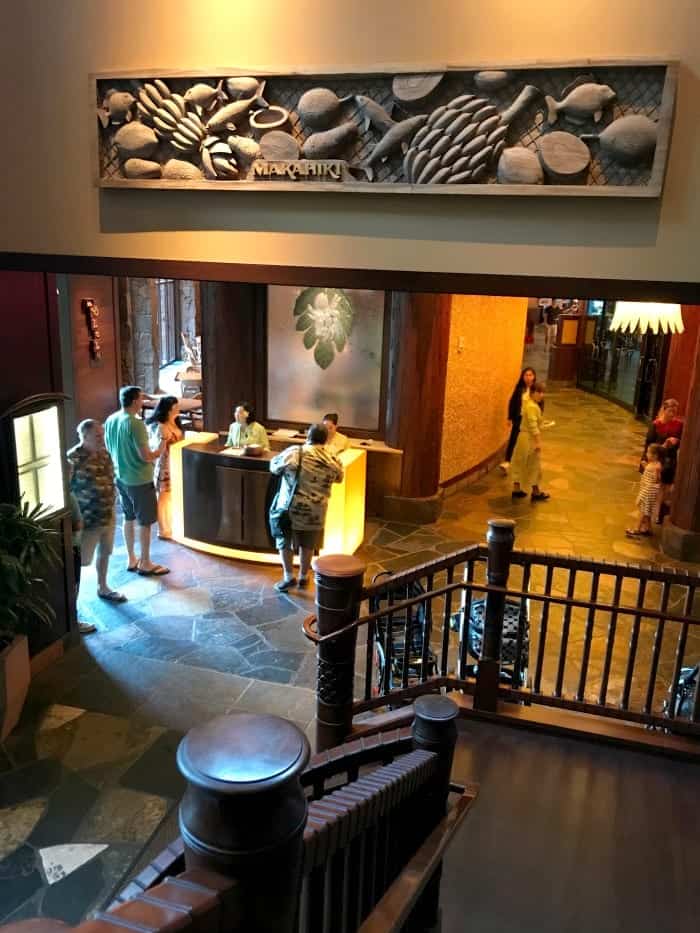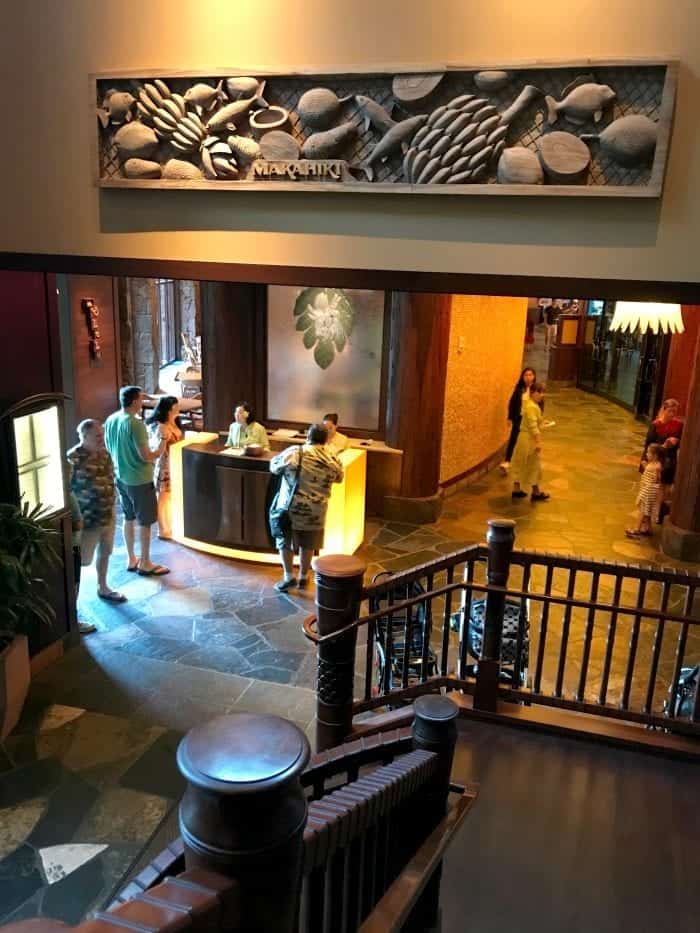 Makahiki is located on the lower level of the lobby area. Their Character Breakfast was such a treat. So many amazing breakfast buffet items along with Characters and activities the entire time. Pax was is heaven! Get your reservations ahead of time to make sure you get the time you'd like. It was a full house during our breakfast.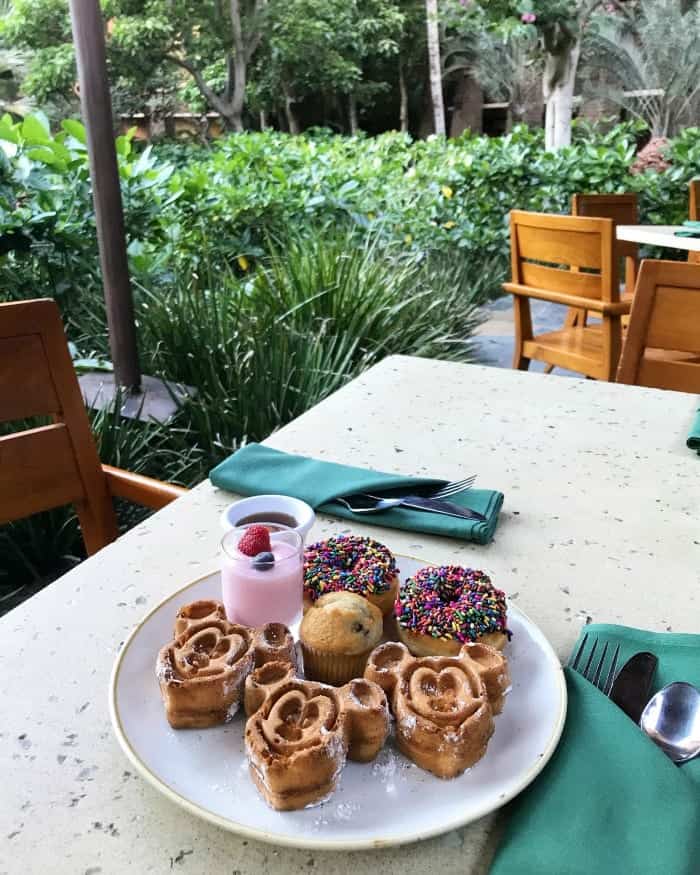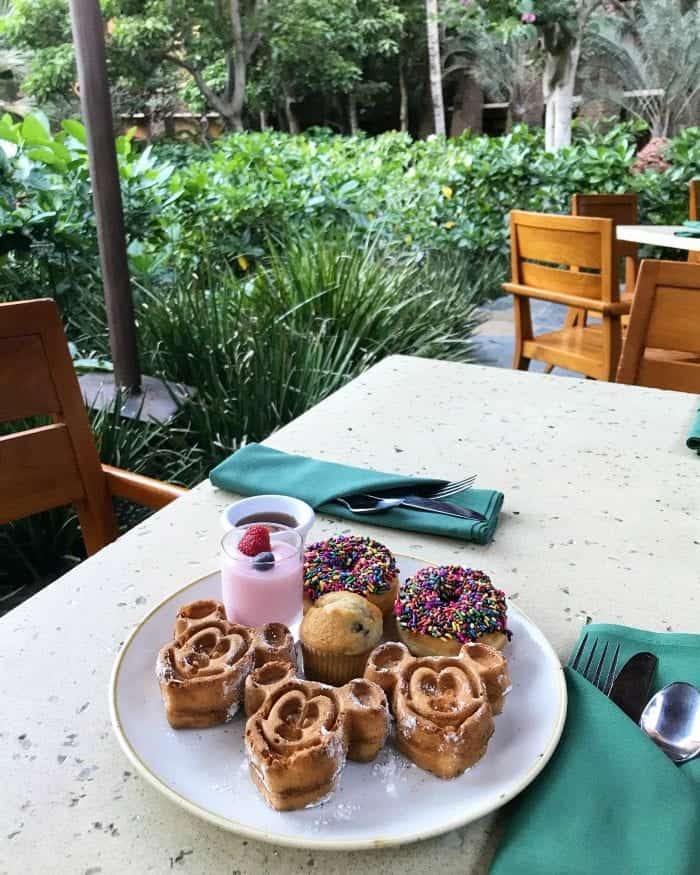 One of my many breakfast plates 🙂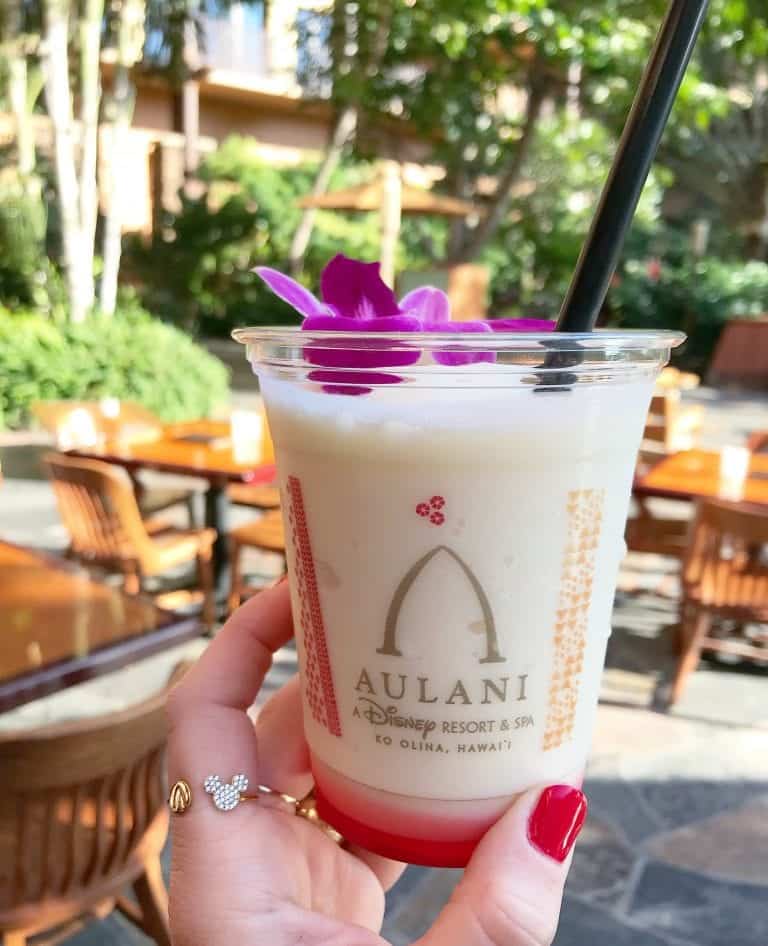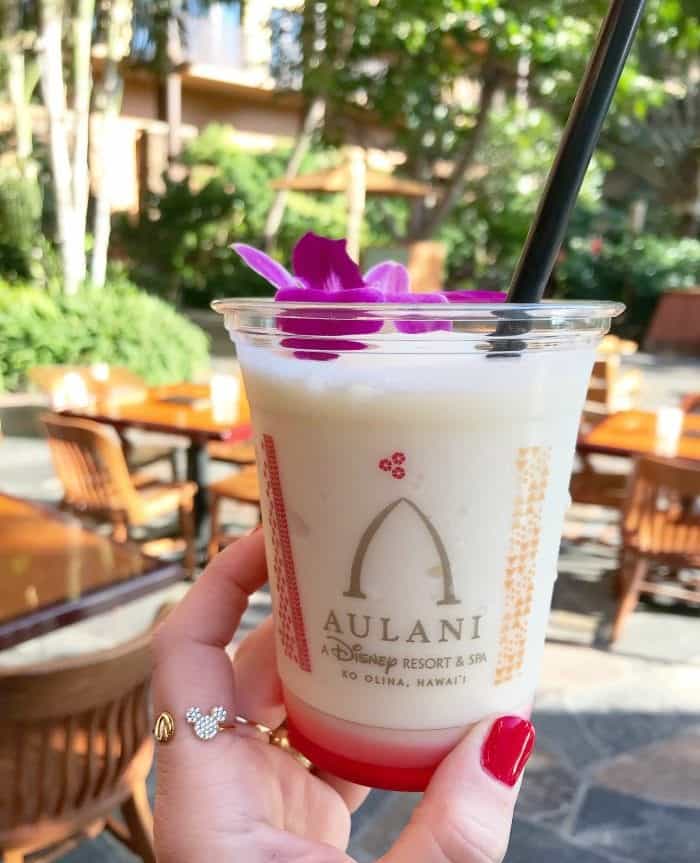 There's a little bar area next to Makahiki called The Olelo Room that is fantastic. I sampled the non-alcoholic strawberry colada drink. AMAZING!
AMA AMA For Dinner!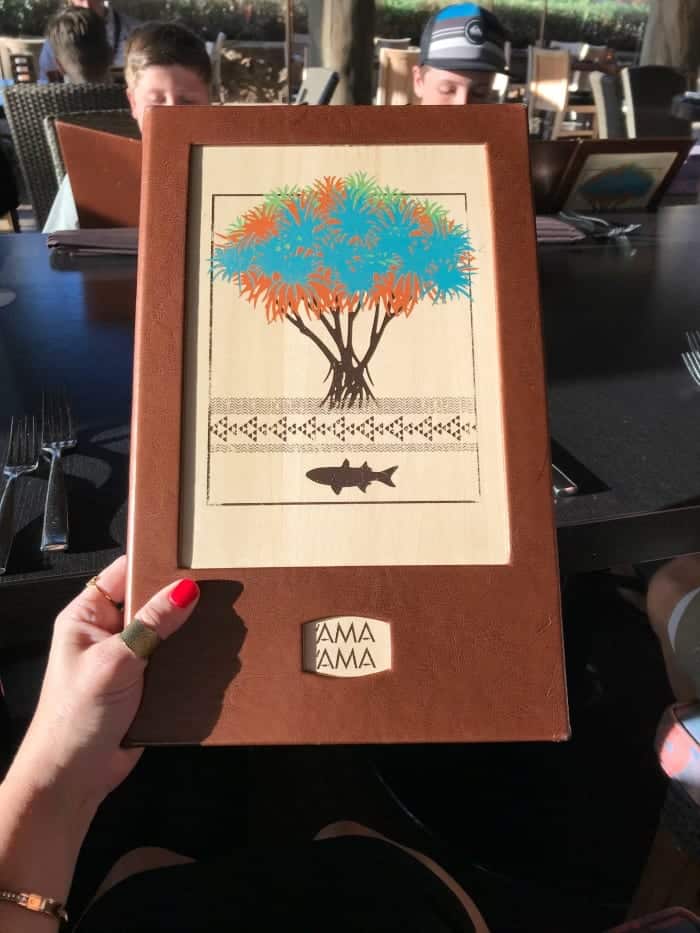 We dined at AMA AMA during our stay and, Wow what an amazing dining experience.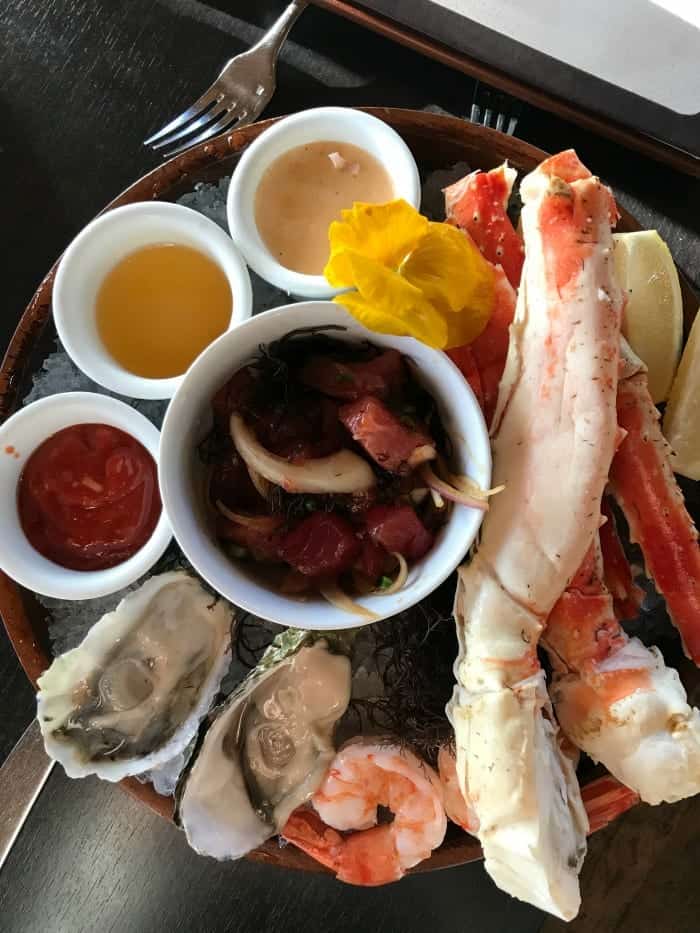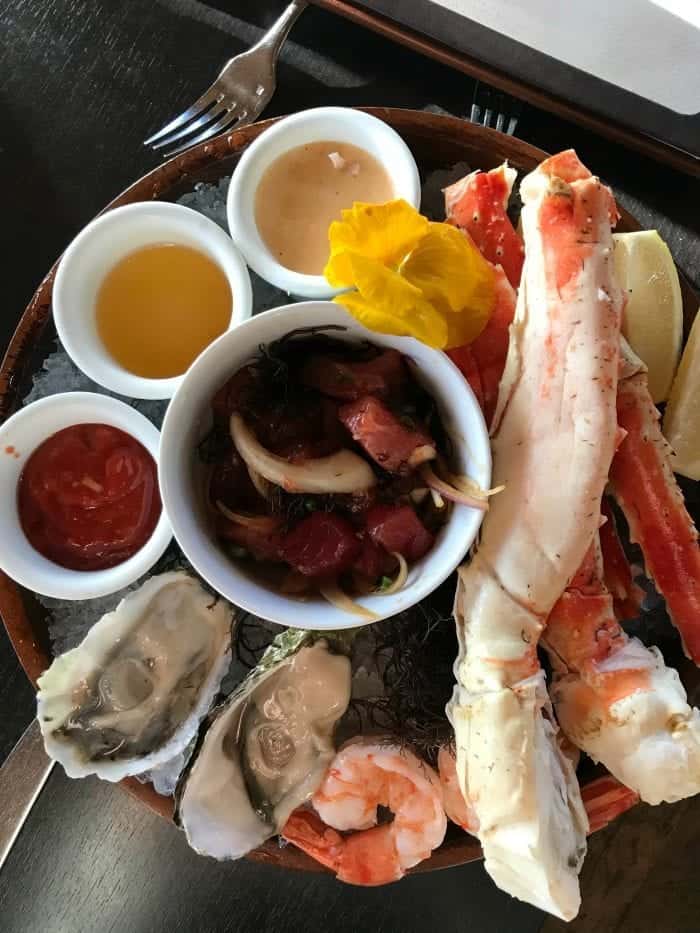 My 15 year old couldn't believe his eyes when this appetizer came to the table. How gorgeous is this?!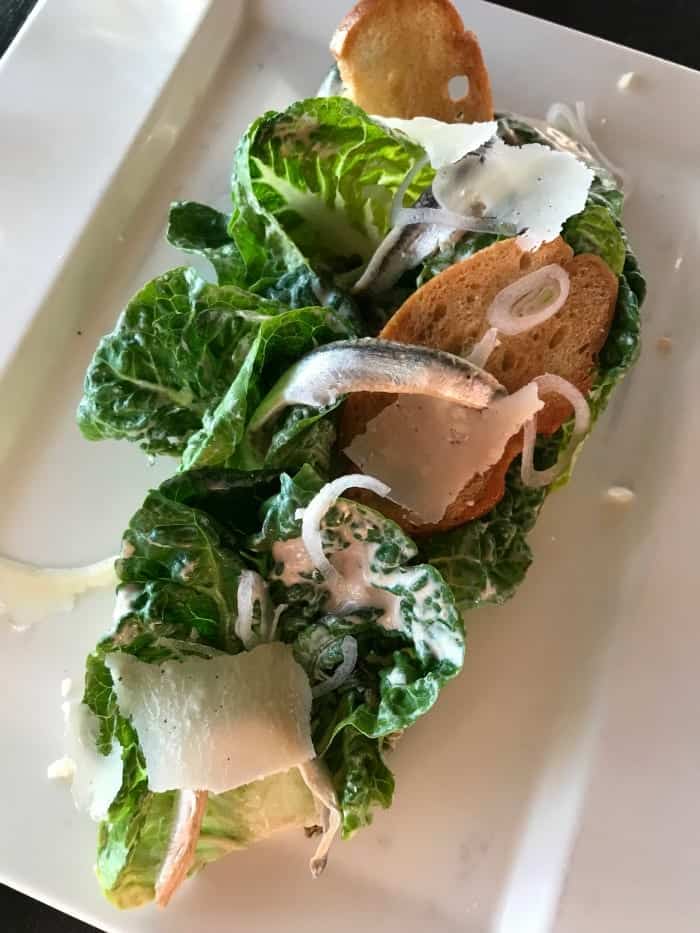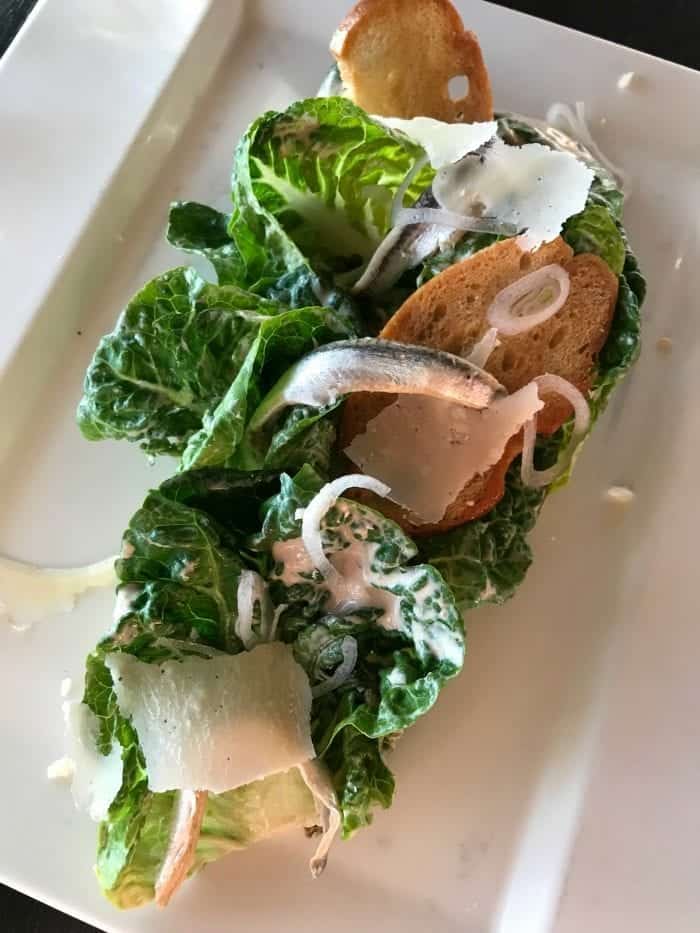 The Caesar Salad was gorgeous and delicious!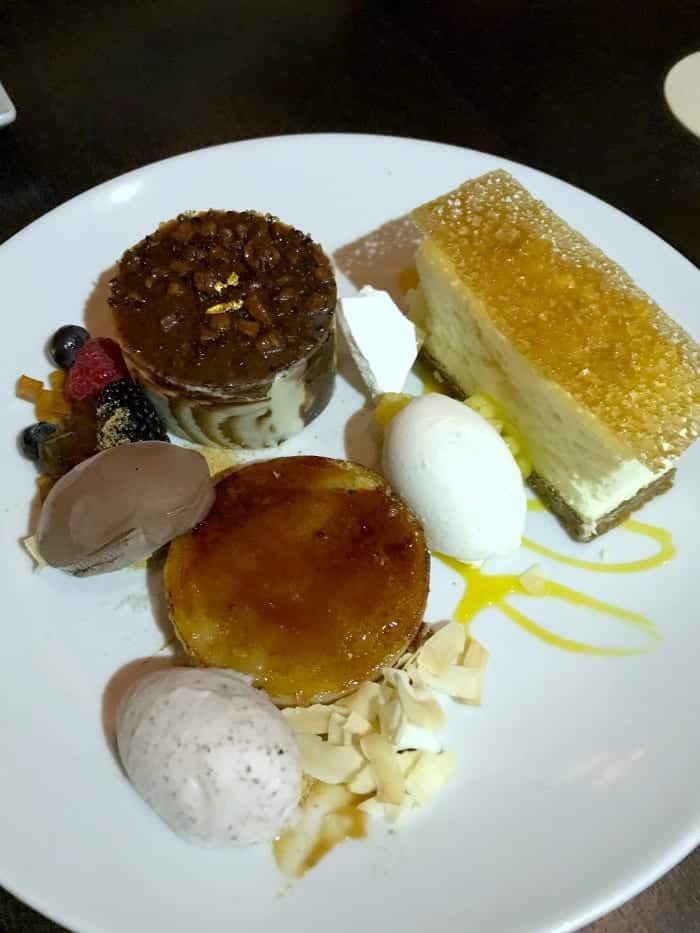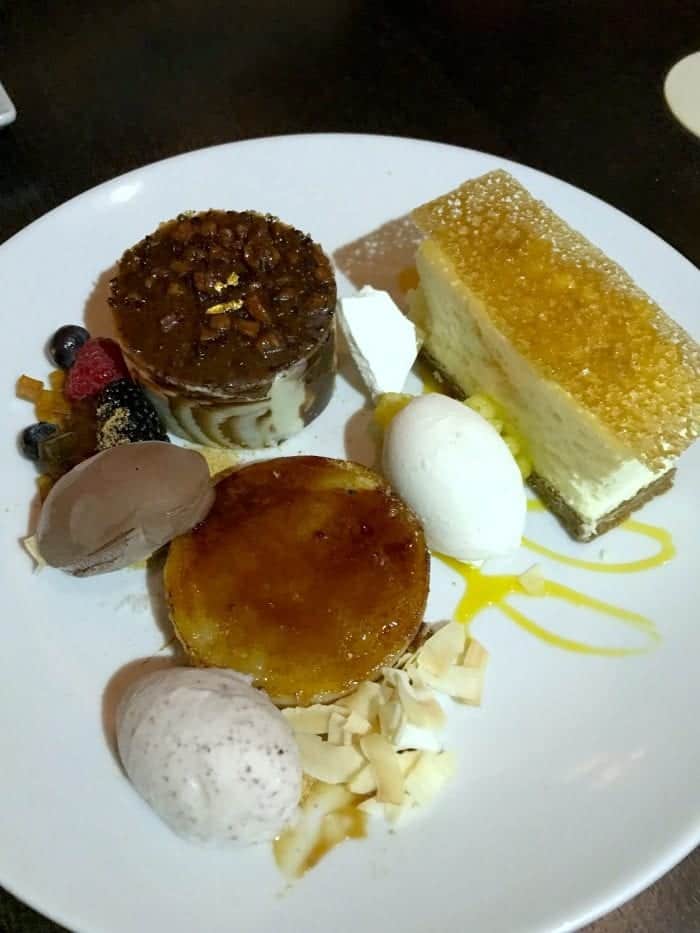 Gorgeous Dessert Sampler. Oh my goodness all of it was amazing. This is definitely a finer dining experience. The food and views were outstanding.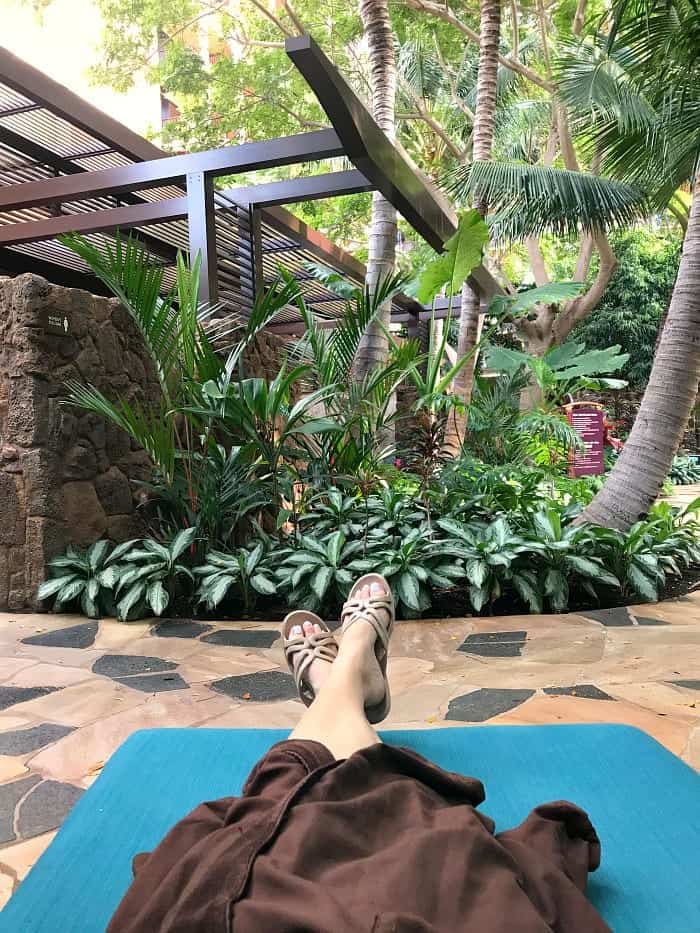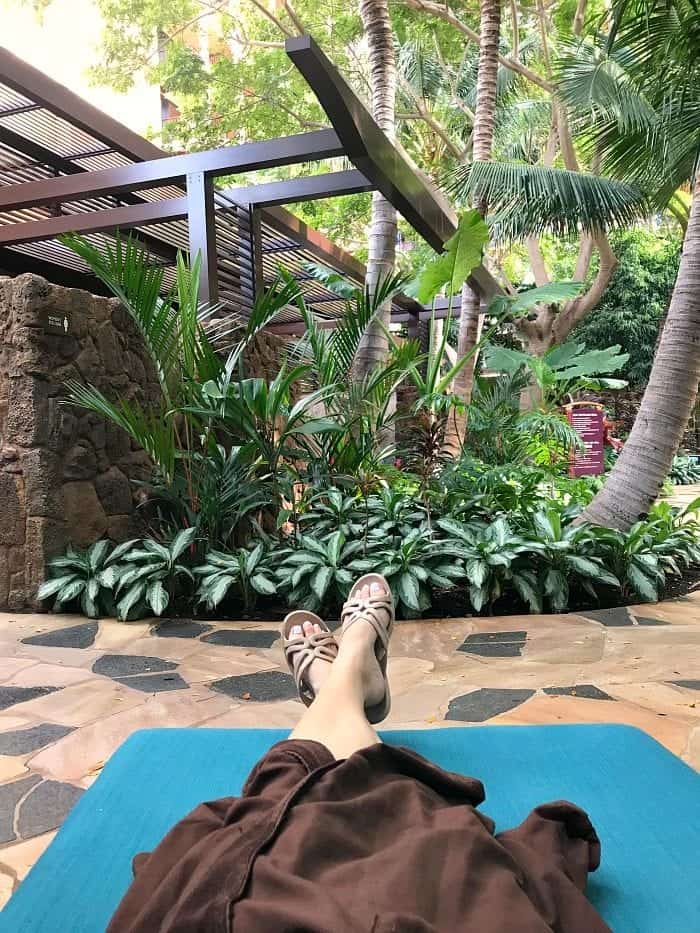 Cullen and I got to spend an afternoon at Laniwai Spa. The couples massage was so nice. The outdoor hydrotherapy garden area was gorgeous.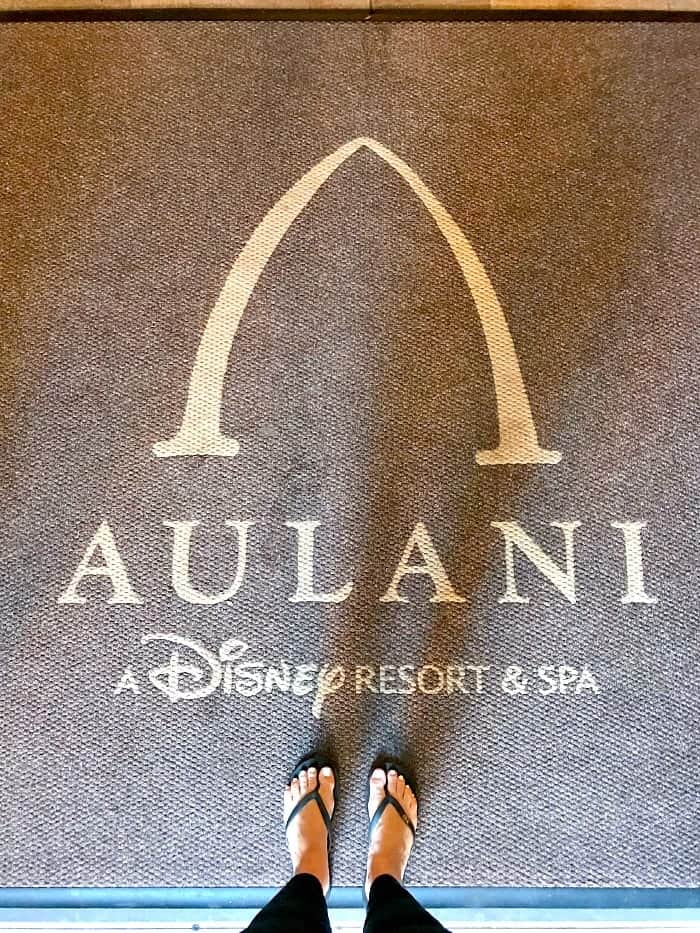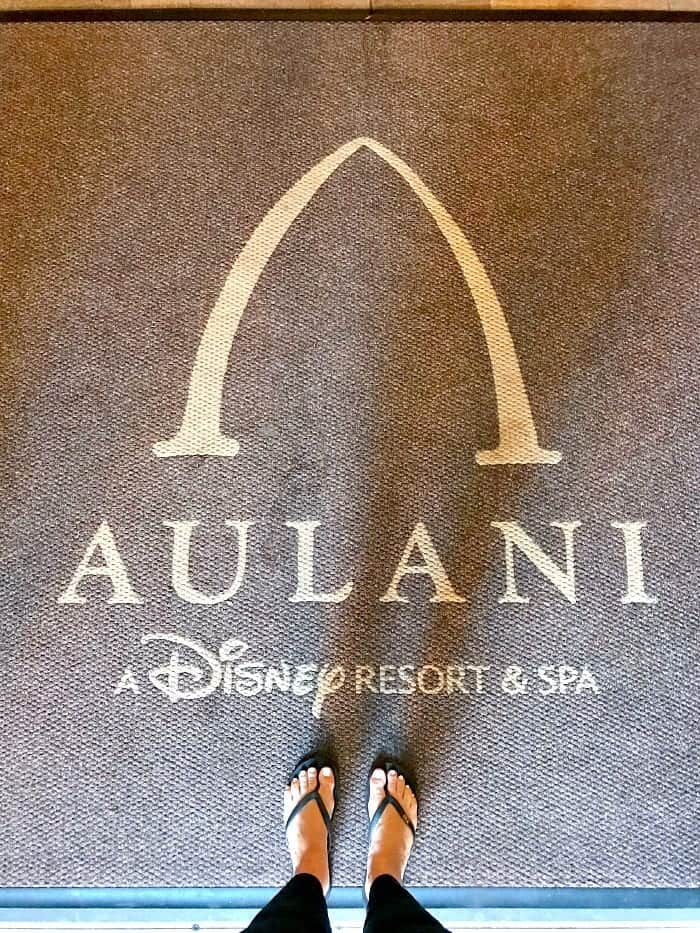 We had such an amazing week at Disney's Aulani and hope to go back in the near future. Please feel free to reach out via my contact page with any additional questions! Happy to help!
Disclaimer: My family was hosted by Aulani for this trip. All thoughts and opinions are my own.
Pin to your favorite Travel Board!