Sharing my tips on What To Eat On A Disney Cruise today!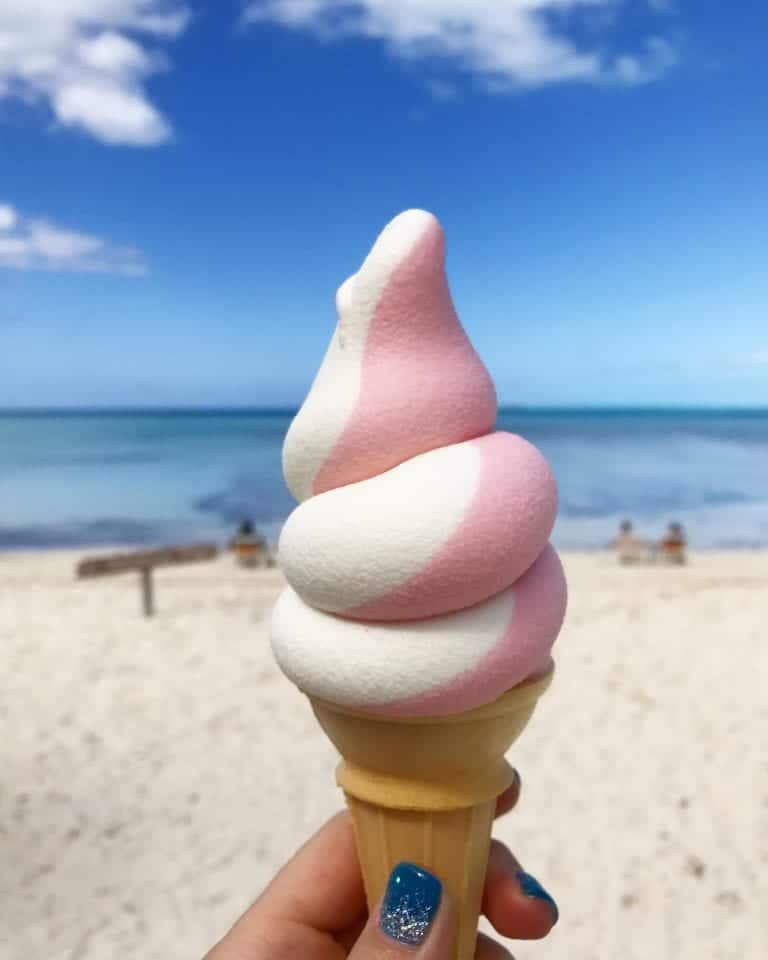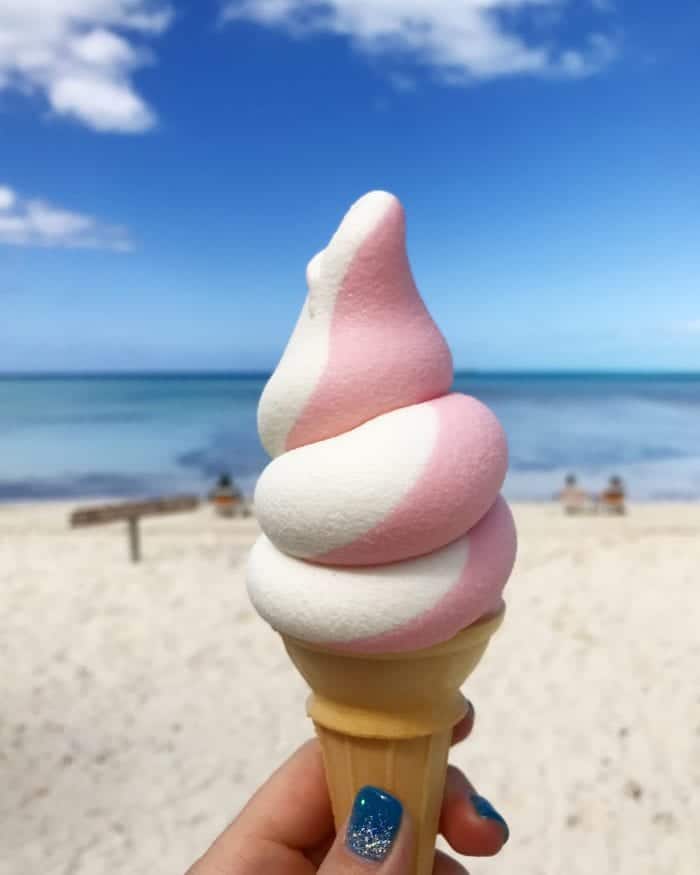 So, What To Eat On A Disney Cruise….I contemplated on titling this post "What's NOT to eat on a Disney Cruise" Lol! ….but seriously. There is so so much food at your fingertips throughout the entire cruise. Buckle up, let's take a look at all of the deliciousness 🙂
Food By The Pool Deck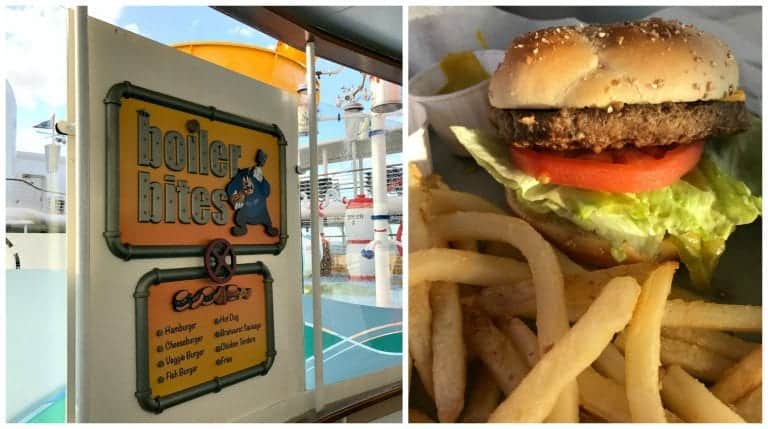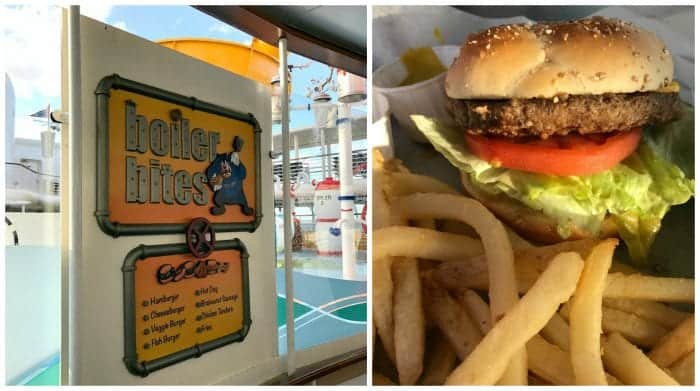 Let's be serious, part of the excitement around taking a cruise is the amount of food you can fit in 24 hours a day, lol! By the pools, you've got Boiler Bites where you can get burgers, fish, hot dogs, sausage and some of the BEST french fries. We might have enjoyed a plate of french fries on the daily 🙂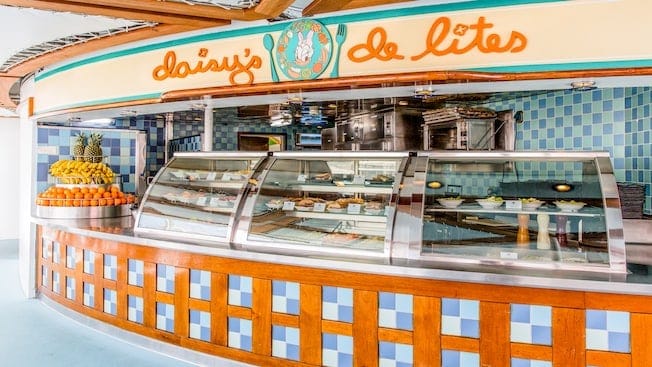 Photo via Disney Cruise Line
We also enjoyed Daisy's De Lites up by the pool deck. They had sandwiches, wraps, fruit, salads and a build your own rice or noodle bar. Tons of fun goodies to choose from.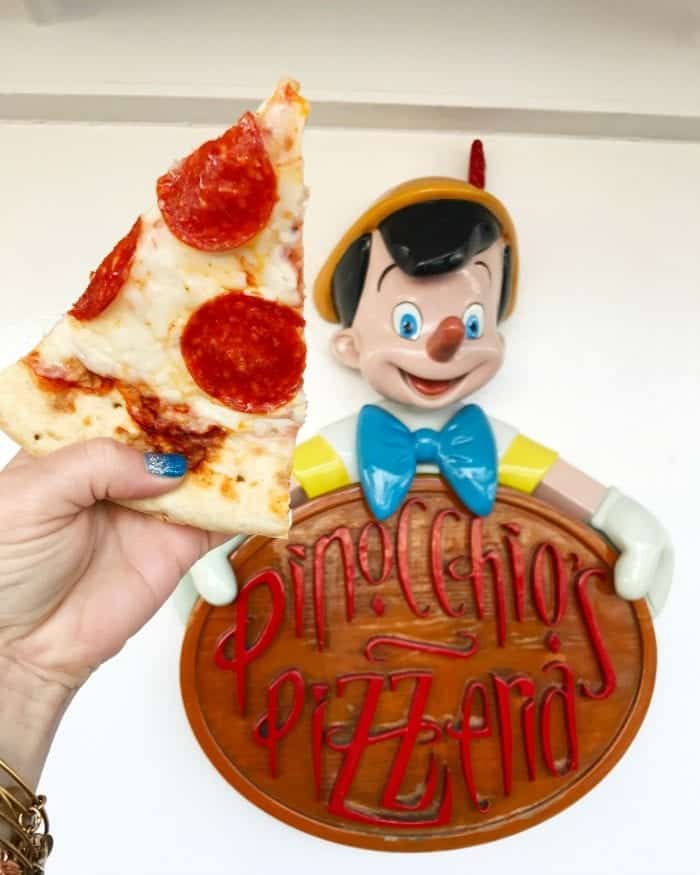 Right around the corner from Boiler Bites is Pinocchio's Pizzaria. Yep, pizza all day isn't a bad thing at all.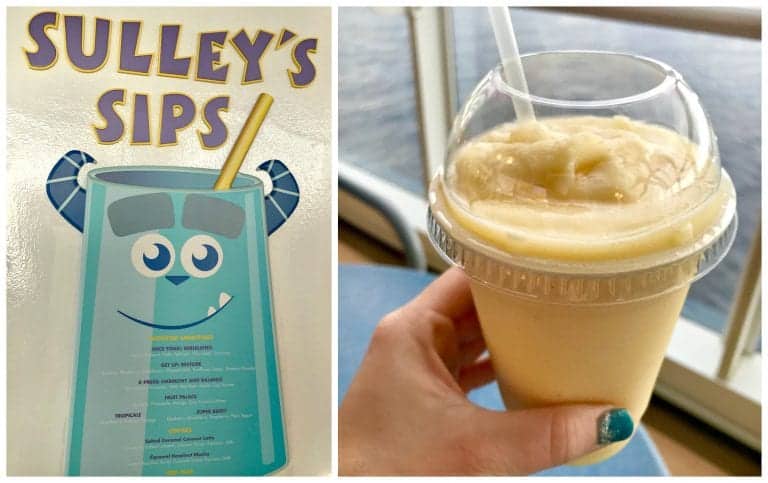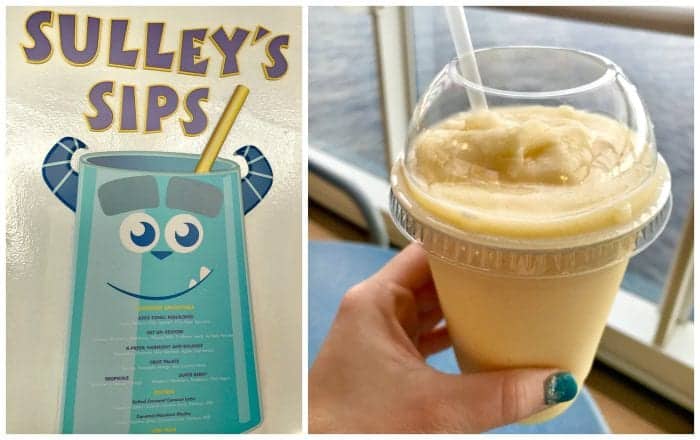 Sulley's Sips right next to the soft serve machine has smoothies for purchase. They were delicious!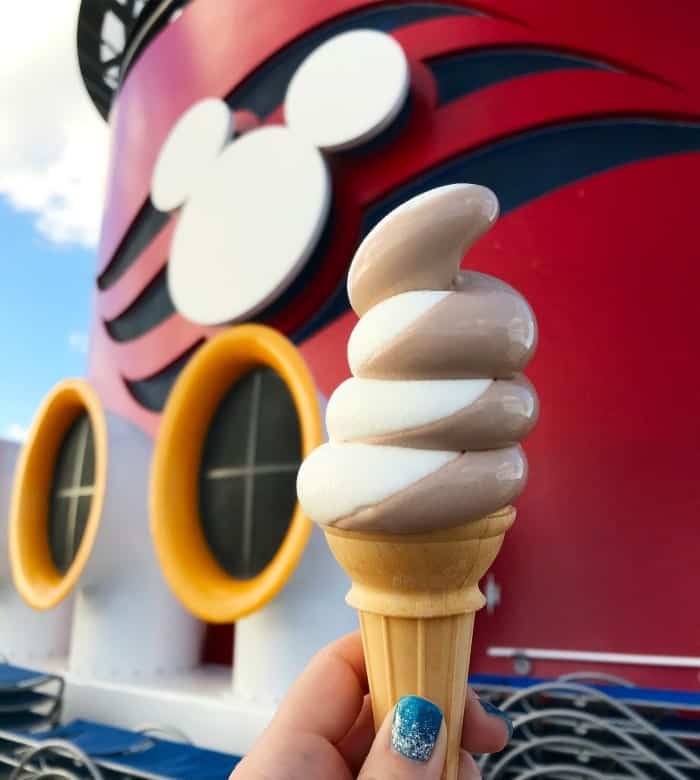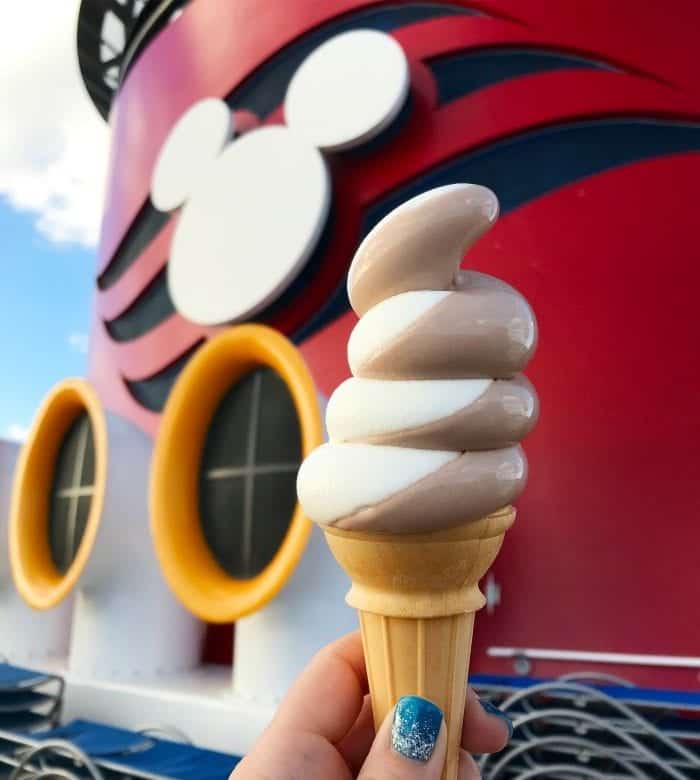 I'm pretty sure if you talk to anyone on the Disney Wonder, they'll say one of the highlights is hands down the soft serve machine for anytime ice cream. I got pretty good at the swirl, ha!
Restaurants on the Ship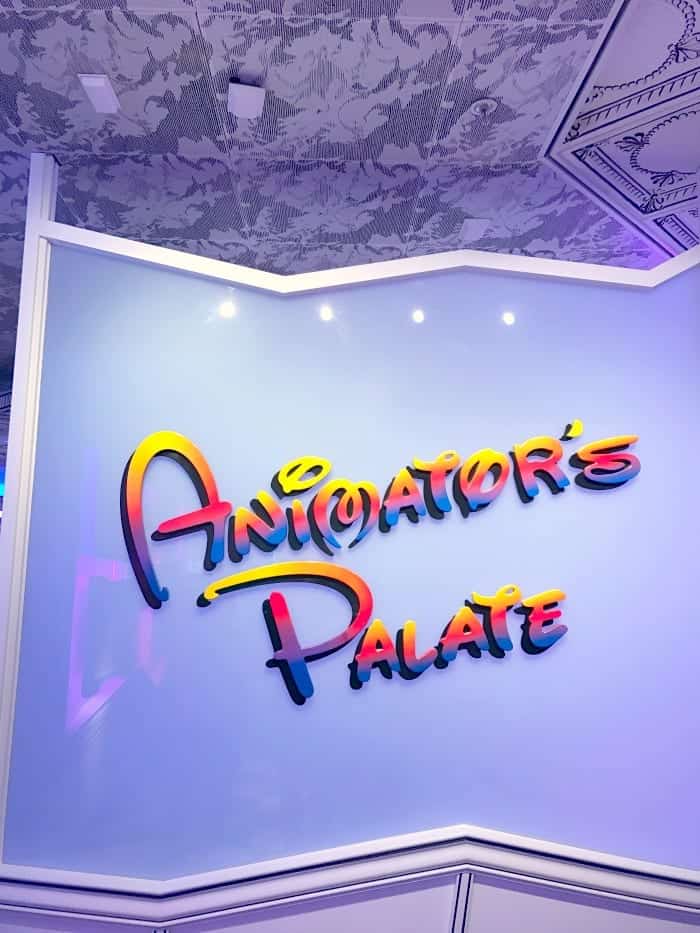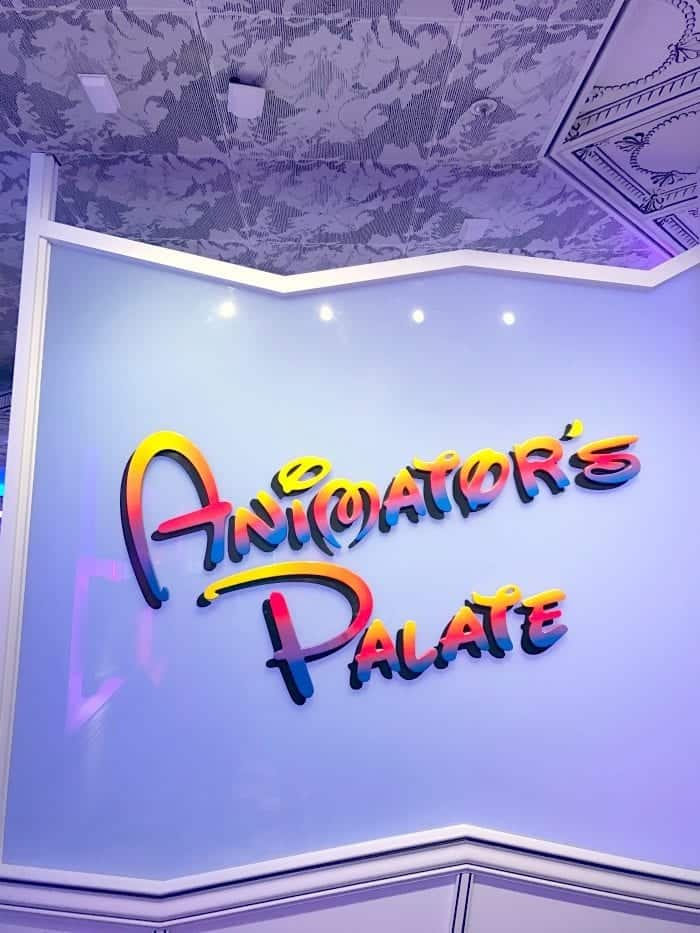 Animator's Palate was an absolute treat. With the interactive picture frames on the walls, you are entertained from the start of your dinner to finish.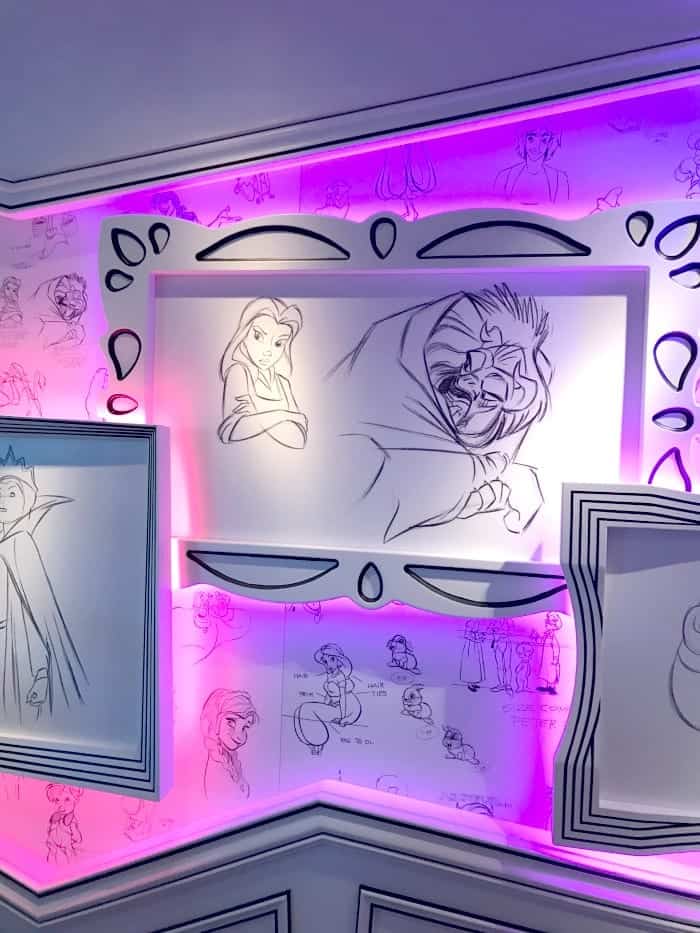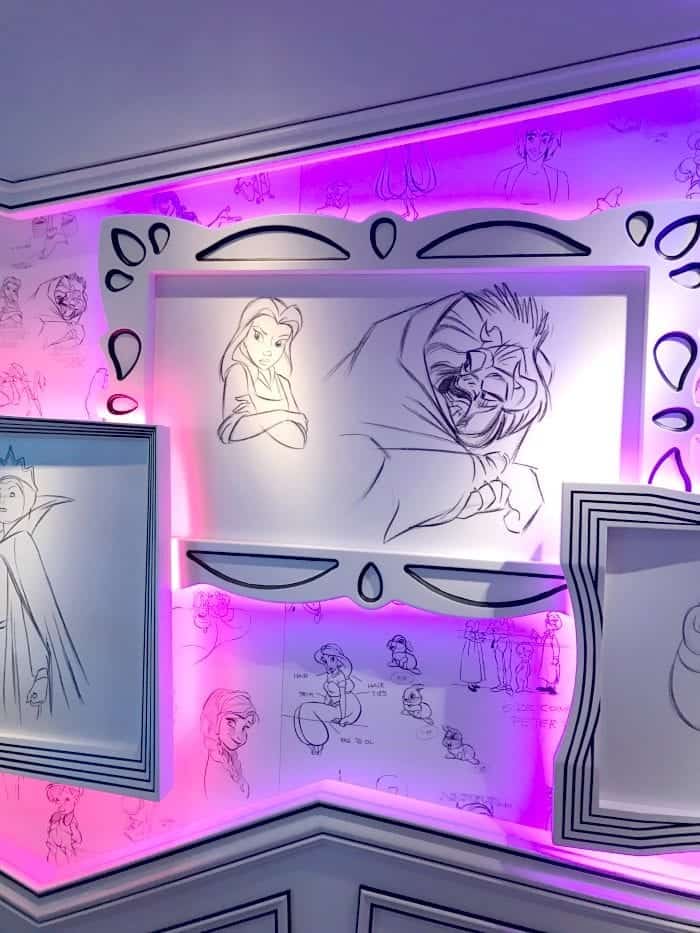 The artwork was so much fun and it changes throughout your dining experience. From black and white to color and still to playing movie scenes. Loved it!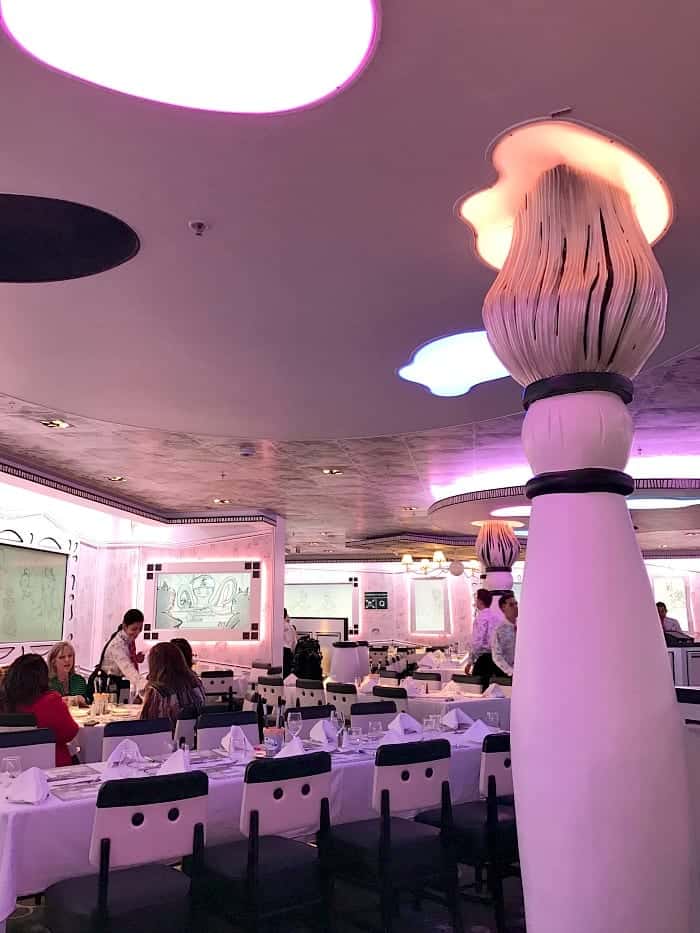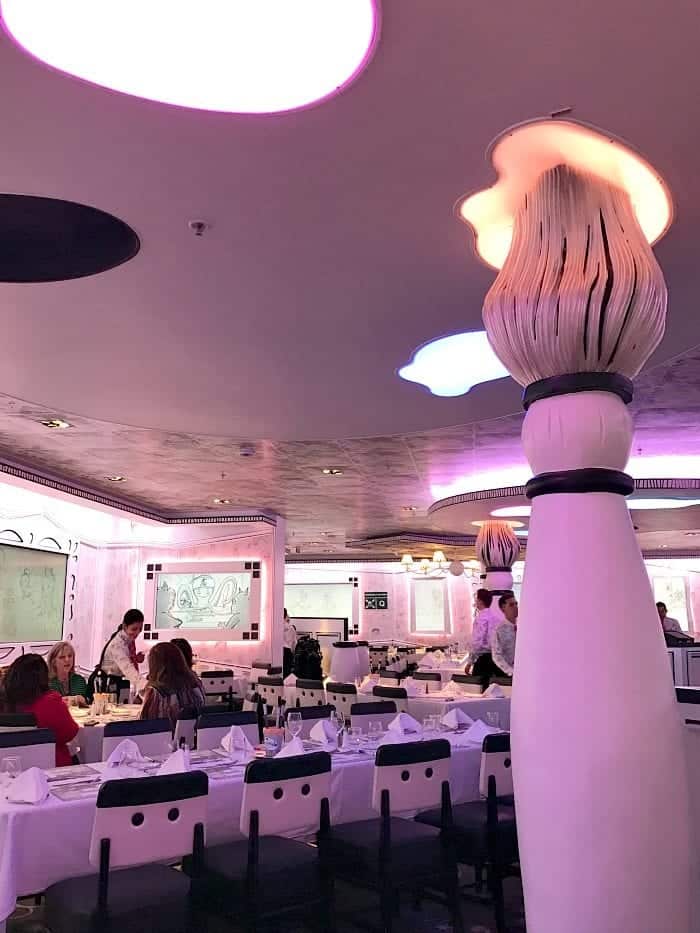 A little shot of the inside.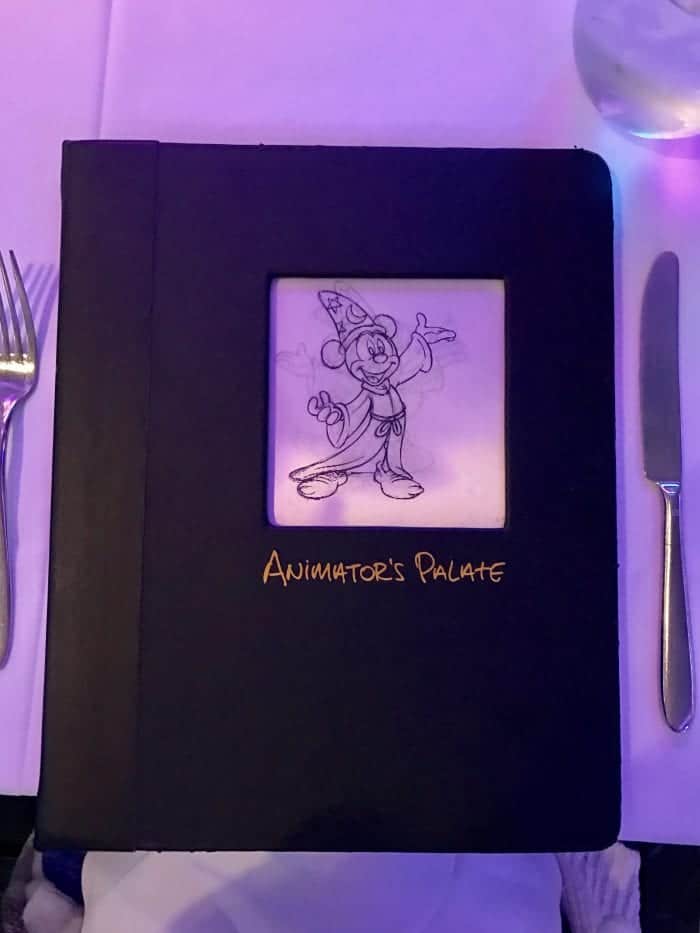 Even the menu was the coolest. The Mickey sketch changed as you moved the menu.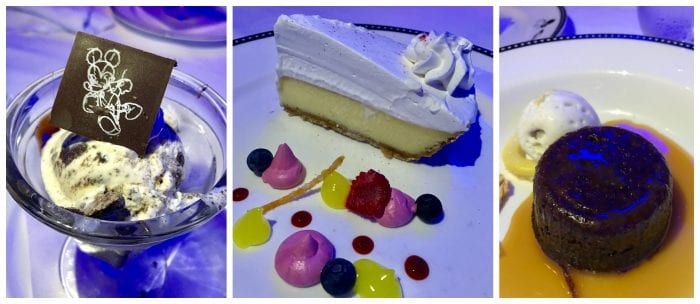 Somehow I only took pictures of the desserts our table shared, lol! The entire dinner was fantastic.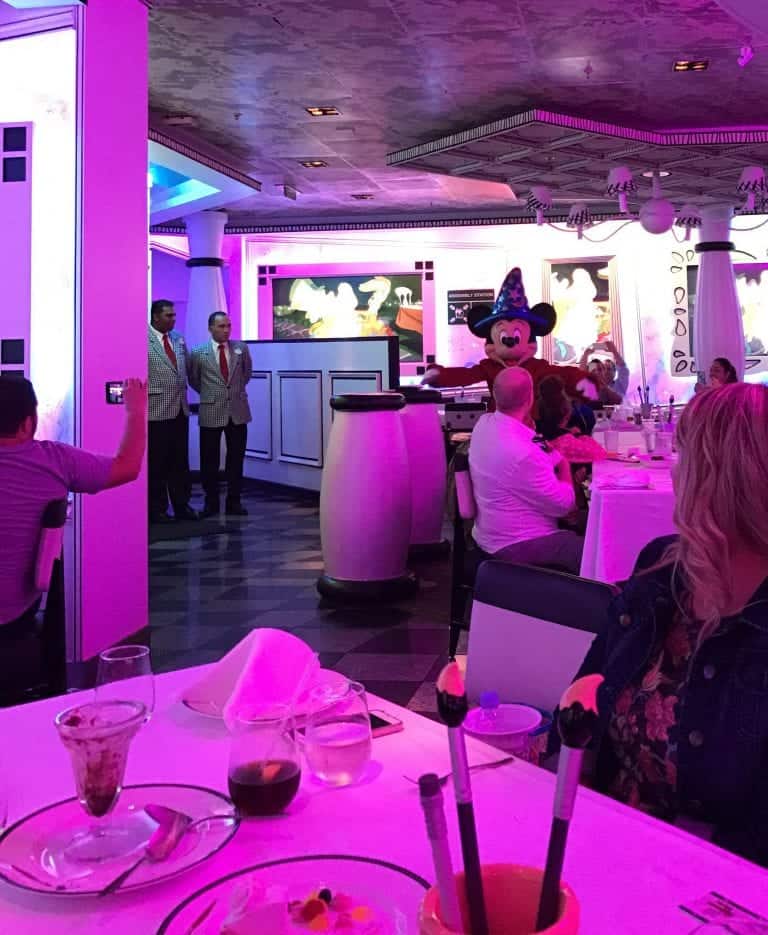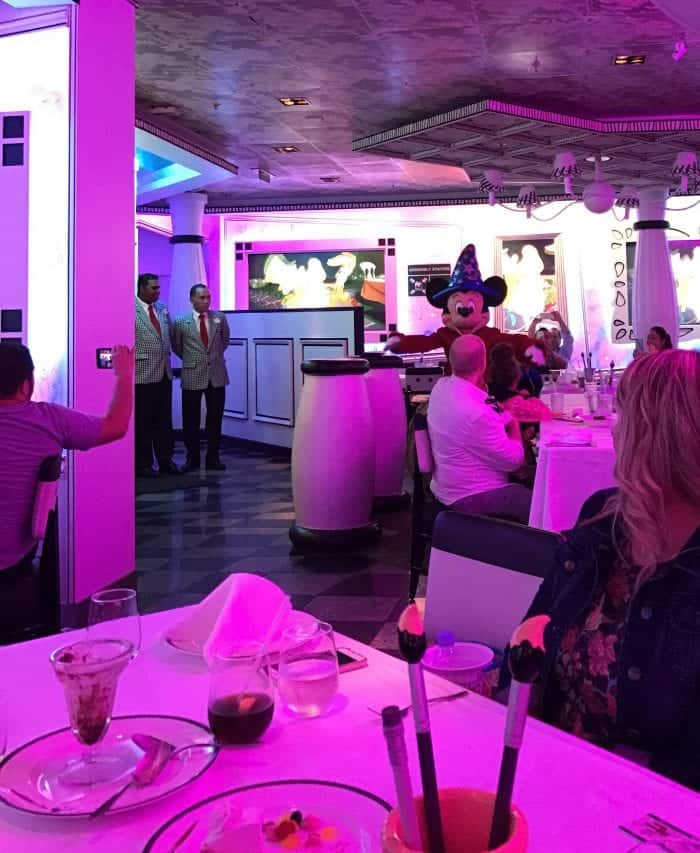 Mickey even makes a special visit at the end of dinner.
Tiana's Place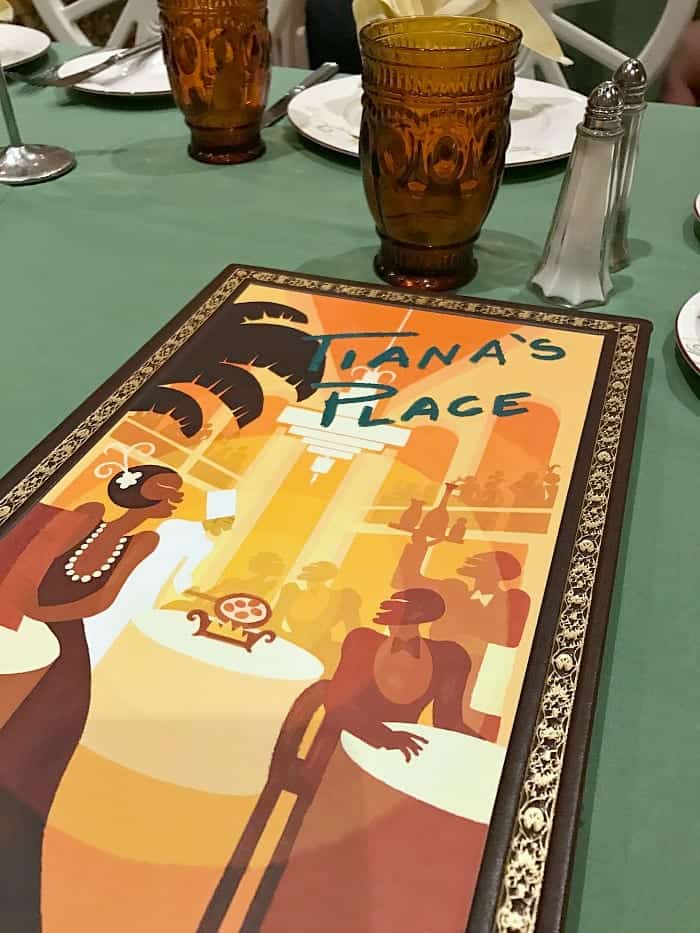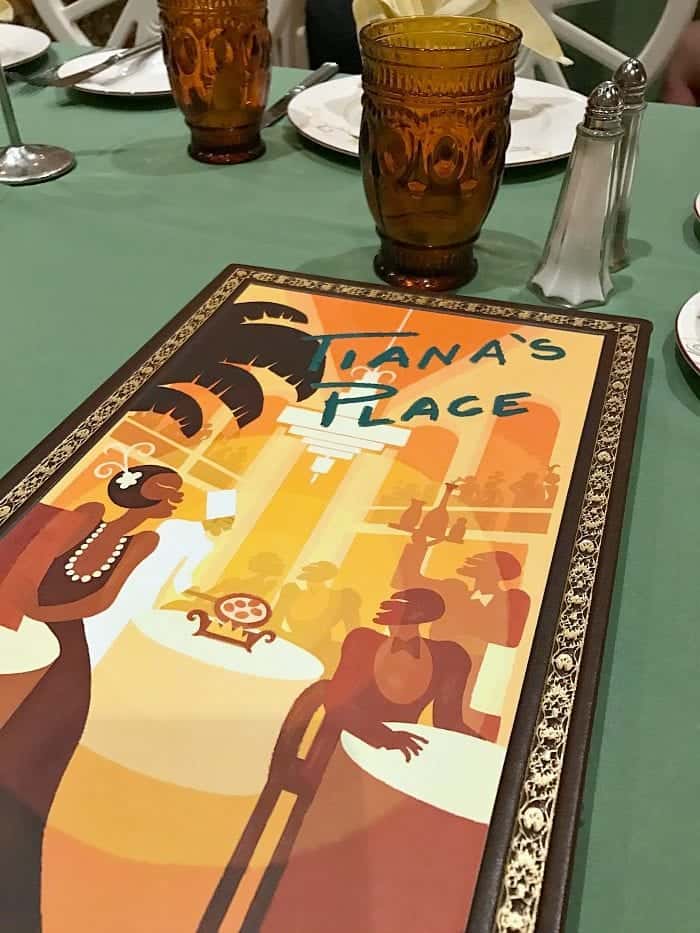 Tiana's Place was a party from start to finish. The music, the food, the beignets…it was all very memorable.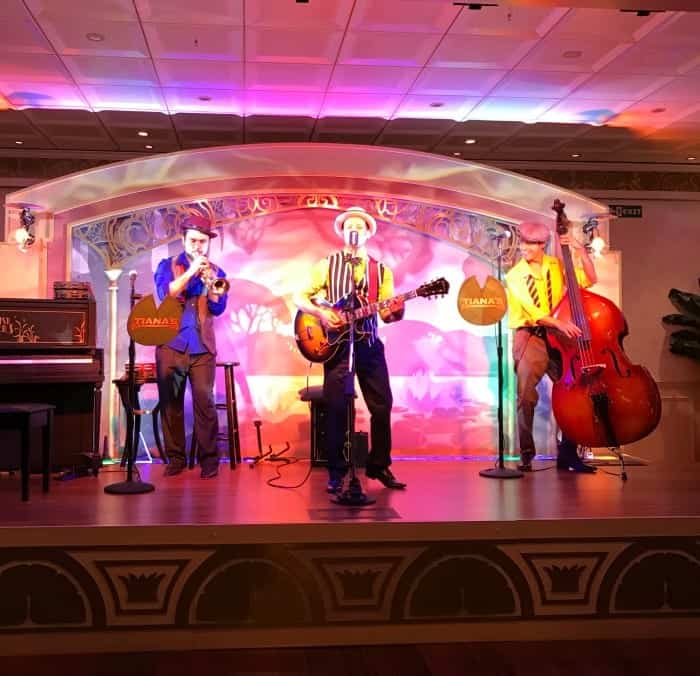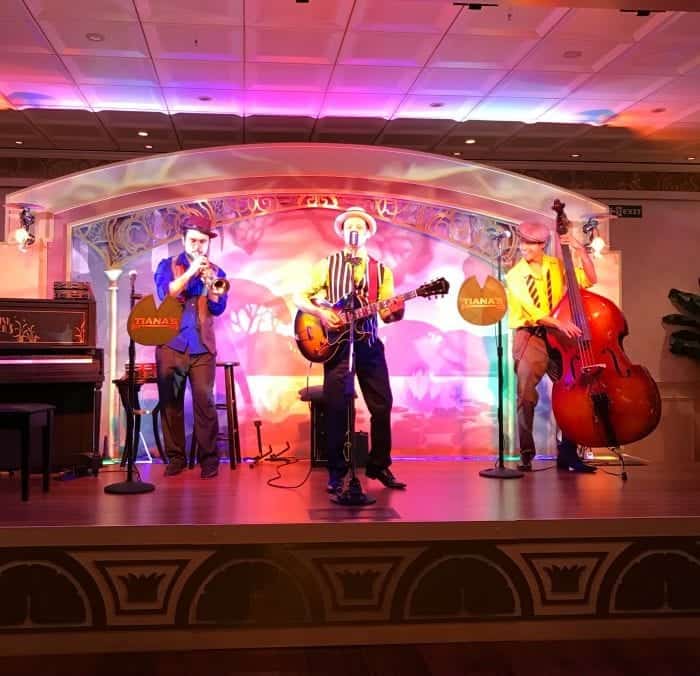 There's a live band playing and even live entertainment throughout the night.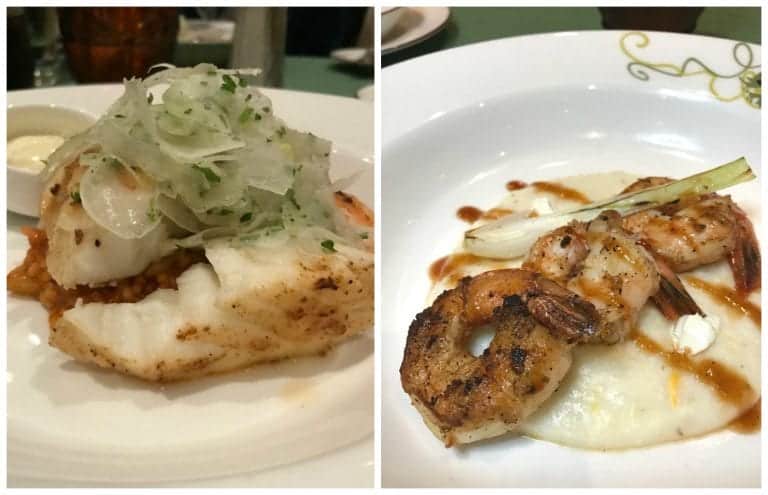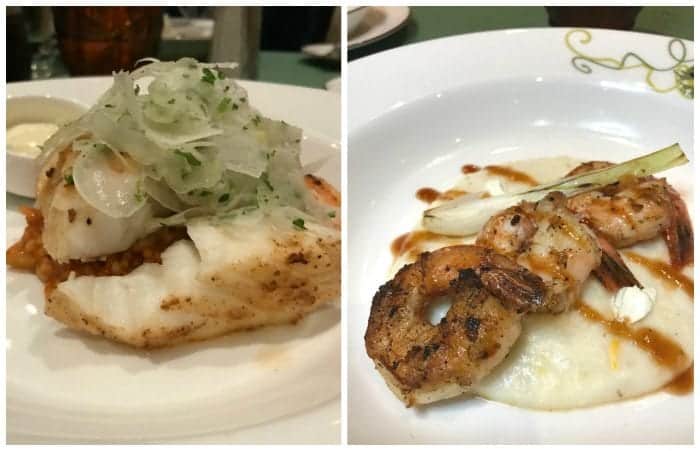 The food was spot on. I had no idea what to expect regarding cruise cuisine, however we were pleasantly surprised at how delicious each and every restaurant was and how much detail went into every plate.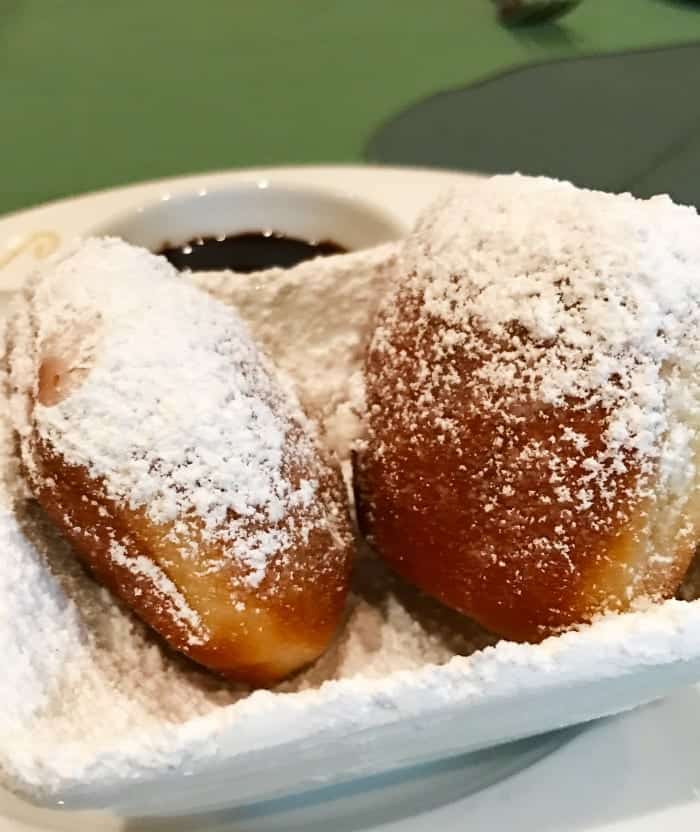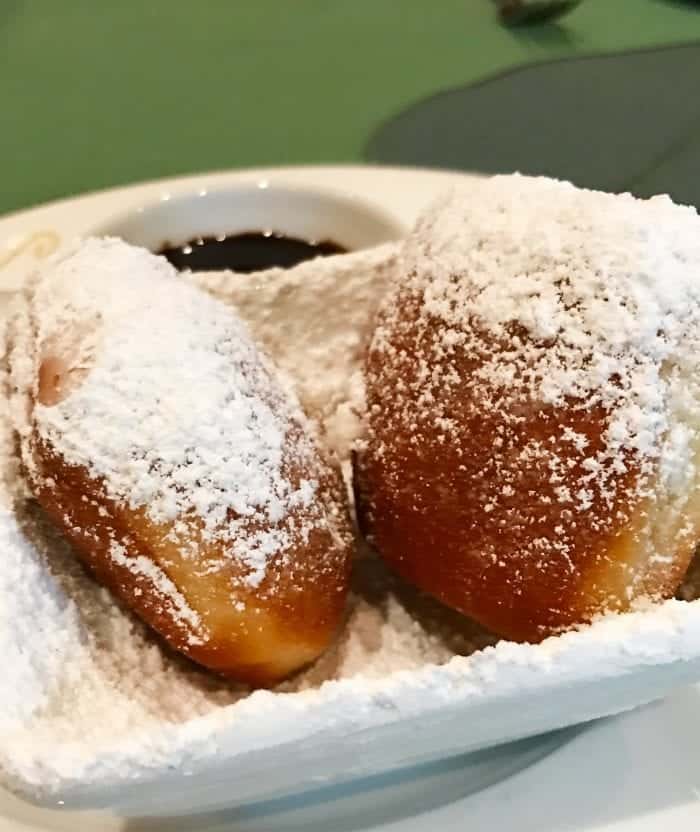 Tiana's Place had beignets we all still dream about. Hot, soft and sweet.
Tritons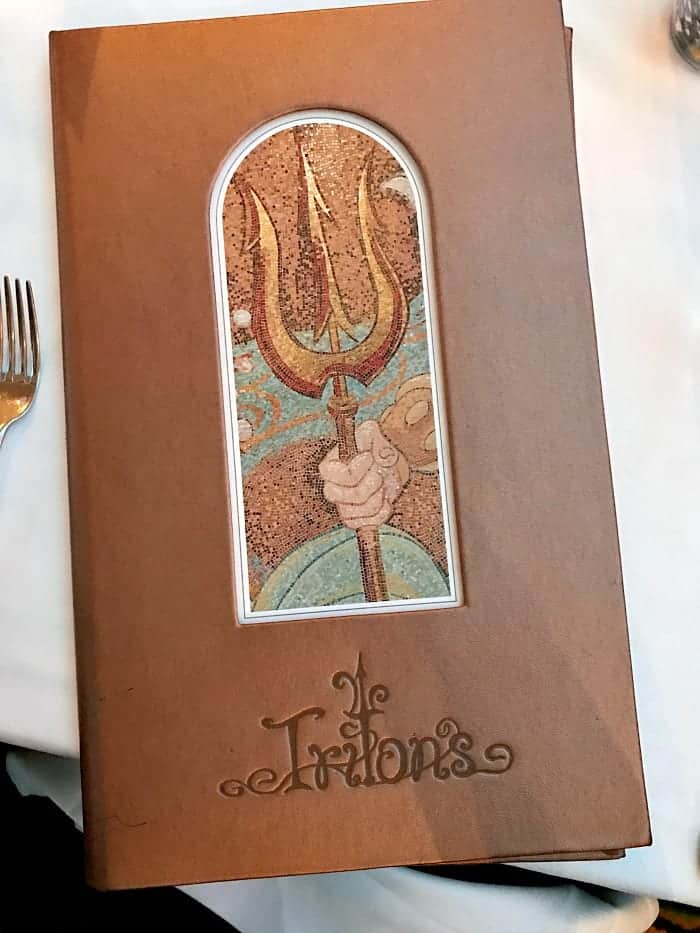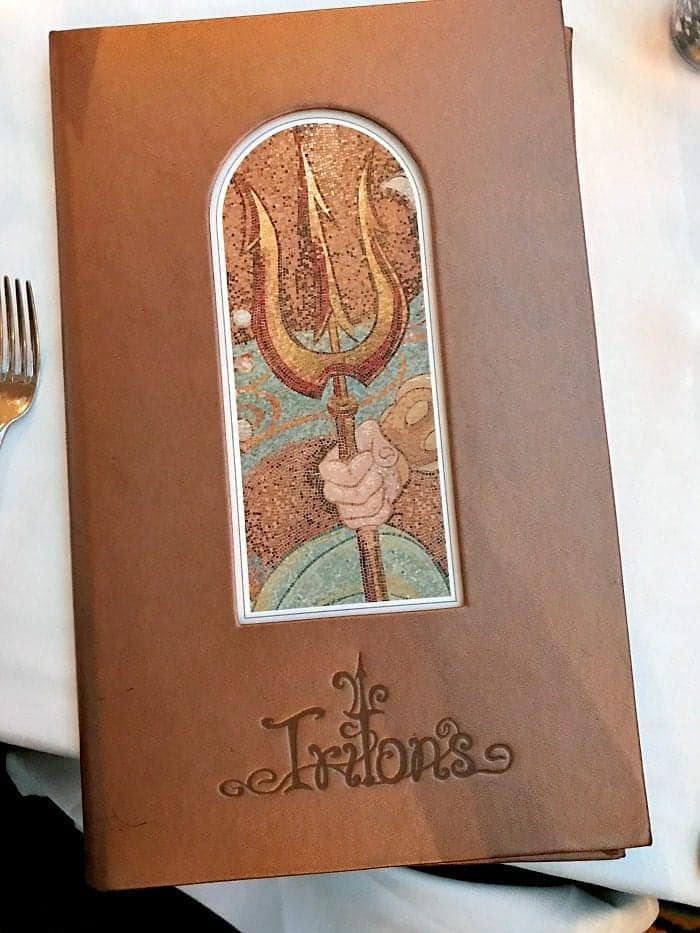 Our third night we dined at Tritons. It was an adorable Little Mermaid themed restaurant and had all kinds of deliciousness going on!
Palo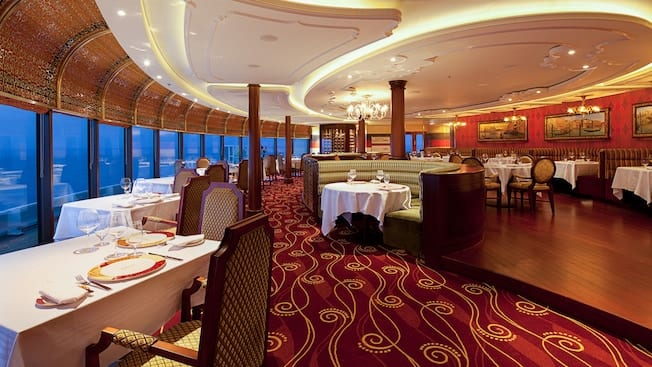 Photo via Disney Cruise Line
For an additional fee, you can get a reservation at Palo, a chic adult exclusive restaurant that is known to be fantastic! I had every intention of trying to get into Palo and was bummed I didn't make it happen. It's on my list to do next time for sure! You can dine here for brunch or dinner and it is very recommended that you get reservations in advance that will be confirmed 30 days before your cruise. Also to note is their dress code: "We recommend dress pants or slacks and a collared shirt for men, and a dress, skirt or pants and a blouse for women. Jeans may also be worn if in good condition (no holes). Please no tank tops, swimsuits, swimsuit cover-ups, shorts, hats, cut-offs, torn clothing, t-shirts with offensive language and/or graphics, flip-flops or tennis shoes."
Cabanas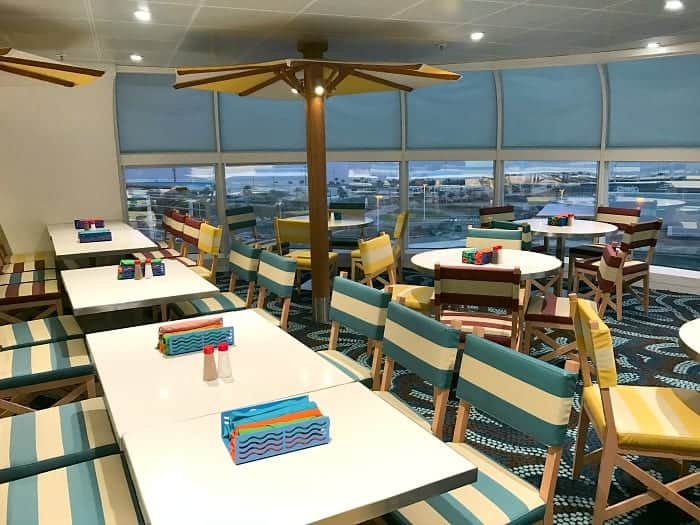 Cabanas is open for breakfast, lunch and dinner should you happen to get hungry and need an all you can eat restaurant, lol. But seriously, you can head to Cabanas pretty much anytime and get as much food as your heart desires.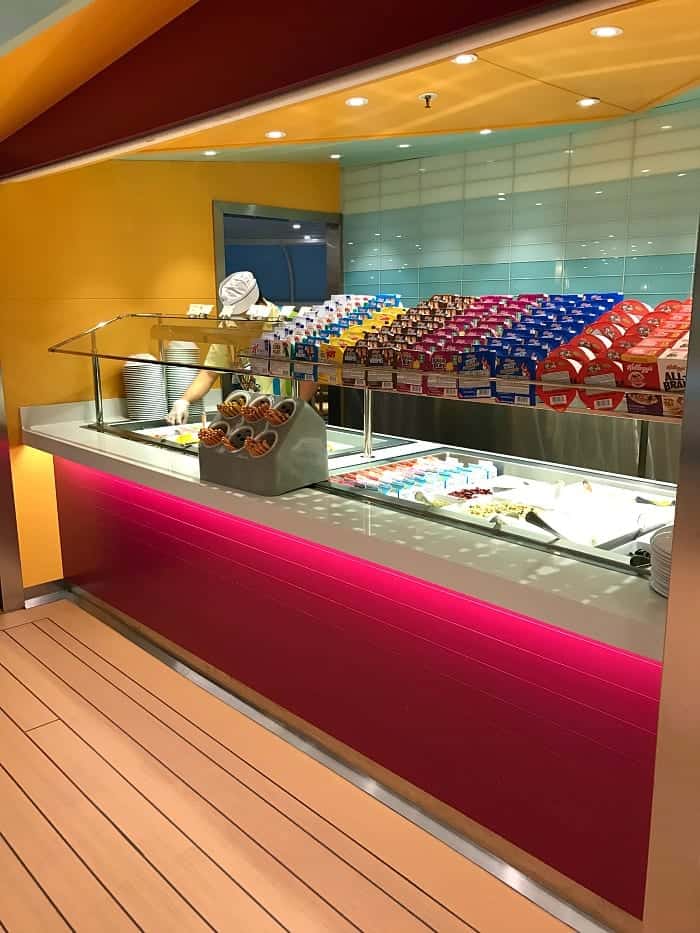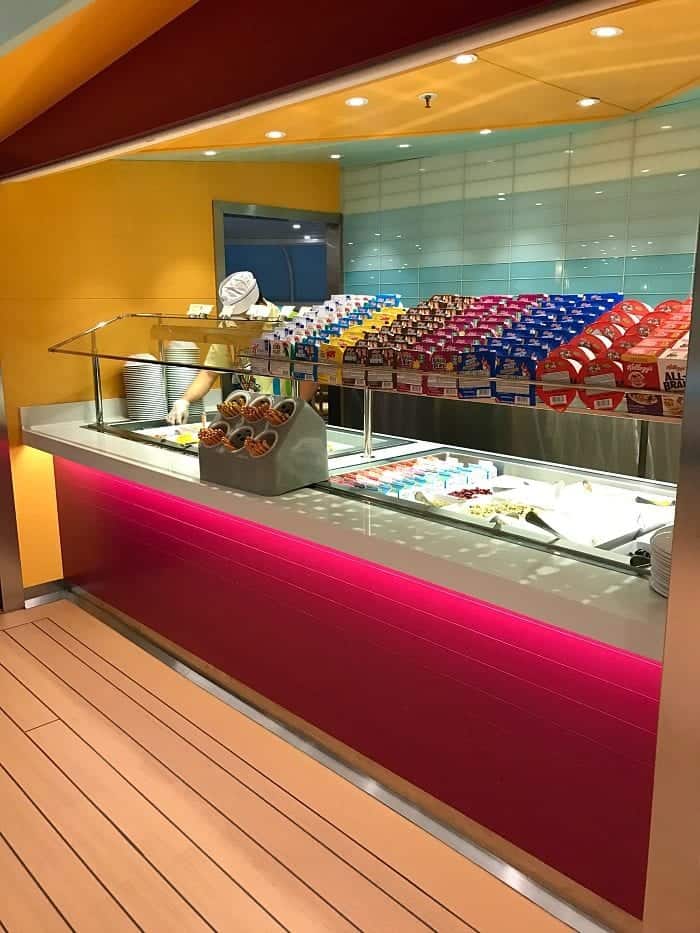 This was during breakfast, so you've got a giant cereal station in this corner.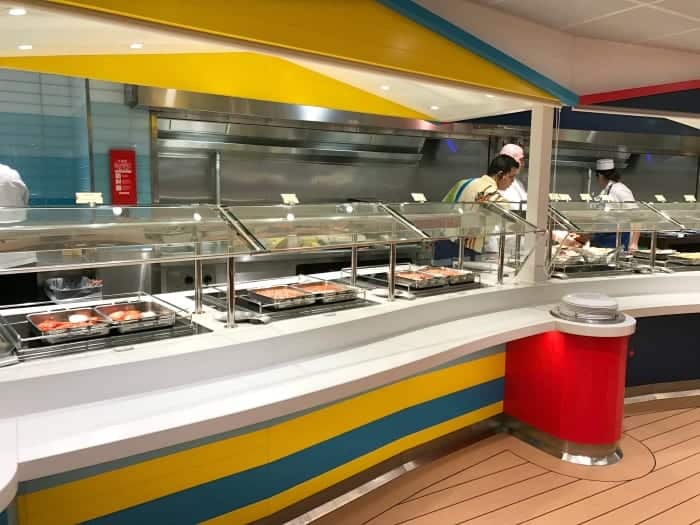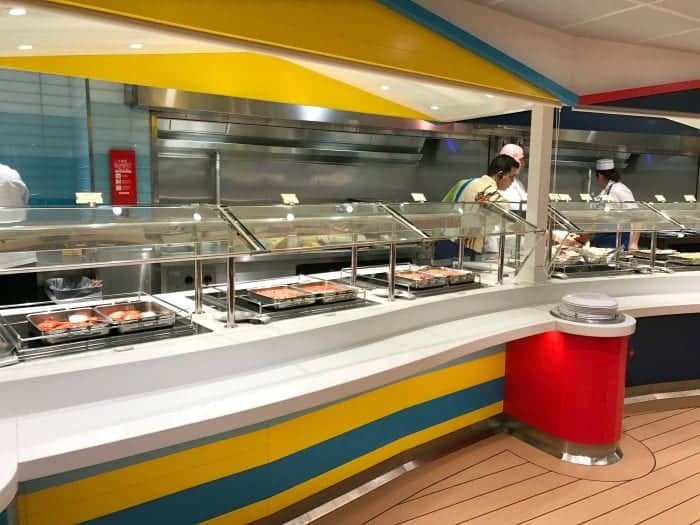 There were eggs, potatoes, bacon, sausage, oatmeal….just about any breakfast food you could think of was offered.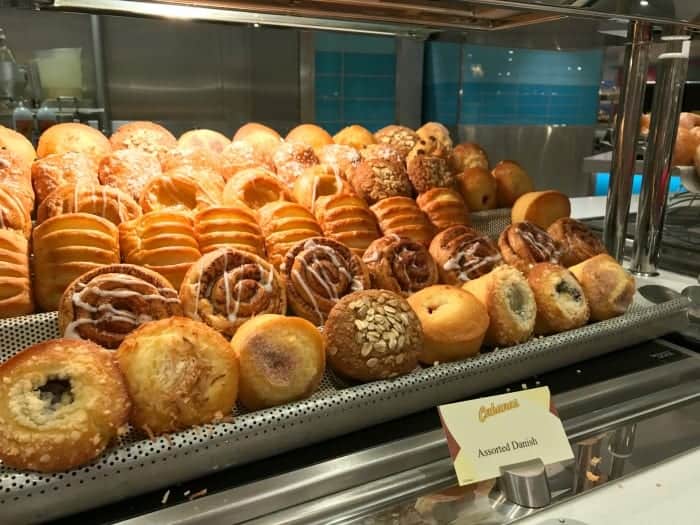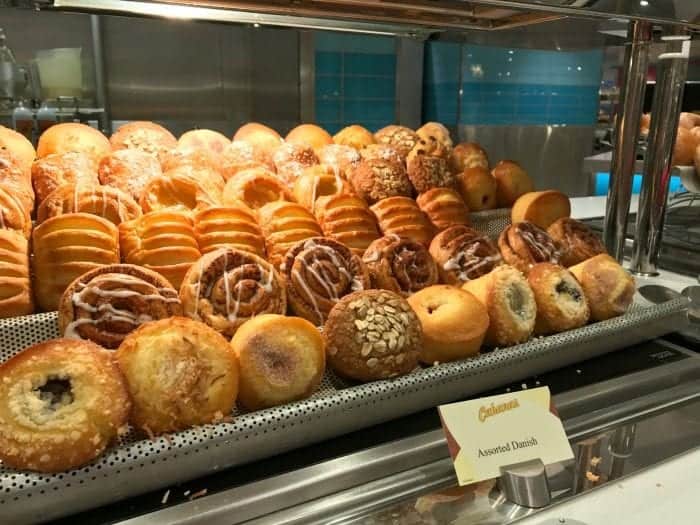 Pastries and more pastries 🙂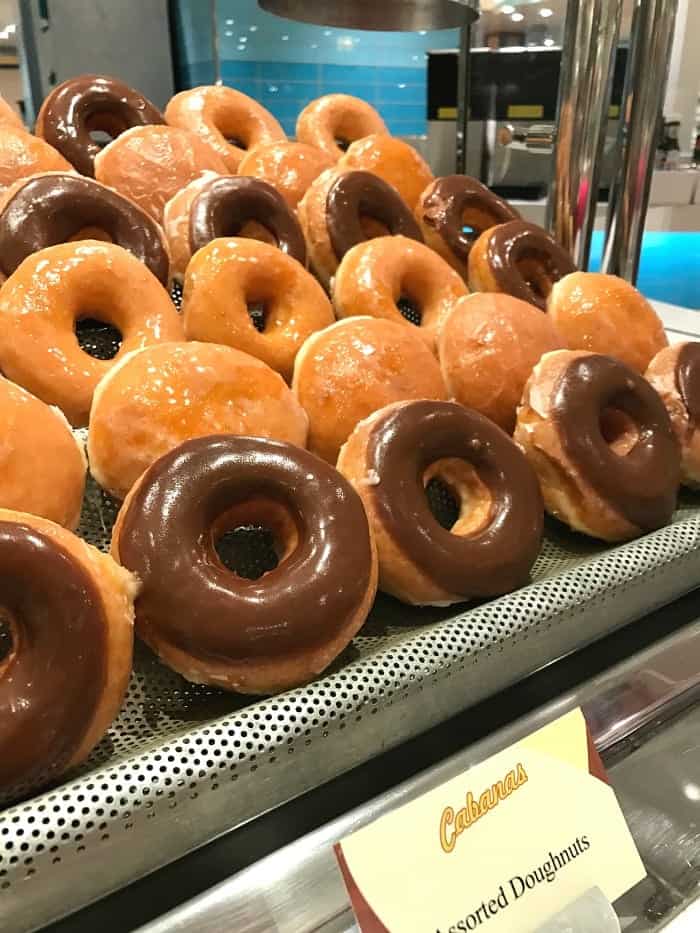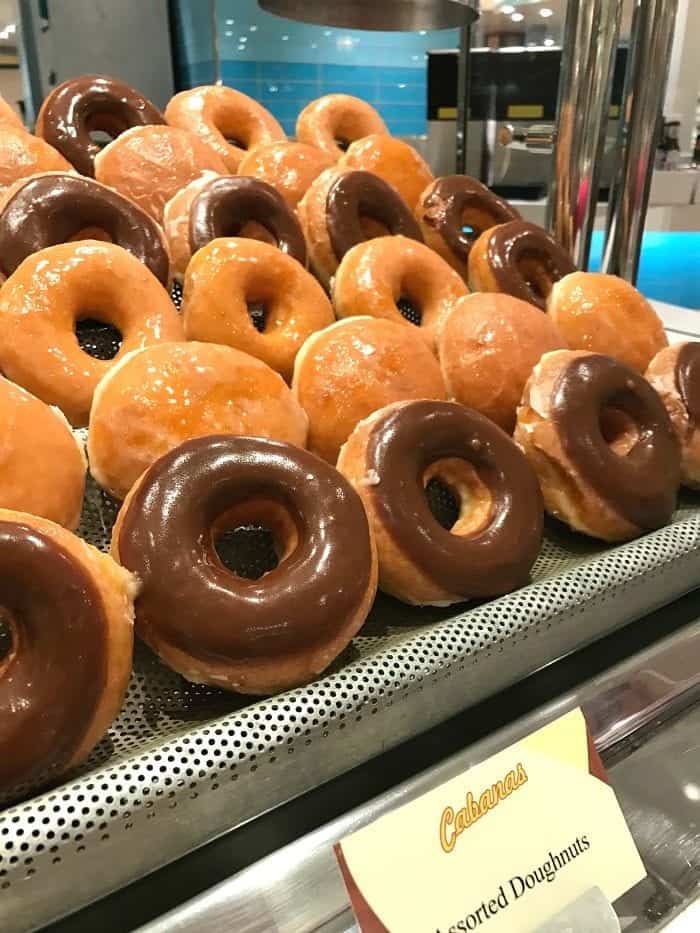 Let's not forget the doughnuts. If I'm not mistaken, these were Krispy Cream Doughnuts.
Room Service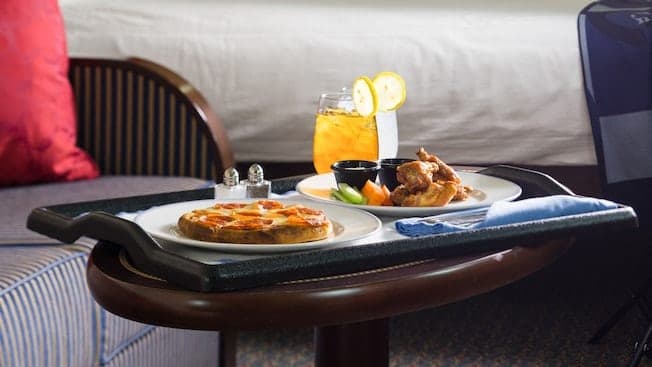 Photo via Disney Cruise Line
I am kicking myself for not trying out the room service from the cruise. You can feast on made-to-order dishes in the comfort of your stateroom 24 hours a day—with most meal items included in the price of your cruise. I hear the milk and cookies is a fun way to end the night from room service. Next time for sure!
Royal Court Tea Party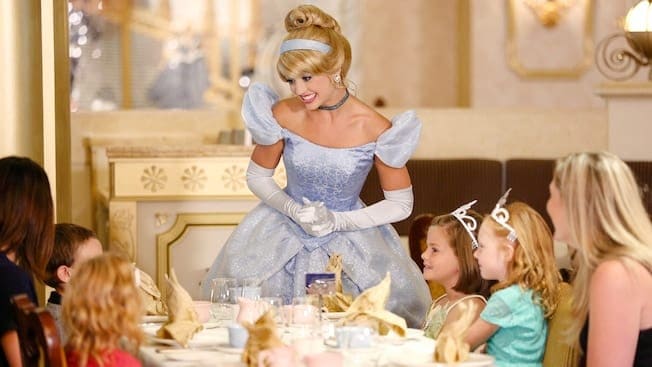 Photo via Disney Cruise Line
While we didn't have any kiddos that went to the Royal Court Royal Tea Party, I bet every little girl would go nuts for this. You'll want to get your reservations in advance for this one. Note that this is a specially priced experience, available for an additional fee. Children $210 and adults $69.
Castaway Cay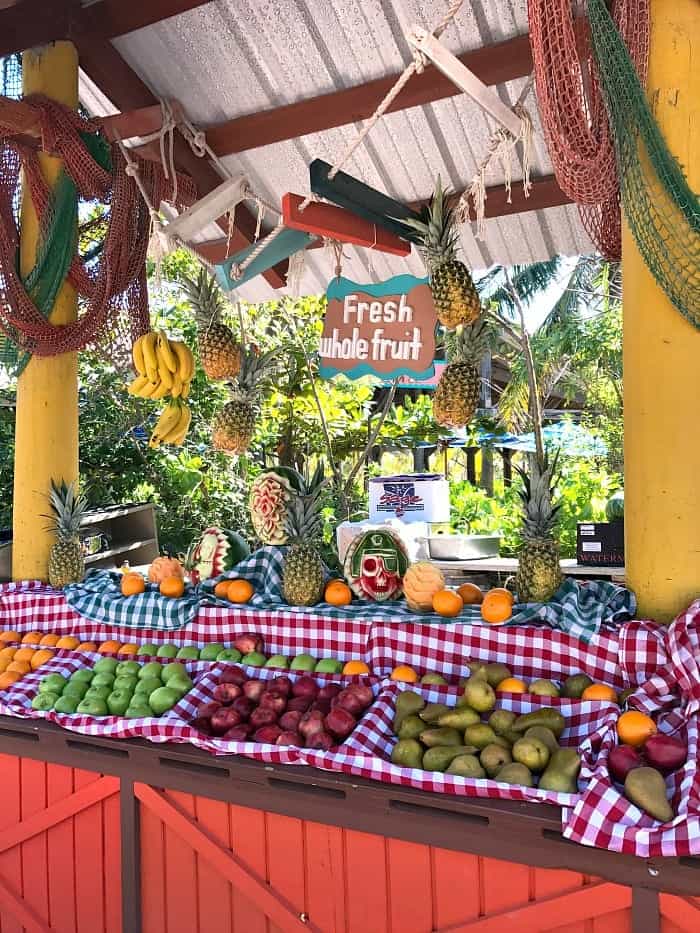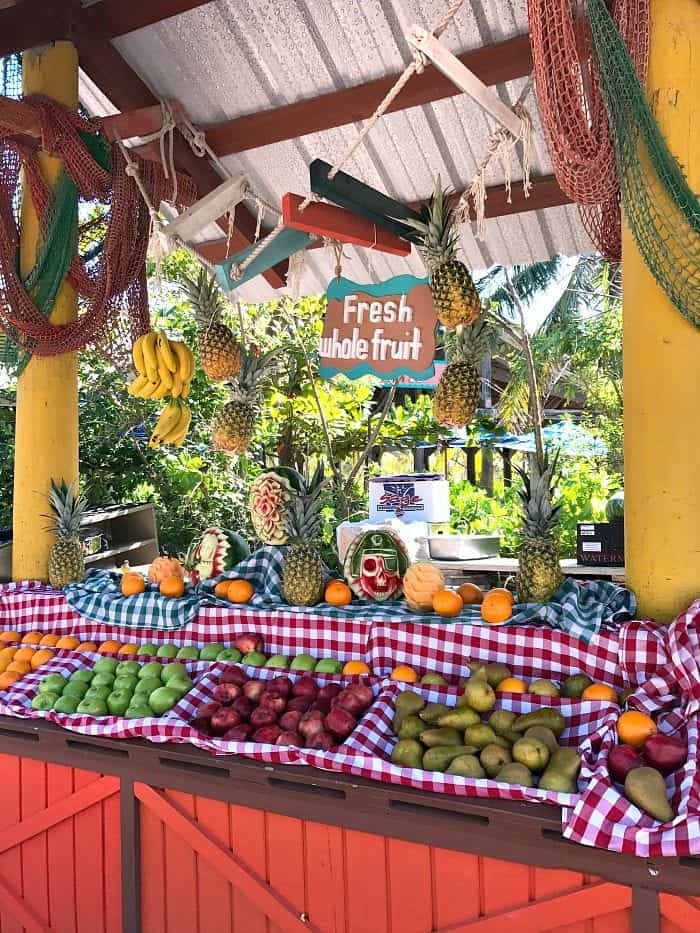 Castaway Cay is Disney's private island that you get to explore on select Disney Cruises depending on where you're headed. Our Disney Wonder Cruise departing from Port Canaveral happened to include Castaway Cay in the Bahamas and I could not have been more excited. So much to do and see. Be sure to check out my full tour of Castaway Cay HERE.
Ok, back to the food. You can help yourself to the fun fresh fruit stand near the family beach.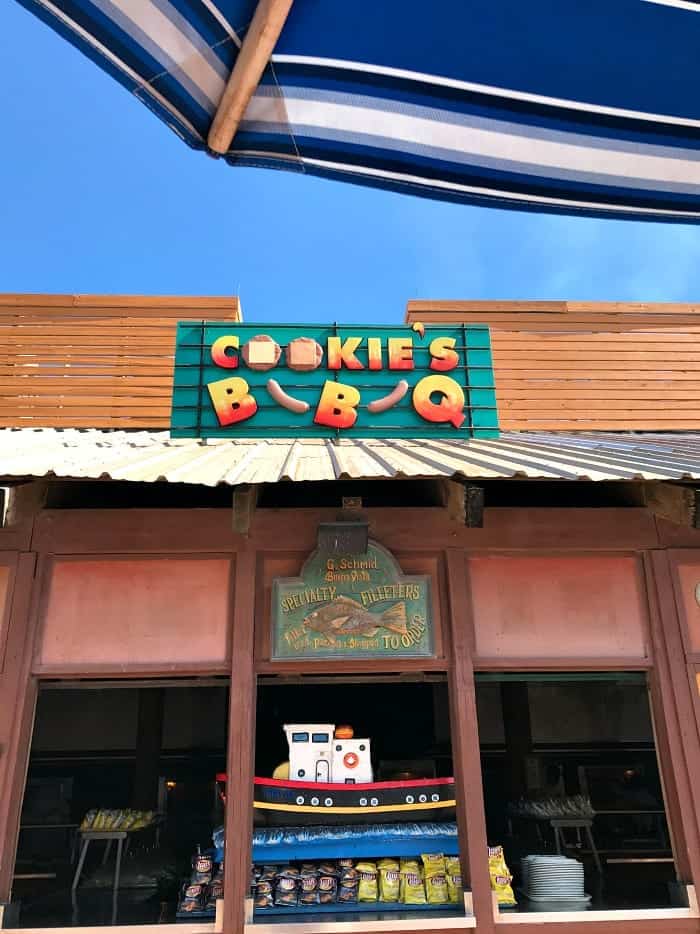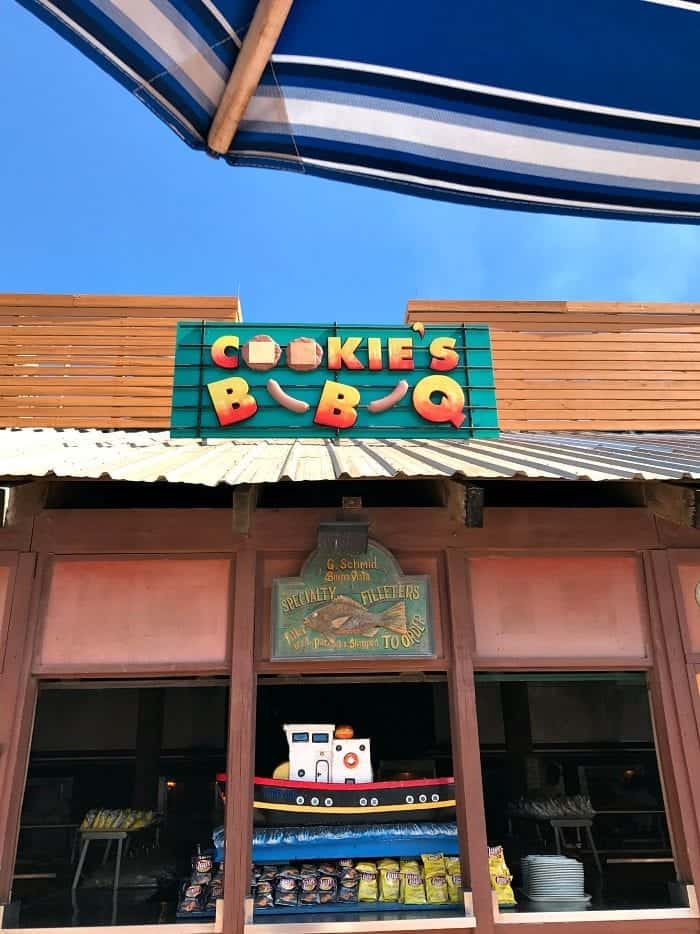 A BBQ lunch comes complimentary with your cruise. Starting at 11:30am you can help yourself with as much BBQ you care to enjoy. Cookies BBQ is located in the family beach area.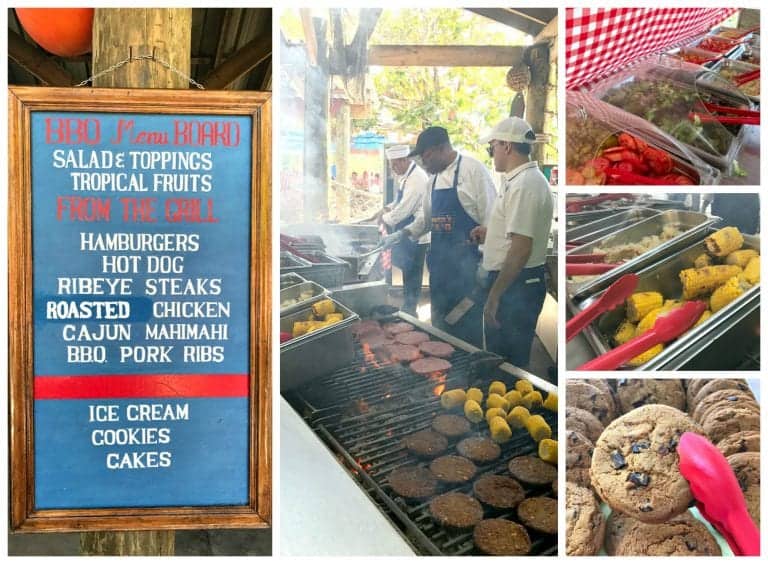 This was the BBQ lunch on the adult side of the island at Serenity Bay, it was all fantastic!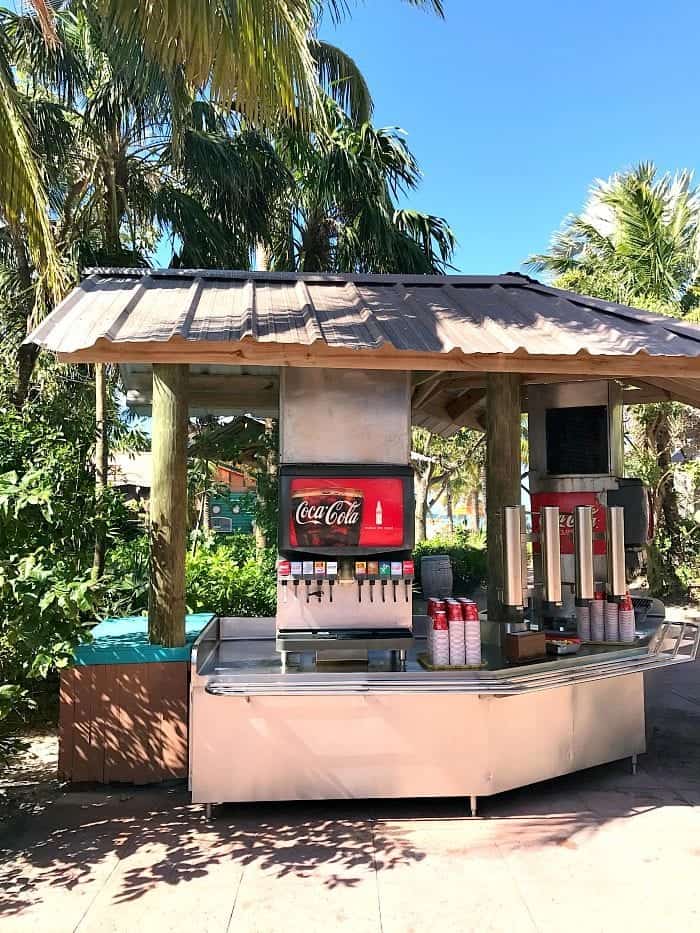 Complimentary drinks throughout the day too.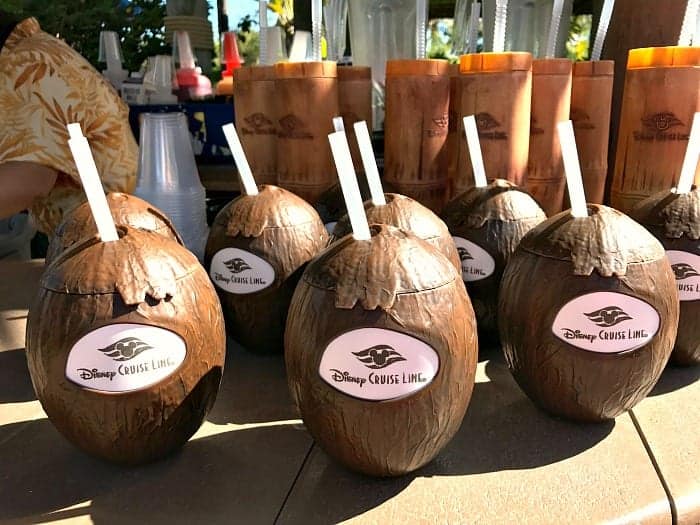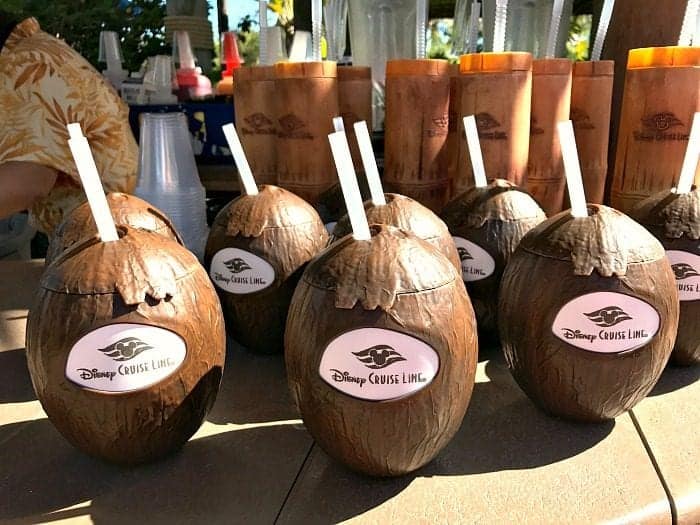 There were a number of drink stands where you could purchase a frosty beverage. Loved these coconut sippers.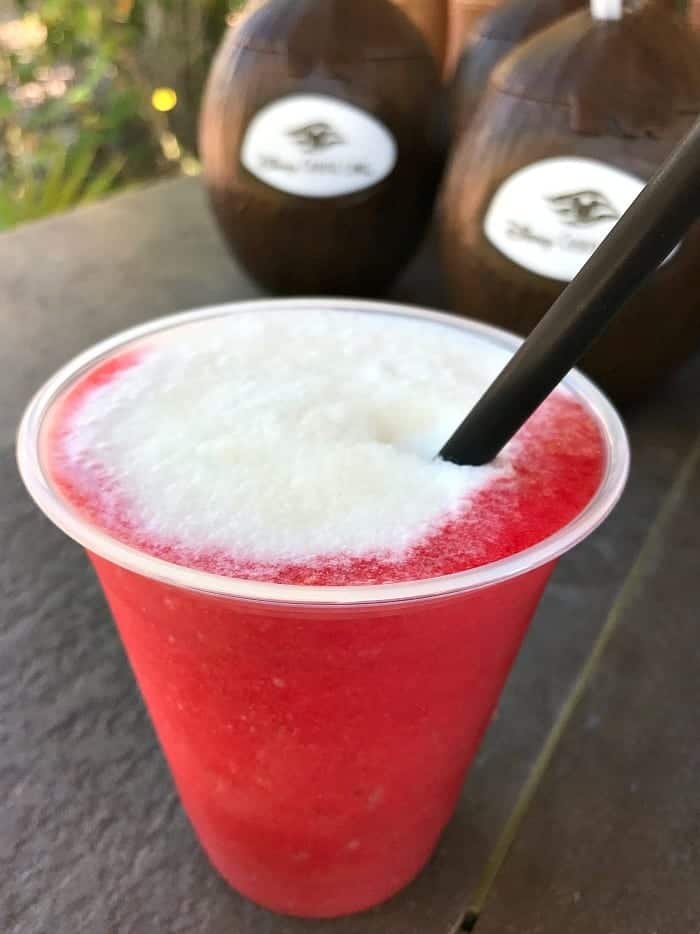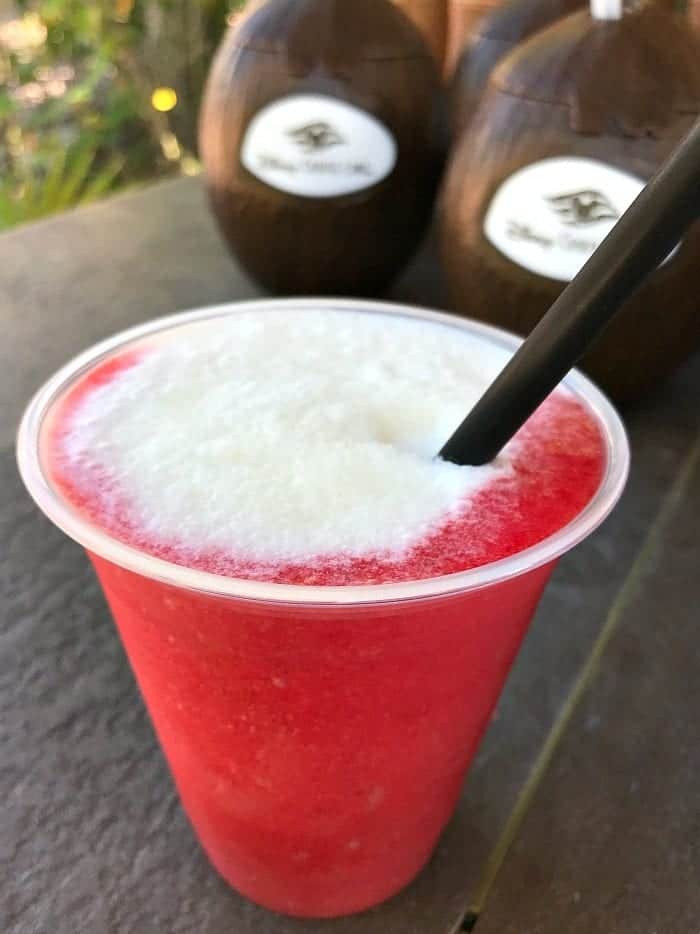 We shared this strawberry colada drink. It was perfection! While this was a non-alcoholic drink, you can purchase alcohol if you desire.
To review, you will in NO WAY be hungry at any time during your Disney Cruise. It's fantastic! Lots of people say they dieted before the cruise so they could eat whatever they wanted. Ha! Whatever the case, you'll have the best time eating your way around the ship 🙂
Note that some of the restaurants vary depending on what cruise ship you take.
Be sure to check out my other Disney Cruise Line Posts below.
Tips On Taking The Disney Wonder Cruise
A Tour Of Disney's Castaway Cay
The Disney Wonder Stateroom With Verandah
Pin to your favorite Travel Board!