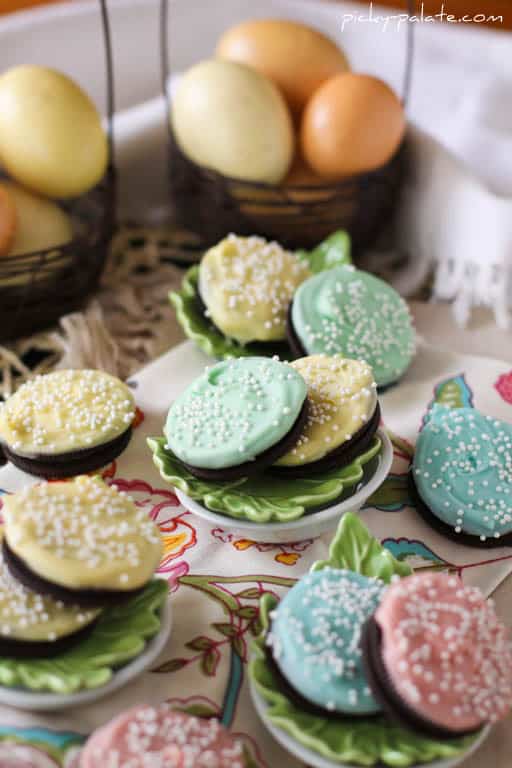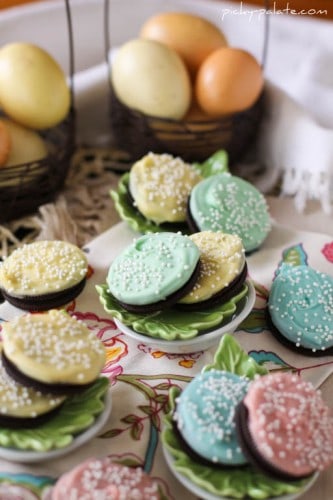 5 more days until Easter!! You ready? I made a mad dash to Target yesterday and picked up my last minute basket goodies. Apparently so was the rest of Orange County, that place is crazy!
These colorful Easter Oreos are a must for your Easter table if you ask me!! When I was thinking of this idea, I knew they would be cute, but I love them even more than I thought I would.
I wanted to post another quick and easy Easter recipe and I think I've done it, I'm talking 10 minutes! Get the kids in the kitchen to help you, they will love to help dip and sprinkle these Easter Oreos!
Take a peek below and see how simple these are to put together. Oh, and wrap them up in a little bag with a bow and they make the perfect teacher gifts!!
Have fun!! xoxo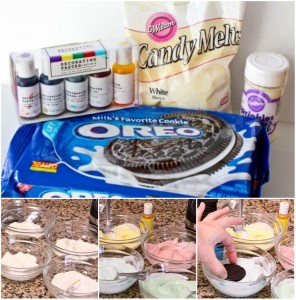 Grab yourself a bag of Wilton's Candy melts, some Oreos, food coloring or paste and you are good to go!!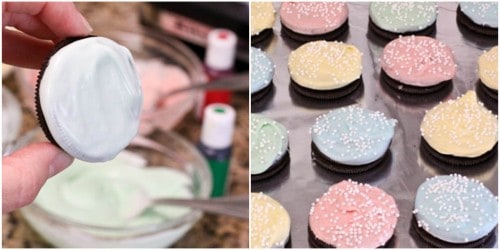 Dip, sprinkle and let dry 🙂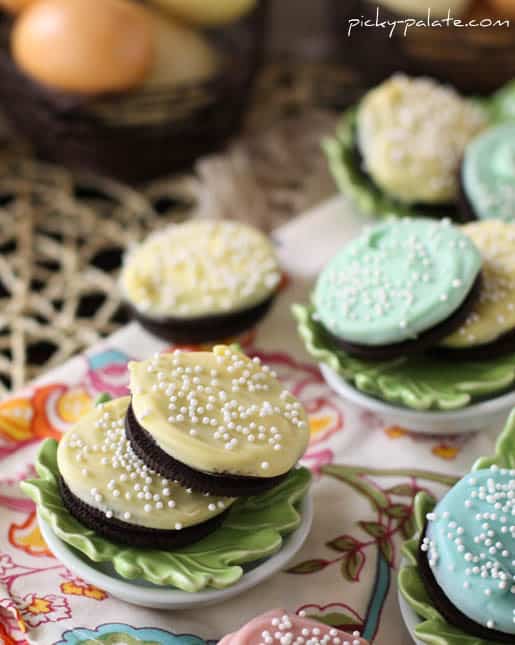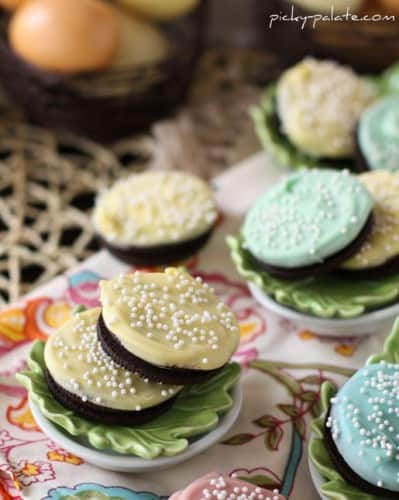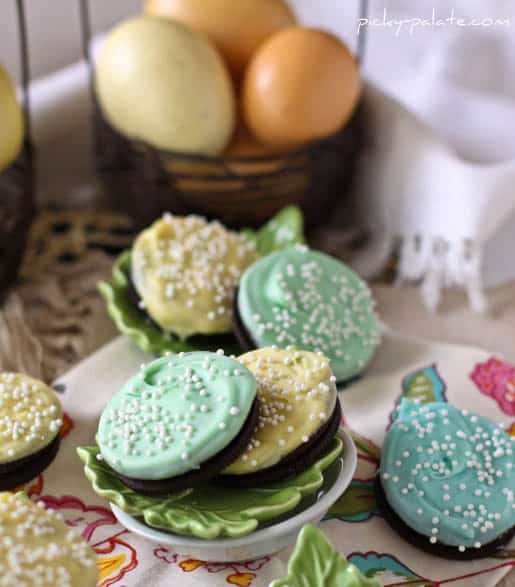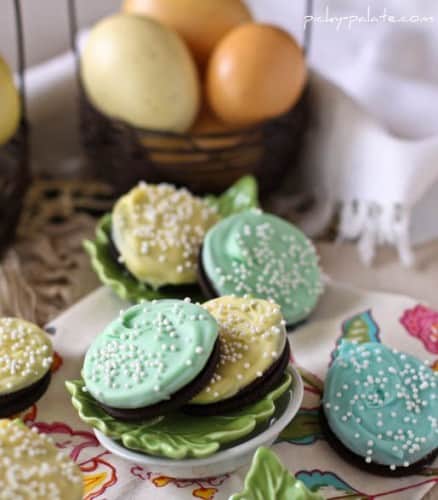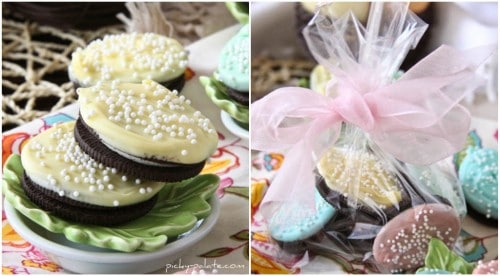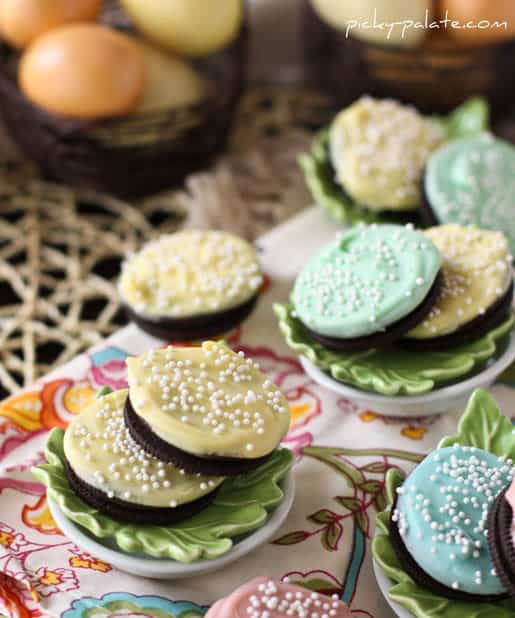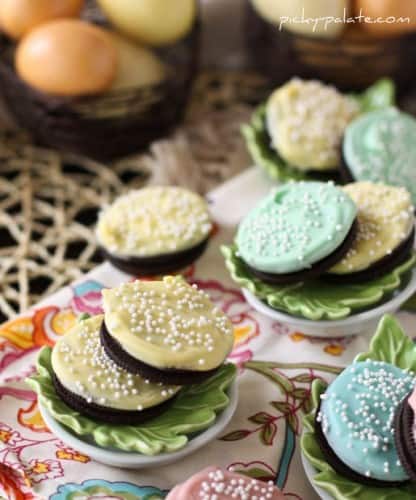 White Fudge Dipped Easter Oreos
Bag of Oreo Cookies
Bag of Wilton White Candy Melts (I found mine at Michaels)
Food Decorating Paste or Food Coloring (red, yellow, blue and green)
White nonpareils Sprinkles
1. Take half of the Oreos out of the package and set on plate so they are ready to go. Melt candy according to package directions until smooth. Divide white chocolate into 4 separate bowls then add paste or food coloring until desired color is reached. Start with just a tiny drop so you get pastels 🙂 Stir then dip tops of oreos in chocolate. Use spoon to spread evenly. Sprinkle with sprinkles then place onto foil, parchment or wax paper to dry. Continue dipping until Oreos and chocolate is used up. Serve room temperature or chilled, Enjoy!!
________________________________
Here is a collage of the Easter Party we had last Saturday at our church. Egg drop with the Fire Department, Games and Egg Hunt…had a great time!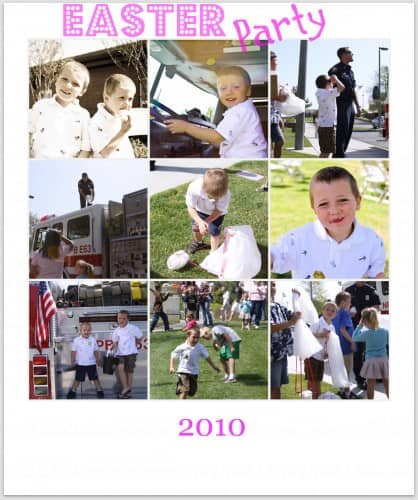 Question: So at what age do you spill the beans about Mr. Easter Bunny? I am wondering how much longer I have with my almost 8 year old!! Would love to hear your stories 🙂
Have a Great Day, come back soon for some Giveaways!!