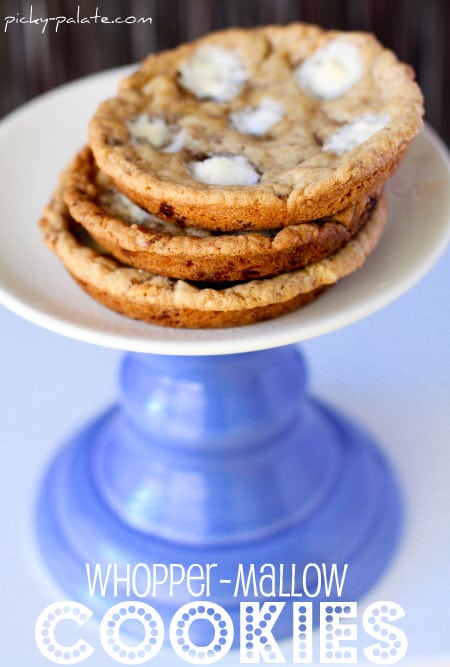 It's Monday!! Hope everyone had a great weekend. We are still kicking it in AZ this week for some fun times with our family. It's amazing how fast I forget how miserable the AZ summers are. Yuck is all I have to say about that 🙂
Before we took off to AZ, we made these beautiful Whopper-licious cookies. If you are Whopper fans, you'll love these. Since I am officially addicted to my muffin top pan, I used it again for some XXL cookies. I added a little malted milk powder to the dough, which gives it that little extra malt flavor. Ovaltine worked great even though I was looking for the Carnation kind. Either works perfectly 🙂
Hope you enjoy 🙂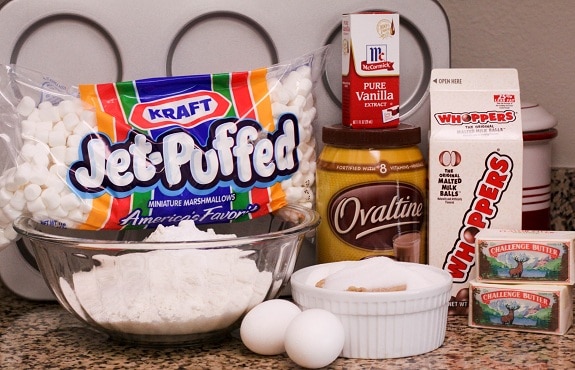 Here's your line up!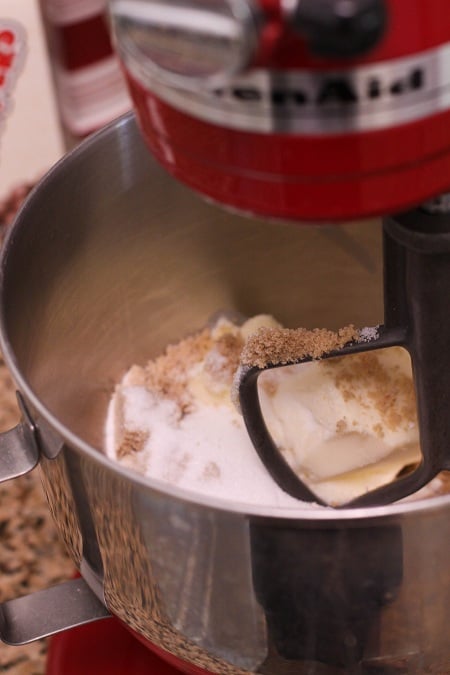 Cream your butter and sugars 🙂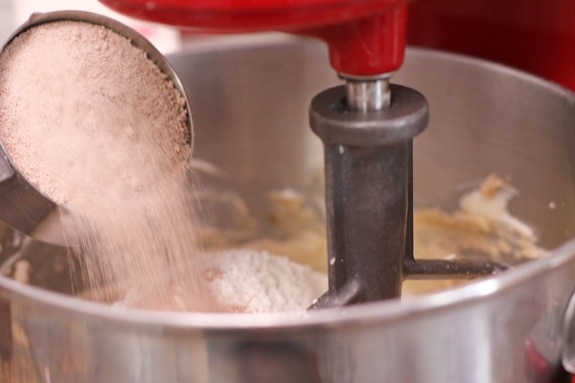 Add in your dry ingredients along with the malted milk powder.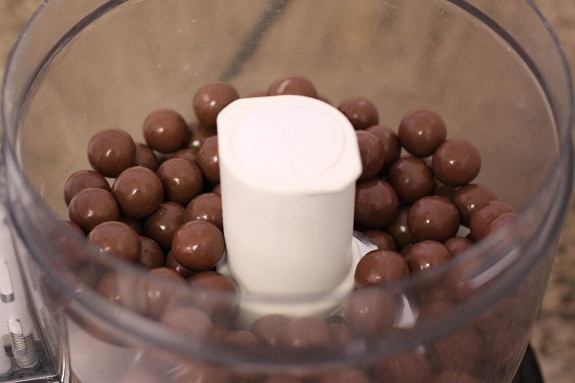 Time to chop up the Whoppers…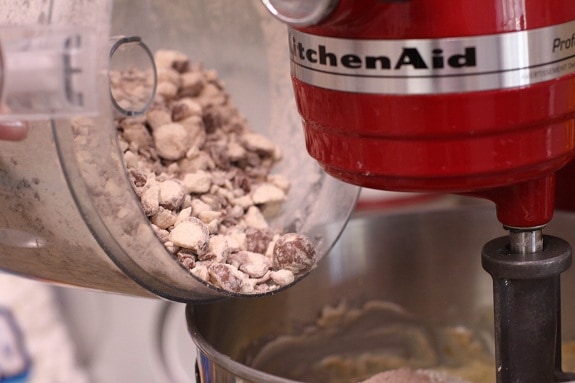 Throw em' in the mix!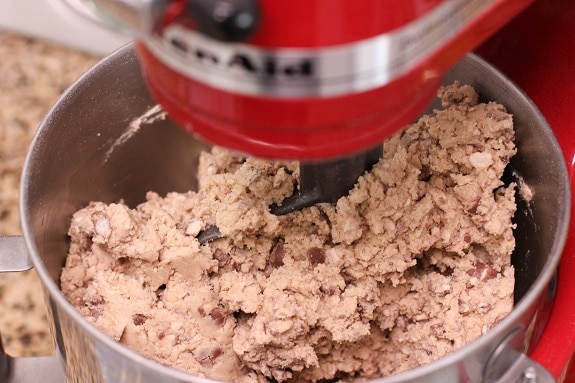 Perfect 🙂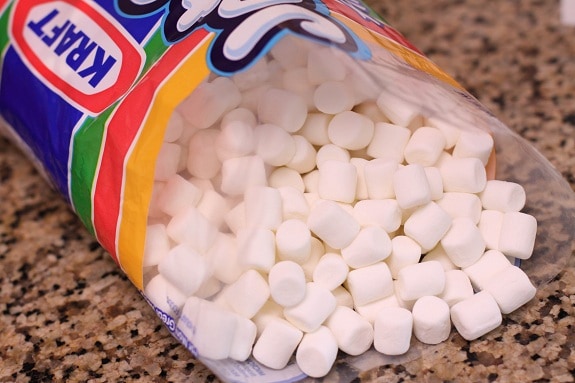 We happen to be massive marshmallow fans around here, add them if you'd like….or they are great without too 🙂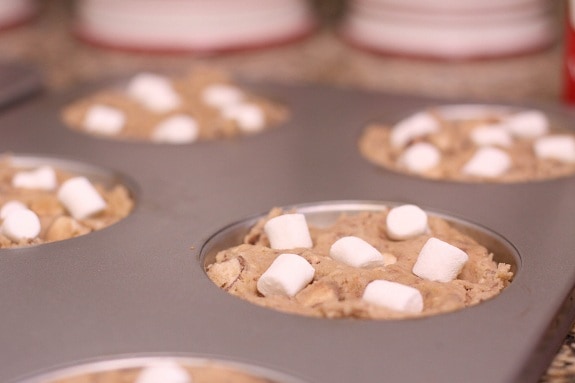 Time to bake!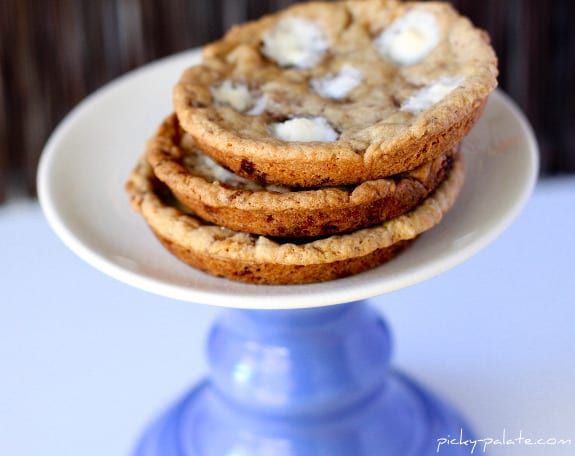 Cookie love 🙂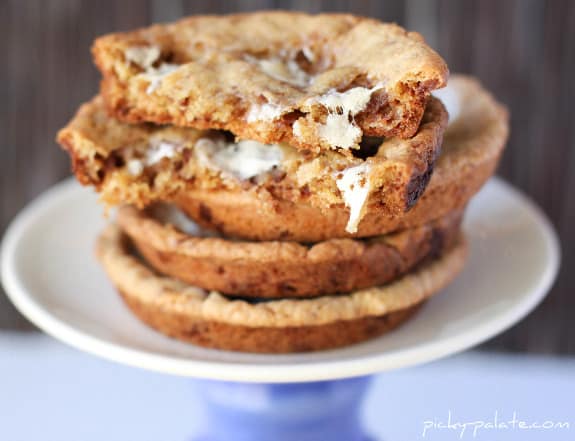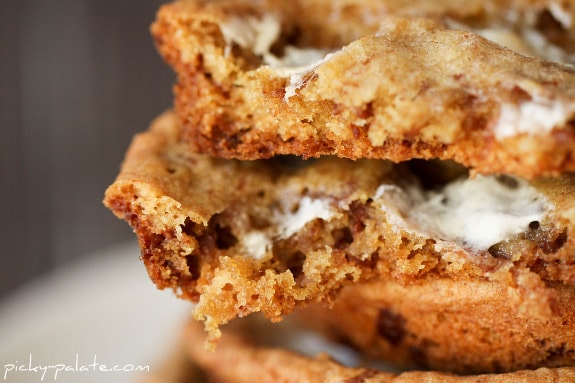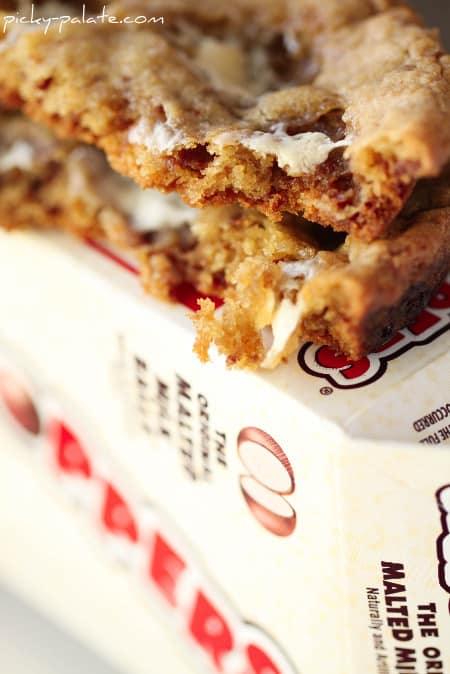 [ziplist]
Whopper-mallow Cookies
2 sticks softened butter
1 Cup granulated sugar
3/4 Cup packed brown sugar
2 large eggs
1 Tablespoon pure vanilla
3 1/4 Cups all purpose flour
1/2 Cup Carnation chocolate malted milk or Ovaltine
1 teaspoon kosher salt
1 1/4 teaspoon baking soda
3 Cups Whoppers, ground up coarsely in food processor
1. Preheat oven to 350 degrees F. Cream butter and sugars until smooth and fluffy. Beat in eggs and vanilla until well combined, scraping sides of mixing bowl. Place flour, malted milk, salt and baking soda into a large bowl. Slowly add to wet ingredients following chopped up whoppers until just combined. Using a medium cookie scoop, scoop dough about 1/4 Cup dough into muffin top pan cups or use a silpat lined baking sheet. Bake for 9-11 minutes or until edges are golden brown. Let cool for 5 minutes before removing from pan.
Makes 24 XL muffin top cup cookies or 4 dozen regular cookies
_______________________________________
Have a great new week!! Come back soon 🙂