Itty Bitty Cinnamon Roll Bites
Who says cinnamon rolls have to take all day to make?  You will be in and out of the kitchen in about 30 minutes with my Itty Bitty Bites.  I've used Pillsbury's "Simply" biscuits to create these adorable bite size cinnamon rolls.
No kidding, I made these for an afternoon snack for the kids and their friends last week and by the end of the night all 60 bites were gone.  They are a fun snack and sweet dessert for any party.
Be sure to check out my Pesto Chicken Thighs with Italian Cream over Parmesan Couscous that I developed for Kraft Philadelphia!
Take a peek at how easy these are…..and enjoy!!
Line-up:  Left- brown sugar, butter, biscuits, cinnamon, powdered sugar and heavy cream.
Here are those biscuits and new line by Pillsbury I love.  No trans fats, no high fructose corn syrup, no artifical flavors or colors.  Yes!
So, you'll press out the biscuits with your hands to about 3 inches wide, then spread with butter.
Sprinkle with brown sugar.
Sprinkle with cinnamon.  I LOVE this Roasted Saigon Cinnamon from McCormick Gourmet.
Starting at the bottom, roll up each biscuit.
All rolled up!
Slice 1/2 inch pieces, about 6 per biscuit and bake for 16 to 20 minutes.
Time for the drizzle!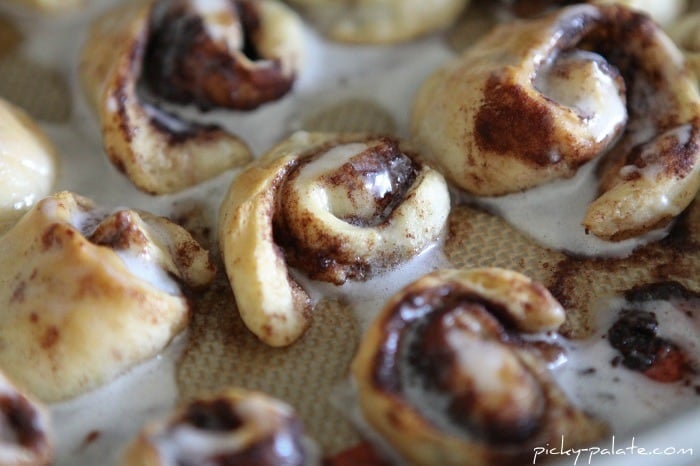 Seriously!
I love these little rolls.
Cutest darned things ever….and they are mighty tasty too.  Enjoy!!
One can Pillsbury "Simply" refrigerated biscuits, 10 count
5 tablespoons softened butter
1/4 cup packed light brown sugar
2 teaspoons McCormick Gourmet Roasted Saigon Cinnamon
1 cup powdered sugar
5 to 6 tablespoons heavy cream
1. Preheat oven to 350 degrees F. and line a large baking sheet with non-stick cooking spray.
2. Unroll biscuits onto a clean countertop and press out with fingers to about 3 inches wide. Spread each biscuit with 1/2 tablespoon of butter then top evenly with brown sugar and cinnamon. Starting at the bottom of each round, roll up jelly roll fashion with seam side down on countertop. Use a sharp knife and cut 1/2 inch slices and place onto prepared baking sheet. I cut 6 slices per biscuit making 60 small cinnamon rolls. Bake for 16 to 20 minutes, until light brown and cooked through. Remove from oven.
3. Place powdered sugar and heavy cream into a small bowl and whisk until smooth. Drizzle glaze over hot rolls. Let cool for 5 minutes before serving. Best served warm with a tall glass of milk!
Makes 60 itty bitty bites
_______________________________
*Disclaimer: I am part of the McCormick Real Gourmet Blogger Program and am being
compensated however the thoughts and recipe are my very own.
Have a great new week, come back soon!!
Other recipes you may enjoy...
Comments