I've got 10 Spring Break Recipes To Make With The Kids for you today that are simple to prepare and delicious for the whole family!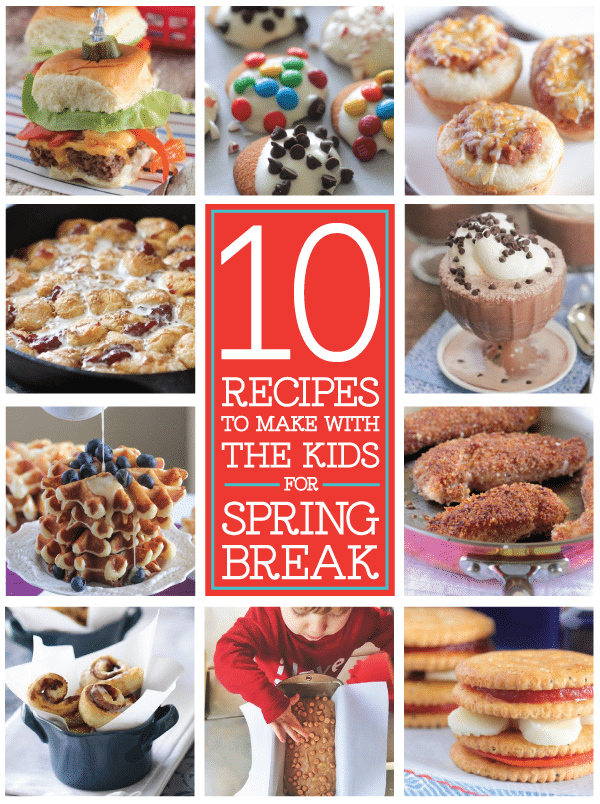 I love getting in the kitchen with the kids during Spring Break! I've put together some of my favorite kid friendly Spring break recipes that will make it easy for those little ones to help out with confidence. Let them grab a chair and work right by your side measuring ingredients, stirring and serving. I even throw in a little lesson on setting the table while I'm at it 🙂
Hope you are enjoying some sunshine and good company this week! If you've already had your Spring Break, well then these recipes are good for anytime of the year! I don't know about you, but I can't wait for Spring and Summer. I even say that knowing how hot it's going to get in AZ, ha! Bring on the warmth, pool time and vacations to the beach!
Enjoy.
Clockwise from top left: Baked Fajita Sliders – 5 Minute Cookies – Bean and Cheese Burrito Cups – Frozen Hot Chocolate – Parmesan Pecan Chicken Tenders– Pepperoni Pizza Stackers – Butterscotch Chip Banana Bread – Itty Bitty Cinnamon Roll Bites – How to Make the Perfect Waffles – Peanut Butter and Jelly Skillet Monkey Bread