Search Results
Good Monday! Hope everyone had a nice weekend.
Here's another great shredded pork taco recipe for you that is one of our favorites! I love using my crockpot on Sundays, so this is typically a Sunday dinner for us. No fuss, just good food ready in a flash.
I found another package of that soft tortilla bread I told you guys about a couple weeks ago. This time I found it at Sprouts. I know there are Sprouts in AZ too. This kind was Chipotle flavored and YUM it was fantastic. I highly recommend it if you can find it. I was told that Trader Joes carries this type of tortilla bread, hopefully this helps.
I've also added one of my favorite spanish rice … Continue Reading »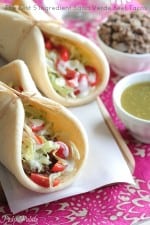 It's no secret that we have tacos on a regular basis in our home. I am thrilled to share "The Best 5 Ingredient Salsa Verde Beef Tacos" with you today.
I am telling you, your family will go nuts for this ultra simple beef taco recipe. It's full of so much flavor, tastes a lot like restaurant style tacos. No joke.
Let me tell you what we do…I've shared the stovetop version of this recipe which is amazing on its' own. Be sure to also try this in the slow cooker. Once you cook it as directed below, transfer it to a crock pot and let it cook on low for 3-6 hours. Sooooo good.
Enjoy friends!
Continue Reading »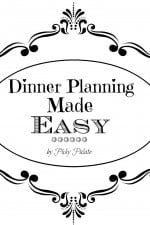 Apr 22, 2013 | Dinner
Does the thought of menu planning for the week make you a little stressed? Well, I know it does for me if I'm not organized. I tend to get stressed out thinking out too far ahead. I have decided it's time to make meal planning low stress and easy to manage.
I like to sit down Sunday evening and look over recipes, figure out what sounds good for the week and decide what I am going to realistically have time for. Let's get real and admit that we might not make a homemade dinner Monday-Friday. I am the last person that will judge. Some nights we break open a box of … Continue Reading »
Monday snuck right up on us again didn't it?! I have been running around NYC since last Thursday and am just flying back home this morning. Thought it would be fun to compile some Easy Summer Dinners and favorite reader recipes of Picky Palate today.
Let's start with some great summer dinners…..as in break out the crockpot so you don't have to fire up the oven! Here are some of my dinner pics that will do just the trick…plus a panini that is perfect for summer with minimal heat 🙂
Steak and Goad Cheese Quesadillas
Crock Pot Beef Tacos in Soft Tortilla Bread
Toasted Whole Grain Apple Cheddar Panini
Slow Cooked Green Chili Pork Tacos … Continue Reading »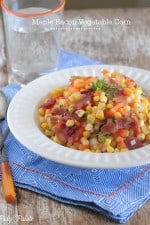 Sharing corn side dishes today! This Maple Bacon Vegetable Corn Recipe is the perfect side to any main dish!
Corn Side Dishes
Corn side dishes are some of the best sides to go with so many meals! I paired some of my favorite ingredients to this corn recipe. I love the sweet and savory flavor combination! You get a hint of pure maple with each bite of corn, vegetables and bacon pieces. The whole family is going to love this one. My boys enjoy the sweetness from the maple syrup and corn along with the salty crunchy bacon pieces. Our 2 year old likes to eat the bright peppers first. A little something for everyone. Enjoy!
Try my Taco Green Chili Corn too!  Follow Picky Palate on Instagram for daily recipe inspiration.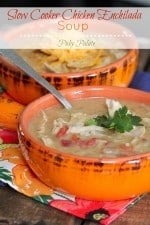 Sharing my Slow Cooker Chicken Enchilada Soup Recipe today! Crockpot Soups are my favorite, you'll love this flavor packed slow cooked hearty soup!

I go in these crazy crockpot soups recipes where I use it all the time and I am loving it right now. Last week I whipped up a giant pot of my Slow Cooker Chicken Enchilada Soup. It's warm, thick and complete comfort food in a bowl. Slow Cooker Soup Recipes are so great this time of year.
If you are having guests over, this is a great recipe to have. It serves 12-16 and makes the best leftovers. I enjoyed it for lunch for a few days and was happy as a clam 🙂
You can easily split the recipe if you don't need to make such a massive amount, but I'll warn you, it's incredibly delicious and you'll want the leftovers.
Let's take a look at what you'll need.
Continue Reading »