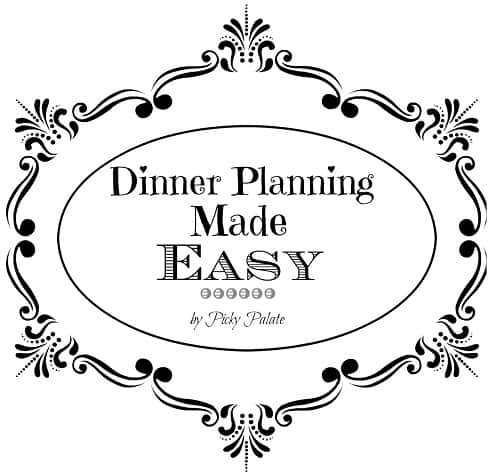 Does the thought of menu planning for the week make you a little stressed? Well, I know it does for me if I'm not organized. I tend to get stressed out thinking out too far ahead. I have decided it's time to make meal planning low stress and easy to manage.

I like to sit down Sunday evening and look over recipes, figure out what sounds good for the week and decide what I am going to realistically have time for. Let's get real and admit that we might not make a homemade dinner Monday-Friday. I am the last person that will judge. Some nights we break open a box of cereal and call it good.
Make your shopping list ahead of time (I find that keeping a list on my phone notes is very helpful). So many times I'll get to the grocery store without a plan and by the time I get home I've already thought of 5 other things I need. Once you get the recipes you want for the week, grab a pen and paper and write the ingredients down in an organized manner. I figure once a week I can organize myself, lol!
When making dinner for the week prep ahead any chance you can. If possible, plan to use your proteins a couple nights of the week. For example, night number one, prepare double the chicken so that on night two or three you've got that part of the meal done. I'll do the same with my ground beef. Make double and save half for another dinner.
Every now and then pick up a couple rotisserie chickens from the grocery store, shred them and place in ziploc bags. Freeze and keep for last minute dinners.
When chopping vegetables, while you've got your chopping board and knife out, chop extra and place measured out portions in Ziploc bags. Label them with the date and either freeze them or put them in the refrigerator for a meal later in the week.
Keep your refrigerator stocked with some basics so when you don't have time to make a homemade gourmet dinner, you can grab some things to whip up quickly. There are lots of pantry basics we can talk about. See my cookbook page 7 to read my favorites. At the bare minimum, can we all agree to always have a loaf of bread, eggs, cheese, condiments, jams, peanut butter, tortillas, an array of canned beans, tomatoes, rice, pasta and a slightly stocked vegetable/fruit drawer? I think that's safe to say most of the time we can find those things in the fridge. If you've got these things, you can pull off a 10 minute dinner when nothing is planned.
Quick fix ideas when you don't have dinner planned: Quesadillas, bean burritos, tuna fish sandwiches, pasta with butter and garlic salt, grilled cheese sandwiches, fried egg sandwiches, scrambled eggs, pancakes, waffles, oatmeal, toasted peanut butter and jelly sandwiches.

Monday: Grilled Taco and Lime Chicken for Tacos
Tuesday: Cheesy Pesto Chicken Spaghetti Bake
Wednesday: Cheesy Grown Up SpaghettiOs
Thursday: Feta Sun-Dried Tomato Turkey Burger Sliders
Friday: BBQ Chicken Pizza Soup
Monday: Homemade Hawaiian Haystacks
Tuesday: 5 Minute Homemade Mac and Cheese
Wednesday: Chicken and Black Bean Green Enchilada Rice Bake
Thursday: Toasted Whole Grain Apple Cheddar Panini
Friday: Quick Weeknight Asian Turkey Lettuce Wraps
Monday: Chicken Florentine Bowtie Pasta
Tuesday: Slow Cooked Green Chili Pork Tacos
Wednesday: Southwest Chicken Chili Mac Skillet Style
Thursday: Cream Cheese, Caramelized Onion and Bacon Quiche
Friday: Bacon and Ranch Cajun Baby Cheeseburgers
Monday: Mexi Chicken Campanelle Dinner
Tuesday: Ham and Cheddar Frittata
Wednesday: Southwest Shredded Chicken 3 Bean Chili
Thursday: Tillamook Grilled Cheese with Bacon, Avocado and Spinach
Friday: Pepperoni Pizza Enchiladas

and